The Archive .
---
Big thanks to our sponsor Neil !

For information on today's festivals see eFestivals.co.uk
---
View at 1920 X 1024 res for best results.

Last updated June 2021 :new photos Led Zeppelin, Jefferson Airplane, Steppenwolf, Flock and Santana .
---
The Bath tapes and tapers .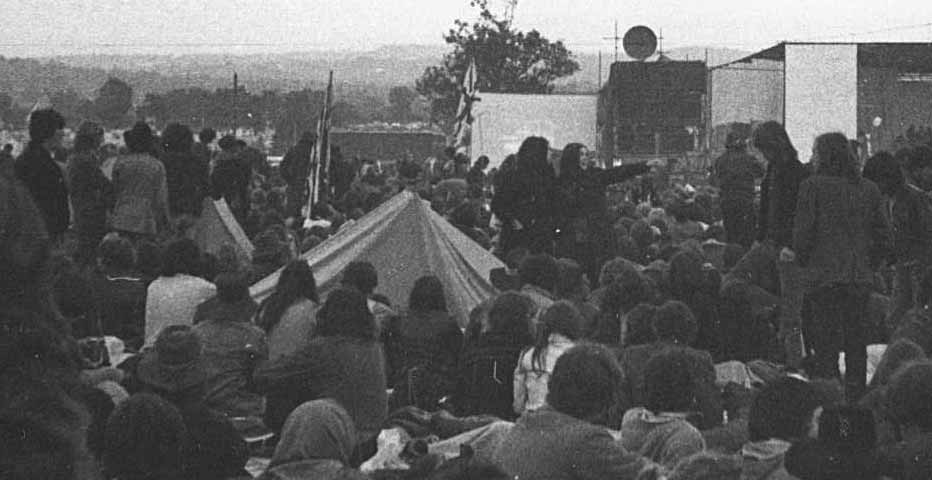 © Roger Hunter
Although it had been the Bannisters intention to film the festival , and hence preserve quality sound and images of the event, it was not to be . The film companies Gentle Ghost and Paradise Films somehow managed to completely disappear off the face of the earth , leaving us with no permanent record of the music that was created at the festival apart from the unofficial recordings made by the fans in the audience. The recordings were made under incredibly difficult circumstances, often by really young guys still attending school , who lugged their heavy reel to reel machines or the new fangled cassette recorders and boxes of batteries around for two days , huddling under plastic sheets , battered by the wind , but making recordings that sound pretty good under the circumstances.

There had to be at least three tapers at Bath. I know the identity of two , who we will call tapers A and B . Taper A made the majority of the tapes that I am aware of , an extensive collection that misses out only Pink Floyd , John Mayall, Flock , Led Zeppelin , Donovan and Johnny Winter out of the major artists . Taper B made recordings of parts of some sets and captured the whole of Led Zeppelin and one of Donovans sets. Neither of these tapers bothered to widely distribute their recordings and they were made for their own pleasure ,not for bootlegging purposes .

The unknown taper (or tapers ) recorded The Byrds , Led Zeppelin ,Hot Tuna , Jefferson Airplane , Pink Floyd , Fairport Convention , Steppenwolf and John Mayall. Its not known just what equipment was used , or whether this person made the recordings for gain , but most of these recordings made it onto boots at some time relatively soon after the festival and were in circulation in the 70s .

Cassette tape gear at Bath 1970 © Jean-Pierre L
In addition, although his recordings are mostly now not in existance , we have received this missive from yet another Bath taper, Chris C .
"Dizzy and I were there and we were one of your many tapers. Thing is I used a philips stereo cassette rec with one mike on a pole. The recordings were generally rather ordinary and they have been shelved away somewheres (we are looking for them now) we certainly taped Steppenwolf, Frank Zappa, Donovan ,Zeppelin (inc), Pink Floyd and Colosseum. Like you we slept thru most of John Mayall!
We also taped Keef Hartley but partly ereased it when recording Colosseum as I recall."

Unfortunately the only recording Chris made that is intact is the one he made of Led Zeppelin , the rest had deteriorated beyond repair !
Recordings of Taper A.
Recording on a Phillips reel to reel, this gentleman did not manage to make copies of his tapes for many years after, as the precise speed of his machine - which broke down a few years later - could only be duplicated by a specialist deck and he could not procure one until relatively recently. Thus these tapes have only come into circulation in the late nineties . The recordings (like most of the others ) are by no means pristine - they suffer from wind gusts and distortion on many of the sets- but they do represent a considerable improvement over some of the recordings already available -such as those by Hot Tuna and the Airplane -and they fill in many of the gaps that have existed up till recently.
Taper A recordings
Canned Heat.

( good apart from minor distortions complete set : 90 mins )

Country Joe McDonald

(good - most of set : 60 mins )

The Flock -

(one track good quality , which is incomplete : 8 mins )

Hot Tuna

( very good - complete set - 74 mins)

Its A Beautiful Day

( almost unlistenable - complete set : 60 mins )


Jefferson Airplane

( good-complete set : 53 mins )

Santana.

( Fairly good -complete set : 60 mins )

Steppenwolf

( quite good -five tracks -: 25 mins )

Frank Zappa

( many distortions - complete set : 70 mins )
Recordings of Taper B.
Again using reel to reel, but with differing tastes to taper A, taper B captured portions of sets as well as the complete Led Zeppelin show. The most important contribution is his recording of Donovan , the only known taping of his set at the festival.
Taper B recordings
Colosseum

( instrumental - 2 minutes )

Country Joe McDonald

(part of set , portions of the Fish cheer : 5 mins )

Donovan

( part of set ? 56 minutes )

Led Zeppelin

( complete set : 130 minutes)

Johnny Winter

(Johnny B Goode)
The unknown tapers .
Just how many more people were recording at Bath ? The remainder of the unidentifed taper sources indicate a preference for the blues and heavy rock, I'd guess that the Johnny Winter , Mayall and possibly the Steppenwolf sets were recorded by the same person , if only because the sound quality of these sets seems pretty similar .
Whoever did these sets stayed up all night Saturday to do so, so they may have recorded Pink Floyd as well. Whether they then went on to record Zep , Tuna ,Byrds and the Airplane is a moot point, The tape I have heard of the Byrds may come from separate sources ,as the quality varies , but this might just be due to the vagaries of the weather. I just have a gut feeling that there was more than one other taper active , as the unidentified recordings of the Airplane and Tuna are pretty abysmal , as is the Zeppelin show .
To further complicate things , new information leads me to definitely state that there were two other tapers, lets call them CC and R. CC has contacted me , informed me that he had recorded Keef Hartley, Colosseum , Zappa and others, but unfortunately all his tapes had deteriorated beyond repair , apart from his Zeppelin recording , which had been in circulation for some time. Lastly , from another taper source , I know that R recorded two acts, but just which is open to speculation .
Recordings by unknown tapers
The Byrds

( very good quality 90 minutes )

Fairport Convention

(good quality--5 minute- Dirty Linen- unknown if whole set was recorded)

Hot Tuna

(very poor quality 45 minutes )

Jefferson Airplane

( drekky quality -45 minutes )

Led Zeppelin

( poor- complete set : 130 minutes)

John Mayall

(very good -50 minutes -my tape ends after 45 , one track cut )

Pink Floyd

( good quality -90 minutes ? )

Steppenwolf

( average quality- 60 minutes )

Johnny Winter

(average quality -60 minutes )
Times are not exact and I've not given these quality ratings because I have not heard some and others vary so much . In general, not one of the recordings could be remotely described as an A , some achieve B quality on occasions and some are firmly in the C and D camp. Most vary between C and D due to wind noise.The worst to my knowledge are Zappa , Its A Beautiful Day and the unknown tapers versions of Hot Tuna and the Airplane .Both versions of the Zeppelin show I have are pretty ordinary .
There appear to be no tapes in circulation of Keef Hartley, Maynard Ferguson or Dr John .Unfortunately the tapes of Colosseum and Hartley that were in existence have expired due to living in an attic for a couple of decades. It would be a shame if there were not complete versions of the sets by the Flock or Colosseum, but so far I've not heard of any . Please don't hesitate to contact me if you have any information on any other recordings of the festival.
Bootlegs.
There was at least one boot released after the festival , a complilation, which had a Fairport and Zeppelin track on it . Recently I was sent some information about it from Helen Collings
" I have a vinyl recording which is labelled (in a home made sleeve!) as being from the bath festival 1970. On the front it lists Led Zep, Jefferson Airplane, Donovan, Edgar Winter and, rather enigmatically, 'etc'.
The label on the record is krishna records.
can you shed anymore light on this?
I would love to tell you exactly what the track listing is but after several listenings I'm not too sure! There are 10 tracks, one of which is Heartbreaker by Led Zep. And that's the only one I can definitely recognise! I'm fairly sure there's a Fairport track on it but it's an instrumental, and there's another track which is introduced as The Boy Next door...is this Donovan? The last track might be the Byrds!
Can you tell this is not my area of expertise??
Lots of blues on it, one track appears to start on side 1 and then continue on side 2!
Any ideas?
Helen
heres some more info about the Boot

Hello, I am Jean-Pierre.
I live in France near Paris. I attended the Bath festival at Shepton Mallet, on 27 and 28 of June 1970.

I was Krishna records!
I recorded the concert and issued the boot (200 copies only). Unfortunalely, I have lost the original cassettes (long time ago), but I still have a copy of the LP for my private souvenirs collection.
It contains tracks of: Johnny Winter, Led Zeppelin, Steppenwolf, Donovan, Jefferson Airplane and Fairport Convention.

I did not record the whole festival. I had only two 60 min cassettes. My intention was not to release a bootleg, but only to tape a souvenir.
Thanks
Jean-Pierre L

---
I am seeking the following tapes of the festival for review purposes,
Colosseum , Fairport Convention , Maynard Ferguson ,Keef Hartley and Dr John
I'll trade the tapes I have of the Festival for copies of these .If you can help in any way, please contact me
---
Audio- visual Records
---
The Artists
---
Reviews, photo collections and general information
---
A limited edition of reprints of the 1969 and 1970 Bath festival posters can be bought online here
Rock festival memorabilia from various festivals can be viewed at the main Rock memorabilia page
Visit the 1969 Festival pages.
---
---
Audio- visual Records
---
The artists
---
Reviews, photo collections and general information
---
8 mm Film Archive
Ross Mortimore's streaming Quicktime movie of the crowd features clear images of the stage PA , Colosseum onstage and bikers with Canned Heat at Bath as a soundtrack provided courtesy of Bob C .
Bandwidth and copyright restrictions mean we cant host audio/video so you will have to do with stills at the moment until we can do an alternative stream elsewhere. Please don't bug us to add it , we will do it when we have the time.
---
General information:
links menu to site map, ticket. pass out, transport, drug bust, films and festival arrangements.
External Links to Bath related merchandise ( with which we have NO commerical links whatsoever )
To celebrate the 40th anniversary of the 1970 Bath Festival we have brought out a special commemorative set. Anyone interested can view it on http://www.rockmusic-offer.co.uk/
A limited edition of reprints of the 1969 and 1970 Bath festival posters and Freddie Bannisters books on the Bath ,Lincoln 71 and Knebworth festivals can be bought online from the link below :
Rock festival memorabilia from various festivals can be viewed at the main Rock memorabilia page ,
Led Zeppelin at Bath photogallery
Visit the 1969 Bath Festival pages.
---