Heres your chance to add your personal experiences of the festival to the Website. Preserve the memories before they fade completely.
Contact us
---
Hey,

writing from San Diego California

I was at Bath 1970

travelled there w/ Flock..

they were friends from the neighborhood

nice site thanks for keeping it going

see and talk to Jerry every now and then

he's playing with dixie dregs and doing work studio work..

take care..i have no tapes of show..audio or video

Barry in La Jolla, CA..

Photo of Julian ( see below ) by unknown photographer - from the collection of Sam G
---
Dear Bath festival website master, (sorry, I've forgotten your name!):

In the course of my ramblings which I sent you a couple of years ago (a bit pretentious they seem to me now),
I mentioned that, when rain stopped play at one point, I was leaning on the railings at the front of the festival, when a journalist (from the Sun! I think), one of several, came by, stopped in front of me and took my photo. The next day, several people pointed out my photo in the paper to me, though I don't think I could really care less at the time.
Well, yesterday, I went back to your website, to find that, along with my recollections, now added to by many more, someone has put up that photo of me from that newspaper (unaware, of course, that I had referred to it).

So if anyone wants to see that close-up shot of a bedraggled me, though there is no reason why you should",scroll down about two thirds of the way down, next to a text where someone has written the words
"Hey, writing from San Diego California...". There I am.

My own recollections begin quite a bit further down, "This may be the forgotten music festival, but..."etc. I rather glad you've kept them there, and I just love reading other peoples recollections as they come in.

Anyway, thanks for all your efforts, really great site, lots of lovely memories. I see that almost
everyone's are happy ones!

Julian Conway
---
Recollections - Fairport Convention
This was the first time I had seen Fairport Convention. I knew of them because I was a regular reader of Melody Maker, but the Leige and Lief album had passed me by. I loved John Mayall, Keef Hartley, Colosseum, The Who, soul music, Jethro Tull etc.

They sang Matty Groves that day. I know they did, because the two lads sitting in front of me (who must have seen them before, probably with Sandy Denny singing) made a comment like ' if I hear them play that bloody Matty Groves again, I'll go crazy' I was intrigued!! Indeed they did play it and I was hooked. I loved their sound especially the drums and bass. I wasn't a folk music fan, but this stuff rocked along very nicely.
As a result, when I got back home to Hungerford, I went out and bought the Full House album. I enjoyed their music for the next 20 years until Dave Swarbrick left the band. Oh, happy days!!

I also met Alexis Koerner that day in the queue for food.

Still have all the pictures in my head, never to be forgotten.

Kind regards

Keep on rockin'

Jim Stewart
---
Formerly Fat Harry led by Bruce Barthol the ex bass player of Country Joe & the Fish who also juggled played I think on the friday night and then on
Saturday early on in the morning as did Joe Jammer. Manashandra played once on Friday night I am not sure if this spelling is correct and cannot
remember anything about them. There was also a guy who came on several times and played organ and sang with the name John Paul Jones.
As we went in the entrance there was a guy with a huge bottle of "Acid " that he was tipping into anyones mouth that wanted it, it apparently was
made in the Labs at University College London University. I have no idea if it was or how good it was.

Dave Bird
---

Don't remember the rain at all now (funny how time dims memories of the less pleasant bits!).But surely I'm not imagining prancing around on the first evening, joining-in with the Edgar Broughton Band (on a small side stage) and hundreds of others, singing "Out Demons Out"?

Regards,
Dave Lindley
Coming to you from Worsley, in the Duchy of Lancaster
---
| | |
| --- | --- |
| | © Jean-Pierre Lafont |
The Angels were from Bristol and some of them were tough. Most of them were not. One of the leaders was called "Bear". They were up by the front of the stage on the left while Led Zeppelin was playing. I was grooving ans boogeying with everyone. I remember Plant singiing the oldies medley and in particular, "whole lotta shakin' goin on". This was cool, and I was right up in front of the crowd. The Angels were mellow. I didn't get any bad vibes
Later, I went to a pub in Bristol where a lass named Mary kept smiling at me. She told me she had watched me dancing at the concert, and I found myself in her bed later. It was she who told me about Bear in the morning, for she was Bear's woman. I got out of there as fast as I could.
I met 3 Swedish guys at the festival and hitched a ride to Pamplona with them for the running of the bulls.
I will always cherish my memories of that summer and that fest was a highlight.
Peter Bartlow
---
hi
i almost flipped when i found your site on the bath rock festival in 1970. the part about the hell's angels caught my attention immediately. we were 2 amercian girls who had landed in london a day before the festival started and had no idea it was going on. but we saw a poster for it and decided to hitch hike
out to bath having no clue how far away it was. we were picked up by this motorcycle group and we rode with them for about the last 30-40 miles into the festival. my friend was freaked out as she was from a small town in pennsylvania. but i grew up in nyc down the block from the nyc hell's angels so they didn't bother me at all (maybe i was just very young and stupid..this is entirely possible!). there were about 30-40 guys in this group and the best part about them was that they rode us to the very front of the site without having to deal with the miles of traffic lined up to get in.
they were not the hells' angels if i remember correctly. i knew what the hell's angels ensignias/jackets
looked like as i saw them daily at home. these guys were very nice to us and we didn't feel threatened at all. of course there might have been lots of motorcycle gangs there, but i am so glad to find this reference on here as no one believes this story when i tell them.
thanks for all your great site info. i wish i had something to contribute but i took only one picture and it was so far from the stage that you can't see santana on it at all.
keep up the good work.hope that you find that video cause there are at least 150,000 people who'd want to see it!
deezee
---
Just found your web site. Brings back a few memories for this old fart.
Four of us drove down to Bath from Merseyside in my Ford Escort. Me, Philip (Cozzer), Monty and his girlfriend Glynis. Traffic was terrible as we approached the showground. We eventually arrived and pitched our tent just outside the main field. We came without tickets and bought half price tickets from one of the many "sellers" at the gates. The dog eared tickets looked as though they had already been sold 100 times before ! I don't know how much money the promoters lost, it must have been tens of thousands.
I remember the weather was mixed and we sheltered under plastic sheets from the rain but I can't recall it being too cold. I don't remember very much about the music. I remember Jimmy Page in a long coat looking like a country yokel. I remember Donovan going on and on and on, repeating some songs as he ran out of material waiting for the next band.
Johnny Winter sticks in my mind most. When he came on stage Monty was unconscious and I had to wake him so he would not miss a great performance.
I remember a guy crawling out of a small tent in front of us muttering "F***ing hell man, what a blowout!"
Geoff now in Australia.
---
Went to the festival with 2 friends Alan Williams and Tim Llewellyn. We had tickets £4.00 which included a bus from Cardiff, we arrived late on the Friday night and waited at a gate for the morning to come. Some kind person came and pushed the fence down and we just went in and found a tent and crashed.

We got sorted on the Saturday morning and found a place about 80 yards in front of the stage right in the middle. We waited along time and then Donovan came on he kept us all going and I can't understand why anyone can be critical as he was great. We were pretty naive as far as these sort of things go and I remember we bought some pot and were trying to burn it in silver foil, why I don't know, but someone gave us some papers and showed us what to do and on came Johnny Winter - what a revelation I couldn't believe anybody could play that well.

Other highlights were Canned Heat and all the other West Coast groups which we had all recently discovered, Santana and Flock who I had heard on the sampler album "Fill your head with Rock" still got it now and play it often. I recall a group of Americans in front of us drinking "Doctor Pepper" out of a giant cool box, we thought it must have been some kind of beer as they all appeared to be very drunk it's amazing what you learn later in life. Steppenwolf were great and I crashed halfway through Pink Floyd.

unknown photographer - from the collection of Sam G
We went back to our tent at about 4 in the morning (we'd marked it - we were very clever) to find a young couple doing what came naturally but we were so tired we just crashed and they were still there in the morning. It was pretty tidy weather on the Sunday - got very sunburnt, going for a pee was disgusting and enforced constipation was the name of the game. Sometime in the afternoon I went for a walk looking for food and chanced upon a mobile fish and chip van coming into the site. I ran behind that van for what seemed miles and was first in the queue. I wonder if that was the same van mentioned in one of the earlier e mails. The rain came on the Sunday and our bus was scheduled to leave at 11.00pm and when we heard that the Moody Blues were to scared to play in the rain we went.

My friends crashed at my house that night I think my mother and father couldn't really believe the state on us but she made us a giant cooked breakfast which I'll always remember. Thanks for the site- it brought it all back. Good luck to everybody.
James
---
Your site is fantastic. It's brought back lots of memories. I was 16 at the time. Me and a friend (also called Alan) lived in Southend-on-Sea, Essex. We both had Satuday jobs, but got the afternoon off work. My father gave us a lift to London where we naively caught the train to Bath...It was the Bath Festival wasn't it? On arriving, with several hundred others, we all pilled out of the station to walk to the festival. We had know idea how far it was, and there was no sign of any 'shuttle' transport...So we started walking...We actually managed to hitch a lift with a guy who was also on his way there. As we got nearer the roads became unpassable due to traffic congestion. We got out and walked the last two or three miles. When we arrived we went straight into the 'arena'. We had a tent but were more interested in seeing the bands...Johnny Winter was just starting...Early hours of Sunday morning. We then stayed awake and saw everything from that point, although we left after the Byrds, as the Moody Blues weren't going to play, and we weren't really intrested in Dr. John. We were both Led Zeppelin fans primarily, but this was a fantastic introduction to all the American stuff. Our first festival...I had been to free concerts in London's Hyde Park (Rolling Stones and Blind Faith). My first festival, but not the last. I went to the Isle of Wight in 1970 also, and many, many more since. I'm just preparing now for the V-Festival in Chelmsford this year...It's not the same though. Come to think of it, it's nothing like the old days.
Alan
---
Hi,

Finding your site took me back years! Wonderful, keep it up.

I remember spending the first part of Bath '70 in a "man sized" poly bag to shelter from torrential rain.

Other memories, Zappa's Hot Rats being played to death – I still rate Peaches en Regalia as one of my all time greats, then the great man himself playing leaning into a gale.

Also Hisman's drum solo and much much more.

Regards

Peter Whitehead
---
Hi,
I was up in the attic of our house the other day, and I came across my original copy of the 1970 Bath Festival Program, the covers a bit tatty but otherwise its in reasonable condition.

This got me thinking about whether there was anything on the internet regarding that great weekend, and i came across your site... absolutely brilliant, so many great memories, screaming F.U.C.K. instead of F.I.S.H. in the early morning singing along with Country Joe, Led Zeppelin, Pink Ffloyd, all great stuff, and the not so great stuff like getting hit on the head with an orange for standing up, and the rain.
It was such a fantastic weekend.......


The Hells Angels..... I watched as one guy came over both barriers and took someones hat from the crowd, some time later the chap went into the enlosure to retrieve his hat, but all he got was a beating.


During a spell of rain, some people had put some tables or something across the two barriers and were sheltering underneath, someone decided that they could get a better view by standing on top of these tables and started dancing, with that, the whole lot collapsed onto the people underneath...

I could go on and on, but suffice to say your site and the discovery of my old program has evoked some wonderfull memories, and I hope that some day, they will put a film together or even just an audio recording of the weekend.
Regards

John Griffiths

© Jean-Pierre Lafont
---
Four or five us drove down to the Festival from London. We heard it was going to rain so stopped at a small village on the way and bought a few yards of builders clear plastic. Our food supply for the weekend was a 3lb block of cheese which got increasingly sweaty! I don't remember eating anything else. It was an out of time experience, going to sleep like sardines in the middle of the field, with the plastic wrapped round us listening to bands. Donovan played loads in the next afternoon as heavy traffic stopped other groups arriving.
Sadly, we had to leave just as Led Zeppelin (who I really wanted to hear) were getting into their set - our mate had to go to work early the next day back in London.
Completely memorable as an overview but as to the musical details- I wish I really could bring a clear sound picture of hearing Pink Floyd and all the other groups who I have enjoyed in the intervening years. Must have worked by osmosis.
Jud
---

Bath Festival, Shepton Mallet, 1970.
This may be the 'forgotten' music festival, but musically it must have been one of the best. In the summer of 1970 I was 19 and it was my summer to rediscover England, a country I could only just remember after many years away. This consisted of hitch-hiking round the youth hostels and buying Melody Maker every week. I soon had a ticket for 'Bath', as it was called, at the huge sum of ten pounds as I recall. I have no memory of any difficulty hitchhiking to Shepton Mallet, though I do remember it was a long haul on foot from Shepton Mallet to the actual site itself. I remember arriving and seeing tents already set up for occupation. That was a good place to start and meet a few people, but later I sat next to a delightful American couple near the front for most of the later concerts.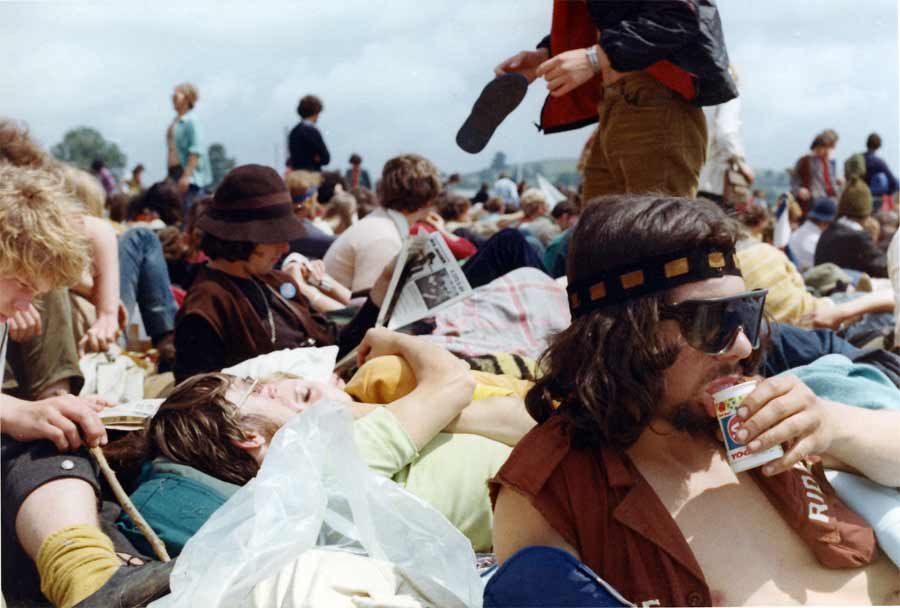 All cool people dig "Ski "Yoghurt . Hippies, if you want to be cool, then eat Ski! as used at the infamous Bath Festival
© Thomas Henry
The main problem was finding food. I wasn't prepared to miss any music, or give up my prime site near the front, so I remember surviving on chocolate and tea. The American couple next to me were afraid they would break out in spots. I was feeling somewhat lonely next to them, and shamelessly tried to chat up a young lass in a floppy hat sitting next to me on the other side. She, quite understandably, didn't want to know the smelly object that I probably was, and the friendliest thing she said to me was 'Don't DO that'. Oh well.

When the rain stopped play, I was clinging to the railings, looking and feeling like a drowned rat when a smarmy journalist passed by between the railings and the stage with a camera. 'Look at the stage', he said. I relentlessly looked at him. He took the photo anyway. The next day, someone showed me my photo on the front page of 'The Sun' newspaper. I didn't feel particularly proud of this at the time.

In the process of re-discovering England, I had mainly come to see the English acts, Fairport and Mayall with Peter Green. I was not disappointed. And the sound quality was excellent. Anyway, this is the order in which I remember the gigs, which, although musically accurate, I can see now is not the order they really occurred. Between waking and sleeping, notions of time were vague anyway, at best, and with the years…. But this is how I have always remembered how things unfolded, and it seems silly to change that now I know from this site what the real timeline actually was.

It's a Beautiful Day: I had always liked 'White Bird', something of an anthem to West Coast hippiedom. To hear them play it as the sun shone on the crowd was one of my happiest and most joyous memories of the festival. Before their final number, the violinist said 'All I can say is, if you see a pill, take it'. This caused much debate in my tent about whether this was just plain irresponsible, or damn good advice.

As if his words had conjured him up, a rich American (it wasn't so common to see an American in England then) dressed up like a medieval king in colourful red and purple satins and velvets, with elf boots and felt hat, wandered our way handing out LSD, and popping it into the mouths of us poor English who stood open mouthed to receive it, as though receiving communion. Some did, some didn't. I didn't, too scared.

Ah those were the days…free acid for all, that was socialism. It may have been at this point that someone said they had seen the Pink Fairies, a comment which, in my naïveté, I misunderstood. At about this point I left the tent, not to return, the music was just too good.


Film crew in the crowd © Mark Harrison
Led Zeppelin: I had never been a Led Zep fan, and therefore stood near the back for this one. They played a blistering set, with the long coat and violin bowed guitar, and great use of delay, it was truly impressive. At the end of the set, I noticed a boy no more than a lad standing next to me still in school uniform mouthing 'Led Zep, Led Zep' as though he'd been hit over the head by a plank and stunned. In a way, I suppose he had. There was then a mini exodus, which meant it was time to move down to the front for the serious business of listening to music.

Fairport Convention: I was of course sorry not to be seeing Sandy, and was worried about just how good this lineup would be. I needn't have worried. They were everything you could possibly wish for from the classic Full House crew. Thompson sang Matty Groves and Tamlin. Swarb played the Hen and the Four Poster, Dirty Linen. A triumph, this was musical paradise. (I see there is some good 1970 footage on Youtube, and also a good Dirty Linen from 1971 Glastonbury Fayre, which gives a flavour of what we saw). At the end, Swarb said he had a hells angels announcement to make and asked for the hells angels to drive them home.

John Mayall: I moved right up front and hung on the railing for this one. Peter Green was something of a god with our crowd. It seemed like Mayall got the Hard Road lineup back together for this one-off reunion, and what I saw must have been one of their great classic concerts. Green played his socks off, not really in Hard Road or Fleetwood Mac style, in fact more rock than blues. I remember staring up at him in awe.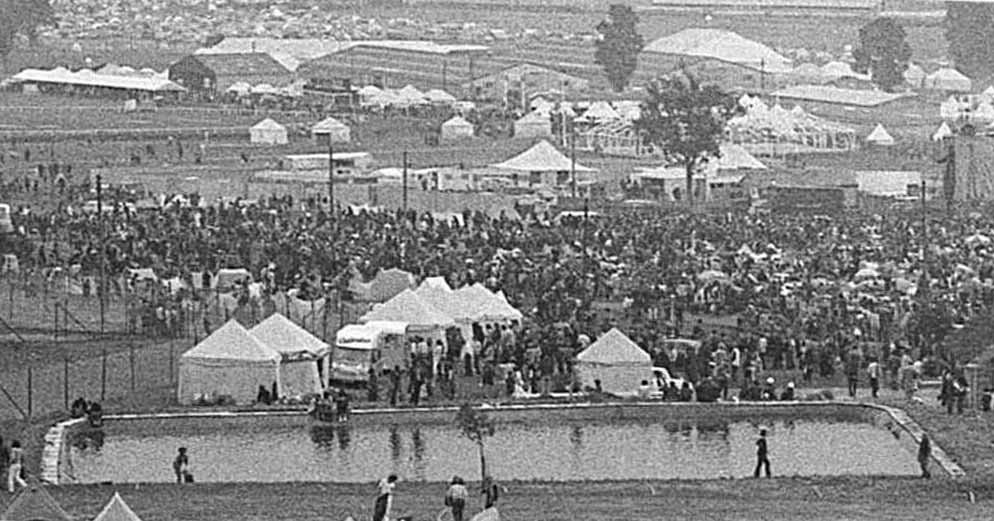 Photo© Terry Farebrother

Donovan was not on the bill, but helicoptered in as the Moody Blues couldn't play (which was fine by me), and my American neighbours said they were 'ape about Donovan' Once on stage, he shouted 'I've been re-born', and failing to get much response from the audience, said it again. It sounded like the same old stuff to me I'm afraid, though he had a nice line in backing singers. Played what he called Celtic Rock, but I have to confess that at that time I didn't even know what real Celtic music sounded like.

Steppenwolf: This was the hell's angels moment, and they shouted for Born to be Wild of course. The band was worth much more than that though. They replied 'That's our last song', and some angels were intelligent enough to say 'Don't do it then' . This was really great rock, by a seriously underrated band. When they finally burst into Born to be Wild, the hells angels at the front went berzerk. And who didn't?

Canned Heat: Vague memories of an endless "On the Road Again", but not much else. Ditto for Coliseum, vague memories of Hiseman's drum solo only, which is curious as my best friend Paul was a diehard Hiseman fan and knee drummer. Flock: vague memories of crazed violin solos. Frank Zappa just seemed to be the wrong man in the wrong place at the wrong time. Throwing tambourines into the audience and singing Happy Together just didn't help. Pink Floyd: As night fell, they did it all, dry ice, light show, choir, everything. Great stuff, but somehow I just didn't really care, don't know why.

| | |
| --- | --- |
| © Jean-Pierre Lafont | |

The start of the festival was quite surreal, as I think Maynard Ferguson with his grey suit, silver trumpet and Big Band, were first on the stage, and went down quite well with a bemused but warm crowd who were still stumbling and tumbling in over collapsed fences: there was an overall confusion about events at this point. We ourselves stampeded down the hill, bedrolls flying, and landed right in front, about 15 yards back from the barrier, in great range for hearing and viewing, but clear of the menace of the Angels below the stage: at an early point, they assaulted someone, and I'll swear 2,000 people got up to get out of the way.
Now, the mention of other stages has raised a question in my mind, and I can't recall if Formerly Fat Harry played in a tent elsewhere on the site, and were only heard over a tannoy, or whether they were on the main stage, before our cavalry charge. . However, they were definitely there, as we were all admirers of early stuff by Country Joe and The Fish, and FFH were led by Bruce Barthol, bass player of that band, so we cocked an ear with interest . . Memory, or lack of it, suggests they were less interesting than we'd hoped . .
I've tried but been unable to find the British music press archives on Bath 1970: Melody Maker and NME both did big photo spreads, and the three of us were caught forever on one, sitting in a field in Somerset, in glorious black-and-white . . One for the kids to laugh at, if I could track it down ! It may be that unfortunately this photo-set was run by the now-defunct Melody Maker, whose existence has seemingly vanished without trace . .
Thanks for all the work which has obviously gone into drawing the threads together on this great festival: it wasn't Woodstock, but it was certainly a once-in-a-lifetime event !
Best wishes,
David Horsfield.
---
I remember going to the 1970 festival with Gilly Hyams and Brian Kerslake. We slept overnight in the car (the festival was for two-days, I think)
I took some black-and-white photographs which were of terrible quality. I probably still have them stuffed away in a cardboard box somewhere. Led Zeppelin feature in one.
My memory is cloudy but I did enjoy the event. I recall a helicopter dropping leaflets advertising records sold cheaply by mail order. (I think this was the start of Virgin Records - Richard Branson showed entrepreneurship) I bought dozens after this, all cheaper than the retail price maintained £1 12s 5 1/2d which most LPs sold for. I still have many of these albums!
There was a massive urinal, like a small swimming pool nearly full of urine. This was for the men! Nice smell. I do not recall what facilities the women had or what we did for number 2!
I do not remember rain but evidently there was some. I do remember VW buses painted brightly with 'heavy' occupants - hippies.
And there were large black-and-white wide screens which projected pictures of the nude dancing!! This was 1970.
Yeah, right
Gordon Braddock
---
I remember 1970 much more clearly, I was a student at Lanchester Polytechnic by then and my buddy Mick and I skipped out early from our last exam to grab the train and then hitch the last part to the site; the last ride was in a van with a decided fog of good smoke.
We must have looked strange with hard suitcases of all our belongins, but we made it and camped out in the middle of the throng. Great times.
I remember crashing Saturday night with Hot Tuna playing, then waking in the morning with Hot Tuna STILL playing - just magic.
That summer we also went to the Isle of Wight. Apart from the crappy organisation clearing us out every day, the music was the best. I was not awake for Hendrix, but that's a different story.
1970 was a great summer.--

Julian
---
G'day Shark,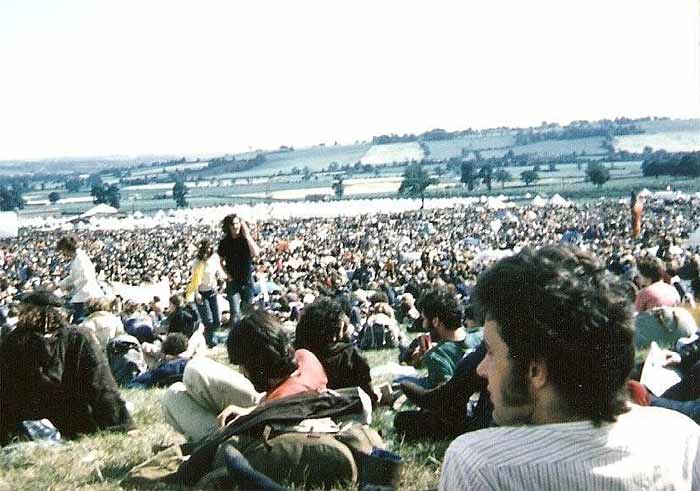 © Viv Cornelius
here goes-I was a first year student at Bath University doing a placement at Walls in Gloucester.My boy friend was still at uni.I got the train to Bath on Friday and we spent the night on the floor of fellow students' flat above a fish and chip shop on Landsdown in borrowed sleeping bags.Some one learnt that a coach was leaving the Bus Station to the festival so we all trooped down and got on.At Cannards Grave many people were using the loos at the garage! Got stuck in traffic so walked the rest of the way.
We paid at the gate and made our way up the slope and established our patch.We were woe fully unprepared-little food and water-just sleeping bags and eagerness.To my shame I remember very little of the music but remember Jonny Winter and his brother-that long white hair! Remember dozing and waking to Colosseum in the drizzle.The site wasn't well lit and the lights from the surrounding area made it a magical sight.The music never seemed to stop but it's all a sonic blur!
The sanitary arrangements were a disgrace-as a female these things matter!I queued for ages but when I saw all the loo paper on the floor I "dried up". By Sunday after noon we'd had enough and left. An enterprising farmer was giving lifts to Bath so we paid and got into the back of his truck. Used the Bus Station loos -never has a pee felt so good!

After cleaning up at his digs and eating in Bath I got the train back to Gloucester.I joined the tired throng in a guards van(?-no seats anyway).They must have been there since Castle Cary and had much longer journies than me.
In 1974 I came to live in Yeovil just a few miles from the site and whenever we pass the"backgate" to the Bath and West Showground I always bore him with the same old memories! He's a veteran of the Isle of Wight and early Piltons aka Glastonbury but is less eager to talk about those than I am.I have 2 photos taken from the hill similar to ones on the website-there is a man in a distinctive striped jumper-but being new to computing (yes ,one can live a life without one!)I'm not up to transferring photos thru'the ether yet!
I did say I recall little of the music!!!
Viv.
---
I was at the Bath 1970 and I was one of those that weren't allowed in as we didn't have tickets. One picture you have there is (I think) taken with the stage behind the camera and you can see a hill, this is where there were 2 or 3 hundred people who were enjoying the 'Other Bath' festival. The Pink Fairies turned up with a flatbed truck and a sound system and proceded to give with the rock n roll.
I do remember that getting away (after) there was all the people from the Bath Fest bit and the Free Bath Fest bit and everyone walking trying to get a lift, that's a lot of people.
It rained at one point on the road and around 500 people crammed into a derelict barn to shelter and that was the place to be and get wrecked, there was a lot smoked in that barn that day.

Bonzo
---
hmm bath, it rained, seemed like everyone you'd ever heard of were playing, everyone stood up for led zepp if my memory serves. Me and my mate Keith made a small mudpool and kept it warm with our body heat, overexposure to cider and the produce of kashmir ( so we were told ) made it all lovely.

Graeme ( gopher- tumt )
---
I was at the Bath Festival in 1970. I was 18 at the time and blown away by the whole thing. For me the highlight ( of many- with Steppinwolfe and Canned Heat there) was Floyd and Atom Heart Mother. I thought that Clapton played with them as a guest, but see no reference...maybe time has faded my memory. I forgot about the rain as well, clearly not a problem then. I laugh at my own kids, when they take tents to Vee and the rest. We just sat through it. At bath we made fires from scavenged wood and all sat round to keep warm. Floyd came on in the early hours, so I remember that atmosphere. the wood smoke, the zany company and the music. They set off huge flares too something I'd never seen before...just awesome.
The other thing I remember was driving there through the night from the Midlands. The last 10 miles or so we were in convoy, all like minded people.....just perfect. we picked up some Norwegian hitch hikers. It was raining when we got there ( Yes it was raining). They said that in Norway rain mean welcome to a traveller..something I have never forgotten
Tony Green
---
Hi there,
yes I too was one of the lucky ones who went to this festival..12 of us hitchhiked from glasgow..we all made it ..I remember walking on the road to the fes ,through the bizzare and exotic [for me]..there was a bus stuck in the traffic,and leaning against the window was Frank Zappa!! ..what a fes!! I seem to remember led zep came on at dawn .. if you were there then time just melted, I also remember pink floyd coming on very late at or after midnight ..is this right ? thanks for your site ,brings back many many good vibes and mems...
Johnnyb
---
© Jean-Pierre Lafont

Brilliant Site

Came across your site a few years back and still make occasional visits to see if I can spot our motley crew of spotty 17 year olds. Five of us came from London by train and arrived Friday. I had bought tickets on the strength of having seen Led Zeppelin at The Royal Albert Hall earlier in the year. We perched ourselves in front of one of those timber fence arrangements on the bank of the hill ( must have been an equestrian fence set up I guess ) On Saturday morning all these American dudes turned up and erected a huge Stars and Stripes between the posts right behind us. Thereafter it became a bit of a focal point – anyone remember all those messages being read out on the PA directing people to meet at the big American flag. It also happened to become something of a dealing centre. There were constant joints being passed our way. I must have tried 10 different types of dope that weekend. The rain didn't matter, it was just so good to be there and I will always remember it with fond but hazy memories. Other recollections are feeling very hungry on Sunday, queuing up for bread and cheese & "Three Castles" tobacco. Enjoying "The Byrds" acoustic set, Johnnie Winter and Led Zeppelin, singing along with Country Joe & the Fish's "Feel I'm Fixin to Die Rag". Waking up and seeing the Fireworks through the mist – or there again I may have been stoned?
I'll keep coming back here to see if any more photos turn up; it's a bit like an old geezers face book really isn't it?

Kevin O'Leary
---
What a brilliant site, I have just found it and have spent hours just poring over the photos and reliving the memories.

We left from Rayleigh in Essex straight after the The Crown in the High Street closed and went down in Ray Randolphs Austin Healy. There were 4 of us , Ray, Suzanne & me and John Dunton. We stopped by the roadside and were taken in for a 'quick frisk' by the local constabulary!We met up with some other guys from Rayleigh and had a brilliant time.

I have a vague recollection of seeing a band in the adjacent field, I thought it was Derek & the Dominoes for some reason ( my memory is pretty hazy due to various substances!!!!) but I have just read a recollection that says it was Hawkwind. Is there anyone else out there who remembers a very early Derek & the Dominoes , it was just after Cream disbanded.

Anyway the bands that really stick out in my mind are Led Zeppelin,Byrds & Canned Heat ( who I also saw in a little club in Soho somewhere...truly amazing.)

What great times, went on to go to most of the free Hyde Park concerts.

It wasn't 'til I read the site that I also remembered that I went to Plumpton, God the memories are definitely fading.

Thanks for a fascinating site

Jill Henderson ( formerly Lawrence)
---
| | |
| --- | --- |
| | Somethings happening on the right , but what ? © Jean-Pierre Lafont |
Not quite 17 and running away from home - yes, really - to go to the Bath Festival. Honestly, I couldn't make this up.
Me and my sleeping bag left Portsmouth on the Friday morning to hitch the 90 miles but not really knowing the right direction (I said I was 16!). Have you ever tried to hitch through Salisbury? Too many bloody roundabouts!
Multiple lifts later, and really before the start of the traffic problems, arrive at the site early Friday evening with good people who were also festival goers and who eventually invited me to share their tent. My eternal thanks to them.
I must have looked a strange contrast to the hippie crowd, with my short hair and my Crombie coat, but I remember going to a pub close to the site and drinking either Guinness or Rum & Black.

Waking up on Saturday, probably pm, to Formerly Fat Harry onstage.
I think I paid a security guard 10 shillings (that much?) to get in. Got the pass-out so became as legal as the rest of you fence-crawlers!

Jo Jammer seemed to be on between every other band, but I don't recall Donovan's fabled long stint(s). Probably still passed out and asleep. Discovered some different recreationals this weekend.
I remember being down at the front at the time but I wasn't impressed with Zappa; that was the only time I saw him. The set was with Flo & Eddie wasn't it?
Fairports were fab; I was already a fan but very out of touch as I expected Sandy Denny... duh! It was hot and sunny during their set and I know there was still food on site after it, hunger-crazed teenager that I was.
I remember something taking hold and dancing like a loon to Steppenwolf, and being asked by the young woman next to me what I'd got hold of.
Floyd I've never liked (sorry guys) but I do recall their spectacular performance, choir and lights (was it fireworks, too?) and them taking six weeks to set up on stage.
I can just recall Flock and their crazed violinist, but nothing about whether I liked them.
I do remember being much more impressed by Zeppelin than I thought I'd be, but again that was probably 'assisted'. Oh youth!
The Byrds - yes I was awake- were just wonderful to my ears. Remember craning to hear the excellent harmonies and leaving after them to find the cinema tent showing Fahrenheit 451, which I'd only just read a few weeks before... a bit mind-blowing.

This was the first of the 1970 festivals I'd left home for: I'd been going to go to Plumpton, but never made it. I went on to Krumlin and was one of the surviving great washed-away but retained my orange plastic sleeping bag ready for a very brief spell at Phun City and then two weeks at the IOW, where I hooked up with Pinkwind at Canvas City. But that's another story. Oh yes, never went back home.

Fatuous Platitudes
---
Hi
I was an art student in 1970. I travelled to the festival on saturday morning, with my boyfriend in his grey Ford Anglia. We were meeting some of his friends from university there. I was madly in love for the first time and very happy It was my birthday on the Sunday 28th June and I spent it watching Pink Floyd late on Saturday night. Then on Sunday we sat in the sunshine on the hill eating strawberrys and cream watching the incredible collection of bands.
Fantastic
Sue
---
I was seventeen. Remember listening to John Peel on Saturday afternoon. He remarked that he did not think many people would be listening as everbody was at Bath. About five in the afternoon I told my mum and dad I was going. I hitchhiked from Stockport to Knutsford on the M6 and made it to the site maybe about one AM. Recall a steward asking for two quid but he let me in for free. Floyd were doing AHM. At the peak there was a firework display. I turned around and saw the crowd. Fantastic. What an experience for a kid.
Highlights were Canned Heat, Santana, Flock.Nothing to eat but bread. Spirit was lovely.Started back during Zeppelins show. A tractor with a trailer took us to Bath for two bob. Went to an all night cafe and then hitched north. Ended up at Goostrey railway station and then train to Cheadle Hulme. Made school for 0830,my last day. Had to see the beak for leaving protocol. Wonderful memories, never to be repeated. Made it to Woodstock in 94 for my own personal pilgrimage. Still into the music. Take it easy.
Ken Manuel Stockport.
---
When I attended the Bath Festival in 1970 I was 16 years old. I was traveling around Europe alone while my parents were in the eastern block countries of Europe. I had linked up with new friends in London and we saw the ad for the festival. Fortunately for us, we purchased the ticket including the round trip train fare from London, so after the festival we had a way out. I do not remember too much but I do remember Edgar Winter playing with Johnny Winter and watching them on the huge screens. I remember hearing great music late at night while we were in our tent. It was a great adventure and though I don't remember eating or drinking, I do remember drugs and a boat load of people. I thought Formerly Fat Harry played. Thanks for the web site.
Xylus
---
Hi,
Thanks very much for your site....should be at work, but can't stop taking it all in. This was my first big festival and the one i remember the best. All the archives are fantastic. My experience was that I was up front at the guardrail and in amongst the Angels. It turned out that I meet a girl who was related to one of the members...so, I was not 'booted out' and was able to stay up front. These guys where alright and not what I had expected....having come from California and having some previous experiences with Angels (mostly good...but some scary one's also). I stayed through the rain and remember later crashing in a big tent.
Anyway...thanks for the site...will bookmark...
mike
---
God, this brought back so many memories!! I went there with my then boyfriend (now ex-husband) in a motorbike and sidecar, which we ended up sleeping in. There was not enough room to be side by side, it was probably the most uncomfortable night of my life. Though, having said that, we watched all the acts right through, so didn't have too much rest anyway. My fave memory was Dr. John - during his performance we had an official announcement (one of several) asking if there were any doctors 'in the house', to which he answered 'Well yeah, I'm THE doctor'. Don't think they used his services though....Jefferson Airplane were amazing, I don't remember the storm episode, loved Johnny Winter, and Zappa? - well it was the start of a long love affair for me, don't agree with one post that said they were overwhelmed/didn't click with the audience. Strangely enough I've never been to Glasto, probably won't now (unless as a VIP with all mod cons), but at the same time, feel as if I don't need to, 'cos who can improve on perfection?
;o)
---
I was a 20 year-old college student from Columbus, Ohio, and fresh from the violence and protest that flared at Ohio State University concurrent with the tragedy at Kent State. Only a month or two before Bath, I was on a campus surrounded by 40,000 armed National Guardsmen who had employed some $250,000 (1970 dollars) worth of tear and pepper gas in a three-day period.
The Bath Blues Festival, as we called it, was a gathering of hundreds of thousands of young people, brought together by the music, and free from the control of the older generation that had governed every aspect of our previous lives.
For me it was a transformational rebirth. For perhaps the first time, I realized that the world of my parents would yield to my generation, and that change was surely going to come.
I had hitchhiked to Bath after hearing about the festival from some other students who converged daily in front of a London office of American Express.I remember meeting atall blond, bearded fellow about 24, who said he was going to the festival to be employed as a stage hand. He invited me to join him, and I declined, as I was not ready to be employed at that point in my holiday.
Coming from Ohio, and an area where all of the homes were less than 50 years old, Bath was fascinating with it being full of Roman and Georgian influences.
Peter Bartlow
---
I was there...
I remember on the saturday afternoon,someone behind the stage released a lot of helium balloons with cannabis in them, the intention being to donate it to the crowd...
Sadly they miscalculated the wind and the hash disappeared over the horizon towards Shepton Mallet....I guess the residents were stoned for a week!!!
I also remember there was a german photographer with a truck and a big roll of newsprint which he rolled around the fields and photographed from every angle....
Nick China
---
I was involved in the Cruxificion, it was on Sunday 27th June whilst Zeppelin were performing, I expect we were stoned and it seemed a good idea at the time, Sorry all you Christians.
The Jesus lookalike was Raymond Stemp from Portsmouth, sadly no longer with us. The cross was hand-crafted, ok a few long branches found about the field and tied together.
The Jesus clobber was probably stolen from one of the loose Women that accompanied our little troop, who at the time was practising Love and Peace in one of the tents.

One of the best Festivals I have been too!

Hey it was my 21st birthday too that day, what a mad way to celebrate.
Steve.
---
© Jean-Pierre Lafont

Hi,
I got into the festival free, I stopped at a pub and gave a man and a woman a lift in my old green Ford Prefect, told them I had no money and was going to jump the fence.

They said don't worry, so I kept driving, when we got to the barrier the guy produced a badge and we went straight through, I was allowed to park my car by the left hand side of the stage, it was Saturday afternoon.

I was one of the few who sat on the left hand speaker scaffolding on Saturday, that was until those pesky bikers ordered me to get down. They were very threatening.

Later I managed to get right in front the stage, terrific stuff but reluctantly had to leave Sunday afternoon due to other commitments, a job.

Willow Fox

---

Hi
Me and my mate hitch hiked down from West Yorkshire on the Friday, and I seem to recall a band named Formerly Fat Harry playing the free festival on what must have been the Friday night, along with somebody playing sitar & tabla.

I remember the gates were supposed to open on Saturday morning, but because so many people were turning up, the organisers opened them on the Friday evening.

Also, because Formerly Fat Harry had gone down so well, did they not get to play at the real festival ?. ( Yes :Ed )

Great weekend though. Stayed from start to finish, got soaked and then took two days to hike home in the pouring rain.
Regards
Kevin Sharman
---
I was at Bath in 1970, 15 years old, how the hell I managed to convince my parents that it was OK to travel in the back of a Transit van (or whatever was around in those days) with a casual acquaintance, Vic Jankovsky, I have no idea...
I don't know why I remember, events of 40 years ago, but it was a landmark in my life.
I distinctly remember Flock playing a kind of fun version of "I knew an old lady who swallowed a fly" I don't recall the rest of their set, I already had their 1st album, bought off of a friend for a quid...
My strongest memories are:
Santana, playing Persuasion. I had this on a single, so it was easy to remember.
Steppenwolf: I was right down at the stage at this time, right beneath John Kay, what an experience. I remember "The Pusher" but not Born to be Wild, although, I guess it must have been in their set.
Its a Beautiful Day: Still in front of the stage, were they a brother and sister act? Kind of like the White Stripes? Don't remember their set, they were new to me at the time.
Don't remember Jefferson Airplane, but I do remember Hot Tuna. Was this the first time this Airplane spin off had played the UK.
I remember Pink Floyd, must have been late at night, it was dark, and I recall some weird noises that must have been "Saucerful of Secrets"
I missed my hero, peter Green with John Mayall, sleep got the better of me, I think their set was in the middle of the night along with Zappa.
Thanks for a great site..
regards
Chris Riches
---
Hi,

What a brilliant site, thanks for so lovingly making it possible and available.

I travelled down from Bradford in West Yorkshire with a pal, Ian Byfield, to see what we could see!

The weather left a lot to be desired but we were fortified by a few sheets of heavy duty polythene sheets! In fact, we offered to share the cover with people in front of us, one of whom was a lovely young lady who'd travelled from Pembrokeshire. She eventually became my Wife and mother of our two fine Sons, Tom & Jake.

The music was not always brilliant but it was LIVE and played with feeling. Highlights for me were Pink Floyd, Johnny Winter, The Mothers, Fairports (as ever), Coliseum and Led Zeppelin.

The available Box Set is well worth the purchase price and is recommended to all.

I've recently bought the DVD of Grateful Dead at the Hollywood Festival, held only weeks before Bath, and it is a brilliant Aide Memoire! Please, if anyone has footage from Bath, there is a market out there for it!

In my opinion the Bath Festival was every bit as good as Woodstock and I wouldn't have missed it for the world!

I still love music and always will,

Tony Brearton (60)
Cyprus

---

I was going through your website, especially for the Bath Festival. I noticed a photo on your page from Terry Farebrother. Among the Sunday photos the 6th one down on the left shows two guys perched on what appears to be an old sign-holder of some sort. I thought you may be interested in the attached photo I took of these two.
It is the only photo I have left from the festival sadly. The others were lost over the years.

Phil Cooper

© Phil Cooper
I remember just strolling in, without paying , not being asked by anyone to pay I walked on by. I recall listening to Canned Heat at 2 am on the Sunday morning. As I recall bands just turned up and basically jammed. Due to the lack of organization the music just ran and ran.......... The Sunday was a warm Summers day, I sat on the grass and listened to Donavan, his set went on and on......... There were others in particular Frank Zappa and then later the rain came in torrents. It was a fabulous festival, in my opinion the whole thing was representative of the ideology of youth at the time, so glad I was part of it........
Liz
---
Hi
I have only just found your website after taking a trip down Memory Lane and re-reading my diary for 1970. I was a first year student at Reading University and went to the Festival with my boyfriend and a couple of his mates. Sadly we missed large chunks, for reasons explained in square brackets in the following entry:
Fri 26/6
– I packed then Ray & his friend Steve & girl Alison came. We all set out for Bath - drove all night –
Sat 27/6
Phenomenal amount of cars & people – all heads – 150,000 of them. Got soaked with rain – sh*t being smoked everywhere & LSD abounding. Sat out on field – heard Colosseum & Steppenwolf who were great, also Keef Hartley. Quite incredible scene of camp fires & people everywhere. Took Alison to Bristol and slept out for a bit. [Alison was quite young – 16 or 17 – her parents did not approve of her going to the Bath Blues Festival. They wouldn't agree to her staying overnight! So we had to get her to stay with someone reliable that evening…thus missing quite a bit of the Festival.]
Sun 28/6
Woke and back to Festival. Heard Mothers of Invention, also Flock & Donovan. Ate bread & cheese mainly & drank milk. Bogs disgusting – didn't go! Everyone exploiting everyone else [so young and so cynical….] Led Zeppelin came on & they were absolutely fantastic. Everyone dancing round camp fires etc. Heard part of Jefferson Airplane then put Alison on train & drove back.
My main actual memories of this are the camp fires - people were tearing down fences to build them, and I was quite shocked by this lawlessness! being young and innocent. Also I do remember Zeppelin as being the greatest thing, singing Whole Lotta Love and [I think] The Lemon Song.
Happy days!
Ginni
---
Hi
I don't remember a great deal about that festival, but here's a few recollections - Wolverhampton Angels were definitely there cos I knew most of em.
The Pink Fairies played on the back of a truck away from the main arena.
We spent most of the time under four blankets inhaling lots of weed and secondary smoke. Lots of five bar gates were collected from around the site and burned - we did that!
It was apart from the Isle of White with Hendrix which was the last great festival, the best.
Pete
---
I was there with other people I knew from school, being 16 years old at the time. One of their dads dropped us off on the Friday evening and picked us up on the Monday. The bands started around 12 on the Saturday and continued as I recall through both days and nights till the Monday morning, with records played between sets. The highlight for me was Pink Floyd's "Atom Heart Mother" in the early hours of Sunday morning, followed by the sets by Steppenwolf, Led Zeppelin's "Whole Lotta Love" and Lemon Song at daybreak on the Saturday, Canned Heat, Jefferson Airplane, Country Joe MacDonald's "Fixin' to Die Rag", John Mayall & Peter Green , Johnny Winter who looked great on the side screens, and Donovan's unplanned set on the Sunday afternoon.

I had forgotten the Moody Blues were there - what a shame they couldn't play. I understand the trucks couldn't get in with their equipment. Frank Zappa was disappointing. Everyone says it was smaller than the Isle of Wight festival of the same summer, but a lot got in without paying, and there must have been a 6-figure number. People said over 200,000 at the time, but that may be an exaggeration. Nobody really knows. I do know you'd be hard pushed to get that number together now without trouble.

Apart from a warning about bad acid from the stage, I was aware of no trouble at all. The view was great as the grass sloped down to the stage. Apart from the toilets, I don't recall any tents - just sleeping bags in the open air. As others have said, the memories are fading, but thanks for jogging them. Great photos. Would love to buy a recording of any parts of the event if any exist. There are several clips on YouTube.
Thanks again for posting the site.
Michael Buckland
Wargrave, Berkshire

Shit, its the SUN ! © Jean-Pierre Lafont
---
I can only say that as I remember it Donovan's set(s) seemed to go on and on and on. I thought he was never going to finish. He did one song which still grates on me me today - "Old Lady Who Swallowed A Fly" That just about did it for me - he asked if we wanted some more which was when the crowd gave him the bum's rush and a resounding GET OFF - I think everybody was thoroughly pissed off and thank goodness he did then go.

Best Wishes,
Edward
---
Donovan did overstay his welcome, notably during "The Pope Smokes Dope" which was pretty much the nadir of his appearance. He asked if the crowd wanted more and a resounding "Noooo!!! ensued". But he was beautiful for the most part. He appeared with Open Road I think they were called, for his electric set which was instantly forgettable. We did see him, at one stage, dressed in his fringed jacket and throwing up in the mile long queue for the 'latrines' (long planks over an open cess pit – tres chic!). Unforgettable weekend, not least because John Peel was a hoot, 'Laughing Policeman' and all.
Ian Macintosh
---
Hi,
I went with some friends from the boys school in Wilmslow. I was 17. Getting to the festival was slow process, the traffic was gridlocked. The music was fantastic Pink Floyd, Johnny Winter , Steppenwolf, John Mayall. Always recall "Johnny Be Good". The line up was just amazing
I remember Hell's Angels being asked to clear the press enclosure which had become crowded with fans who were jumping on the stage. A few huge guys jumped on to the stage with chains in their hands and the press enclosure cleared really quickly. Getting to the festival was slow process, the traffic was gridlocked. Fertiliser bags were handed out to stop us getting wet.
Clare Benson (Nuttall)
---
First met Keef when he played in the Artwoods with Jon Lord and Ronnie Wood's brother, and followed his career through Mayall to setting up his own band.
There were two memorable moments from the Bath set – firstly when Lyle Jenkins on sax finished one of the "Time is Near" tracks with a blistering fusillade of notes and secondly when Keef did his drum solo. As I recall he was never a flash drummer but technically very good. Not a finish with double bass drums pounding away (he only had one) but what I think is called a "single stroke roll" which started quietly and rose steadily and mightily in volume and, I kiddeth you not, the whole field rose as one and cheered the "little big man"!! Brilliant!

Keep up the good work

Cheers

John Burrell
---
Hi, I was at the Bath Festivals, the one on the cricket ground and at Shepton Mallet Show Grounds, the latter is still the best festival ever!!!! A lot of interest around at the moment, because of the 40th anniversery, I always tell people that the first band on was Joe Jammer, now I don't know if they were the first band I saw, or the first on stage on one of the days, but I can remember them not going down to well, but I always say I enjoyed their set. Glad to hear Joe is still gigging, as I am. Thanks for the memories,
Reg Chalker,
Buxton, Derbyshire. a Welshman living in Exile
---
I was 20 and drove 4 of us down in my mum's Hillman Imp. We seemed to get there OK, but I remember long traffic jam and the imp always had a way of overheating. When it rained we found a permanent brick built ticket booth for the Bath & West Showground and sheltered there.

Had gone down mainly to see Pink Floyd and Jefferson Airplane, but enjoyed all the acts, especially Hot Tuna. We thought we were very cool. Looking at all the pictures on the site I recognised myself loads of times, but it wasn't me.

I remember a bloke standing up in a sleeping bag and everyone behind him shouted at him to sit down. He ignored everyone for about 2 minutes then turned round to us and produced a milk bottle from his sleeping bag, full of p*ss. Wild cheers. God knows what he did with it though. Which reminds me, I think there was a line of loos at the top of a hill behind the crowd which overtopped, must have been a nightmare up there.

We stayed up all Saturday night/Sunday morning, Floyd were great as usual. We missed Jefferson Airplane the next night as by midnight-ish on Sunday we had to go as Yvonne worked in Barclays in Hampton Wick and she had to be at work at 9am Monday morning. I pulled over somewhere on the way back, couldn't keep my eyes open and was woken by a furious Yvonne about 5am in the middle of nowhere. We made it back to Barclays in time I think, anyway she still had her job some years later.
What great days 40 years ago now, and thanks for your site.

John Slater

---

Hi I have just been cruising the web and reminiscing about the good old days. Frank Zappa, Led Zep, etc. My lighting company CONTRAPTION LIGHTS did all the stage effects. Got lots of juicy stories. Santana throwing up on stage behind the Floyd doing there thing, etc. My VW bus was parked at the bottom of the stage steps so we could have a quick kip and tea, yeh tea, between act coming on. That bus saw a lot of action.

Regards,

Albert

Crew filming © Jean-Pierre Lafont
---
I was sixteen years old in 1970, still in school. My Dad took four of us in the car over to Shepton Mallet - myself, a schoolfriend, and a girl who was in my class with her boyfriend. Those two had a tent whereas my friend and I had just sleeping bags.
My first memory of the festival was stuck in a traffic jam some miles away from the site, and a Somerset farmer leaning on a gate, telling us "you'll
never get up there, there's thousands up there" in a lovely Somerset accent. Magic.
We did get there, eventually, and I remember (vaguely unfortunately) some great music over the weekend. One of the highlights for me was Fairport Convention doing an electric set early on the Sunday morning (I think!) - it was brilliant!
Another highlight for me was Hendrix's Star Spangled Banner being played over the tannoy system, just at the right volume (VERY LOUD). I've always
been a Hendrix nut so this was a real thrill for me.
At the end of the weekend, I think it was the Sunday night, Led Zeppelin were really late going on, and I missed it. My schoolfriend and I had
arranged to meet my Dad for a lift home at a certain time (no mobiles those days) and we had to leave in order to meet up.
The girl with us, and her boyfriend, stayed for Led Zep and hitched home.
A great weekend - nice to see the site. Well done.
Robert Emery
---
I attended the Bath Festival 1970 as a 16 year old and later that year the Isle of Wight travelling by boat & train from Dublin.
My memories are very clear and I much preferred the Bath gig as it was more spacious, better organised and had better acts despite Hendrix and the Doors at Wight.
As regards the Hells Angels/Bikers, I made my way down to the front stage area on arrival. There were two sets of crowd control barriers in front of the stage and I managed to get into the inner area just beside the rostrum camera. The Hells Angels/Bikers took over much of this area at some stage and were mainly Welsh with Bristol featuring on the back of their jackets. I got talking to one of them who was wearing a cowboy hat and seemed to be in charge of some
of them. It was announced from the stage that the Hells Angels had been requested to clear unauthorised people from these enclosed areas but may cowboy pal instructed that I be allowed stay in the outer enclosed area and I was left alone there. The Angels were most turned on by Steppenwolf and staged mock fights during their performance. They seemed a pretty non threatening bunch where I sat unlike the security people at the Isle Wight.
One of my favourite memories was purchasing a very large round of cheese in a very large bun supplied by local cheese makers and a local bakery at a very reasonable price. I also managed to catch an "FZ" stamped orange during the FZ/Mothers set.

Regards,

Conor Cahill
---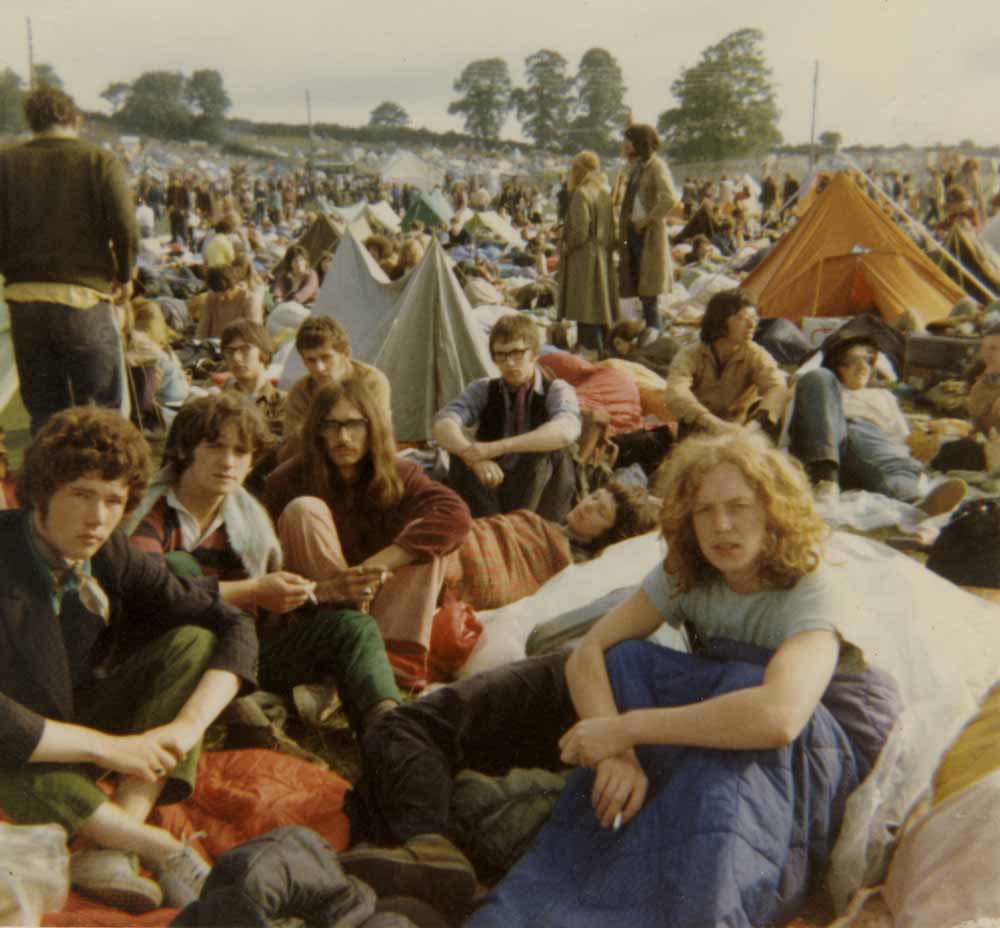 Happy campers © Paul Ryan
There were four of us, driving down from west London to the festival, parking the car by pulling over into the hedge on a country lane, behaving as if we were abandoning it (I wasn't, it was an Austin Westminster!), and walking a mile or so to the site, the lane thickening with fellow long-hairs. What do I recall? The rain of course and the fact I didn't have any protection, dressed for a hot summer, pulling a sheet of plastic over us and freezing in the early hours of the morning.
Seeing (or hearing) Jefferson Airplane in the early hours and being very pissed off when Grace Slick announced they were ending their set due to the rain and risk of electrocution. Did I also see The Byrds? Not sure. Hendrix? Ten Years After? Family? Jethro Tull? Traffic? Blodwyn Pig? Or did I see them at another or many other music festivals in the late sixties, early seventies?
My abiding memory of the Bath fest? Easy - the Airplane (still one of the best west coast bands), despite their truncated set, driving back to London, without benefit of sleep, nearly dozing off driving over the Chiswick flyover (to drop my friends off somewhere near Fullers' Griffin brewery), the rain and, thanks to the wet and cold during the festival, my contracting pleurisy a few days later and being almost hospitalized. Glory days.

Mike Abbott
---
Great web site and look forward to your updates. I am on one of the original web site photos which is now in the View from the mud site, my story being as follows;
Travelled down from Birkenhead on the Friday night with mate John Mac arriving into the Saturday rain and mud wondering what the hell was going on. Had a ball in the local pub prior to going into the festival with a few plastic bottles of beer, even sold the dregs to one desperate guy later in the day. Most of the bands we had seen prior to the festival but Pink Floyd was the stand out later Saturday night (after waking up).
Donovan's electric set and Led Zep being the all time greatest memory and such a pity no film as yet.
The journey home being a bit dodgy as we where both a bit stoned still and my driving wasn't the best, I ended up living in Somerset about a year later and now live in Queensland.
All the best and my kids take great delight in showing what a hippie their dad was.
Paul Davies
---
Hi
Great site, Great Memories
Remember getting a lift to Shepton Mallet Friday night -had a job getting into one of the pubs, while we were stood in the car park with a drink ,some guy asked us to look after his woman, We soon realised why, she was completely stoned and trying to dance with passing cars,escorted away by the law in the end.
We slept outside the main gates all night, constant interruptions from pushers flogging LSD etc,we stuck to grass in those days, and threatened to shove the pills where the sun don't shine,if we weren't left to sleep.
There were four of us Butch Blake, Robbie Macklin, Pete Stillwell and me, but as we went in Saturday morning,I was leapt on by by a girlfriend from Winchester called Karen and her friend Jill, there you go ,what more can you ask for,a great weekend of music,good mates and a woman to cuddle.Perhaps I might have asked for better weather.
I always thought Led Zeppelin were a good live band,and they were a real joy to hear.And because I was Heavily into American Bands ,it was good to see people like Airplane, Country Joe, Santana and the Mothers, I have a large collection of Zappa stuff now.
It was a pity about some bands on at odd times Dr John,not the best time to listen to Swamp blues.
One last unpleasant memory, was the state of the loos on Monday morning, desperate as I was I hung on till we walked to Castle Cary railway Station.
Brilliant site,keep it going.
Alan Etheridge ( Effy )
Southampton Hampshire
---
Hello,
I saw Dr John's set and I think it started around 6 am....I remember very well as soon as he started singing the rain started falling again.
It is so many years ago now, but he was definitely doing tunes from the Nightripper album, which would have meant Gris Gris and Walk on Gildered Splinters.

One fact I can add with utter conviction is that the two lady singers were Tami Lynn – famous N'awlins singer who had a hit with 'I'm gonna run away from you'
and the even more known is Shirley Goodman of New Orleans duo Shirley and Lee who had many, many hits during the 50-60's, including 'Let the Good Times Roll'
Later in the 70's Shirley came back with a big hit in both America and the U.K. as Shirley & Co 'Shame Shame Shame'

Through the years I have spoken with both singers and they remember it well, mostly because of the time they had to appear.

Hope this helps,

Nick Sands
---
My memories are vague but we (four of us) travelled from Whitstable in Kent to London by train. Then caught the train from Paddington which arrived in Bath about 3 in the morning. Thinking we were there we were disappointed to find we had to doss down on the platform and wait for the first train to Castle Cary. Then a fairly long walk to the showground. Then the rain. Sheltered under a portable toilet block and then found a space in a communal marquee. One of my mates left his shoes outside to dry off and had them nicked. I remember watching Godzilla movies screened on the side of the tent and joints being passed round. I must have been walking round in a daze as I don't really remember the music much other than Maynard Ferguson ( what's that all about?) but we were near the front. Hells Angels acting as security and a stolen crate of apples being thrown at people who would not sit down. The catering ran out of food and we survived on pots of Strawberry Fool!! One standout memory was leaving the site to the sound of Dr. John at dawn on the Monday morning. Then the long trip back. Getting on the train we managed to get some decent food and a beer. I remember a regular passenger commenting on how we smelt (awful??). Were tickets really £3.75?

Proposed to my girlfriend when I got home and never attended another festival!
John Pettitt
---
Only just found your site, brought back some great memories. Hitched it down from Southport on the Thursday night, arrived on the Friday night, the last couple of miles was like something from Lord of the Rings, thousands walking towards the site. We camped on the Friday night and woke up on the Saturday morning soaked, the tent had collapsed during the night, the tent was dumped. We stayed in one of the communal wigwams and met some great people. I don't really remember much about the music apart from Country Joe, Led Zeppelin and waking up on the Sunday morning to Canned Heat. I slept through the Floyd, saw them come on stage and woke up to see the fireworks at the end of their set. We cadged a lift back to Liverpool on the Monday morning, we were starving, had hardly ate all weekend.
Mike Fox
---
I''m not sure how important this is but your webpage asked for recollections of Keef Hartley band at Bath in 1970. I was (am) a big Keef Hartley fan but their performance at Bath for some reason wasn''t particularly well received (particularly Keef's solos) at least where I was positioned which was some way back from the stage. There was polite applause but unfortunately quite a few calls displaying shall we say discontent! Keef, from the stage, interpreted this as calls for more (which may have been the case closer to the stage) and so then proceeded to play an encore which was the Legoverture –-all 20 minutes of it!

So, unfortunately, Keef Hartley was not one of the highlights of Bath and this was compounded by Colosseum following if not next then very soon after who were terrific and Jon Hiseman''s drum solo being full-on and receiving plenty of (genuine) calls for more.

Best wishes
Richard Wheeler
---
The 1970 Festival was incredibly influential to my life. I am from Vancouver, Canada. I had spent the previously 6 months of so along the Mediterranean from Portugal to Turkey, flew on April 22 (my 21st birthday) from Istanbul to Paris and then travelled to London a week or so later. Two weeks before the festival, I was living in the forest near St Ives with some lovely British hippies and having substantial run ins with the local constabulary. They ultimately seized all our packs and gear one day while we were at the beach and I was able to get it all returned by informing them that they had "stolen" my Canadian passport which was in my pack and there would be hell to pay when I called the Canadian Embassy.
I made my way to Shepton Mallet about a week prior to the Festival and got a job helping with the set up. As I recall there were a number of great young guys from Reading University there for that week and we would repair to a pub in Shepton Mallet in the evenings and I would literally have to crawl back to the site.
Freddie Bannister made an appearance several days before the event and for some reason picked me out of a group and told me that as long as I didn't say I had been at Woodstock he would show me around the site in his car. I didn't and he did, and I recall that half hour or so very well as he drove and pointed out what was going on and was going to happen.
The Festival itself was amazing. I had a mate and once the festival began we took a spot on a road case on stage left and ferociously withstood all attempts by security to move us. I saw the entire festival (with the exception of Pink Floyd, was just too exhausted to stay awake) from that spot.
The highlight for me was Led Zeppelin. Sitting on that road case I watched Robert Plant move from the back to the front of the stage in what seemed a split second and launch their set as the entire audience came to their feet with the most amazing release of energy and sound. I remember having my eyes closed during a Jimmy Page solo and opening them to find him literally a foot in front of me looking at me and laughing as he soloed.
In March, 1973, in Vancouver I promoted my first concert – Captain Beefheart at the Commodore Ballroom. I was 23. This year I celebrated my 40th year as a concert promoter. I think about the 1970 Bath Blues Festival all the time. I love doing what I do as much or more than ever and fully understand that I owe a lot of my life's remarkable experiences to that weekend.
Much love to all who were there.
Paul Mercs
---
Hi,
What a great recollection of wonderful times in our privileged lives - didn't we have it all, hardly believable today. Magic times of fantasy and fun.
Visitors from Cape Town - two of us caught the train down from London to Highbridge - the carriages was full of long hairs. We hired a white Beetle and drove to Shepton - or tried too, the roads were jam packed with ravers. It was one long bumper to bumper queue to the grounds - but the excitement was electric. The Hells Angels sped by with musos on the back of their bikes - other bands were flown in by helicopter.
Up on the hill -- it was like a battlefield with tents and sleeping bags in the drizzle - getting out again was impossible, and the toilets were no go -- much pissing in the bushes. Campfires. incense and joints lit up the dark night and miserable rain.
Tickets were a joke, they flowed like water -- our friends Peter and Lillian Webber from Cape Town, had seats in the press enclosure, we slummed it on the ground. Couldn't see the stage but vaguely remember screens.......
I chickened out after a day of being trapped in the car, and got a lift back to my uncle's (Cyril Smith) cottage in Brent Knoll, and we didn't see Gerry Dixon for three days -- he came back exhausted, raving about Led Zeppelin and Zappa. Years later he started Scratch - a reggae club in Cape Town, inspired by a his youth in Eel Pie Island, Ken Colyer's Jazz Club, Marquee and 100 Oxford Street.
Just spoke to the friends who went to Bath and were lucky enough to sit in the VIP section for three whole days - Peter (now 81 and prominent artist in Cape Town ) said the music was wonderful and they got the tickets from John Thornton - an Aussie photographer living in London.
Thanks again for the memories -
Simone Williams, S.Africa.
---
I just had a look at your wonderfully interesting site:

So, its now 50 years (wow!!!) since I ran away from home in Glasgow, Scotland as a 15 year old and hitch-hiked to the Bath Festival and I was browsing the web looking for details.

I have a fairly good memory and can recall many of the bands.

I don't have any photos of the occasion. I didn't own a camera unfortunately because I did manage to view much of the event very close to the centre of the stage, just at the fence.

I read there was doubt as to whether Formerly Fat Harry performed and I can confirm that they did indeed play. In fact, I had never heard of them prior to the festival but liked them enough to buy their album after returning home.

I often remember artists because of their guitars. Guitars are my main obsession in life and I now craft my own high quality instruments.

I'm sure Donovan played a Goldtop Gibson Les Paul.

The guitarist in Steppenwolf had a clear acrylic (Perspex, Plexiglass?) guitar, perhaps a Dan Armstrong.

I recognised Jimmy Page's Les Paul but didn't realize it was him holding tt till he started playing! He had grown a beard and was wearing a big long coat and a bush hat. I thought he was a roadie.

I remember Frank Zappa throwing a crate of oranges out to the audience, but I didn't get one.

Ah, Pink Floyd at dawn playing Atom Heart Mother with choir and orchestra......awesome!

I'm sure Keef Hartley played twice, in two bands.

There were so many fantastic performances but the main standouts for me
were:
John Mayall, with Peter Green (RIP, the main reason that I went); Canned Heat; Flock; Fairport Convention; Santana; Johnny Winter (with Edgar) and, of course, Led Zeppelin.


Overall it was an awesome experience and I managed to safely hitch-hike back home where my family presumed I'd been staying with my friends nearby and attending school as normal! I never did tell them. I went to see Pink Floyd perform Atom Heart Mother again a few months later at the free Hyde Park, London concert.

And so my desire to wander was kindled and I am now living in Australia.

I hope my ramblings are of some help to your collection of witness accounts etc.

Kind regards,

Ken Fox
---
Hi,
Thanks for building this site, brings back memories. I was a 19 year old apprentice at RAF Locking at the time and bussed/hitched it to Shepton after the regular Saturday morning parade. Couldn't get anyone else to attend so it was a solo trip. It was absolutely bloody marvellous, didn't seem as crowded as the images show. I even met a mate from Weston in the crowd and he offered me a bed for the night in his tent on the hill overlooking the stage. Best thing was, I had a real crush on his sister and she was in the tent too. But that's as close as I ever got - oh well.
Thanks again and best regards,
Frank
---
---