The Archive .
---
Big thanks to our sponsor Neil !

For information on today's festivals see eFestivals.co.uk
---
View at 1920 X 1024 res for best results.

Last updated June 2021 :new photos Led Zeppelin, Jefferson Airplane, Steppenwolf, Flock and Santana .

---
The Mysterious Case of the Lost Roll of Film.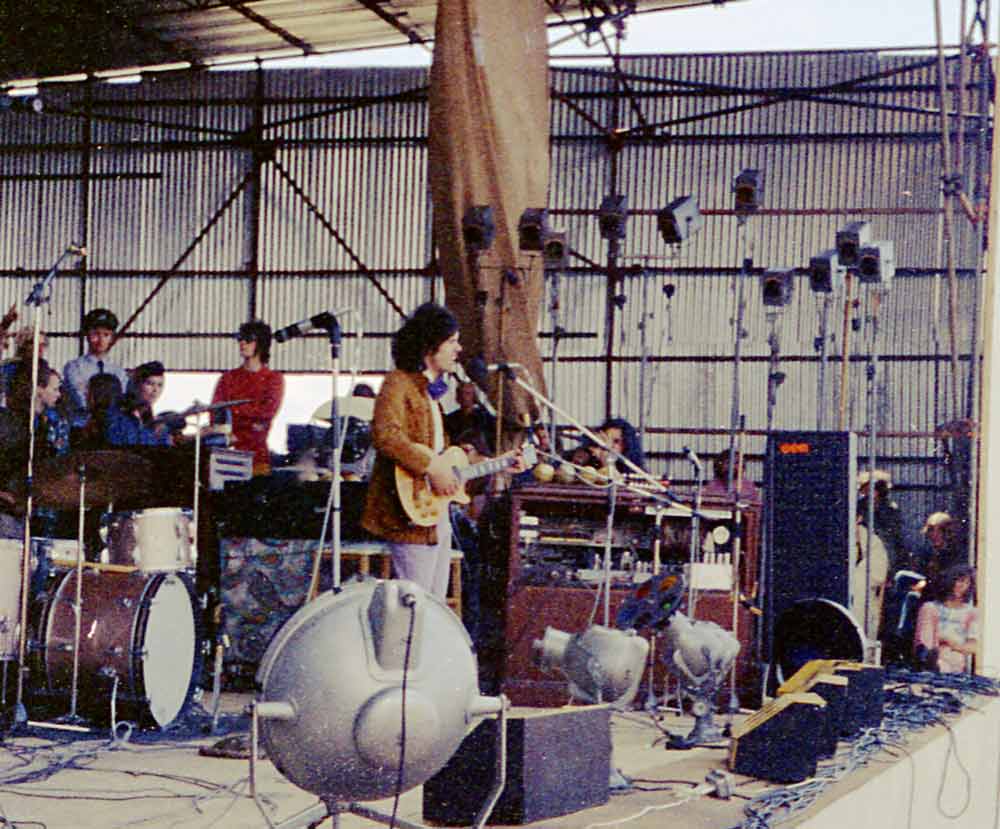 Donovan onstage , probably on Saturday when he was filling in for absent bands held up by traffic . Courtesy Malcolm Cleary
In July 1970 , in Hyde Park , a 15 year old American on holiday in the UK found a roll of 35 mm film . It was unmarked, but he took it home with him and out of curiosity he paid to have the images developed. To his surprise they contained 37 colour images of a festival .....
Fast forward to Jan 2013 , I received a fascinating email from the erstwhile 15 year old, who it turns out was called Malcolm Cleary
When I was 15 years old, and in London with my parents (I lived/live in California) I found a roll of film in Hyde Park. The other day I was cleaning out some things and I came across the developed photos and the negatives. At the time I had developed the role of film but did not know what the subject matter was. I looked at them again and wondered if I could figure out where the photos were taken. Looking at the ukrockfestivals.com site, based on the stage and the surrounding hills it seems that they may have been taken at the Bath Festival of Blues and Progressive Music in 1970. There are 37 color photos, somewhat faded now, and the negatives. I am unclear of who took them but whoever it was seemed to have access to the stage area and back stage. Do you have any interest in these photos?
All the best,
Malcolm
Do bears live in the woods ? Of course I was interested, for a start, backstage images from Bath were rare and these photos also promised a treasure trove of images of the film crews who documented the festival . Malcolm sent along the images and they are here for you all to have a look at and possibly identify the people who are featured . One of the reasons that I have continued to document these festivals, despite all the hassles from people who are impatient and rude , frustration at having material offered and then never acted on, spurious stories and the sheer lack of available material on occasions , is for moments like these. When a treasure is unearthed after many years and yet another piece of the festival jigsaw falls into place , still leaving many gaps , but nevertheless, fewer than before.
Enjoy what is now available for the first time to an audience after close to half a century and give thanks to Malcolm for the efforts he has made to provide us with these lost gems .
Saturday June 27th 1970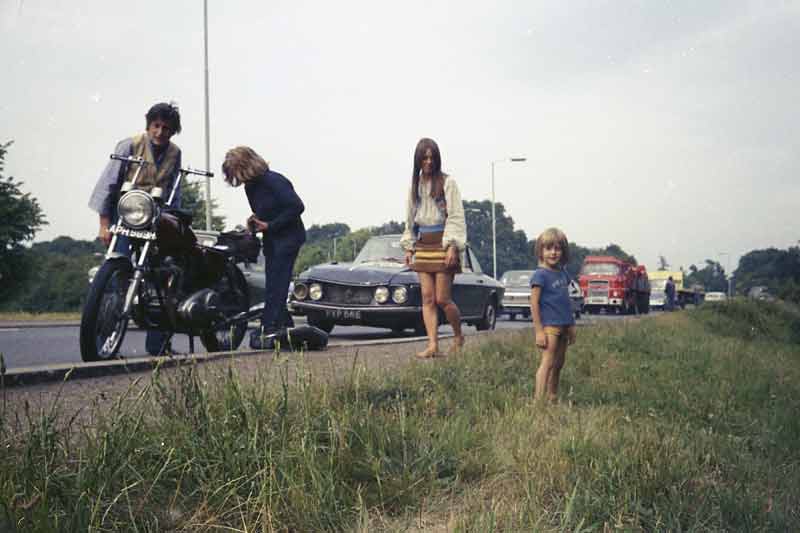 The roll begins with a few images presumably shot on the way to the festival. Courtesy Malcolm Cleary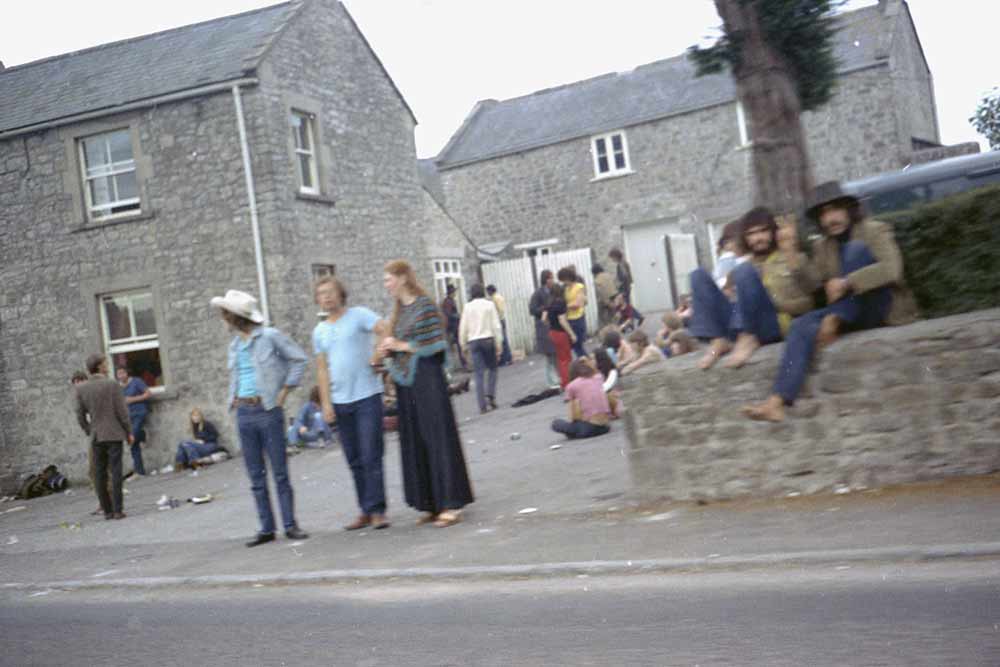 Peace maaaan !. Courtesy Malcolm Cleary
| | |
| --- | --- |
| Somewhere on the way to the festival .Courtesy Malcolm Cleary | Don't you worry Bert, we'll keep they 'ippies off yor spuds ! Courtesy Malcolm Cleary |
---
The action then shifts to backstage area of the festival .
Knackered after all the excitement , the younger member of the party gets some much needed shuteye.......

Unfortunately the image is not sufficiently in focus for us to read the tag on this gentlemans shirt....

Courtesy Malcolm Cleary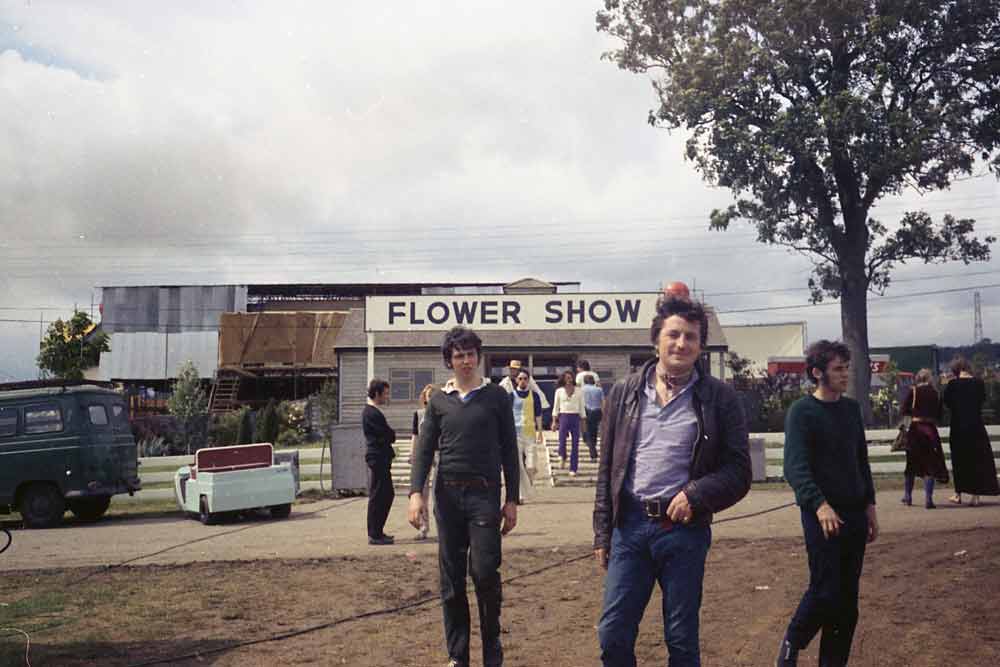 A rare shot of the rear of the stage amid evidence of the more parochial nature of the usual Bath and Wells showground activities.
Courtesy Malcolm Cleary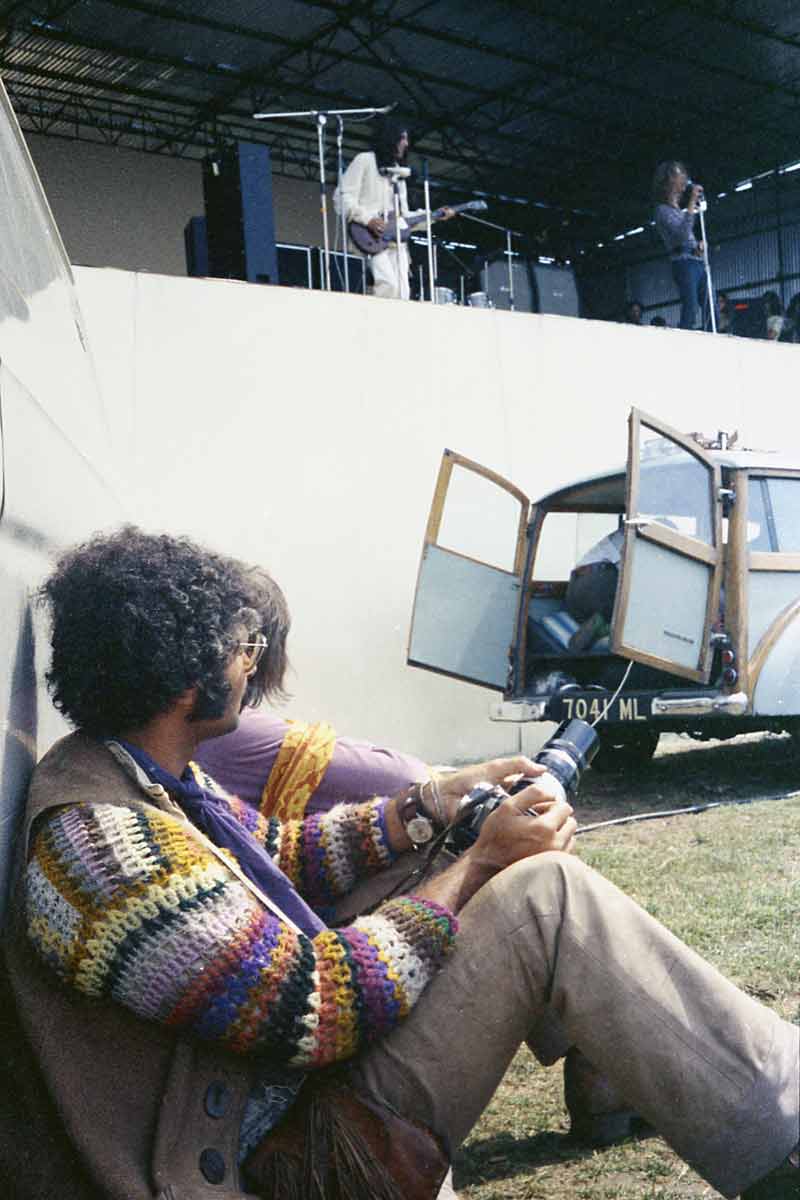 Onstage Joe Jammer begins to entertain the crowd as the film crew with the Morris Traveller gets themselves sorted .
Courtesy Malcolm Cleary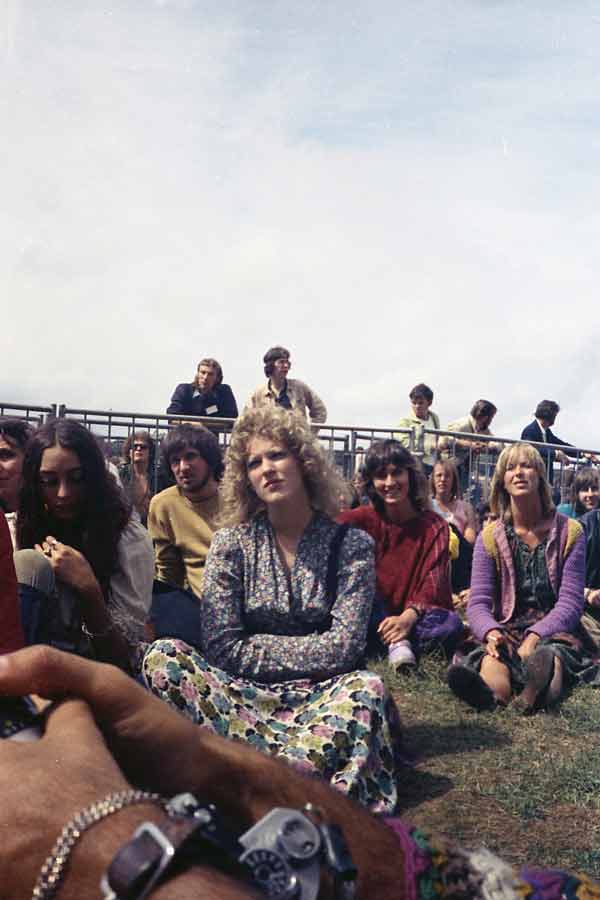 Not exactly a throng gathered down the front for Joe Jammer.
Courtesy Malcolm Cleary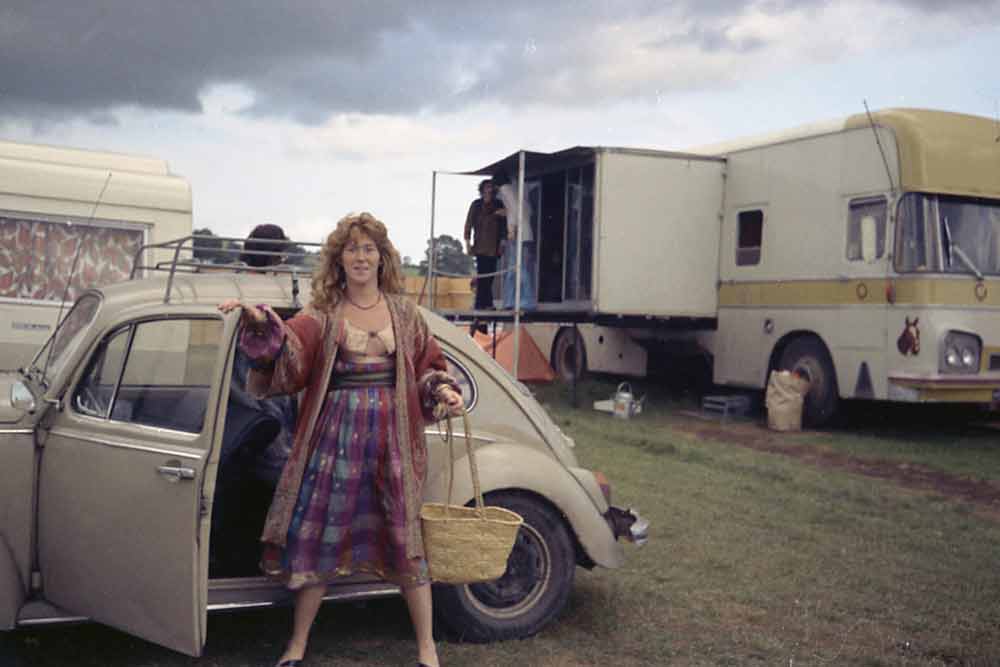 Arrival of one of the backstage populace. We also have some info about the vehicle in the background which is alas ,no longer with us......

"The photo of the "horse box" is actually a vehicle owned by a gypsy/smuggler/dope dealer/ thief named Taffy. It was built for MI6 and used by a British spy named Greville Wynne, whose profession and cover was that of electrical engineer, to tour East Bloc trade fairs. Wynne was arrested in Budapest 1963 in connection with Soviet spy Oleg Penkovsky .The vehicle had side panels that telescoped out, providing extensive exhibition space.....or in this case, room to hang out.
Although I was at the Bath festival, I didn't run into Taffy and his truck until the Phun City festival at Worthing later that summer. He was parked behind the stage, hosting the Angels and various musicians, and I had a lot of top quality Afghan hashish.
After moving to Amsterdam in 1973, I again ran into Taffy and his truck. We became friends and " business " associates, and the truck made various smuggling runs to Afghanistan and later Yugoslavia. In 1977 an angry customer ( Taffy was a well known ripper) torched the truck, more or less destroying everything but the cab."
Albie
As the young lady disembarks ,more members of the expedition arrive .......

Courtesy Malcolm Cleary

Some in exotic attire....

Courtesy Malcolm Cleary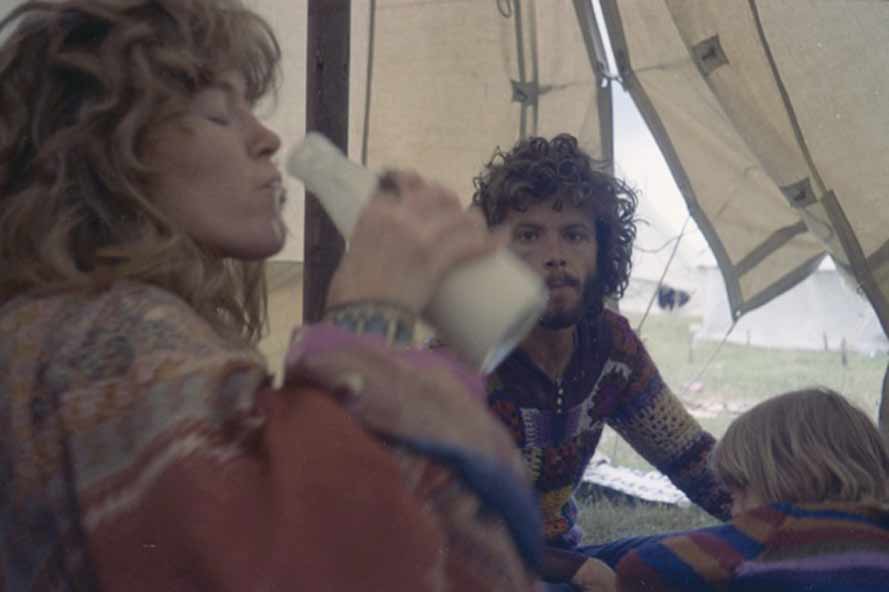 Refreshments are procured and shared around
Courtesy Malcolm Cleary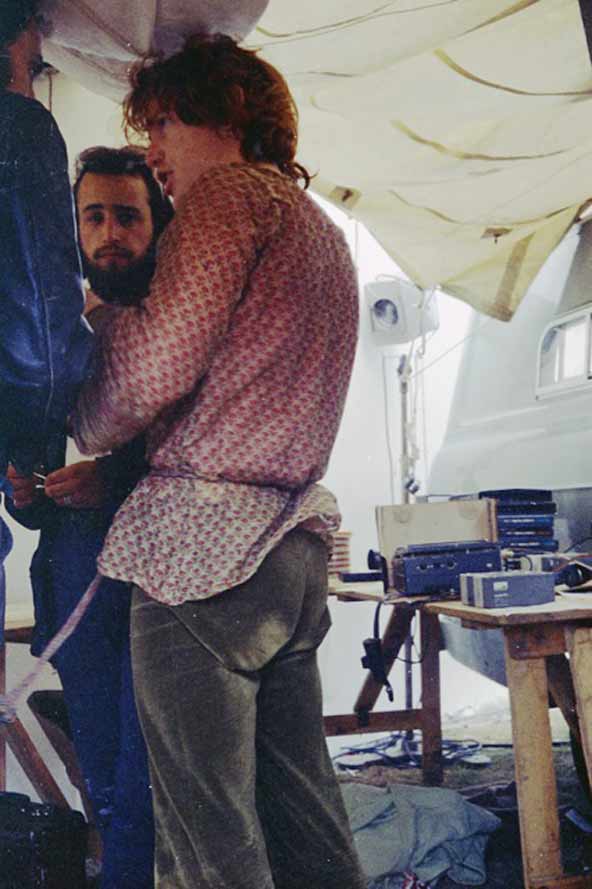 This would appear to be the base for some of the film folks , note equipment in background.....
Courtesy Malcolm Cleary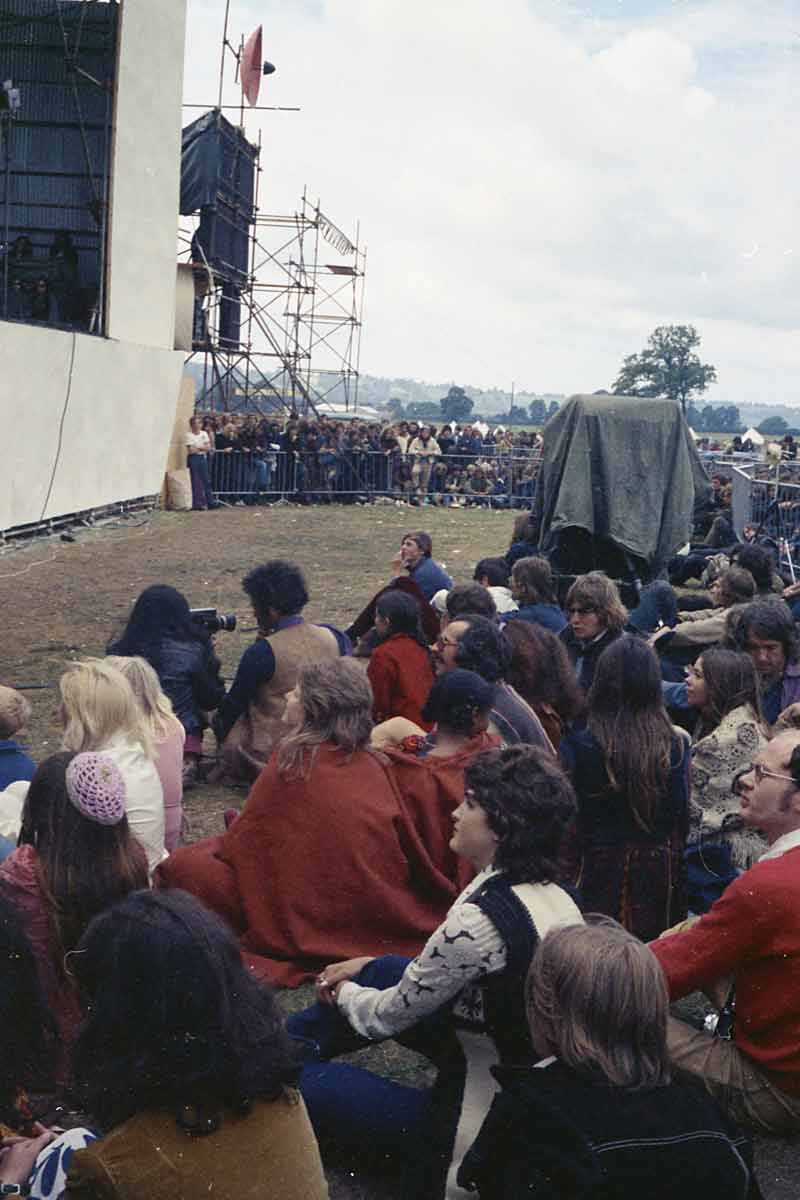 Out front anticipation builds, but where are the bands ? ....
Courtesy Malcolm Cleary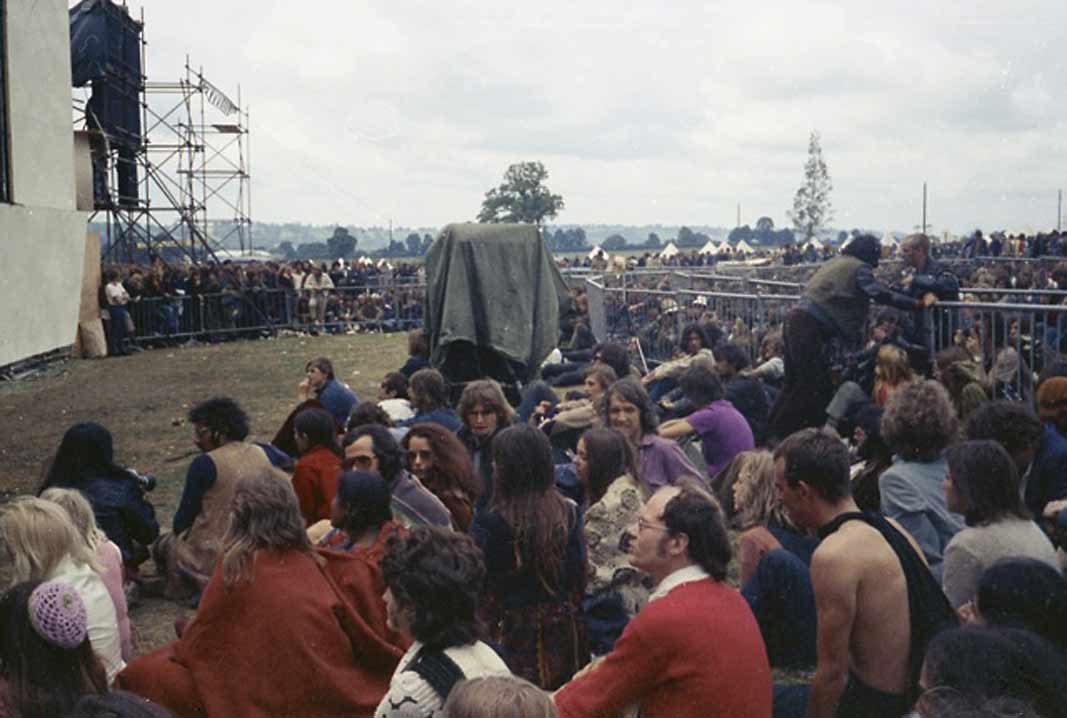 They wait ......
Courtesy Malcolm Cleary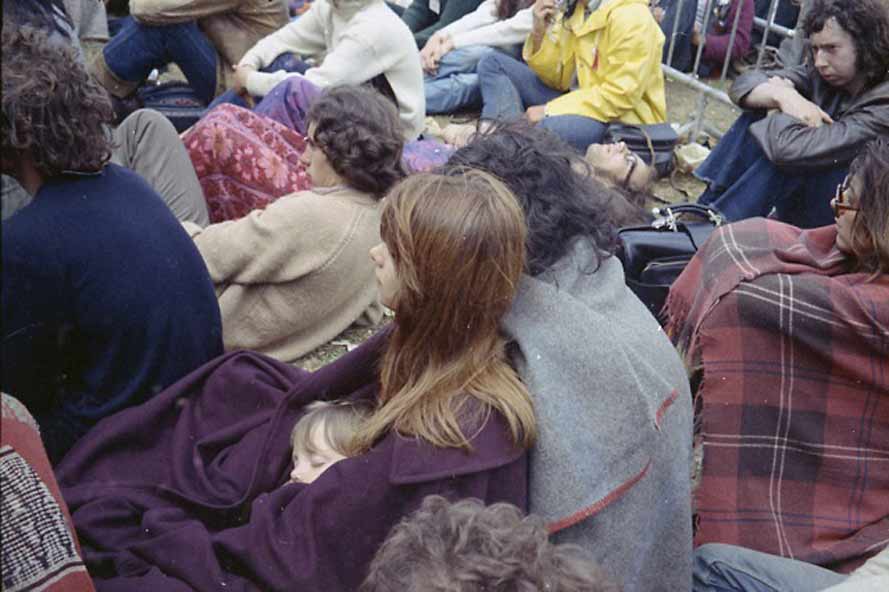 And wait ......
Courtesy Malcolm Cleary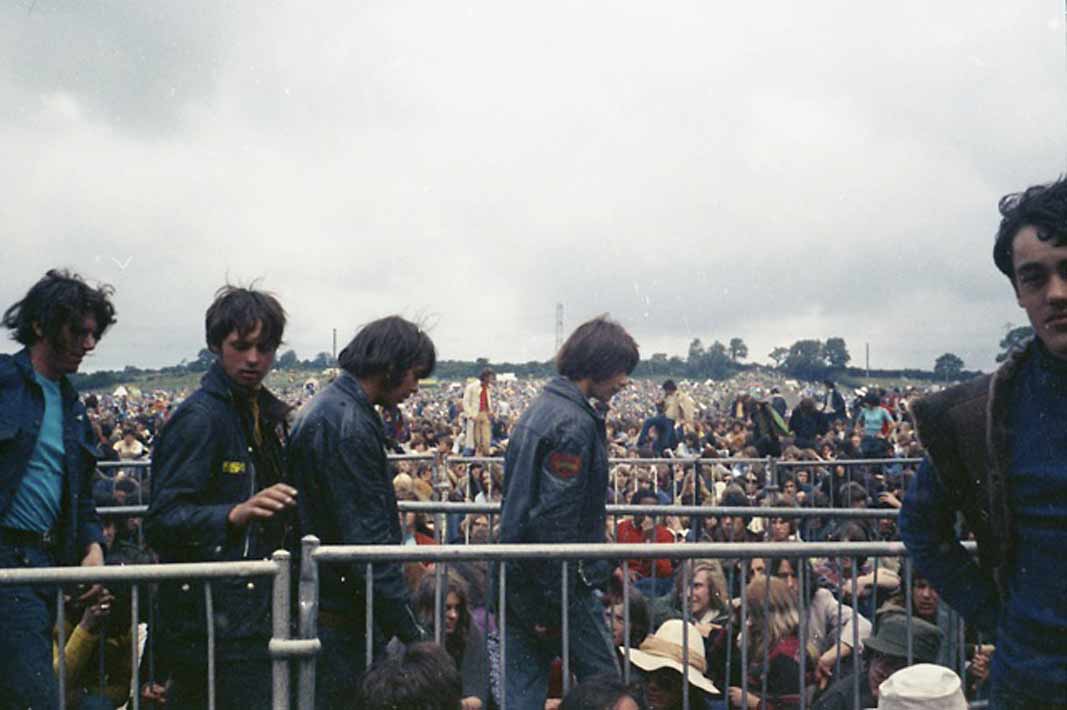 As more arrive ......
Courtesy Malcolm Cleary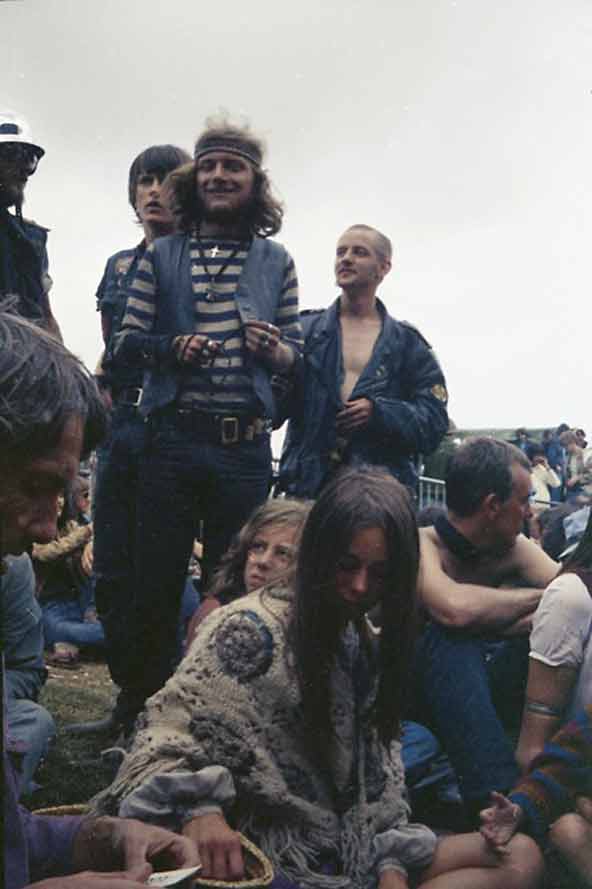 And the front fills up with more exotic creatures......
Courtesy Malcolm Cleary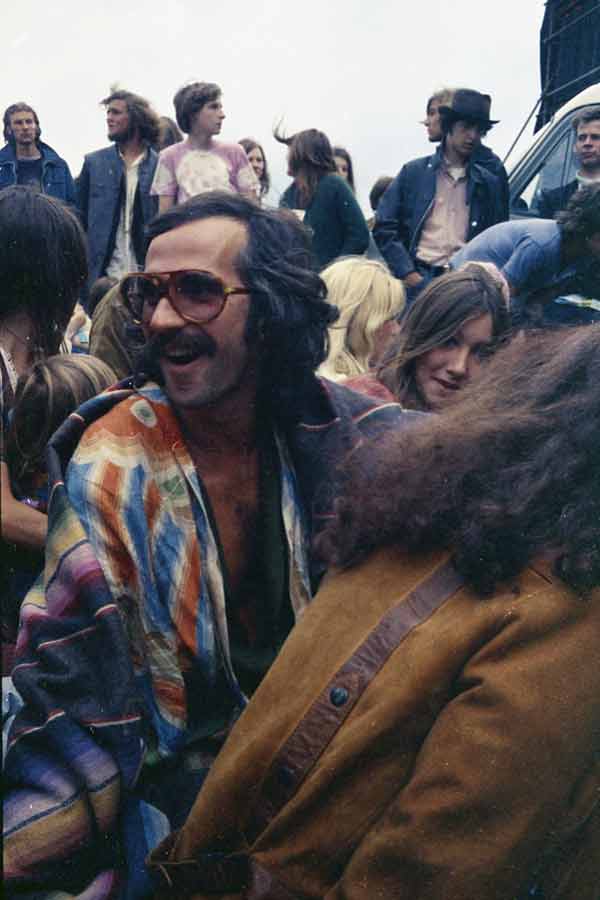 All things come to those that wait, eventually ......
Courtesy Malcolm Cleary
As nothing much happens onstage .There appear to be some problems..... ponderings by the film crew as a 16mm camera is set up ...
Courtesy Malcolm Cleary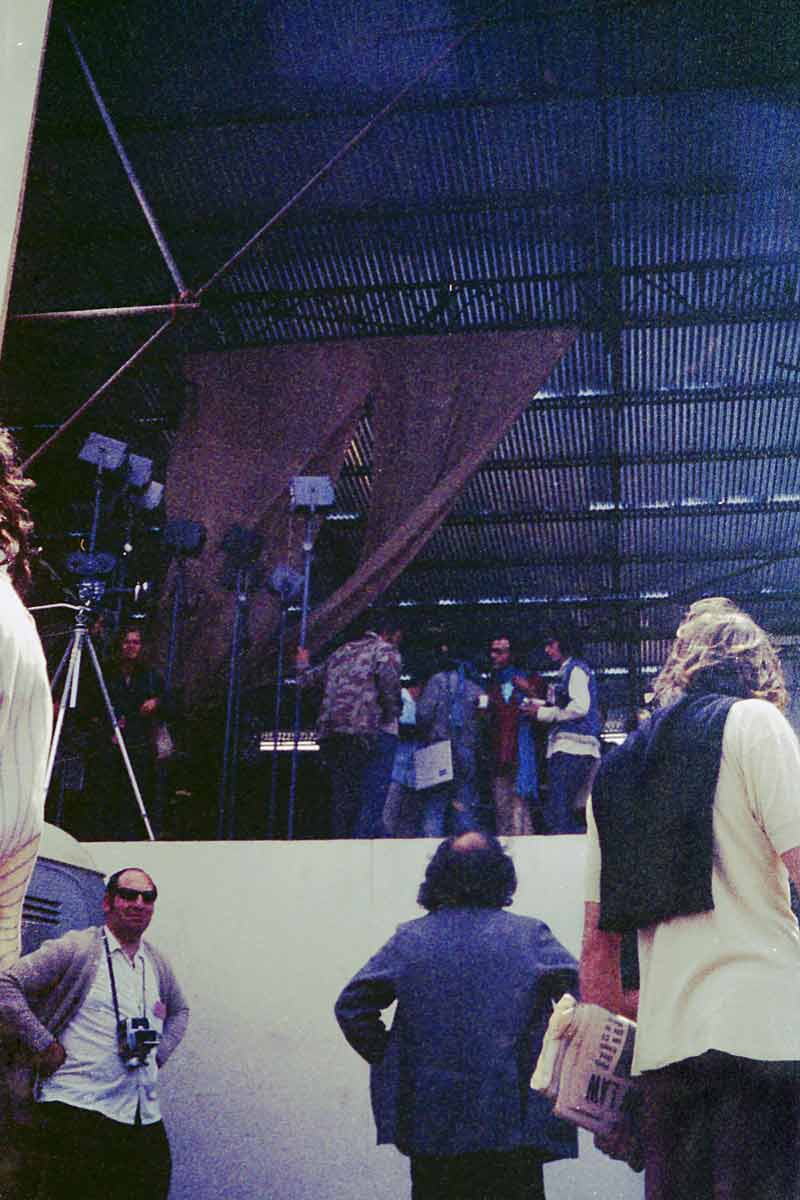 Conversations about what ? Camera now in place ....
Courtesy Malcolm Cleary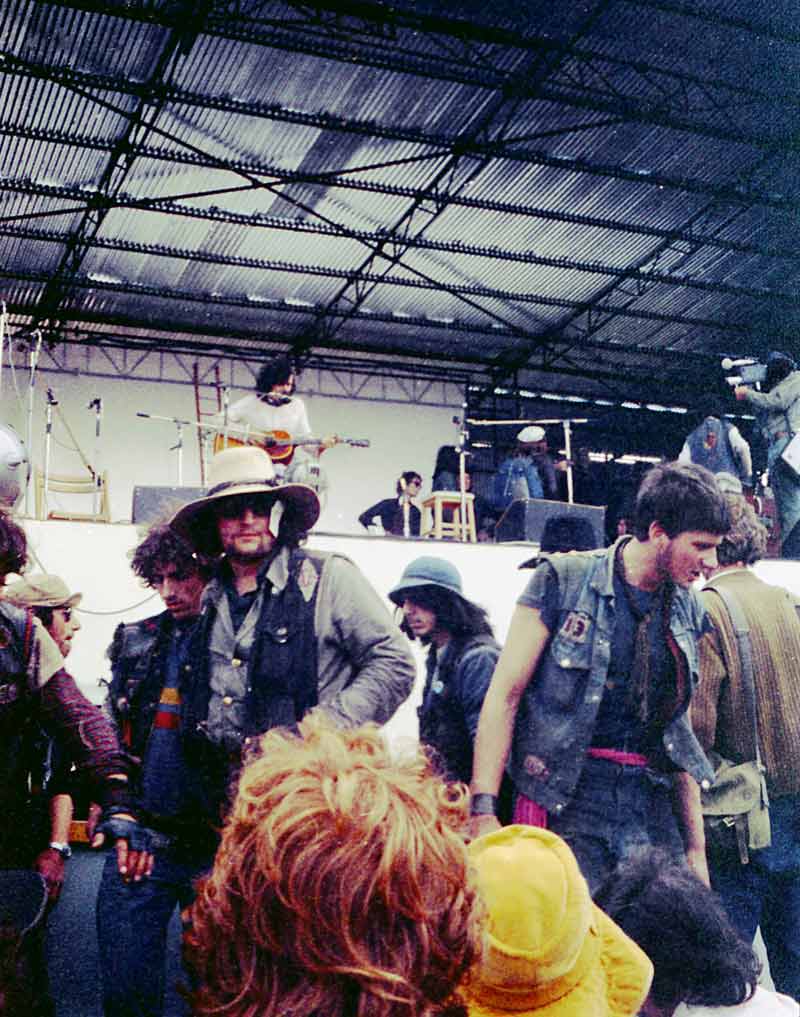 The cavalry is here ! Arrival of the Angels ,but with no sign of Fairport..... just Donovan putting on an impromptu show.
Courtesy Malcolm Cleary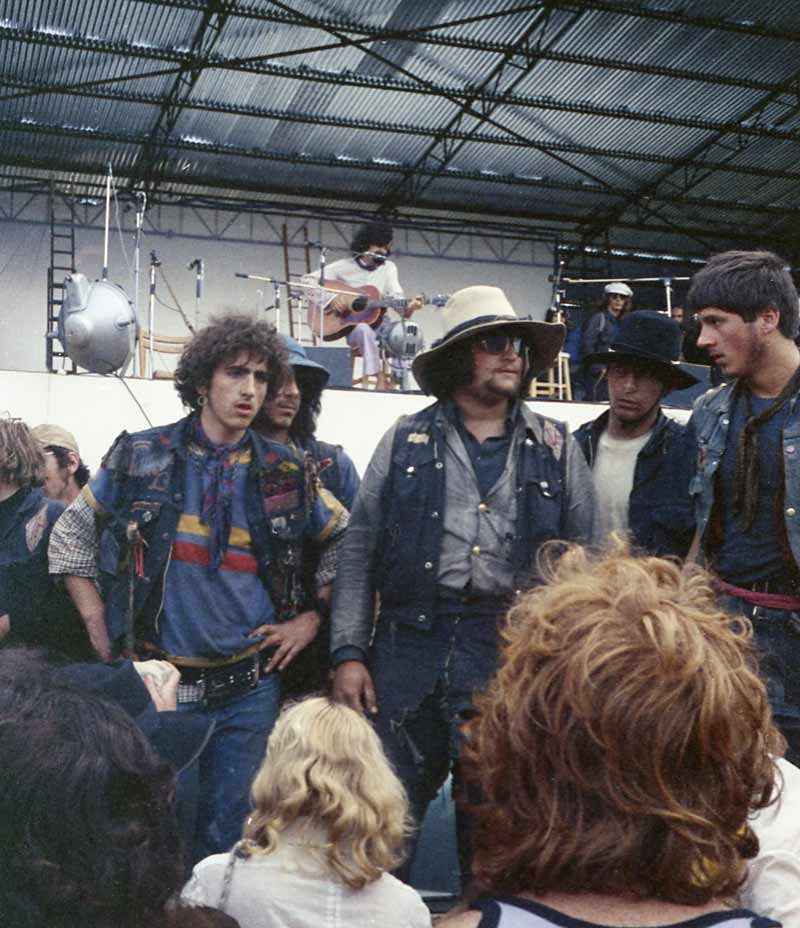 The Angels form a front to protect The Don from the bored crowd :-), left to right Rico, Slug, Bear, Dirty Doug and Blackie .
Courtesy Malcolm Cleary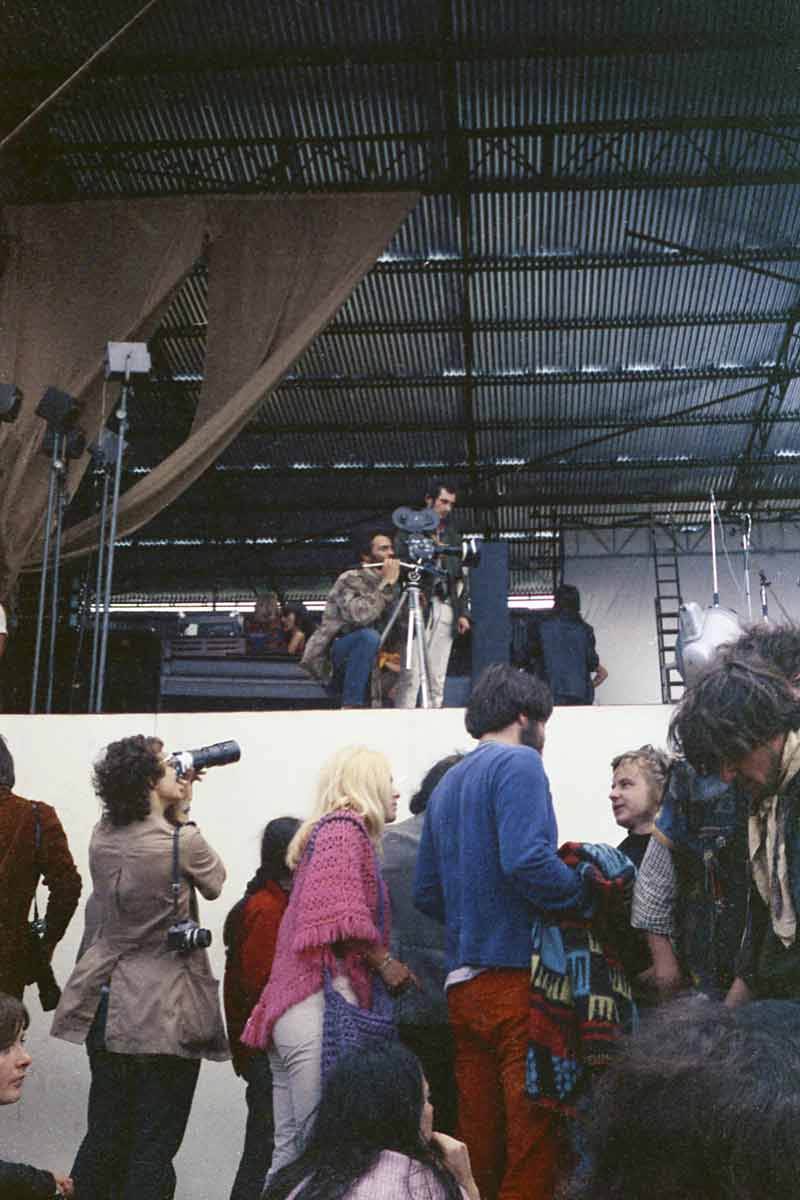 The 16mm crew from Gentle Ghost get their act together as things heat up
Courtesy Malcolm Cleary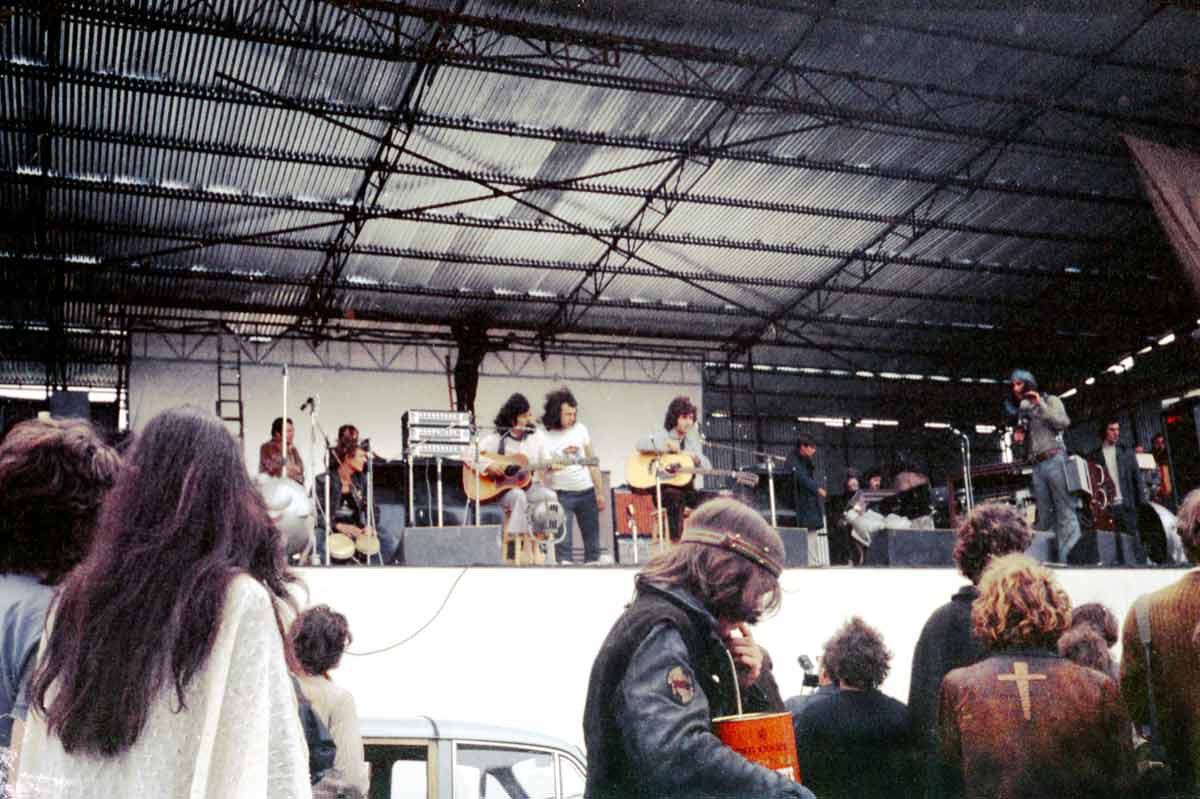 Don and his new combo drive the crowd into a frenzy with their torrid metal pomp rock..... well, no not really ....
Courtesy Malcolm Cleary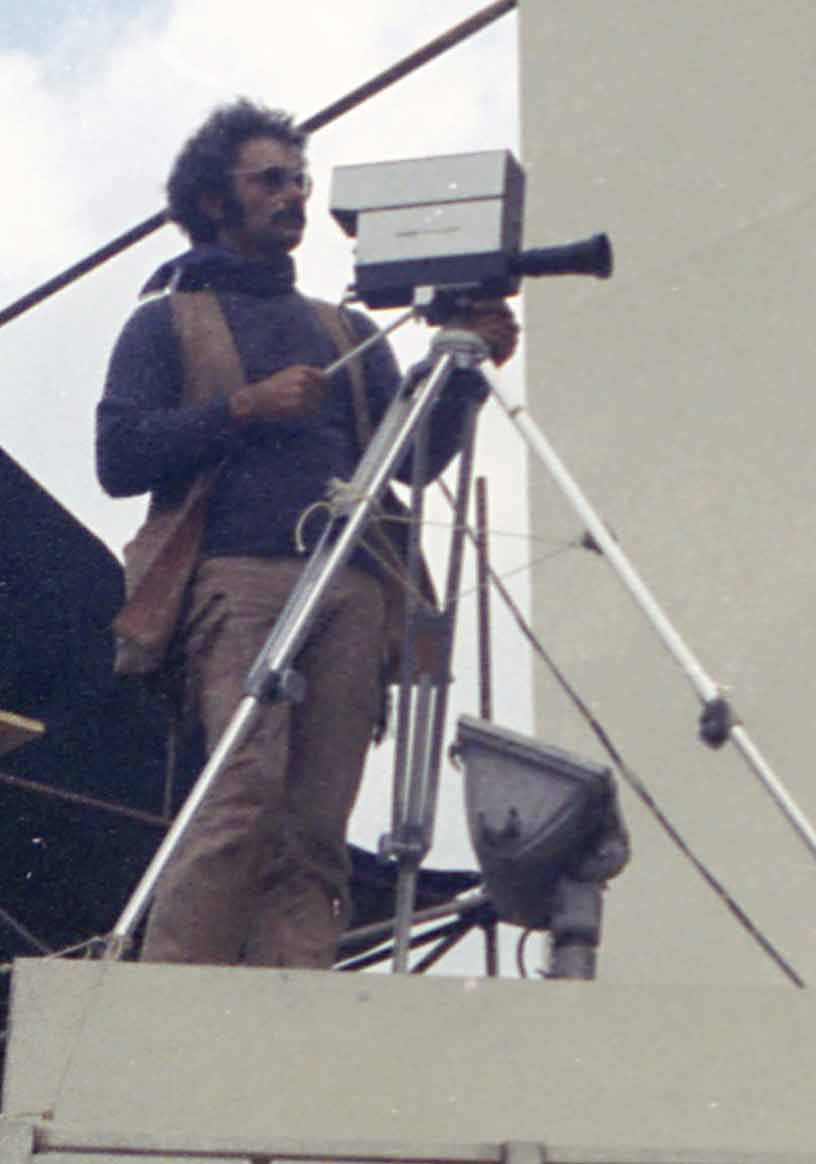 TVX operative covers the action .
Courtesy Malcolm Cleary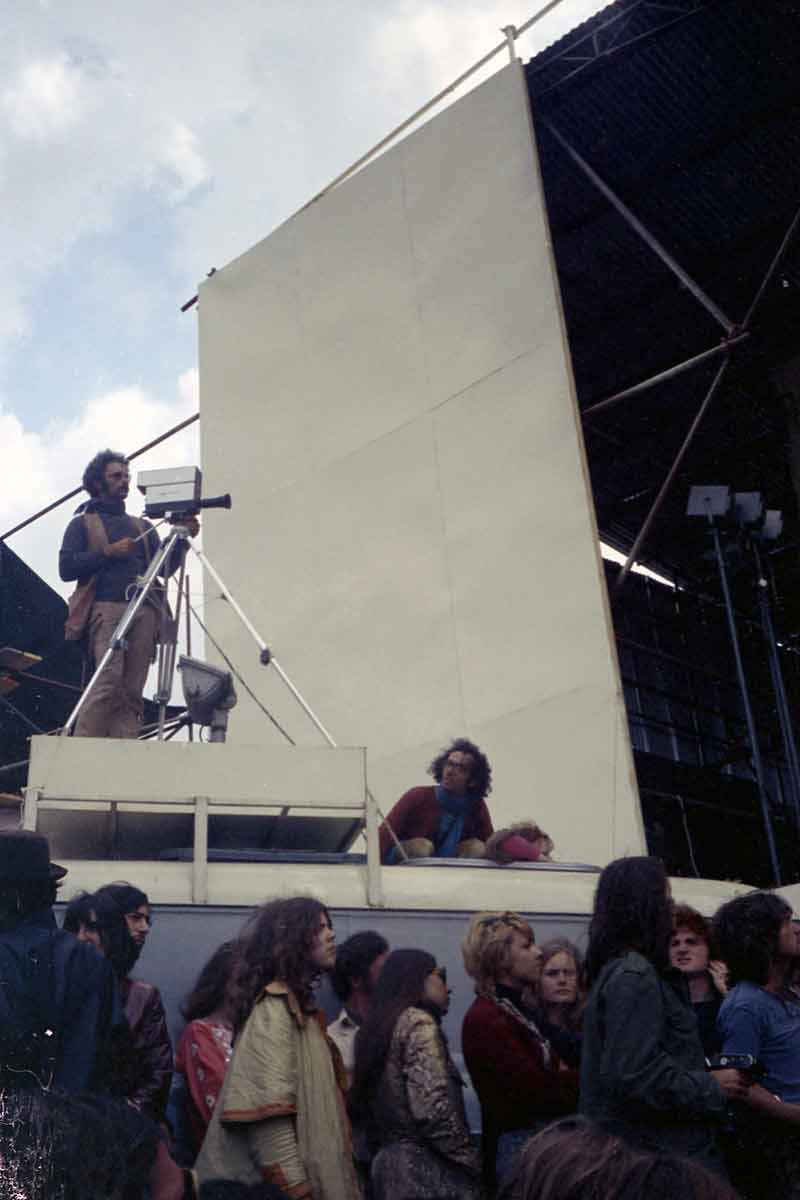 Holding the high ground is a good strategy
Courtesy Malcolm Cleary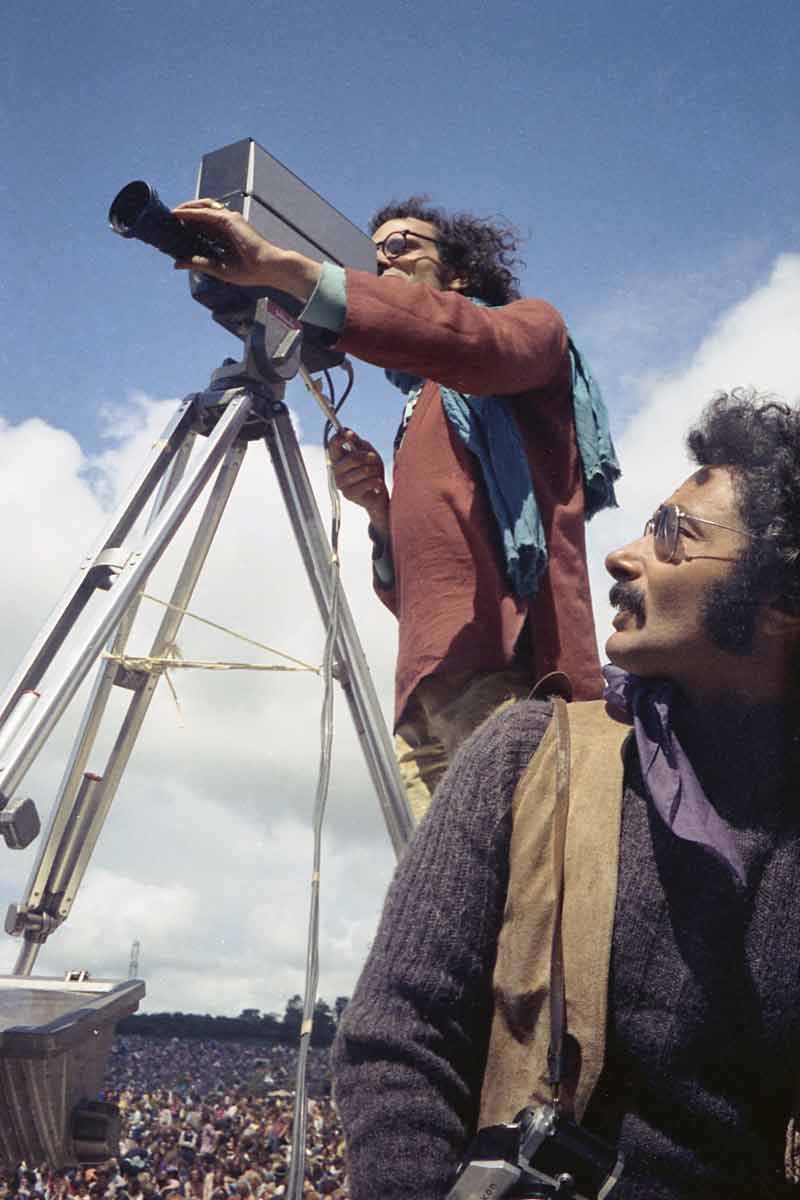 'Hold still Don, you hippie bastard . I knew should never have dropped this windowpane , I can see six of him !!!! "
Courtesy Malcolm Cleary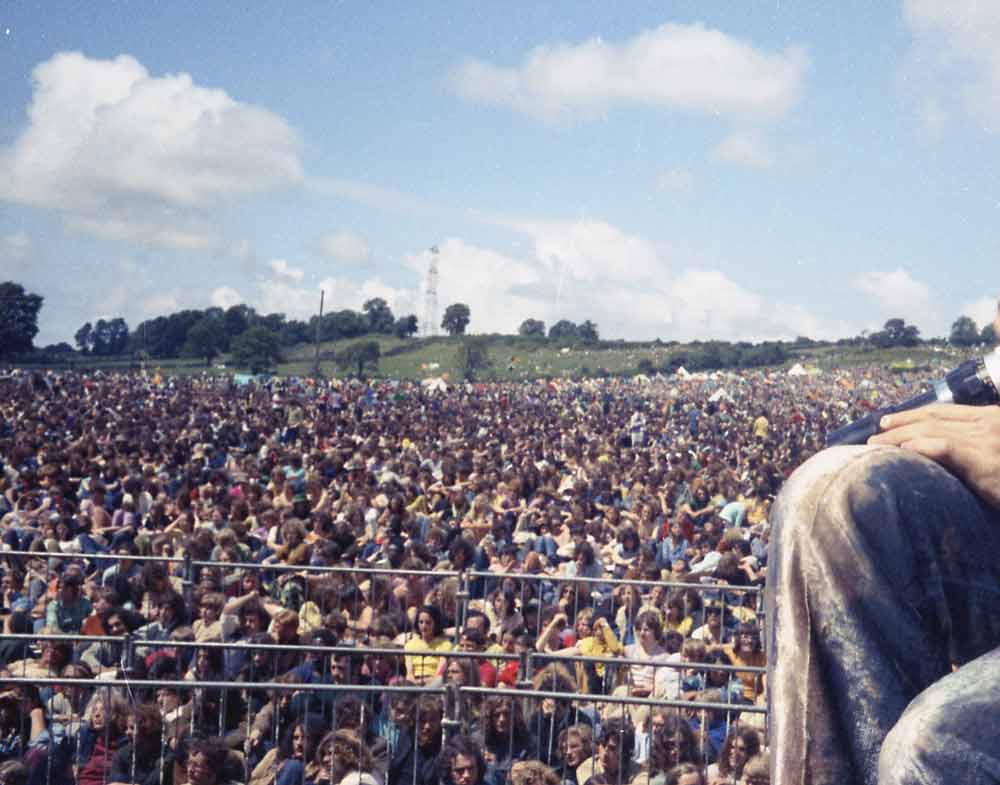 And the crowd grows as the sun shines........
Courtesy Malcolm Cleary
---

in addition you will find images of the bands onstage ( if available ) on each band page.

---