The Archive .
---
Big thanks to our sponsor Neil !

For information on today's festivals see eFestivals.co.uk
---
View at 1920 X 1024 res for best results.

Last updated June 2021 :new photos Led Zeppelin, Jefferson Airplane, Steppenwolf, Flock and Santana .
Colosseum at Bath.
6-27-70.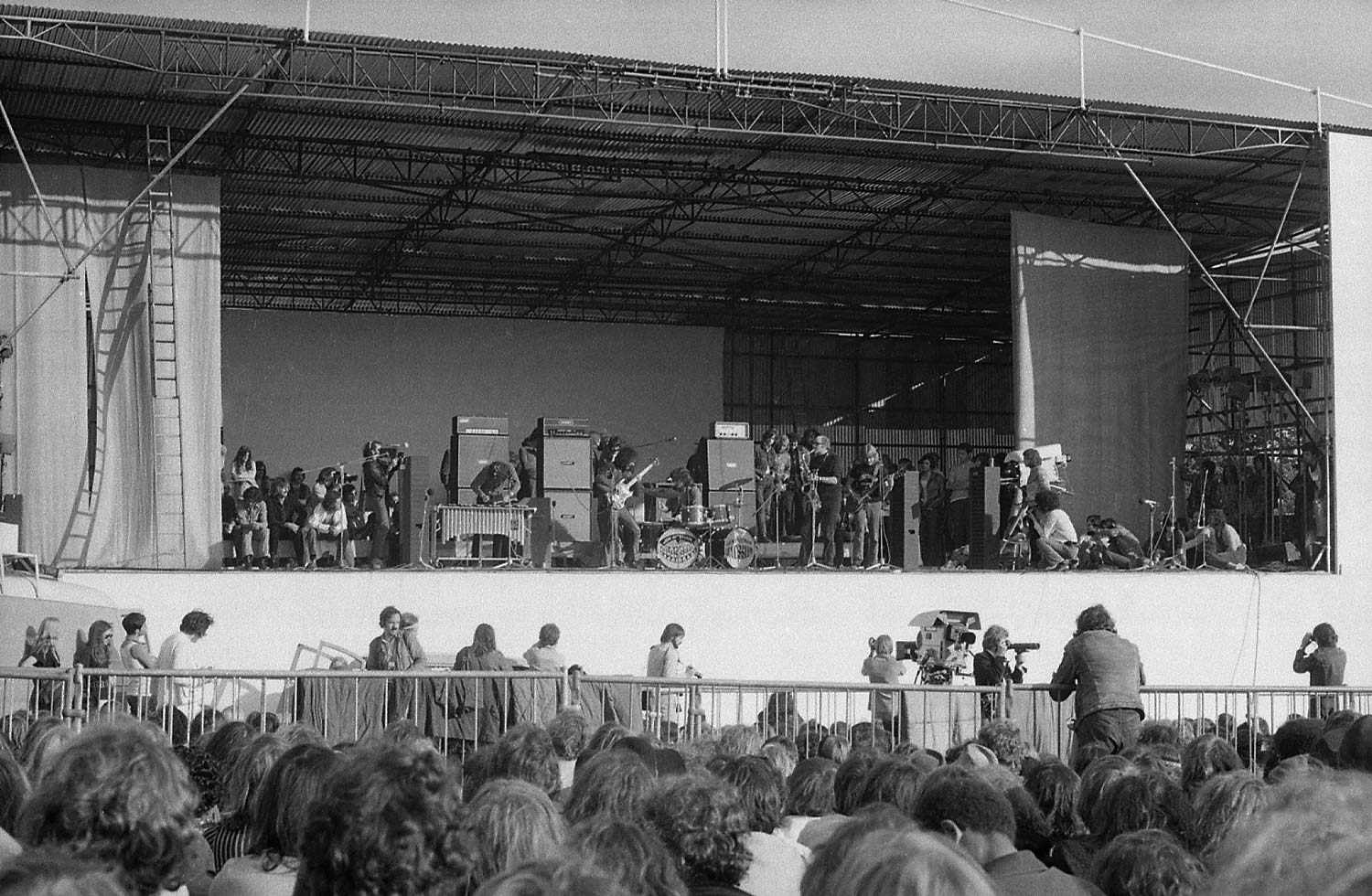 © Jake Matchett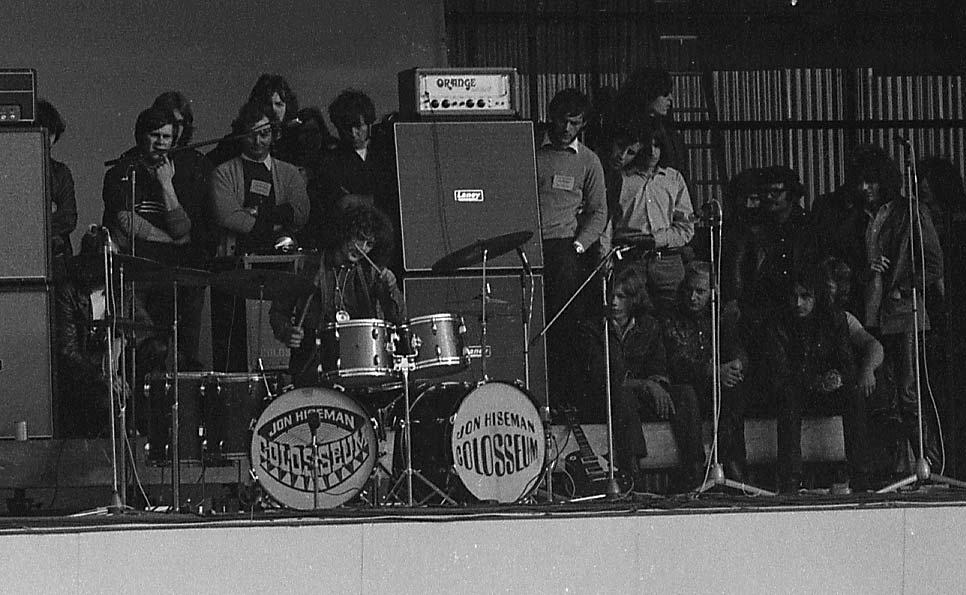 Hisemans solo © Jake Matchett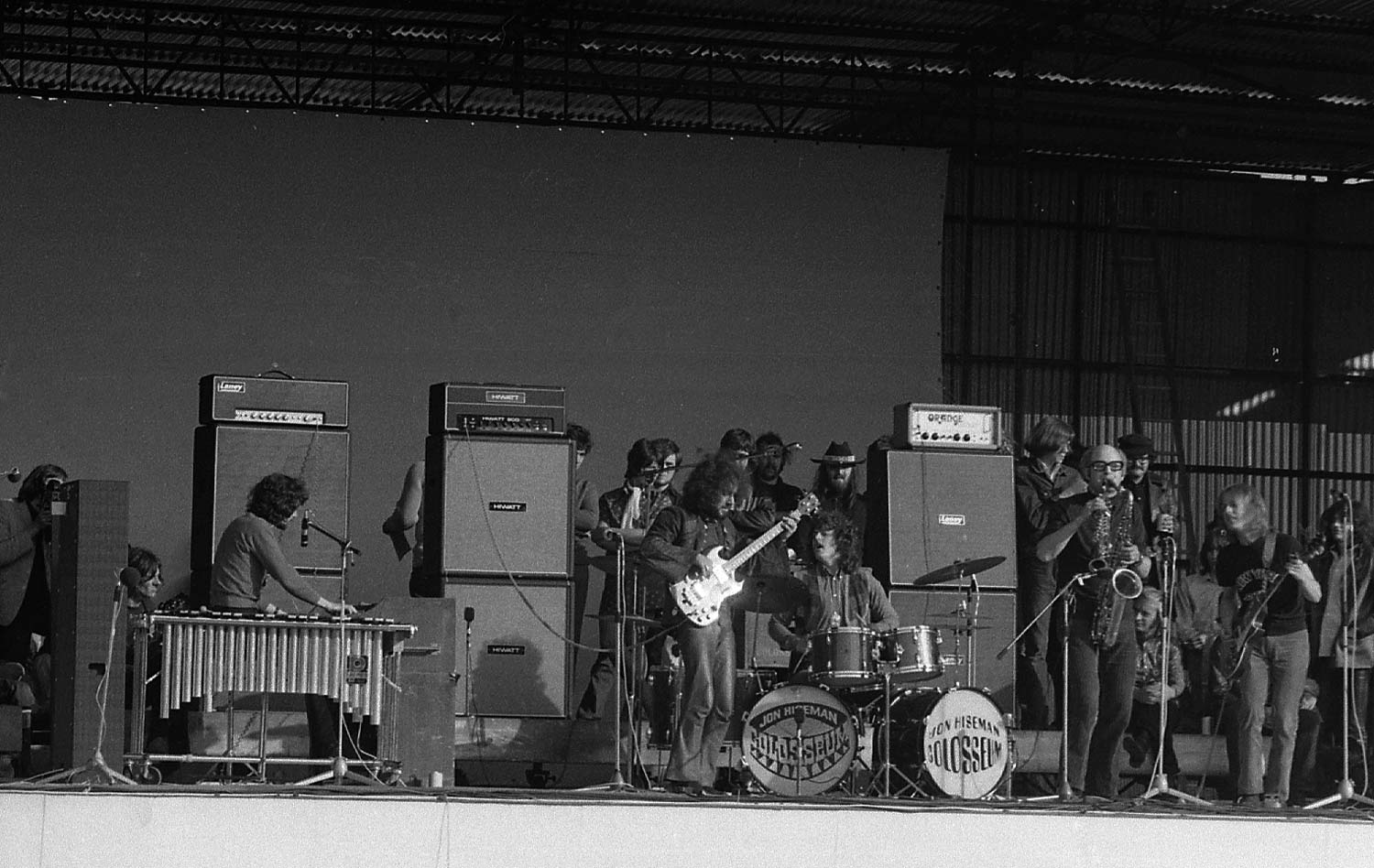 Note Keef Hartley ( wearing a hat just behind Hiseman ) and some of his band members are watching Colosseum. © Jake Matchett.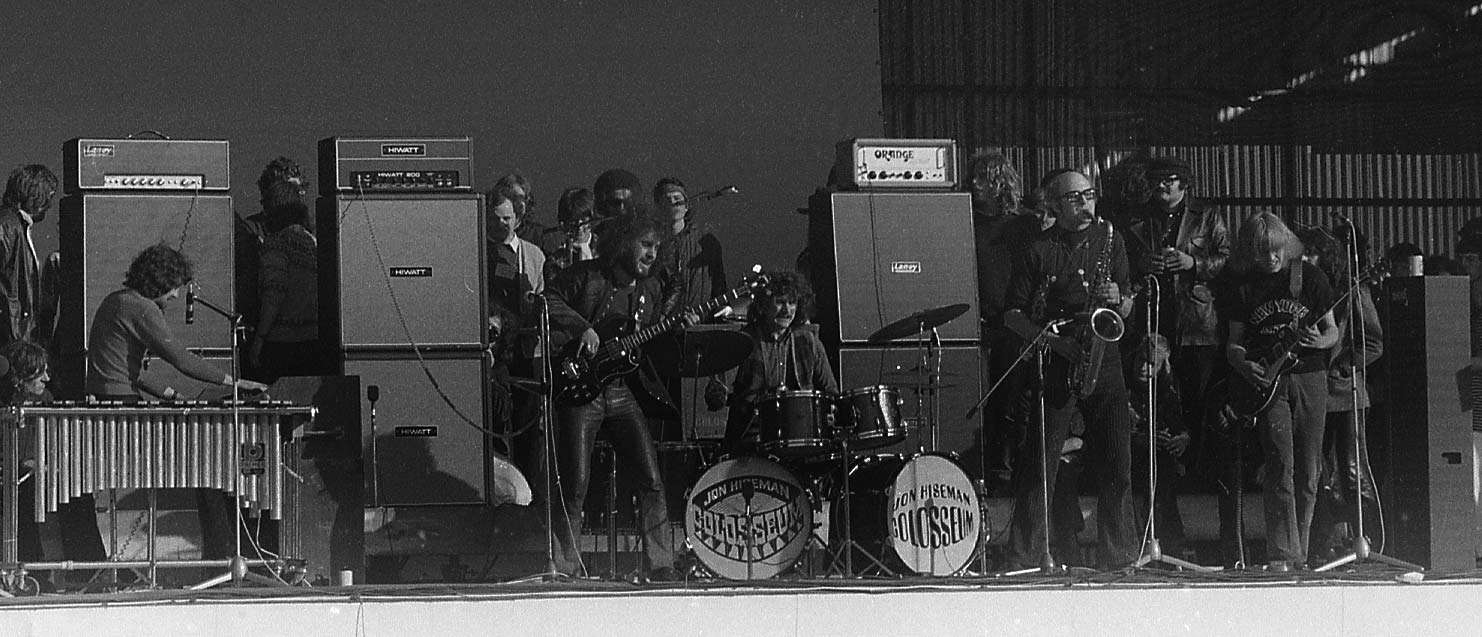 © Jake Matchett.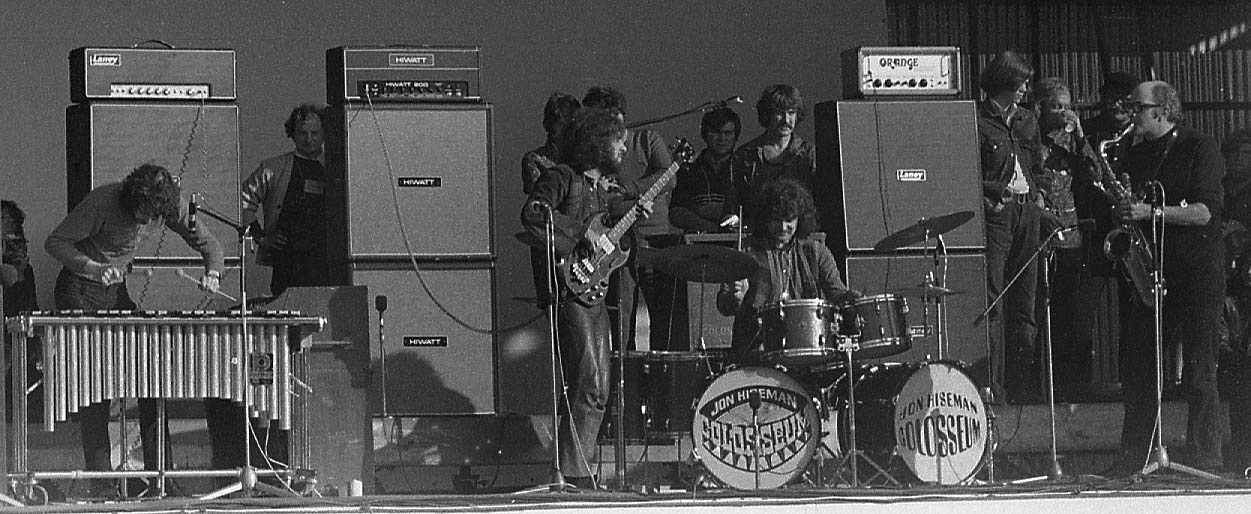 © Jake Matchett.

© Jake Matchett.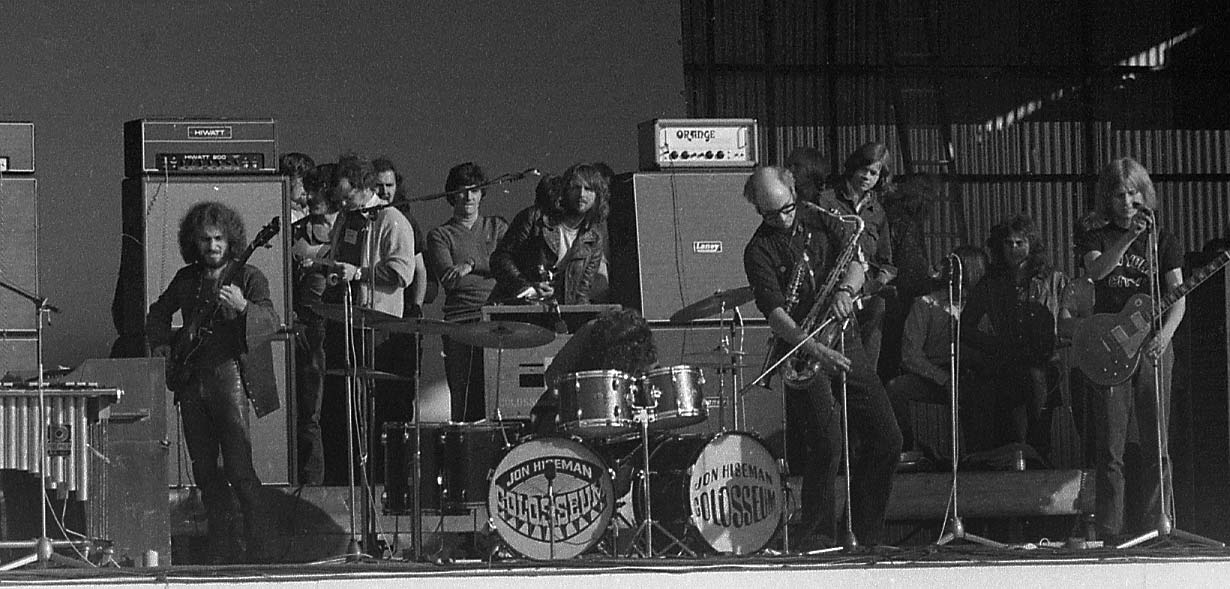 © Jake Matchett.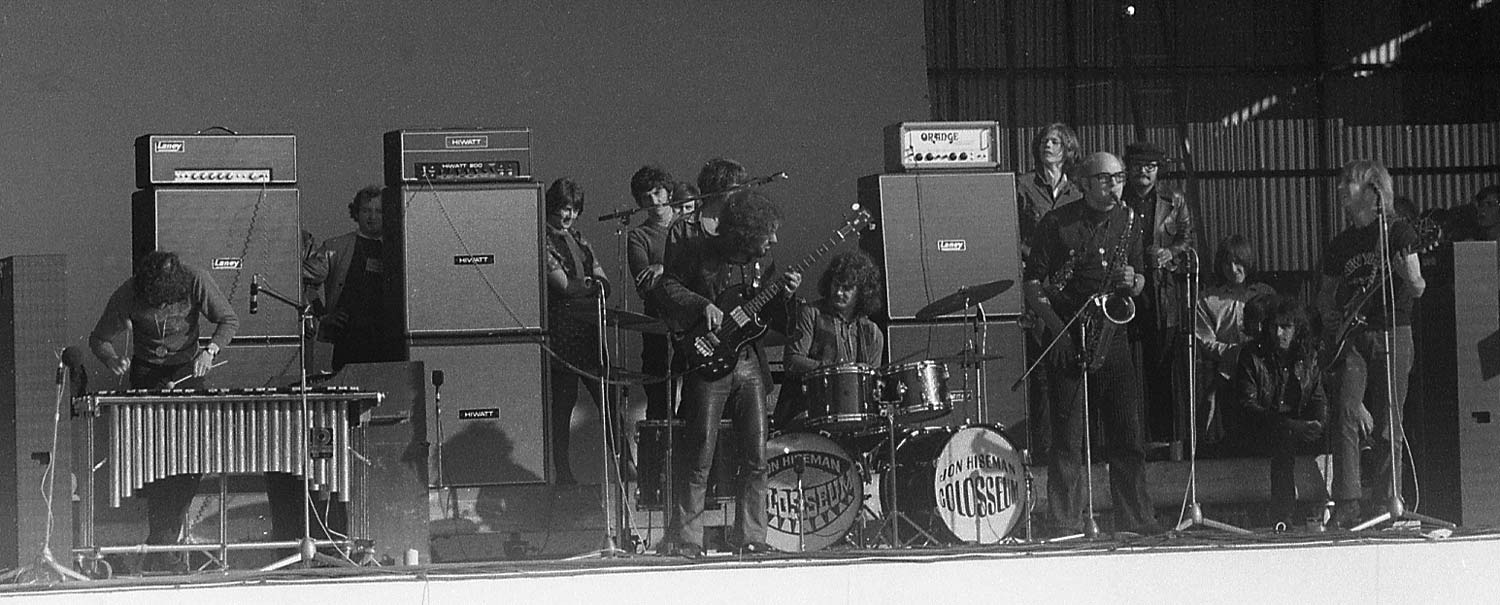 © Jake Matchett.
© Jake Matchett.
Colosseum was the brainchild of Jon Hiseman, champion drummer , who gigged with John Mayall as part of the Bare Wires album line-up .He then defected from Mayall to form his own band Colosseum ,taking with him veteran sax man Dick Heckstall Smith and bassman Tony Reeves . The band was very successful for a number of years and they were a great live unit, powered mainly by the balding Dick Heckstall Smith , (who often played two saxes at once a la the late great Afro American jazz sax player, Roland Kirk ) as well as the powerhouse drumming of their leader .

The band reformed in the 1990's , but whether they are still as potent a force , I could not say.

A very short audience tape exists of one portion of this set. Short snippets of a super 8 film taken by Ross Mortimore show Colosseum's performance exist . They are now available as stills on the site .

. Go to the BATH MENU to view.
The punters view ©John Leszczynski

Personnel:
Jon Hiseman-drums.
Dick Heckstall Smith - saxes.
Louis Cennamo - bass.
Dave Greenslade- keys.
Dave Clempson- Guit/vocal.



John Hiseman's drum solo rivalled Bonzo's in terms of energy and was infinitely more sophisticated IMHO.....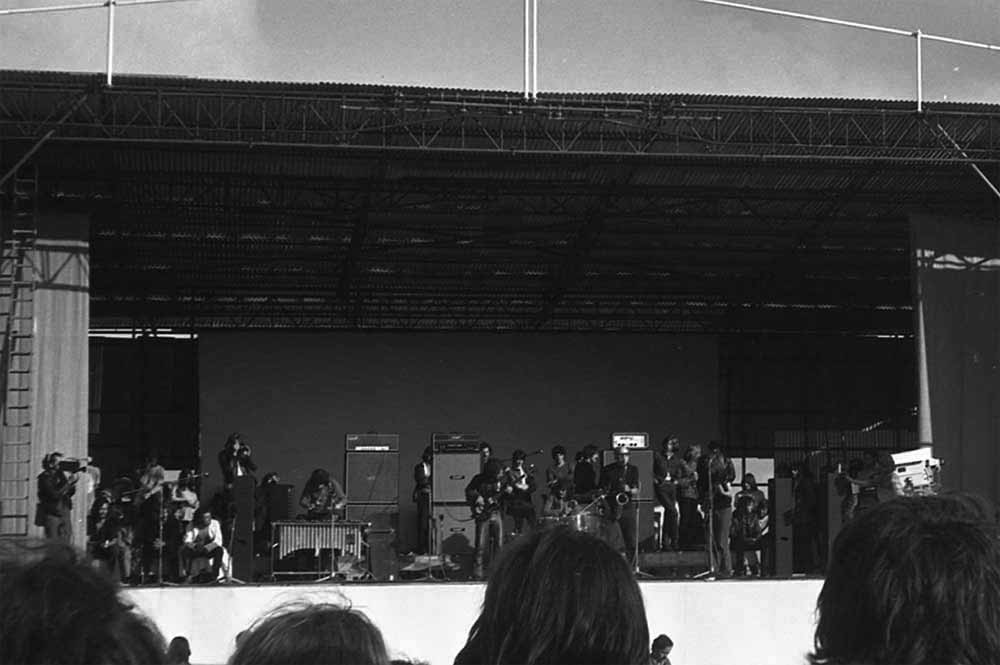 © Mark Harrison.
Ex Renaissance guitarist Louis Cennamo was with Colosseum at Bath , here's his story.

I was with Colosseum for about three or four months, in the summer of 1970. But the style was so different... and we didn't just quite hit it off. I diddo some big gigs with them, and enjoyed that, I played at the Bath Festival in 1970 in Somerset in England, and that was very lovely, there was aquarter of a million people or so in this huge , huge field... It was amazinglooking at the faces as you come out on stage, that was very exciting...
That's my main memory of Colosseum, really... We played at the Royal Albert Hall, and a few other big gigs in Germany and places in France, I think,too, but I didn't really fit in with the style of the band. They were a bit too heavy for me at that time, I'd just come out of Renaissance, and I was used to creating with Renaissance whereas with Colosseum I just had to sort of play a bit robot style, and I didn't quite make it actually, and it didn't quite work. So I did an album with them, Daughter Of Time, and I left.

Hisemans' fabled drum solo .
Note the presence of the two video cameras , this could mean that the footage may feature on the forthcoming video feed film of Bath.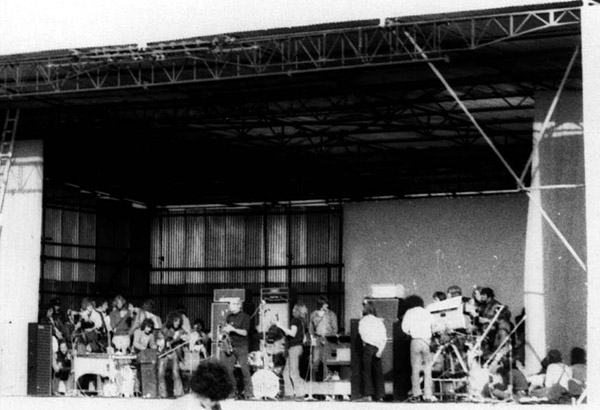 Photos © Ian Morrison.
Extract from Martyn Hanson's book on Colosseum kindly provided by his editor Colin Richarson , visit Colin's site for lots of top quality Colosseum info and much more....

cheers Colin !

It was the summer of 1970 and the festival season was in full swing. On the 27th June Colosseum returned to Bath for their second appearance at the popular festival, with Louis Cennamo on bass. The day hadn't got off to the best of starts, as Dick had managed to leave his saxophones behind at the hotel, but in spite of having to play on borrowed instruments, he still managed to make his usual fine contribution to what would turn out to be one of their best gigs ever. The typically British summer delivered a mixture of sun, wind and rain, which one musician wag christened; 'cold Bath with showers'. In fact, some of the showers were quite violent, with lots of electricity in the air, prompting Grace Slick of Jefferson Airplane to comment anxiously to Chris Charlesworth of Melody Maker: "It's too wet and we'll get electrocuted. They don't have summers like this in New York!"

The 2 day event had an impressive list of over 20 acts, including Pink Floyd, Led Zeppelin, Frank Zappa and Jefferson Airplane. It turned out that the promoters had seriously underestimated the size of the crowd, which resulted in the approach roads being congested. This delayed several of the groups that were appearing, including Colosseum, who were eventually rescued by a farm vehicle trundling across the fields to escort them to the backstage area! These delays had the knock-on effect of rendering the on-stage timetable virtually obsolete, but in any case Jon had developed a savvy strategy for festivals, as Colin Richardson explains:"Jon asked me to try and ensure that they went on around 4.30pm and as the promoter Fred Bannister liked Jon, he was happy to agree."

Crowd goes ape ! ! © Mark Harrison.

Most bands jockeyed for the later spots, but Jon maintained that it was better to go on earlier, before the crowds got too drunk, fell asleep or became restless from hours of sitting on the ground. With one of the highlights of the show being Jon's drum solo, nothing would be worse than subjecting a drunk or tired audience to 20 minutes of 'hitting the skins'! As it turned out, it was nearer 7pm when they finally made it onstage, but Jon's plan still worked a treat – and, at the climax of what Chris Welch described as 'an uncharacteristically brutal' drum solo, the crowd rose to its feet and gave him a standing ovation. To Jon, it looked like 200,000 people were heading down the hill towards him – it was an extraordinary moment! Such was the incredible audience reaction to Colosseum's performance, that Melody Maker made it their lead story in their centre-page spread on the Festival. The Bedford Record wasn't quite so impressed though, commenting that the band was 'technically good, but soul-less'. Now that they had been playing the circuit for a while, it appeared that the honeymoon with the press was over and they were beginning to get the occasional negative review.

Colosseum onstage at Bath 1970. The late lamented Dick Heckstall Smith on sax © Derek Halsall

Apparently some of the festival was filmed (photographs show 2 cameras on stage with Colosseum) but no-one knows whether any of this footage survived. The photos also show a chaotic scene on stage, with dozens of people milling around !
The aforementioned access problems meant that no band went on when they scheduled to and with all the over-running, the music continued through the night, with Canned Heat finally playing their set about 6am on Sunday morning! The second day wasn't much better…with Dr. John eventually bringing the Festival to a close around breakfast time on Monday!

This special offer expires soon

Hi,
Thought you might like to know that the above book will be published on next week, on the 20th October through Jon's own publishing company - Temple Music.

It's called "Playing the band..." and covers Jon's life in music spanning four decades, playing with many of Britain's top musicians and relates their experiences at the 1969 and 1970 Bath Festivals (which I have sent you an extract about earlier).


As it's being published independently, we could use all the online promotional help we can get, so if there's any way of you mentioning/posting it as part of your excellent website...we'd be really grateful.


Thank you.

Colin Richardson

---
We know the whole tape is out there, somewhere ...., if you have a setlist, tape, photos or recollections Contact us

---
---
Audio- visual Records
---
The artists
---
Reviews, photo collections and general information
---
8 mm Film Archive
Ross Mortimore's streaming Quicktime movie of the crowd features clear images of the stage PA , Colosseum onstage and bikers with Canned Heat at Bath as a soundtrack provided courtesy of Bob C .
Bandwidth and copyright restrictions mean we cant host audio/video so you will have to do with stills at the moment until we can do an alternative stream elsewhere. Please don't bug us to add it , we will do it when we have the time.
---
General information:
links menu to site map, ticket. pass out, transport, drug bust, films and festival arrangements.
External Links to Bath related merchandise ( with which we have NO commerical links whatsoever )
To celebrate the 40th anniversary of the 1970 Bath Festival we have brought out a special commemorative set. Anyone interested can view it on http://www.rockmusic-offer.co.uk/
A limited edition of reprints of the 1969 and 1970 Bath festival posters and Freddie Bannisters books on the Bath ,Lincoln 71 and Knebworth festivals can be bought online from the link below :
Rock festival memorabilia from various festivals can be viewed at the main Rock memorabilia page ,
Led Zeppelin at Bath photogallery
Visit the 1969 Bath Festival pages.
---