The Archive .
---
Big thanks to our sponsor Neil !

For information on today's festivals see eFestivals.co.uk
---
View at 1920 X 1024 res for best results.

Last updated June 2021 :new photos Led Zeppelin, Jefferson Airplane, Steppenwolf, Flock and Santana .
The Hells Angels at Bath.

Well, here they are in all their glory.

The Hells Angels. Bear and Rico from the Cheltenham chapter on far left . McEnry centre front in striped shirt, Sgt ( bearded) also Skippy ( deceased )and Pretty Angel

The Hells Angels at play during Fairports set © Craig Solomon

Copies of this and other Bath photos can be purchased from Craigs site.
| | | |
| --- | --- | --- |
| | Choppers at Bath | Love them or loath them, the Angels ( and associated biker groups ) were a part of the festival scene in the UK for around 30 years , there were quite a number of bikers at Bath , with members of the H.A. Ratae M.C along with other smaller groups of bikers, some non associated. Of course, the press and probably everyone else apart from the bikers themselves lumped all bikers as "Hells Angels" either due to ignorance or because it made better press. The bikers themsleves though were well aware of just who was who and who had status or not in the biker world. |
Freddie Bannister certainly had some problems with the biker contingent at Bath and according to his account, he eventually had to offer them cash to get them to leave the arena. Of course by this time thay had seen most of the bands they wanted to watch anyway, so it was hardly a problem as far as they were concerned and it gave them some beer money. However, there were a minority who were not convinced they were that much of a threat.
Angels or greasers ?

We were sent this little snippet from a festival goer who attended the festival with a somewhat reckless friend . His account throws doubt on whether all these fine bucko's actually were the real McCoy .


The so called Hell Angels were really local bikers. My mate Dave who was a bit hard, shouted at them to sit down on the Saturday afternoon and they shouted some obscenities back , to which he replied 'come over here and say that and I'll smack your fookin' head in'. Fearing the worst we prepared for a good kicking. After some further name calling the greasers turned away and looked back at the stage with Dave shouting at them they were soft bastards, and reminding them - anytime you want pal, we'll be here!
The real thing should have set about him with bike chains, so who knows, perhaps they were having a day off , or he picked some pseudo Angels to have an argument with .......
BUT , this post was sent to us recently regarding whether there were many Angels or not at Bath ......
Hi.
The photo of the Angels belive me is the real Mccoy as im in the photo and was a Member of H. A Nomads ( Cheltenham ).

THIS Photo i have an some more like it and some of the Guy's in the Photo are still Member's of the Club.

Who is this Dave and his Mate with the Big Gob cos i think they was on the Wackey that Weekend.
I Rember as i was Part of It AND SO WAS THE Guy's in That Photo.
Thank's

Sgt

Angels having "fun" at Bath

photos courtesy Sgt
---
Malcolm Alsop who was on security down front of stage , concurs......

"...........and the fact that the Hell's Angels (Cheltenham) who'd briefly left the area, couldn't get back in. Oh, they were the real (British) article) all right. they gave some poor bloke a stomping right in front of me and big though I am I didn't interfere with 6 of them. "

Certainly the gentlemen on the right look tough enough to rip the heads off chickens with their bare teeth, I wouldn't say boo to them unless I was inside a Sherman Tank .There are enough eyewitness accounts of them kicking the bejeezus out of a few hapless bystanders to make me believe that even if they weren't real Angels they were to be kept happy at all costs.

Perhaps Dave was lucky that the lot he picked on to have an argument with were so placid. I remember seeing quite a few of the Angels near the front of the stage on Saturday and , coward that I am , I wouldn't have even looked their way .They looked a right tough lot of bleeders. However , they all had gone home by the late Sunday night and Monday morning. I was right down the front for the Hot Tuna set and they were nowhere to be seen.
One of the legends regarding Bath was that Fairport Convention were given a lift to the front of stage by some bikers. I recently met Dave Swarbrick and asked him about this incident " Oh , it was very exciting " he said " we were offered a ride by them and we flew along through the traffic bottlenecks , we soon got to the festival". We have read an account in a recent book about Led Zeppelin that this also was the case with John Paul Jones, although he was only given s short lift through the grounds to the stage.
---
Woverhampton Hells Angels at Bath

Unknown photographer :from the collection of Sam G.

The Angels were from Bristol and most of them were tough. Some of them were not. One of the leaders was called "Bear". They were up by the front of the stage on the left while Led Zeppelin was playing. I was grooving and boogeying with everyone. I remember Plant singing the oldies medley and in particular, "whole lotta shakin' goin on". This was cool, and I was right up in front of the crowd. The Angels were mellow. I didn't get any bad vibes.

Later, I went to a pub in Bristol where a lass named Mary kept smiling at me. She told me she had watched me dancing at the concert, and I found myself in her bed later. It was she who told me about Bear in the morning, for she was Bear's woman.

I got out of there as fast as I could.

I met 3 Swedish guys at the festival and hitched a ride to Pamplona with them for the running of the bulls.

I will always cherish my memories of that summer and that fest was a highlight.

Peter Bartlow
---
Rico Daniels, one of the Angels, contributed this re Bear

The BEAR mentioned by PETER BARTLOW is the big standing guy wearing shades on your left in bath angels pic.. I am kneeling in front of him.

Bear fell off stage at one point onto the roof of a transit and really smashed the top in .Think he was about 20 stone or more,

As one of the angels left the festival he grabbed a bundle of passouts from a security man and sold them off very cheaply to at least a couple of hundred people who were chuffed to make his aquaintance.

---

hi
I almost flipped when I found your site on the bath rock festival in 1970. The part about the hell's angels caught my attention immediately. We were 2 amercian girls who had landed in london a day before the festival started and had no idea it was going on. But we saw a poster for it and decided to hitch hike out to bath having no clue how far away it was.

We were picked up by this motorcycle group and we rode with them for about the last 30-40 miles into the festival. My friend was freaked out as she was from a small town in pennsylvania. but I grew up in nyc down the block from the nyc hell's angels so they didn't bother me at all (maybe I was just very young and stupid..this is entirely possible!). There were about 30-40 guys in this group and the best part about them was that they rode us to the very front of the site without having to deal with the miles of traffic lined up to get in.

Man and machine - Bear and bike © Sgt
They were not the Hells' Angels if I remember correctly. I knew what the Hell's Angels ensignias jackets looked like as I saw them daily at home. These guys were very nice to us and we didn't feel threatened at all.

Of course there might have been lots of motorcycle gangs there, but I am so glad to find this reference on here as no one believes this story when I tell them.

Thanks for all your great site info. I wish I had something to contribute but I took only one picture and it was so far from the stage that you can't see Santana on it at all.

Keep up the good work.hope that you find that video cause there are at least 150,000 people who'd want to see it!
deezee

Bikers front stage at Bath Saturday PM .

Photo© John Griffiths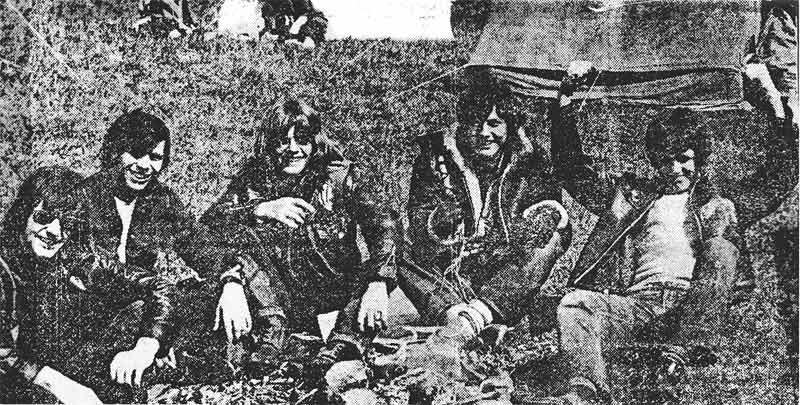 bikers from the Bristol area who arrived at the festival early on the Thursday
---
Bear

Found your Bath Festival site very interesting, thank you for putting it together.


The page about Hell's Angels has some very contrasting recollections. I recall the "Hell's Angels" being UK bikers in the main with one or two Americans amongst the group.

Bill Holmes and I travelled down to the festival from Lancashire.


Bill and I were leaning on the spectator barrier around the press enclosure when the bikers arrived and took over the area in front of the stage. There was a bit of argument, but no violence as the bikers were quite a scary proposition for anyone to tackle! Some bikers arrived with a lot of booze - stolen from an off-licence allegedly - and things settled down.

One of the bikers spoke to Bill and I and asked us if we wanted to be nearer to the stage. We said yes, and were lifted into the enclosure where we spent the rest of the festival. They got rather "uninhibited" as too many drugs were shared between not enough brains, but no trouble whatsoever. Bill and I were entertained, fed and watered by the bikers until they left.

Overall memories of Bath 1970: great music, and the bikers' antics, which were quite an eye-opener for two 15 year old grammar school lads!

Tim Fairless
Bear and friends with Donovan ....

As regards the Hells Angels/Bikers, I made my way down to the front stage area on arrival. There were two sets of crowd control barriers in front of the stage and I managed to get into the inner area just beside the rostrum camera. The Hells Angels/Bikers took over much of this area at some stage and were mainly Welsh with Bristol featuring on the back of their jackets. I got talking to one of them who was wearing a cowboy hat and seemed to be in charge of some of them.

( probably Bear - see left )

It was announced from the stage that the Hells Angels had been requested to clear unauthorised people from these enclosed areas but my cowboy pal instructed that I be allowed stay in the outer enclosed area and I was left alone there. The Angels were most turned on by Steppenwolf and staged mock fights during their performance. They seemed a pretty non threatening bunch where I sat , unlike the security people at the Isle of Wight.

Conor Cahill

Hi ya ,

Ref Hells Angels Bath 1970, First a Confession the Guy in the photos (Sgt) Is Me Yocker Yarnold / was Sgt at Arms for H A Nomads /Cheltenham pre England Days, But the photos are still being used as part of History today , a few from the photos are still about 40 years on .So some of the comments are very very wrong, The Bear is still alive im still alive Rico is still alive and are a lot more from the photos are still with us .

Love to see some more photos on this page ,

yocker
---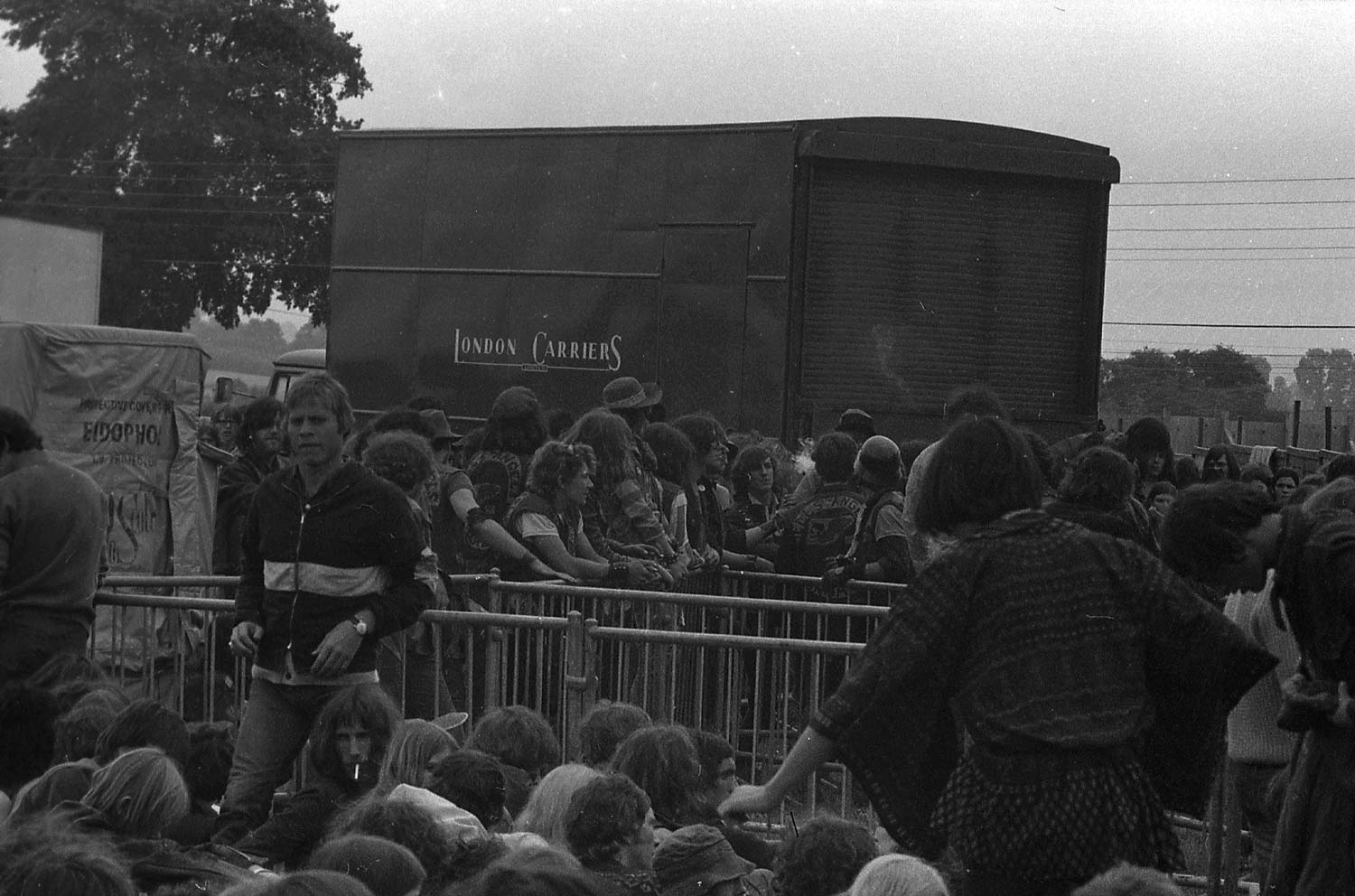 © Jake Matchett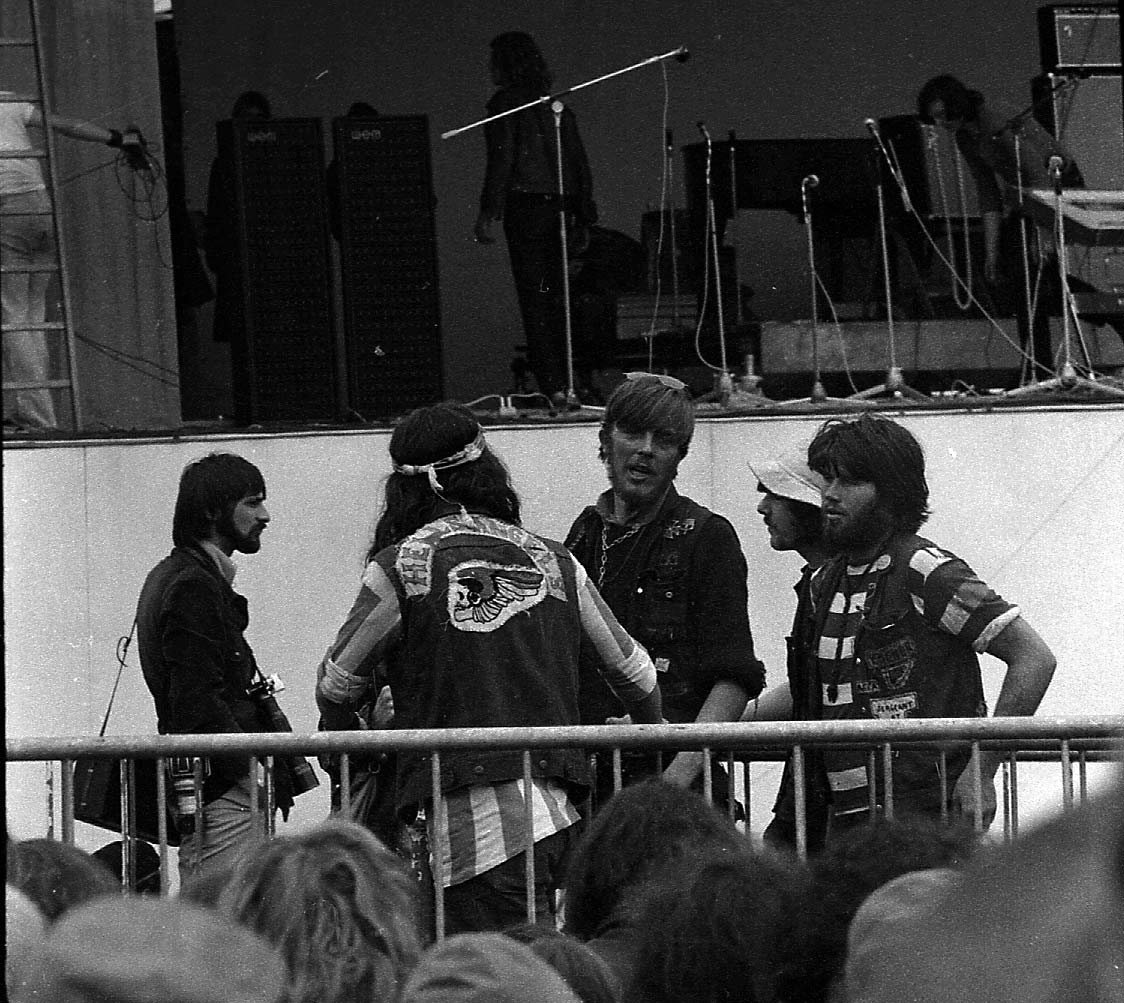 © Jake Matchett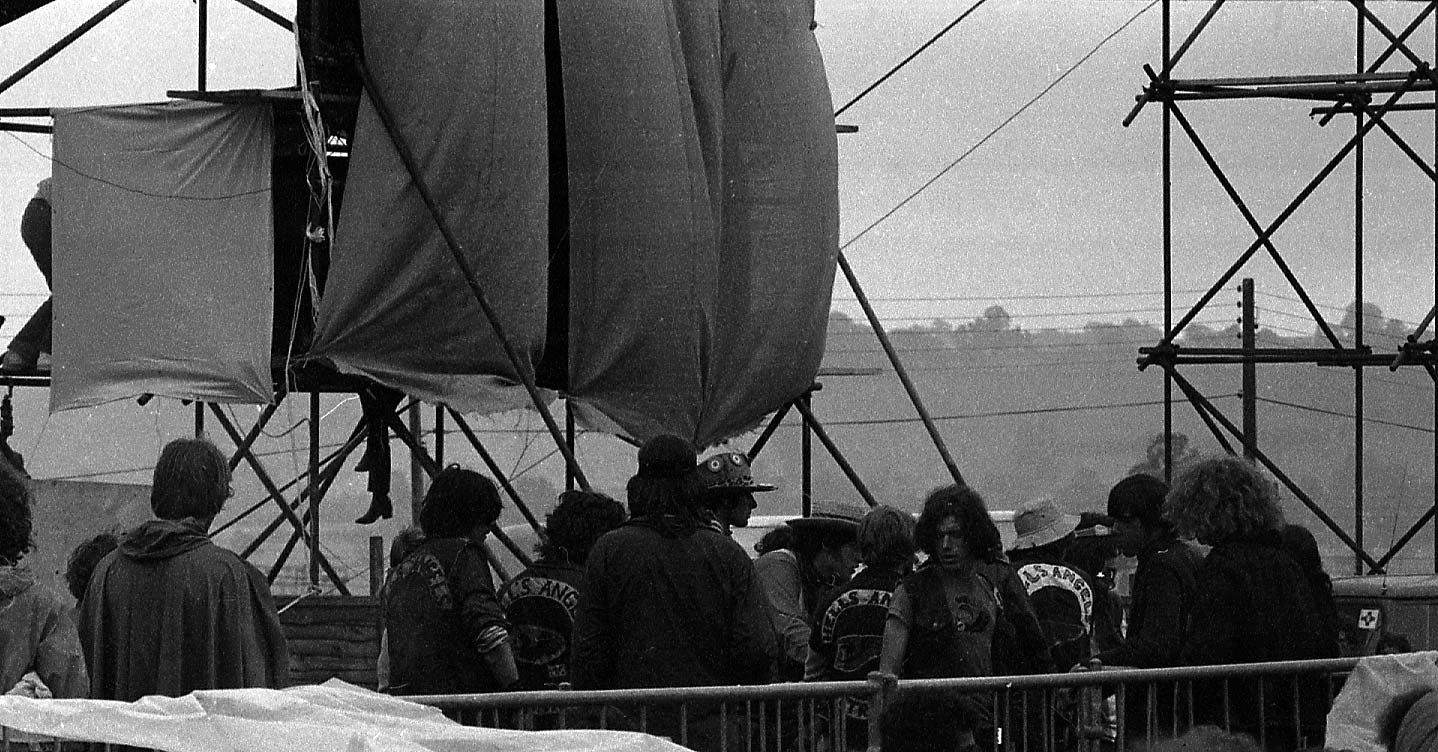 © Jake Matchett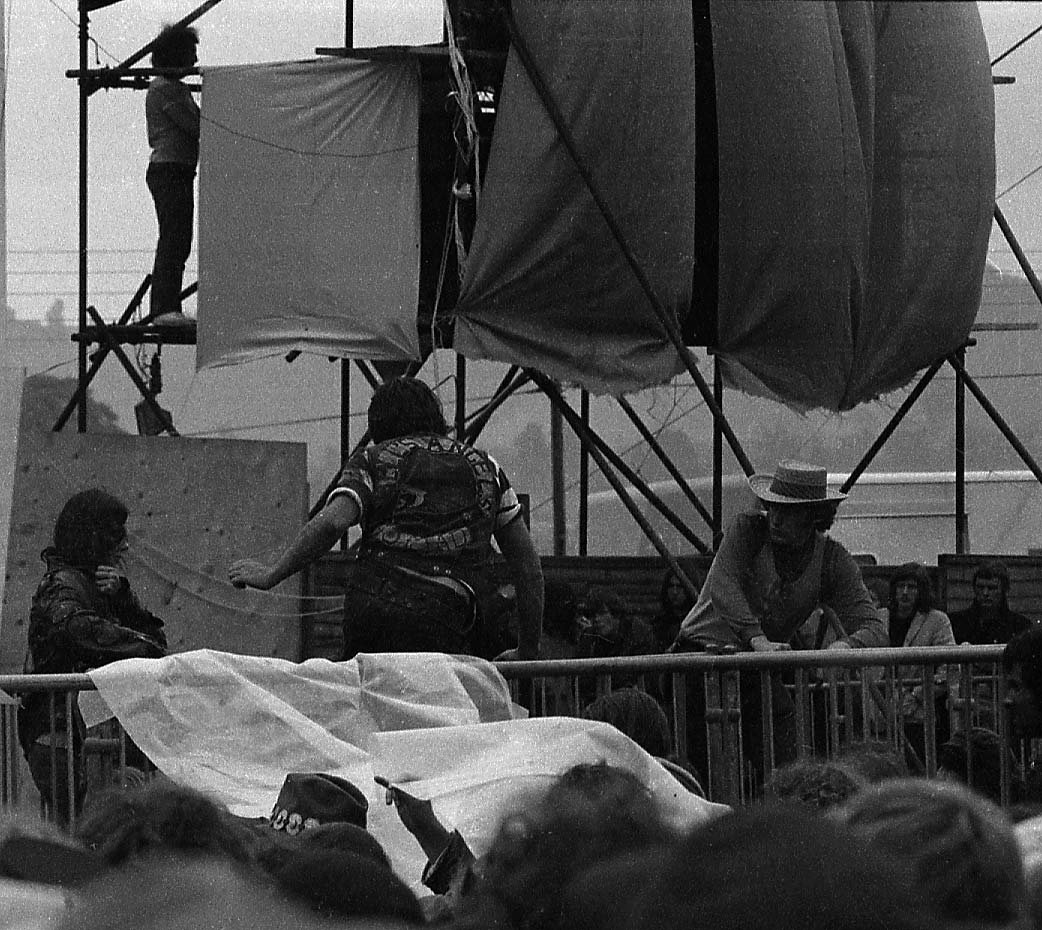 © Jake Matchett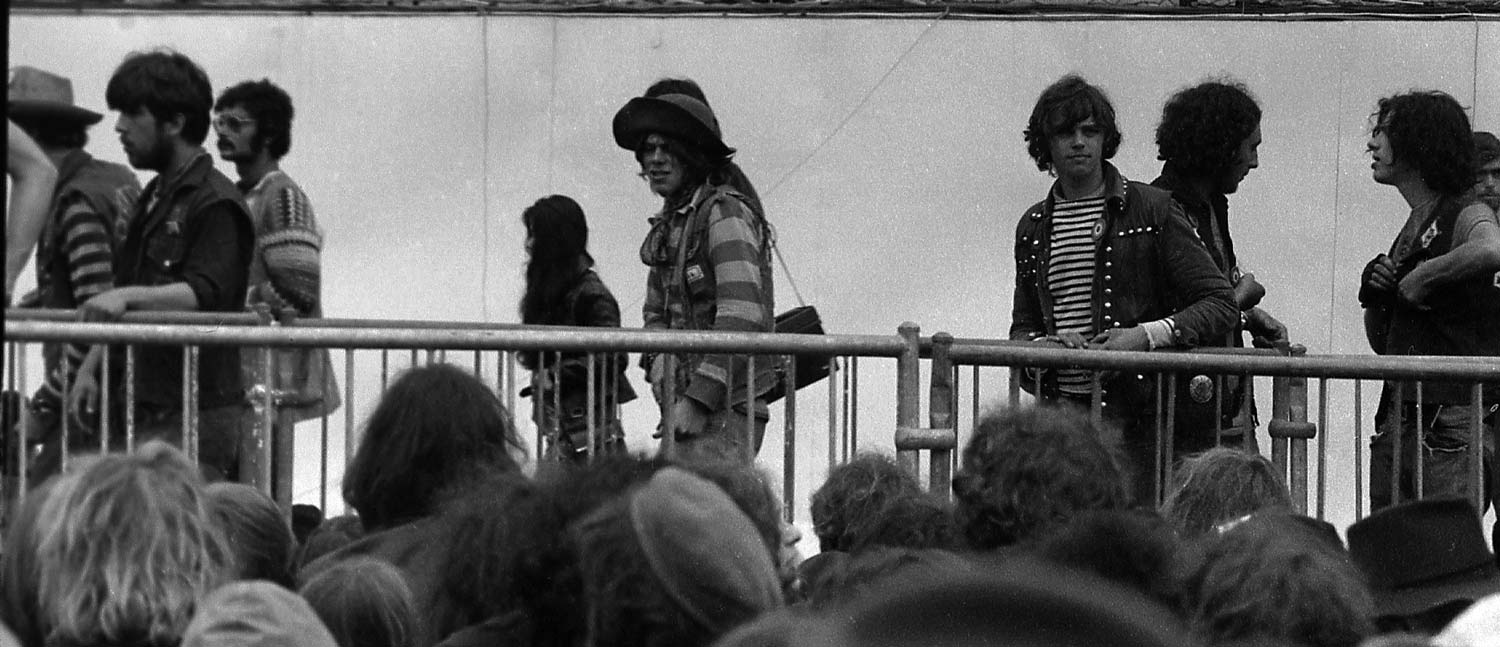 © Jake Matchett
---
What was your experience of the Angels or any other bikers at Bath ? ,
let us know
---
Audio- visual Records
---
The artists
---
Reviews, photo collections and general information
---
8 mm Film Archive
Ross Mortimore's streaming Quicktime movie of the crowd features clear images of the stage PA , Colosseum onstage and bikers with Canned Heat at Bath as a soundtrack provided courtesy of Bob C .
Bandwidth and copyright restrictions mean we cant host audio/video so you will have to do with stills at the moment until we can do an alternative stream elsewhere. Please don't bug us to add it , we will do it when we have the time.
---
General information:
links menu to site map, ticket. pass out, transport, drug bust, films and festival arrangements.
External Links to Bath related merchandise ( with which we have NO commerical links whatsoever )
To celebrate the 40th anniversary of the 1970 Bath Festival we have brought out a special commemorative set. Anyone interested can view it on http://www.rockmusic-offer.co.uk/
A limited edition of reprints of the 1969 and 1970 Bath festival posters and Freddie Bannisters books on the Bath ,Lincoln 71 and Knebworth festivals can be bought online from the link below :
Rock festival memorabilia from various festivals can be viewed at the main Rock memorabilia page ,
Led Zeppelin at Bath photogallery
Visit the 1969 Bath Festival pages.
---