Formatted at 1920 X 1020 minimum - failure to view at this res may cause weird formatting , you have been warned !!!!!!!
Updated July 2021
For information on today's festivals see eFestivals.co.uk

Big BIG thanks to our sponsor Neil !

This site is dedicated in the memory of

who inspired me to delve deep into the magic of the free festival and who passed away Sept 3rd 2010.

R.I.P. Roger .....
---
| | |
| --- | --- |
| Barsham Fair 1975-1986 | |
---
A number of very cool East Anglian Fairs were held at Barsham from the early 70s till 1975 and then once again in 1986 .

We present a few images from the Faires, but no detailed history as the Faires are not really music festivals as such , for more details you had better visit the East Anglian Faires site.

We have no exact dates as to when some of these first photos were taken , we suspect its 1975, but can anyone be more exact ..... ?

This was one of a series of the classic East Anglian Fairs which paved the way for many other festivals of the 80s . The Faires inspired ( and occasionally were inspired by ) the more anarchic free festivals both in their format and in relation to the free festival attending travellers who invariably turned up when the Faires were under way . There is some evidence that a number of Faires were shelved because of poor behaviour by a minority and its conceivable that the very elements that attracted a goodly portion of the audience by their independence, musical /theatrical entertainment ( TUMT ) value in addition to some of the their "other services "led to the police moving in and busting sites. Drug busts or open selling to the locals gave conservatives plenty of ammunition to oppose festivals and Faires not only in East Anglia , but in the West Country and other rural areas..

You can watch the film " The Last Barsham Faire " by clicking on the link. This relates to the Medieval Faire that was held until 1975 and then revived in 1986 .
The pics below were sent to us by someone but we cannot find out who , its possible we lost the email in a mailbox crash . If its YOU can you contact us so we credit ?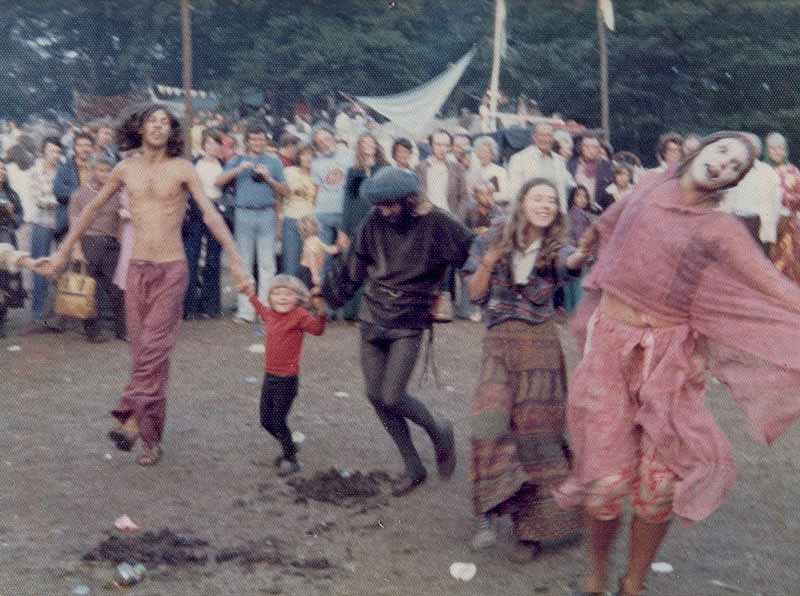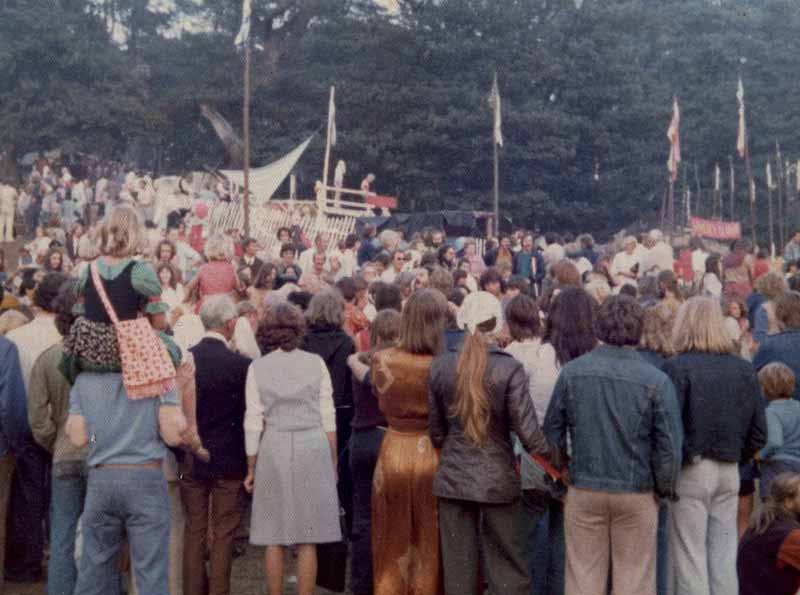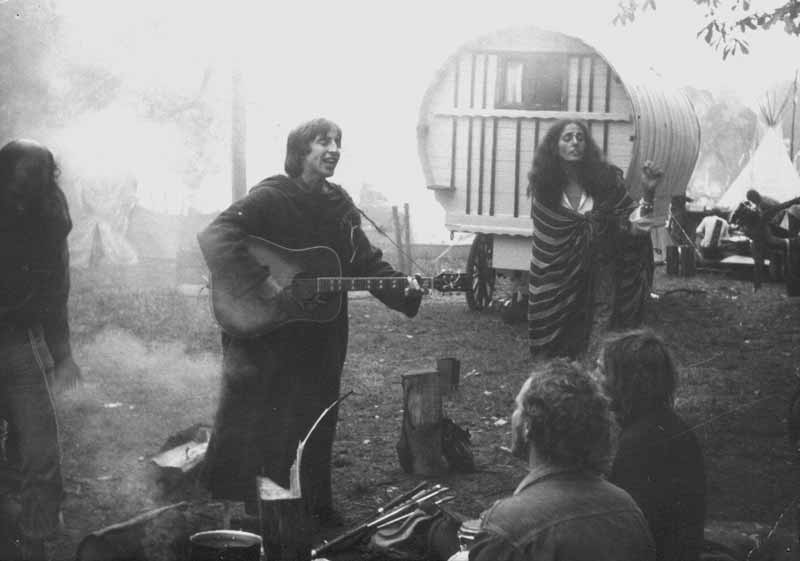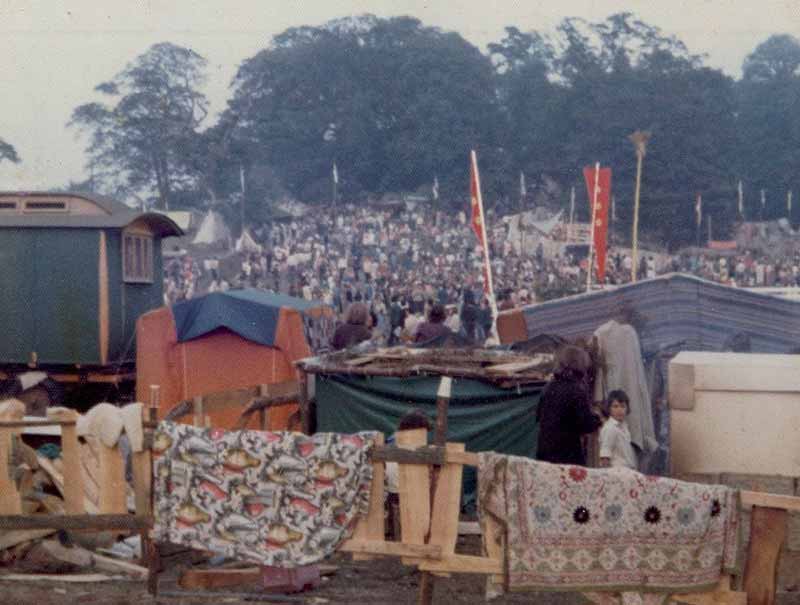 Barsham 1986
By this time the anti-convoy paranoia was at its height in East Anglia , with many of the old 'Albion' fayres cancelled .
This one was organised with minimal publicity .. so pitiful attendance figures .. virtually no space for living vehicles (the huge field inside the festival zone being reserved for the small number of day visitors cars only ) so rigs were strung out for miles along the aproaching roadsides ...but Radio 4 'Woman's Hour' did a live broadcast from it on the Monday afternoon !!
Dave
| | |
| --- | --- |
| | Left : Part of the 'Egyptian theme' of the weekend , that for some obscure reason included camel races ... |
Tibetan Ukranian Mountain Troupe Rougham 1982
---
Any info to add- well don't just sit there ! Contact us
Free festivals and small fayres held in the United Kingdom between 1967-90.
1967-69.
Main list of Free festivals 1970-1985
Free rock festivals of the 70s and 80s
Related Articles
The aroma of a free festival -by Roger Hutchinson
Dome construction instruction sheet (download-140k)-by Roger Hutchinson
Travellers Tales Convoy Steve's tale of how the freaks outsmarted the fuzz at Greenham common.
Zorch -House band for the free festival set ? A fanzine page on the UK's first electronic band .
Tibetan Ukranian Mountain Troupe-surreal pranksters of the Traveller community .
Acidia Lightshow Lightshow for Windsor festival and Stonehenge in the 1970s.
Traveller Daves Website - Chock full of of free festival photos !
Many, many thanks go to Roger Hutchinson , Big Steve , Roger Duncan, Celia, Will , Chazz, Jeza ,Chris Hewitt ,The Fabulous Time Tortoise , Peter Piwowarski - ( 70s music site/photos ) Martin S, Steve Austin ,Traveller Dave, Herb, Tim Brighton, Vin Miles, Haze Evans , Noddy Guevara, Chris Brown, Janet Thompson, David Stooke, Gary Gibbons , Nigel Ayers, Rich Deakin ,Glenda Pescardo,Justin Warman,Brian F, Steve Bayfield, Kev Ellis, Paul Seaton and many other minor contributors for their help in providing the archival material related to these free festivals which has at enabled us to construct the site .
Any info to add ?-well don't just sit there , Contact us
---