The Archive
Last update January 2011.
---
The Mayfly Free Festival.

1972-78.

Richard Arridge recollects the history of Oxford's
major Free Festival of the 70s.
---
1973-74.
May morning in Oxford. There's a cold nip in the dawn air and a light ground mist still lingers in the parks and gardens. The sky is bright and wispily clear,though the sun's not yet risen and the fragrance of the flowers and buds and blossoms is still locked into the plants, waiting for the days warmth to pry them open.A silent time of the day, when the whole town seems to be asleep except for milkmen , newsagents and night-shift workers. Even the birds seem scarcely to have woken up.

And yet as you drift along you notice you are not alone on the street and as you walk towards the city centre there seem to be more & more people appearing, almost all of them heading in the same direction, until by the time you're actually in the centre the streets are crowded, the pavements overflowing. Some people are chatting gaily in groups, their vapourish breaths adding fuel to the morning mistiness, some wide-eyed & exuberant like they've been up all night and others grimly silent or obviously regretting that they got up at such a ridiculous hour. All in all there's maybe ten thousand of them winding their way to Magdalen Bridge like iron filings to a magnet.

So what are they all up to, packed shoulder to shoulder on the three lane bridge, swaying on the parapets, sharing space with an outside broadcast radio van, morris dancers with bells on their legs & ribbons in their hats, a trad jazz band in boaters & hooped rugby shirts blowing merrie melodies and way up there on the college tower, choirboys in white surplices and red robes peering down at the hubbub below? When six o'clock strikes, the crowd hushes very loudly & heads stare upwards at the tower straining to hear a few snatches of Tudor madrigals, shortly afterwards the sun heaves into view & the crowd starts lumbering back the way it came.

That was all there was to it until a group of freaks decided to extend the celebration to include a free festival under the banner of Mayfly.

"Adult mayflies live only for a few hours,during which time they have to find another fly,mate,and lay their eggs in water."


Courtesy Richard Arridge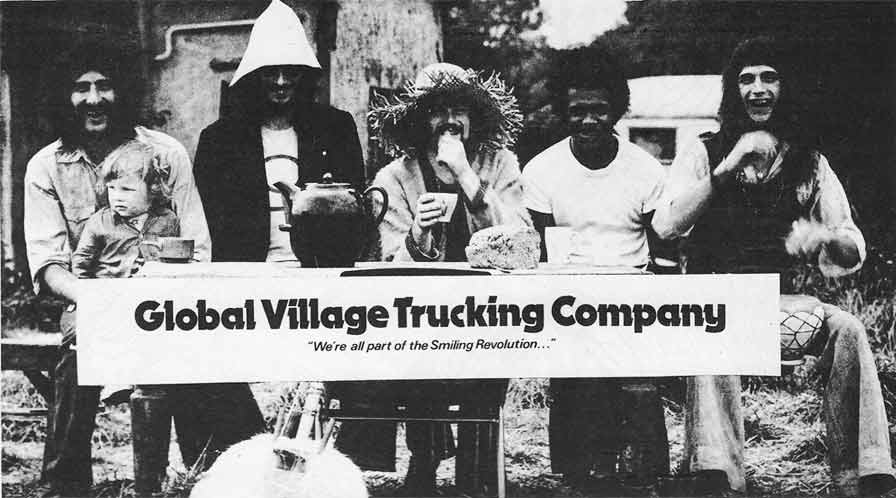 Courtesy Richard Arridge
A community cafe on the Cowley Road taking its name from the Swahili word for freedom 'Uhuru'provided a base for planning & ideas.Oxford at that time was seen as a cultural desert in terms of rock music, this was long before Radiohead or Supergrass, however there was one highly community minded band:The Global Village Trucking Company.

Their habit of playing free festivals, prisons, backs of lorries & the like drew comparisons to the Grateful Dead, as did their style of jamming & emphasis on the karmic importance of good vibes.

The first event I remember was also the first gig I attended,or rather non-gig. On a stage in the Oxpens recreation ground (where now stands an ice rink) a band called Snow Leopard supported Quiver who on merging with the Sutherland Brothers were later to achieve fame & fortune when Rod Stewart covered their song' Sailing'.

On this particular day however things were not so rosy as the only sound from the P.A.was a loud farting noise which caused one of the band to mention he'd had too many beans for lunch. And that was that, after a while I got bored & went home.

Poster courtesy Richard Arridge

By 1973 however things were much better & a great little festival had British jazz legend Lol Coxhill dressed in a gorilla suit & jamming with the Global Village. Brinsley Schwarz then delivered a fine set with an encore of'Brown Sugar' that had everyone dancing.

1974 was probably the peak after that as the Globs, as they were known by us locals , split up & the Mayfly people got more into theatre related events. Still 1974 was a two day event which was paid for by numerous benefits in the months leading up to it, street collections , jumble sales & sales of Mayfly badges. Local heroes the Earwigs,the Half Human Band & the Global Village Trucking Company played & the rain held off.

I was supposed to be at the gate regulating the number of cars allowed on the site but this only afforded a rear view of the stage & so I am afraid I abandoned it causing an alarming increase in vehicles.There were fireworks & a long, cold wait for the Virgin All Stars, a combination of Gong, Hatfield & the North and Henry Cow.

As a festival it was nothing like the huge national events going on at around the same time.But its smallness gave a feeling of community that was lacking in the commercial scene.

1974
Richard has kindly provided a copy of the programme and various posters advertising the event and I have posted the best bits on the pages below.
Global Village Trucking Company.
Half Human Band
Virgin All Stars.
Origins Of May Day.
Festival Posters.
Programme.
Cartoon
Chris Church remembers
Having stumbled on your site, looking for a connection with someone who used to play in the Global Village Trucking Company, I am completely gobsmacked. Right down to finding words that i typed for a badly photocopied programme some 26 years ago - phew! there were festivals in 1975 and 76. I do have some of the material (I was a lowly helper on the 74 event (I cannot remmebr who Richard Arridge was but there you go) but helped run the next two. The last one was due to be a two dayer, starred John Otway playing to the biggest ever Mayfly crowd, but over night there was some theft and a rape on the site and we cancelled the second day.... Punk was just around the corner: the Oxford free festival (same site, same stage design,some of same bands) was a 'carnival against racism' and that was that for Mayfly.
---
May 28th-29th 1978
Dear Archive


A free festival in Oxford ('Mayfly') was first held in, I believe, 1973 and over the next decade took place intermittently. In 1978 it took place on the Sunday & Monday of the late May bank holiday weekend & as such had no connection with the traditional May Day festivities in Oxford, being a tow not a gown activity in the socially divided city that Oxford was at that time. It was held at the Oxpens, a recreation ground off the Oxpens Road where the River Thames forms its eastern boundary, Oxford Ice Rink is next to the site.

I attended the event on Sunday May 28 1978 with a school friend, it started at midday and continued to about 9pm.

Those appearing were:
Here & Now
Tiger Lily
Otway & Barrett
Tone Deaf & The Idiots
Spear & Jackson
Dave Parrett & Dave Lamb
Zoundz

It was a great spot for a music event and that weekend was blessed with warm sunny weather. I do not know who the organisers were but it would have needed the support of Oxford City Council to go ahead. Some Hell's Angels turned up (no idea which Chapter as there wasn't one in Oxford, possibly Windsor?) intent on causing trouble, which demonstrated to a callow youth like me that free music events could have their problems.
For the Monday we were promised:
Merger
Acme Sewage Company
Patrick Fitzgerald
Flat House Hill Band
Lol Coxhill
Ken Liversausage
In the event, because of the heavy atmosphere caused by the bikers, only Acme Sewage played. I do remember Lol Coxhill turning up but he didn't play, the organisers then decided to end the event.
It was attended by few thousand people – perhaps 4,000 – on the Sunday, with lots of coming and going during the day. Not a festival in the sense of officially having a campsite but a few people pitched tents towards the river and stayed overnight. All this is from memory, my diary and the flyer I've kept, a scan of which I attach.
Hope this is of interest?
Mark Hathaway
---
Contact us if you can help.