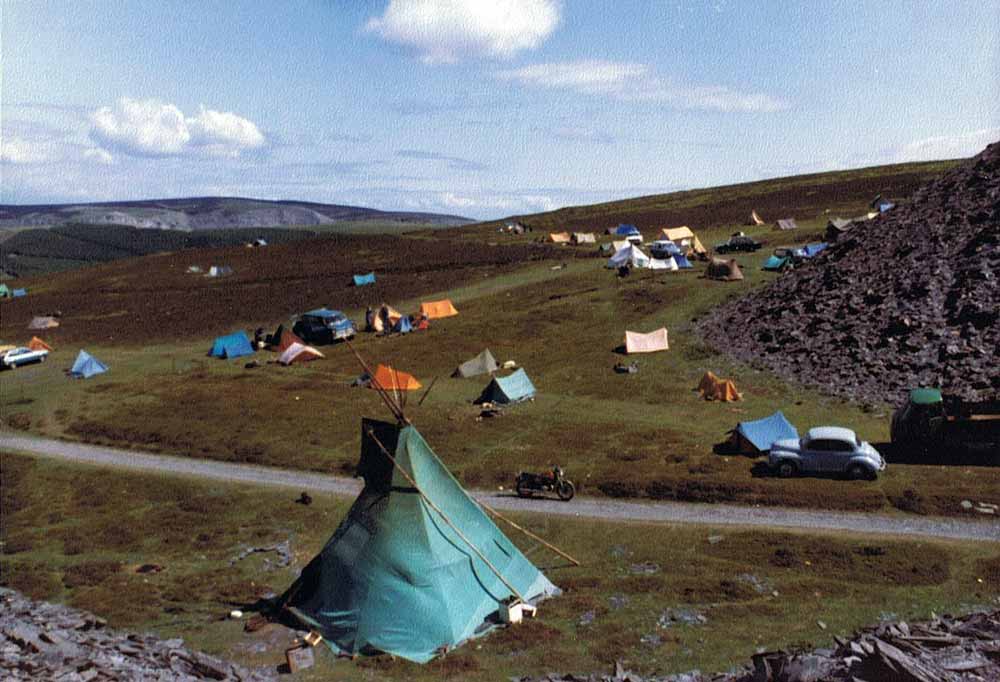 "bare, desolate and sloping "Ruthin Free Festival . © Ben Lovegrove
Festival Aid Report
Ruthin Festival was held on the first week-end in June at Horseshoe Pass in North Wales.
Festival Aid travelled up in Sharon's van on Thursday 5th June, arriving in the area at about 8pm. On the main approach road to the site we were overtaken and flagged down by two men. Sharon pulled up bewildered and they then identified themselves to be Drug Squad officers.
They told us that the festival was cancelled and when we expressed disbelief they searched us and our van by the roadside. On explaining that we were a Welfare Team they showed no belief and detained us approximately half an hour.
After this somewhat disturbing incident coupled with rumours that the site was only a grass verge adjacent to the main road we approached the site with some trepidation. Fortunately these fears proved unfounded.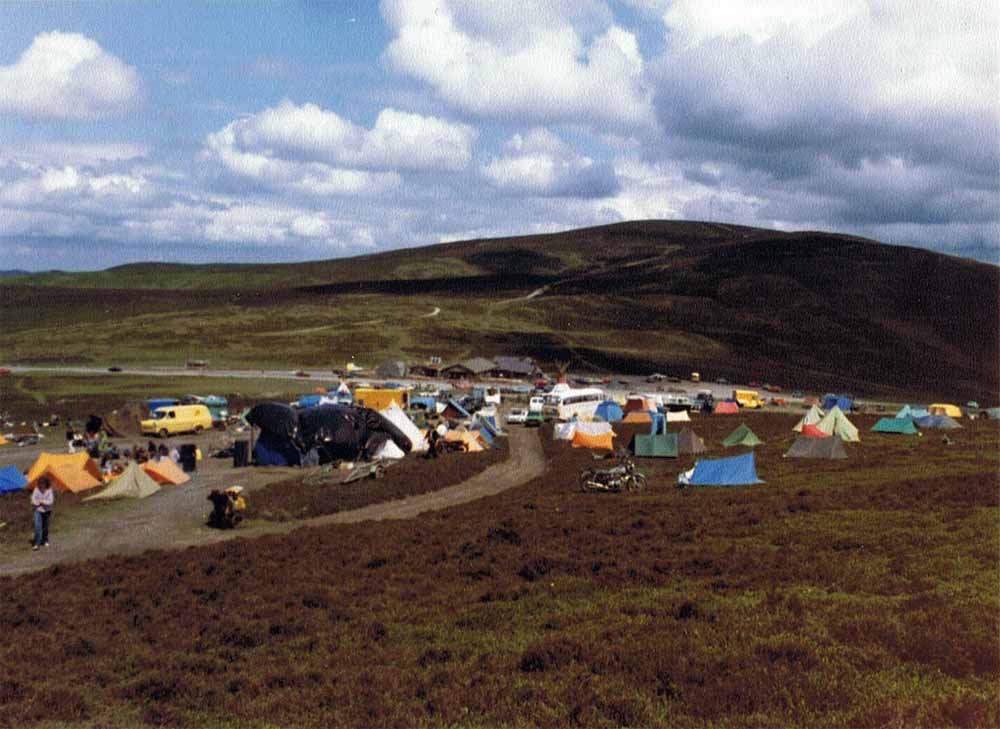 The main drag at Ruthin Free Festival ,complete with black plastic bag stage and cafe © Ben Lovegrove
The site stretched for a quarter of a mile up the side of a mountain. It was bare, desolate and sloping. There were about 150 people on site when we arrived including the Caroline Roadshow. We set up our tents half way into the site, expressing amazement at the lack of flat ground.
The next day we were visited by the Environmental Health Officers representatives a Mr Fiddling and his colleague.They were very helpful. They complained that they had not had enough notice of the event and that no money was available. We tried to explain about the problems of small free festivals. They laid on two water bowsers(one was actually taken up the hill onto the site), rubbish bags, disinfectant, a skip and they attempted to install portaloos next to the cafe. Meanwhile, Mr Pottinger, the cafe proprietor, kept his toilets open 24 hours a day and regularly cleaned. In fact, Mr Pottinger was very helpful throughout the festival, and his café was well patronised. The only difficulty we had with him was an incident early in the festival when a mobile snack bar/disco was trading directly opposite the cafe on ground he had trading rights to. After discussions with Festival Aid the offending traders moved away from the road and everyone was happy.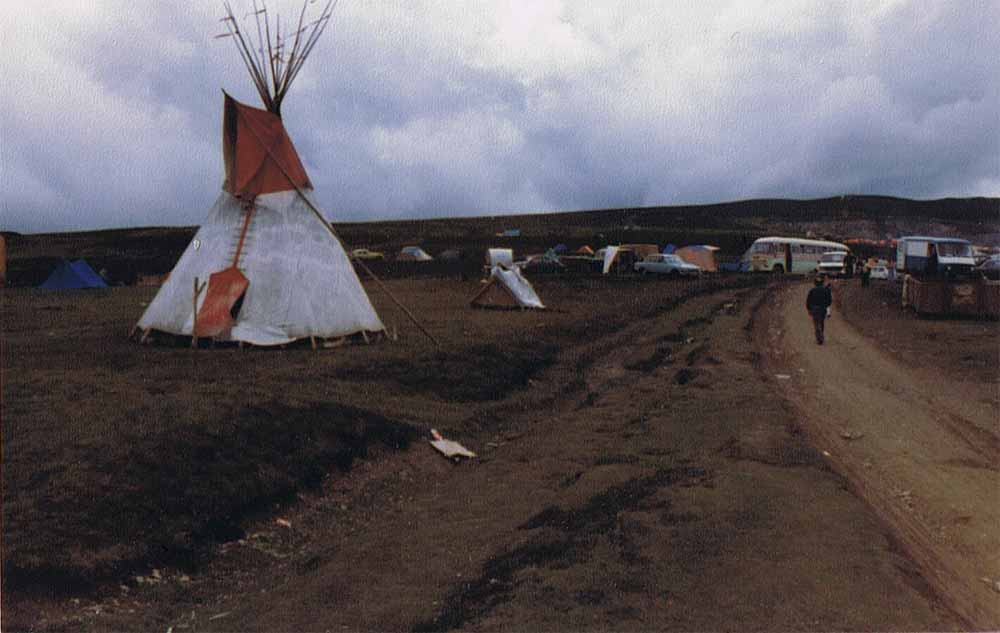 Ruthin Free Festival © Ben Lovegrove
Festival Aid were kept fairly busy with a constant stream of minor first aid problems - mainly cuts, dog bites and sprained ankles. The Police were extremely active, devious and heavy, and Festival Aid were hard pressed to cope with the volume of work; especially since three members of the small team were, themselves, unwell.
As well as this stream of work there were 3 major incidents over the weekend.
On Saturday about 50 bikers arrived and dumped themselves on a site of 500 hippies. As there was a considerable shortage of cannabis on site the bikers resorted to alcohol. The situation became tense, with bikers roaming the site in packs, destroying tents and intimidating people. This behaviour eventually led to someone being hit over the head and Festival Aid took him to Wrexham Hospital where he received eight stitches. Charlie, of Festival Aid, made contact with the leader of the bikers and this intervention,(together with two Festival Aid members joining in with the meths drinking) calmed the situation down somewhat. Later on Saturday evening 20 bikers came into the Festival Aid tent and though there were problems due to the lack of space, a merry sing song was had by all.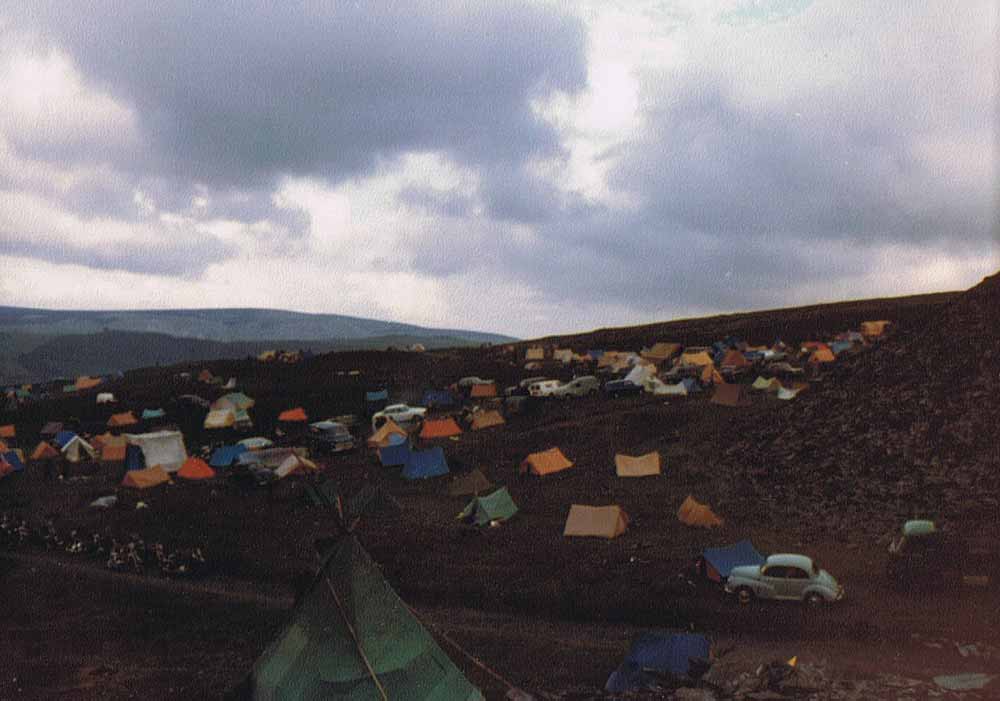 Ruthin Free Festival © Ben Lovegrove
On Sunday morning a car turned over on the approach road luckily no one was hurt.
On Sunday afternoon we heard that two people had fallen into a disused slate quarry adjacent to the site. Charlie and Tash ran over and assessed the situation; Tash stayed to administer what aid he could and Charlie went to inform the Police in the cafe carpark of the serious situation, requesting an ambulance and mountain rescue team. The two young men had fallen between 40 and 60 feet down the shaft. One was unconscious, the other unable to move but able to talk to the rescue team.
Festival Aid are most concerned at what they saw as an unnecessary delay before the arrival of the ambulance and rescue services. The Police, instead of acting on the information given by our worker, wasted an hour making their own independent assessment, although eventually arriving at the same conclusions. Throughout the rescue Tash remained calm and courageous, climbing into the entrance of the shaft with another local ambulance man to reassure the injured men. The injured were taken to Wrexham, where one was discovered to have broken his back. These two people were unconnected with the festival.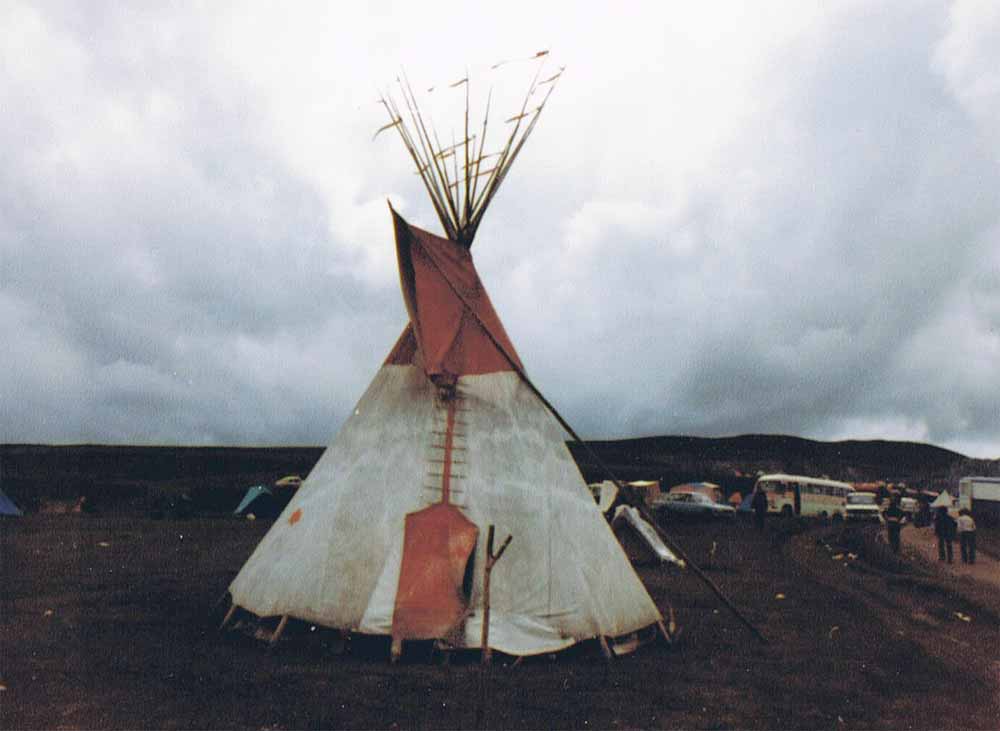 Ruthin Free Festival © Ben Lovegrove
The weather was generally wet, cold and windy, but despite this there was some excellent music from a black plastic bag stage.
If Festival Aid attends this event in 1981 more pre-festival liaison would be helpful and a worker for specific legal matters would be needed.
The site was mostly cleared by Tuesday and those remaining left in convoy for Stonehenge Festival later that week.
Vikky D .Festival Aid.
---
I know about that festival... we played at it! It was cold and windy. The festival ground was about 1500 feet up a Welsh mountainside. We got there in the middle of the day, the weather was awful. We had knobbly tyres on the van, and managed to get up the slope. There were a bunch of hippies up there, and some people from Radio Caroline.
There was no diesel for the generator. Somebody had to go down to Llangollen to get some on a motorbike. When we had some diesel, we played the set, about an hour of mostly original material, with a couple of soul covers.
We were OK. It was a bit miserable. Nobody else was playing, due to risk of electric shock. We couldn't care less about risk and that sort of thing.
Oh, and some hippy girls were doing "snake dancing",which basically means writhing around in the heather with hardly any clothes on. Admirable behaviour!
Our band was called RUN 299. The bass player was called Nick Carr; let me know if you ever run into him, he owes me some money.
Steve Jones