Formatted at 1920 X 1020 minimum - failure to view at this res may cause weird formatting , you have been warned !!!!!!!
Updated July 2021
For information on today's festivals see eFestivals.co.uk

Big BIG thanks to our sponsor Neil !

This site is dedicated in the memory of

who inspired me to delve deep into the magic of the free festival and who passed away Sept 3rd 2010.

R.I.P. Roger .....
---
Durham Dome Festival,

County Durham.UK
July 1st 1973

June 22nd 1975.

June 20th 1976.

June 19th 1977.

June 1978

June 1980.
Photos from 1975 festival © Garry Marsh
This festival was held in 1973 ,and then in 1975 through till 1980 .We know very little about the earliest festivals.The alternative magazine Mother Grumble has reports on two festivals being held in Durham in the summer of 1973, under this title . This confusion was caused ,according to Alistair McCulloch because of bad weather .....
July 1st 1973
Arbre, Stella and......

I was on the periphery of Muther Grumble at the time and issue 14 of the magazine has the big picture montage/report (http://www.muthergrumble.co.uk/issue14/mg1413.htm) of the festival on 1 July 1973 (to which you refer) but issue 13 (http://www.muthergrumble.co.uk/issue13/mg1319.htm) has an advert for a festival which was due to be held the week before on 24 June 1973.

On Sunday 24 June 1973, I went up to the river bank in Durham where it was to be held to find it deserted (apart from a stage). (It was a wet and damp day.) I went to the Muther Grumble office in the city centre and found someone there who told me it had been postponed because of the weather and that it would be held on the next week on Sunday 1 July. I legged it back up a week later (I lived in Darlington about 18 miles south of Durham at the time and hitched up and back on both occasions) to find it on and a good time was had by all.

There was only one festival in 1973, but two dates because of the cancellation!

Keep on truckin'…..
So its great to have that issue cleared up , we can now definitely say there was only the one festival that year and we can all stop looking to eyewitnesses ans photos from that event , cos they don't exist. Check out the info on the Mother Grumble site.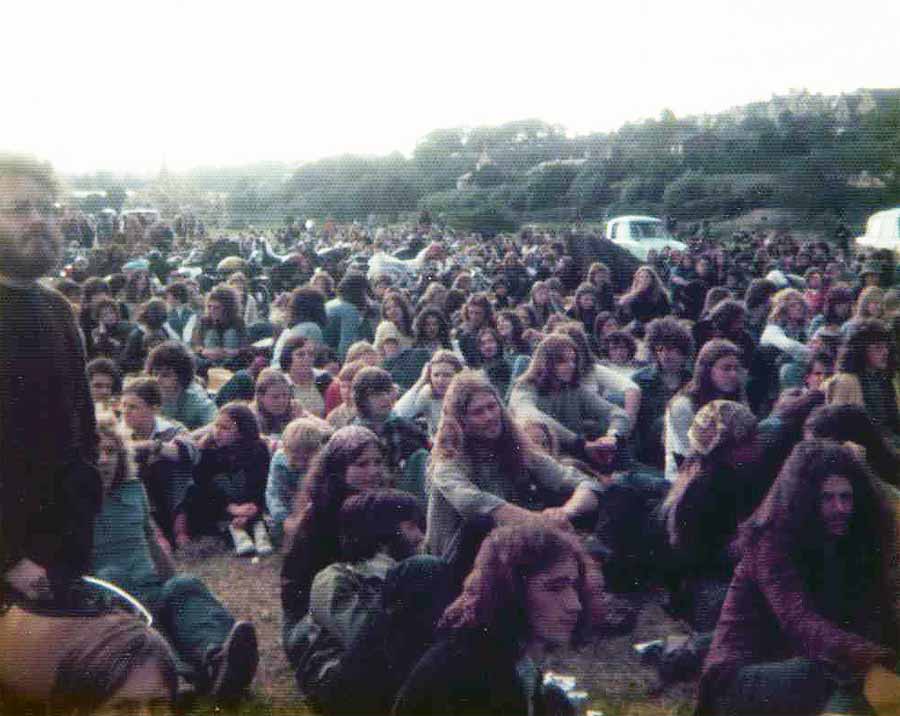 Hi,
I was a student at Durham University (Engineering) from 1973-76, and I inherited the building of the domes, sometime after the first festival - presumably in 1975 and again in 1976. So I learnt about geodesic domes and repaired the damaged wooden structures, which were stored at Fowler's Yard in Durham, for the second & third festivals. There were three domes - the stage was an elliptical dome with a cutaway front about 60ft wide, and then there were two smaller domes amongst the audience, a Bindu dome - (an onion or Taj Mahal-shaped dome) and a standard hemispherical dome, each about 30ft in diameter. Someone else built the stage. I just built the two smaller domes and then enjoyed the two festivals! The events were for one day only and I remember them with great affection!
The (beside the-) audience domes were uncovered, just wooden frameworks, and the interior space was mostly used as a play area by the younger children, with a few climbing up the outside! That worked out fine in 1975, but in 1976 the bindu (onion-shaped) dome (which, because of it's shape had less inherent strength than the round one), had more than 20 larger children/teenagers climbing all over it at once and partially collapsed on one side! I don't think anyone was hurt but the structure was rather badly damaged!
I imagine something similar must have happened at the first festival in 1973, as I had quite a lot of struts to replace and hubs to rebuild to make the domes serviceable for the 1975 fest.
The struts were about 2" x 2" square timber, with hexagonal & pentagonal 3/4" thick plywood hubs, and with long metal bolts securing the struts to the hubs.
I am pleased to see that the entire Domebook 2 is now free to download. (I still have the original (and indeed my rucksack dome!) somewhere in the loft). That was my main guide to constructing them.
Me and my friends wore big round badges (which were all the rage at the time) home-made, with a picture of a dome and "I'm dome-esticated" on them to the festival!
Kind Regards,
Steve Sutherland
---
I was a 15 year old local that helped build the original geodesic dome that was used for the 1st Domefest in 1973. I think!!! A band called Stella may well have been part of the line up featuring Ian Martin ,guitar,now of Martian fm fame, Steve Duffy, vocals, of web poetry fame, Colin prior,Bass, of van crashing fame, Ian the drummer - barnfather &wilkes? And another guitarist, maybe called Martin, of a curly haired and quiet nature!
Mick Bird
---
I came across these pix from the Durham Domefest 1975, which took place on the banks of the river (what?) in about June/July/August. The band on stage are/were ARBRE from Wallsend, they are still going as the Caffrey Bros (www.thecaffs.co.uk or .com).
Maybe you can find more about the Domefests, they may have been just one day events, can't remember, but we ONLY went to this one for one day!
All the best
Garry Marsh
June 23rd 1974
There was a Durham Domefest in June 1974. The reason I know this is that my band played there – Keplers Ellipse. The line up of our band was organ, guitar, bass, flute and vocals, and myself on drums. We played an organ dominated set consisting of caravan, camel, van der graaf and a rock version of bachs fugue in d minor. It was a great experience with a huge crowd lined up along the river bank. Unfortunately, being so caught up in the whole ambience of the day I didn't take any photographs but hopefully someone else might have and will forward them to your site.

I can't remember which other bands were on that day except that we somehow managed to blag the spot just before the headlining band which was Jack the Lad. They were absolutely magnificent.

Dave Henderson
---
Hi
just been reading your item on the durham domefest and it brought back memories.
In 1973 the first ever domefest, we were the opening band called Geezer Tarquin were on the bill but they were our rivals so we went to the Dun Cow
In 1974 we were booked to be the headline band but supertramp played Dunelm House the night before and offered to play. We were asked if we would step down a rung.
What a bummer, we still played it was a privilege to be on the same stage as supertramp.
I remember the Durham students union who organized all the bands to play at Dunelm House in the early seventies such as Free, Deep Purple, Skid Row etc. before they made it big.
They also looked for local band to play as backing bands.
The first ever Domefest 1973 was a try it and see. All the local bands deemed it a success so the following year some of the bands who played previous year where asked again. The band Geezer which i was a drummer for where asked if we would finish the night.
Supertramp were on a British tour of universities performed the night before. When they offered to play at Domefest we were asked if we would play before them. It was a night i will never forget.

Thanks for the memories
Tony Lumley
---
There was a festival in 77 (it's very unusual for me, but I can't remember a thing about this one) and Steve Brown Band headlined in 75 (not 76). Anyway, here goes
Sunday June 22 1975
This was the first Domefest that I was involved in, more as a helper than anything. It was a fabulous day for a festival with a good turn-out. There were 4 Domes – in size order Stage, Pacific, Bindu and Small – the first and last were plastic covered. The larger domes were a real pain to assemble, and this was the last year that the Stage Dome was used as there really was inadequate space under it to turn bands around rapidly. A small budget was available to help with the band's costs, I am not sure where that came from. Many other contributions were donations of time or loan of equipment. I think the external funds dried up after this year, hence local only bands after this year. You will see that we had a visit from the Durham drug squad – I remember that we announced this from the stage once they had been spotted – as far as I remember no-one was arrested, so obviously their presence had had the desired effect of ensuring that no-one was stoned (not).
(Got there about 4 o'clock so I missed some bands and don't know who they were)
In order of appearance -
Arbre
Global Village Trucking Company
Hedgehog Pie
Isotope
Steve Brown Band
To be honest, this is the only one that might interest anyone outside the North East cause the next 2 were local bands only. I don't know why they stopped booking non local bands.
---
Sunday June 20 1976

I was much more heavily involved in the 1976 Domefest, helping to book bands and setting up the event overall. We hired (at a very good rate) the stage from a local scaffolding company and this made handling bands a lot easier. We had a stripy plastic covering made for the stage, but had not made the edge of it strong enough where it attached to the scaffolding and it began to tear in the wind (which was not particularly strong). So a fair bit of the time early in the day was spent trying to ensure the covering did not rip further and did not flap so much as to distract from the music. I remember the air gun pellet issue and think that it was my friend Bruce who took to the microphone to ask the culprits to desist. I can remember North Star (the band) well as they had played at the Students Union previously – they came from Robin Hoods Bay in North Yorkshire and I had called in by to see them when I was walking that coast earlier in the year.

in order of appearance).
Srewf
Dexter
Mushroom
Cancer Moon
Deja Vu
Village
Steve Brown Band
Arbre
Dave
Preacher
Guy
North Star
Raw Spirit

Srewf featured my band mates George Maddison and Kevin Heard from the Carpettes. During their set someone shot at George with an air rifle. He missed and the organiser came running on stage to shout at the culprit who was up the hill!

Dexter were an ace jazz rock band a la Isotope. I'd seen them (with Dave), six weeks earlier, do a freebie at Durham Fowler's yard. Pity they never released any recordings.

Arbre were signed to DJM at the time and had an album out (acoustic guitar, Lindisfarne type group) Raw Spirit had been gigging for a while. I saw them supporting Man at Newcastle city hall June 21 1973.

Can't remember anything about the other bands, sorry (Dave was a bloke with an acoutic guitar, he was really good, did his own songs)

---

Durham Dome Festival 20 June 1976. I actually played in the band Neil refers to with George and Kevin (actually spelt Strewf, our first and only gig if I recall). Highlight of the day was watching the antics of the Hell's Angels who were present. When George was fired at with an airgun from across the river (Wear), the announcer interrupted the set to warn the culprits that if they didn't desist the police would be called, then paused and said 'Oh... there's the 'police' on their way now..' referring to a posse of Angels heading over a nearby bridge to 'remonstrate'. They (the Angels) also threw our 'roadie' (really a mate pressed into service) in the river for touching one of their bikes with his mini van. Luckily it's only about three feet deep there. But they had a certain style - I remember they sat in a group on the grass, shredded leathers and other undiscernible garments covered in oil and one with a skinned cat over his helmet, sipping sherry from immaculately cut glasses. Incidentally, I agree Dexter were great jazz-rock players but the times being what they were I saw the guitarist some months later in a decidely non-twiddly new-wave band (don't remember the name).

Mike

Right: the crowd at the 1976 festival ,

image © Dave Bowler, visit this site to see more of his images of the crowd and the Steve Brown Band onstage,

Photo of Dexter onstage at the 1976 festival here
---
Sunday June 19th 1977
I was doing my final exams in summer 1977, so had less to do with the lead up to the festival but could get more fully involved in construction etc. We had a compere in 1977, a local (Teeside?) stand-up comedian called Mike Elliott [I have a feeling that he is no longer alive, but am not certain. He was very funny, but my memory of him was of him mis-saying my name as Mark Truscott, after which all my friends started calling me Truscott!]. I think this was also the penultimate gig by one of the stalwarts of the NE bands: the Steve Brown Band. They had played at two previous Domefests and I had booked them for quite a few gigs in the University too; they were popular in the University for sure. Another band were Harcourt's Heroes who were derived from THE stalwart band of the NE: Lindisfarne. I did get a picture of the Hell's Angels this year, but it is not particularly impressive.
(in order of appearance)
Co Op Quintette
East Coast
Southbound
Sidekick
Harcourt's Heroes
Phil Townend
Steve Brown Band
Guy
Cubes
Erection
Headliners - Erection were like a Gonzalez type funk/pop outfit. I saw them six weeks later at Houghton-le-spring Inn Cognito club, where they played to a load of disco types, and they went down just as well!
Anyway, as I said, the last 2 festivals might be irrelevant to you. The 75 one was by far the best one.
All the best,
Neil Thompson.
---
Hi
I went to the Durham Domefest I'm pretty sure in 1975 like Gary rather than 1973 so maybe it was held in later years than Mother Grumble reports.The river was the Wear. It was June I think and was bloody cold. A typical north eastern summer's day - maybe no longer with global warming but certainly when I was a kid. The only band I remember was the Chris Jagger Band. They arrived in a jag, an S type, with Chris sitting on the bonnet if I recall correctly. I thought it was reported in the NME at the time though I could be wrong. It was a one day event. It may have been held in earlier years but I can't remember.
keep on keeping on
Nick
---
I was at boarding school in Durham and The Dome Fest was a highlight of the Summer Term!

We were fairly young at the time, 13year olds that knew it all. We used to pile down to The Race Course (that's the stretch of the river where the festival was held) and watch in awe has Hells Angels held their ground, mind you the aroma from the sweaty leathers was enough to ward anyone off ;)

Can't remember much about the bands, we were just soaking up the atmosphere…Happy Days!

Jeff
---
I cant remember much about it, I believe it was 75 as Sunderland had won the cup recently, I remember a load of Bikers fastening a rope to the Toilet steps (about 6 High) and pulling them off with a bike, funny watching everyone coming out and dropping !!! cant remember much about the bands, saw a couple of them in the Old 29 In Sunderland, your right it was cold !!! and its the wear next to the Cathedral, Good Days.
Ian Jack
---
Sunday June 18th 1978
Your site does not list Domefest 1978. It was held on 18 June 1978 and I am afraid that I have no details beyond Much Later playing (in other words my entire record is this set of pictures). As I remember Much Later played jazzy-rock. I had left Durham then (and was working in Hull and returned just for the weekend to see my mates). There was a good turn-out.
That's it, please do ask questions as they may trigger memories. I have lost direct touch with all the other Domefest organisers, but have emailed some of my friends who might still have contacts – it would be particularly good to get you more on the 1978 Domefest.
All the best
Mark
15th July 1979