Formatted at 1920 X 1020 minimum - failure to view at this res may cause weird formatting , you have been warned !!!!!!!
Updated July 2021
For information on today's festivals see eFestivals.co.uk

Big BIG thanks to our sponsor Neil !

This site is dedicated in the memory of

who inspired me to delve deep into the magic of the free festival and who passed away Sept 3rd 2010.

R.I.P. Roger .....
---
Mid Wales Festival

Llanbister. Powys

July 1991 .
---
photos © Herb
Llanbister is a tiny village of about 40 houses nestled in lovely country in Powys, no doubt serviced by a Tory MP and also no doubt, like most rural areas, rather conservative in their world outlook . One can just imagine the hysteria created in the locality when perhaps up to a couple of thousand freaks, travellers ,ravers and assorted hangers on descended on the area in the summer of 1991 . By this time anyone living in a bus or truck had been thoroughly demonised by the UK tabloid press . Although there was a minority element who probably DID deserve to be demonised for general antisocial behaviour to both their fellow travellers and the wider community, it was becoming increasingly harder for anyone to live on the road and to hold free festivals, however well or poorly they behaved. Llanbister was one of the last flings by the free festival movement before the dreaded Criminal Justice and Public Order Act came into force which made it almost impossible for a group of two or more people to stay on land ,whether private or common ( let alone hold a festival ) without facing nasty punitive measures from the nasty punitive people that formed the Tory goverment of the day ........ bless their little iron hearts :-(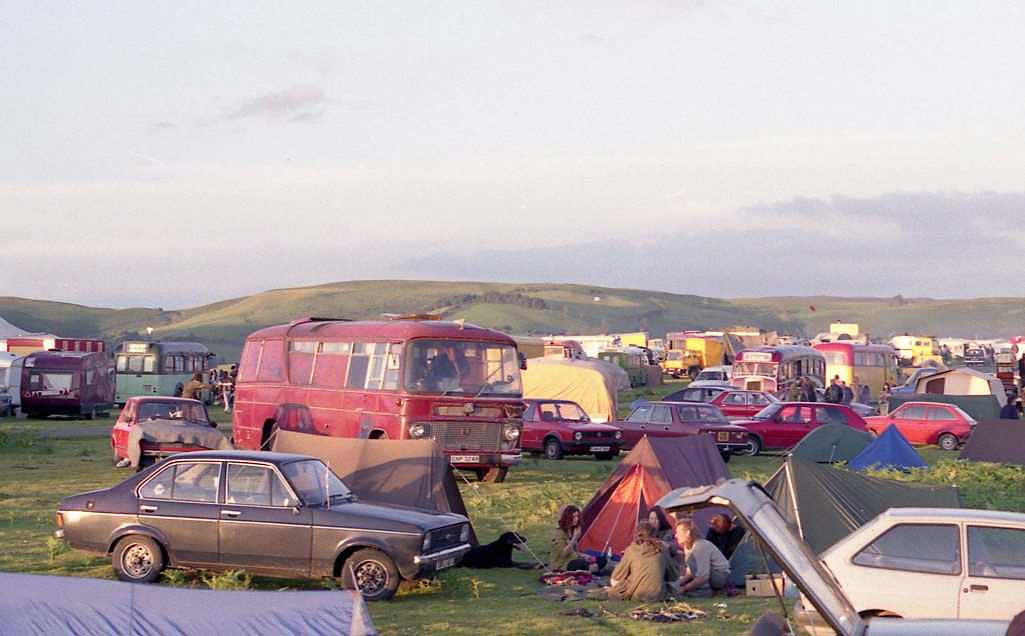 Must admit this lot don't look as though they are capable of rape and pillage ...... ah , but wait until they start taking DRUGS !
In foreground we have ENP324B (1964) Bedford SB5 . Duple Bella Vega C41F owned by Jude .In far distance right the elegant (1953/4) Albion Victor .Ex-Guernsey No.52. Owned by Annie . On the left Brian's Guy NVLLP MXX373
To be fair, a free festival of the 90s was a slightly different beast of the 80s. Mostly music wise .For a start , the scene had been invaded by a new wave of party goers , who arrived at festivals equipped with large bass heavy sound systems which pumped out techno and protoypical Goan psy - trance music at eardrum destroying volume on a round the clock basis. The ethos was "why sleep when you can party ?" . As many of the newcomers were fuelled by the party drug Ectasy , ( the amphetamine based psychedelic which enabled users to stay up for days at a time) this was not a problem for them .However the endless thumping music put more than few old school travellers and festival folks noses out of joint and no doubt, the noses of a few nearby locals as well. We don't know just how loud the sound systems used at Llanbister were, but when the event was rumoured to be re-run in 1992, local farmers covered the fields with manure to stop the festivities from going ahead. The Independent reported , " It is feared that when the travellers disperse, some may try to make their way south to Llanbister, also in Powys, where 12 months ago a free festival staged on common land led to angry confrontations with local people. Last week, farmers there spread tons of manure over the ground as a deterrent. "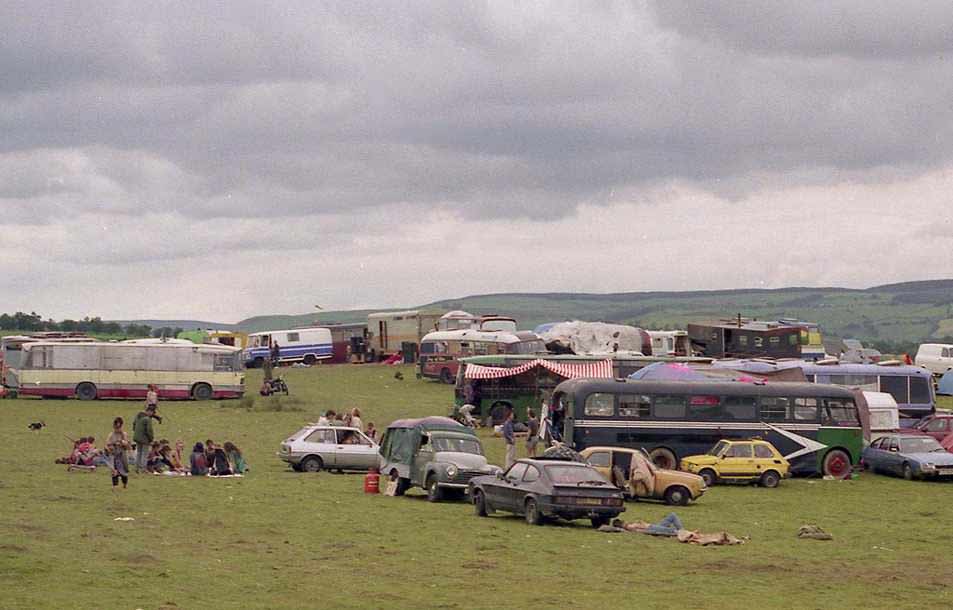 Herb, who provided the excellent photos of the event , gave us a run down of his experiences at the festival
A few of us headed out to Cantlin stone in August 1991 for the annual festival.. This time we took a small sound system and a petrol generator and also a small display box of fireworks. When we got there everybody had already been moved on and we were told by the odd remaining people that Llanbister was the place to go. So we duly consulted the map and headed off.
When we arrived there was a huge amount of people there which seemed to be a mix of new age traveller and the acid party/rave people. We set up camp and I went off to a nearby town to get some alcohol. On the way back on the road overlooking the sight the police stopped me and asked where I was going, when I said the festival they said "OK no problem", there was no search or id check. I asked some elderly locals who were nearby what they thought of the festival and they said that their had never seen anything like it.
Later that night we did our firework display and heard some people in the watching crowd saying that we must have broken into somewhere to get the fireworks which was not actually true. There were a number of different music stages on the site but I only remember one or two in use at any one time.
Herb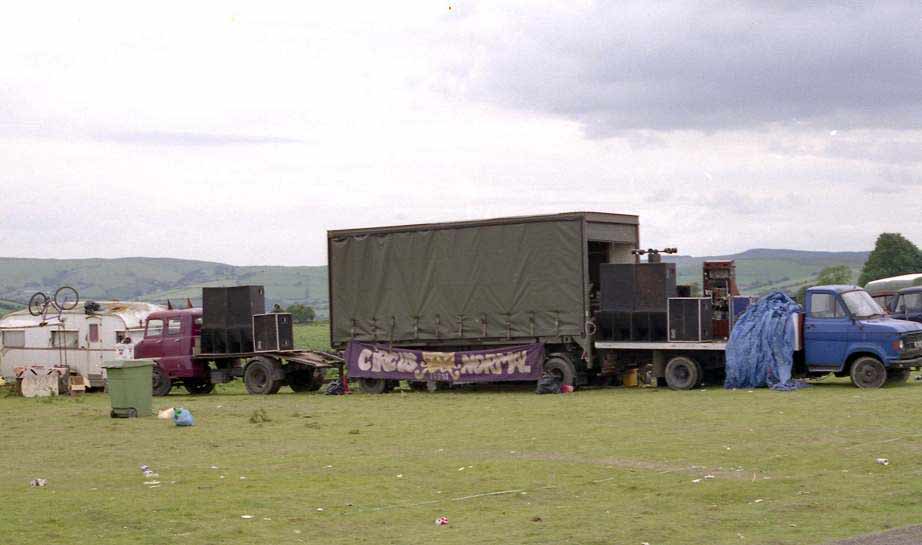 Ah, now THERES a sound system that looks like it can chug out a few watts . Not exactly Knebworth scale tho.....
Jude heard it and wasn't impressed ....
Hiya, first off just want to say thanks for such a fantastic site, I've been looking at it on and off for several years now. I had a nice surprise today looking at Lambister festival, saw my old bus, a maroon Bella Vega reg ENP324B. I bought the bus in 1990, spent a lot of time getting it through an MOT, and Lambister was my first festival in the bus. I ran out of diesel at the bottom of the hill, just passed the old Bill, sometime later after blagging some diesel I got the bus stuck on a metal post on a hairpin bend half way up the hill, got there eventually!
I remember Circus Normal parking near me, I'm sure they didn't arrive till Sunday. When they had finally set up the rig they played Fleetwood Mac Rumours, all of it, followed by Back in Black (AC/DC) again all of it, my bus was behind the speakers so i ventured out to find out how it sounded in front of the stacks, it was horrible, sounded much better from the bus!! I don't remember any other rigs being there. will let you know if i remember anything else!!
Jude
Centre- Spyder's Atkinson , a regular at free festivals of the 90s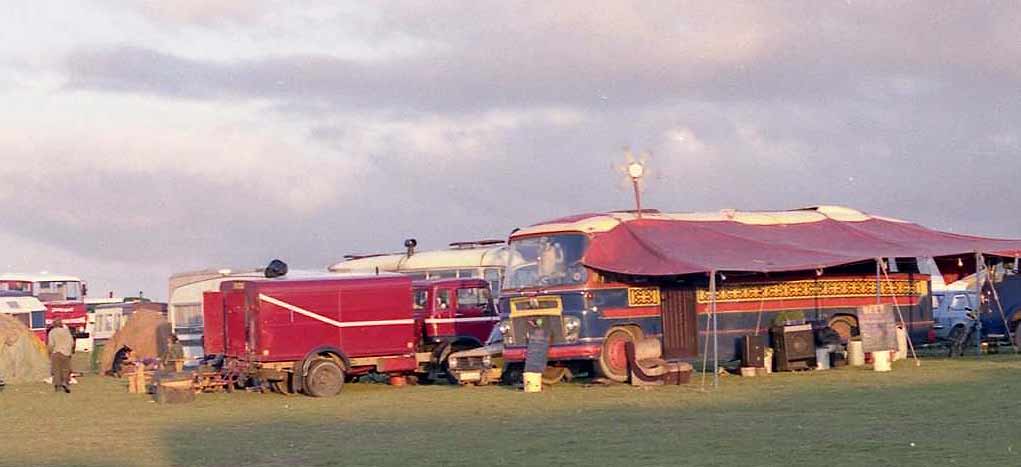 POO32D (1966) Bedford SB5. Duple Bella Vega . Ex-Boon . Boreham. Owned by Tat and Bridget .Traveller Dave's TK lurks in the far right hand corner of the tarp.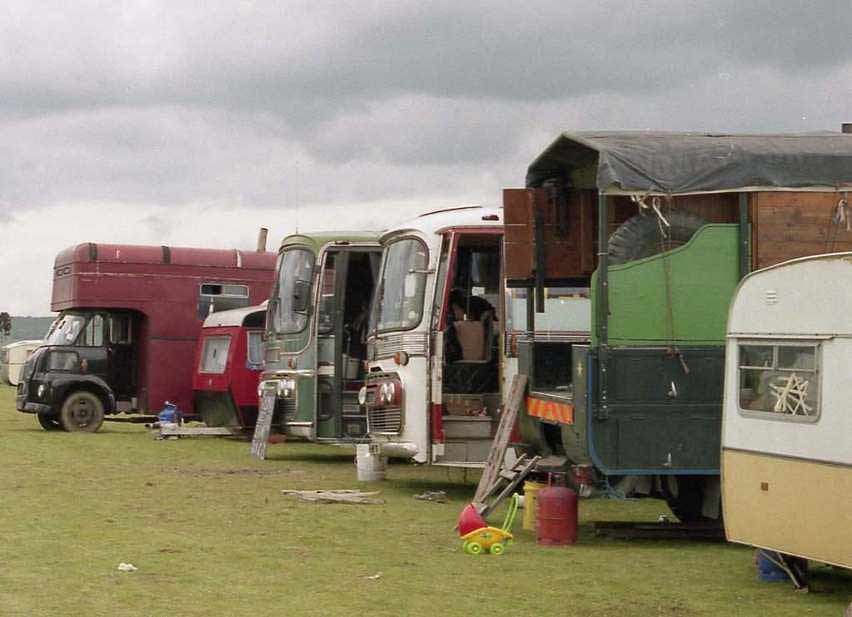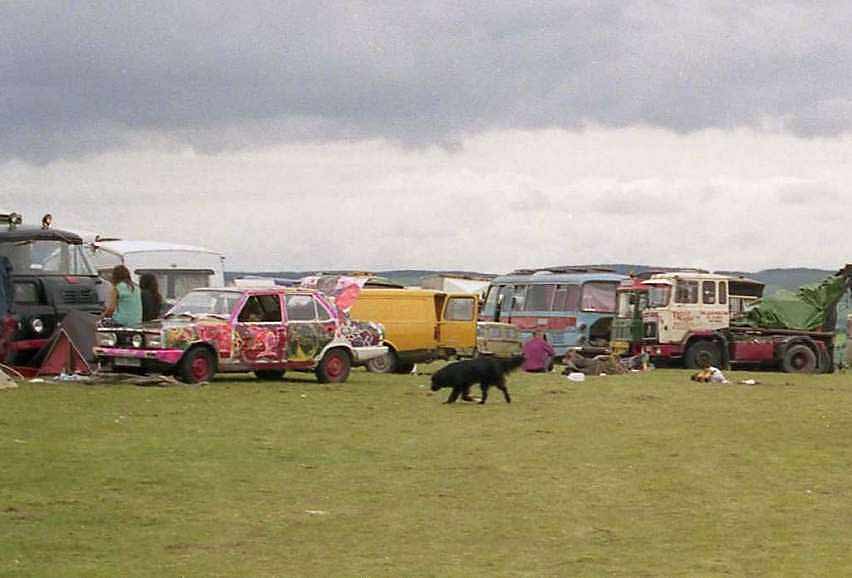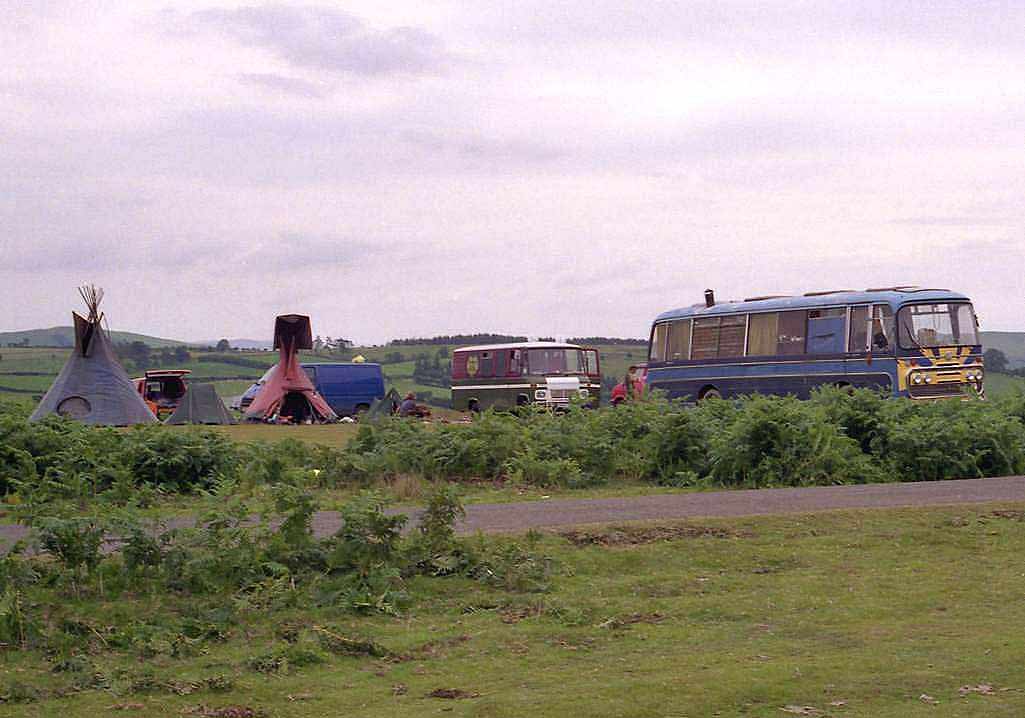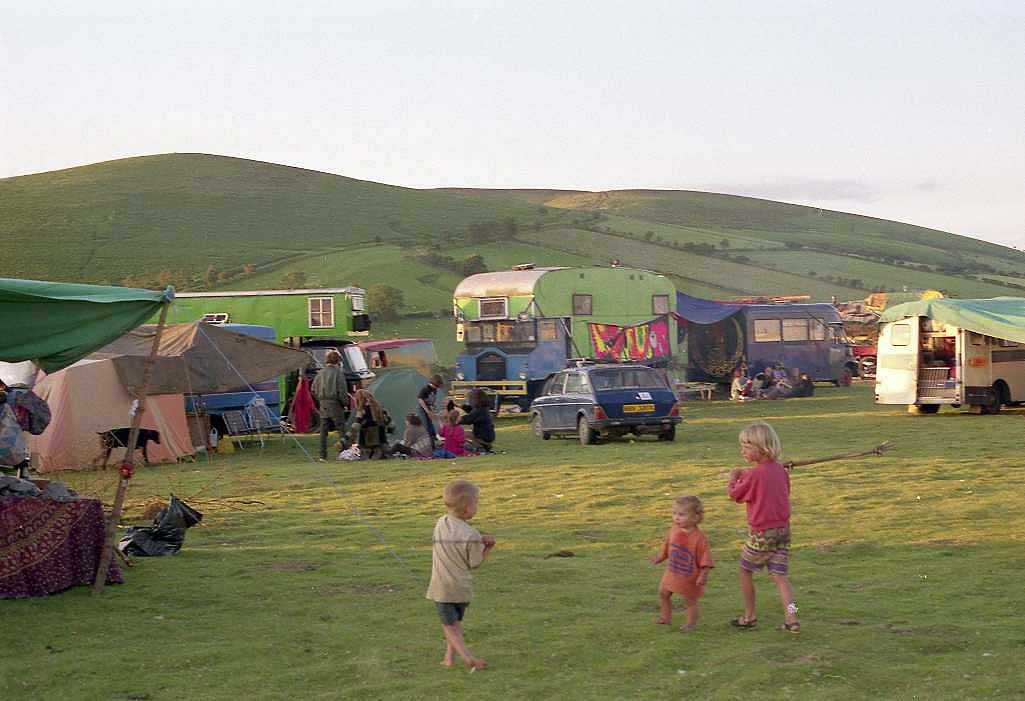 Pat's D series green luton is far left, Jo & Barbera's RL & Caravan centre Matty & Sylvia's FG Ambulance with Julian's celtic knot paintwork on the rear doors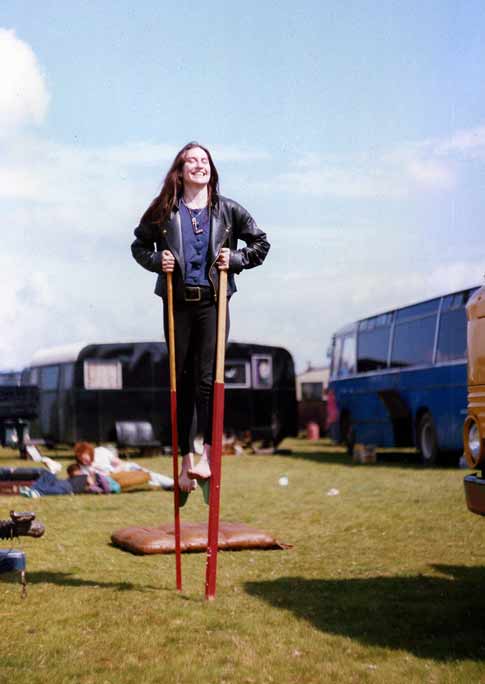 Dee on stilts © Traveller Dave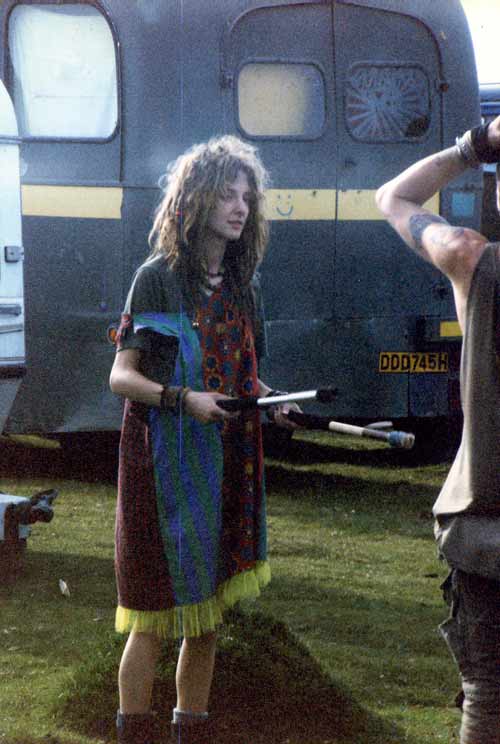 © Traveller Dave
Any info to add ?-well don't just sit there Contact us
---
Any info to add- well don't just sit there ! Contact us
Free festivals and small fayres held in the United Kingdom between 1967-90.
1967-69.
Main list of Free festivals 1970-1985
Free rock festivals of the 70s and 80s
Related Articles
The aroma of a free festival -by Roger Hutchinson
Dome construction instruction sheet (download-140k)-by Roger Hutchinson
Travellers Tales Convoy Steve's tale of how the freaks outsmarted the fuzz at Greenham common.
Zorch -House band for the free festival set ? A fanzine page on the UK's first electronic band .
Tibetan Ukranian Mountain Troupe-surreal pranksters of the Traveller community .
Acidia Lightshow Lightshow for Windsor festival and Stonehenge in the 1970s.
Traveller Daves Website - Chock full of of free festival photos !
Many, many thanks go to Roger Hutchinson , Big Steve , Roger Duncan, Celia, Will , Chazz, Jeza ,Chris Hewitt ,The Fabulous Time Tortoise , Peter Piwowarski - ( 70s music site/photos ) Martin S, Steve Austin ,Traveller Dave, Herb, Tim Brighton, Vin Miles, Haze Evans , Noddy Guevara, Chris Brown, Janet Thompson, David Stooke, Gary Gibbons , Nigel Ayers, Rich Deakin ,Glenda Pescardo,Justin Warman,Brian F, Steve Bayfield, Kev Ellis, Paul Seaton and many other minor contributors for their help in providing the archival material related to these free festivals which has at enabled us to construct the site .
Any info to add ?-well don't just sit there , Contact us
---