A return to Inglestone common which had been used in the early 80s as a free festy site. This was a small gathering which later became a much bigger one , leading to an exclusion zone being established around the common .This lead to a mass movement of people to Castlemorton common, where 20,000 attended- this was probably the last BIG free festival the UK will ever see as the Criminal Justice Bill was introduced that effectively made any gatherings of more than two people who are trespassing on land illegal .
However at this date there weren't too many hassles at Inglestone - most people managed to get to the site without being arrested , partly because two separate convoys arrived from different directions and this confused the plod .No doubt some of them had difficulty with the concept of two . It does involve a higher level of thinking :-)

1990 was heavier, presumably because the old bill were expecting travellers to arrive- a lot of people got hassled on their way to the festival, but it eventually got going .

The Agents of Chaos aka 'Hawkdog', a festival band consisting of Dave Brock, Crum and members of Tubilah Dog played the festival, but no one seems to have made a recording .

Right : This convoy found the normal entry to Inglestone blocked by the plod, so everyone just did a big detour and got onto the land the next day , thus foxing the polis.

Photo © Traveller Dave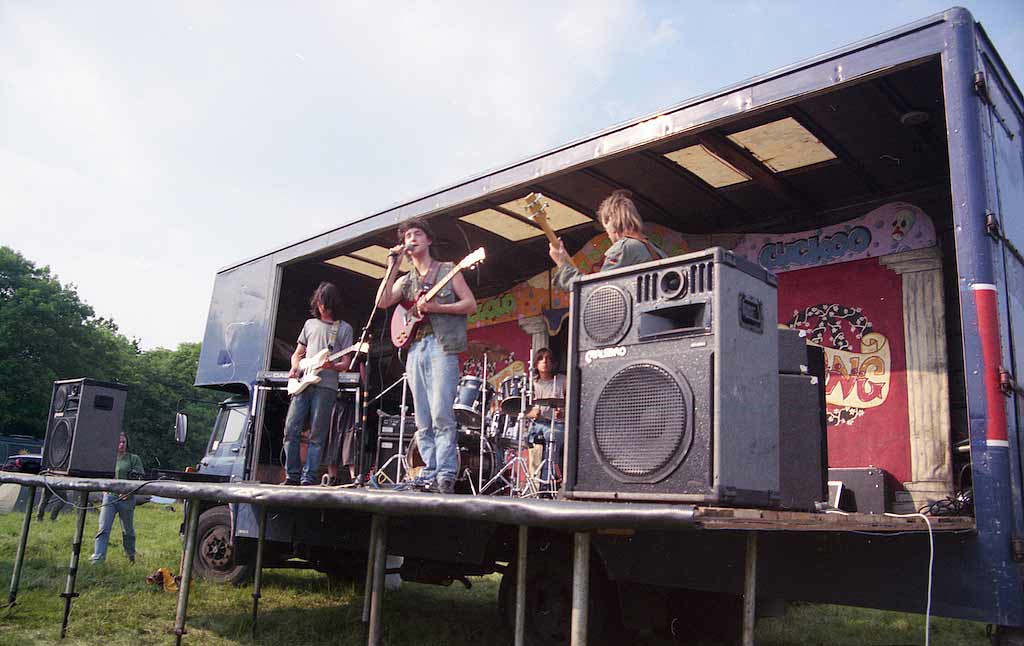 © Dick Short
Noddy G has this to say about Inglestone
It took a day or two of wandering round Avon meeting up with various groups of travellers and festival goers to finally pin down a destination for the festival. When the word got out,' Get to Inglestone Common, NOW' we bombed off in me little Fiat van. Only to arrive too quickly and be among the first there , only us and a couple of cars. We thought 'bugger it' and drove onto the common. Then the Police started appearing at the edges of the Common and a Copter appeared. Then the main 'Convoy appeared and drove straight onto the common wild west style, circling wagons the lot. People were jumping off trucks and starting to set things up straight away. It was a great feeling. We knew we were gonna get a festival. Soon there was music , some food and we met up with people. I can't really remember any band in particular , but the background sound was good.
A Hawkwind/RDF type vibe is all I remember. We made food in a big pot, had a dog called Jeannie , and a tarp from Leamington Spa market ! I took an entrenching tool and buried my pooh in the woods, no mess, and we took all rubbish with us. I don't know if everyone was that good, but most people seemed like they didnt want to destroy things and didnt want to give the scene a bad name. I only met one local at the event, he lived in a cottage nearby, I went to his house with a barrel and asked if i could fill it with water. He let me , and was friendly and said he wasn't against the festival , hoped we all had a good time and hoped we cleaned up afterwards ! We had a visit from the Police , who put orders on all the vehicles to get off the site. Good do.'

Photo © Noddy Guevara
Photos below © Traveller Dave- good on yer Dave for letting us use these !
visit his Traveller Homes site for dozens more cool pix from festivals of the late 80s and early nineties.
He also has many photos of unusual vehicles from Europe
| | |
| --- | --- |
| Bedford TK | Decker Lin's smart Leyland |
Circus Bong stage- later mutated into Wango Riley's famous travelling stage

Gongahbar- looks like the inhabitants had been too Gonged out to set up shop !

Ex services bus- a smart little number !

Nice Bedford -wild paint job

You can see the proximity of the two vehicles above in this shot

Noddy's Fiat van - one of the first to arrive at the site !

Photos this row © Noddy Guevara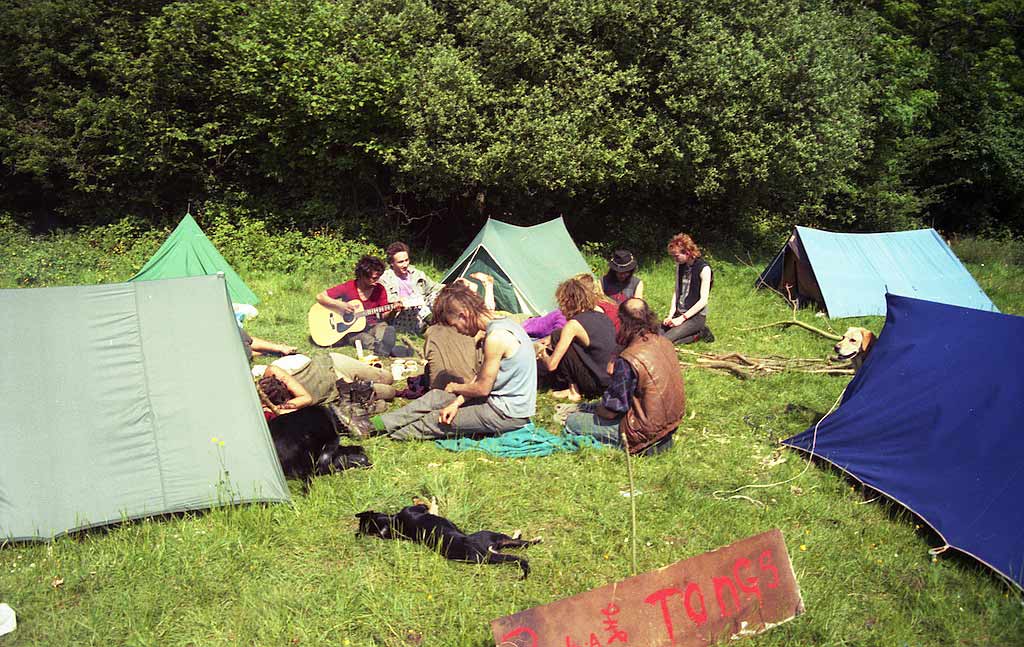 © Dick Short
---
Any info to add ?-well don't just sit there we want to know what happened at this festival, Contact us
Free rock festivals of the 70s and 80s