Formatted at 1920 X 1020 minimum - failure to view at this res may cause weird formatting , you have been warned !!!!!!!
Updated July 2021
For information on today's festivals see eFestivals.co.uk

Big BIG thanks to our sponsor Neil !

This site is dedicated in the memory of

who inspired me to delve deep into the magic of the free festival and who passed away Sept 3rd 2010.

R.I.P. Roger .....
---
Rougham Tree Faires.

September 3-5th 1982 .
---
| | |
| --- | --- |
| All program items courtesy Roger Hutchinson | |
The Rougham Tree Faire was one of a series of East Anglian fairs held over a few years in the late 70s and early 80s. These took a different form to the hard core free festivals such as Stonehenge , as they were more community based and within the mainstream , being approved by councils, etc. However, the 82 festival came within the province of the ubiquitous Peace Convoy and this invasion by over 100 buses and trucks was not entirely welcomed by the festival organisers. In fact the Convoy was at first refused admisson and then reluctantly relegated to occupying its own field separate from the main activities.

Predictions of things to come ... this WAS the last Fair on this site.....

Tibetan Ukrainian Mountain Troupe tent at Rougham .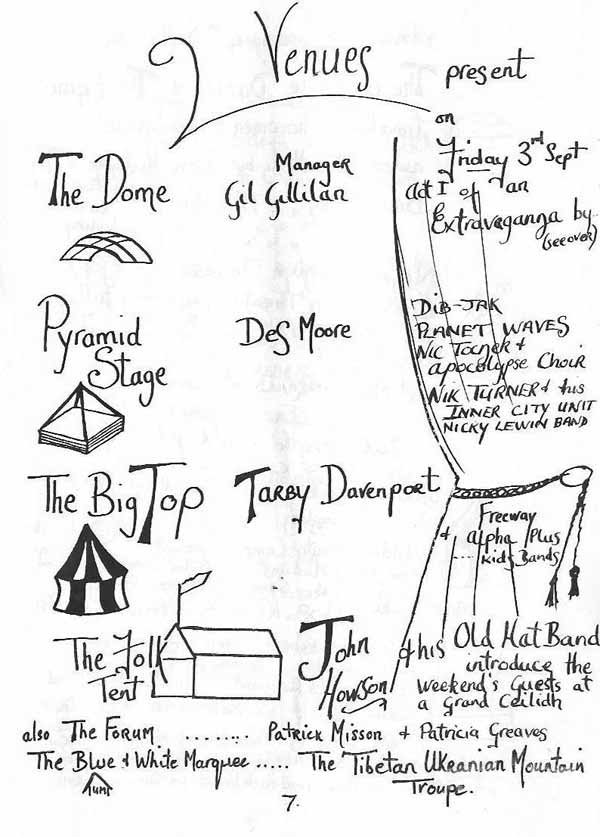 Venues at the 82 festival .
| | |
| --- | --- |
| toilets 1981 festival | |
| | |
| --- | --- |
| The convoy arrives at Rougham 1982 | |
| | |
| --- | --- |
| Program from 1982 | |
| | |
| --- | --- |
| © C Shwartz | Green Deserts was the charity which was associated with the Fair, a worthy cause and one which is even more important now as the situation has worsened world wide .... |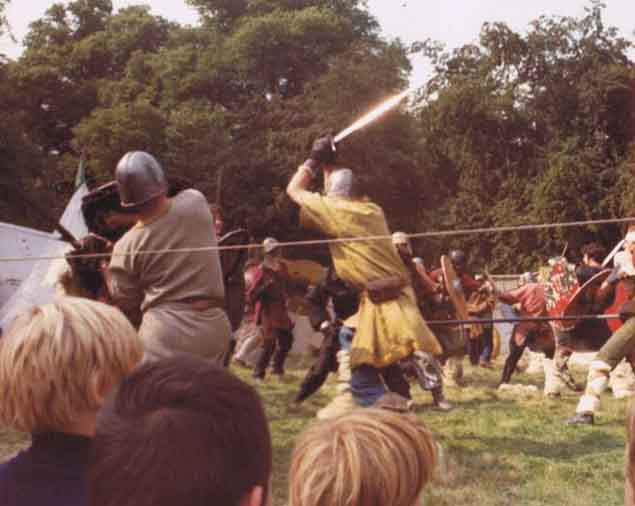 Gadzooks ! Typical English recreation of ye olde bloody battles © Ben

John Agnew (AKA. Baronet Agnew)
Passed away July 2011
For those who do not know of him he is the Owner of Rougham Estates where so many festivals took place in the past. Rougham tree fairs were always on the estate.
The charity Green deserts ran the fairs and many lived both in the commune at Kiln Farm in Rougham. And also particularly in the winter parked up in the farms grounds, much to the annoyance of the local populace though they never had any cause to complain other than the simple otherness of the community that had sprung up in there mist.
The Tibetan Ukranian Mountain troop would overwinter parked up around Johns house 'Lawneys' also on the estate. Many will remember him.
John did not just allow people the facilities to achieve things he was an active participant attending many Festivals and being a Stone Henge regular with the Green deserts crew. His ancient living bus was a regular site at festivals.
So much would not have happened without John's generosity, I am sure that when his Father was alive he would not have been putting on Festivals but for pressure from John.
He retained his interest in putting on a show and has facilitated many recent events at Rougham Airfield which he has been trying to establish as a show ground.
I am a Rougham resident of many years moving to Rougham after most of the Fairs had finished though we attended as often when we were in the country.
I only know John a little and am better acquainted with many of the People from Brick Kiln Farm. We have worked Festies with them in the past. Being a regular house person with a regular Job we were a little on the outside but still have good friends from there, I always felt that John was a little separated by his background too. Always seeming to be slightly out of tune when jamming with his Bodhran.
John was a good man ,his actions have had a huge effect on the festival movement and the energy that came from that era.
Not always an easy man I hope all who knew him and benefitted from his generosity can appreciate the resources he made available to the travellers scene in those early days.
Even relatively recently Wango and Stoker built Wangos latest stage at the old US Air force gym on John's estate while living up at the back of the gym.
Also in Rougham it was only a few months ago that Harry Heart of Carpet Bags passed away. An environmental Campaigner to his last breath Harry had had an interesting and rewarding life; He retained hope and energy for the environment through his life campaigning tirelessly. In his time he had been an award winning cameraman. And was well known on the Festival scene ,he too was one of the main movers in the Green deserts Charity ,he too is missed.
Dave Stocking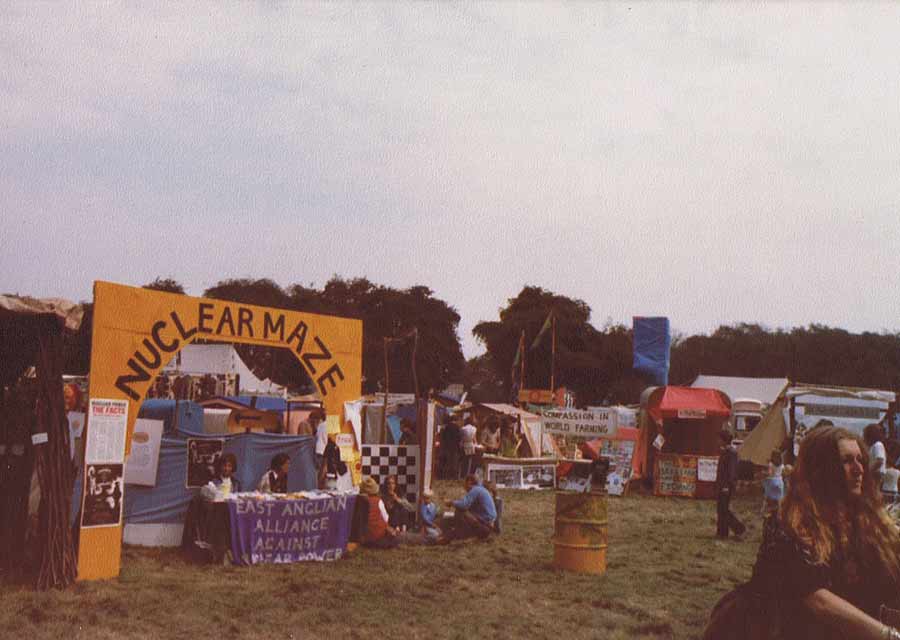 1982 festival © Ben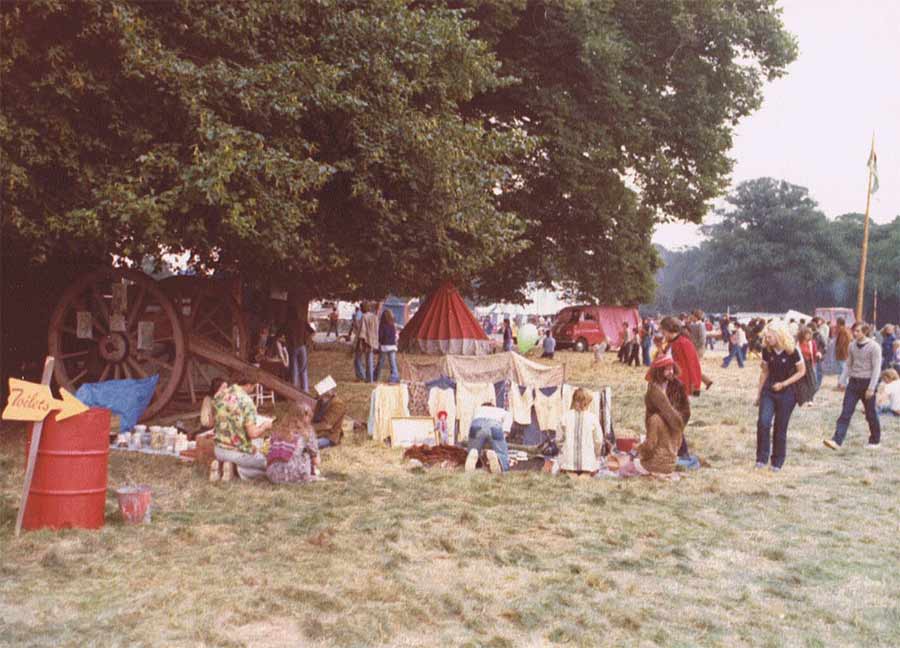 Rougham craft stalls © Ben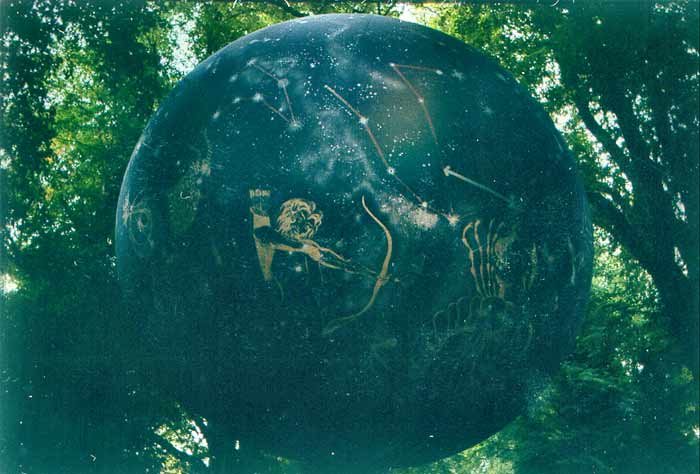 © Roger Hutchinson
© Roger Hutchinson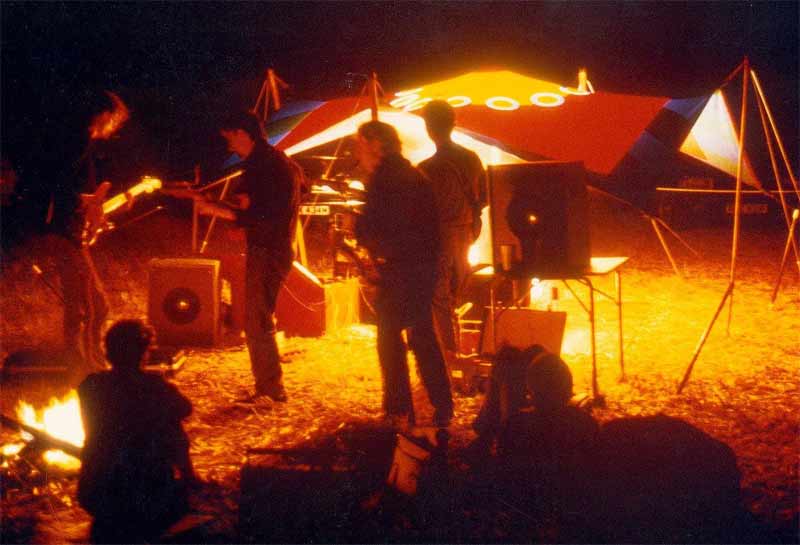 © Roger Hutchinson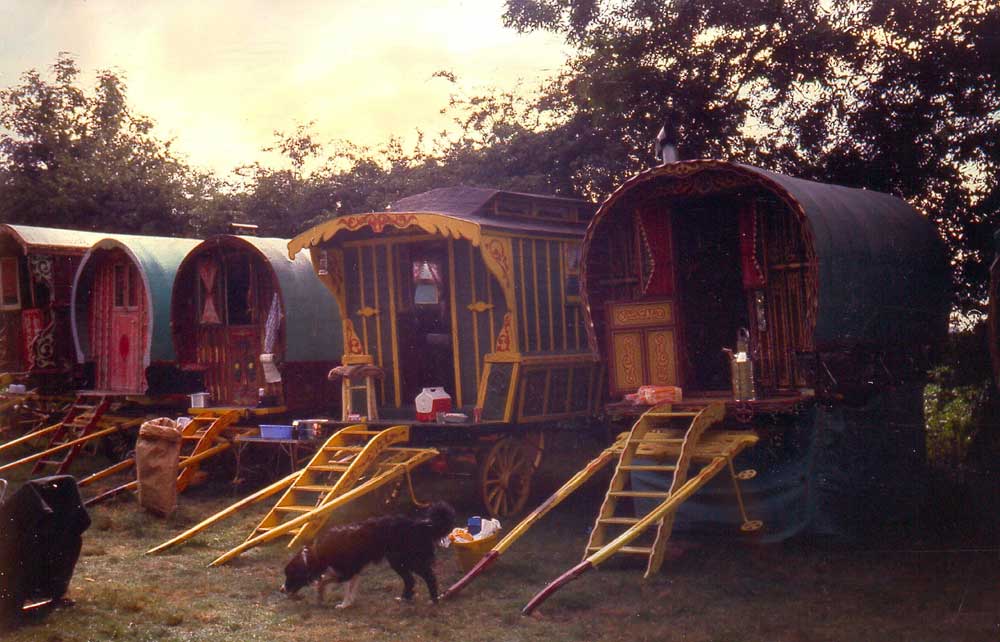 © Roger Hutchinson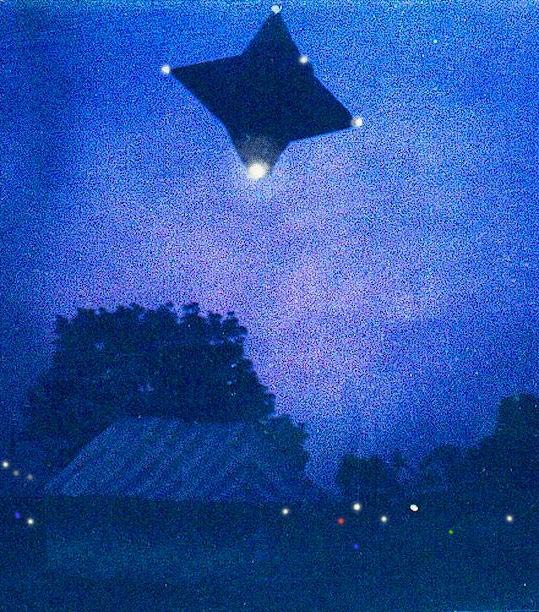 © Roger Hutchinson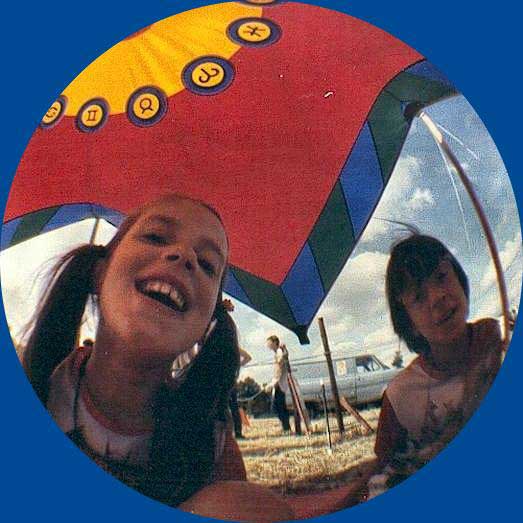 © Roger Hutchinson
Tibetan Ukranian Mountain Troupe Rougham 1982
---
Any info to add ?-well don't just sit there , Contact email
Any info to add- well don't just sit there ! Contact us
Free festivals and small fayres held in the United Kingdom between 1967-90.
1967-69.
Main list of Free festivals 1970-1985
Free rock festivals of the 70s and 80s
Related Articles
The aroma of a free festival -by Roger Hutchinson
Dome construction instruction sheet (download-140k)-by Roger Hutchinson
Travellers Tales Convoy Steve's tale of how the freaks outsmarted the fuzz at Greenham common.
Zorch -House band for the free festival set ? A fanzine page on the UK's first electronic band .
Tibetan Ukranian Mountain Troupe-surreal pranksters of the Traveller community .
Acidia Lightshow Lightshow for Windsor festival and Stonehenge in the 1970s.
Traveller Daves Website - Chock full of of free festival photos !
Many, many thanks go to Roger Hutchinson , Big Steve , Roger Duncan, Celia, Will , Chazz, Jeza ,Chris Hewitt ,The Fabulous Time Tortoise , Peter Piwowarski - ( 70s music site/photos ) Martin S, Steve Austin ,Traveller Dave, Herb, Tim Brighton, Vin Miles, Haze Evans , Noddy Guevara, Chris Brown, Janet Thompson, David Stooke, Gary Gibbons , Nigel Ayers, Rich Deakin ,Glenda Pescardo,Justin Warman,Brian F, Steve Bayfield, Kev Ellis, Paul Seaton and many other minor contributors for their help in providing the archival material related to these free festivals which has at enabled us to construct the site .
Any info to add ?-well don't just sit there , Contact us
---