Formatted at 1920 X 1020 minimum - failure to view at this res may cause weird formatting , you have been warned !!!!!!!
Updated July 2021
For information on today's festivals see eFestivals.co.uk

Big BIG thanks to our sponsor Neil !

This site is dedicated in the memory of

who inspired me to delve deep into the magic of the free festival and who passed away Sept 3rd 2010.

R.I.P. Roger .....
---
Magick Musick Party

Heathfield. East Sussex.

1985
---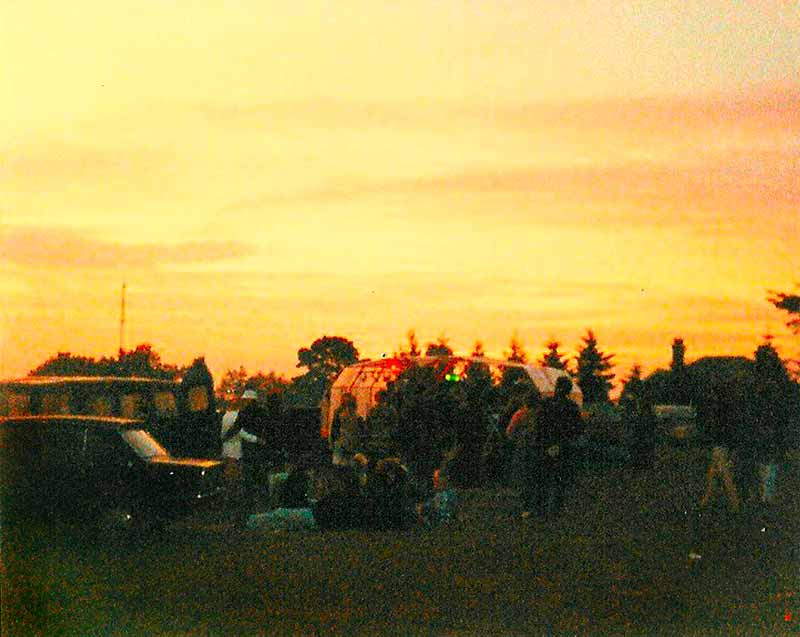 Heathfield 1985 © Kev Ellis
In the early 80's I was living in the market town of Heathfield , East Sussex. I was chairman of the Heathfield Musicians Collective, a loose collection of local bands and performers, who had decided to pool resources and equipment for mutual benefit One August (83, 84 or 85...sorry, can't be sure which year), one of the HMC members, Des, was getting engaged to his girlfriend Carol. Her family were very well off, living in a big house with a large paddock adjoining, in the nearby village of Horam. Des's plan was to hold an engagement party in the paddock, erect a stage, and have about half a dozen local bands, (including mine), perform. Several HMC members helped prepare the site, then Des and Carol went off to Stonehenge (or was it Glastonbury?) with the party planned for the following Saturday. Of course, while they were at the festival, Des got totally out of it, and invited everyone he saw to the party, including the Hippy Convoy...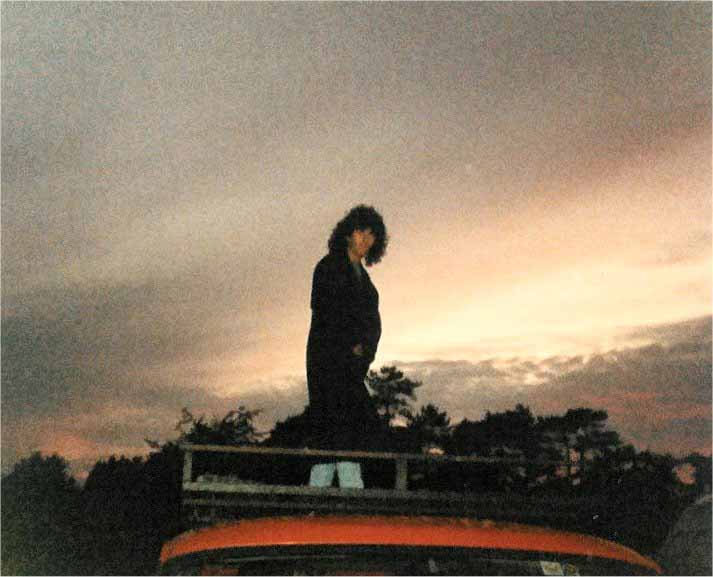 Heathfield 1985 © Kev Ellis
Somehow the police got wind of this, and when Des and Carol returned from the Festival the police told them that if the party went ahead, they'd be arrested. So the party was cancelled, but the problem was that the Hippy convoy, (or some of them, about 30-40 vehicles), were on their way...

The day before they arrived, Roger Daltrey, (who lived near Heathfield), stepped in to save the day, and to avoid a Police / Convoy confrontation, offered the use of a field he owned in Heathfield, opposite a housing estate. The police and local council agreed, provided the music stopped at midnight. (Guess they figured it was better to contain the convoy in 1 place, than to have them arrive with nowhere to go). So the stage, wood for fires, etc was hastily moved from the Horam paddock to the site in Heathfield. The convoy duly arrived, and the event went ahead. My band played late afternoon. Everything went fine until midnight, when one of the local bands, (who had insisted on playing last,) were told they couldn't play cos time was up.

They tried to play anyway, but the power was cut, which annoyed most of the by now pissed, stoned, etc crowd of maybe 1000...Roger Daltrey made an announcement from the stage to try and calm things down, which more or less worked with the local attendees, but the Hippy Convoy lot didn't give a shit, and brought out kettle drums, horns and anything else they could find to make a noise and created a racket until the early hours.
Also in the early 80's, before the above event, were the Vines Cross festivals. Vines cross is a couple of miles from Heathfield. They were on every year for 3 (I think) years, and attracted crowds of 2000 - 3000. I played at 2, with different bands. The Tibeteans were there one year, as were The Enid. The festivals were stopped after someone took a sheep from an adjoining field, and killed and roasted it.
Keep up the good work with your site, it's an excellent resource.
Benjamin Horrendous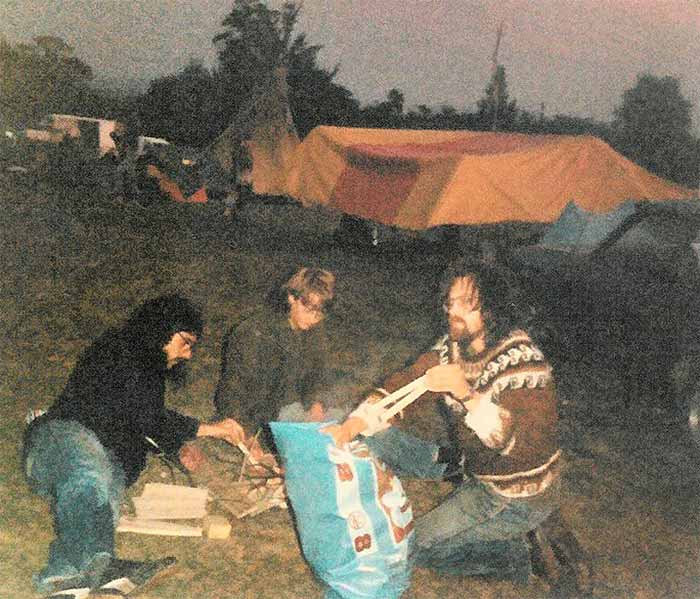 Fun and games at Heathfield 1985 © Kev Ellis
---
Hello there,
I was just reading your site and came across the report on the Heathfield Free Festival.
I was there. My recollection is that it was 1985 and was called the MAGICK MUSICK PARTY. I was told about it by my friend SIMON WILLIAMS of the band MANDRAGORA - their album "Over The Moon" even includes the track "Magick Musick" in homage to the festi! My band played (can't even remember what name, if any, we might have gone under) - other bands I remember being there are MANDRAGORA, OOROONIES, ZEN (?, power cut out during their set but they continued on with all manner of wierd percussion sculptures sprayed gold)
Those were the days!
Steve Baker
London
---
Any info to add- well don't just sit there ! Contact us
Free festivals and small fayres held in the United Kingdom between 1967-90.
1967-69.
Main list of Free festivals 1970-1985
Free rock festivals of the 70s and 80s
Related Articles
The aroma of a free festival -by Roger Hutchinson
Dome construction instruction sheet (download-140k)-by Roger Hutchinson
Travellers Tales Convoy Steve's tale of how the freaks outsmarted the fuzz at Greenham common.
Zorch -House band for the free festival set ? A fanzine page on the UK's first electronic band .
Tibetan Ukranian Mountain Troupe-surreal pranksters of the Traveller community .
Acidia Lightshow Lightshow for Windsor festival and Stonehenge in the 1970s.
Traveller Daves Website - Chock full of of free festival photos !
Many, many thanks go to Roger Hutchinson , Big Steve , Roger Duncan, Celia, Will , Chazz, Jeza ,Chris Hewitt ,The Fabulous Time Tortoise , Peter Piwowarski - ( 70s music site/photos ) Martin S, Steve Austin ,Traveller Dave, Herb, Tim Brighton, Vin Miles, Haze Evans , Noddy Guevara, Chris Brown, Janet Thompson, David Stooke, Gary Gibbons , Nigel Ayers, Rich Deakin ,Glenda Pescardo,Justin Warman,Brian F, Steve Bayfield, Kev Ellis, Paul Seaton and many other minor contributors for their help in providing the archival material related to these free festivals which has at enabled us to construct the site .
Any info to add ?-well don't just sit there , Contact us
---