Formatted at 1920 X 1020 minimum - failure to view at this res may cause weird formatting , you have been warned !!!!!!!
Updated July 2021
For information on today's festivals see eFestivals.co.uk

Big BIG thanks to our sponsor Neil !

This site is dedicated in the memory of

who inspired me to delve deep into the magic of the free festival and who passed away Sept 3rd 2010.

R.I.P. Roger .....
---
Ogwen Valley Fair

3rd Sptember 1977
---
Image courtesy of Roy Barlow

Not strictly a free festival, but you got in free to see acts in the Marquees abd it was only 50p to enter, a pittance , even in 1977 .....

Ogwen Valley is situated in the Snowdon National Park, lovely country , nice place to hold a small fair.

We don't as yet have many eye witness reports of the festival itself, so if you were there, let us know !

The people on the photo below which was contained within the program, are sitting on the famous roche moutonee in the middle of the Ogwen Valley, on the edge of the festival site. (Kids on geography field trips come from all over Britain to see this roche moutonee.)

The only clear memory I have of the day is sitting on that rock and looking at the detail of the surrounding mountains, which were pin-sharp: it was one of those sunny, stunning September days. I also remember my mother turning up at night with my winter coat "because the evening had got chilly" and hoping she wouldn't spot how intoxicated I was.

When I next bump into any of the old school that were involved with or performed at OVF, or produced 'Sometimes' (the community magazine that was on the OVF page of your site), I'll ask for other memories and if they know who the mystery photographer was.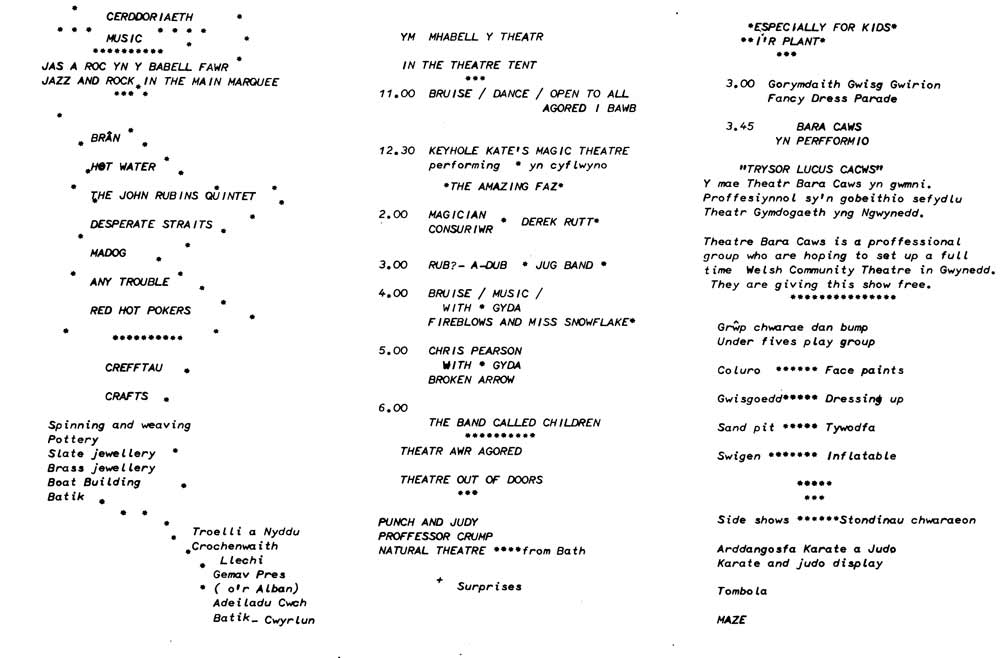 Program courtesy Sue Walton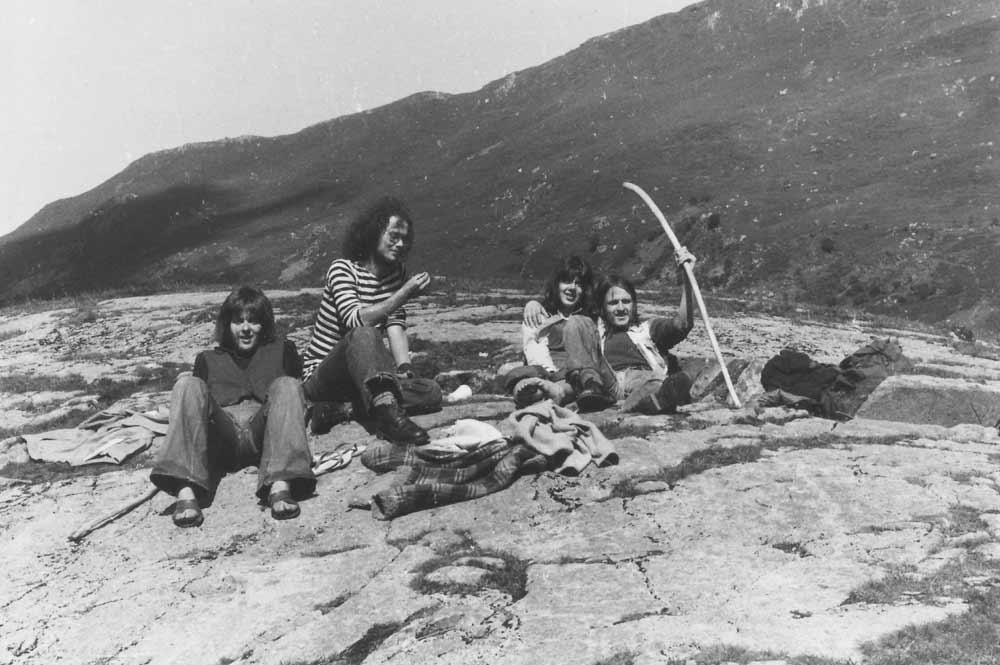 Program courtesy Sue Walton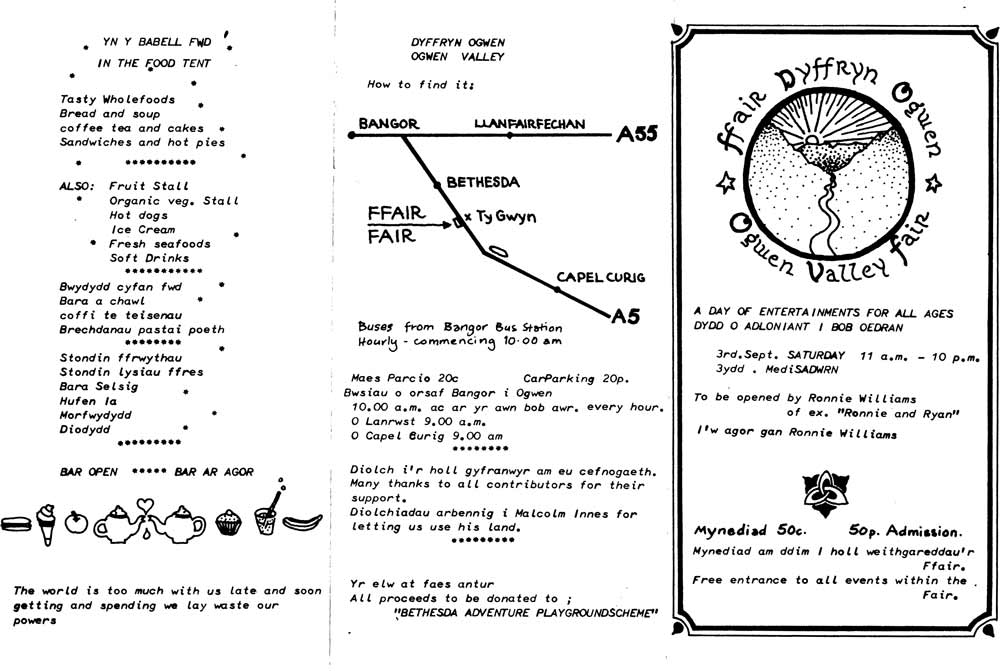 Program courtesy Sue Walton
Sue is a proof reader and she is helping out to correct the faults in text within this site ( of which there are many - sorry !). She can proof read both English and Welsh documents, so contact her if you need a good job done on your documents.
Susan Walton
SUE PROOF
01766 771 502 / 07980 282 315

www.sueproof.co.uk
facebook.com/sueproof
twitter.com/sueproof
linkedin.com/in/sueproof

Sue Proof offers proofreading, copy-editing and substantial editing/re-writing in English and Welsh. We also provide English–Welsh and Welsh–English translations.

Mae Sue Proof yn cywiro proflenni, golygu copi a golygu'n sylweddol/ail-ysgrifennu yn y Saesneg a'r Gymraeg. Rydym hefyd yn darparu cyfieithu Cymraeg–Saesneg a Saesneg–Cymraeg.

Cysylltai Society for Editors and Proofreaders Associate
---
Any info to add- well don't just sit there ! Contact us
Free festivals and small fayres held in the United Kingdom between 1967-90.
1967-69.
Main list of Free festivals 1970-1985
Free rock festivals of the 70s and 80s
Related Articles
The aroma of a free festival -by Roger Hutchinson
Dome construction instruction sheet (download-140k)-by Roger Hutchinson
Travellers Tales Convoy Steve's tale of how the freaks outsmarted the fuzz at Greenham common.
Zorch -House band for the free festival set ? A fanzine page on the UK's first electronic band .
Tibetan Ukranian Mountain Troupe-surreal pranksters of the Traveller community .
Acidia Lightshow Lightshow for Windsor festival and Stonehenge in the 1970s.
Traveller Daves Website - Chock full of of free festival photos !
Many, many thanks go to Roger Hutchinson , Big Steve , Roger Duncan, Celia, Will , Chazz, Jeza ,Chris Hewitt ,The Fabulous Time Tortoise , Peter Piwowarski - ( 70s music site/photos ) Martin S, Steve Austin ,Traveller Dave, Herb, Tim Brighton, Vin Miles, Haze Evans , Noddy Guevara, Chris Brown, Janet Thompson, David Stooke, Gary Gibbons , Nigel Ayers, Rich Deakin ,Glenda Pescardo,Justin Warman,Brian F, Steve Bayfield, Kev Ellis, Paul Seaton and many other minor contributors for their help in providing the archival material related to these free festivals which has at enabled us to construct the site .
Any info to add ?-well don't just sit there , Contact us
---