Formatted at 1920 X 1020 minimum - failure to view at this res may cause weird formatting , you have been warned !!!!!!!
Updated July 2021
For information on today's festivals see eFestivals.co.uk

Big BIG thanks to our sponsor Neil !

This site is dedicated in the memory of

who inspired me to delve deep into the magic of the free festival and who passed away Sept 3rd 2010.

R.I.P. Roger .....
---
Tangmere (Seasalter ) Free festival.

August 27th-5th September 1976.

Broadoak Valley. Kent.
---
After the experiment of the Watchfield Free Festival in 1975, where the government gave the freaks an old abandoned RAF airfield in which to hold a festival , there was a backlash.

Just as there had been a backlaash post the Windsor Free Festival in 1974, where the police had gone over top in dealing with festival attendees, now there was an opposite reaction. Watchfield had been too noisy, too anarchistic and too many drugs had been consumed openly for the average country persons lking.

The ever present dichotomy of the free living freaks who were attracted to the country , imposing themselves on conservative country folk raised its head yet again. In 1976, it appeared that nobody was prepared to allow a few thousand hippies to whoop it up in their backyard for ten days . The battle was on once more and it was waged for months as the government , police and country people did their best to prevent a free festival being held anywhere in southern England .

There was also the issue that the site chosen was the iconic world war 11 aerodrome of Tangmere, home to no less than flying ace Douglas Bader and which was bombed in 1940 wirth considerable loss of life . The aerodrome had closed in the 1960s and it had fallen into disrepair, but this did not stop ex pilots and RAF personnel from feeling that their sacred ground was being invaded and by no less than a bunch of" drug sodden layabouts' as one veteran put it .

Articles courtesy Wally Dean and the late Roger Huchinson.

Barracades go up to prevent access to Broadoak , another prospective site that was shot down in 1976

from the collection of the late Alan Jones . courtesy Ken Horne
Heaven knows what would have been the result if Mr. Lanser had actually gone ahead with his threat to bring down dozens of pensioners to battle with hundreds of 20 year old hippies ( many of whom were prepared to take part in a rumble, as Windsor 1974 had proven ) . if this had happened , and any of the veterans had been injured , one can imagine the reaction of the gutter press and the public in general.
But the freaks prevailed regardless ........

Any way, the festival DID go ahead, but all the disruption led to very few people turning out to the site at Seasalter. Instead of existing buildings to sleep in and some solid ground to camp on , there was just an open field and no shelter or facilities.

Roger Hutchinson, the creator of the lovely poster explains .

"The Tangmere/Broadoak Valley Seasalter Festival was a replacement event for the Windsor Festival in 1976. It drove me mad changing the location on the poster because all the negative reaction from the police, press and society in general. In the end it was never really distributed and we turned up at Seasalter after making a phone call at Dartford Tunnel that revealed the location. It was a good festival with a special mention to Tim Blake from Gong doing the business on stage to a spaced-out crowd. "

"I remember talking to a group of film students from the Oxford School of Film (?) at the festival who were documenting the whole festival in sound and 16mm film including public meetings in Sussex and Broadoak Valley. Subsequently I have searched for any mention of the film project as it could be a unique record of one Free Festival but have drawn a complete blank hopefully a copy lies in a film can somewhere......."

Roger continues his narration

" The Festival was held in a field right of the north coast of Kent just to the east of Margate. The police acted at every opportunity like sadistic bastards trying to put the punters off - one example was where two guys hitched down from Tyneside only to be stopped by the gate by the police and taken to Canterbury and stripped searched and held for six hours before being let free. At 3am they then walked miles back to site only to be stopped again and in a gentle rain had the thoroughly searched contents of their rucksacks tipped out in a puddle then the police walked away laughing. "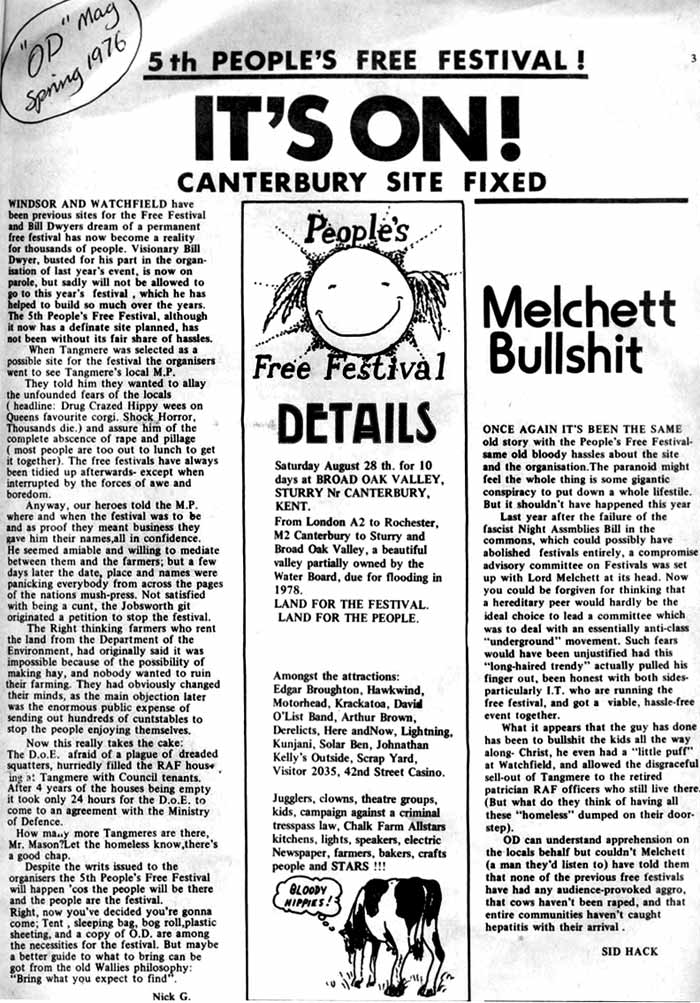 courtesy Roger Hutchinson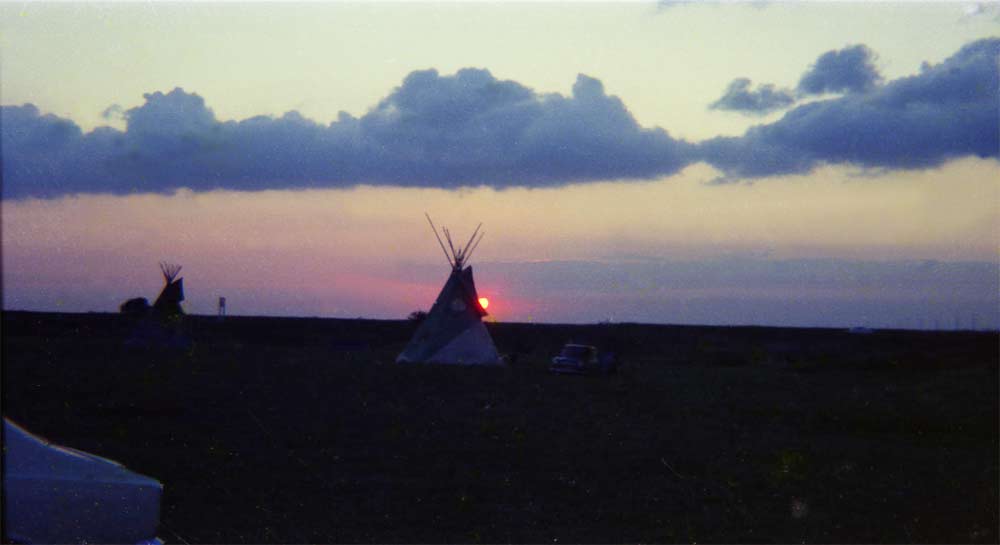 photo © Paul Clarke
The festival was shifted from pillar to post in a mad scramble to see it off from any site that was chosen by the organisers and the advisors from the government committee who were liasing with the festival coterie,( amongst whom was Sid Rawle of Windsor fame , who by now was living with the tipi people, a staple ingredient of all the free festivals of the era) .No matter where the festival was supposed to be located , residents, ,MP's police and local authorities were united in their resistance, mostly because the festival was associated with Windsor .Originally meant to happen at Tangmere airport ( famous as a Battle of Britain fighter base ) the location was detected by the infamous Thames Valley Festival Intelligence and Discouragement Group (what a lovely name ) , who of course informed the locals so, as usual , an injunction was slapped on the site. The local council also was worried that a batch of vacant houses on the site might be squatted in , creating a semi -permanent settlement of freaks in their midst- so servicemen and their families were rapidly moved into the vacant houses.

Various other locations were inspected and rejected for different reasons, including Plumpton and Lewes, and finally Broad Oak Valley in Kent was announced as the venue. Once again the authorities brought forth their big guns and did their best to prevent the event from taking place. Injunction (aren't you getting fed up with that word )police roadblocks and fences were erected to keep out the hairy hordes and the organisers and the government advisor were told to keep off this site. At this juncture the only thing that could be done was to chose another site near Broadoak at the last moment and hope that by occupying the site as quickly and with as many people as possible before the authorities had time to act. Once residence was established they were reluctant to remove a large crowd for fear of another Windsor, so the attendees just had to worry about being harassed or busted en-route to and from the site.
When the vanguard of the Tipi people arrived at Broad Oak Valley they were met by the police and turned back at the roadblocks , undeterred ,they moved to the local coastal village of Seasalter and occupied a marshy field next to the estuary. Agreement was somewhat reluctantly reached after some negotiation with the farmer who owned the land and the festival was allowed to go ahead. The police then began to stop and search people who were on their way to the festival , as Roger will attest in his story.

Seasalter campsite photo© Paul Clarke
Sunny Seasalter campsite photo© Paul Clarke

The weather, which had been gloriously warm for most of the summer , predictably turned over the bank holiday and the resultant cold , wet and windy weather put a damper on the proceedings. Because of the last minute change of venue many of the scheduled bands did not show up and facilities were also limited . However, The Hell's Angels did manage to show up , an event that was not welcomed by some ( especially after their activities at Watchfield in 1975) however, they seem to have been pretty peaceable on this occasion as there were no internecine gang wars to blight the scene.


The absurdly high costs of policing about 1000 people in a field came to £200,000, around £20,000 per attendee. and even the locals felt that there had been an over-reaction. It would have been cheaper to have provided a government site that could have been more easily policed and to concentrate on providing decent facilities rather than busting small time recreational drug users and dealers . It is interesting that there were never any huge hauls of drugs made at these festivals. The major dealers would have known that the chances of being busted were far too high and would have stayed away, as usual it was the small timers who got caught .
Any info to add ?-well don't just sit there , Contact email
Read more about Rogers adventures at Seasalter with new photos and illustrations Jan 2007
Music.
Tim Blake

This French bootleg, now an official release , entitled -CRYSTAL MACHINE , with some tracks recorded at Seasalter and at Le Palace Theatre , Paris is available Here .

Midnight
Metro Logic
Last Ride Of The Boogie Child
Synthese Intemporal
Crystal Presence
Visitor 2035

1. Joining Hands (incomplete. no beginning)
2. A Woman's Name (Cut short by power cut)
3. Celestial Dream Song (incomplete. no beginning)
4. At The Gates
5. Land Of My Travels
6. Cassiopeia
7. Centre Of The Winds
8. Funeral March
9. Contemplation ( last chord missing )

Now here is the best bit, I had bought a portable Sonny stereo cassette recorder a couple of months earlier and was eager to try out some field recording so speeding
through the police lines we managed to go and pick up the machine from my place, get some new batteries (it took about eight of those big D batteries) and some other supplies and get back on site without much hassle.

That night I recorded the band Visitor 2035, a jazz fusion prog rock funk band. I had never heard of them before but decided to record their set. So I set the tape recorder just behind the mixing position, I had two battery powered directional mikes with nice long leads which I put each side of the mixing position to achieve proper stereo. Once I was all set up I pressed record and slowly brought up the recording levels and watched the two needles dance and sway to the music. After about twenty minutes, suddenly, in the middle of a synthesizer solo, all the power went, the generator had broken down All that could be heard was the drummer still furiously beating at the drums hoping the power would come back on soon, it didn't and the drummer eventually gave up, as did I. I switched the recorder off and went back to the tent and partied on down for a while.

Some time later the music returned and I resumed recording. I have managed to keep the tape all these years and although it has lost some of its original brightness it is still not a bad recording capturing not only the music but also the atmosphere of the crowd, to me the best bits. There are some cracking comments audible from the audience, and all in stereo. The first side of the tape admittedly was recorded a little too high and the wind gets in the mikes a bit, but the other side is damn well nigh on perfect. I have spliced the two halves together on the computer and it comes out at 57mins.31secs.

Jake

---
Recollections
Memories of Seasalter Peoples Free Festival 1976 by Jake

I was in Paphos, Cyprus, at an art summer school when I first learned of a free festival right on my doorstep in Seasalter. I had been in Cyprus for over four weeks and had heard nothing about any free festival before I left.

Then somebody had a copy of the Times, which you could get a day late printed on very thin tissue paper for air mail. Inside it read something like Free Festival Goes Ahead, I read on..bla bla bla bla, hippies, bla bla bla, police, bla bla bla, Seasalter Kent...What !! I exclaimed spitting out my Turkish coffee, "A free festival in walking distance from my house in Whitstable and I'm in Cyprus" don't get me wrong Cyprus was a brilliant place to be but the thing is nothing ever happened in sleepy old Whitstable in those days, not though much happens now of course, but at least there is a nice little music scene there now, but back then, it was pretty dead. Not only that but I was about the only so called hippie in town, me and a couple of mates. Soon as my back was turned there was this free festival in my home town and here I was over 2000 miles away.
The good news was that I was due to fly back a day or two later. On my return to the UK I contacted my mate Charlie and learned the festival was still on. I grabbed my big old frame tent and got a lift to the site on the back of his old Beazer.

When we got to the site we where greeted by hordes of police searching everyone, but somehow we managed to slip through unchallenged.
The things I remember about the festival are a bit sketchy being 35 years ago and the fact that after being in Cyprus for about five weeks with no "blow" or "charge" or whatever we called it then, I was determined to make up for lost time and get completely out of my tree, which I did.

What I do remember is that the pub opposite "The Old Sportsman" was used as police headquarters much to the disgust of us locals, and there were a lot of strip searches being made especially on young girls by male police officers, and they thought we were scum!

I remember some guy emerging from the dyke at the back of the stage carrying a large supply of hash and shouting "shit man, its six feet deep in places in there!". Apparently dealers or their "mules" where being dropped off on the Thanet Way, the main coastal road, and wading through the system of dykes that cross the marshes to the festival site to avoid the police, and it worked, as far as I know the police never sussed that one.

Also I remember one of those hairy naked dudes clearing rubbish out of the dyke, not rubbish that had been dumped by festival goers but rubbish that was already there, old bike frames and the such. Later the same naked dude walked around giving out free apples from a tray, probably scrumped from one of the local orchards.

I bought a lovely little brass water pipe somebody was selling on a stall which I proceeded to smoke copious amounts of hash in. when it was time to leave the festival I was understandably a bit paranoid about getting the pipe with all its residue through the police lines, so being local I simply buried it and returned a few days after the festival had gone and dug it up. That was my favorite pipe for years, until it broke.

Jake

courtesy Paul Clark
Hi just chanced on your site. I was at Seasalter festival 76.
best buzz for me was finding out where the festival was happening by looking at my parents Daily Mail, which was running usual tory reactionary shit story about degenerates in a field. So I hitched to London from West Midlands. Hitched lift in Release ambulance down the A2 which got stopped by fuzz and detained- "dodgy brakes". Got kicked out ,hitched with 2 guys from Dublin got lift from lovely local couple all the way to site. There was so much hassle from police , not as bad as Stonehenge 77 but fucking over the top.
Tim Blake was amazing

Smiley

---

I remember seasalter,sort of anyway,I was in a Band called Hazy Jane,we were booked to play, (left ) I even have the original contract and booking details, however the other two members decided not to turn up because of the police ripping every thing apart to find dope etc! An oportunity missed! Tim Blake was excellent, I can`t remember many more bands playing.
Cheers

Paul Clarke
Strip search by the law every time that you left the festival, I gave my name as Robert Sole, took them a while but eventually the penny dropped. Tim Blake played for three nights and all the dope was sold by the Hell's Angels

Regards
Nic Dyde
---
I went to the Seasalter free festival in 1976. I was living in Cornwall at the time and me and my girlfriend bundled her 2 children into my Reliant Robin and drove to Littlehampton to stay with her brother hoping to find out where the Bank holiday free festival was going to happen. We listened to the news on the radio and eventually learned that it was going to happen at Seasalter near Canterbury.
So we set off along with the brother and his girlfriend and us 4,(quite a carful) !! We arrived in the area well after dark and met up with other cars trawling round the country lanes trying to find the festival site, police cars were very much in evidence.
Sometime after midnight the convoy of cars turned into a field gateway and we followed suit. We parked up and proceeded to put up a tent and a homemade geodesic dome and got some much needed sleep.
In the morning we woke to find we were in an enormous field with quite a lot of different vehicles and people. There was an atmosphere of excitement and trepidation due to the huge police presence on the road by the sea wall.
It seemed that everyone trying to come onto the site was being stopped and searched, and soon a long tailback formed along the road.

After a while the police began letting people in just to ease the traffic chaos, but still stopped and searched everything that left the site.
It was a lovely sunny day, as was most of that summer, and at around mid-day there appeared a long line of large bikes all glinting in the sun and riding two abreast they ignored any attempt to stop them and turned in to the festival field, THE HELLS ANGELS HAD ARRIVED !!!! All of us who usually feared those guys were elated to see them, protection and anarchy rolled up together.

The police seemed to delight in stopping any trucks that looked like they carried musicians and turned them over searching for anything illegal. I remember one band who when they came to play made a loud announcement (audible to the police on the road) about the hassle they'd had from the authorities and told everyone to come to the front of the stage to recieve a free joint each, rolled by the roadies from gear the police had failed to find.

There was this one guy who almost literally danced his way through the entire festival, he was about as well worn as his clothes and had wild hair that enhanced his dancing, he earned the nickname "Fucking -fucking", as that was all he said and shouted as he danced, he's probably spiralled into the ground by now, or become an investment banker !

The only other band to play, that I remember was Tim Blake and his synthesizer, he seemed to play all night every night and one long number was all to do with the generator running low on fuel and Tim was urging us all to, "think into the generator", which I think we did, and later tried to think it to run out of fuel so he would stop :)

The toilets were a sight to behold, just a long long trench open to the elements and other's eyes and that was it, crapping etc in public, not nice to say the least.

For the whole festival there were 6 guys who constantly drove around the site in a hearse dressed as undertakers in dark glasses, not talking to anyone, just cruising and crawling and posing,.... memorable though.

There wasn't much in the way of stalls or food so most of us were forced to leave the site daily to get food and baccy and whatever and this turned into running the police roadblock gauntlet, in and out of the field every time. One morning I went to get milk for the kids breakfast and was stopped as usual, but this time they said they were going to strip search me and was told to "wait over there", which I did. Later this copper asked to remove some outer clothes and he began to search the pockets and creases etc and then suddenly told me to leave as I was the most disgusting smelly foul person he'd ever had to search, so I legged it before he changed his mind, (which I now realise wouldn't have happened). Another time I was waiting to be searched and the policeman was making notes on a clipboard when some fellow festival goers,(one wearing a toy policemans' helmet), came up and deliberately spilt milk and food all over the notes he was making, so once again I was let off the search.

I was incredibly lucky the next time I was pulled, the guy made me turn out my pockets and much to my horror there was a small plastic bag that I'd picked up on site that morning, thinking it may be useful later, and in it was a smidgin of "blow". I can still feel the adrenalin as he held it aloft in a triumphant way, the officer in charge came over to view the contraband and I started to plead my innocence in what I thought would be a futile way, but for some reason the officer said I had a trustworthy face and believed my story, which was honestly true, phew....

courtesy Paul Clark
Just a couple of days before the end of the fest there was an almighty storm which marked the end of the blistering summer, tents were blown down and washed out, our dome collapsed in the gale during the night and 6 of us ended up trying to sleep under the cone that was the top of the dome, it being all of 3 foot square, trying to hold it to the ground in a force 9.
On the morning of the last day, all the bikers lined up in pairs across the field, revving up and parading around a bit, and the police used megaphones to tell them that they would be escorted along the roads and had to be in single file. So they massed together and ignoring the police made their way down the road in double and treble file, brilliant.
It was a pretty memorable experience all told, and on the last morning we collected every "money back" bottle we could find, went to the local pub and cashed them in to get enough money to get home again,
Richard Rowe
---
courtesy Paul Clark

Hi,

It was bloody hot and the facilities were … well there really weren't any. I can remember the procession of bikers arriving down the coast road. That was spectacular – there just seemed to be hundreds of them going on forever coming onto the site one by one in a long train. The police had encamped themselves in the local pub and loads of people that I talked to were convinced that we were going to be evicted at any time – until the bikes turned up. There were only a few bands, but Tim Blake was the only one I can remember – and he played for hours (well, it seemed like hours at the time !!).

We hitched down and were moved on from the first site, which I think was Tangmere somewhere near Canterbury. I'm still not sure how far away Seasalter actually is from there, but I have a hazy recollection of a bus ride to Whitstable. We arrived with almost nothing – a sleeping bag or two here, a few bits of groundsheet there. I can remember searching the site for anything to use to make some shade and ended up with a few sticks to turn into a makeshift tent with a bit of that groundsheet, supplemented by black bags. We alternated on sleeping under this and spent most of each morning trying to rebuild it after it inevitably collapsed overnight.

But it was a great festival and Tim Blake was just brilliant.

Phil Moakes

---

I was at 14 the oldest of the 3 of us that walked from Maidstone to Seasalter for the festival I can't remember a thing about it except a lot of naked hairy men. The week before we had been to Knebworth for the Stones. What a childhood!!

Steve Parks
Ian Colville
Richard Stanley
---
Hi there

I was just reading Rogers Sea Salter adventures part 2 and found a great reference to my parents Sheila and Colin from Thurrock, Essex and a description of their journey home from Sea Salter. I was only 3 years old at the time, but remember Roger at various festivals throughout my childhood. I have vivid memories of him making lanterns out of tissue paper and setting them off during the night.
I must have been to at least 50 or so festivals as a child, Stonehenge, Glastonbury, Windsor, trentishoe, psilocybin, deeply vale. The memories have all blurred into one as I was so young. Some memories are:

· Boiling water because of the lead content – I think at deeply vale
· The white ambulance – I think at psilocybin
· Catching rides to the top of the site at Stonehenge on the back of vehicles travelling up the track
· Some guy called Jesus who always seemed to be naked – which freaked me out a bit being under 10 at the time
· The rickety bridge into the children's field at Glastonbury
· Finding loads of money/jewellery and other stuff down at the stage in the mornings when all the adults were asleep
· My parents amazing dome tent
· Getting hassled and searched by the police

What an amazing childhood my brother and I had, travelling around to different festivals gaining a wealth of experience.

Becky
---
Any info to add- well don't just sit there ! Contact us
Free festivals and small fayres held in the United Kingdom between 1967-90.
1967-69.
Main list of Free festivals 1970-1985
Free rock festivals of the 70s and 80s
Related Articles
The aroma of a free festival -by Roger Hutchinson
Dome construction instruction sheet (download-140k)-by Roger Hutchinson
Travellers Tales Convoy Steve's tale of how the freaks outsmarted the fuzz at Greenham common.
Zorch -House band for the free festival set ? A fanzine page on the UK's first electronic band .
Tibetan Ukranian Mountain Troupe-surreal pranksters of the Traveller community .
Acidia Lightshow Lightshow for Windsor festival and Stonehenge in the 1970s.
Traveller Daves Website - Chock full of of free festival photos !
Many, many thanks go to Roger Hutchinson , Big Steve , Roger Duncan, Celia, Will , Chazz, Jeza ,Chris Hewitt ,The Fabulous Time Tortoise , Peter Piwowarski - ( 70s music site/photos ) Martin S, Steve Austin ,Traveller Dave, Herb, Tim Brighton, Vin Miles, Haze Evans , Noddy Guevara, Chris Brown, Janet Thompson, David Stooke, Gary Gibbons , Nigel Ayers, Rich Deakin ,Glenda Pescardo,Justin Warman,Brian F, Steve Bayfield, Kev Ellis, Paul Seaton and many other minor contributors for their help in providing the archival material related to these free festivals which has at enabled us to construct the site .
Any info to add ?-well don't just sit there , Contact us
---