The Archive.
Big thanks to our sponsor Neil !

For information on today's festivals see eFestivals.co.uk
Created December 2007. Updated Jan 2012
view at minimum 1280 X 1024 for best results
The 23rd

Reading Rock Festival.

Richfield Avenue.
Reading.


August 26-28th 1983.
---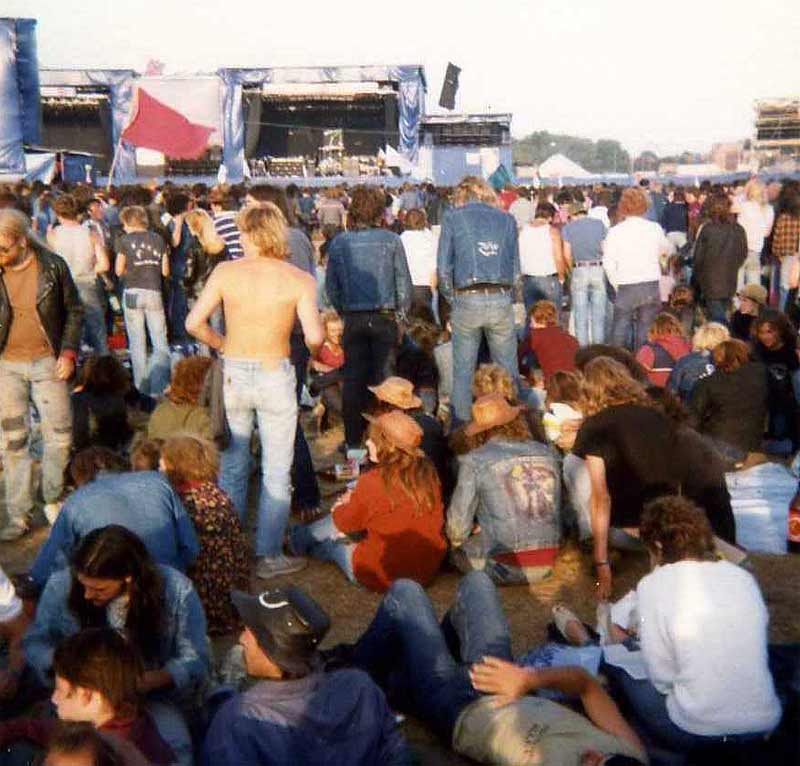 Reading rock 1983 © Phil Teague
---
The last Reading Rock held at the Richfield Avenue site. The local council decided that it would be a good idea to redevelop the site and unceremoniously kicked the rock festival bods off without providing a new venue- spoilsports !.

This last festival ( for the moment) featured one of the potentially better lineups of the 80s , certainly the lineup was more varied than it had been for years, with reggae from Steel Pulse, classy Hendrix styled psych blues from Stevie Ray Vaughan and a dose of new wave rock from the Stranglers.

The old school was represented by Suzi Quatro , Black Sabbath, with Reading fave Ian Gillan in place of uncle Ozzy on vocals. Reading 83 was also notable for the last ever festival performance by Reading institution Thin Lizzy.

Although this was by no means the classic and highly potent Lizzy of the mid to late 70s , the crowd were kind and gave Lynott and co a highly emotional sendoff, as they knew this would be last time that the boys WOULD be back in town...

The weather was warm all weekend, but the welcome wasn't warm for Steel Pulse. They were bottled by a biker element in the audience and were forced to retire early into their set ... not the first time this had happened to a reggae act at Reading , this had occurred back in the mid seventies when the Mighty Diamonds and Uroy were bottled and subject to racist taunts by a section of the audience in 1976 .

Saturday night was notable for the inclusion of Black Sabbath's monolithic Stonehenge set, the band dwarfed by 45 ft high henge slabs which took up much of the stage - apparently this was the inspiration for Spinal Tap's ludicrous stage set . However, Hawkwind had done something similar ( but on a smaller scale , the Sab's set filled three semis) in the 70s with their "Atomhenge " backdrop.
Friday 26th Aug.

2pm start

Sat 27th Aug

12 noon start

Sunday 28th Aug

12 noon start

Auto da fé
Solstice (1)
Pallas (1) L
Hanoi Rocks
Man (1) L
Steel Pulse R
Big Country (1) L
The Stranglers (1) R

Steel Pulse were bottled off after one and a bit songs)

() indicates number of encores

L Is left stage , R is right

Crazy Angel
Lee Aaron
Heavy Pettin'
Mama's Boys (1)
Magnum (1)
Anvil (1) R
Suzi Quatro (1) L
Stevie Ray Vaughan with Double Trouble (1) R
Marillion (1) L
Black Sabbath (1) R


The Opposition

Twelfth Night (1)

One The Juggler

Sad Cafe (1) L

The Enid (1) R

Climax Blues Band (1)

Steve Harley & Cockney Rebel (1)

Ten Years After (2) R

Little Steven & The Disciples Of Soul (1) L

Thin Lizzy (1) R

Thanks to Duncan Watson for this information

Weekend Ticket cost £15.95
Djs :Jerry Floyd, Mike Quinn and Martin Bell
---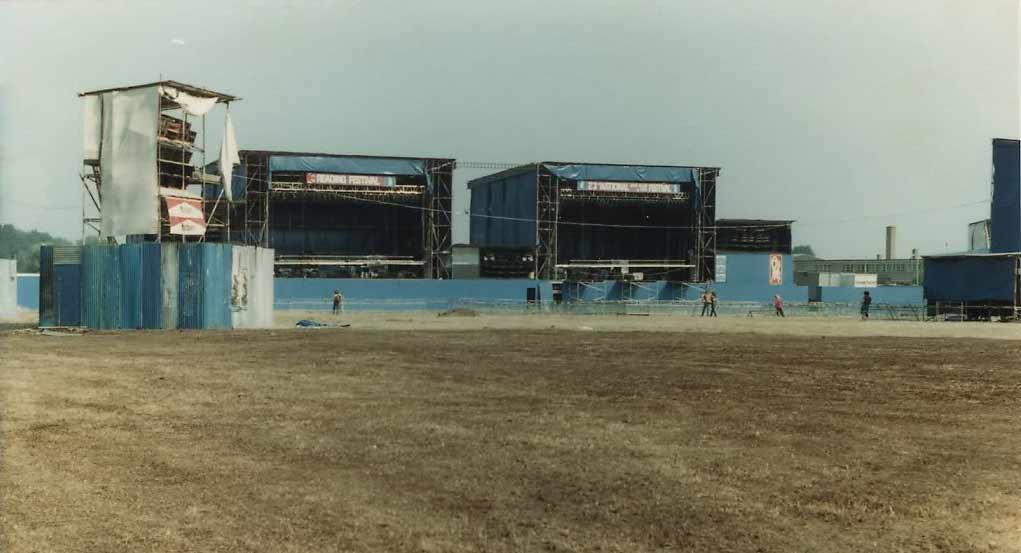 Look at that nice clean field .... before the show © George Soja
---
1983 festival
Photogalleries
---
Can we get a witness ?
We need more info on this and the other Reading festivals, we are now in the curious situation of having better documentation on some of the earlier festivals, so c'mon headbangers, get yer photos out and fire up whats left of the aging braincells .Send your recollections and scans to us NOW ! !! Contact us
---
Reading in the 80s to date- Fat Regs excellent site covers Reading from 1982 onwards
---
The early festivals.
You can find out the complete line ups of the first festivals if you follow the links below .
Festivals 1965-1990
Most of these have fairly complete documentation .But new contributions of any sort are always welcome regarding any of the festivals.
---
This site is non profit making , its a site for die-hard fans- and run as a source of information for those interested in Rock music of the past .We are completely against the sale of bootlegged artefacts , especially musical ones .We attempt to obtain permission to use articles and photos wherever possible, but on occasions , due to the age and obscure origin of some items , we have not been able to ascertain the owner of the copyright .It is also possible that occasionally we are sent material from sources that assert that they own the copyright of material, but their claims are spurious - If you see any material on the site that you believe you own the copyright of - please send us an e-mail with proof that you have ownership of the image and we will remove the offending item from the site immediately.
Contact us