The Archive.
Big thanks to our sponsor Neil !

For information on today's festivals see eFestivals.co.uk
Updated July 2021 view at 1920 x 1024 for best results
---

The Reading Rock Festival.
Richfield Avenue.
Reading
August 22-24th 1980.
---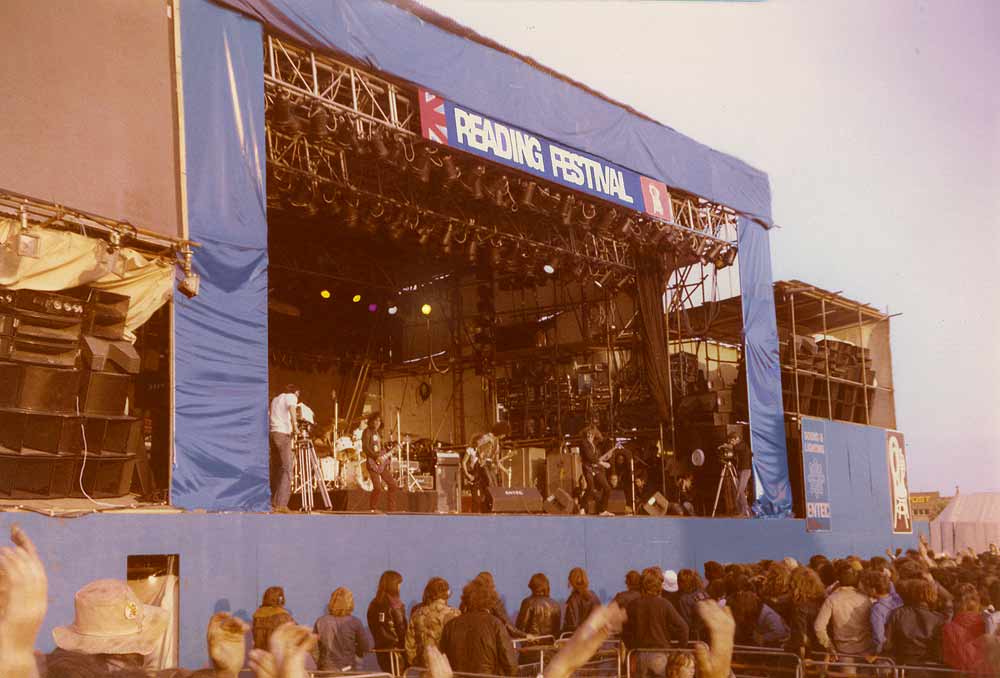 Krokus © Phil Ryan
The twentieth festival and this year really saw the transformation to a festival that was dominated by heavy rock music. The brief experiment with new wave was gone and in its place was a slew of bands that were more likley to meet with approval from the mainly metal orientated audience .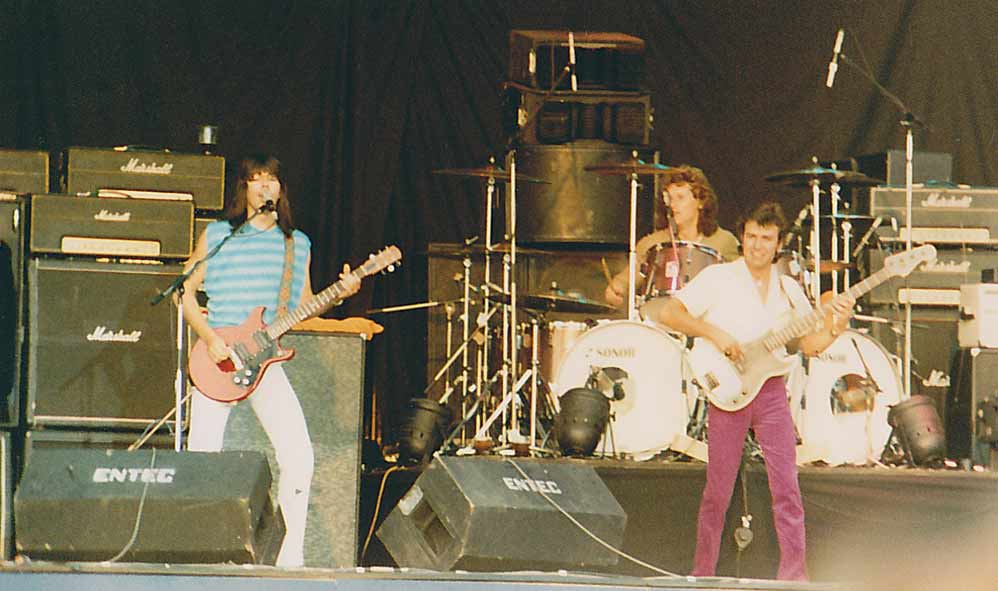 Pat Travers onstage Reading 1980 © Paul
It was probably inevitable that the festival would begin to concentrate on Metal after the violence of 1979 between New Wave and Metal fans ,as it made commercial sense for the promoters to go with the big crowds that would attend a heavy rock show, but it was a shame that the once eclectic festival line up was now more or less dominated by just one sort of music .

If there were any other sorts of act on this bill they would probably have fared badly and even heavy bands who were out of favour could also receive rough treatment from the crowd. Def Leppard were initially on the receiving end of a rain of mud, cans and rubbish because they were perceived to have "sold out " .

Photo courtesy of Jana Chrzova © visit her pages to view more .
Rory Gallagher onstage © Stuart Alexander

However, there was still room on the bill for blues rock stalwart Rory Gallagher , some of the old Reading favourites seemed to be able to transcend the genres . Audiences of all ages and genres seem to have loved to hear the Irish blues guitarist , who had been a staple of festivals since the Isle of Wight in 1970.

But artists like Gallagher and Hawkwind were the exceptions to the rule , for the early part of the next decade , Reading was to become the one of the major UK Heavy Rock festivals, rivaled only by the aptly named Monsters of Rock festival held at Castle Donnington in the midlands, this catered for the REAL headbangers, but Reading gave it a run for its money on occasions.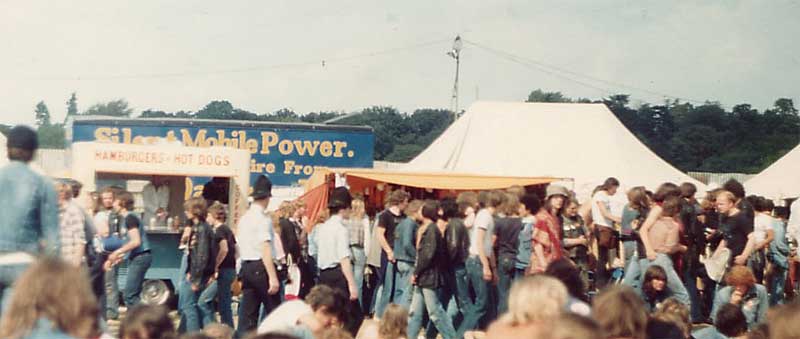 Photo courtesy of Stuart Alexander ©
Friday 22nd Aug.

Sunday 24th Aug

Red Alert
O1 Band
Hellions
Praying Mantis
Fischer Z
9 Below Zero
Krokus
Gillan
Rory Gallagher

Sat 23rd Aug

Trimmer and Jenkins
Headboys # replaced by Quartz
Writz (aka Famous Names)
Broken Home
Q Tips # replaced by White Spirit
Angel City * replaced by Grand Prix.
Samson
Pat Travers Band
Iron Maiden
UFO

An amazing number of changes took place in the lineup, with two of the major acts of Sunday night pulling out , no doubt to the chagrin of their fans who bought tickets early or mainly came to see them ....

Pencils *

Sledgehammer

Praying Mantis
Angelwitch

Tygers Of Pantang

Girl

Budgie
Gary Moore's G Force #
Ozzy Osbournes Blizzard Of Oz (#)

Def Leppard

Whitesnake

Djs : John Peel

Bob Harris

Jerry Floyd

NB : Acts are listed in order of appearance .

# replaced by Slade

# did not play

*The Pencils did not play at the festival, as they had all their equipment stolen the night before. I think they even split up after the fact that this happened, but cannot confirm that part.
Regards
Ray
There were also more busts , not sure how many , but Reading was pretty hard on its festival goers ,( who brought in a lot of loot that boosted the towns coffers) Ironically one of the worst riots at a UK festival occured way back in 1960 and that happened at , of all things, a Jazz festival .
The denizens of Reading need not have worried . in many ways ,the festival goers far less likely to go on a riot if they were kept locked up behind a high fence and fed a diet of constant doses of ear splitting music interspersed with liberal helpings of their favourite substances. Overall hard rock audiences at UK festivals were pretty well behaved and would put up with atrocious conditions that would have led more angry and angst ridden souls to rebel and mash up the place ....
Photos of Gillan Reading Rock 1980 © Phil Ryan
| | |
| --- | --- |
| Photo courtesy Pete | Another hail of cans , pity the poor roadies ! |
I found my parents on stage at Reading in 1980 !. I had no idea they played there! They were in a band called Writz (later Famous Names and Techno Twins) and played on Sat 23rd Aug 1980.
My dad passed away in 1993 - so to see that photo is incredible.

I couldn't help but notice that the name on the bill is different from the title underneath the photo. I have been informed by a fairly reliable source (the mother - who was fronting the band) that they performed under the name of Writz at that time (as it says on the bill). So the bill is correct, but I would be grateful if you could change the name underneath the photo from 'Famous Names © Ferg Ranson' to something like 'Writz (later known as Famous Names and Techno Twins) © Ferg Ranson.'
Many thanks for archiving all this stuff - you're doing a great job!

Writz
Steve Rowles Vocals/Rhythm Guitar
Steve Fairnie Vocals
Bev Sage Vocals
Jules Hardwick Lead Guitar
Les Cargo Bass
Arry Axell Drums
Kind Regards,
Jake Fairnie

Trimmer and Jenkins © Ferg Ranson

Writz ( AKA Famous Names ) © Ferg Ranson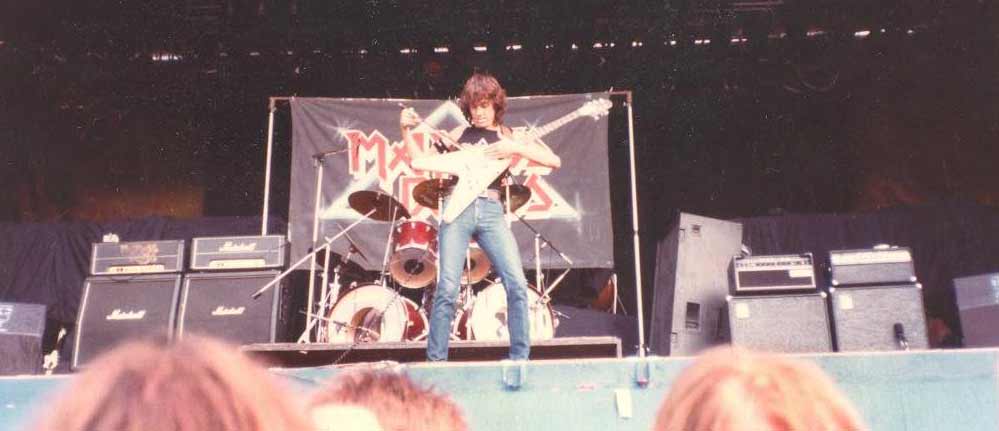 Mamas Boys onstage Reading 1980 © Ferg Ranson
Left: Sozzled and adrift in a sea of cans

Above: campsite Reading 1980

Photos © Stephen Vaughan
---
---
Reading 1980 pages
Can we get a witness ?
We need more info on this and the other Reading festivals, we are now in the curious situation of having better documentation on some of the earlier festivals, so c'mon headbangers, get yer photos out and fire up whats left of the aging braincells .Send your recollections and scans to us NOW ! !! Contact us
---
Thanks to photographers Stuart Alexander, Stephen Vaughan , Pete, Paul Brannigan , Ainsley Casson , Mike Evans , Phil Ryan and Ferg Ranson for allowing us to use their pix of the festival. You can also see more pix from Reading 1980 by looking at Alan Perry's excellent photos of Reading 1980, you can purchase copies of these pix at his website where he has oodles of top photos of metal bands from the 70s to date.
Reading in the 80s to date- Fat Regs excellent site covers Reading from 1982 onwards although why we still link to him I don't know as he STILL hasn't updated his link to this site ! Its eight years out of date :-)
---
The early festivals.
You can find out the complete line ups of the first festivals if you follow the links below .
Festivals 1965-1990
Most of these have fairly complete documentation .But new contributions of any sort are always welcome regarding any of the festivals.
---
This site is non profit making , its a site for die-hard fans- and run as a source of information for those interested in Rock music of the past .We are completely against the sale of bootlegged artefacts , especially musical ones .We attempt to obtain permission to use articles and photos wherever possible, but on occasions , due to the age and obscure origin of some items , we have not been able to ascertain the owner of the copyright .It is also possible that occasionally we are sent material from sources that assert that they own the copyright of material, but their claims are spurious - If you see any material on the site that you believe you own the copyright of - please send us an e-mail with proof that you have ownership of the image and we will remove the offending item from the site immediately.
Contact us