The Archive.
Big thanks to our sponsor Neil !

For information on today's festivals see eFestivals.co.uk
Updated June 2021 view at 1920 x 1024 for best results
---
The Thirteenth National Jazz ,Blues and Rock Festival.
Richfield Avenue.
Reading
August 24-26th 1973.
---
Quadrille onstage 1973 © photos Steve Austin

This line-up featured a fair percentage of acts that had been at the 1971/72 festivals .But the re-emergence of jazz , in the form of art critic George Melly and old regular Chris Barber , was somewhat surprising. There was also a fair percentage of folk orientated acts such as Richard and Linda Thompson and surprisingly few hard rock /blues acts ,which had always been a staple of the festival line-up.

A number of acts (as usual )did not perform and others were substituted , if you have any info regarding this please let us know so we can be as accurate as possible and amend the lists.

1973 festival Line-up
Attention nit pickers !!!!!
Yes we know it states the festival is the twelfth on the adverts, but they cocked up in 1971 and the mistake in numbering was not rectified on the posters until the 1974 festival.
ALQUIN
AEROSMITH
ANGE
CHRIS BARBER
BECKETT
ANDY BOWN
ROY BUCHANAN (did not play )
CAPABILITY BROWN
COMMANDER CODY
SPENCER DAVIS
LESLEY DUNCAN
DAVE ELLIS
EMBRYO
THE FACES
GENESIS
GEORGIE FAME
FUMBLE
RORY GALLAGHER
GREENSLADE
CLAIR HAMMILL
TIM HARDIN
STEVE HARLEY
ALEX HARVEY
JO'BURG HAWKE
JON HISEMAN'S TEMPEST
JIMMIE HOROWITZ ORCHESTRA
JACK THE LAD
BERT JANSCH (did not play )
LINDISFARNE
MAGMA
MAHATMA
JOHN MARTYN AND DANNY THOMPSON
MEDICINE HEAD
GEORGE MELLY AND THE FEETWARMERS
P.F.M.
QUADRILLE
RIFF-RAFF
SPENCER DAVIS
STACKRIDGE
STATUS QUO
STRAY DOG
STRIDER
TASAVALIAN PRESIDENTTI
DANNY THOMPSON
RICHARD & LINDA THOMPSON (did not play ?)
A.J. WEBBER
JIMMY WITHERSPOON ?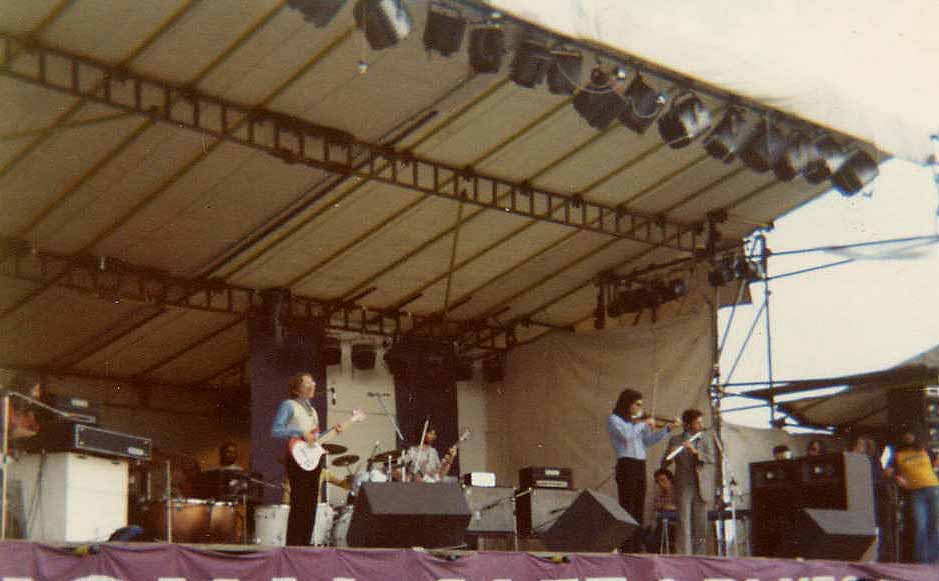 Stackridge Reading 73 © Steve Austin
| | |
| --- | --- |
| | Schedule courtesy Lynne |
---
Reading Festival
by Michael Wale
Not all the programming of this efficiently organized festival may have been imaginative, but at least the top-of -the bill acts over the three days provided a vivid contrast, and if competition is partly what these events are about, then it must be said that Rory Gallagher excelled. He is a musician from Cork basing his music on the Blues, an anachronism, perhaps, but his sheer, honest energy rings through. Only he of the three bill-toppers risked doing anything new, when he played four numbers from his next album to be released in October. Of these " Sleep on a Clothes Line", " Million Miles Away" and "Who's That Coming" are well up to the standard he demands. His guitar-playing is unmistakable, which is more than can be said for most these days, and his musical integrity unchallenged. Loathing personal aggrandisement, he is the total anti-star, and as such a genuine hero of the people. In contrast, Saturday night's appearance of Rod Stewart and The Faces was a disappointment. They worked hard, but one wonders how long this group that has obviously lost its impetus can continue . Despite this, Rod Stewart still stands out as a personality, and surely must now make his own way in Rock.

Sunday night brought another glimpse of Genesis, a group who use theatrical effects as well as thoughtful electronic music in the style of groups like Pink Floyd. To say this is a tribute. They, too, are about to launch a new album, but played safe by rendering what we have heard before. "The Musical Box". " Supper's Ready" and " The Return of the Giant Hogweed" pleased both myself and the 25,000 audience, and was an effective climax to three days of sunshine and friendliness. Festivals always produce at least one surprise success and this year it was portly George Melly, musically from another era. The youthful audience immediately accepted his trad-jazz-flavoured tunes like " Frankie and Johnny" and his zany, uninhibited approach.

Undoubtedly a new cult figure has arrived.

Early Sunday morning © Vin Miles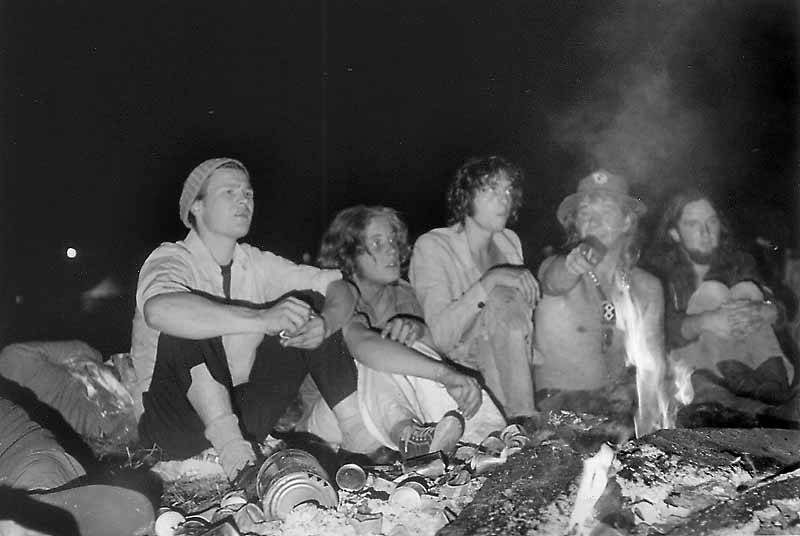 Geordies around the campfire early hours of Sunday morning © Vin Miles
In 1973 I was 19 and already a veteran of several rock concerts. Here's what I wrote in my diary for Saturday, 25th August: "At 6pm I packed 3 hard boiled eggs, 3 slices of bread and 3 Dairylea cheese triangles, a sweater, an anorak, an electronic flash, 200mm telephoto lens,x3 tele-converter, took lots of money, and set off for the Reading Jazz, Blues and Rock Festival. I got a lift from Bracknell to Woodley and then in a Jaguar 3.4 to v. near the festival site. It was a lovely sunny evening.

I paid £2.50 to get in. It was packed! (I had been ready to be turned away.) I saw the Alex Harvey Band, Strider, Status Quo and Andy Bown. Alex was fun, Quo were fun and Bown was shit. I had worked my way up against the barriers at the front, same place as last year, so I had a very oblique sight of the stage from the right as I looked.

The Faces came on about 11 and were v. popular. I took a fair number of pix of Rod the Mod in his yellow satin and tartan, as he twirled the mike stand around. People fainted at the barrier. Mick Jagger did not appear, as was rumoured. It was possibly the Faces' last British gig. They finished at 12.10 and then everyone lit fires in the arena.

I spent the whole night either sitting around lovely fires among a sea of beer and Coke cans, or wandering about looking for a warm, dry place to sleep and buying Salvation Army soup.

R.I.P Alex Harvey -truly one of the greats ©Vin Miles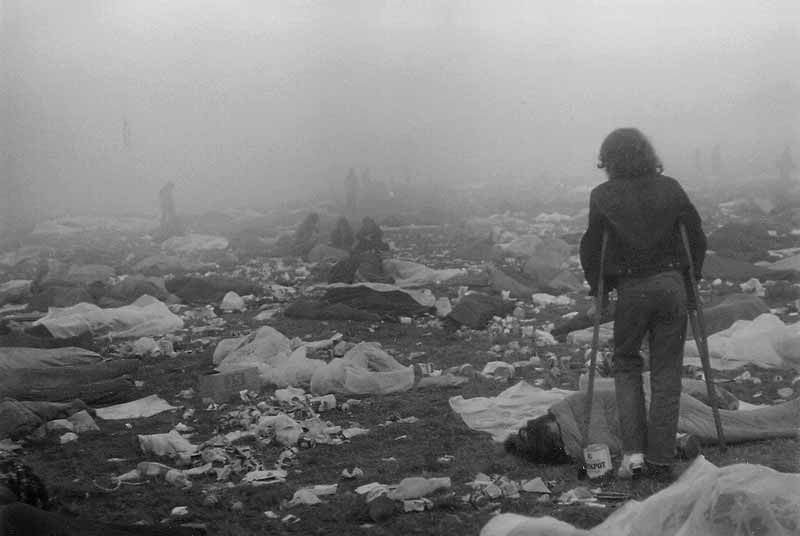 Survivors, early Sunday morning .....© Vin Miles
Security blokes were putting out fires but about two survived all night. The dew came down heavily and I eventually lay down by a nice fire at 4.30am and tried to sleep. Someone sat between me and the fire and I got v. cold. At 5.30 it was getting light (or grey) so I got up, got warm again and then went off photographing the waking fans as the sun came up. I found 3 nice badges,and a pile of love-letters in a bin. I left on the train at 9.30am. A nice night and morning, if v.uncomfortable."
Vin Miles
---
I was at the 1973 festival in Reading. It's funny to look back on the list of performers nearly 30 years later and see who I didn't pay any attention at the time, e.g. Richard and Linda Thompson.
Quadrille © Steve Austin

You list Roy Buchanan among the performers. He was in the original line-up but didn't show. I was really keen on seeing him at the time. (He was billed as the world's greatest unknown guitarist.) In fact, that was the deciding point in my getting a ticket. So I was very disappointed to show up and learn he had pulled out for whatever reasons and was being replaced by an older black American blues singer in that Sunday evening slot. It was one of the Jimmies, either Jimmy Witherspoon or Jimmy Rushing. (I'm fairly sure it was Witherspoon.) As a consolation, a then-young Robben Ford was the guitarist in his band that evening.

I remember Jon Hiseman playing Saturday afternoon -- I seem to recall his band was Colosseum but I am probably compressing memories -- and he went into a LONG drum solo that after five minutes or so had everyone bored stiff. Someone in the middle of the crowd started building a tower out of empty 2-litre beer tins. It got fairly high up in the air before finally toppling to great cheers. Hiseman must have thought they were cheering for him because he just kept on going at his drum kit.

I don't know what sort of detail you're looking for but here's what I recall. The headliner for Friday night was Rory Gallagher, with Commander Cody and his Lost Planet Airmen warming up. Though Hawkwind is not on your list of performers I'm 99% certain they played earlier that evening. Saturday night's headliner was The Faces (with a Japanese bass player who was playing facing deportation; that was the cause celebre of the weekend). As your reviewers point out it was a somewhat stale performance. Rod Stewart was decked out in tartan and kicking soccer balls out to the crowd but it was anti-climatic. Status Quo, who'd opened for them, got a better reception. I think the crowd was just plain tired out by that point. The gates had opened around noon and the Faces didn't come on till 11 p.m. John Martyn and Tim Hardin were among the folky early afternoon performers and put on strong shows.

Rod de Mod © Vin Miles
By Sunday I had had festival overload and can't remember much of the afternoon. Spencer Davis (with Peter York, not Peter Tork, as the program said) came on about 7 p.m. followed by Jimmy Witherspoon. I can't remember who the warmup to Genesis was, but Genesis, with Peter Gabriel, were the Sunday headliners. Lots of props like pyramids dropping out of the sky, etc.

Cheers
David Henderson
---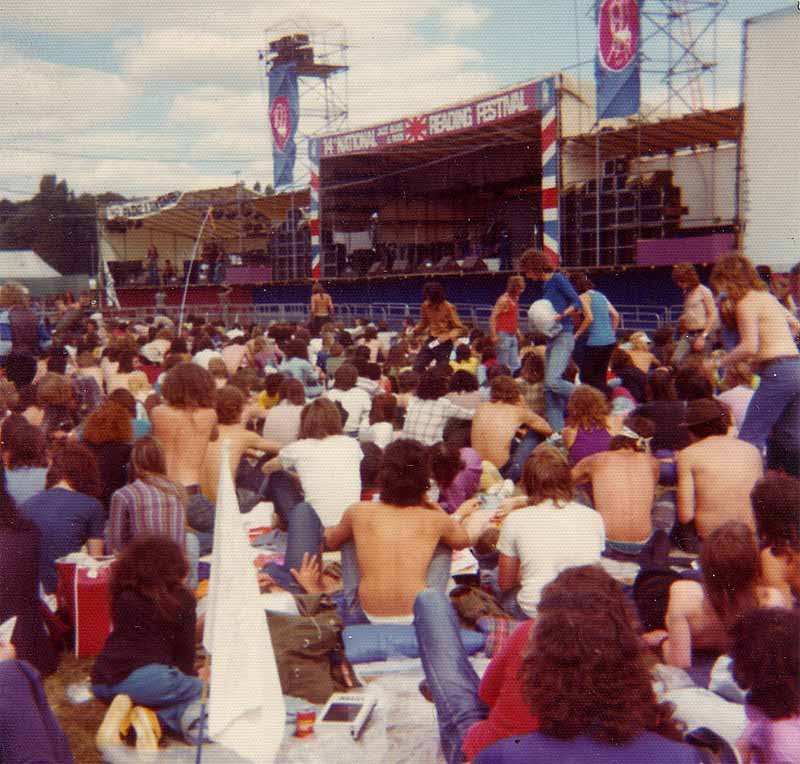 Trapeze onstage © Steve Austin
Nick Black remembers
Here's my recollection of the Reading festival in 1973.. yes it was held over a bank holiday, and yes, too, by the time the festival was in full swing it was clearly evident that the hippie dream was well and truly done and dusted. Hawkwind never did play - wish they had. Commander Cody (reason I went) did well in a high profile but ultimately unsuccessful bid to break through to UK acceptance.They did a killer version of "smoke smoke smoke (that cigarette)."
Genesis and Rod stewart were the big draws of the time, and I remember pissing myself with laughter when, after a suitably portentous two hour wait while the great Genesis got their stage set ready, on came Peter Gabriel in this ridiculous pyramid with eyes doing Watcher of the Skies.
No, not my kind of spectacle.
There was some ugly violence, led by this huge ginger haired guy in the crowd, I think during Rory "man of the people" Gallagher, whose power was briefly cut midway during a song. Of course he went on playing. And I remember another incident, sign of the times, when some gentle long haired guy got up to sway naked in the crowd only to be the recipient of bottle after bottle. (this would probably have been Jesus )

I remember John Martyn, and a whole host of now vanished wannabes. Alex Harvey went down a storm. But when Rod Stewart appeared with The Faces there seemed to appear from nowhere this crowd of hooligans waving football scarves, crowding in front of the stage like an army. "Am I losing you?" I remember Rod asking.

The late great Alex Harvey © Vin Miles
Weather was fine, the whole place fenced, regulated, homogenised, and I remember John Peel playing with breathless wonder the just released stones single "Angie". I went with a friend who was paranoid about being caught smoking substances in public. When I lit up, he scuttled like a crab about twenty feet forward.
Oh, another thing. in a bizarre way I think the first band on, a now forgotten German group were by far and away the best there! They announced in heavy Germanic tones "Ve haf just come bak from living in Morocco" and played what I guess would sound very much like world music nowadays. They were met by silence and me, noisily clapping.
Nick Black
---
Hi - Went to several early Reading Festivals until the beer can throwing became intolerable. Wanted to add to Nick Black's comment about the 1973 Festival. The 'German' band he saw and so enjoyed was actually the Dutch band Focus. It was a sunny afternoon and they came on to a barely interested crowd. Focus worked their socks off and did an amazing set including Hocus Pocus. Nick said they were the best on and I totally agree..and he must have been the other person clapping when they had finished!
( unfortunately Focus aren't listed as playing in 1973. they were present in 72 and 74, anyone confirm , contradict ? ED)
Julia Hockham
Reading 1973 © Vin Miles

I was privileged to be at the 1973 Reading event, and managed to sneak back stage on the Saturday night after the Faces had finished on stage, trying to grab a closer look at the music icons, whilst back there I was there looking at the white rolls royce arriving for rod the mod when I was pushed in the back .

When I looked around there was a man lying face down in front of me .When I helped him up to his feet I looked in amazement ,it was Keith Moon who was very drunk , holding a half full bottle of whisky, I had just picked Keith Moon up from the floor !

Then all hell broke loose and the whisky ended up though the window of a caravan of a music company who were there , possibly recording the event . Thrown by Mr Moon of course.


regards

Dave Mccann
So many years on, it's not so much the music I remember but people and events.
Like my tent. What a thing of beauty. Two massive black plastic sheets from Halfords ironed together to make a space big enough for 7 people. That included a couple of Welsh girls who adopted us for a short time. Bizarrely one of them was carrying a big old suitcase and would have looked more at home at Heathrow. Inside were clothes and toiletries, but mainly a big white feather soft pillow. Not folded, not creased. It took up most of the case. Naturally a girl in need of home comforts didn't hang round our plastic palace - with its built in condensation - for too long.

I was camping with my mates, but I also had a press pass which got me backstage. Which is where George Harrison spoke to me. I'd been a massive Beatles fan since the age of 8 - and George Harrison spoke to me! Unfortunately the words were "Fuck-off". It happened when he arrived on the Saturday afternoon. I was overcome with excitement and was compelled to take a photo. But I barely had time to focus, when my view was blocked by his two massive minders. They were inches away from me, shoulder to shoulder guarding their man. All I could see was the top of Harrison's head and that voice chanting "Fuck-off fuck-off". I suppose I'd left my good manners behind, but he'd surely left his Karma in Henley-on-Thames. It seems funny now, but I'm not exaggerating. I had to go back to the tent and lie down for a couple of hours.

On stage Rod Stewart did a lot of prancing about. It was the first gig (and I think one of the last) for The Faces bassist Tetsu Yamauchi. Rory Gallagher was great. A lot of the crowd needed little encouragement to lob beer cans at the stage, so when there was a power cut during his set the inevitable happened. I made a dash for backstage. Credit where it's due. Some of those guys could really throw because there were cans sailing over the stage and pelting us back there.

For me the standout performance was from Alex Harvey. Genius. During Anthem a Scottish piper in full regalia came on stage. Followed by another, then a third and a fourth. Could it have been as many as a dozen? Does anyone remember? For some inexplicable reason I don't have the negatives.

Stan Was

---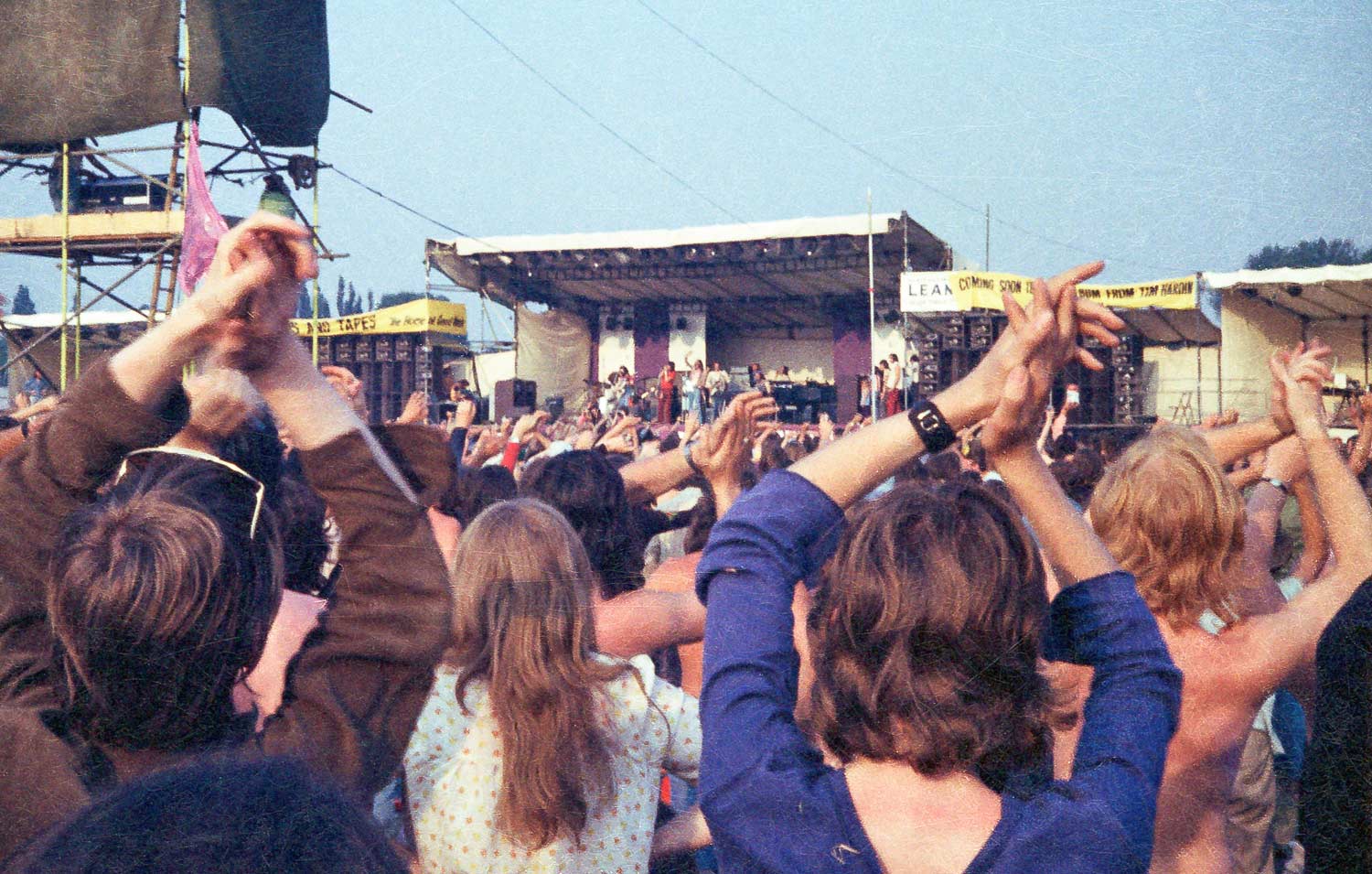 Lindesfarne © Chris Dawson
Rod gets his top off (well one layer anyway)....© Vin Miles

Junk food at dawn, yum,yum ! © Vin Miles

Friday - Rory Gallagher was excellent as always. Started with 'Messin' With The Kid'. Did 'Pistol Slapper Blues', 'Goin to my Hometown' etc. 'Bullfrog Blues' for an encore followed by a new song. Don't know why Capability Brown didn't make it bigger. Excellent vocal and 3 part guitar harmonies. Saturday - Fumble got everybody going with their 50's rock and roll. Lindisfarne did a lot of new material as well as classics such as 'Lady Eleanor', 'We Can Swing Together' and 'Fog on The Tyne'. SAHB were brilliant .

We spent the whole of Status Quo's set dancing. Rod Stewart and The Faces were a bit disappointing.
Sunday - John Martyn and Danny Thompson were good. A refreshing change to see some good acoustic music. Ange, from France, were weird and original. Liked them a lot.

Stackridge were one of the most entertaining bands of the whole weekend - really good. Included dustbin lids. George Melly went down really well with a great version of 'Frankie and Johnny'. Tempest did a really powerful version of 'Paperback Writer' and Jon Hiseman's drum solo was outstanding.
Spencer Davis were good, doing all their old hits including 'Keep on Running', 'I'm a Man', and 'Gimme Some Loving'.

Didn't see much of Genesis."

Chris Dawson

We were there. Keith Mick Guy (my brother) and me Mike came down from Watford in my Triumph Herald and my Dads old Ww2 army tent which weighed a ton. Found ourselves camped next to a tribe of geordies who never slept, kept a fire going all night and drove round the site in vans with kids on the roof. Recall that someone may have drowned on the adjoining Thames.


We saw headliners although went to the local pub early evening. Learned from first night to bring your pint glass back to piss in. People knelt near the stage in those days. No mosh pit!

Faces set was great and Peter Gabriel outstanding premiering Genesis album 'The Knife'. My first festival was Sunbury in 1968 with Arthur Brown, Chicken Shack and Deep Purple.

Happy days

mike jackson



Rod pix © Vin Miles
| | |
| --- | --- |
| | |
---
The early festivals.
You can find out the complete line ups of the first festivals if you follow the links below .
Festivals 1965-1990
Most of these have fairly complete documentation .But new contributions of any sort are always welcome regarding any of the festivals.
---
This site is non profit making , its a site for die-hard fans- and run as a source of information for those interested in Rock music of the past .We are completely against the sale of bootlegged artefacts , especially musical ones .We attempt to obtain permission to use articles and photos wherever possible, but on occasions , due to the age and obscure origin of some items , we have not been able to ascertain the owner of the copyright .It is also possible that occasionally we are sent material from sources that assert that they own the copyright of material, but their claims are spurious - If you see any material on the site that you believe you own the copyright of - please send us an e-mail with proof that you have ownership of the image and we will remove the offending item from the site immediately.
Contact us