The Archive.
Big thanks to our sponsor Neil !

For information on today's festivals see eFestivals.co.uk
Created December 2008.
Updated Jan 2012 view at 1280 X 1024 for best results

Cans and bottles rain down on luckless punters at Reading 1988 © Bryan Spink

The 26th

Reading Rock Festival.

Richfield Avenue.
Reading
August 26-28th 1988.
---
Stage crew clean up the bottles after Bonnie Tylers 'reception' © Fredie Vinson
This was the one that has been panned. Practically no one on the net has a good word for 1988 . The only stories that circulate widely seem to be regarding the severe bottling that Meatloaf and Bonnie Tyler endured from the less tolerant members of the audience.

Since its return in 1986 the festival had struggled to find an identity. Formerly a hard rock-metal event , its role had largely been usurped by the Monsters of Rock festival which was attracting crowds of up to 80,000 and which, unlike Reading, had been held continuously since 1980. The break had cost Reading dearly and it seemed that the promoters were unable to decide just who they were trying to attract.

Looking at the lineup, it is hard to believe that anyone would really have wanted to buy a weekend ticket. The strongest night was Friday, I'd have paid good money to see Iggy and the Ramones, and the Godfathers and FOT Nephilim would have been good value too. But what sort of Iggy or Ramones fan would have wanted anything to do with the Saturday offering ?

If the organisers had wanted to appeal to a punk, goth and hard rock audience they hardly could have picked a worse lineup than that which took to the stage on Saturday . Perhaps Uriah Heep might have hit the spot but the rest of the bands were more suited to a Top of The Pops audience than a notoriously hard rock crowd such as the diehards who flocked to Reading .No wonder some acts were bottled, it wasn't just Bonnie Tyler and Meatloaf who received a bottling, the rather tenderly named Hothouse Flowers also got a right pasting!
It had been 28 years since the festival had begun back in 1961 , when the Marquee club had launched the first National Jazz and Blues Festival, the event had moved five times over that period and had changed its name four times at least . Over that 28 years it had featured many fine acts , in the sixties it was the UK festival that top acts just HAD to appear at if they were to gain credibility. However, by the time the festival moved to Reading in 1971, it had become a second tier event. It did not manage to ever attract the really big names - such as the Stones, Zeppelin, Pink Floyd, once those acts had achieved international stature. It had also ,once the move was made to Reading , become less adventurous in its programming. Although well organised , and despite having a hard core of attendees who showed up every year no matter who was in the lineup , it had never really cracked the big time . However, it had provided an annual showcase for many UK artists and had been instrumental in launching the careers of many acts who went on to greater things. It was also the longest running festival in the UK - but was this the end or simply just another setback to add to all the others that had occurred over the years ?

Reading 88 saw the festival in more or less crisis mode, another year such as this and the audience might go somewhere else. Hard decisions had to be made as to just what the target audience was going to be and whether enough good acts could be procured to either entice back the waverers or to develop a new audience. Donington catered exceedingly well for the headbangers and perhaps two festivals held within weeks of each other with more or less the same clientele was pushing the envelope a bit - after all, fans only had so much spare cash.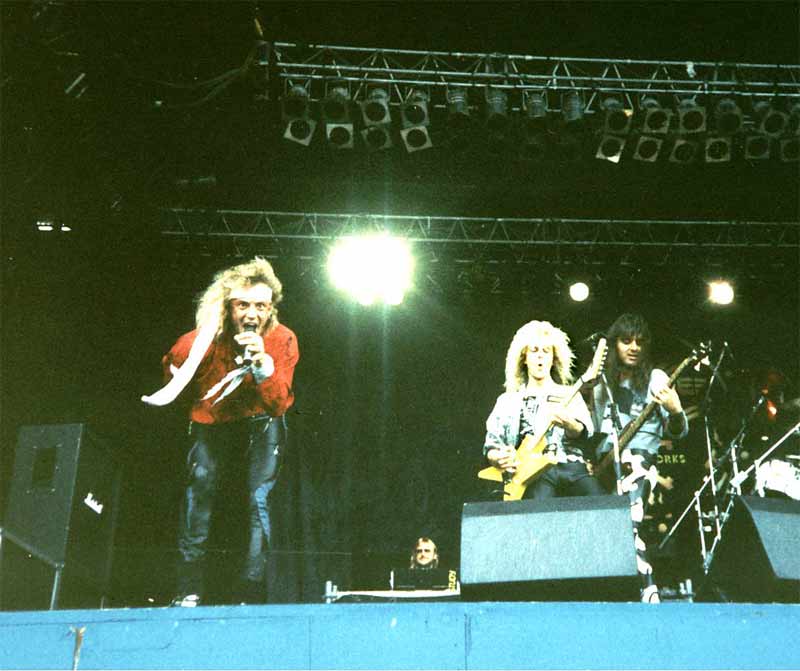 One of the opening acts from Reading 88 on Saturday - Bonfire, do their thang onstage.... © Chris Lee
Since its return Reading had struggled to sell its full quota of tickets (with the exception of 1987, which featured good headliners ), and 1988 gate receipts were well down . This financial problem allowed power struggles within the organisation to terminate the Marquee club involvement in the event. The festival was more or less taken over by the Mean Fiddler organisations Vince Power ,whilst the Pendletons remained as partners the long proud tradition of association with the Marquee Club ended after nearly three decades. The Marquee Club had often featured many of the support bands that took to the festival stage - blooded by regular sessions at the club, they were more likely to be seasoned performers and capable of making the transition to the larger stage of a festival. This formula had worked really well in the 60s and 70s. Then unknown bands such as Jethro Tull and Chicken Shack had received rapturous receptions at the National Jazz festival in 1968. However , this method was less likely to work in the 80s as Reading audiences did not seem to want to be challenged by new sounds, preferring to stick with their own comfort zone - thus the increase in bottling and aggression in general. As a rule, those who were more musically open minded tended to attend Glastonbury and Womad , where bottling was virtually unknown.
| | |
| --- | --- |
| Cans rain down on roadies at Reading 1980 | Can and bottle fights had taken place at Reading since the mid 70s , but their intensity had definitely increased during the 80s and by now they were something of a festival tradition . It has to be remembered that Reading was a "booze " festival, many attended with the specific intention of getting shit faced and the music was sometimes only an incidental accompaniment to the endless sculling back of whatever firewater one could find . We should also remember that Reading and Donington audiences had a fairly large proportion of young teenagers - 15 -16 year olds - mostly male, (often attending their first festival , just as The Archive did at Sunbury in 1968 ) who would not be all that used to excessive booze and whose behaviour is always less inhibited when they are in packs.The generally hard rock heavy metal devotees who regularly attended Reading provided a very large pack , with a set of traditions which they passed on to the new attendees. As far as the majority was concerned , if a band sucked- bottle them - everyone expected it to happen and in fact many thought it a highlight of the weekend . As most people were pissed , and many emptied their excess liquid into bottles rather than taking a trip to the loos, (which were probably foul anyway), there was plenty of readily available ammunition at hand. |
We don't condone bottling ,( in fact a mate of ours has a bald spot on the back of his head caused by a flying bottle at Charlton in 1974 which could have easily killed him, ) but we can see why it happens at some festivals, when one is pissed , it probably seems like a good idea. Despite it being loved by some , by and large it can be categorised as irresponsible behaviour and those who think it funny should perhaps be lined up and have large two litre bottles of piss thrown at their heads to see how much fun it is , but regardless of our reservations, it still goes on at certain sorts of festivals - and its still going on at Reading today .......

Perhaps this comment which we found on a site sums up the mindset of the bottler perfectly, we leave it up to you as to whether this particular person is a total Wally or not ......

I was at Reading in '87 (Quo, Magnum, Brian May playing BoRhap with 'Bad News', and there was an almighty bottle 'fight' for about 20 minutes, and you either put up an umbrella or prayed. Geezer in front of me got hit on the side of the head by a full 2L bottle of Pepsi, which then exploded all over him - Hilarious !

Two anecdotes from Queen at Knebworth 1986:

1. Was standing by the mixing desk unit, about 40 yards out from the stage. Bottles started flying for about 5 minutes when a huge half a melon came flying over and actually hit one of the sound mixing guys on the back of the head. He was furious, staring out into the crowd with melon stuck in his hair, trying to find the culprit, to no avail. Me & my mate were crying with laughter.
2. The opening act came on (guy called Belouis Some, who was awful, but I think Freddie was 'fond' of him). Anyways, first three songs went by and he had a regular inflow of bottles. The idiot then announced that his next song was called 'Target Practice' (no joke), and the whole stage was then swamped for about 2 minutes non-stop. Funniest thing was people were running out of bottles and huge chunks of turf were then sent inbound. Fucking hilarious!

Mickey Thomas of Starship at Reading 88 with Fredie Vinson

© Fredie Vinson
---
Reading 1988 Timeline
Friday 26th Aug.

In order of appearance on the bill

Sat 27th Aug

In order of appearance on the bill

Sunday 28th Aug

In order of appearance on the bill

The Seers
The Lover Speaks
The Wonderstuff
Ghost Dance
The Godfathers
Fields of the Nephilim
The Ramones
Iggy Pop


The Name
Bonfire
Run Rig
Quireboys
Gene Loves Jezabel
Bonnie Tyler
Uriah Heep
Meatloaf
Starship

John Otway

The Lucy Show

Roachford

Rankin Roger

Broken English
Deacon Blue
Hothouse Flowers
John Hiatt
The Smithereens
Squeeze
NB : Acts are listed in order of appearance as far as we can ascertain. There also MUST have been some changes in the eventual line-up, can anyone supply details ?
---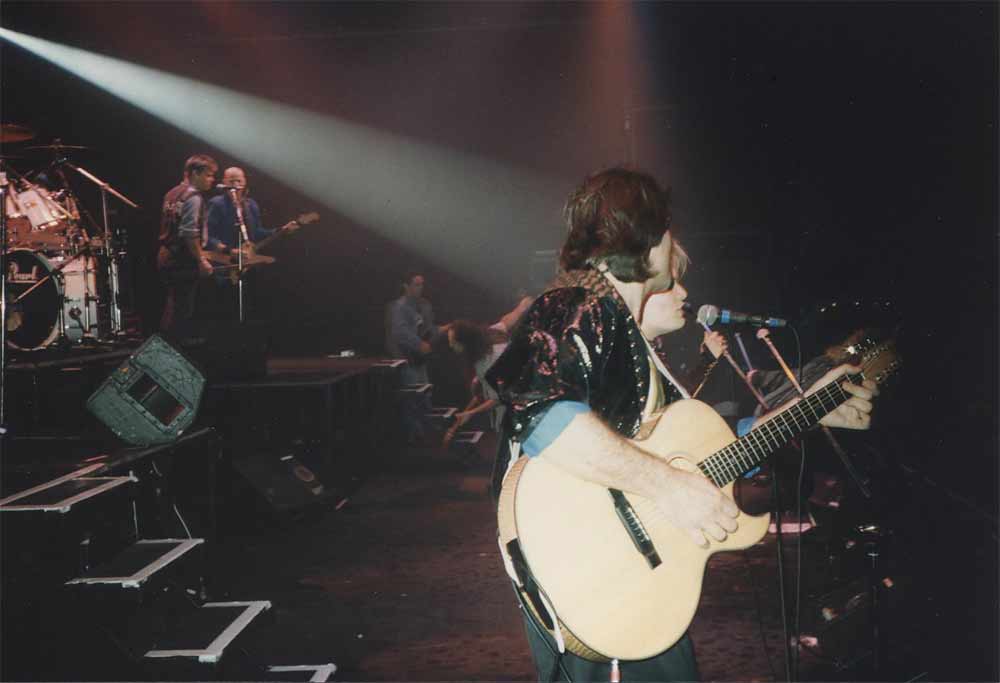 Meatloaf's band © Fredie Vinson
Recollections
Hi
Found your ace site today. I worked on the stage crew at Reading from 1988-90, and am actually in the photo from 1988 of the stage being cleaned up after Bonnie Tyler - typically, I'm right at the back of the pic in the white cap with my back to the camera. Will never forget that set, the crowd weren't just throwing bottles, there was turf, food (ever tried getting noodles off the front of an amp?) and some dirty bastards were even going into the bogs and scooping up shit in plastic beer glasses and throwing that. Ew.
Was wondering if you've got any more photos of us all in action you could let me have, as I've only got two from the whole three festies I did (three now!) - would be happy to write some remenicences for you about some of the stuff that seems to have slipped through the net - the Mission's 'Roadie on a Bicycle' powered windmills, for instance. Or the time we nearly dropped a drum riser on Joey Ramone's head. Happy days...
cheers
Paul
---
Only time I saw Meatloaf was Reading Festival 1988 - he was on mid afternoon on the Saturday and got the full treatment! Result - exit one bruised ego, nursing a broken nose. I can't say he deserved to get a bottle right in the face, but he came on all 'Mega star' and that sort of thing didn't go down well with a Reading festival crowd back in those days....

I remember this very well and I used to have the review of the festival in 'Raw' magazine (a very short lived UK rival to 'Kerrang' which was financed by Jonathan King back in the day before his paedo convictions).

Bonnie did indeed stick it out and apparently turned the air blue in the process, yelling at the 'fuckers' who were throwing urine-filled bottles at her. By the end of her set, she had grudging respect from most factions of the crowd to the extent that she actually got them to sing along to 'It's a Heartache'.

Meat walked off during the opening number (a cover of 'Summertime Blues'), came back and did a few more songs then walked off again in a hail of bottles. He then came back and in a hasty revision of the set list played 'Bat Out Of Hell ...' which stemmed the tide totally, then started off 'All Revved Up...', got hit square on the nose with a bottle, gave the crowd the finger and walked off never to return.

Meatloaf backstage at Reading 88 with Fredie Vinson before he received his bottling

© Fredie Vinson
One slightly amusing (if cruel) anecdote from the backstage notes that accompanied the review was a comment on Bonnie's then fluctuating weight. Apparently one of the journos in the back-stage bar spotted her guzzling a few beers after her set and shouted 'oi - Meat Loaf!' at her. Needless to say he got a well deserved volley of abuse for his troubles!
Rob
---
Well first off my name is Fredie Vinson and I had a unique vantage point for the fireworks on the Saturday show.
© Fredie Vinson

I was over visiting friends in the UK that year and had just gone to Donnington a week or two before. My friend Keith Page who normally worked as Gary Moore & Scott Gorham's guitar tech was working a one off show for Bob Kulick, Meatloaf's guitarist. I only went on Saturday and after hearing about who played on Friday and Sunday, I wish I would have seen The Ramones, Iggy, Squeeze or John Hiatt, but Saturday...Despite what many say, WAS in my opinion, a good line up talent wise.

I was impressed with the Quireboys who I'd never even heard of. I got to watch their set from the photo pit and they were great. I ended up seeing them again 2 years later at Donnington as well.
Passed up on seeing Gene Loves Jezebel....just never really liked them. I hung around and met quite a lot of people. Being a vocalist myself I was particularly interested to met Mickey Thomas from Jefferson Starship, although I wasn't a big fan of all their material, I still respected Mickey as a phenomenal singer. Bonnie Tyler was the SWEETEST person in the world...in fact I think she might have been a bit fond of me...(be still my ego) as the photos enclosed plainly illustrate. In fact I almost had to 'ditch her' in order to go meet other people.
Meatloaf was such a nice guy.... and really did NOT deserve the reaction he got from the crowd.... I remember telling him...in fact, almost WARNING him about their restlessness and that it might have been a hold over from the previous night... and he was just not hearing it. Sad really because I really was looking forward to hearing his set as I'd never seen him before....or since actually. Uriah Heep were fantastic and I don't think anybody threw ANYthing at them as far as I know....of course I only saw a bit of them as I was off drinking with Lemmy and HERE's where my most memorable story of that day gets told......
As you know, Reading was famous for having the TWO stages set up next to each other so that one band could be tearing down/setting up while another one could be performing right next to them. Great idea actually.
Well I'm helping my friend Keith with some cases when who should I encounter standing in the 'middle' area between the stages, but Mr. Killmister himself.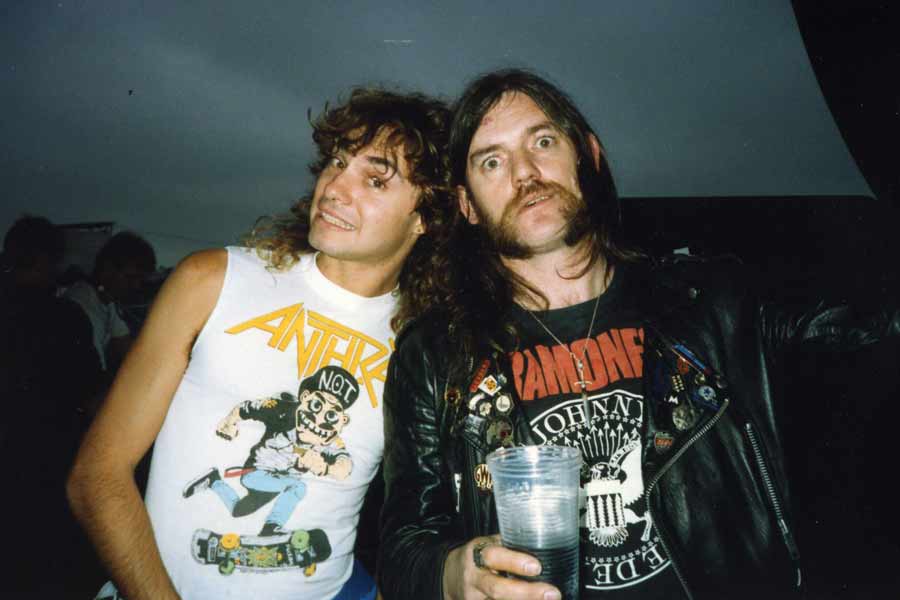 © Fredie Vinson
Being that Lemmy and I have some mutual friends (Girlschool - I've known them 25+ years) I approached the man and introduced myself.... as soon as he heard the word 'Girlschool' it was like we were old friends and we chatted for a few minutes with him telling me how the Ramones and Iggy were the night before. Just about this point in the conversation, Uriah Heep take the stage and are blazing through their first number. Out of the blue Lemmy asks me if I want a drink, which being no fool, I immediately answer 'sure!' and Lem opens up a cooler and reaches in to put out a George's Hoffbrau (sorta the cheap Rolling Rock or XXXX type beer of the time in the UK) only to find that there is only one can left.... Lemmy, appearing disgusted because he's just offered a mate a drink and can't fulfill the request, slams the lid down and looks around for another cooler or some more beer.... suddenly he turns to me and says "Hang on, I'll be right back..." He then proceeds to walk over to the OTHER SIDE of the stage.... while Heep are still playing their first song. We're talking... right across...the middle of the stage....in front of the drum riser.... directly in back of a bewildered Mick Box and company.... of course the crowd sees and recognizes him instantly and ROAR out "Lemmy!".... anyway, Lemmy walks over to the other side of the stage.... pulls out two 4 packs of George's Hoffbrau...walks BACK across the stage again still in FULL VIEW of the the thousands of people in the audience -walks back to where I'm standing in utter amazement.... shoves one of the 4 packs in my chest and says.....
"Here mate, have a drink on me!"
It was..... to this day,
The single most, coolest thing I've ever seen anyone do !
NO ONE else on planet earth could have gotten away with something like that.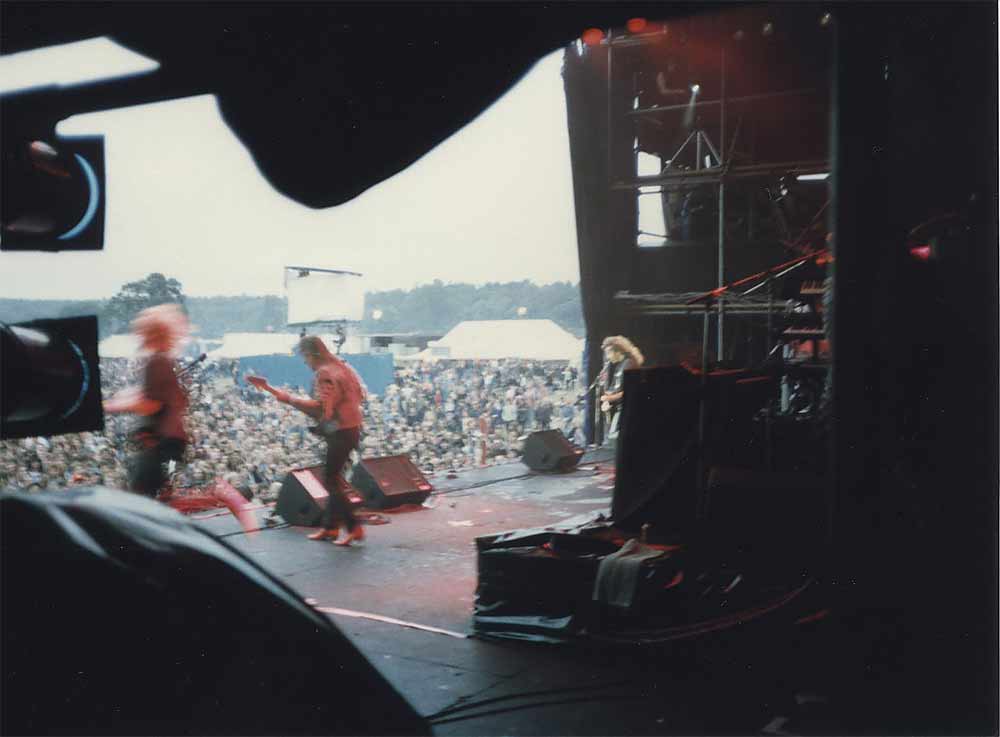 Uriah Heep © Fredie Vinson
After a few more minutes Lem starts throwing cans of the stuff out into the audience and we start doing it together...seeing how far we can get them.... then we switched to water bottles left over from Bonnie Tyler's show.... of course most of them 'exploded' on impact with whoever was reaching out to grab it.
One other thing I remember, was how I met Mickey Thomas..... they had drawn the curtain on the stage that Heep had played on....probably so the crew wouldn't get pelted as they set the stage up.... and I was peering through the middle of the curtains at the crowd..and this guy walks up next to me and looks out too....then in a southern drawl says something "MAN, the natives sure seems restless tonight!" I look up and it's Thomas... Helluva nice guy.... I remember him saying something about having to 'beef up their set' to satisfy the crowd...... I remember them doing Jane, Rock Music and a song called 'Save your Love "which had a long guitar solo in it..... they got pelted a little bit....but I think overall they went down ok..... they did do a slow ballad and got blasted a bit during that one.
I saw Mickey and HIS version of Starship at a free show here in Clearwater, FL last June ('08) and he is still in fine voice. I brought along the foto of me and him from Reading and he asked where it was taken. You should have seen his face when I told him.... "Reading, '88"
It was like, OH God, YOU were THERE?!?

Even though some of these didn't come out well..... here's some of my photos from that day.
Even though it may have been a day that Meatloaf would likely want to forget, it was a day I'll always remember.

Fredie Vinson
then: Orange County, California
now: Dunedin, Florida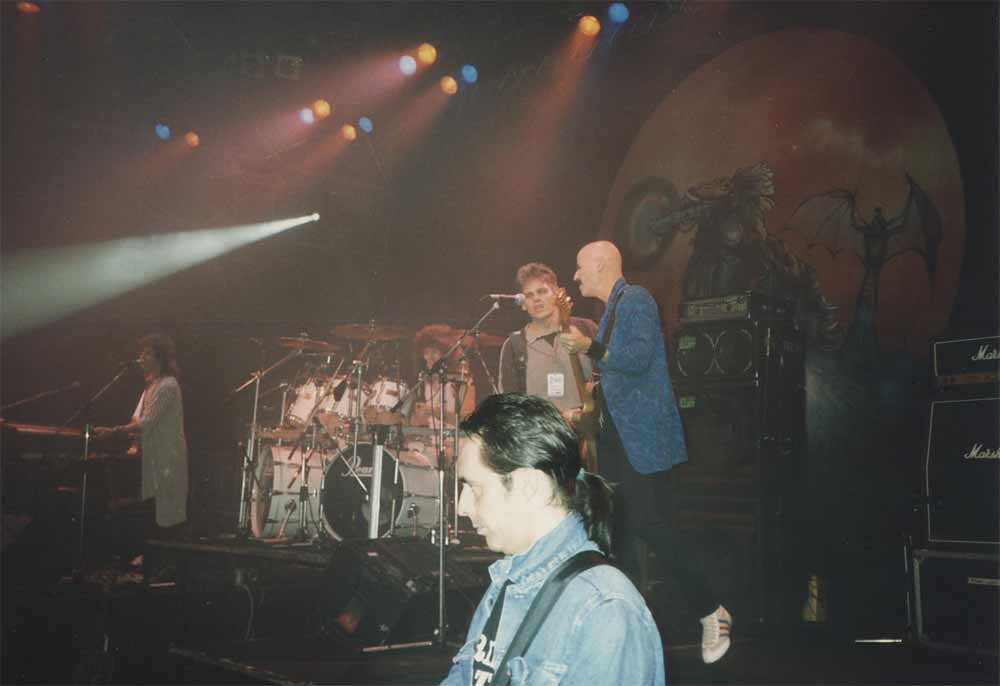 Bob Kulick and Keith Page on vocals, part of Meatloaf's band © Fredie Vinson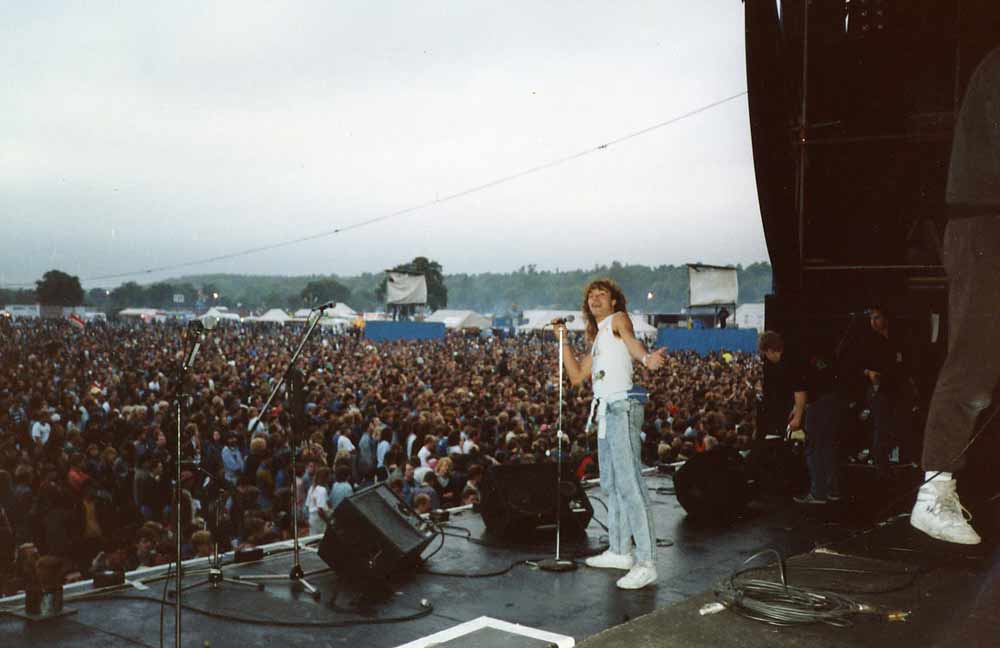 Mic testing for sound engineer whilst fans watch a band on the next stage © Fredie Vinson
Yes, as all reports stated, Reading 88 sucked badly. It was severely mismatched and felt like the organisers were doing it on purpose to get rid of the rockers and bikers. 'Host' Liz Kershaw was a complete tool and irritated the audience, talking to us like she was a higher lifeform.
When Deacon Blue were bottled off after 10 minutes (the poor, fragile dears), she berated us all and ordered us to ''pass all your bottles to the front of the stage immediately." Well, of course we co-operated - the sky was suddenly black with bottles and cans, all headed in one direction. She called us 'children' and that was the last of Ms Kershaw for the entire festival.
Meatloaf lost his temper when a bottle caught him square on, left the stage, came back on and said if one more flew, he was gone... well, Liz should have warned him about statements like that, so that was all for Meat. The in-between set music was also geared away from Reading's traditional fayre, being booed on a regular basis.
| | |
| --- | --- |
| | Human Pyramid © Peter Moore |
Ultimately, new organisers the Mean Fiddler got what they wanted, and for many of us, it was the last 'real' Reading Festival. Trouble was, no-one turned up to replace the lost revenue - should have been obvious guys - goodbye to another institution.
On the band front, Gene Loves Jezebel pulled out, and I don't recall the Wonderstuff performing either. Iggy Pop's band included Andy McCoy from Hanoi Rocks and Steve Jones of the Sex Pistols. John Hyatt and the Smithereens were not as high on the bill as your list shows - the final acts for Sunday went from Hothouse Flowers right to Squeeze. I don't think Rankin Roger ended up playing either.
Read back through my comments and was obviously a tad grumpy yesterday - probably Liz wasn't a 'tool', but she really got under a lot of skins with her attitude. The general feeling among us 'hairies' was that we were being squeezed out, but in an underhanded fashion. Donington wasn't really viewed as a festival, more seen as a one-day gig by many. It was a flavour of the month show, as opposed to the more eclectic nature of Reading - like the difference between Kerrang and Sounds I suppose - the bottles were a rite of passage for untested or dubious acts, rarely an act of hatred - booing was saved for that. When we lost Reading, we lost our last 'traditional' rock and blues festival that wasn't a biker-run event.
Regards and thanks for a great nostalgic site,
Nigel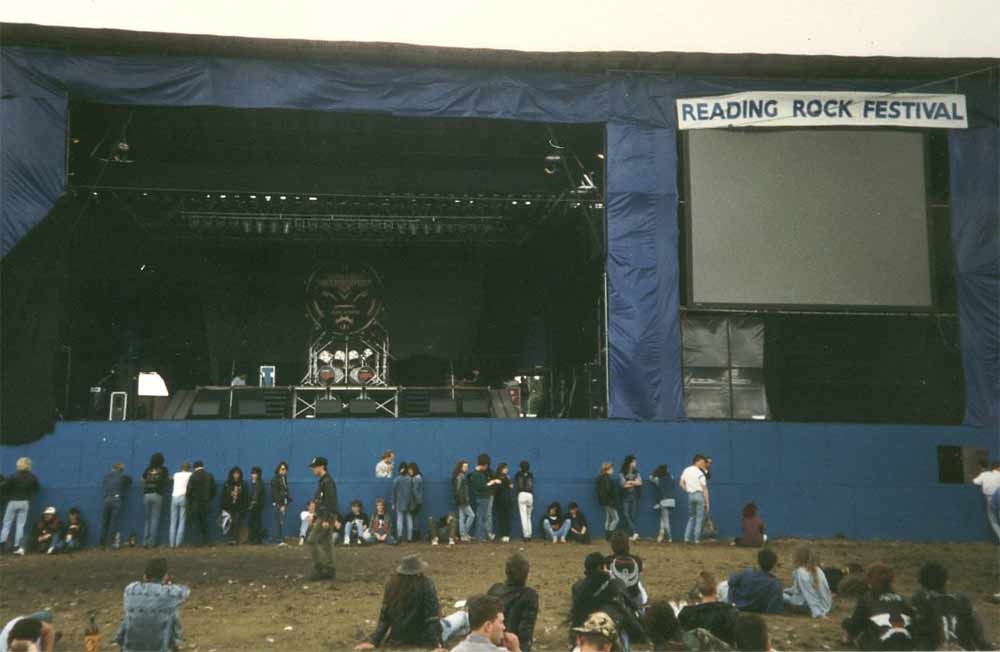 The rather deserted front of stage area just before Bonfire's set © Chris Lee
Yes there were changes. I'll swear Gene Loves Jezabel didn't play as one of them had broken his leg.
I cannot recall who, if anyone, filled in though.

Meatloaf concluded his set very early as he was bottled, with one hitting him square in the face.

Bonnie Tyler initially sustained probably the biggest deluge of bottles I've ever seen. After the 1st number, she let loose with such a foul mouthed tirade of crowd abuse that she almost silenced the entire arena. She finished her set to raptuous applause.

Cheers
Anthony

Bonnie Tyler onstage © Peter Moore
hi
i actually recorded all the (major) bands at reading that year although most have been disposed of long ago. I saw and recorded the secret fields gig the night before. the reading set was exactly the same but with an added encore.
John Otway, always a favourite. performed "Down the road" and changed one lyric to "I want to see motorhead" down the road, to which there was silent demusement from the crowd, he then changed to "sorry, i meant Meatloaf down the road" - inviting a very good humoured pelting of bottles to the stage.
It may have been the year (or the previous?) that john peel was the dj. I can remember a large can fight between acts, going on for ages. John peel came the speakers over with "if you don't stop throwing bottles, i'll play bee gees records". the fight stopped instantly.
MT
---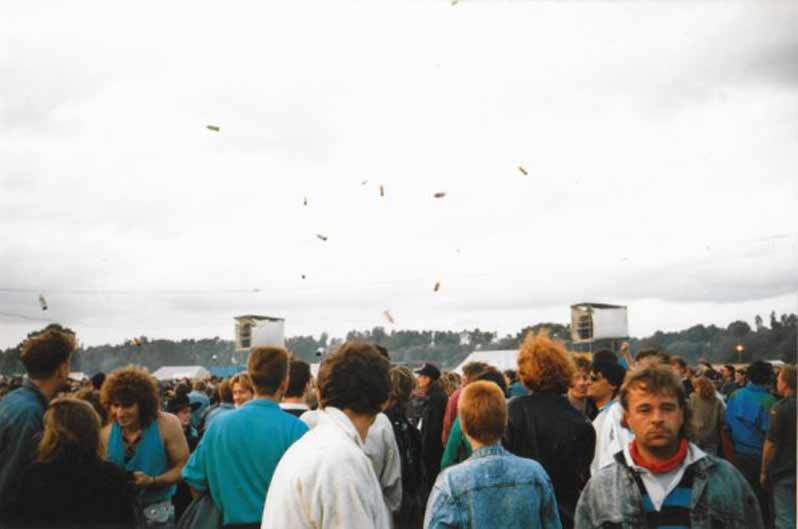 A deluge of cans © Peter Moore
| | |
| --- | --- |
| Uriah Heep © Peter Moore | |
Hi there,

I was just surfing for a picture of Iggy from the 1988 Reading Festival & came across your great site.

I attended the Friday night that year & so have a couple of snippets of info/answers to some of the questions that you posed.

Friday Nights running order was as you list it. There are suggestions on the website that The Wonderstuff didn't play but I can confirm that they definately did. It was a couple of months before their first hit & they were pretty much unknown. Under a typical barrage of bottles & cans frontman Miles Hunt uttered the great line, "Don't waste your booze throwing it at us, we've already got loads of our own backstage"

Regarding live recordings, I can confirm that The Wonderstuff, Ghost Dance, The Godfathers, FOTN, The Ramones & Iggy were all bootlegged.....because I recorded them all myself, on my brothers Sony walkman! Sadly I recorded over them in the years that followed but I have a video of the Ghost Dance performance.

There is a slim chance that I may still have the homemade bootleg covers that I used to make for my cassettes in an old scrap book. If I can find them I can email the other set lists that I have.

Regards,

Steve
---
In 1988, I went on the Friday to see The Wonderstuff, Iggy Pop and Fields of the Nephilim. Friday was allocated to the alternative bands of that time. I sadly missed the Saturday, which was allocated to soft rock acts like Meat Loaf, Apparently, the place ran riot with bikers raiding the bckstage area.
Ian
---
Meat Loaf getting bottled at Reading in 1988 is entirely worthy as a highly memorable festival moment though. Bonnie Tyler was on before him, and you could see him sticking his head round the side of the stage from time to time, looking increasingly agitated. Tyler went off, the gap between acts was filled with more throwing bottles, and there was some mumbling over the PA about not throwing bottles.

There was a small delay, and eventually oldMeat came on and did Summertime Blues with just his bass player on an acoustic guitar, launched into a big rant about bottle throwers and then was joined on stage by the full band and piled straight into Bat Out Of Hell. Even though the Meat Loaf canon already has a certain amount of theatre and bombast, the way he was fully exercised about the flying bottles added a little extra to his performance, and it was the sort of thing that introduces adjectives like 'incendiary' to live reviews.

The timing of his slot on the bill was such that he just about started in daylight, but it went soon went dark and I tend to think that switch from daylight to darkness and the onstage lights suddenly becoming visible adds a little extra drama to festivals, but this one didn't really need any more.

There was a brief pause, stewards passed round bin liners for people to hand in their bottles and pass them to the front of the stage, and five minutes later Meat was back with another, shorter, rant about throwing bottles, a request for anyone standing next to people throwing bottles to punch them on his behalf, and got on with things. All the band was pretty fired up, and it's one of the most committed things I've ever seen on a stage - there was no going through the motions here (see Nirvana for that!).

Stage from rear of the arena © Bryan Spink
Twenty minutes later he was just at another of those moody operatic sections of the sort of material that gave Mariah Houston-Dion all those bad ideas about fitting eighty-seven notes into fifteen seconds of the same syllable, and a single bottle sailed out of the night sky, and smacked him square in the nose.
He raised a single finger and left the stage.
For what's-gonna-happen-next drama, you couldn't beat it. Tremendous.
Uderpedant
---
Hiya just a quick message, Reading 88 was awesome, I was going out with Spider from The Seers at the time (lead singer) one of the seers roadies filmed a lot of stuff and it was incorporated into the video for one of the singles - Freedom Trip - so you can see some footage on that old video ... think you can probably find it on youtube, most of us only stayed for the day, partly because of a shite lineup and partly because of travel arrangements
I seem to remember Jason (bass) having to duck missiles so I think the crowd were up for it from the word go
Wonderstuff were friends too at the time and they did a blinding set too. The crowd were fiesty but good and lively to say the least.

Keep up the good work with the site guys

Lisa x
---
Hi

Reading 1988 has sort of gone down in history as the year it all went wrong... which is true but not the whole story as a lot of reports omit that Friday was good in a late 80s gothy/grebo sort of way (Iggy/Ramones/Ghost Dance/Nephilim?/Wonder Stuff etc). That was the main reason I'd gone, particularly to see Ghost Dance (who had a big following) and the up & coming Wonderstuff. As it wasnt that much for a w/e ticket as a day ticket, a lot of the gothy/grebo types stayed for the weekend.. the rest of the crowd were just there as it was Reading and they always went..
Which was just as well as Sat & Sun was the biggest collection of tired dull pub rock I've ever seen assembled on one stage.. cue plastic bottle fights to lighten the tedium (the weather was grim too).. and the immortal line from Janice Long when some band had walked off due to the bottles.. "do you want to throw bottles or do you want to rock n roll?"... as you might imagine with a challenge like that . a hail of bottles rained down on the stage... I can recall a few pyramids during Bonnie Tyler (!), Meatloaf having his nose broken by a bottle and walking off and Starship (what was left of Jefferson Starship i.e. nobody you'd ever heard of...) headlining to about a few hundred people on the saturday night - I can recall actually walking right to the front out of curiosity and there was hardly anyone there - everyone had gone back to the campsite or pub...
The Marquee gave up organising it after that and the Mean Fiddler took over and suddenly it had a good line up... 1990 was very good I recall... I stopped goin in the early 90s when I lost interest in the majority of the bill, went off travelling and then spent my august bank holiday at Nottinghill Carnival for a few years, then European dance festivals (Boom, Samothraki), then Shambala since 2003 with the odd year at Solfest... scarily babies born the same time I was there last (92) will now be the same age as I was first time I went to Reading in 86..

John
---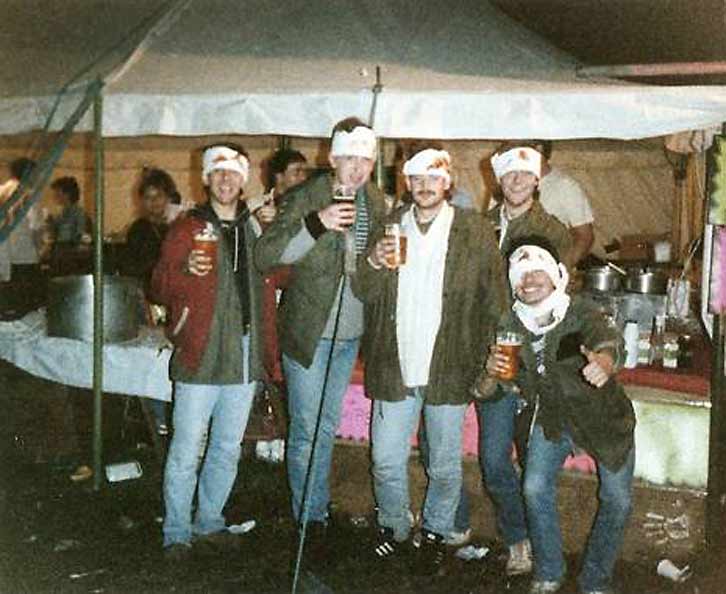 © Chris
Some friends and I devised a way to get through the crowds more easily… (toilet roll and ketchup)

" Make way, injured people coming through …"
Chris
---
Thanks for the site, I enjoyed looking at all those festivals from years gone by.

I was at the 1988 festival on the Saturday that Meatloaf got bottled. One of your correspondents refers to him peeping on stage during Bonnie Tyler's set but I think I remember some details which may explain the reception he got.

Bonnie Tyler was admirably carrying on with her set, soaked in beer and piss as she was when he came on to her stage. There is a Jim Steinman link there and I think they were friends. It seemed that he cast himself as her knight in shining armour anyway. He certainly seemed to think he had influence with the crowd and could put a stop to the Tyler abuse. I remember he stood there shaking his fist and pointing at individuals mouthing threats and suggesting he was going to fight them. He even got on the mic and said "there are a lot of people with small dicks around here" to the can throwers. Sadly instead of frightening the audience, he just came across as a bit of a pompous twat. Although his claim about dicks was almost certainly statistically true, it did not endear him at all.

The audience did lay off Bonnie Tyler, mostly due to her own remarkable resilience. She was actually doing quite well on her own. The crowd saved up its irritation with Meatloaf and canned him with gusto when he came on later for his own set. John Peel begged the audience to stop the canning, called us "c-n-s""and said that they never had an act of this calibre walk off before. After this intervention from a man who really could influence the crowd it was a lot calmer and the music was good. But then, while Meatloaf was singing the last quiet bit of "Bat out of Hell" a lone bottle flew up and, spinning into the lights, followed a perfect parabolic trajectory towards its inevitable target. It seemed to take ages and I knew it would hit him way before it did. We heard the impact on the mic and that was it. Actually, the John Peel insult may have come after this bit but it was a long time ago.

Keep up the good work

Jim Kent
---
My main memories of this festival are of it being a pretty awful bill with the odd great band thrown in. It was also the year of spectacular bottle throwing incidents from the audience (a mixture of goths , indie types and long hairs , I was and am a long hair). Deacon Blue lasted one song before waling off as the crowd threw every thing they had at them.
Bonnie Tyler got the same treatment but was a total trooper, she refused to leave the stage, telling the crowd she would play her allotted time and hurling insults back at the crowd, I was impressed with her attitude if not her music and I and many others applauded her at the end because she really toughed it out. Meat Loaf , big tough Meat Loaf couldn't handle it at all, after already leaving the stage once he came back and tried to win the crowd over with Bat Out Of Hell. I was to the right of the the stage and saw this full plastic bottle with a stream of liquid trailing it hit Mr Loaf right in the face , it made contact with the mic booom , fuck you said Meat giving the crowd the finger and that was that , gone. Bonnie Tyler one Meat Loaf nil.
Iggy was good , Ramones played well but the sound was crap. The Godfathers , Quireboys , Smithereens and John Haitt were also good. Oh and Uriah Heep. Starship were ok when they played Jefferson Starship hard rock numbers like Jane and Free etc etc wich i love but they were largely ignored. Not the best festival I've ever been to but we had fun on the whole and the weather was ok too.

Love the web site , thanks.

Carl Adams , Essex.
---
HI,

I was at reading in '88 to see the Stuffies, The Ramones and Iggy mostly, but got 3 day tickets even though the line up on Saturday and Sunday wasn't to my taste.

The bottle throwing was like nothing I've seen before or after, every band got pelted, popular or not. Seeing Meatloaf get one square in the nose is a story I relate to this day. Bonnie Tyler was a lot tougher than Meatloaf! I was on a mates shoulders trying to take photo's and people were continuously handing up bottles for me to lob. Miles from the Stuffies later said he got hit by quite a few bottles, but took it as appreciation for the band!

Sunday was pretty shit, with the exception of the always wonderful John Otway who was first on. He climbed about the stage, and ended up on the lighting truss. Then he sang Walking down my street where he pretends to be famous people – for example, "I want to be Boris Bekker walking down my street", cue guitar and mic tennis. He then says I want to be meatloaf walking down my street and the bottles flew – Otway looked very pleased with himself.
Cheers,
Jim C
---
Setlists and recordings
It seems the BBC did not - for the first time in many years- record any acts at Reading 1988.
Audience recordings are also sparse for this year. All the sets out there are sourced from the audience, all except one seem to be of Friday night ( who would have bothered with the rest of the weekend ) usually poor to average quality. A number of sessions on peoples lists are actually from 1989, so we haven't included them here. We also, despite endless hours of searching, have only been able to find a single piece of cover art for these recordings. If you know of any sets that exist that we have missed and covers for those we do have please send us details.
Friday
The Godfathers 8-26-88

I'm Unsatisfied
If I Only Had Time
I Dont Believe In You
Obsession
It's So Hard
John Barry
Love Is Dead
Those Days Are Over
When Am I Coming Down
How Low Is Low
Lonely Man
Cold Turkey
Cos I Said So
STB
This Damn Nation
Anarchy In The Uk


Audience source

looking for artwork

---

Ghostdance 8-26-88

Grip Of Love
Celebrate
Upside Down
Blood Still Flows
Down To The Wire
Cinder Road
I Will Wait
Sea Of Hate
Heaven & Beyond
Walk In My Shadow
Last Train
Dr Love
When I Call

Audience source

looking for artwork
---
Fields Of The Nephilim 8-26-88

Endemoniada
Trees Come Down
Moonchild
The Watchman
Love under Will
Phobia
Preacher Man
Last Exit for the Lost
Chord of Souls
Dawnrazor

43 minutes

This setlist is taken from the previous nights gig at the Reading Majestic. The band performed as The Preachermen. There is supposed to also be a recording from the Reading festival as well. if anyone can confirm if the band was recorded the next night at Reading , please contact us

Audience source

looking for artwork
---
Wonderstuff 8-26-88

Goodbye Fatman
Give Give Give Me More More More
It's Yer Money I'm After Baby
No For The 13th Time
Astley In The Noose
Like A Merry Go Round
Ruby Horse
Grin
A Wish Away
Unbearable
Ten Trenches Deep
Poison

Audience video shoot probably B quality.

Iggy Pop 8-26-88

Instinct.
Kill City.
1969.
Penetration.
Power and Freedom.
Your Pretty Face Is Going To Hell.
High On You.
The Passenger.
1970.
Five Foot One.
Shake Appeal.
Tuff Baby.
Winners And Losers.
Scene Of The Crime.
Search and Destroy.
Cold Metal.
Squarehead.
No Fun.
I Wanna Be Your Dog.

Audience source 72 Mins

looking for artwork
---
Saturday
Uriah Heep 8-27-88

Bird Of Prey
Stealing
Too Scared To Run
MR. Majestic
The Wizard
July Morning
Gypsy
Easy Livin'
Pacific Highway
Look At Yourself

audience source rated A-
---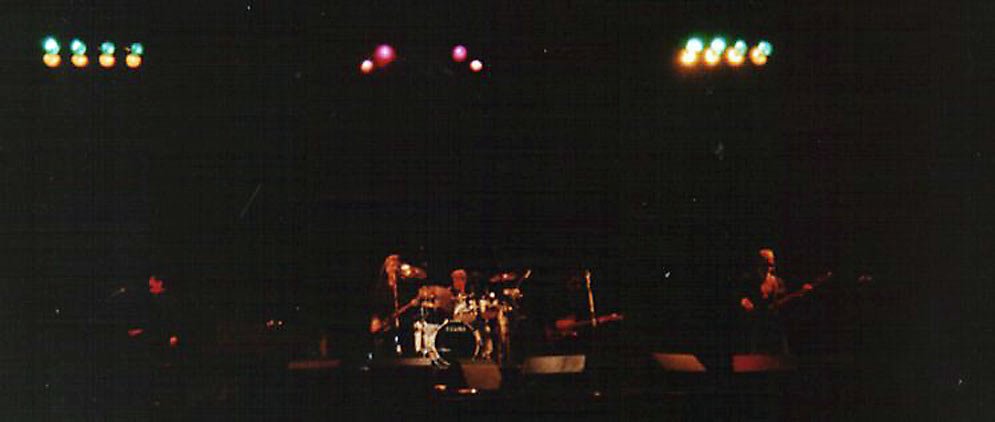 Squeeze onstage Sunday night Reading 1988 © Bryan Spink
Sunday
Saved

Older We Get

Easier In The Morning

Giving It All Away

I'll Be There

Seeline Woman

Forgiven

Don't Go

I'm Sorry

Water

Dance To The Storm

Hallelujah Jordan

Feet On The Ground

Big Fat Heart

If You Go

Hydroman

The existence of a setlist may not necessarily mean there is a recording circulating of this set
---
Can we get a witness ?
We need more info on this and Reading festivals 1986-1990, we are now in the curious situation of having better documentation on some of the earlier festivals, so c'mon goths and headbangers, get yer photos out and fire up whats left of the aging brain cells .Send your recollections and scans to us NOW ! !! Contact us
---
External Links
Reading in the 80s to date- Fat Regs excellent site covers Reading from 1982 onwards .
Photos of Reading in the 80s at the Reading Musuem.
---
The early festivals.
You can find out the complete line ups of the first festivals if you follow the links below .
Festivals 1965-1990
Most of these have fairly complete documentation .But new contributions of any sort are always welcome regarding any of the festivals.
---
This site is non profit making , its a site for die-hard fans- and run as a source of information for those interested in Rock music of the past .We are completely against the sale of bootlegged artefacts , especially musical ones .We attempt to obtain permission to use articles and photos wherever possible, but on occasions , due to the age and obscure origin of some items , we have not been able to ascertain the owner of the copyright .It is also possible that occasionally we are sent material from sources that assert that they own the copyright of material, but their claims are spurious - If you see any material on the site that you believe you own the copyright of - please send us an e-mail with proof that you have ownership of the image and we will remove the offending item from the site immediately.
Contact us