The Archive.
Big thanks to our sponsor Neil !

For information on today's festivals see eFestivals.co.uk
Created December 2007
Updated Jan 2012 view at 1280 X 1024 for best results

The 22nd Reading Rock Festival.

Richfield Avenue.
Reading
August 27-29th 1982.
---
---
| | |
| --- | --- |
| | Courtesy Robert Axelsson |
The twenty second festival possibly had a more attractive lineup than 1981, at least if one was a heavy rock devotee. The inclusion of hard rock guitar stalwarts Gary Moore, Randy California, southern rockers Blackfoot and erstwhile pub rockers Dave Edmunds and Wilko Johnson gave the lineup spine that was missing from the previous year.

The headliners were also a tad more prestigious. The Scorpions/UFO former lead guitarist Michael Schenker, whose repertoire veered into the sort of metal jazz/rock territory inhabited by Jeff Beck- as well as delivering more predictable hard rock fare -gave Sunday night a touch of class .

Budgie and Iron Maiden were guaranteed to deliver an exciting hard rock show, regardless of whether one thought of them as innovators within the genre or not. Maiden's credentials were reinforced by the presence of Bruce Dickinson , the erstwhile Samson lead vocalist , who had taken over the vocal spot from Paul Di'Anno .

All three of these artists were recorded by the venerable BBC and broadcast on the Radio One Friday night rock show in 1983 .

Y & T onstage at Reading 1982
Once again, Reading delivered a mid range experience for the punters , no top end acts like Pink Floyd or the Stones which needed a mega crowd to return the organisers a profit, but a solid workmanlike bill that would leave the attendees satisfied in the main . This was what Reading was about at the time, but the formula was about to change , as 1983 would be the last Reading for several years, at long last , the never ending story was about to come to a ( temporary ) stop.
| | |
| --- | --- |
| The site in 1982, as one can see the arena was not full to bursting by any means .... | This release featured tracks from various years -not just 1982 . |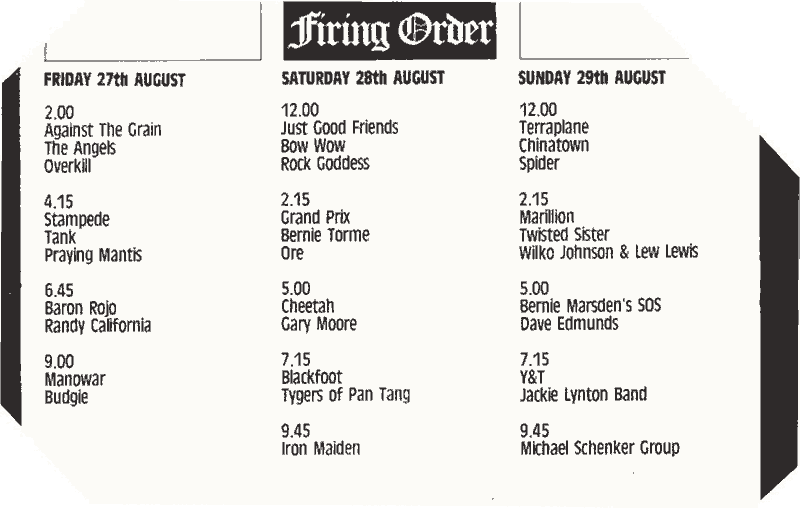 This is the (almost) correct running order of the 1982 Reading Festival, taken from the official festival program.
Trust was never there but Manowar were scheduled to play on the Friday. Well the American gladiators cancelled the show
which should've been their first appearance in Europe. Diamond Head replaced Manowar with short notice.
Just Good Friends was added on Saturday and Wilko Johnson & Lew Lewis was added on Sunday.


Robert Axelsson, Sweden
Djs :Jackie Lynton, Jerry Floyd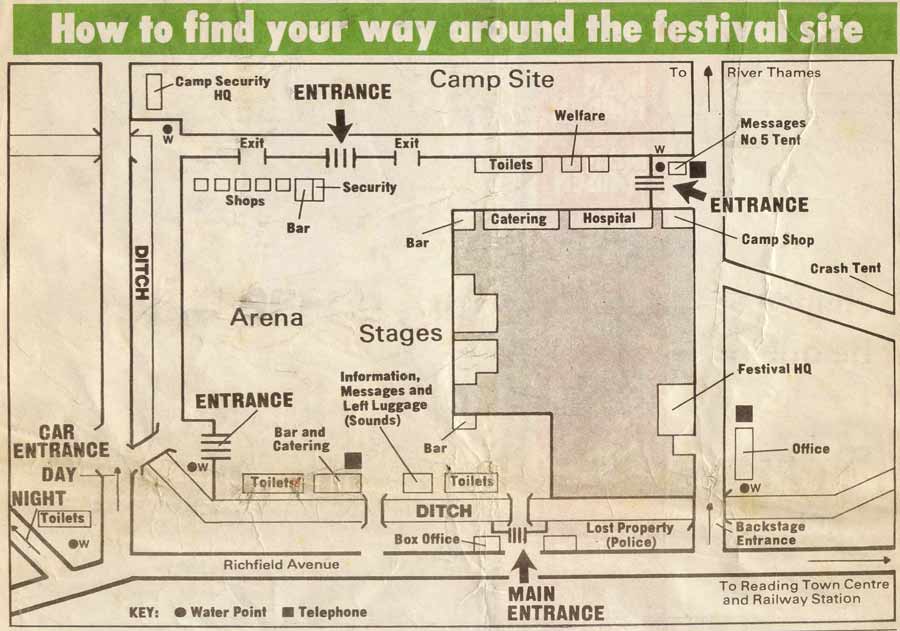 Courtesy Robert Axelsson
Cheetah © © Frederick Moulaert

Twisted Sister © Frederick Moularet

Fish of Marillion

Y& T.
Steve Harris of Iron Maiden with his misses backstage and right , treading de boards © Frederick Moulaert
---
Setlists and recordings
Audience recordings seem rare for 1982,almost all the sets out here seem to be sourced from BBC fm. If you know of any sets that exist we have missed please send us details.
Friday
Diamond Head 8-27-82

Am I Evil?
In The Heat Of The Light
Borrowed Time
Don't You Ever Leave Me
Sucking My Love
Play It Loud

FM

Released in 1992 - The Friday Night Rock Show sessions- Live At Reading.

Second Child
Downer
Man At War
Killer Weed
Run To Your Lover
Got A Line

25 min Fm recording ( setlist above ) and 50 minute Audience recording also exists- looking for full setlist .....

thanks to Glen Little for setlist
---
Praying Mantis 8-27-82

Nightmares.
I Know It.
Tell Me The Nightmare's Wrong.
Enough Is Enough.
Turn The Tables.
Flirtin' With Suicide.

FM
---
Stand up

Flowers of evil"

You're telling me

Baron flies over England

Someone's loving you

Concert for them

Long live rock & roll

Rockers go to hell

Isolation ward

The Poor
---
Budgie 8-27-82

Forearm Smash
Crime Against The World
I Turned To Stone
Truth Drug
Superstar
She Used Me Up
Panzer Division Destroyed

FM- Released as a legit CD together with Budgies set at Reading 1980.
---
Saturday
Gary Moore Band 8-28-82

Nuclear Attack
I Can't Wait Until Tomorrow
Dallas Warhead
White Knuckles
Rockin' And Rollin
Parisienne Walkways


Charlie Huhn - Vocals/Guitar
Gary Moore - Guitar/Vocals
Neil Murray - Bass
Tommy Eyre - Keyboards
Ian Paice - Drums

Looks like this would have been a HOT band

Looking for cover of this disc
---
Tygers Of Pan Tang 8-28-82

Lonely At The Top
Blackjack
Tides
Making Tracks
The Actor
Slave To FreedomNuclear Attack



FM Friday Rock show broadcast -

thanks to Glen Little for setlist
---
Iron Maiden 8-28-82

1. Murders In The Rue Morgue
2. Wrathchild
3. Run To The Hills
4. Children Of The Damned
5. The Number Of The Beast
6. 22 Acacia Avenue, Drum Solo
7. Transylvania, Guitar Solo
8. The Prisoner
9. Hallowed Be Thy Name
10. Phantom Of The Opera
11 . Iron Maiden
12 .Running Free
13 . Sanctuary
14 . Drifter
15 . Tush (with Blackfoot)

this setlisting may be compiled from a mix of audience and FM sources. The BBC archive disc is not the complete show.

---
Bernie Torme 8-28-82

No Easy Way Turn
Out The Lights
Possession
America
Wild Thing With Robert Godfrey (Enid)

FM 25 mins

Twisted Sister 8-29-82

What You Don't Know
Bad Boys,
Shoot Em Down
Destroyer
Tear It Loose,
Under The Blade

FM 30 mins
---
Blackfoot 8-28-82

Rattlesnake Rock & Roller
On The Run
Wishin Well
Dry County
Rollin' & Tumblin'
Fly Away
Good Mornin'
Too Hard To Handle
Road Fever
Train Train
Highway Song

Audience
---
Sunday
Marillion 8-29-82

Garden Party
He Knows You Know
Three Boats Down From The Candy
Market Square Heroes
Forgotten Sons
Margaret
She Chameleon

FM
---
Y & T 8-29-82

Hungry For Rock
Black Tiger.
I Believe In You
Open Fire
Guitar solo >
Rescue Me
Squeeze >
Drums >
Squeeze
Forever
Knock You Out


The Y & T set was filmed ( as were most of the evening sets at Reading as they were projected on screens on either side of the stage ) this show however, 'escaped ' whether legally or illegally ( we suspect the latter ) and is available in DVD format sometimes entitled " Forever " .

Some songs are viewable on youtube
---
Michael Schenker Group 8-29-82


Armed & Ready
Cry For The Nations
Attack Of The Mad Axeman
But I Want More
Rock You To The Ground (Heavy Blues)
Bijou Pleasurette
Let Sleeping Dogs Lie
Lost Horizons
Doctor Doctor

FM

Audio samples of this show are available on Youtube

For this MSG show, vocalist Graham Bonnet had been recently replaced by Gary Barden. Apparently Bonnet had collapsed on stage at a show only days before this recording and Barden was brought back to stand in for the indisposed Bonnett.
---
Can we get a witness ?
We need more info on this and the other Reading festivals, we are now in the curious situation of having better documentation on some of the earlier festivals, so c'mon headbangers, get yer photos out and fire up whats left of the aging braincells .Send your recollections and scans to us NOW ! !! Contact us
---
External Links
Reading in the 80s to date- Fat Regs excellent site covers Reading from 1982 onwards .
Photos of Reading in the 80s at the Reading Musuem.
Thanks to photographer Alan Perry for allowing us to use his excellent photos of Reading 1980, you can purchase copies of these pix at his website where he has oodles of top photos of metal bands from the 70s to date.
---
The early festivals.
You can find out the complete line ups of the first festivals if you follow the links below .
Festivals 1965-1990
Most of these have fairly complete documentation .But new contributions of any sort are always welcome regarding any of the festivals.
---
This site is non profit making , its a site for die-hard fans- and run as a source of information for those interested in Rock music of the past .We are completely against the sale of bootlegged artefacts , especially musical ones .We attempt to obtain permission to use articles and photos wherever possible, but on occasions , due to the age and obscure origin of some items , we have not been able to ascertain the owner of the copyright .It is also possible that occasionally we are sent material from sources that assert that they own the copyright of material, but their claims are spurious - If you see any material on the site that you believe you own the copyright of - please send us an e-mail with proof that you have ownership of the image and we will remove the offending item from the site immediately.
Contact us