The Archive.
Big thanks to our sponsor Neil !

For information on today's festivals see eFestivals.co.uk
Created December 2008.
Updated Feb 2011 view at 1280 X 1024 for best results

The Reading Rock Festival.
Richfield Avenue.
Reading
August 22-24th 1986.
---
1984-1985:
After two years of involuntary "resting" enforced by the conservative borough council's refusal to let them use the Richfield Avenue site, Reading Rock returned. The promoters had attempted to stage another festival in Reading in 1985 (and also a festival in Northampton in 1984) , but it all fell through at the last moment. There were posters printed, but last minute logistics meant that the 1985 festival had to cancelled.
| | |
| --- | --- |
| | The proposed lineup for 1984, not a bad set of bands and certainly better than some of the choices made in later years by the organisers. |
---
August 28-30th 1986.
The program assembled for 1986 wasn't exactly earthshaking. It was almost as if the organisers could not decide really what they wanted the festival to be , there weren't enough heavy bands to attract a core metal audience , nor really enough alt bands to bring in the goths .

Fair headliners on all three nights, but considering that this festival was competing against events like Queen at Knebworth , it wasn't as impressive as it needed to be. The support bands were particularly anaemic and most have receded into the mists of oblivion , never to be heard of again , with a few notable exceptions such as the Cardiacs and Dumpys Rusty Nuts . However, there were some bands who could deliver - The Mission, The Outlaws, New Model Army and the Enid amongst others, to liven up the dross to some extent.

The Richfield avenue location was once again available (although we understand the fields next to the old site were used) , and the organisers contined to use the two stage setup that avoided the long waits that occurred with a single stage festival.

There were some strange decisions as to who was featured on the bill, well known Reading festival faves such as the Enid were billed below overated bands such as Lords of the New Church , whose main claim to fame was their famous lineup and whose live stage act was not equal to those of the bands from which they originated.

Fans were treated to dull weather conditions most of the weekend with some rain on Friday night .
Friday 22nd Aug.

In order of appearance on the bill

Sat 23rd Aug

In order of appearance on the bill

Sunday 24th Aug

In order of appearance on the bill

Dog 'Ouse
Larry Miller
The Bolshoi
Twenty Flight Rockers
March Violets
Balaam & the Angel
The Mission
Dr & the Medics
Killing Joke

Skagarack
Outside Edge
It Bites
FM
Graham Parker & the Fact
Buddy Curtess & the Grasshoppers
Ruby Turner
Rough Cutt
John Waite & the No Brakes Band
Outlaws
Saxon


The Cardiacs

Well Well Well

Thrashing Doves

Dumpy's Rusty Nuts

Cherry Bombz

The Enid

New Model Army
Zodiac Mindwarp & the Love Reaction
Lords of the New Church
Hawkwind
NB : Acts are listed in order of appearance as far as we can ascertain. There also MUST have been some changes in the eventual line-up, can anyone supply details ?
---
hello there,
i just saw your nice site and i'd like to contribute, as i've been at reading 1986 on the third day - sunday.

I'm from Germany and I was in London for a week or two in 1986. Imet some friends, but mostly went alone to some events. so I went to the reading festival on Sunday, cause a lot of bands I really loved in these days played that day.
The first band I remember is Cherry Bombz. I really wanted to see them because of the Ex-Hanoi Rocks members and I never saw Hanoi Rocks live. They were a bit disappointing, but I think the crowd's reaction was good, mainly because of their "sexy" female vocalist. they were far from Hanoi and that's probably the reason, why they had a very shortliving career (not to mention re-animating Hanoi Rocks decades later...).
I don't remember anything about The Enid, Iprobably didn't even watch them or they didn't play, but I do remember The Chiefs Of Relief, they were playing this day, too. I don't know when exactly, but they did. I was curious, because their line up consisted of Paul Cook (Sex Pistols) and some early Adam & the ants / Bow Wow Wow members. As these were all bands, I liked, I was pretty much up to see them, but they were totally crap, the music was just rock the most boring way, without anything remarkable and for me very disappointing, especially regarding what these members did before. They received a constant rain of plastic cider bottles (some half full) thrown by a huge part of the audience and maybe shortened the set.
I saw New Model Army quite often back in these days, so they were probably doing fine. there is nothing specific I can tell about their show.
Zodiac Mindwarp was my absolute highlight for this day and they totally delivered, the way I expected them. This was before they grew big and before the first album and they still had all those wehrmacht regalia and stuff and were totally going wild. Still including this weird guy onstage called "evil bastard" plus their early and crazy songs, they dropped in their later shows while turning more kinda mainstream, cause they were heading for the big money. but anyway, this time, they were really cool and I remember the audience loved them, too. They were the right band, at the right place in the right time.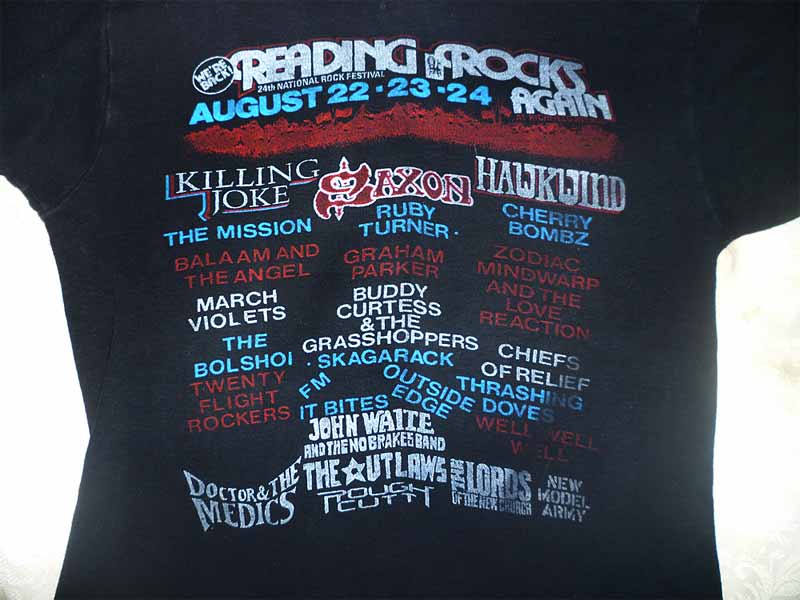 Reading 86 T shirt. courtesy David Vass
The Lords Of The New Church were always very good. I also saw them quite often and I don't remember anything specific about this show, but Stiv Bators was born for being on stage, never a dull moment with them.
Hawkwind was one of my faves, too. I encountered this band in the late 70s, as Motörhead, which has been one of my all time fave bands until today. by the way: I will go to london to see them playing at hammersmith this year (2009).
Hawkwind were very good, had very impressive light (of course) and show and very nice set list. some kinda magic was in the air, cause it was the main band, it was night and everybody was into it.
Unfortunately, here comes the really sick-evil-mean part (for me): I was alone and just for the day, I was kinda smashed and had to leave just to catch the last train to london. I stayed to the very last minute iI could, but then, Isaw reason and was tired and had to go while Hawkwind were still playing. It was not the first time for me to see Hawkwind (and not the last time), so I left .
About maybe 15 years later or so, I found this Hawkwind bootleg in a record store, saying it was recorded at Reading 1986, so I went like "well, oh, that's where I've been, ah, maybe Ishould check it out" and went on "what is it saying? they played "silver machine" in the end? oh fuck. and what is this "featuring a very special guest" note all about?" it slowly started growing in my mind, what this was about ? . While listening to it, I found out it surely was Lemmy playing with the band. of course I did not buy this cd and cursed the goddamn second, when I encountered this release, because, all those years, I didn't know about being at a Hawkwind show that featured Lemmy doing Silver Machine, but leaving before that particular thing happens. Today i'm kinda calmed down regarding this disaster, but still there's a small spike in my skin.
hey, that's it.
hope you had fun while reading
cheers
pit
---
It was a long time ago so i cant really give you a highly detailed account. I was at this time really only interested in Killing Joke,The Mission and Hawkwind.

On the Saturday with Saxon..we all just got off our heads and stayed by our tents.

Killing Joke I felt were dissapointing especially when i compared them to the band I had seen earlier at the Hammersmith Palais ..they lacked aggresion probably because the crowd was tainted with mellow Mission fans....I remember quite clearly being angry at how lame KJ were. The Mission earlier were better ..they did their thing.. a good set as far as I can recall.

My mate was into the Cardiacs so i saw them and I think I saw some of the Enid..pretty bland!! but seeing the Cardiacs in the middle of the day on a hangover from hell was not to be reccomended...they looked so ill.

So the Hawkwind gig was great but like most Hawkwind gigs if you can recall all the details of it then you probably weren't stoned enough.... however I do remember like it was yesterday peering up from the crowd at the front and seeing the huge unmistakable backlit figure of Lemmy just rocking out in front of the band and just dominating the whole event ...it may not have been the greatest festival ever but it was one hell of an ending!

regards..
Andrzej
---
Hi
Thanks so much for your fantastic site. I was particularly intrigued by the footage of the Blackbushe Airport festival. I was only 6 years old when that happened, so I have no memories. However, It's amazing that there was once such a big festival close to my home town Camberley that was so significant.
Anyway, I'd like to give you info on Reading Rock 1986. 1986 was my first festival at the age of 14. It was so easy to get through the corrugated iron fence as they were still building it on the friday afternoon. In 1986, I remember seeing 20 flight rockers, The Mission, Doctor and the Medics and Killing Joke.
I don't recall much else, apart from the fact that there were two main stages. The idea was that while one band was playing, another band could set up on the other stage. Also, the weather was pretty band and day tickets were £8

Ian
---
Hi there,
I played in a support band called "Well Well Well" on the sunday, as far as i'm aware we were the only unsigned band to play, quite an achievement we thought at the time, i know BBC recorded it and it was aired on the dixie peach show at scared 'o' clock in the morning.
I got in touch with the BBC and managed to get a copy of a Maida Vale session but they couldn't locate the reading recording..pity, might have gave me a chuckle.
We ended up signing to arista/bmg for 18 months, releasing an album, a couple of singles one making record of the week on Radio ones Gary Davis midday show, then as you quite rightly said "disappeared into oblivion".
I remember we arrived there on the saturday to make good use of the back stage refreshments, we watched the "John Waites band" who got bottled off and left the stage after the drummer was hit with one of the flying 12" free promos that they were giving away... lethal! After seeing Hawkwind and getting hammered with lemmy and the lads back stage we drove back to London, the driver was so stoned he was seeing double and drove all the way back with one eye closed.
Happy days... the bits i remember anyway!
Joss x
---
Setlists and recordings
The good old BBC once again recorded a few sets from 1986 including all three headliners. However, there were far fewer bands recorded than in 1983 . Whether this was due to changing tastes of the radio audience or because the emphasis had moved to Donington for the Friday night Rock show , we cannot say.
Audience recordings seem rare for this year ,almost all the sets out here seem to be sourced from FM. If you know of any sets that exist we have missed please send us details.
Friday
The Mission 8-22-86

01Wasteland
02 And the Dance Goes On
03 Garden of Delight
04 Wishing Well
05 Over the Hills and Far Away
06 Stay With Me
07 Serpents Kiss
08 The Crystal Ocean
09 1969
10 Sacrilege
11 Like a Hurricane
12 Shelter From the Storm

FM

Killing Joke 8-22-86

Twilight Of The Mortals
Chessboards
Kings And Queens
Darkness Before Dawn
Love Like Blood
Sanity
Love Of The Masses
Requiem
Complications
Wardance

FM

---
Saturday
Rough Cutt 8-23-86

Rock The USA
The Kids Will Rock
Don't Settle For Less
Dressed To Kill
Let 'Em Talk
Bad Reputation
Guitar Solos
We Like It Loud
Double Trouble
Piece Of My Heart
Cutt Your Heart Out/Rock The USA (Reprise)

Soundboard source.





---
Saxon 8-23-86

Power And The Glory
Never Surrender
The Eagle Has Landed*
Rock The Nations
747 (Strangers in the Night)*
20,000 Ft.*
Wheels Of Steel
Waiting For The Night
Strong Arm of The Law

Not the complete set on this disc( omitted tracks *), but the whole may have been broadcast by Tommy Vance on the Friday rock show.
---
Sunday
The Cardiacs 8-24-86


The icing of the world

To go off and things

In a city lining

Tarred and feathered

Big ship

I'm eating in bed

Is this the life

The whole world window

An official boot with quite good sound quality

---
Hawkwind 8-24-86

Magnu
Angels of death
The pulsing cavern
Assault & Battery
Needle gun
Master of the universe
Utopia
Brainstorm
Dreamworker
The Island
Hassan I Sabha
Silver Machine> paranoia medley *

FM

Dave Brock, Huw Lloyd-Langton, Harvey Bainbridge, Alan Davey, Danny Thompson , with Lemmy guesting *

Kindly accessed from the Starfarer site

---
Can we get a witness ?
We need more info on this and the other Reading festivals, we are now in the curious situation of having better documentation on some of the earlier festivals, so c'mon headbangers, get yer photos out and fire up whats left of the aging braincells .Send your recollections and scans to us NOW ! !! Contact us
---
Reading in the 80s to date- Fat Regs excellent site covers Reading from 1982 onwards
---
The early festivals.
You can find out the complete line ups of the first festivals if you follow the links below .
Festivals 1965-1990
Most of these have fairly complete documentation .But new contributions of any sort are always welcome regarding any of the festivals.
---
This site is non profit making , its a site for die-hard fans- and run as a source of information for those interested in Rock music of the past .We are completely against the sale of bootlegged artefacts , especially musical ones .We attempt to obtain permission to use articles and photos wherever possible, but on occasions , due to the age and obscure origin of some items , we have not been able to ascertain the owner of the copyright .It is also possible that occasionally we are sent material from sources that assert that they own the copyright of material, but their claims are spurious - If you see any material on the site that you believe you own the copyright of - please send us an e-mail with proof that you have ownership of the image and we will remove the offending item from the site immediately.
Contact us