The Archive.
Big thanks to our sponsor Neil !

For information on today's festivals see eFestivals.co.uk
Created December 2007. Updated Jan 2012
view at minimum 1280 X 1024 for best results
The 23rd

Reading Rock Festival.

Richfield Avenue.
Reading.


August 26-28th 1983.
---
Recollections
| | |
| --- | --- |
| Alvin Lee of Ten Years After at Reading Rock 1983 © Richard Hay | |

I was travelling with my pal Roger, all the way from Elie (in Fife, Scotland) to Reading and back, so it took us from the Wednesday the 24th to getting home late on the Monday 29th. I also reckon it cost over £100 in total but was well worth it. I remember there were train strikes around that time but did not have any bother in getting to the venue.
One useful part of Reading Station was the toilets which had hot water so paying the 2p (yes, 2p) for a platform ticket was good value to get your hands and other parts of your body washed. Going in with dry hair and coming out with soaking wet hair must have seemed odd to the platform ticket collector!
The weather was indeed very kind. There was a very light shower early on the Sunday morning (is that why I missed The Opposition) but other than that, it was a glorious weekend.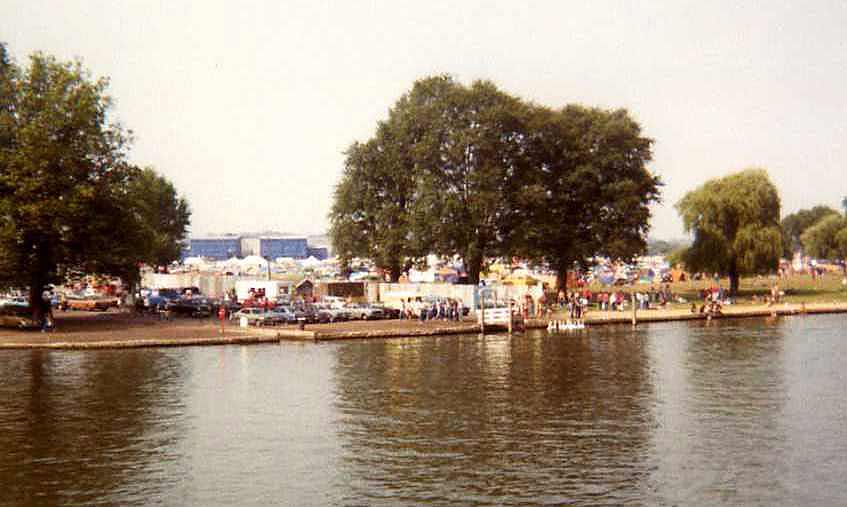 The River and stage - Reading rock 1983 © Phil Teague
We had a 2 man tent of which the guy ropes were detached periodically by folk who stumbled over them. However, the most annoying thing was a bloke who was obviously on commission selling the official Reading Rock newspaper and who peddled his wares at the top of his voice all day and too damn early on a Sunday morning!

He got a good bawling at, but I now regret not hanging onto the paper. I have just managed to source one and will send scans, if you wish them. This is the one with Ian Gillan on the front (right ) and came with a free badge (sadly mine is long lost)

The official t-shirts were really quite duff but one of the best unofficial ones was one that named all the bands on it, in their own logos in full colour. Having all that properly printed on a black t-shirt made for a really good effect. Sadly I no longer have that t-shirt but I am sure anyone at the festival will remember it as it was a superb t-shirt.

Courtesy Duncan Watson
I no longer have my original ticket. It was perforated into three parts, one for each day, but started to get a bit thread-borne after a while of showing it to get in & out the arena. So you could trade it in for a blue plastic wrist band and that way you could gain easy access in and out. However, folk got wise to this and cut them off wrists in the middle of the night (and day!) Therefore, the security staff tested your band to see that it was not broken. Luckily, mine was not tampered with, but it was a scary moment, After all, £15.95 was a lot to pay if it got nicked.

No glass bottles or cans were allowed in the arena, so a local drinks shop did a roaring trade in 1 gallon plastic containers where the two of us got our favourite brew (mine was McEwen's Export and Roger's was Scrumpy Jack cider) and decanted it out of the cans into the container. As it turned out, the heat & sunlight did not make it last long (deduce from that what you will!). However, the other popular container was the 2 litre (was it litres in those days?) plastic bottles of cider & beer, and these were the main missiles of choice for the crowd to chuck at the bands !

If I remember rightly, a local band played a free gig in the Duke pub (I think) and did cover versions, most memorably of Bat Out Of Hell by Meatloaf. It whiled away the Thursday evening while we waited for Friday to come!

A review in Sounds magazine later did state (very rightly) that Marillion were brilliant (playing 'Assassing' for the first time) and that Black Sabbath were rubbish. Sorry, but they were! You are right about the Friday Rock Show playing Marillion's set too.

As the pictures reveal, it was indeed a two stages arena and me & my pal spent most of our time on at the right hand stage because the better acts were there. I do not think I have any photos of the time. Even if I did, they would have been 110 film size, without a zoom lens, so not great quality.

I do believe that one band did not turn up (if I had my t-shirt I would know) and there were a late substitute (not sure who) but my t-shirt did name all the bands correctly.
Above : "In the car park of The Griffin over the river. We often used to go here in the morning to get warmed up for the day ahead. This is definately 1983. You can see how popular the pub was. Interesting that fest-goers were welcomed here, rather than being shunned like in lots of other bits of Reading. They even used to put Porta-loos in the pub garden. "
© Ferg Ranson
Couple of things I remember.
Steel Pulse got bottled and the lead singer (foolishly) said "if you throw one more bottle we're leaving" and duly many bottles were thrown, so they stormed off. The PA announcer then abused the crowd and pointed out that the next band would come on at the appointed time and so we'd have to wait without music until then. I don't think the crowd cared.

Pallas were with their original singer, who came on for the final number in some kind of HR Geiger-inspired outfit and held up a flare, wonderful ambition or pretention from this part of the prog rock revival of the time.

There was a gang of Hells Angels in the crowd to see Sabbath, they got a bit fed up with the crush at the front and started wailing away with bike chains which temporarily cleared a large area in front of the stage.

Magical moment when Ten Years After declared that they were going to play a song they'd done at Woodstock
Attached a picture of the late great Stevie Ray Vaughn....
David Parry

© David Perry
My name is Jock Parry from Prestatyn North Wales. My friend Alex has just rang me and told me to look at your website at Reading 1983 he was lauging and then put the phone down. Curious at to what it was he was laughing at I TRIPPED over and brought your site up, couldn't believe my eyes at what I saw!!!!

The first picture of the crowd I am sat bottom left with the long black hair facing the camera. The lad sat right in front of me looking to the left is Horis who has now passed away. The lad in front of him, u can just see the top of his head is Alex (he's the one that phoned me), the lad to the right of him in the light blue jacket is Alan Jones, the lad standing up in the foreground with no shirt on is Paul Ley he also has passed away. Behind him on the floor the 2 year old is Christian. Would you happen to have this picture just a few feet more to the left??? as this was our group of about 15. Thank you for putting it on the web site it has brought back fond memories.
The bands that stood out for me were The Enid, Little Steven, Stevie Ray, Climax, Ten Years After and Thin Lizzy.
All the others were great as well.
Many thanks again
Jock Parry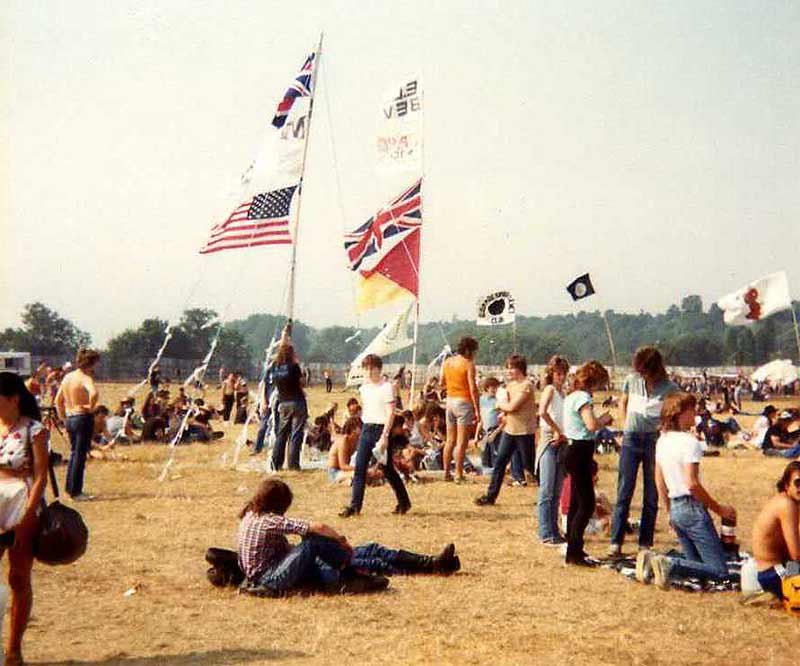 Outskirts of crowd at Reading rock 1983 © Phil Teague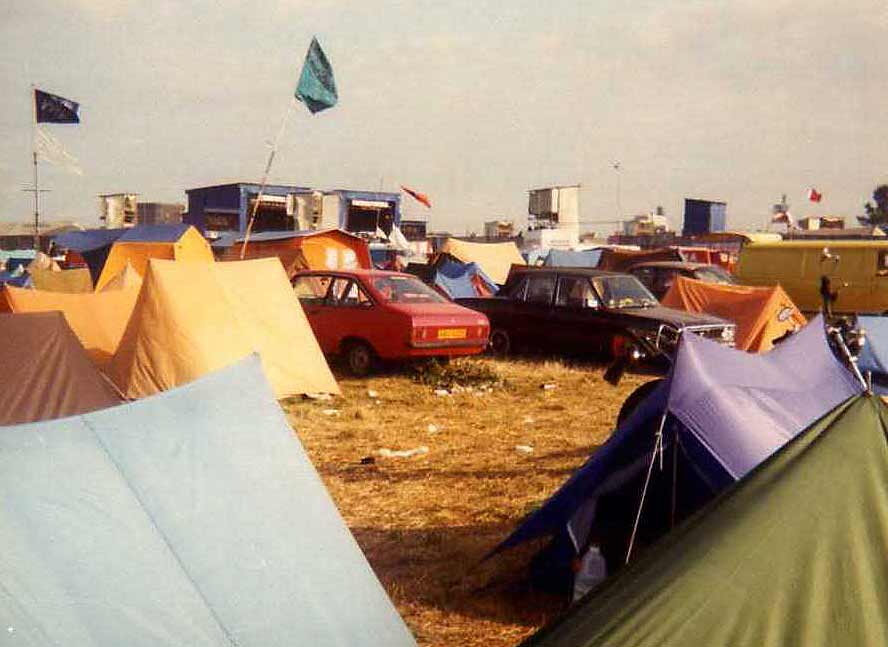 View of the stage from the campsite . Reading rock 1983 © Phil Teague
Little Steven and his Disciples of Soul © Richard Hay
| | |
| --- | --- |
| The view from behind a bottle of coke - The Enid appear yet again at Reading © Phil Teague | |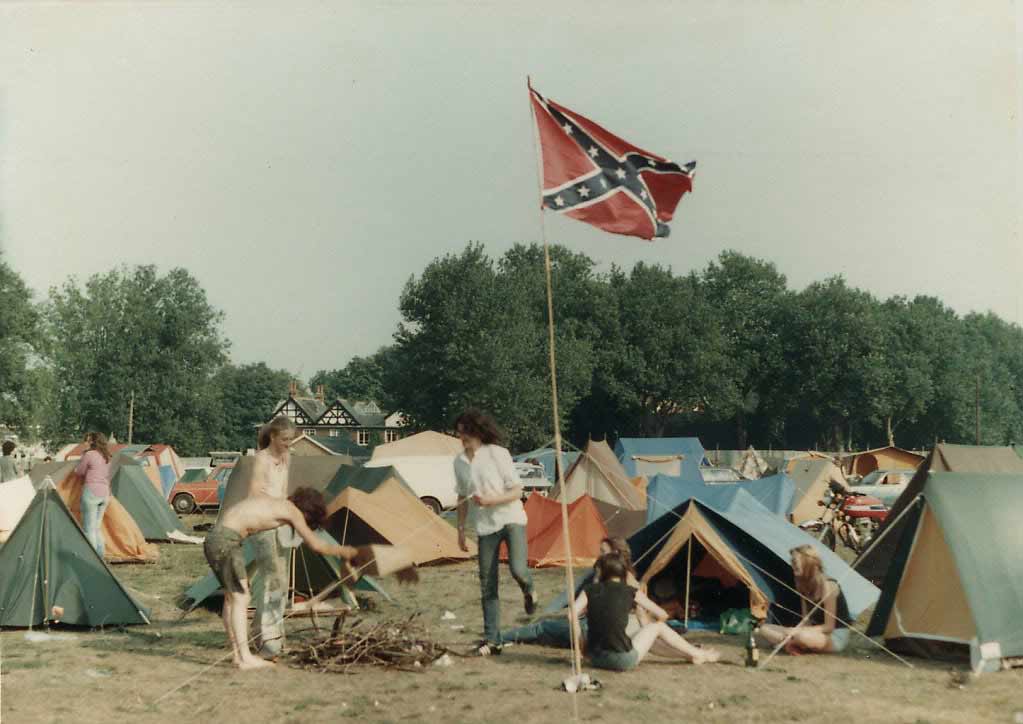 Confederate troops in disguise , busy lighting a fire whilst the dude in centre shot does a jig to distract the Union forces © George Soja
---
Friday - 2pm start

Cornish Reading fans © Dave Mitchell

Auto da fé – a good new band at the time. Nice set, to start things off.

Pendragon – my memory of them is hazy but I recall them to be similar to Marillion (a favourite at the time). Therefore, I thought they were okay.

Solstice – Ah, nice hippy band. A memorable quote was 'let's make this the most peaceful festival ever'. I am not sure if that comment triggered the bottling sessions! Note : first band to do an encore.
Pallas - Superb set from Euan Lowson et al. A truly great band. If I remember rightly, they set off a flare during their set (deliberately). I just have a vision in my head of this. Maybe I do have photos some where …
Hanoi Rocks – One of the best parts of watching Pallas was also watching Hanoi Rocks set up. Their drummer (Razzle) had to sound check his own drums. He was a true star. Sadly now deceased (no thanks to Motley Crew's lead singer) but Razzle was a brilliant drummer and great character. During their set, the bottles were flying thick and fast. Mike Munroe (the lead singer) dodged them really well as did Andy McCoy who played the cowboy, constantly spitting on stage and totally ignoring the audience, and occasionally returning a bottle by a deftly placed kick!. In all, a fantastic set.
Man – my memory of them is hazy too. Sorry.
Steel Pulse – infamously bottled off. I think they played one song, then stopped about half way through song two, stormed off and never returned. I think they warned the audience once, and when that was not heeded, disappeared. In my opinion, no great loss!

Big Country - Now, this is more like it. No huffs here. Stuart Adamson, also stopped mid-song and warned the audience (oi, you tubes, quit flinging bottles!) as it was getting quite out of hand. They carried on to the end though, and I think actually helped calm the bottle throwing down, because it was hard to dance to the music and chuck bottles! A really good set by a great band.

The Police were friendly © Dave Mitchell
The Stranglers – this band was one of the main reasons why I went to Reading. Any chance to see The Stranglers is well worth grabbing. They played a great set and finished off day one really nicely.
| | |
| --- | --- |
| Cover of the 83 program. | Mamas Boys and Hanoi Rocks Pix © John Spence |
---
Saturday - 12 noon start

Crazy Angel – my memory of them is hazy too. Sorry.
Fortune – my memory of them is hazy too. Sorry.

Lee Aaron – Now Lee Aaron always puts on a good show and was a good looker so was always nice to watch.
Heavy Pettin' – these guys were okay and I was to encounter them as support acts for Kiss and for Ozzy Osbourne later that year.

Mama's Boys – These guys were great. There are three brothers and really rock. Not only that, they were one of the few acts that supplemented their guitar playing with violin. Class stuff and justifiably got 10 out of 10 from me!
Magnum – my memory of them is hazy too. Sorry.
Anvil – most notable for playing the guitar with his teeth and shouting into the pickups. Nice effects, and a good show.

A fire built from the remains of the bar © Dave Mitchell
Suzi Quatro – it was only when I revisited my memories of this, that I remember she was on. Okay, not that memorable then!
Stevie Ray Vaughan & Double Trouble – This sort of washed over me, sorry. I was busy waiting for Marillion.

Marillion – While not yet at their peak, they had just recorded the Fugazi album, and so let rip with 'Assassing' for the first time. A truly magnificent set, not least because they started off with the full 15 minutes of Grendal. My pal was in raptures about this - justifiably so. Sadly, only one encore but more later …
Black Sabbath – yeah, well. Let's face it, Ian Gillan on vocals – it is not right. What capped it all was 'Smoke On the Water'. Sorry, but if you are trying to create another Deep Purple then you have the wrong backing band. The funny part is, the crowd shouted for more Marillion after Black Sabbath went off!
---
Sunday - 12 noon start

Opposition – The only band I missed.
Twelfth Night – Now I think they were not that bad

One The Juggler – interesting choice for a Rock festival. Enough said.
Sad Café - This band were the surprise hit of the festival. They put in a great set and (although the lead singer had got huge since we last saw them on telly) were full of energy and superb voice. A very good set indeed.

Fans at Reading 1983 © Dave Mitchell
Good relations wid de fuzz !© Dave Mitchell

The Enid – Old favourites and did not disappoint.
Climax Blues Band – Not really my cup of tea.

Steve Harley & Cockney Rebel – Another act that I did not remember playing. But they must have!
Ten Years After – Notably the only act to get hauled back for two encores. If there had been a roof, it would have been brought down. A really great act.

Little Steven & The Disciples Of Soul – bit dull, sorry - not really my scene. Never mind.

Thin Lizzy – The pyrotechnics let them down, all going off in one go and that was that. Still a good set and I am happy to say that I have seen them live.

Duncan Watson
---
I was there with my brother Paul and his then girlfriend, Diane. We travelled down in her white M.G.B with me crouched in the back.
We met our friends down there and made many others. It was possibly the best week end of my life.
The best bands were Thin Lizzy and Ten Years After.The best song that Black Sabbath played was Smoke on the water.
I don't think that I have really got over that weekend .
The original T-Shirt that I bought down there is still in my wardrobe.I shall never forget the time spent at Reading Rock Festival.
Long live Rock........................
From:
Rob Harrison .....

---

Yeah!!

I was there; myself and my mate Andy hooked up with Paralex and travelled down in a van from Newark, Notts.

Got ourselves set up with the tent and wandered into the arena, careful to have a long pole, red flashing light and panties (can't remember who's) on top. Obviously we'll find our way back later…..

I remember having a good laugh when Steel Pulse came on, a better laugh when they went back off. Highlight of the Friday for me was the Stranglers.

Saturday wasn't bad, got bored early on but it livened up ok.


Marillion impressed me enough to buy the Script for a Jesters Tear album, the first and last one I bought, although I searched far and wide for a copy of Grendel on a disc, finally stumbled across one in Secunda, after I'd emigrated to South Africa. Magnum weren't bad, but we'd been waiting for Black Purple, Deep Sabbath? Can't remember the name now. Not bad what with all the boulders on stage. Couldn't believe it though when Smoke on the Water started, what a letdown!
Sunday, vaguely remember that day. Ten Years After, not bad, Cockney Rebel I don't remember at all. Little Steven is a blur, fragmented. But, THIN LIZZY. WOW!! By then the Acid had cut in, the sound improved and I watched the show with incredible clarity, from about 40 feet up!!(It seemed like it) Somebody had sold us acid earlier, first time, paid 2quid too! Would love to get a recording of that Lizzy show and compare it to my memory.

Remember struggling to find the tent that night, millions of flashing lights, eventually got back to base, walked right through the fire I'm told.

Wonderful weekend, remember the Coke lorry that got stuck under the bridge?

All the best to all those that were there……. Of course since I've been in Africa, things have quietened down a lot, Oppikoppie festival is nothing like Reading or Donington. Of course if any of those bands want to come over and play here, they'll be welcome, Quo were excellent last time they played here, Hawkwind should give it a go. (please!!!)

Regards,

Dave

Little Steven hits his stride at Reading 83 © Richard Hay
---
Little Steven © Richard Hay

I was at Reading on the Sunday, mainly to see Thin Lizzy off.

The BBC In Concert CD does not include the full show, which also included Sha La La, Black Rose & Baby Drives me crazy between Suicide and Rosalie.

I have a cassette somewhere with it all on. I will have to dig it out and see if there is anything else.

I enjoyed Little Steven, Sad Cafe, Steve Harley & Cockney Rebel and Ten Years After. All were good.

Can`t remember Climax Blues Band, although I had seen them before supporting Jeff Beck, or the Enid, who I don`t think were my cup of tea.

If I remember right Cockney Rebel had people sitting at tables with parasols on or to the side of the stage, not sure if they were in the band.

Sorry, very foggy memory here but really felt that there was something very special as Lizzy ended their set.

Pat Barry
Well that was a what I called a good festival.... dont know why it was banned exactly but im sure the fact we used neighbours wooden front gates for firewood didn't help.

Well lots of good bands but ill just mention some highlights that stuck in my head.

BIg country went down well!! The Stranglers ..where a little dissapointing ..they looked so out of place on the stage and kept moaning about not wanting to be there. Remember quite clearley having a ruck with some idiot in the crowd brandashing a screwdriver... not sure if he thought he was a punk rocker or a football hooligan.

Marrilion probably did one of the best sets .. evening was setting in and the atmosphere was great... low sunlight streamed in across the field. With all the flags flying from various places in the crowd, plastic bottle fights breaking out sporadically here and there and thick woodsmoke in the air ..it really reminded me of some medievil battle scene.... always wondered if the bottles contained the last dregs of beer or piss? best not to think about it.

Sabbath well what can you say.. two burning crosses ..gillan on vocals and bev bevan on drums..... hardly a substitute for the real thing but I think it went down ok.

Ten years after did a blinding set ..steve harley also pleased the crowds..remember him sitting under some huge beach umbrella like he was on holiday in the afternoon sun ...

Got stoned for the rest of the day and watched thin lizzy from the roof of my car .... they were actually really good ..it was the first and last time i was to see them and im glad I did as i think that was their last ever gig. ..particularly liked "when the sun goes down" which was apt for the occasion.

regards Andrzej

---

What a great weekend. Best time I ever had. I took Margret Thatcher (my pet boa constrictor, 4 metres long) with me, I'm sure she too had a good time. The only thing that spoiled it was finding my bird humping away with my mate.
Now I've found your page, it's gone straight to the top of my favs!!!!
Chris Russell
---
Man, that brought a few memories back!
I was 15 and my folks were good enough to let me doff my Gillan-branded (tipex) leather and head off to Reading alone, where I'd agreed to meet my mate Charlie at the station - BAD idea! Being a festival novice then I was completely unprepared for what 50,000 people was like. After about three hours buffeted by waves of hairy, excited people I was on the verge of giving up and heading home (Charlie had the tickets) but amazingly I turned a corner and there he was, cool as you like. We managed to get the off-license to sell us some cider and off we headed to set up our tent.

I forgot Anvil, Ten Years After and Pallas played, though it's stirring hazy memories looking at the photos. I remember that after the long wait for Stone Henge to be erected and Electric-Deep-Sabath to play I gave up and listened from the campsite. Marillion I absolutely loved (just saw Fish again recently.) But the unexpected pleasure of the show was Big Country, who braved the hail of bottles and played a killer set. My recollection has the bottles stopping after two songs, then a song where the audience stood quietly, unsure how to respond, then for the rest of the set they went wild. As I recall Kerrang dubbed them 'a heavy metal band dressed as trendy new-wavers...'
My final stand-out memory was Thin Lizzy, who were fantastic and completely owned the crowd.
Great weekend, friendly people - we had to refuse the kind offer of an acid tab - and wonderful music. What more could a festival offer? They don't make 'em like they used to.
Cheers for this,
Liam
---
I was there – I believe I have a programme from the festival – if you don't have one & I can find it I will scan it in for you guys.

Stevie Ray Vaughan rocked. Black Sabbath were a bit of a let down. Marillion were really good & showed them up a bit I think because they were on just before.

Suzi Quatro was pretty darn good as well – she was hot in that zip up black leather & really got the crowd going.

I really remember the Enid from the Sunday. Everyone had drunk all of their beer & were feeling soooo fragile. They were sent from heaven to relieve thousands of hangovers & let people down gently.

Thin Lizzy rocked as well.

Rode down on the back of a bike doing about 100 mph all the way from the Midlands – could barely walk for the first couple of hours.

Ian Dowdall
BC Canada
---
On Friday night my mate Steve and I were sat in our local pub in Hythe Hampshire when one of us said "hey lets go to Reading". Being young and impractical we decided this was a brilliant idea and rushed back to our mutual parents houses to quickly pack. So it came to pass shortly afterwards I was perched on the back of Steve's Yamaha RD250 with a rucksack and tent on my back. As Steve's bike had been "tuned" it was an eventful trip with me clinging on as if my life depended on it which it did.

However on arriving at the festival, which in itself was an event as we hadn't taken a map and had just headed up the M3, we were refused entry and so missed Steel Pulse being bottled off. The night was spent in a ditch in a Farmer's field with the tent pulled over us and not erected.

One of my biggest regrets is that I never noted down which bands I had seen and where I had seen them. as a consequence in my increasing old age all these events turn into a blur and it's only after looking at the lists on this site I realize I've been getting 1982 and 1983 mixed up for the last decade plus. It's only now I again I know I saw the truly bizzare Gillan Sabbath at Reading this year as I still laugh about "disturbing the priest". Magnum were awesome and I've followed them to this day as were Marillion who at the time were being touted as Genesis cloned. The Enid sent me to sleep, well that and a large amount of alcohol at which point I was dragged through a fire by my mates, whom we had met up with on Saturday morning.
Carl Jackson
---
Reading 83
I do remember Steel Pulse and the canning/bottling incident; I think people were just trying to knock of the singer's incredibly tall woolly hat.
Big Country were incredible, I had only listened to them through the speakers of my Amstrad Tower System but when they played live it was so much better.
(History lesson: a Tower System it was a large plastic facia, made to look like a hi-fi stack with twin cassette decks mounted in a poor man's Ikea shelf unit with a turntable for a lid).
Hugh Cornell of the The Stranglers is never the happiest looking person but I just remember him moaning that they wanted to be playing the Marquee instead but had been banned, something about breaking a window years earlier.
Suzi Quatro; I was of an age where Ms Quatro had been a bit of a pin-up for blokes like me so it was a pleasure to see her in her leather jump suit in the flesh. And she still had the voice too.
Magnum; a band I had long ridiculed my mate about (without having actually listened to any of their music) were outstanding for a middle of the afternoon band. Bob Catley was wearing his sister's blouse which glistened in the sunlight but boy could he sing. When I returned home I was soon hunting around the records shops for all their vinyl. Saw them recently at The Brook in Southampton and twenty seven years
later they can still knock out Kingdom of Madness.
Steve Harley – Come up and see me, did he ever write anything else?
Marillion – I had enjoyed them in '82 when they were small item on the band list with low expectations but they had moved up the bill and thought they were better than they actually were.
Black Sabbath – I liked Gillan and I liked Sabbath but I never thought this combination really worked. Although their version of the song Black Sabbath was the best I have heard any incarnation of the band do live. While other bands were playing on the left hand stage the road crew seemed to take all day building up the stage set for Sabbath including a huge mirror ball that they hoisted above the stage.
Strange thing is I don't think it was used at any stage of their stage show.
Thin Lizzy – only time I saw Phil Lynott and his band of merry men, John Sykes on guitar is the only one of them I recall the name of. They played all the favourites and luckily missed out Yellow Pearl.
As for the rest of the bands I have little recollection of these due to the passing of time and partaking in drinking and a lot of passive smoking at the time.
Ray Oates
---
1983 festival
Photogalleries
---
Can we get a witness ?
We need more info on this and the other Reading festivals, we are now in the curious situation of having better documentation on some of the earlier festivals, so c'mon headbangers, get yer photos out and fire up whats left of the aging braincells .Send your recollections and scans to us NOW ! !! Contact us
---
Reading in the 80s to date- Fat Regs excellent site covers Reading from 1982 onwards
---
The early festivals.
You can find out the complete line ups of the first festivals if you follow the links below .
Festivals 1965-1990
Most of these have fairly complete documentation .But new contributions of any sort are always welcome regarding any of the festivals.
---
This site is non profit making , its a site for die-hard fans- and run as a source of information for those interested in Rock music of the past .We are completely against the sale of bootlegged artefacts , especially musical ones .We attempt to obtain permission to use articles and photos wherever possible, but on occasions , due to the age and obscure origin of some items , we have not been able to ascertain the owner of the copyright .It is also possible that occasionally we are sent material from sources that assert that they own the copyright of material, but their claims are spurious - If you see any material on the site that you believe you own the copyright of - please send us an e-mail with proof that you have ownership of the image and we will remove the offending item from the site immediately.
Contact us