The Archive.
Big thanks to our sponsor Neil !

For information on today's festivals see eFestivals.co.uk
Created December 2007 updated July 2021

The 21st Reading Rock Festival.
Richfield Avenue.
Reading
August 28-30th 1981.
---
| | |
| --- | --- |
| The much maligned Girlschool | |
The twenty first festival was a bit of an anomaly. After the almost total domination of the bill by heavy rock acts in 1980, the Sunday lineup was more 'old school ' in the booking of the Kinks and Wishbone Ash. The Kinks played mostly new tracks and did not go down particularly well .There were also nods in the direction of the top twenty with the inclusion of the Thompson Twins. Friday and Saturday were more in the vein of 1980, with festival fave Gillan's return after his triumphal appearance in 1980.

Overall though this was a less prestigious bill than that of 1980, no acts in the same commercial league as Whitesnake and a fair few bands who were really rather minor league in 1981, Friday in particular looks pretty average at this remove.

A number of old friends were back on the bill, the wondrous Alex Harvey, Wishbone Ash and festival veteran Stan Webb, who first played the festival in 1968 when it had a totally different name and site !

Titties and beer, but no appearance by Zappa !
The original bill featured Midnight Oil , the Outlaws and The Marshall Tucker Band, but all of these acts dropped out for unknown reasons .This seemed to be part and parcel of the Reading experience, every year quite a number of featured acts were no shows, but often these were not reported, so it is quite confusing for historians to work out who just DID perform. Its also worth remembering that the festivals audience was , to some extent ,being poached by the giant Donington festival, which was held before Reading and usually featured bands of greater stature , although this was only a one day event , it no doubt siphoned off a percentage of the audience who would normally have attended Reading .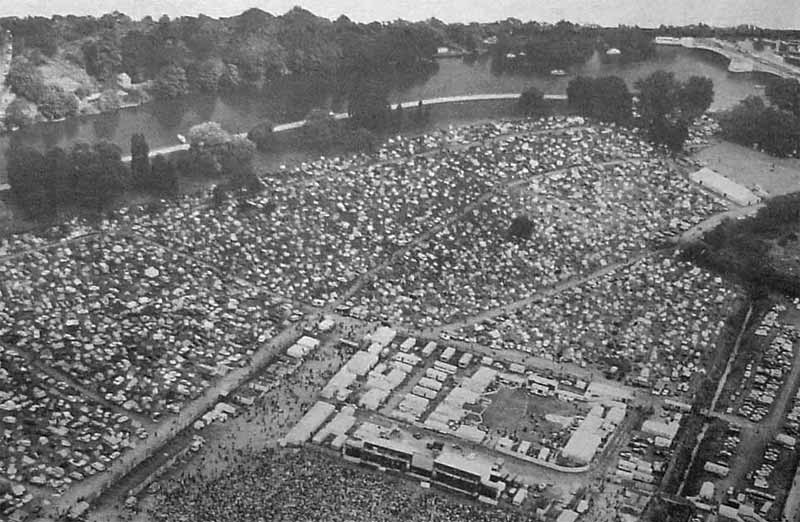 The Reading Rock festival site in 1981
Friday 28th Aug.

Sunday 30th Aug

Twelfth Night
Long Tall Shorty
Nightwing
1990
Lightning Raiders
Saga
Telephone
Budgie
Steve Hackett
Girlschool

Sat 29th Aug

Parachutes
Atomic Rooster
Vardis
Lionheart
Stan Webb's Chicken Shack #
Alex Harvey Band (probably did not play )
Samson
Rose Tattoo
Billy Squier
Trust
Gillan

Thanks to Phil Teague for confirming who played the weekend and in what order

Dark Star may have been 2nd or 3rd to play on the Saturday

Andy Alan's Future
Reluctant Stereotypes
Afraid of Mice
The Enid
Desperadoes
38 Special
Wishbone Ash

Greg Lake #

Nine Below Zero

Kinks

Djs :Bob Harris

Jerry Floyd

NB : Acts are listed in order of appearance as far as we can ascertain

Atomic Rooster substituted for someone , anyone help confirm who dropped out ?

Thompson Twins did not perform due to illness .

# Premiere performance by this band , which includes Gary Moore and Ted McKenna
Hi,
just reminising about Reading Rock 81 and found your site.
My brother informs me that the band that Atomic Rooster subbed for was Stan Webbs Chicken Shack. As the announcer at the time sais "one domestic foul for another".
Good Memories
Dave and Ian Briggs
© D Mitchell

Greg Lake's comments on playing Reading : Well it was a very nerve-wracking experience, really. I think for me, because it was the first show and it was 20,000 people or whatever it is, 30,000 people. And, um, I realized that I'm starting again. For me this is a new beginning.

One of the things I was happy to see was the very young people were enthusiastic over the band, and particularly over some of the old King Crimson numbers which must have been on the charts when they were 6 and 10, and that's a fantastic feeling when you know that somebody's father probably played it to their child and now their child's in the audience and knows it. It's a feeling of depth, you know.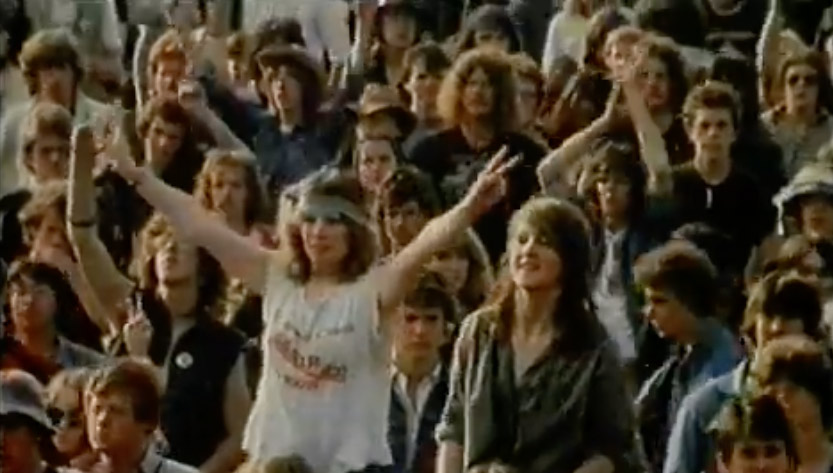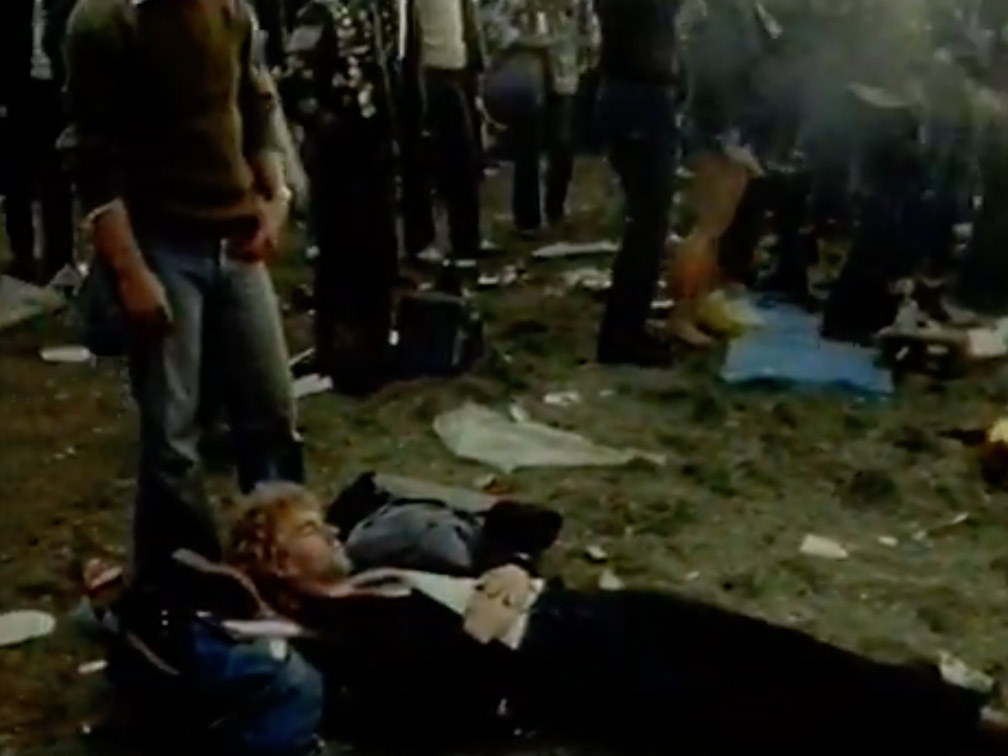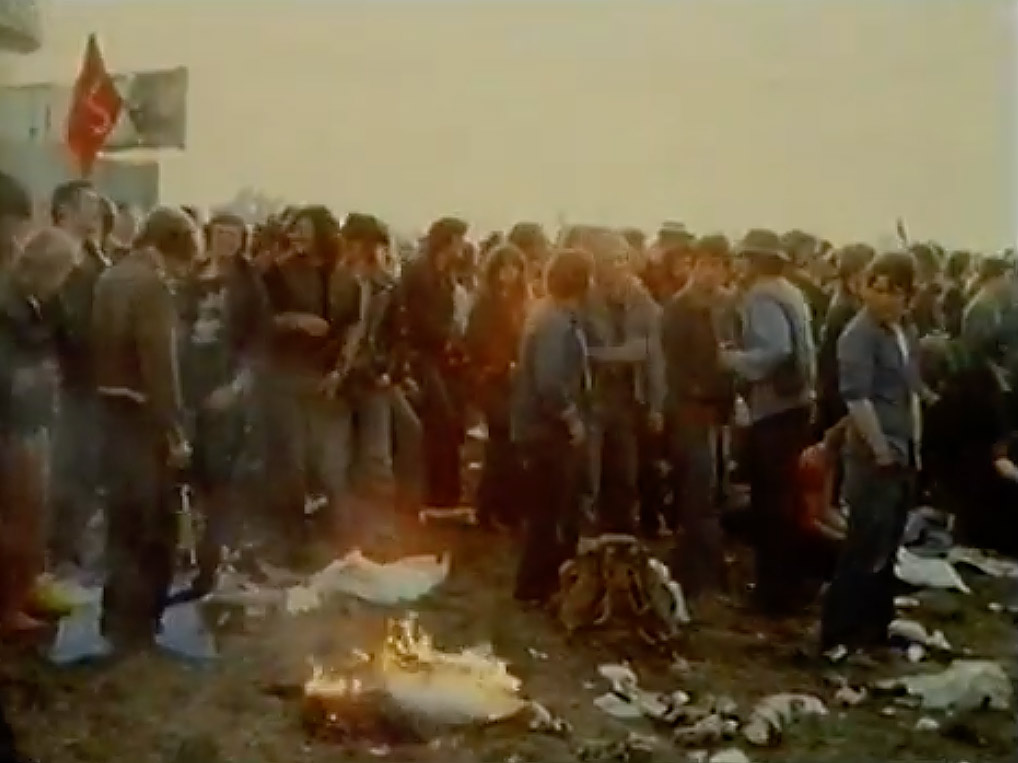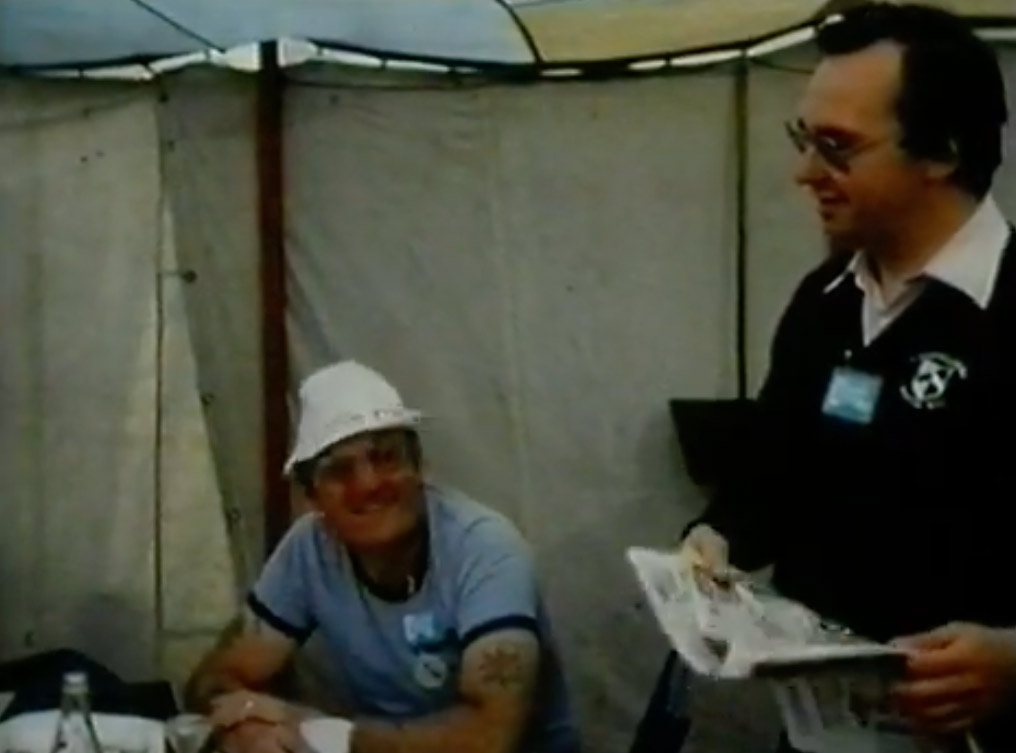 in the support tent......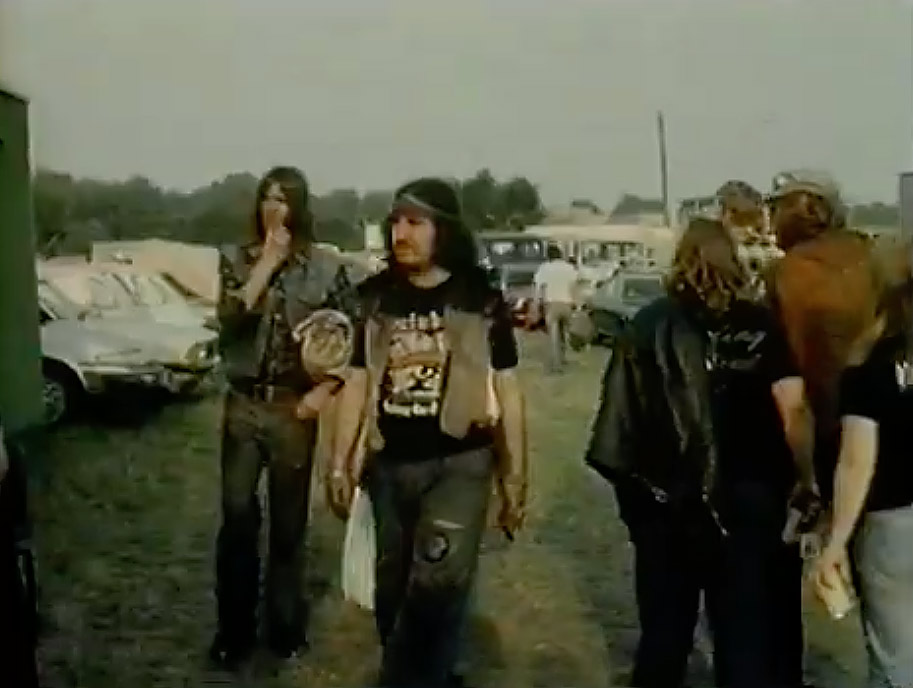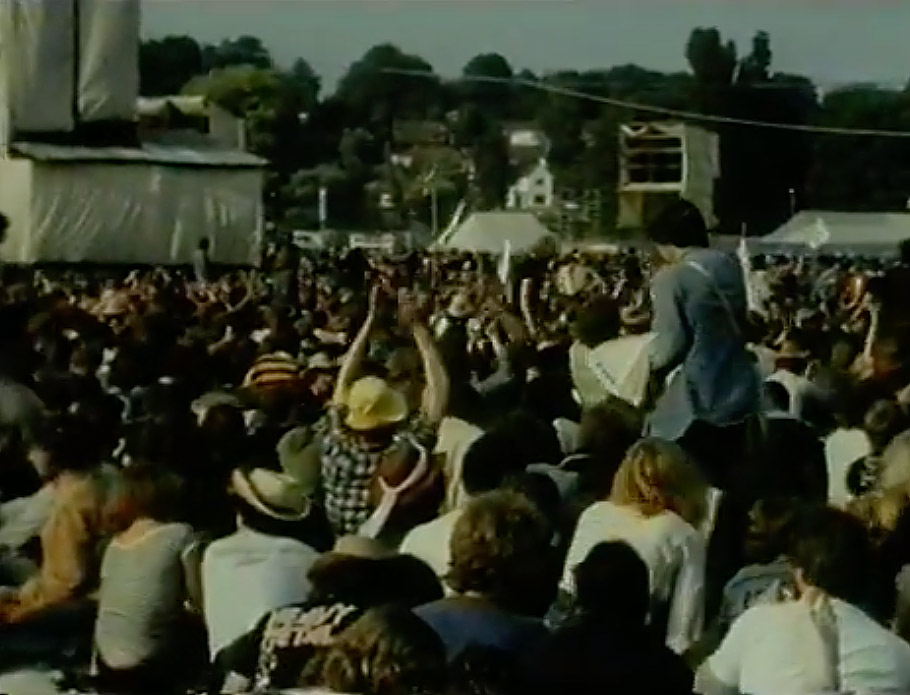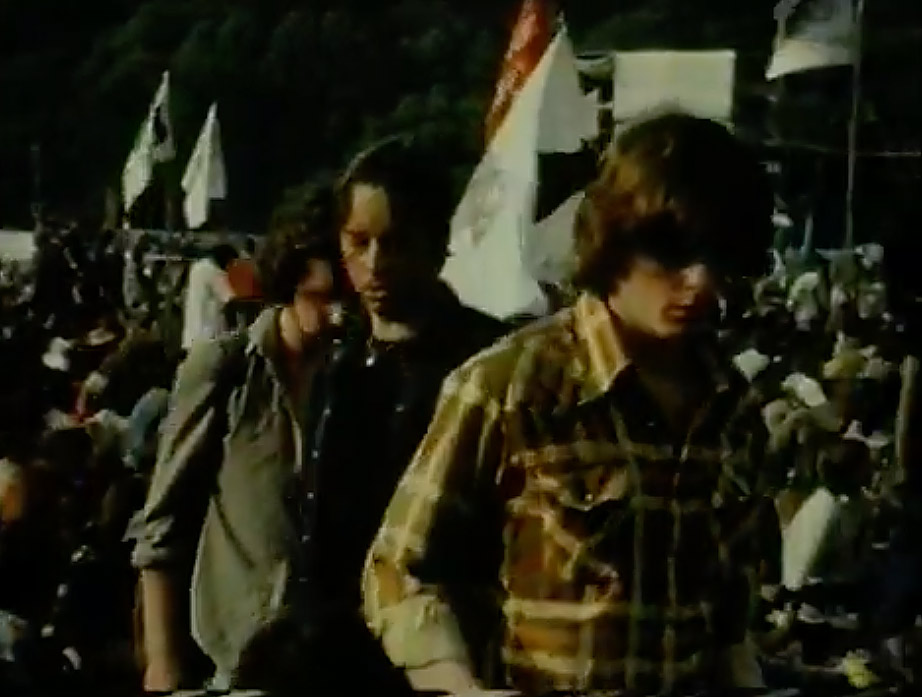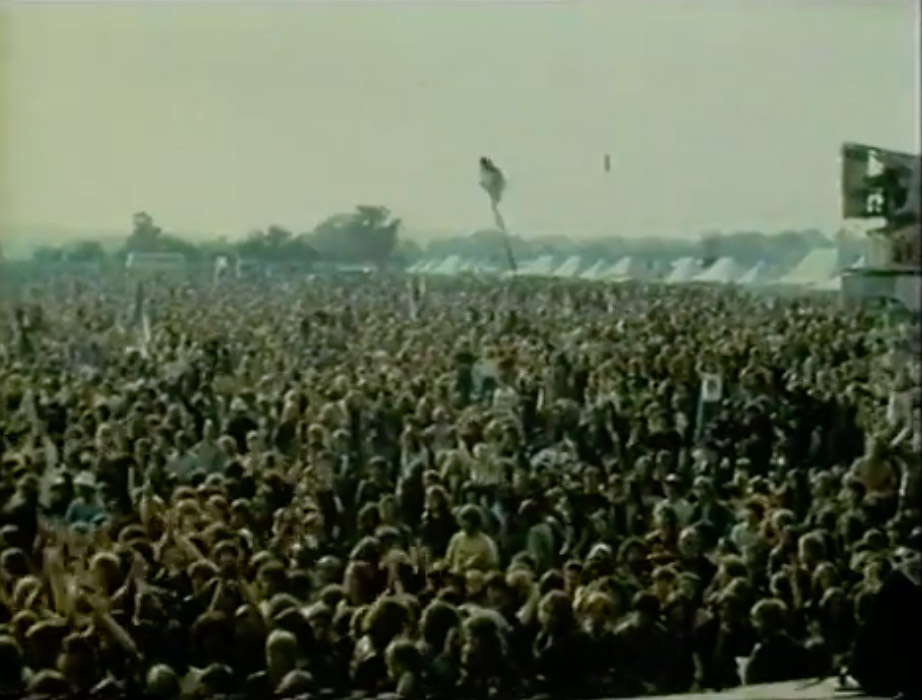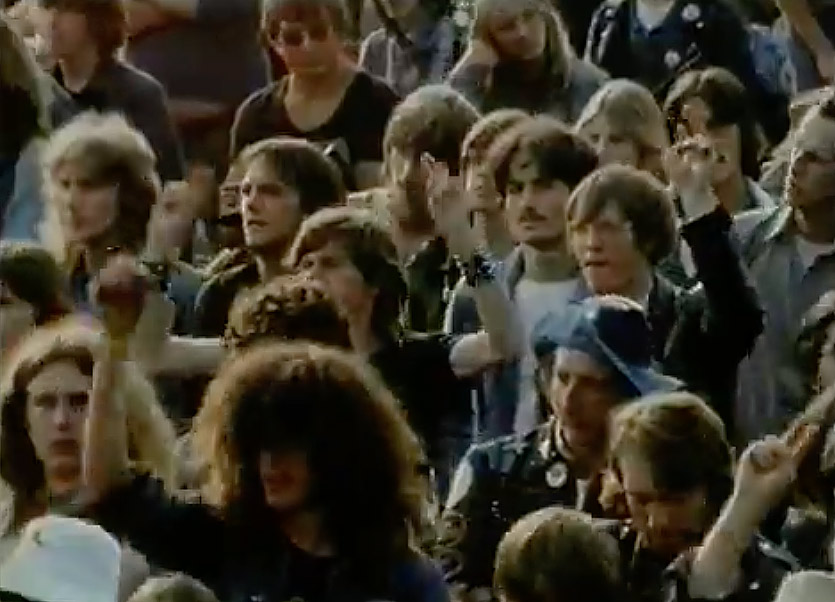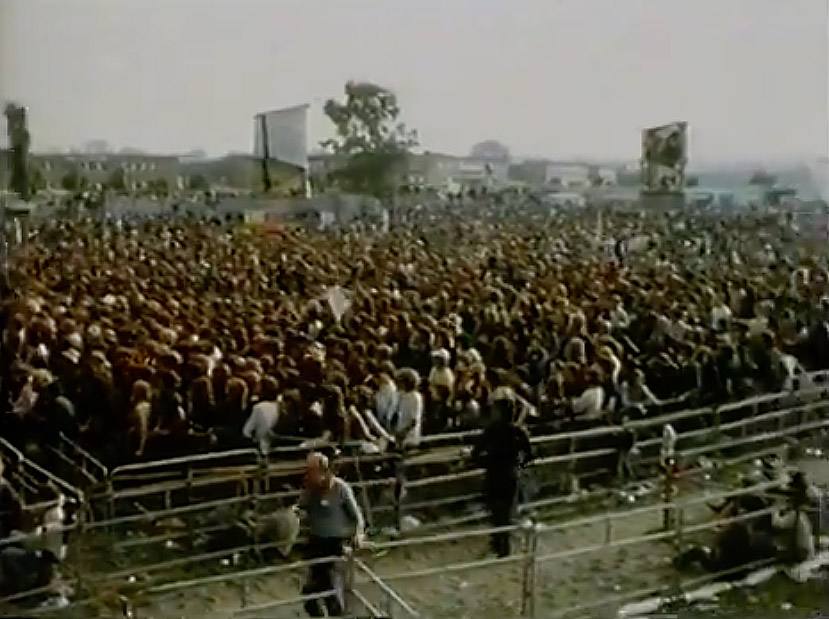 Reading 1981 Pages
---
Can we get a witness ?
We need more info on this and the other Reading festivals, we are now in the curious situation of having better documentation on some of the earlier festivals, so c'mon headbangers, get yer photos out and fire up whats left of the aging braincells .Send your recollections and scans to us NOW ! !! Contact us
---
Thanks to photographer Alan Perry for allowing us to use his excellent photos of Reading 1980, you can purchase copies of these pix at his website where he has oodles of top photos of metal bands from the 70s to date.
Reading in the 80s to date- Fat Regs excellent site covers Reading from 1982 onwards
---
The early festivals.
You can find out the complete line ups of the first festivals if you follow the links below .
Festivals 1965-1990
Most of these have fairly complete documentation .But new contributions of any sort are always welcome regarding any of the festivals.
---
This site is non profit making , its a site for die-hard fans- and run as a source of information for those interested in Rock music of the past .We are completely against the sale of bootlegged artefacts , especially musical ones .We attempt to obtain permission to use articles and photos wherever possible, but on occasions , due to the age and obscure origin of some items , we have not been able to ascertain the owner of the copyright .It is also possible that occasionally we are sent material from sources that assert that they own the copyright of material, but their claims are spurious - If you see any material on the site that you believe you own the copyright of - please send us an e-mail with proof that you have ownership of the image and we will remove the offending item from the site immediately.
Contact us