The Archive.
Big thanks to our sponsor Neil !

For information on today's festivals see eFestivals.co.uk
Updated July 2021 view at 1920 x 1024 for best results
---
The 19th

Reading Rock Festival .

Richfield Avenue.
Reading
August 24-26th 1979.
Reading Rock 1979 photogallery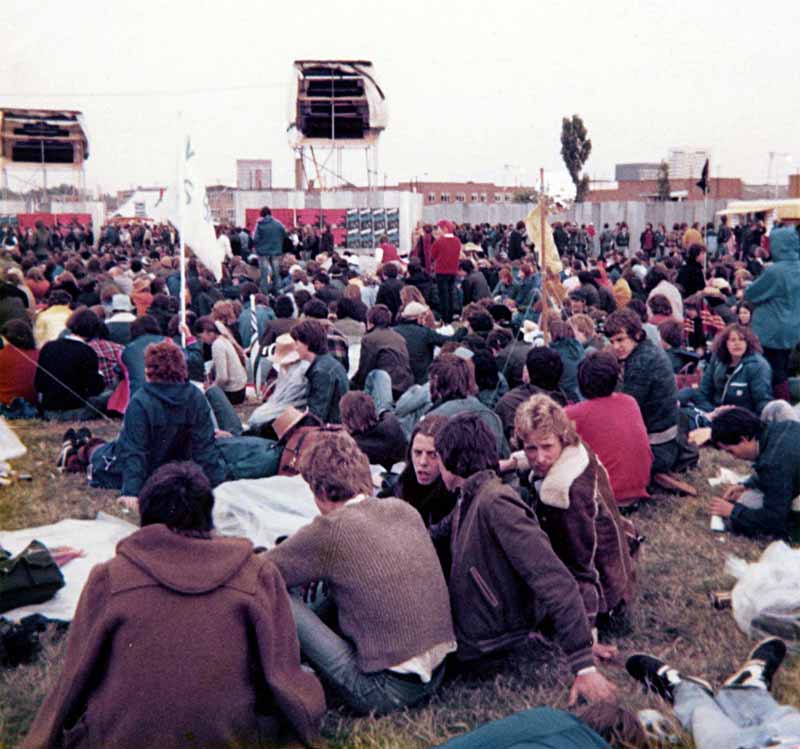 The crowd on Friday , Reading Rock 1979 © Stephen Vaughan- visit his Flickr site to see more.
A year on from the introduction of punk to the festival saw a continuation of the previous years format, with Friday being the "New Wave "night and the domination of mainly Blues Rock , Metal or Prog acts on the remaining two days . Its interesting that 1979 did not feature any really hard core punk acts since the movement was still going strong in 79, and in general Reading never booked any of the really famous UK punk acts either (apart from the Jam in 1978) . Bands such as The Clash, Pistols, Banshees ,never got a look in. Perhaps this reflected the innate conservatism of the promoters, who , although providing quite a spread of musical styles over the years, never did bite the bullet and put together such eclectic mixes of music as Freddy Bannister did at the Knebworth festivals.There was always the feeling that Reading was a tad predictable in its booking policy after 1970, even if a band such as Hawkwind or Thin Lizzy missed a year or two , you could always rely on them returning eventually to the fold.
Friday 24th Aug.

Bite the Pillow
The Jags
Punishment of Luxury
Doll by Doll
The Cure
Wilko Johnson
Motorhead
The Tourists
The Police

Saturday 25th Aug

Root Boy Slim and the Sex Change Band
The Yachts
Little Bo Bitch
The Movies
Bram Tchaikovsky
Gillan
Steve Hackett
Cheap Trick
Inner Circle
Thin Lizzy #

Sunday 26th Aug

The Cobbers

After the Fire #

Speedometers

Zaine Griff

Wild Horses

The Members

Molly Hatchett

Climax Blues Band

The Ramones.#

Peter Gabriel

It rained .Not as bad as 77, but bad enough.

# Replaced by Terra Nova

# Thin Lizzy were billed to headline the Saturday night but didn't show
They were replaced by the Scorpions.

# Ramones did not play , replaced by Nils Lofgren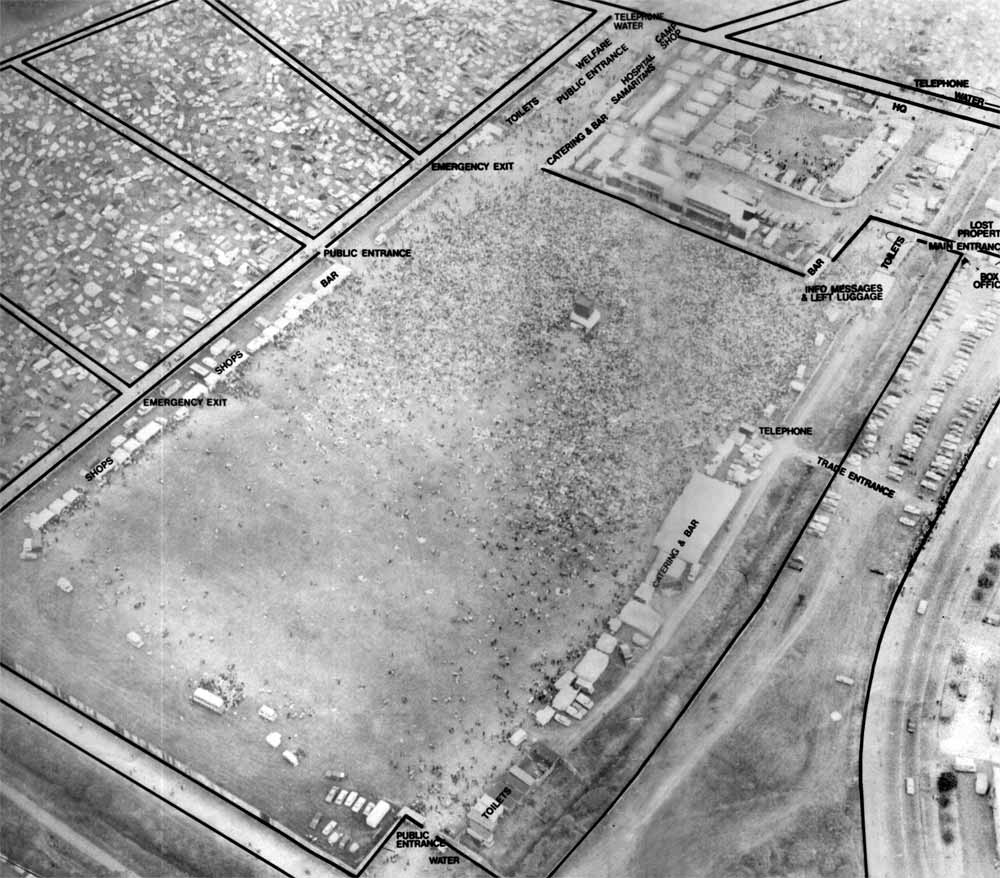 The site in 1979, courtesy Theresa
Friday 24th August
Flares had still their fans at Reading 79

It has to be said that in general, the opening minor league ' New Wave' bands were not a huge success .......

Although the weather was good on Friday The folky Bite the Pillow and Elvis Costello clones The Jags died a predictable death and Punishment of Luxury's appearance caused a vicious can fight between their punky fans and a larger number of long haired headbangers who had primarily come to see Motorhead . Although Punilux tried to calm the audience , their remarks did not help cool things down one bit . Sporadic fights broke out throughout the evening as bored ( or perhaps intoxicated ) audience members took their frustrations out on other fans .

Doll By Doll were also not well received, they tried to take on the jeering audience by pretending they just weren't there, but this simply alienated them even more , they were NOT a success. However, the fledgling Cure went down reasonably well with the crowd, who were perhaps already familiar with their debut single "Killing An Arab ". Dedicating a song to Motorheads Lemmy ( which was predictably greeted with huge cheers ) also did much to endear them to the crowd and as a result they were brought back for an encore.

The more traditional straight ahead blues rock of Wilko Johnson and the Solid Senders was more to the crowds liking and they were the first band to really click , however their reception was nothing in comparison to the rapturous ovation that was given to Motorhead when they took to the stage .
The unfortunate Tourists, headed by the excellent Annie Lennox, had the dubious honour of following on after Motorhead and their uncertainty were obvious as they faced the hostile crowd. However , headliners The Police more then made up for the relatively mediocre lineup of the first day , their lengthy set, including such classics as Roxanne, Can't Stand Losing You and Walking on the Moon,enabled them to transcend musical genres and to win over the previously rather partisan crowd .
Saturday 25th August

Rain didn't stop play but it did put a damper on the audiences spirits and the opening bands The Yachts ,Little Bo Bitch and The Movies made no lasting impression . The sun came out during Bram Tchaikovsky's set but his combo did little to set the audience on fire ....

Ex Deep Purple frontman Ian Gillan's band rocked the audience with a hot set that was largely propelled by lead guitarist Bernie Toombe, who was particularly impressive on Smoke On The Water .

Steve Hackett of Genesis was next and his music was a more melodic contrast to the metal of Gillan and company . His short set featured Clocks , Every Day and I Know What I Like and his band were tight .

Cheap Trick were a real crowd pleaser and were one of the hits of the festival. Rick Nielson was awesome on a variety of guitars and the band were joined onstage by Mick Ralphs and Dave Edmonds for their encore .

Inner Circle were next ,featuring hard core reggae which went down surprisingly well with the audience, who were no doubt in a good mood after witnessing a much more consistent lineup of talent than they had on Friday night . Dreadlocked singer Jacob Miller was impressive and the band were well received.
| | |
| --- | --- |
| Sunday : Molly Hatchett onstage in the distance at Reading 1979 | |
Last up were replacement headliners The Scorpions , who were deputizing for Thin Lizzy . They proved to be highly energetic hard rockers who electrified the crowd with their onstage presence and high octane riffing and they were invited back to no less than two encores . Given that most of the crowd would have been unfamiliar with their music and were no doubt there to see Lizzy, this Reading debut could be described as a triumph .
Sunday 26th August

The weather was still quite reasonable , but by Sunday the arena was only half full, probably due to the calibre of the opening acts. Weirdly, Aussie folk act The Cobbers were received well and even got an encore - almost the Mungo Jerry of the late 70s, but no hit single was to eventuate.

The next two acts,Terra Nova and The Speedometers, did nothing to arouse the crowd , covers of Manfred Mann and Bruce Springsteen numbers failed to impress, which isn't surprising really . Bowie influenced Zaine Griff managed to rouse the audience slightly from their self imposed torpor , but it was Wild Horses, who featured former Thin Lizzy member Brian Robertson who actually managed to stir up the crowd sufficiently to deserve an encore and to get them singing along as well !

The new wave influenced The Members were not so fortunate as most of the crowd reverted to their prejudices and treated their high energy act with indifference, although a small coterie down front were up and dancing.

The predictable HM guitar antics of Molly Hatchett were more to the audiences liking , but Climax Blues Band proved more an anti climax and the energy level dropped appreciably once more in the face of less than stellar material .

Peter Gabriel finished off the afternoon session in style with a great set of some of his best early material. Nils Lofgren was a strange substitute for the Ramones , which must have caused great disappointment for most of the audience.

Fortunately , help was at hand for those starved of humongous power riffs and strangled falsetto vocals, It was left to Whitesnake to give the audience another predictable but energetic dose of Hot Metal and those in attendance duly showed their appreciation.

Sunday afternoon bopping © Stephen Vaughan
---
Can we get a witness ?
We need more info on this and the other late 70s Reading festivals, we are now in the curious situation of having better documentation on the earlier festivals, so c'mon headbangers, get yer photos out and fire up whats left of the aging braincells .Send your recollections and scans to us NOW ! !! Contact us
---
Recollections.
I was there and am 100% sure Nils Lofgren played ! Possibly for Thin Lizzy who didn't show (this I am not sure).

Greetings from Belgium.
Remi Vaneerdewegh

I recall the start of The Jag's set with the singer saying "I tell you what - wake up at the back there, this isn't Knebworth, you know!" which, apart from "Back Of My Hand" was the only thing worth remembering. I don't recall Motorhead's set at all (perhaps I was in hiding) but The Police lived up to all expectations. We were bitterly disappointed that Thin Lizzy pulled out, and found The Scorpions hopeless as replacements (I remember one of their songs being a complete "Stairway To Heaven" copy, it being easy to sing the words of one to the tune of the other).

I remember The Members set as very good indeed. Peter Gabriel didn't top the bill on Sunday; instead, he came on in the late afternoon (yellow jumpsuit, red shoes) to the strains of "Biko", which was unreleased at the time. Phil Collins was on drums; they duetted on "Mother Of Violence" and "Lamb Lies Down On Broadway".

I remember the crowd angrily booing the next band which was starting up on the other stage (since it meant that PG's set really had finished). I think it was Nils Lofgren who played last on Sunday; nice set, although the cameraman was unaware of what Nils was going to do on the trampet (he used to bounce off it during solos and turn somersaults) and got in his way, much to his annoyance.
Jeremy Walton

Lemmy at Reading 79

courtesy Repfoto© 1979.

You can view many great photos of the acts here at
---
Great site by the way!
Anyway, Reading '79, Thin Lizzy pulled out two days before and The Scorpions played instead. It was too late for the official t-shirts to be changed, so instead the organisers hastily added a prefix of "Where the f##k are..." in front of the Lizzy logo! info from the Lynott biog "The Rocker".
The Ramones also failed to show, and Nils Lofgren appeared instead. Info from personal memory of a book somewhere, I believe it was the Ramones official book that came out in 2003.

Keep up the good work.
jase
---
Confirmation from Dafydd A that Lizzy were not at Reading 79
Thin Lizzy pulled out last minute and were DEFINITELY replaced on the line-up by the Scorpions who played a storming set so that Phil and his crew weren't missed that much, except by the plebs who'd already bought t-shirts. I seem to recollect that Inner Circle were also a late addition to the final line-up.
---
I got hit on the head during the Motorhead Set by a best part full party 4 ( large beer can).
Had 4 stitches put in by a Trainee Aussie Gynocologist back stage- he had washed his hands.
Motorhead were the main band that day.

Grant Littlejohn

---

Hi All,

Having spent most of the festival either completely bladdered or avoiding airborne bottles and cans the remaining brain cells still recall with great fondness that the moon made an appearance just as Sting and the boys walked out to perform amongst others, Walking on the Moon. The one other band that I recall going down really well after the heavy metal boys was a band called Cobber. So far as I remember it was a group of Aussies armed with broomsticks with bottle tops nailed to them. Does anyone have anything recorded by them?

All the best

Pete H from Coventry
---
I was only 17 and this was my second experience of a festival, Knebworth '79 being my first (thrown in at the deep end, wow!!)
At Reading I remember, on one occassion, the sky virtually black with cans, luckily for me there were a lot of taller people around me so I didn't get hit, a girl in front of me was, but fortunately with a plastic bottle half full!
Someone had a very long pole with a plastic sign on the top saying " John Peel's a Cunt" and the audience chanting this when he was on stage. A man shinned up the pole but it snapped and he fell into the crowd. Poor old John, much missed.
Great to see your site, a welcome trip down memory lane. I am now 45 and not liking being a "grown up"
Many thanks.
Willa.
---
Steve Hackett © Repfoto

I remember the sense of excitement and apprehension when the tickets arrived. I was a naive 15 year old and off to the 1979 Reading Rock Festival. My friend Andy and I were the only two going from our school. It felt daring and special. We were doing something out of the ordinary. We were off for our Woodstock experience and would probably meet Woodstock-type people; an exotic chaotic rock 'n' roll reality far away from dull school life. Back then, festivals weren't the mainstream consumer item they are today.

We set off in our denim jackets. Mine (with Rush patches),new and cardboard-stiff. Andy's (with Led Zep and Deep Purple patches), suitably scruffy.

Arriving on Thursday morning, and circling the corrugated iron fenced arena, we stupidly tried to pitch our tent near the entrance. We soon realized we'd pitched on the path that was used by people to go for a piss in the undergrowth.


We camped in a field that was near empty but throughout the day, it filled up, until by midnight the air was filled with the roar of motorbikes, vans and loud voices. The bikers next to us built a bonfire near our tent, and we worried about the fabric melting. Shadows of partying bikers moved across the orange glow that lit up the tent side. Occasionally one tripped over the guy ropes, and the shelter shuddered.
There is something a bit odd about watching bands in dull morning light. There's pointlessness to it. Rock 'n' roll performance was never meant for that time of day. It was then I discovered, during the Punishment of Luxury set on early Friday, the can storm phenomenon.

Throughout the festival I watched and lived in fear of this rain of empty (or half empty) beer cans and bottles (some with recycled contents). Party cans were hurled through the air and you knew when they landed, that was probably the end of someone's festival. I braced myself when the frenzied lobbing erupted, expecting a cranium contact with a large Watney's Seven can. Then, suddenly it would stop. Then start again. I saw one person wearing a crash helmet, in order to enjoy the music.


Going to the toilet in the portable loos was like a journey into hell. After queuing for ages I managed to get a cubicle. I now know what Joseph Conrad meant when he wrote: "The horror, the horror". An entity that could well have been the chum of the "Alien" existed in there, a pileup enough to make a Dyno-rod storm trooper quail. Motorhead were onstage, adding their soundtrack to this nightmare vision. Suddenly, there was violent thumping on the door. The whole cabin shook. "Get the fack out ov there!" demanded a voice. A boot began crashing against the door. This violent persons need was greater than mine. I exited hoping for constipation. The next day I searched Reading town centre for a public toilet minus violent rockers. I found a clean, empty one, tucked away in a car park. Heaven.

On Saturday morning, it poured with rain. The inside of the tent began to be coated with mud. Andy came up with the upbeat and insightful meteorological observation that "If it rains all morning, then all the water will have gone from the clouds by the afternoon!" . Hmmmmm…right.




Elric was present year after year during this era © Stephen Vaughan

Just thought I'd let you know that I was looking at your reading 79 page and was absolutely gobsmacked to see a pic of my husband stood in front of my sister's Elric flag !!!!!!!

She has still got it!!!!
Eleric of Melnibone was a character in one of Michael moorcock's novels she was really in love with him when she was a teenager.

A friend of hers made the flag as a marker for the festival, it s held up by a piece of car exhaust and a wire keeps it straight.

She married Robbie Dobson who was the drummer in the Enid when she met him.

Sue
As the event went on, I quickly felt grimy and tired with the standing, sitting, slouching, slobbing and wandering routine of the festival-goer. Yet this sense of grubbiness would quickly disappear if you got drawn into a band's performance.


' Festival fatigue' would vanish for half an hour amongst the crowd at the front.

The sun went down to John Peel's quips and everyone enjoyed watching a tussle between security and a guy that had climbed one of the speaker towers. On the video screen, images that had been weird shapes flicking around during the day became recognizable and defined. Strolling around, you walked on a carpet of gnawed corn on the cobs. There were corn on the cobs everywhere! Sometimes, I stumbled over a stoned person in a sleeping bag, flat out in the mud amongst the strolling mass.
A Welshman lets off steam ( or more likely, given the beer consumption )- wind ! © Stephen Vaughan

The festival arena was at its best at night: The silhouettes of the crowd against the stage lights. The pulse of generators, the whiff of fried onions and bonfire smoke. Groups of people congregated far away from the stage, sitting around fires, talking and drinking, with the band's performances just as a background to their partying.

And the music? I have fragments of memories:

Enjoying the atmospherics of "Walking On The Moon" by the Police. Aired in public for the first time, so Sting said.

Peter Gabriel, dressed in what looked like a Space 1999 yellow jumpsuit, on a see –through stage set; grunting rhythmically to the opening of "Biko", and being mocked with response grunts by the heavy rock crowd; yet soon winning them over with the intensity of his set. After Gabriel's music, Whitesnake's barrel-chested cock rock was an enjoyable contrast.

Wilko Johnson's epileptic robot moves.

The plaintive, soaring guitar of Steve Hackett during "Spectral Mornings", chiming well with the relaxed sun-dazed afternoon mood.

Inner Circle creating a great vibe. I hadn't a clue who they were but one of the magical things about festivals is the alcohol fuelled discovery of something new. Strange to say, a reggae band paved the way for the Scorpions.

Doing a drunken heavy metal hoedown dance during the Scorpions. We were near the front, and a few others joined in, in the small space that had opened up in the crowd. Fuelled by lager, we gave full voice to the Teuton's bizarre choruses.

Listening to The Cobbers from our tent and hearing the strange sound of a band in the morning getting cheers.

After the final band on Sunday night, Andy had gone back to the tent first. I tiptoed up to it, and feeling in a mischievous mood, I decided to spook him. I began bashing the sides of the tent violently but kept silent. There was a gauze ventilation flap at the back of the tent. I looked through it to see Andy, looking sheepishly out of through the tent flaps and asking in a quavering voice: "Er…..er....who's there?". I then jumped out on him, giving him a fright. Ahhh..festival japes, ay?

The Scorpions Reading 79 © Repfoto
And so, with mild fast food poisoning and looking like Worsel Gummidge's best mate, we returned home; with exaggerated rock n' roll anecdotes for when the school term started.
Michael Helme
---

Private radio stations (called "Free radios" here) became legal in Italy in 1976, and late 70's saw the birth of hundreds of small local radio stations throughout the country. In some cases these just had a couple of hours of live broadcasts every day and a coverage area of a few kilometers, but there were even some big private radio stations with 24h of live programs.

I used to be a DJ in a medium-sized radio station in my home town Perugia, called "Radio Perugia 1", and we were particularly interested in the punk and new wave latest releases coming from the UK. In the summer of 1979 I came to London with some fellow DJ's from the radio, there were five of us, and we came in touch with as many record companies as we could find, asking for records and promotional material for our transmissions.

Along with hundreds of LP's and singles, we managed to receive backstage passes for the Reading Festival, which seemed very interesting that year for the presence of new acts like The Cure and The Police, and old punk rockers like The Ramones.

It was an incredible emotion to be in the backstage along with many artists, I can remember going to the toilet and meeting John Peel coming out of it, or running into Sting or Annie Lennox while walking. We were allowed to take pictures and interviews, though our bad english didn't help very much. With a mono tape recorder we also recorded some of the concerts along with the interviews but at the end of the first day we had already ran out of camera films and cassette tapes!

Motorhead entered the backstage on a military vehicle (see one of the pictures attached), but despite the appearance they were very nice guys (though Lemmy, with a bottle of whisky always in hand, promised us an interview three or four times, always disappearing soon after). The Cure had a strong support from John Peel, and one of my photos depicts Robert Smith with Peel after their concert.

Motorhead and The Police were the best acts of the first day. I can remember a fight between Motorhead and other groups' supporters, with beer cans flying everywhere. The Police were very successful, playing an yet-unreleased "Message in a bottle", introduced as their next single.
The second day was more traditional in its contents, with a strong set by the Ian Gillan Band, a very relaxed concert by Steve Hackett (maybe a bit too relaxed!), a funny and exciting set by Cheap Trick. The final day had its peak with Peter Gabriel (with a welcome guest appearance by Phil Collins), but it was nice to see The Members (much appreciated by us on record at the time) and Molly Hatchet.

I can confirm that Thin Lizzy were replaced by The Scorpions (not definitely our favourites, I can only remember some irritating "Are you ready?" screams from their singer between their songs), and the Ramones by Nils Lofgren, that we had already seen a week before supporting the Who at Wembley (a questionable choice and a very disappointing replacement!).

Best wishes

Augusto

** Augusto Croce - Perugia Italy
** www.italianprog.com

---
Recordings and Setlists .
Motorhead 8-24-79- (looking for setlist and cover art ) there are some tracks on Youtube, audience recording, about C grade, rather distant , insturments lack separation..
---
Accuracy
Grinding Halt
Another Day
Object
Subway Song
Foxy Lady
Plastic Passion
T hree Imaginary Boys
Boys Don't Cry
Fire In Cairo
Killing An Arab
Do The Hansa


spolit by lots of audience noise
---
The Tourists 8-24-79
Lonliest Man In The World
Useless Duration of Time
---
Molly Hatchet.

Source: FM Broadcast

Track List:
01 Bounty Hunter
02 Let The Good Times Roll
03 Gator Country
04 Big Apple
05 Dreams I'll Never See
06 Flirtin' With Disaster
The Police 8-24-79
Deathwish
Next To You
So Lonely
Truth Hits Everybody
Walking On The Moon
Hole In My Life
Fall Out
Message In A Bottle
The Bed's Too Big Without You
Peanuts
Roxanne
Can't Stand Losing You
Landlord
Born In The 60s
Next To You (repeated as encore ? )

Audience 70 mins
---
Cheap Trick 8-25-79
| | |
| --- | --- |
| | |
Hello There
I Want You To Want Me
Surrender
Ain't That A Shame
On Top Of The World
Come On Come On
Stiff Competition
Need Your Love
Clock Strikes Ten
I Know What I Want
Big Eyes
Goodnight

Just recently what appears to be the entire (excellent quality) performance by Cheap Trick at Reading 79 surfaced on youtube , why this exciting set was not released officially is a mystery... the bootleg version I found ( after a hell of a lot of effort as for some reason if you look under Reading Festival or Reading Rock it fails to come up in searches ) is incomplete ,I am preasuming its the soundboard, but its so rare there are no reviews as to quality.

Two days prior to Thin Lizzy's headlining date at the long-running Reading Festival, Philip Lynott and company backed-out of the festival gig. The Scorpions were quickly added to fill the Lizzy role at the top of the bill, while Rockford's Cheap Trick provided the support slot. Taking the stage with the sun sinking in the West, Cheap Trick opened their Reading Festival appearance aptly with the raucous, quick-hittin' action of "Hello There", followed by the power pop rockin' "Come On, Come On". While Robin Zander commanded center stage in his lilly white threads and rock star cool, animated guitarist Rick Nielsen moved about the stage like a hyperactive kid on a pure sugar-binge. Between non-stop pick-flickin', spastic moves and leaps from the riser, Nielsen tortured the fretboard of each and every guitar he straped-on. The frenzied "Stiff Competition" upped-the-ante during the Saturday evening set, which gave way to "On Top of the World". Nielsen flexed his six string prowess throughout the high-engery performance at the British festival, as evident by his solo prior to "Big Eyes". Chain-smokin' drummer, the ever-steady Bun E. Carlos, introduced "Ain't That a Shame", and C.T. cooked on the get-down rave-up "Clock Strikes Ten". At over ten-minutes, "Need Your Love" alters the pace. With _Dream Police_ yet to be released, much to the group's dismay, Cheap Trick previewed "I Know What I Want". The in-demand "I Want You to Want Me" benefits from a lack of thousands of screaming Japanese girls. The way-cool "Surrender" rocks, serving as the formal set closer, with Cheap Trick bringing their show to a two-minute farewell with the two-minute "Goodnight Now". The main complaint from the overall Reading recording is Tom Petersson's buried bass.

JON FOX
---
Gillan 8-25-79
Sleeping On The Job
Mr.Universe
Dead Of Night
Roller
Vengeance
Smoke On The Water

Photo of Gillan at Reading 79 © Allan David Perry , visit his website to purchase this and many other photos from festivals of the 70s to date

BBC FM
---
Steve Hackett 8-25-79
| | |
| --- | --- |
| BBC FM Grade A 45 minutes | |
| | |
| --- | --- |
| BBC FM Grade A 45 minutes | |
---
The Scorpions 8-25-79
Backstage Queen

We'll Burn The Sky

Loving You Sunday Morning

Lovedrive.

Always Somewhere

He's a Woman. She's A Man

Another Piece of Meat.

Robot Man

( setlist incomplete ) Bootleg in circulation sbd
Klaus Meine - Vocal ,Matthias Jabs - Lead Guitar ,Rudolf Schenker - Rhythm Guitar ,Francis Buchholz - Bass Herman Rarebell - Drums Langley
---
Peter Gabriel 8-26-79
# and # with Phil Collins

Animal Magic#
The Lamb Lies Down On Broadway #

---
Whitesnake 8-26-79

Walking In The Shadow Of The Blues
Ain't No Love In The Heart Of The City
Micky Moody Solo
Steal Away
Belgian Tom's Hat Trick
Mistreated > Soldier Of Fortune
Love Hunter
Breakdown >Whitesnake Boogie

52 min FM

David Coverdale (voc)
Micky Moody (g, voc)
Bernie Marsden (g, voc)
Neil Murray (b)
Ian Paice (dr)
Jon Lord (keyS)

Photo David Coverdale courtesy Repfoto© 1979.

You can view many great photos of the acts here at
Links
Reading Rock 1979 photogallery
---
The early festivals.
You can find out the complete line ups of the first festivals if you follow the links below .
Festivals 1965-1990
Most of these have fairly complete documentation .But new contributions of any sort are always welcome regarding any of the festivals.
---
This site is non profit making , its a site for die-hard fans- and run as a source of information for those interested in Rock music of the past .We are completely against the sale of bootlegged artefacts , especially musical ones .We attempt to obtain permission to use articles and photos wherever possible, but on occasions , due to the age and obscure origin of some items , we have not been able to ascertain the owner of the copyright .It is also possible that occasionally we are sent material from sources that assert that they own the copyright of material, but their claims are spurious - If you see any material on the site that you believe you own the copyright of - please send us an e-mail with proof that you have ownership of the image and we will remove the offending item from the site immediately.
Contact us