The Archive.
Big thanks to our sponsor Neil !

For information on today's festivals see eFestivals.co.uk
Created Jan 2009. view at 1280 X 1024 for best results
Updated Feb 2021

The Reading Festival.
Richfield Avenue.
Reading
August 24-26th 1990.
---
Heavily retouched but still crap quality main stage ad- anyone got a better version ?

The second year under the Mean Fiddler banner offered a bit more of the same as 1989,( five acts from that year making a comeback on the main stage and a couple on the Mean Fiddler stage ), but the festival also saw some new blood in the form of up and coming grunge band Mudhoney . Relatively old blood was represented by The Fall , The Cramps and The Buzzcocks. There was perhaps a heavier feel to the main stage in 1990. Faith No More and Janes Addiction were there to satisfy the headbangers ( although Janes did not perform as Perry lost his voice) and Living Colour returned after their successful appearance in 1989.

It was also interesting to see amongst the support bands, elements of funk, trip hop and industrial/Kraut rock emerging in bands such as Tack>>Head, Stereo MC's ,Psychic TV , The Young Gods and The Telescopes.Bands such as this would have most likely been bottled at the old Reading festival.

The headliners might not inspire much joy in todays context, but at the time Inspiral Carpets were riding high in the charts in the UK . Both the Pixies and the Cramps had very strong UK followings, both bands being far more popular abroad than they were in their home country .

Attendance figues bandied about are supposed to have been around 40,000, about right for Reading at the time, which was not a gigantic festival. Compared to Glastonbury in 1990, it was still relatively minor league .

The Mean Fiddler stage was now becoming quite varied in its programming with a lot of folky acts such as Luka Bloom and the Oyster band mingling with Tom Robinson , weird acoustic band The Lost T Shirts of Atlantis (who played a bath tub as an instrument) and other long lost alt bands such as Furniture .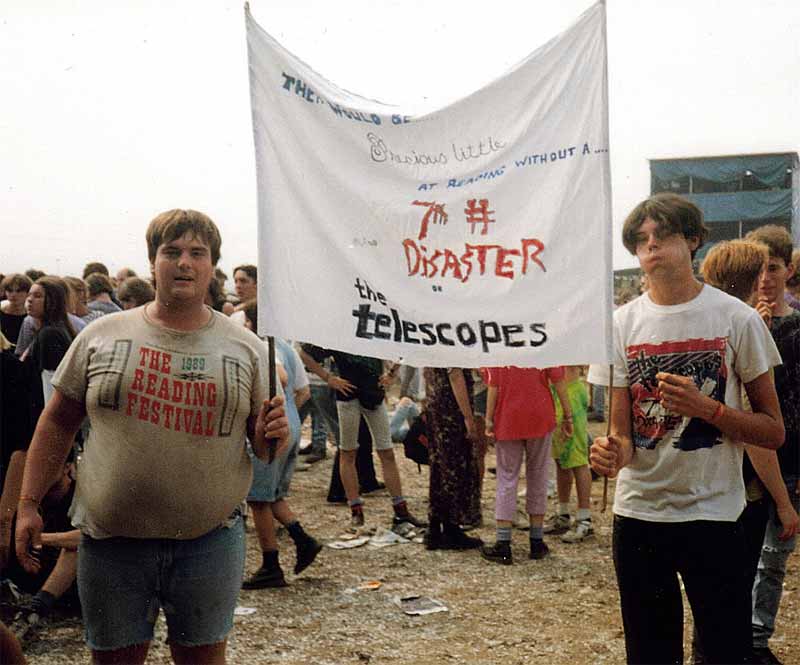 Telescopes fans at Reading 1990
used under creative commons licence by permission of Diegos Sideburns
| | |
| --- | --- |
| alternative advert with Pere Ubu on the bill. | Images courtesy Benno |
---
Main stage .
Friday 24th Aug.

In order of appearance on the bill

Sat 25th Aug

In order of appearance on the bill

Sunday 26th Aug

In order of appearance on the bill

Mega City Four
An Emotional Fish
Janes Addiction *
Mudhoney
Gary Clail
Nick Cave and the
Bad Seeds
Faith No More
The Cramps

* Did not perform

Neds Atomic Dustbin *
Psychic TV
Wire *
The Young Gods
Ride
Billy Bragg
Buzzcocks
The Wedding Present
Inspiral Carpets

*Replaced Pere Ubu and The Chills ?

Senseless Things

Thee Hypnotics
The Telescopes
Stereo MCs

Living Colour

Loop

Tackhead

Jesus Jones

The Fall

The Pixies


NB : Acts are listed in order of appearance as far as we can ascertain. There also MUST have been some changes in the eventual line-up, can anyone supply details ?
Mean Fiddler stage
Friday 24th Aug.

In order of appearance on the bill

Sat 25th Aug

In order of appearance on the bill

Sunday 26th Aug

In order of appearance on the bill

Lost T-Shirts of
Atlantis
Keziah Jones
Duncan McCowan
James Varda
Dr Miller
Frank Tovey
Skint Video
Half man Half Biscuit
Luka Bloom
McCavity's Cat
Tom Robinson Band

Jinski
The Penny Candles
Friends of Harvey
Shawn Colvin
Peter Blegvad
The Liberties
Trashcan Sinatras
Railway Children
Milltown Brothers
Fatima Mansions
Man From Delmonte
Furniture
Martin Stephenson
and the Daintees


Dave Robb

Pat Orchard
Keith Hancock
McDermott's Two Hours
Fat and Frantic
The Katydids
Summerhill
Bridewell Taxis
Boiled in Lead
Ruby Blue
Band of Holy Joy
Oyster Band
Johnathon Richman

---
Recollections
Didn't go for the whole weekend. These were the days when the reading festival was really on its knees, It was trying to reinvent itself I think – and appeal to a more Indie based crowd. We just turned up on the Friday to see Janes Addiction and Faith No More , who I had seen not so long ago at the marquee club in London . We paid around £30.00 I think for the day ticket if my memory serves me well ,only to find out Jane's Addiction had cancelled at a moments notice ( great ) .
Brought some really dodgy hash which didn't work , Some girl asked to use my 6ft 5 frame to sit on my shoulders so she could see Faith No More .Not a bad day . Woke up Saturday morning at home with chicken pox . so not a bad start to my festival life don't u think ..
Freddie Thorne
---
Pixies Reading '90 headline as the most memorable festival headliners I've had the pleasure to see.
That night was made even more remarkable, as they were preceded by bands playing sets that I thought couldn't be topped, only for the band following them to promptly blow them out of the water! The Fall and a phenomenal pre-Extricate set (I'll never forget the mesmerising version of 'Zagreb' they played)...then finally Pixies, on that post-Doolittle pre-Bossa Nova cusp, playing an incandescent greatest hits set. A phenomenal evening's entertainment.
Letter O
---
Reading 90
Most famous thing about this year was that Jane's Addiction didn't play but turned up and got the idea for Lollapoloza IIRC.
Mudhoney were the main draw for us on the Friday – billed as there last ever gig (grunge taking off put paid to that) and they drew a big crowd. Did a furious set and a lot of handstands (see photo). Nick Cave was good, Faith No More were fun only caught a few songs by the Cramps and didn't get it at the time.
Saturday had OK sets from Ride and Billy Bragg (who wasn't as good as in '89). Buzzcocks were great (with Mike Joyce from The Smiths on drums). Wedding Present again were not as good as the year before and had problems with the bass. Though they did an intense What Have I Said Now a recording of which ended up as a B-Side, danced down the front in the mosh-pit with Steve Turner from Mudhoney, lots of laddish hugging and yelling "they fucking rock" in my ear.
Inspiral Carpets got a lot of grief before in the press for only having 1 album and headlining. In fact a lot of the crowd had started filing out when huge searchlights beamed out and a pantomime cow started dancing across the stage! When they started playing with a massive firework display in sync with the music people started filling back in on mass. By the time a full majorette squad performed with them they had totally won the crowd over. We met them the next day (lovely lads and a nice roadie who went onto better things) they told us they'd ploughed all of their fee into the show.
Only saw the last two acts on Sunday. The Fall were the highlight, Mark E Smith coming on with a carrier bag with his lyrics and singing behind a lectern. They did a version of the hymn Jerusalem with the sun setting as if on queue behind them which was magical.
Pixies weren't as good, admitted by Kim Deal as they started "weren't The Fall great." They didn't get going until about half the way through but from then on were fantastic. Biggest crowd for a head-liner, with Nirvana in '92 that I've ever seen at Reading.
Paul Troy
---
Photogallery
Faith No More
The Cramps

Mega City Four

An Emotional Fish
---
Setlists and recordings
Once again the BBC was conspicuous in their absence, bah humbug !
However, tapers responded to the call and produced an absolute plethora of audience recordings .....
They have not however, managed to produce much in the way of cover art , so if you have know of any send it along and we will add it here....
Friday
Nick Cave and the Bad Seeds

8-24-90

The Mercy Seat
The Witness Song
I'm Gonna Kill That Woman
The Weeping Song
Foi Na Cruz
Deanna
The Carny
The Ship Song
The Good Son
City Of Refuge
From Her To Eternity
Black Betty
Tupelo
Cindy Cindy

Audience source

looking for artwork

Good photo of Nick Cave at Reading 1990 here
From Out Of Nowhere

Falling To Pieces

Introduce Yourself

The Real Thing

Underwater Love

As The Worm Turns

The Crab Song

Edge Of The World

Chinese Arithmetic

We Care A Lot

Sweet Dreams (Nestles)

Surprise! You're Dead!

Epic

Woodpecker From Mars

Easy

War Pigs

Soundboard source

looking for artwork
---
The Cramps 8-24-90

Lux Interior at Reading 1990 © Dave Ingham

Mule Skinner Blues
Chicken
Creature From the Black leather lagoon
Bop Pills
What's inside a Girl?
Everything Goes
Mama ooh Pow Pow
Daisies up Your Butterfly
God Damn Rock n Roll
Primitive
Goo Goo Muck
Her Love Rubbed Off,

Journey to the Centre of a Girl
Mystery Plane
Hot Pearl Snatch
Saddle Up A Buzz Buzz
The Most Exaulted Potentate of Love
You've Got Good Taste
Bikini Girls With Machine Guns
Psychotic Reaction
Shortnin' Bread

90 mins

Audience

looking for artwork
---
Saturday
Neds Atomic Dustbin 8-25-89

Terminally Groovie

That's nice

Plug Me In

Until you find out

Sentence

Flexible Head

Nothing Like

Aim

Grey cells Green

Cut up

Kill your television

You

What gives my son?

Wire 8-25-89

What Do You See? (Welcome)
Kidney Bingos
Eardrum Buzz
Small Black Reptile
Ahead
Patterns Of Behaviour
1-2 Drill U
An Advantage In Height
Underwater Experiences

Audience source

looking for artwork
---
Audience source

looking for artwork

Half Man Half Biscuit 8-25-90

Fuckin' 'Ell, it's Fred Titmus

A Lilac Harry Quinn

Albert Hammond Bootleg

All I Want For Christmas

Our Tune

Venus in Flares

Let's Not

I Hate Nerys Hughes

Ordinary to Enschede

The Bastard Son of Dean Friedman

Pragvec at the Melkweg

Trumpton Riots

Time Flies By

No Regrets (fades out)

Audience source

looking for artwork
---
Help Save The Youth Of America

Accident Waiting To Happen

The Marching Song Of The Covert Battalions

Waiting For The Great Leap Forwards

Audience source 58 mins excellent quality
---
Audience source

looking for artwork
---
Sunday
Loop 8-26-90

Vapour
Breathe Into Me
Fever Knife
The Nail Will Burn
Pulse
Collision Time
Burning World

Audience source

looking for artwork
---
Move Mountains

Whats Going On

Never Enough

Right Here Right Now

Barry D

Broken Bones

Song 13

Nothing To Hold Me

Bring It On Down

The Real World

Info Freako

What Would You Know ?

Audience source

looking for artwork
---
The Fall 8-26-90

You Haven't Found It Yet
Arms Control Poseur
Blood Outta Stone
Black Monk Theme
Hilary
Hit the North
Bill Is Dead
Wrong Place, Right Time
Big New Prinz
Zagreb
Life Just Bounces
Bombast
White Lightning
British People In Hot Weather
Jerusalem

45 mins Audience

Audience source

looking for artwork
---
The Pixies 8-26-90

Pixies in London 1988

Cecilia Ann

Levitate Me

Debaser

Rock Music

Hangwire

Dead

Gigantic

Gouge Away

Caribou

Hey

Isla De Encanta

I Bleed

Monkey

Gone To Heaven
Wave Of Mutilation
There Goes My Gun
Dig For Fire

River Euphrates
Crackity Jones
Dancing The Manta Ray
Here Comes Your Man
Is She Weird
The Happening
Allison
All Over The. World
Into The White
Broken Face
Tame
Something Against You
Vamos
Tony's Theme
Stormy Weather
Where Is My Mind?

90 mins

Audience -both video and audio , but from different sources

looking for artwork
---
Can we get a witness ?
We need more info on this and Reading festivals 1986-1990, we are now in the curious situation of having better documentation on some of the earlier festivals, so c'mon goths and alt fiends , get yer photos out and fire up whats left of the aging brain cells .Send your recollections , scans of tickets, posters, crowd and band photos to us NOW ! !!Contact us
we are also going to cover the festival until 1995 as we want to cover the grunge years, so if you have any info that will help us cover those years, please send it along ....
---
External Links
Reading in the 80s to date- Fat Regs excellent site covers Reading from 1982 onwards .
Photos of Reading in the 80s at the Reading Musuem.
---
The early festivals.
You can find out the complete line ups of the first festivals if you follow the links below .
Festivals 1965-1990
Most of these have fairly complete documentation .But new contributions of any sort are always welcome regarding any of the festivals.
---
This site is non profit making , its a site for die-hard fans- and run as a source of information for those interested in Rock music of the past .We are completely against the sale of bootlegged artefacts , especially musical ones .We attempt to obtain permission to use articles and photos wherever possible, but on occasions , due to the age and obscure origin of some items , we have not been able to ascertain the owner of the copyright .It is also possible that occasionally we are sent material from sources that assert that they own the copyright of material, but their claims are spurious - If you see any material on the site that you believe you own the copyright of - please send us an e-mail with proof that you have ownership of the image and we will remove the offending item from the site immediately.
Contact us