The Archive.
Created Autumn 2007 .Updated June 2021
view at 1920 X 1024 res
---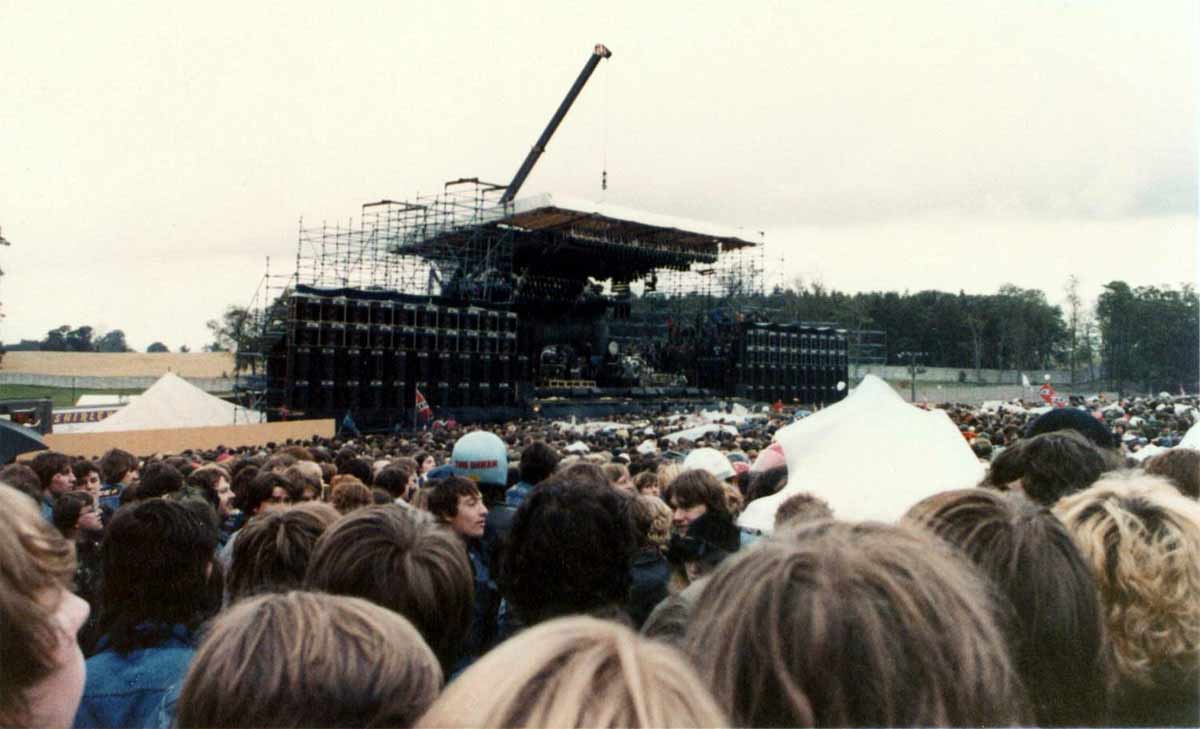 The guy with the crash helmet on had the right idea ! © Ken Collins
---
| | |
| --- | --- |
| Slade entertains the troops © Tommy Strauss | "Everybody decided to throw anything into the air that they could get their hands on and the sky became a flowing ocean of toilet rolls, chicken legs, paper aeroplanes and mostly plastic bottles and cans full of piss. " |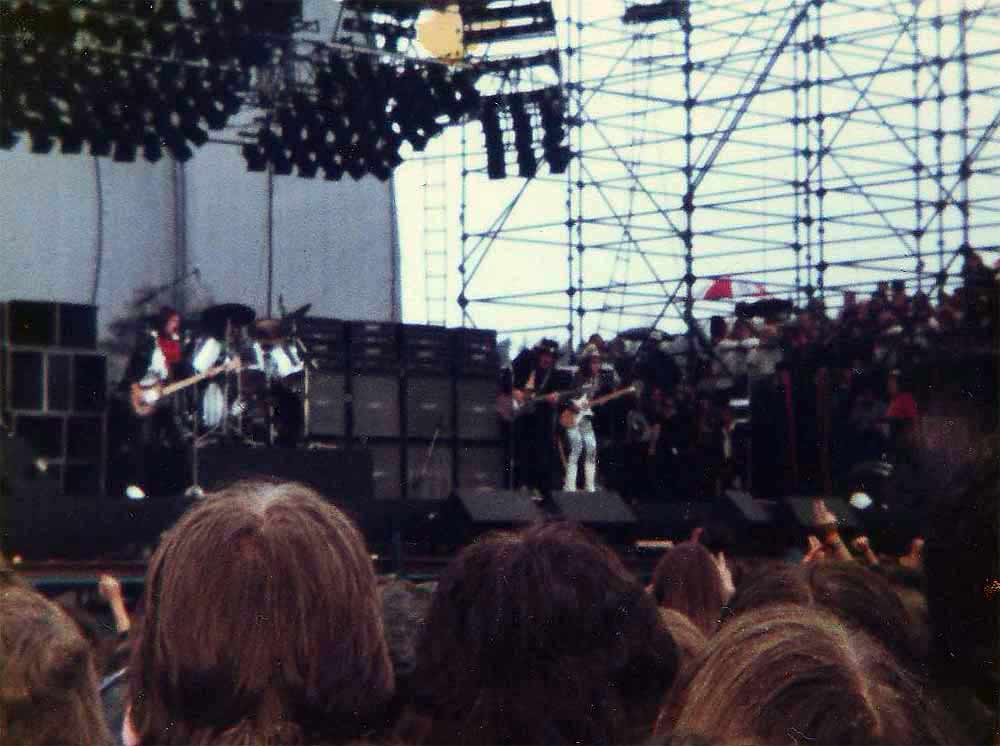 Slade © Mark Hill
The second Monsters of Rock festival featured a much stronger overall lineup than the 1980 show, which may have contributed to the larger turnout - 65,000 compared the reported 35,000 for Rainbow the previous year. Four out of the six bands were pretty much top drawer heavy acts in terms of popularity or of having very strong stage acts. Slade in particular were on the rise after a storming set at the 1980 Reading festival where they had stepped in at the last minute to replace Ozzy Osbournes Blizzard Of Oz.

AC/DC were of course a major band by this stage in their careers, they were capable of tearing down any house with their mix of power rock even though they had lost their charismatic lead singer Bon Scott in 1980.Their tribute to Scott, Back in Black, was major seller and their new singer Brian Johnson had emerged as a worthy successor to Scott in his own right , with a dynamic stage presence . Of course diminutive but totally manic lead guitarist Angus Young was the main attraction of this band , love him or loathe him you couldn't fault the passion that he put into this playing and his stage persona, never anything less than 150% !

Unfortunately the weather wasn't as kind as it had been in 1980. It pissed down for much of the day , soaking the assembled punters to the skin and turning the ground into a mess. However, this wasn't the only problem that the crowd had to content with , there was also the small matter of Blue Oyster Cult and their horrendous sound mix .......
The show got off to a slow start with sets from More ( or possibly Diamond Head - as reported by one attendee, although this is unlikely , as it is not listed on their official site ) and Blackfoot - neither of whom managed to inspire the crowd greatly. Slade were on next and they were just the right act for the time - they got the crowd singing along to ' Merry Xmas " and generally hit the right spot . Obviously they had transcended their glam roots and managed to successfully transmute into a heavy enough outfit to satisfy a crowd of headbangers ! A major commercial achievement on their part and well done considering it was still daylight -its always hard to get a crowd going in the daylight hours.
| | |
| --- | --- |
| Albert Bouchard circa 1980 - absent without leave ? | Next up was the acclaimed hard rock act Blue Öyster Cult . This band had been around for a long time and had achieved some success in the mid 70s with their mix of heavy rock and prog orientated lyrics - a sound which tended to set them apart from most run of the mill metal bands. Unfortunately things hadn't been going well for the band in the weeks preceding Donington , their drummer- Albert Bouchard ,one of their main composers and who sang on a number of their songs , had been increasingly unreliable, showing up late for almost all the UK shows . The day before Donington he flew back to the states ( either having left voluntarily or been sacked ) leaving the band with roadie Rick Downey as a stand in ( Downey had played the opening numbers in Bouchard's stead at several gigs previously but this was the first show that he had played the entire set with the band ). |
So basically BOC were pretty much fucked up before they even put a foot onstage , but worse was to come .....
Up till now attendees were in agreement that the sound for the opening bands was good , however, when Blue Öyster Cult got onstage their sound sucked ! Something was seriously wrong, but just 'what' was a matter of contention. Blame was put on the BOC sound mixer George Geranios but the band blamed faulty cabs, rain on the keyboards and orders from the headliners to limit the volume ....
Having seen photos that show big umbrellas held up to protect the onstage mixers and big gaps in the polythene covers over the side of the stage, we can believe there may have been leaks, you can read George Geranios's lengthy explanation of that went wrong and other reviews of the show at the excellent Hotrails To Hull a BOC site that documents all their live performances.
"The sound contractor for this festival was Malcolm Hill. Hill Audio was a well-known native company based in Hollingbourne, U.K. In the great Tradition of the Times the company was named after, owned and run by Malcolm Hill. Malcolm and his employees designed and purpose-built a great deal of the equipment in his own shop. Speaker cabinets, power amplifiers and mixing consoles were all custom made and proprietary."
Hill went on to provide the PA for the Live Aid concerts , but we don't know if the company is still operating as Hill Audio or under another name . It would be interesting to hear their side of the story as to what happened with the audio. The strange thing was , that when Whitesnake came on after BOC, the sound was back to normal, and was excellent ( and of course much louder ) for AC/DC's set.
In 1981 we were a little group of italian friends (about 24 years old) crazy 'bout hard rock.

During Summer 81 we put the car on the road to North Europe: first stop Nuremberg, West Germany, for the Golden Summernight Festival. It was really amazing….Blackfoot, Iron Maiden, 38 Special, Motorhead (Fast Eddie completely drunken, but who care…), Foreigner and More (the band) and more (the others). We leave the place after an extraordinary Blue Oyster Cult gig (maybe the last with Albert Bouchard on drums) for prepare ourselves to the next stop, London England.

0n the 22 August morning we took the coach for Donington Monsters Of Rock ready for another thrilling adventure.
We stand in the first row to see More and Blackfoot, but when Slade came up everything exploded in a crazy mess. We find ourselves separated and a little injured after the physical chaos while the sky was full of every object throw in air (we like pizza, but don't on our heads…).

After Slade there was BOC again (no Albert Bouchard, no good mixing, no volume…horrible) along with Whitesnake and, of course, AC/DC. We left the show during the last song, I think 'Let There Be Rock', trying to find our coach to London. Sadly, our coach was gone away before and only coaches for other town were there. In the shadows of the country, among almost 5 hundred persons in the same situation, we found a bus for the Derby Railway Station.
This place became soon a shelter for thousands people waiting for the next morning trains.

For us it was a long cold night spent squat and without sleep. People took their places everywhere in the station (only the tracks remained clear, obviously) waiting for the dawn.
We arrive in London at noon.
Only today I read that some announcements were given to inform people about the exactly departure time of the coaches, but no one of us listen to it.
It was a great experience in spite of what happened to us.
Max Mingardi

Blackfoot © Max Mingardi
---
| | |
| --- | --- |
| © Max Mingardi | © Max Mingardi |
After a few initial rumours about who was to headline the second festival (Rush, Kiss, Black Sabbath), it was announced that AC/DC would be the main band with Whitesnake as special guests.
Our entourage more than doubled this year (5 in 1980 to 12 in 1981), including a couple of girlfriends. We travelled down in a transit van. This was to become our normal form of transit for the next decade or so.
For me, the band of the day title was taken from under AC/DC's nose by the mighty blues rock of Whitesnake. Coverdale and co were one of the best live bands around in the early eighties.AC/DC were let down by over-long gaps between songs. Also, apart from 'THE' Bell, their stage show was a bit sparse. Their shows at later Donington's were much better.
Blue Oyster Cult had a 'very' bad day at the office.
Slade were a breath of fresh air on a wet Saturday afternoon. I can't recall whether it was footballs or toilet rolls (or both) that they threw into the crowd, but I do remember Noddy Holder proclaiming that the rain was 'pissing' in from the (AC/DC)Bell hung from a crane high above the stage. Great fun.
Blackfoot were also in the form of their life in August 1981. Good Morning and Wishing Well going down a storm, but the piece de resistance was Highway Song (a song almost, but not quite as good as Lynyrd Skynyrd's Freebird).
Paul Hartshorn
---
I was 19 at the time, serving in the U.S Air Force stationed at RAF Alconbury. A group of us purchased tickets and went. What a party, 60,000 of your best friends.
The band that left a lasting impression on me was Slade. The audience came alive when they hit the stage. I almost pissed myself when they started playing "Cum on Feel the Noise" and the trash flew. Plastic jugs filled with either piss, beer, or water went flying everywhere. I had never seen anything like it, nor have I since.
AC/DC was great. Angus Young rocked us into the night, with his head banging and heavy guitar licks.
To the organizers of such a historic event; thank you! A great time was had by all.

Attached are the only photos I have of the event, plus my ticket. Feel free to use them.
Ken Collins
---
This was my first gig in a field, I had seen The Who at Wembley Stadium in '79 which was a bit more civilised. You could go and sit on a seat in the stands and use proper toilets. Speaking of toilets the ones at Donington that year consisted of a series of scaffold poles with canvas sheets slung between them and the considerable amount of contents emptying into a large hole in the ground. As a small concession to health and safety there was a piece of rope alongside to 'stop' you falling in.
I've spoken enough of toilets so will skip More, Blackfoot could have been a Skynyrd tribute band. I had grown up with Slade and watched them disappear from sight before rekindling their career standing in for Ozzy at Reading the previous year. They were as good as I remembered them and were a real crowd pleaser.
Blue Oyster Cult were next and I only knew Don't Fear the Reaper, back then if you or your mates didn't have an LP of a band you were limited to what you were exposed to.
Whitesnake were the best band of the day, I may be slightly biased here as I had seen them four nights running at Hammersmith Odeon in May, followed a few days later in my hometown where I met the band at their hotel after the show. A lot of bands can entertain a theatre sized crowd but not all can do the festival crowd. Whitesnake did and proved it again headlining two years later.
AC/DC with Bon Scott supported The Who in '79 and they were excellent, I saw them twice on the Back In Black tour and was impressed with Mr Johnson and Co the first night but bored the second although I did get Angus' autograph.
After an hour of this show I was starting to get bored again so thought I would make my way through the crowd and beat the rush back to the coaches. Somehow AC/DC are still going thirty years later releasing the same album over and over again under different titles and people still go to see them do the same show.
Ray Oates
---
I came upon your website and it was really nostalgic! I was 14 when I went to the Monsters of Rock in 1981 on a coach from Worcester with a load of heavy metal friends and in the supervision of my older sister – or else my parents would never have let me go. My first memory is getting off the coach and having to find the toilets – and being horrified that the ladies were all directed to what I recall as a shack, with NO DOORS on the toilets. I was so desperate to go that I just had to get into the swing of things but that memory of being so embarrassed stays with me still.

The day just seemed amazing – I had never been anywhere with so many people in one place. I don't seem to remember much about the music during daylight hours but I do remember the "missiles" being thrown and ducking and diving to avoid bottles and debris that was flying everywhere. Near our group, a collection of older, rather hairy bikers also thought it was a great idea to set fire to something or other and for a moment I began to panic that we would have a raging inferno (bless my young cotton socks) but my sister's friend, all of 17, slim, gorgeous, blonde and very sensible, just ran over to the small fire and stamped it out. At this point the bikers looked a bit ashamed!

I remember "Don't Fear the Reaper" by Blue Oyster Cult and being so excited to hear it live. The fact, according to everyone else that the acoustics were terrible passed me by. Then we waited ages and ages for AC/DC. We decided that they wanted to wait until it was really dark and when that bell came down from the roof, I was ecstatic.

No idea how we managed to find the coach back but luckily we did. One couple who were supposed to get to Birmingham found their coach long gone and grabbed a lift on ours. They were dropped off at Spaghetti Junction at some silly o'clock. I believe we were due back about 2am, but turned up safe and sound in the centre of Worcester at 4am. In the no mobile phones, good old dad had been waiting with a group of other parents for 2 hours at the collection point…. But luckily it wasn't my fault so didn't get a bollocking.

I loved the concert, the atmosphere, the excitement………. But I would never let my daughter, currently 15 years old, do anything so crazy!
---
My first festival as a tender 15 year old.
Overwhelming smell of wet denim and leather, and beer. The hi tech toilets consisted of a tarp draped into a trough shape to allow the piss to drain into an open pit with the aid of gravity.
I vividly remember the flying bottles and cans spinning their yellow liquid out of the tops during the later part of the day. I guess it was too far to walk back to the "toilets" and end up losing your spot.
Whitesnake stole the show for me. I recall Brian Johnson forgetting the words to some of the older AC/DC songs too.
I don't remember much else, but I still have the programme and patch.
No idea how we all managed to regroup for the drive home after the show, but we all made it somehow
Richard Clayton
---
Hi Guys came across this page of yours about Donington 81 it's the first time I had the vision as it was on that day so clearly implanted in my brain again.
The walking over the Dunlop Tyre Bridge to go on the park and the obvious Rebelious streak in me I had to set foot on the racetrack as I'm from Inverness Scotland and travelled over night on a Coach with another 50 Rock Fans
Anyhow. I cant tell you about More as like most open Air Festivals the1st band don't seem to get a look in but.
Blackfoot blew me away as I bought their Marauder album the week before and never even knew they were on the Bill amongst been hailed with plastic bottles of pish and whatever i was in my element I climbed over some sorry states and a Naked woman to get to about 6 rows from the front if you can call it rows I EVEN HAD A PISS where I was standing when the crowd were roaming back n forth I just went with the flow lol I actually have most of the set list from the gig as Tommy (R.I.P) Vance was the Master of Ceremonies
As said by Max Mingardi about the BOC - I also agree with they sounded shit in all the bad weather But as he also said then there was
SLADE FANTASTIC no other word to describe them we got them after a struggle to sing Merry Xmas Daytime or not The Crowd me inclusive loved them,i still tell my friends how good they actually were performing live.
Whitesnake and AC/DC were ok
I saw AC/DC in the Glasgow Apollo in November the year before and they were fantastic - The Back in Black tour but I didn't think much of their Donington performance.
Whitesnake to me is a not remember performance apart from the pish running down the hill from the toilets think they sold lots of beer that day.
SLADE & BLACKFOOT stole the show
P.S I wore my cut off that day heres a couple of pics im in the actual photo and had hair lol
Thank you for this Page keep up the good work
Slaint'e Mhath'e
Happyevs
---
Recordings and setlists.
Blackfoot

Two songs from Blackfoot's set featured on this double single release

On The Run
Train Train

The full set is also circulating as a boot

On the Run (4:33)
Shine a Light On You (5:19)
Every Man Should Know (4:32)
Good Morning (4:03)
Too Hard To Handle (4:15)
Train,Train (6:52)
Highway Song (10:13)
Dizzy Mama
When I'm Dancing, I Ain't Fighting

Take Me Bak 'Ome

Lock Up Your Daughters

Everyday

Something Else

Pistol Packing Mama Medley

Gudbuy To Jane

We'll Bring The House Down

Get Down And Get With It

Mama Weer All Crazee Now

Cum On Feel The Noize

Born To Be Wild

Merry Xmas Everybody

setlist courtesy Richard

Poor quality audience source

Blue Öyster Cult

The Red & The Black
ETI
Heavy Metal
Joan Crawford
Burnin' For You
Hot Rails To Hell
Godzilla
(Don't Fear) The Reaper
E: Roadhouse Blues

Eric Bloom : vocals/guitar
Buck Dharma :Lead guitar/vocals
Allen Lanier : keyboards /guitar
Joe Bouchard : bass/vocals
Rick Downey : drums

It is not known if a recording of the entire set is in existence but Roadhouse Blues was featured on one unofficial release

Whitesnake


Walking In The Shadow Of The Blues
Sweet Talker
Ready & Willing
Don't Break My Heart Again
Lovehunter
Mistreated / Soldier Of Fortune
Belgian Tom's Hat Trick
Ain't No Love In The Heart Of The City
Would I Lie To You
Fool For Your Loving
Wine, Women & Song
79 min

Noisy Aud recording

David Coverdale : vocals
Micky Moody :guitar/vocals
Bernie Marsden : guitar/vocals
Neil Murray : bass
Ian Paice: drums
John Lord Keyboards
AC/DC

Hells Bells
Shot Down in Flames
Sin City
Back in Black
Bad Boy Boogie
Sin City
The Jack
What Do You Do for Money Honey
Highway to Hell
High Voltage
Whole Lotta Rosie
Rocker
TNT
Rock and Roll Ain't Noise Pollution
You Shook Me All Night Long
Let There Be Rock

Ticket courtesy Ashley Haynes
Festival Welfare report
Fws reports tell us nothing about the music but give a fascinating insight into just how well rock festival were run, in general, things had improved form 1980, but there were still a few features that could have been improved -such as pass outs and camping , in fact camping was always discouraged and pass outs were not availbale in 1982 either ....
MONSTERS OF ROCK
Castle Donington .
August 22nd 1981
FIELD WORKER'S REPORT

Estimates of attendance 60- 70,000
| | |
| --- | --- |
| 1981 site plan courtesy Ashley Haynes | |
This event was organised by the same promoters and was held on the same site as the festival last year, about which FWS had not written a very complimentary report. The festival had better facilities this year, although there was still much room for improvement. The weather this year was inclement, to say the least; in fact it varied between drizzle and hard rain for the whole day and the site got very muddy.

The main improvement on last year was in a better selection of food and drink being available in the arena, so queuing was minimal and prices were reasonable. The toilets in the arena worked well too and there were plenty of them. I didn't see much of the 3,000 miles of toilet paper advertised by the promoters, except being thrown at the stage. Carefully selected toilets were even still useable on Sunday morning, although unfortunately you could only get at them then if you were working at the festival.

FWS had been invited by the promoters to "be there" in the information marquee in the arena which the promoters were providing. I had telephoned the promoters office to find out if FWS was expected to do anything. We were invited to be there, but the promoters were making arrangements for representatives from British Rail and the local bus company to give out travel information; Sounds would be there doing messages with a notice board and the promoters staff would be dealing with general enquiries.

| | |
| --- | --- |
| C'mon you bastards, feel the NOISE! © Tommy Strauss | The information marquee in the arena was a fair size, housing only travel information and public telephones, as Sounds had a separate marquee next door. Tables and chairs had not been supplied, and the lady from the local bus company had to stand for a long time before these could be found. I had gone to the festival with a representative from Release and we helped out with information during the day. We discovered that both British Rail and the lady from the bus company were leaving the festival at 6pm. From our own experience on information points before, we had found that festival goers don't usually start thinking about how they are going to get home until the evening. We got a message over the PA to tell people to get their travel information before 6pm. (In the end, the lady from the local bus company stayed until 8pm) The information tent was very crowded during the day with people queuing to use the telephones and sheltering from the rain. |
Mike and I worked in the information tent from 6pm until the crowd left the arena at the end of the concert. No lighting had been supplied in the tent, so we had to use our own gaz lamp. There were still many people wanting travel information throughout the evening, as many people had not heard the stage announcements. People who had arrived by coach had not found out where they were being picked up afterwards, so we had to find the coach park and ask the drivers. There were no promoters staff in the information tent and the Sounds tent packed up around 8pm. We recommend that in future the information tent is planned to be staffed until the arena is cleared; that large site plans and maps of the area are provided that the information tent has a better link with the promoters office; and that some local volunteers are involved to give out information on local devices.
The Sounds tent was demolished during the evening by people climbing onto the roof to get a better view. This would also have happened to the information tent, but we were constantly going out to ask people to get off it. Security staff were not evident at the back of the arena to prevent this. One of the small tents nearby housing the fire extinguishers was also demolished and all the fire extinguishers taken out to be used by the kids to stand on.We recommend better security in the arena, especially around the emergency services and more effective communication with the security services and promoters for the information service.
Courtesy Ashley Haynes

Apart from the lack of coordinated information, no serious problems were reported during the day in the arena by the Samaritans although the St John Ambulance units were busy dealing with first aid. The St John were better situated this year inside the arena, with emergency access for ambulances around the racing circuit. There could have been a serious accident in the arena at night as the mobile traders started driving their vans out of the arena in the dark through thick crowds before the end of the concert. We recommend that traders do not drive in the arena until the crowds have gone.

The main problems, from a welfare point of view, arose on the campsites on the evenings before and after the festival. I arrived on Friday evening, and by midnight an estimated 10,000 people were camping. No provisions had been made and it seemed as if no one had expected such large crowds to arrive on Friday night. There was no proper stewarding and the security people seemed to spend most of their time searching vehicles thoroughly, including mine, for unauthorised merchandising. Motorists were confusedly driving around and trackways in the camping fields became locked as people parked haphazardously in the dark. The site wasn't well enough lit, especially in the overspill camping field which didn't seem to be supervised at all. Extra fields had been opened up to deal with the flow of people arriving through the night. There was only 1 set of unlit toilets oh the main camping field and no facilities in the others or at least none that I could find in the dark. The stewards recommended that I use a bush".
There was no first aid unit on the campsites, although there were many police on duty and some arrests, mainly for drug possession. The Samaritans had a tent on the campsite from Friday evening until Sunday morning. It was perhaps lucky that there were no accidents on the campsite, as there were a number of very drunk people, in very lively spirits. Many people were building bonfires and tearing down live trees and bushes and destroying fences for firewood. It was very reminiscent of chaotic Knebworths. There were fewer people camping on Saturday night, although many had obviously decided to stay overnight because of the enormous traffic jams and number of confused motorists driving round. Many people were wandering round in the dark, having lost their bearings, their car or tent. We recommend some sort of signs in the car parks and campsites for people to recognise which one to look for their tent or car in and large site plans of the area.
We recommend much better provisions for camping. A festival attracting thousands of people to a site like this, which is ideal for a festival, must expect many people to arrive the night before, which is part of the ritual. There is a need for toilets and water supply in each of the camping fields. There should be some lighting at night on the fields and more stewarding to keep emergency access open. It would be better to provide some out wood for campfires to prevent damage to woodlands and fences. There should also be a central information point on the camping area, with good communications to the promoters' staff and security.
It was generally agreed that the prohibition of alcohol from the arena was a good idea from a welfare point of view, and that the banning of cans and bottles from the arena cut down on the number of serious casualties resulting from missile throwing in the crowd, who seemed quite happy to make use of some of the miles of toilet rolls the promoters had supplied. We recommend however that there is an efficient pass out system for people wanting to leave the arena and return later in the day.
Penny Mellor
Field worker.
---
Recollections.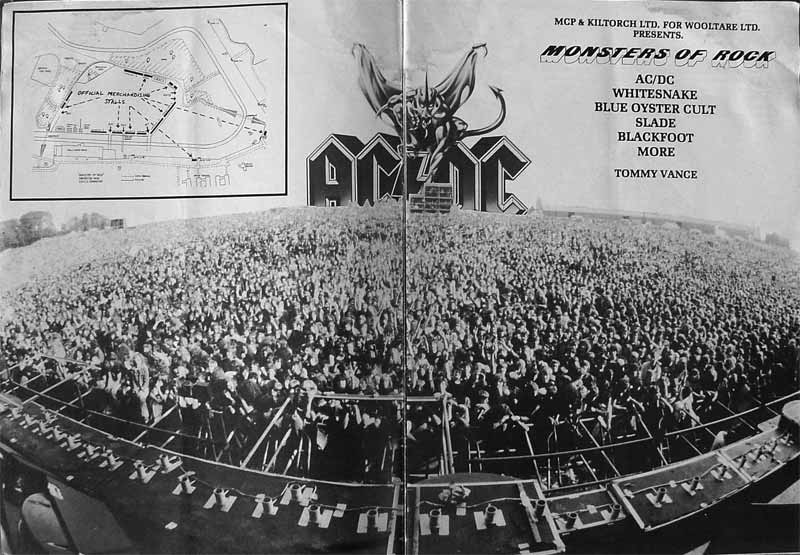 Courtesy Ashley Haynes

1981
After 1980's arse-crunching coach journeys I decided to take a leaf out of my brother's book and biked it this year. We also camped, not at the site which was still not allowed, but on a farm further down the road. A few others had also taken the initiative and done the same. We'd also travelled down a day earlier, mostly to try out some of the local pubs. It was while sitting outside The Storey Arms in nearby village of Osgathorpe when we heard AC/DC doing their sound check wafting over the meadows, talk about 'Rock N' Roll Ain't Noise pollution'!
This year everything lot a little bigger and a lot wetter! It drizzled on and off all day leaving everyone extremely soggy. The weather had an effect on the sound too, the wind carried the music everywhere except, it seemed, towards the audience. Facilities around the site had got even better with more toilets and more places to eat. Still no bar, in fact, the first licenced bar didn't appear here until 1984 (with bizarre consequences in 1986!).
As for the music, only six bands this year with AC/DC topping the bill. Whitesnake were second (after being rumoured as headliners) followed by Blue Oyster Cult (strangely missing from the programme and t-shirt), Slade, Blackfoot (also absent from the t-shirt but receiving a token half-page picture in the programme) and this year's NWOBHM reps More kicking off the proceedings.

After a brisk stroll from Breedon Brand farm to the festival site armed with waterproofs and gallon containers of beer (Courtesy of the Storey Arms) we entered the arena and found our spot, it was a soggy spot but with a good view. No big screen this year, it blew down so I hear. More did their best and went down fairly well earning an encore, to shouts of MORE obviously although Thermos was none too impressed and continued to shout LESS!
After a short wait and a couple of light showers Blackfoot hit the stage and turned out to be just the job for a rainy day in Leicestershire. Their brand of Southern style boogie at least got everyone off their feet for a little dance to help keep dry.
The highlight of the day came a little earlier than usual and it arrived in the form of Slade who had returned to the limelight after a barnstorming set at the 1980 Reading Festival. It seemed only logical to add them to Donington in 1981. Tommy Vance introduced them as a band that the country holds dear to their hearts and judging by the rapturous reception, he could've been right. They came, they saw, they got piss wet through, copping the worst rain of the day. Noddy Holder commented that the rain was dripping through 'The Bell' (Hell's Bell swinging overhead) and that it was going to get rusty. The band ploughed through what was mostly a greatest hits set with a hint of new songs from the recent 'We'll Bring The House Down' album. They urged everyone to perform an acapella version of 'Merry Xmas Everyone' and during 'Mama Weer All Crazee Now' launched about 300 bog roll into the crowd.....Blue Oyster Cult were going to have 'fun' following that!
And FUN they DIDN'T have! Blue Oyster Cult's set was a disaster from start to finish. Of course, after the event we learnt that drummer Albert Bouchard had quit just before the gig which couldn't have helped. After the up tempo Slade set, BOC seemed very dour and above all BORING....last song 'Dont' Fear The Reaper' was the only light relief but then that doesn't sound like anything else they're ever done anyway. It was a far cry from their 'Spectres' laser-enhanced spectaculars of the late seventies.
Whitesnake next and they were well up for it with only one thing on their mind, blowing AC/DC off the stage. And I think they pulled it off, just. I'd seen them the previous year on the 'Ready N' Willing' tour and this set was pretty much the same as that. They played well and were received well, not much to add to that.
With the advantage of darkness and a lightshow (and no rain by then) AC/DC ran through a fairly standard set. They were never bad - just not brilliant today. New boy Brian Johnson seemed well settled in and although he mentioned that they were recording a new album no new songs were played. We were all knackered towards the end and looking forward to our sleeping bags. Even the end of show fireworks seemed to be going off in a half-hearted manner. A good day, but nowhere near as enjoyable as 1980.
Ashley Haynes
---
I was a 'witness' to this festival in 1981 so I thought I'd get in touch with my account.
I was 15 years old when I went. I have an 18 year old daughter now and theres no way I would have let her go to such a festival at that age-how times change. I went down on the train from Manchester to Derby with with a couple of school 'mates' who I didn't really know but were friends of my best mate who bottled out of going due to familly preassure at the very last minute! Anyway, from Derby we bussed it on the provided buses to the Castle Donnington site. I realized when we got there what a bloody sheltered life I must of led thus far! There were hippies',hardcase headbangers and hells angels all over the place and the smell of dope.
Still once in the arena there was a generally good hearted atmosphere and then the first band MORE came on . They were formulaic even to me and rightly got bottled off! Next up was Slade who were old favourites and really kicked off the show with a footstomping set. They had just had some chart success earlier in the year with We'll Bring the House Down and they certainly did. Makes me laugh now when I see Noddy coming in to the Tesco where I work for his shopping.

Southern Boogie band Blackfoot had the only bare footed drummer I've ever seen in Jackson Spires but then he is a native American Indian! They were the first band of this up and coming genre that I had heard and I was impressed.

Although it had been driserly and miserable up til now the sun shone for BOC, but I wasnt impressed at all, their sound was bobbins and to be fair, as I had been up since 6.00 am doin paper rounds before catching the train I was knackered so got a bit of shut eye during most of thier set,
Besides, my 'mates' had all buggered off when I went to buy a programme and T shirt (only I had any money), and I didn't stand a chance of finding them in a crowd of 70,000!
Whitesnake were the first real band I came to see. The crowd moved into the stage now so I moved right back to the mixing tower to get a better view as the arena had slight incline. Coverdales lot were brilliant tight, polished and powerful: the best band of the day as it turned out. At that time I was only 'whitesnake curious' but after that performance I became a die hard fan (well until 85 anyway).
AC/DC were everthin that a rocking band should be and I had been a fan for a while although this was the first time I was goin to see them I think I actually trembled with excitment and forgot about how the hell I was supposed to get home during their thunderous set.
One problem, at 15 I wasnt very tall and couldnt see a damned thing! I (and 50,000 others) had decided to get as close as possible so although I was a bit closer to the stage the arena had bottomed out and was fairly flat. I only saw Angus when he got on the back line cabs for Let There Be Rock.
After the show, the journey home was chaotic! I finally managed to board one of the last Derby bound buses at about 1.00am. Once at Derby station though the last trains to Manchester were long gone so I got one to Birmingham News Street and waited on the platform until the first Manchester train at 8.00am. All in all a first festival experience of mixed blessings but subsequent festival outings to Knebworth and the 84 MOR were a tad better.
Si Slater.
---
Donnington 1981

After my debut Festival at Reading in 80, 81 was my first Donnington. It bloody poured down, god it was miserable weather. Considering how little I can recall of Reading in 80 and 82, my memories of Donnington are almost clear. A sheltered soul until the bus trip up to Donnington from Surrey. I'd never seen people smoking cannabis at close quarters or doing the business in plastic bags which got chucked out the window of our probably condemned double decker bus. Half way up a panic on the top deck as plod dropped in to say hello and all sorts of bags disappeared from view. a number much to the disgust of their owners followed the bog bags out the window.
There was a bloke on the bus,( can see his face as I type this ) who looked like the goblin from Spiderman and sounded like Grima Wormtongue from Lord of the Rings. He was horrible, a perfect child catcher for a remake of Chitty Chitty Bang Bang. As with Reading in 80 and 82, went with school friend Chris (where has he gone?).

AC/DC was the draw for me and for the 2nd time in two years, I forgot I'd seen Blackfoot - berk! But now I've seen the line up and rescued whats left of my old record box I found the Dry County single - limited edition gatefold sleeve with free live at Donnington cd - and gave myself a good beating.

We came in as Blackfoot were starting up and so semi caught the set. Following their triumph at Reading the previous year, I was looking forward to Slade and in the torrential rain they didn't disappoint. A blazing set and the bog rolls too. BOC were on a hiding to nothing, didn't really know them Reaper apart and they largely passed me by as we explored the merchandise tents. As a poor student cheap black tee-shirts were my fashion essential.
This was the first time I'd seen Whitesnake, and every time since I've come away disappointed. Not being a great fan of set piece solo's and long drawn out workouts makes them kind of difficult. But here and now they blitzed Donnington, caught the solo's down and played AC/DC off the stage. Great songs, great attitude. Killer!

AC/DC were good, but not Whitesnake good on the day. Sadly last time I saw Slade and Blackfoot - unless they've played somewhere else I've forgotten.

And all held together by the late, great Thomas the Vance. His Friday night rock show was the highlight of the week and essential listening. Remember hearing an interview he did with with Brian Johnson promoting for those about to rock, explaining the meaning of let's get it up and deciding it was about flags! Poor sod then got let lose to review the weeks new singles which included Open Arms by Journey. Brian tried, tried his best to think of something good to say, but couldn't and declared it's not rock n roll.

Paul Nathan

---

Ive just found your web page and it has a set list for Slades session.
I seem to remember that they played a song called M'Hat M'Coat which is missing from the set list on your web page.

Eamon

---

I was at the 81 festival and it brought back some happy memories of 65 thousand hairy unwashed heavy metal fans. I cant remember it raining that year but BOC were shit even if their sound system was to blame but I can remember More going on before them and they werent very good either - there was lots of stuff being thrown at the stage and that was the excuse for the poor sound from BOC.

Donington was always such a free spirited , easy going occasion, as we can see by the rules displayed on the ticket back :)

courtesy Ken Collins
Slade stole the show and had encore after encore and when they came back on for a last time asked what we wanted them to sing and as one voice we shouted merry xmas noddy shouted back "fuck off its august you do it " so we did, Whitesnake were awesome with coverdale at his best prancing around the stage we thought that nobody could have topped that ,then you got the gods that are AC/DC and they just blew you away
It overran quite a bit as i seem to remember reading about a fine the orginisers had to pay but it was obviously worth it as it went on for quite a number of years. I went on to join the Navy soon after so never got the time to do another one and keep threatening to go with my kids next year `but as i now have no hair a beer gut and hate anything that isnt dad rock think that i might give it a miss and rock around my front room when nobody is watching
Keep up the good work on the website
Yours Aye
Ray
---
Note large flying object on left, I've checked it out, its not a speck of dirt, most probably a bag of some sort !! © Ken Collins
In 1981 I was 13 years old, so going to Donington from my home town outside Edinburgh was a massive adventure and is something I will remember as long as I live. I went with my best mate at the time, his sister and her boyfriend. The boyfriend was in charge of making sure we stayed safe and he was a mighty 16 years old !! My own son is 15 now and has inherited my love of rock music but I wouldn't let him near Donington unless I was taking him. I can't believe my Mum and Dad let me go, but I guess people worried less back then about the bad stuff that can happen in life.
We bought our tickets weeks in advance at a record shop in Edinburgh and with each passing week the excitement of going to see AC/DC built up. On the Friday night before the festival we took the train from Edinburgh to Derby, then we got the bus that was laid on from Derby to Donington. We arrived at the site quite late and spent the night trying to keep warm by the camp fires that had been lit. I was amazed at the characters kicking around. There were stoned out hippies, bikers, rockers, etc. It was a different world from the one I lived in. We had no tent so we never slept and just roughed it around the site until the next morning.
I remember the gates being opened very early in the morning as thousands of people had arrived at the site through Friday night. When we got in we went right to the front thinking we could stay there all day until AC/DC came on. We soon realised our error as the time dragged. I remember when we went to the merchandise stall to get a T-Shirt and Programme the young guy serving me looking at my Scottish tenner and asking his boss if it was legit, he got a swift reply "'course it is give me a sack full of 'em !". I pissed my self laughing as the guy handed me my stuff.
Anyway on to the music. First up were More, I didn't know any of their stuff and they were instantly forgettable, I never looked them up again. Next was Blackfoot and this is where the fun began. Blackfoot were another band I knew nothing about but they went for the jugular that day and really got the crowd going. The highlights were Wishing Well, Train Train and Highway Song. I really got into Blackfoot and I've got a bootleg of the FM radio broadcast of their set that day. Next up was Slade. As anybody who was there will remember the weather was crap that day and it was raining heavy by the time Slade hit the stage. Like Blackfoot before them Slade went for it, everybody forgot about the rain and rocked hard. I remember the place raining toilet rolls, bottles and general debris after Slade started throwing toilet rolls out into the crowd. The hail of bottles and bog rolls continued well after Slade finished. I remember I got hit with what seemed like a gallon can (when you were only 13) that nearly knocked me out. A guy next to me and my mate helped me up and I was soon back in good spirits. The bottle thowing probably looked bad from an outsider looking in but when you were in the midst of the mayhem it was all just a bit of fun, even if it was a bit mental !!
After Slade came Blue Oyster Cult. I think enough has been written about their performance that day over the years. It was awful, the sound was terrible. A shame really as a lot of people, me included were looking forward to seeing them. They made up for it when I saw them at Edinburgh Playhouse a couple of years later where they proved they were a great live band. After Blue Oyster Cult was Whitesnake. I remember some debates leading up to Donington around whether Whitesnake should have been the headliners instead of AC/DC. They put on a great performance that night and Aint No Love In The Heart Of The City and Fool For Your Loving were highlights. I still think AC/DC shaded them that night though. Pity Whitesnake changed direction in the mid eighties because they were a great blues / rock band. I cringe at Coverdale these days when I think what he was like back in the day.
There was a massive delay before AC/DC came on, I think there might have been some PA troubles due to the rain, and the crowd were definitely getting restless by the time AC/DC kicked off. I remember being as tired as I have ever been in my life by this time. Me and my mate got right up against the barrier on the left side of the stage for AC/DC. We were so small our eyes were just peering over the top of the barrier. A guy next to us had a box or carton that he was standing on. When he saw we needed it more than him he gave it to us and I spent the next hour and a half watching AC/DC standing on a box !! When the bell came down for the start of Hells Bells I couldn't believe I was finally going to see Angus and co in action. I thought AC/DC were great that night, Angus live back then was something to see. I loved the Hells Bells opening, other stick outs were Sin City, Bad Boy Boogie, Whole Lotta Rosie, and Let There Be Rock. By the time it was over so was I. We had to somehow find our way from Donington to Coalville where we were staying with my mates Uncle. We walked for what seemed miles before we got a taxi, as soon as I sat down in the cab I fell asleep. We got the train back to Edinburgh on the Sunday, I can't remember anything about it so I guess I slept all the way home. Great days.
Keep up the work with the site.
Cheers.
Peter Gillespie
---
I'd be 16 at the time of Monsters of Rock '81, a big AC/DC fan with their logo embroidered on the back of my denim jacket (thanks, mum) and growing my hair as long as parental disapproval would let me. Was due to go with a couple of classmates but there was some sort of falling out between school breaking up for the summer holidays and the date of the festival so it was off on my own. Like many contributors to this site, it now amazes me that my parents were (outwardly at least) perfectly happy to let me go alone at that age – and, for that matter, that I was perfectly happy to do so.
Looking at the map I noted that Long Eaton was the nearest railway station to Castle Donington, so bought a ticket to there and headed off with no real idea (walk? bus? taxi?) of how I'd cover the last five miles or so – but then you don't worry about such things at that age. From Leeds as far as Derby on a train full of holidaymakers en route to Bournemouth, then saw the signs for the buses from outside Derby station, so all these years later I've still to sample the sights of Long Eaton. I do, however, have a vague recall of Castle Donington village from the bus window, a pretty place incongruously crawling with metalheads, bikers and similarly unsavoury types.
Aside from the bands I've two abiding memories of Donington: the drizzle and that delightfully aromatic combination of patchouli and dope. Until I read someone else's recollections I'd forgotten there were no licensed bars, though as an inconveniently youthful-looking 16 year old I'd yet to become a successful underage frequenter of such places. My alcoholic needs were met, however, when I was 'adopted' by a bunch of Canadians armed with plastic containers of home brew: it tasted like nothing I've drunk before or since but it worked and we became best mates for life – at least for that day, anyhow – as I sat beneath a big old fashioned bright yellow cycling cape.
The music? More – don't remember a thing about them. Blackfoot – got the crowd in the mood with some straight-up boogie. Slade – they were the first band I latched on to as a kid so I'd secretly been looking forward to them as much as AC/DC and they didn't disappoint with the songs or the bog roll barrage. Blue Oyster Cult – didn't like them before, couldn't hear them then: enough people have already commented on the dire sound so I needn't add any more. Whitesnake – the rule among my mates and me was that if you were into Motorhead, Sabbath, Judas Priest and the like then Whitesnake were shite and David Coverdale was a big queer (teenage boys, eh?) but my prejudices were shattered by a tremendous set. AC/DC – good, no doubt about that, but they were never going to live up to expectations. Plus, by that time, I was knackered, hungover and wondering where I was going to get some kip that night.
The answer to that question, after interminable queues to get out and onto the buses, was a seat on Derby station then a waiting room on Sheffield station, where one of the platform staff unlocked the door and switched on the heating for the group of bedraggled kids making their way back north. My dad picked me up from Normanton station in time for the full Sunday roast and a luxurious afternoon of bath and bed to conclude the biggest adventure of my life up to that date.
I've never been to Donington since: within a couple of years of 1981 it was off to university and the decision that I was leaving my old life behind and was above all that heavy rock nonsense. Sold my records, with the exception of my Motorhead albums for some reason, to a cousin who I've never seen since – the last place I knew he was living was at Her Majesty's Pleasure in that big building which looks just like a castle towering above the rooftops of Armley in Leeds. Of course, life never works out as you think it will when you're 18 and now, 30 years later, I'm happily rooted in my home town and equally happy to call myself a rock fan. And having seen that the bill for the 2010 Download, as the Donington festival has become (it'll always be Monsters of Rock to those of us of a certain age), includes AC/DC, Aerosmith, RATM and Motorhead, I can't tell you how peed off I am that we'll be on holiday that weekend. Never go back? I wish I could this year!
'Ramsden'
Castleford, May 2010
---
My first festival in 1981 at the tender age of 15, you could take your own booze in too ,well we did. Seem to remember where you crossed the track it had carpets down, did wonder how trainers were going to do anything that a formula one tyre didnt to the surface but hay ho.

Still have an unused Festival Patch and my programme in my box of bits.

Those were the days when ROCK Festivals did what they said on the box.

Slade were bloody good, several hundred loo rolls used as streamers i remember.

Tommy Vance, what happened to him, was the compare and Janice Longs morality was called into quaestion a lot "Janice Longs a slag" seems to have been the chant.

Hay Ho happy days.

Regards.
John Tyler
---
Can we get a witness ?
We need more info on this and the other Donington festivals, most especially more photos and personal recollections so c'mon head bangers, get yer photos out and fire up what's left of the aging brain cells .Send your recollections and scans to us NOW ! !! Contact us
---

Watch this space for more Monsters of Rock pages to be added in the next month or two - we will eventually go up till 1996, meanwhile if you have material from any years up to 1996 , send it along and we will add it as we build the pages.
Free festivals of the 70s and 80s