The Archive.
Big thanks to our sponsor Neil !

For information on today's festivals see eFestivals.co.uk
Updated June 2021
---
The Twelfth National Jazz ,Blues and Rock Festival.
Richfield Avenue.
Reading
August 11-13th 1972.
---
Galleries and links .
---
Audience Recollections and images .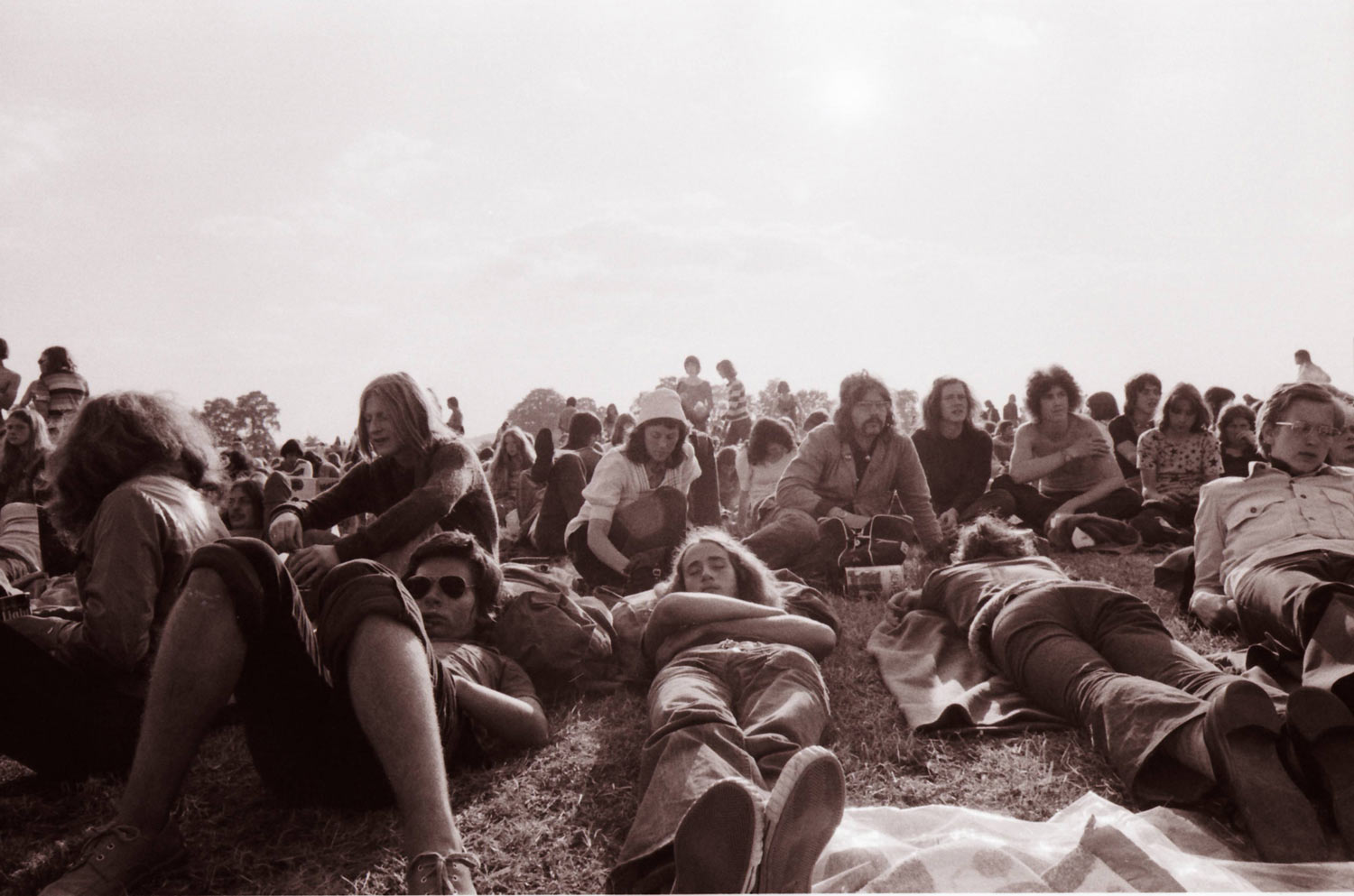 Reading crowd 1972 © Joe Sbonbo
Photos courtesy © Steve Austin unless otherwise indicated




© Steve Austin

Intrepid TV police take to the water to help stamp out the scourge of water bourne drugs !
© Joe Sbonbo
In 1972 I decided on the spur of the moment to go along on the Sunday (August 13th), with my girlfriend. I still hadn't been to a rock concert, and was into the Beatles, Stones, and, most recently, David Bowie. I wrote a brief account of our day in my diary that night: "Woke up with the idea of going to 3rd and last day of Rock Festival at Reading. Saw pix in paper. Weather looked good. Borrowed £5 from M. [my sister] and we got 3 o'clock train. S. [my girlfriend] wearing ochre cords, smock and white clogs. 20 mins [from Reading station] to festival site. Expecting £1.75 entrance - a bloke sold me a ticket for £1 and I found they'd reduced it to that anyway! Great! Very warm.

We tried to get a place in front of the stage but it was too packed. We walked right round the site and came back and settled down to the far right of the stage. Heard Vinegar Joe. Status Quo got the crowd on their feet clapping. Drizzle - we got a nice bit of shelter under a Daily Mirror banner. Roy Wood's new band - Wizard - self- indulgent but a good spectacle. John Peel was D.J.ing. Then as it began to get dark - Stray -fairly good - used smoke bombs, firecrackers and fireworks, rockets in act. Then Mahatma Kane Jeeves (?) - dark - lights on. Before Stray I'd had 1 hot dog, 1 hamburger, 1 can of Coke and 1 strawberry yogurt - 2p. All S. had was a raspberry yogurt - !! She kept asking me for my opinion - I kept hating each band!

Then it got darker and they set the coloured lights on the crowd - great sight. Long wait for Ten Years After: on just after 10, when we had to go. Just missed 10.30 train so we got a bus at 10.40. Very bumpy."
Regards
Vin Miles

---

| | |
| --- | --- |
| © Joe Sbonbo | © Joe Sbonbo |

At the time I was working in The Marquee, which was owned and run by the same people who had Reading, and previously back to Richmond. I was in charge of the Artists Bar. It was a great atmosphere and the good people of Reading were just beginning to realise the value of this event, despite the efforts of Thames Valley Police. Backstage, no big caravans, only small changing rooms and everyone drank in the bar, roadies, A&R chaps, the Bands, groupies and it was like a grand night in the Speakeasy. Only downside was I had to sleep behind the bar !

Geoff Sloan

---

| | |
| --- | --- |
| © Joe Sbonbo | © Joe Sbonbo |

I went to the reading festival in 1971, 1972 and 1973. Each of which had their high points.

For 1971 it was Arthur Brown, Terry Reid and Rory Gallagher even though most of the festival weekend was cool and wet.

For 1972 it was Magma (strange but interesting), Matching Mole (an early outing) and Focus who stormed the festival that year but is not mentioned on your page. The next day somebody managed to find a copy of Hocus Pocus for the DJ to play and the crowd went wild.

For 1973 it was Rory Gallagher (he never fails), Status Quo (who the Faces found impossible to follow) and Tim Hardin (with Danny Thompson on string bass).
All the best,
Graham Reed

---

Galleries and links .
---
The early festivals.
You can find out the complete line ups of the first festivals if you follow the links below .
Festivals 1965-1990
Most of these have fairly complete documentation .But new contributions of any sort are always welcome regarding any of the festivals.
---
This site is non profit making , its a site for die-hard fans- and run as a source of information for those interested in Rock music of the past .We are completely against the sale of bootlegged artefacts , especially musical ones .We attempt to obtain permission to use articles and photos wherever possible, but on occasions , due to the age and obscure origin of some items , we have not been able to ascertain the owner of the copyright .It is also possible that occasionally we are sent material from sources that assert that they own the copyright of material, but their claims are spurious - If you see any material on the site that you believe you own the copyright of - please send us an e-mail with proof that you have ownership of the image and we will remove the offending item from the site immediately.
Contact us