The Archive.
Updated July 2021
---
Festival "celebs" : "Jesus Jellett ". Born : 6th June 1948- Died : 8th Jan 2021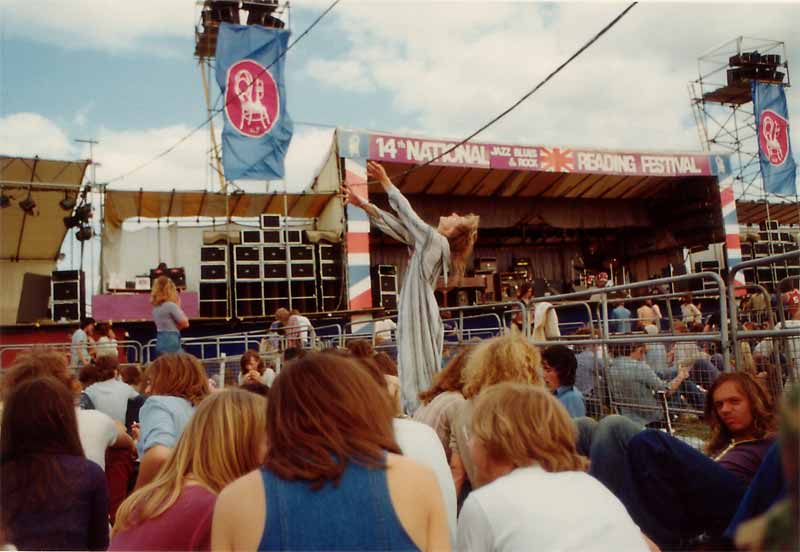 Jesus Clothed !
Reading Festival 1974 © Vin Miles
RIP Jesus, we are not likely to see your like again .......
I received the sad news from his brother Eric earlier this year
William Jellett was born on the 6 th June 1948 Poole Dorset the youngest of 4 children, I am his brother and the eldest. I have not seen him for quite a while but one of my sisters has remained in contact with him.
He has always remained in the London area but over the last few years he has not enjoyed the best of health,recently the decline was rapid.
Last Friday my sister phoned to tell me that at 1 o clock that morning the 8th January 2021, William died peacefully in his sleep in a London hospital. Hope this clears up some of the confusion as who he was.
I believe he was quite a character in the 70s and 80s.
Sad news but not totaly unexpected.
Keep safe
---
"Jesus" was a well known character at most UK festivals in the 1970s, always seeming to be on his own , often nude, he would dance for hours, off in his own little world .Rail thin , he was something of a mystery to most people, instantly recognisable, but not known for anything by the vast majority of concert goers other than for his perpetual dancing , which was freeform , and generally known as ' idiot dancing' by the press, who did not 'do'dancing , seeing it as being terminally uncool.
What happened to Jesus was a mystery ,for many years he just disappeared , which , given his ubiquity durting much of the 1970s at almost every notable gig ( and a few small ones too )only served to stir up rumor and fanciful tales about his fate, none of which could be proved false or true. In his self imposed role as dancer supreme he certainly did not lack courage, ....... standing when everyone else was sitting was a dangerous pastime at commercial rock festivals and this became more dangerous as the decade progressed. William certainly seemed to be a gentle soul who did no one any obvious harm, but he always carried about him a degree of mystery , and the fact that he never declared himself,once he descended into obscurity, despite his earler prominent presence at almost every festival, only increased his mystique. Searching of the free births marriages deaths site, revealed that he was born in 1948 in Poole ,Dorset, ..... his brother has now confirmed that this was correct.
Apparently Jesus did occasionally appear at Speakers Corner in Hyde Park talking about the advantages of Vegetarianism over meat eating , photos of him there on three separate occasions are now housed here further down this page.

The picture on the right is not of Jesus after undergoing a sex change, but is rather the cover of the issue of Teen mag 19, which featured an interview with the man himself early in the 70s . This may have been because Jesus had some contacts in the music business. The story relates that he acted as an adviser to Steve Hillage and the other band members of Egg on ways of surviving within the music business around this time period.

Apart from attending almost every London gig of significance within the freak scene and a goodly few outside of the smoke as well, Jesus also used to drop in to the BIT offices and ' entertain " the denizens there with some of his beliefs. Mick Davis has provided us with one of these and you can read it here

In November 2011, at the Damned's 35th anniversary gig at the Roundhouse, the band dedicated several songs to Jesus, Captain Sensible pointing out the spot he used to dance in at the venue.

If you can add to the Jesus story, , then drop us a line Contact us !

\We have learnt that he was decked by Philthy Taylor of Motorhead for playing his bongos onstage, but he appeared to survive the attack without any ill affects. ( see below)
---
Jesus sightings and reaction to his death .
I announced his death and immediately there were hundreds of social media reactions, he was so well known, but yet unknown, many were saddened by his passing.
Richard Lanchester
I was part of the festival scene from the earliest days, as part of the crew from the Bit Information collective, who provided an early form of festival welfare services, basically rudimentary first aid and a 'bad trips' chill-out tent, and from 1972 on, playing drums with festival band Everyone Involved, and in later years Thandoy.
During all this time, 'Jesus' was there at pretty much every event we were at, so we bumped into each other all the time. Totally part of the scene! But I went abroad for 18 years from 1982, and never ran into him again, tho I've been working and playing back in the festival scene from 2003 on, Glastonbury Green Fields, Green Gathering, Small World, Solarafayre, Equinox, Kozfest, many more.
Sad to hear he's died.... No-one gets out of here alive.
My Condolences to his family and friends.
---
Shanks Long
I have fond memories of him, he used to sit and chat with me, sometimes telling me with all seriousness of his times in Israel, you always knew you were at the right gig if Jesus was there
Rest In Music brother.....
---
Nicholas John Batty
I remember him handing out grapes to people queuing outside Slough Community Centre waiting to see a band. It may have been Stray or The Crazy World of Arthur Brown, it was about 1970-72. He was very friendly and smiling all the time, not the sort of behaviour I was used to growing up in Slough.
---
Vivien Stewart
Dancing back to be reborn....certainly a Cosmic Dancer. Remember him from the 60's and 70's. Last time I saw him was at the Roundhouse dancing to the Ramones.
---
Caroline Toop
Must have seen 'Jesus' at most of the concerts and festivals I went to in the seventies/eighties. He was always dancing somewhere up the front of the crowd!
---
Sue Harris
sorry to hear that - my hubby Steve remembers seeing him regularly at the Marquee Club in Soho back in the day - he remembers him getting there late due to as Jesus was a coronation street fan. He was shy but friendly. Steve remembers him at the first Glastonbury festival and then years later seeing Jesus on the film of it. RIP
---
Michael Stuart Neale
I saw him many times at festivals in the early seventies. Also a few times in Hyde Park , with a couple of girls.
The last time was down the front at Knebwoth when Todd Rungren was on. Think it was mid seventies. He was dancing franticly. I said I'll have some of what your on. He said I don't do acid, I don't need drugs, that he had let Jesus into him.R.i.P.
---
Brian Clark
he always had his little harem with him . used to see him every week at the Kings Cross all nighters
---
Dean Foster
Hey Everyone. William was my Uncle. Seeing these messages has brought a smile to mine and my mothers face. It's amazing how well loved he was. Peace. xx
---
---
the music press were all over his passing
and even the times got into the act.
and JP Robinson dug deeper into his fate than we could be ever bothered to do......
Knebworth 1974
i cant remember the trip home ! but i do remember "jesus" jellett who always stripped naked and got arrested at loads of gigs, well it takes all sorts. I asked my brother about "jesus" and he agreed with me that his name was jellet or gellet, i think he came from southampton, i went to school in southampton also and went to a lot of the big gigs at the time,genesis,deep purple, status quo,etc and he must of been at some, there would be a huge shout if he was spotted! apart from that ,i cant recall if that was his real name but it was shouted out at various gigs.
andy wild
---
Hyde Park 6-29-74
I travelled up to this concert from South Wales on my own, just 4 weeks after a few of us had travelled up for the June 1st 1974 ACNE concert.

I arrived early but the stage had been set up and they had some records being played for the then sparse crowd. I saw Jesus down at the front already boogieing away. Jesus was an idiot dancer who attended all the festivals and had been pictured in the MM or NME at various festivals.
Bill Tasker
---
I was at the infamous Windsor free festival...in fact,i am the poor lil child (only 14!) who is picturedfreaking out (on acid lol) next to festival freakie,'Jesus' in one of the photos...lol! what a gas to see that.
Dolores
we spoke to him a few times, reckon he kept us awake one night at windsor 73. he seemed a nice guy, pretty sure we saw him cop off at windsor 73 too, seriously. At least he turned up...everywhere!
peace.
PC support
---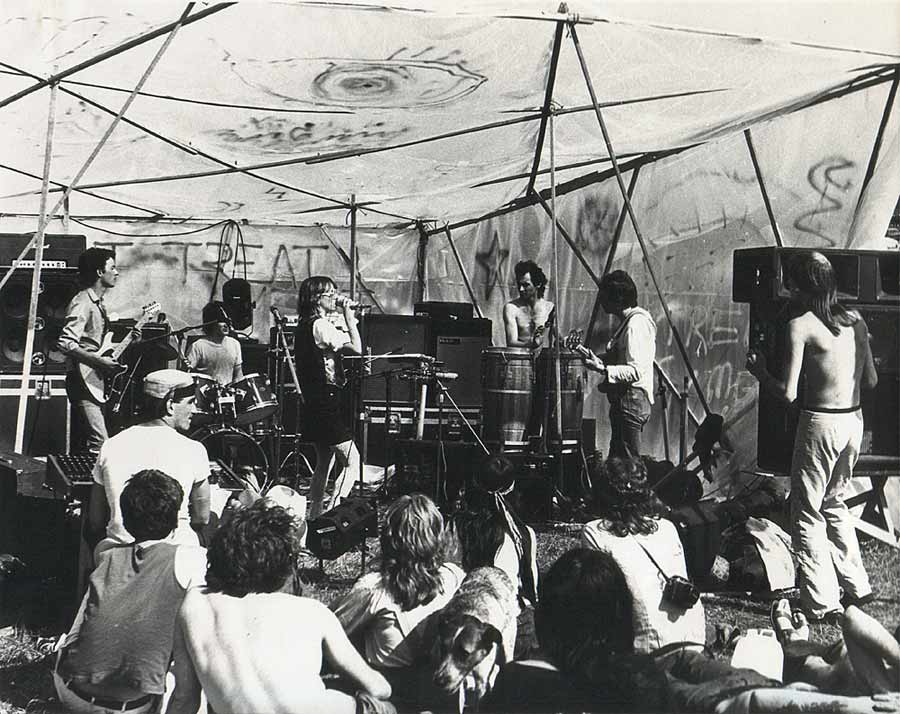 In case you hadn't noticed, the dancer in the top Darting Tongues picture at Stonehenge 81 is Jesus Jellett.
All the best.
© Clive.
The Who at Charlton 1974
I also remember 'the Who on ice' and I think I remember Bongo Jesus being there (he was everywhere in those days)
Peter GillI
---
saw Jesus at Knebworth in 1978 (Genesis at the top of the bill) and I recall there's a crowd shot in Sounds Magazine, issued the following week in which he is clearly visible. I was surprised to see him again at a gig where I was playing drums for a 'Pagan Rock / Blues band called The Runsters, in London in 1991/92... I shall try to find out exactly where...but I remember someone pointing him out and saying: "that's Jesus..everyone knows him!"
David Speight
---
Non Festival sightings
Greetings. I knew Jesus, as it were. I used to clean houses in London ca. 1975-1980. I think this was towards the latter end of the period. Anyway, I was working for a boss who had a lot of cleaning gigs in Golders Green. I was working with a couple other lads and the boss who noted that we were cleaning the walls of a house that had smoke damage. When we went to put our jackets away in the closet, I noted the coat of many colors that I had seen Jesus wearing at Speakers' Corner in Hyde Park on several Sundays (I had also seen him dancing at the front of a Lene Lovich concert; he could dance, usually with very little clothes on). He was there in the house cleaning the silverware.
I told the lads I was with that he was Jesus. They were fascinated when I told them about him and we had tea with him. The lady of the house was charmed by his insistence on herbal tea and honey (this was the late 1970s). So they asked him: "You don't have caffeine?" "No," he answered. "You don't have sugar?" "No." "You don't drink alcohol." "No." "You don't have sex?" "I never said I don't have sex." True story.
yours,
Newton
---
Hiya
Jesus was Clive thats all i know!! honest!!
Twink
---
As a teenager in the mid 1970s, I spent a lot of Sundays at gigs in the London Roundhouse - featuring the likes of Curved Air, Principal Edwards, Van der Graaf, Hawkwind, Edgar Broughton Band, Pink Fairies and so on.
Jesus was always in the audience, dancing away. Everyone knew who he was - and everyone called him Jesus!
I noticed a picture of him in "London Through A Lens" - at Hyde Park 1974, I think.
I have wondered what became of him or who he became!
Thanks for the pages - really interesting!
--
Patrick Hadfield
---
I spotted him at Speakers corner in 2000 or 2001.
He was sitting against the fence with a couple of the hand written posters like in the pictures and also had some random Queen album covers on display.
He had a single knitted glove on, which he told us was a 'sign' of something or other, also he made a lot of references to his friend Marco. He told us had informed Scotland yard and the bbc about his deity status.

Had no idea he was so well known!

Regards

Peter Dickinson
---
This guy was called Jesus Jellett I think his first name was Andrew ( not sure about that)
I spoke to him at a Reading Festival once . He seemed to know a lot about the music business
I think he managed some bands ( again not sure) I saw him last at a Punk Concert in about 1979 in London

@DiamondBoyz99
---
Yeah, I remember Jesus, he lived a couple of houses away from my girlfriend in Shepherd's Bush. I used to see him at every gathering I went to, giving out his nuts and raisins and pulling the chicks. There was a Weeley album out and the picture on the front was a vast crowd scene, all seated except for one naked guy standing with his arms outstretched, Christlike. Jesus again. Heh!
---
I came across this website by accident and it instantly brought back memories of the fun times of the early seventies, that hairstyle of his was very distinctive and seeing the photos on the website I instantly recognized him even after all these years.

He lived opposite myself in Sinclair Road West London around 1970, I was in my early teens and my friend Jimmy and myself used to hang around with him as we thought he was a really cool hippy guy who got us into many concerts for free like the Quintessense gig at the Albert Hall circa 1970? And the Saturday Morning Pictures album promotion gig by Stray at the Rainbow around 1971?
One memory that stuck was we were always knocking on his flat door to see him and one time he eventually answered the door to say he was a bit busy and we couldn't stop that evening, at that his door swung open to reveal two naked women lying in his bed! Yep ,bad timing on our part( although being youngsters it gave us a lot to talk about for several days afterwards) , we went with him once to Speakers Corner but were rather shocked by the bad comments and ridicule he got from some of the spectators as I'm sure he truly believed himself to be the reincarnation of jesus.
I remember he always had a bag of mixed nuts with him which he would share with people and he used it many times as "money" along with his charm with security people/doormen to get us into gigs free, we used to meet up with several other hippies around the area with him as he seemed to know everyone around and by the time we got to the gigs there usually was a big group of us that got in.

Ken Dordi
---
I don't know what happened to him, but I used to talk to him often at Speaker's Corner in 1978. He invited me to tea, but I was too shy to go - but I have always remembered how appropriate it was when he told me he lived in Shepherd's Bush!!
Georgina
( in light of the post before this one, we think that young Georgina had a narrow escape - or missed out , you decide :-)
---
Been reading your site via Captain Sensible's Twitter page and thought I'd share info about Jesus; I remember him being at The Marquee Club often in 1985, particularly at Solstice gigs. Also that year he was definitely at the Anti Heroin gig at Crystal Palace Bowl, which was headlined by Hawkwind and Dame Vera Lynn! Also, there was a rock music programme, ECT broadcast on Channel 4 in 1985 and Jesus can be seen in the crowd during Dumpy's Rusty Nuts set.

Cheers
Ric
---
I love your website, which I've now stumbled twice almost by accident. I'm working on a writing project (but I don't have time for that now) and, having attended the Reading Festival in 1977, first found you through Google. Then again when looking for something about a guy known as 'Jesus' who was a recurring denizen at gigs of all sizes and apparently all venues in the 1970s and 1980s (I lived in London then and had a tangential association with the music industry). It was amazing to see his photos and realise he hadn't just been a figment of my imagination. I sadly know nothing more about 'Jesus' than I've discovered from reading your website, but thought you might be interested in these snippets, pieced together from the information you provide:

http://calyx.perso.neuf.fr/bands/chrono/egg.html
[23] London, The Roebuck
Following Egg's début appearance at this Tottenham Court Road pub, the band's unofficial manager Bill Jellett organises a weekly residency for them there; Steve Hillage occasionally sits in; among the audience at one of these gigs is Pat Boland, a DJ and headhunter for Decca Records; with Middle Earth's plans to start a record label failing to materialise, Egg end up signing with Decca
My note: I googled Steve Hillage Egg Jellett, thinking there might be a link – could Clive or Andrew Jellett have been the brother (son? Father?) of Bill Jellett, Egg's unofficial manager or were they one and the same…?

[Googling "Bill Jellett The Roebuck Tottenham Court Road", I find John Paul Jones of Led Zep once auditioned upstairs at this same pub: http://ledzeppelin.alexreisner.com/jones.html
'Tony Meehan vividly recalls that particular audition. "It was held above the Roebuck Pub in Tottenham Court Road in London. We had a single called "Diamonds" at number one on the charts and we were putting together a band. John Paul heard about is and showed up. He was just out of school, very young and a bit nervous. Despite the nerves, he was a good musician and he knew his shit. He was cocky too in a certain way and I liked that. So we hired him. "He toured with us for a year or so until the band broke up."']

A Pink Floyd fan site http://www.pinkfloydz.com/another_hippy_remembers_p3.htm has this:
"Jesus Jellet took his clothes off and danced as usual, and Tim Blake, the Gong synthesiser player, threw bananas out into the audience during the climactic closing number. Merde! Culturally this was the business, it seemed like people had emerged from hiding in their most exotic finery just for this event. "

This apparently Russian blog has some not-safe-for-work images on its Steve Hillage page: http://nnm.ru/blogs/frozenorb/steve_hillage_l/
"They fell in with a guy called Jesus Jellett who introduced them to venues, audiences and management that did want the 'acidy' stuff. The only catch was that they had to change their name to Egg on the grounds that Uriel sounded too much like urinal."
Same content replicated here: https://laesferamusical.wordpress.com/category/70s/page/17/

And that's where the trail dries up… I'd love to see a copy of the magazine interview he did if you ever get a copy!

Keep up the great work,

Chris Bell
---
Hi there.
I just came upon your page by chance and would like to add that from 1980 to 1985 I worked as a roadie and `local Crew` at the Hammersmith Odeon in London and I came across "Jesus" many times at various gigs. He always was at the front row and dancing around beating a tamborine. His hair was a bit shorter and he had a bald halo on the crown of his head. He was also a very interesting person to talk too.
I no longer live in the UK but it would be great to find out if he still exists
regards
Andy Goodwin
---
Hello There
I stumbled on your site's Jesus Jellet page. I used to know him in 1968. We met when I played a gig at Middle Earth in Covent Garden. He was Bill Jellet then and had a French wife who's name was, I think Marie, or at least something beginning with M. They lived in Kensington and I used to go around their flat regularly to socialise and play music. Other regulars at the flat were Egg, who I supported at a gig Bill put on at the Roebuck in Tottenham Court Rd. I think he used to work in the BBC record library. I don't think the "Jesus" name was used then, I think it was the press that came up with it. He can also be seen dancing in the film of Cream's farewell concert at The Royal Albert Hall and The Rolling Stone's Rock and Roll Circus film.
I am afraid I don't know his origins but if I recall rightly he did come to London from somewhere. I don't recall a regional accent or a London accent so Southampton could be the place. I am emailing Alan Clayson to ask if he knows anything. Others who might know include Dirk Campbell [previously Mont Campbell of EGG].
I must say this whole quest for information has the makings of a good television documentary.
A copy of the 19 magazine with the Jesus Jellet interview is on ebay for a ridiculous price.
Cheers
On a personal note, well self-promotion actually, feel free to check-out my current music on my website.
Philip
Philip G Martin aka Drohne
---
Hi ,
I remember him from a few festivals I went to one particular one in Hyde Park. His name was William Jellet, a bit freaky but cool, I spoke to him a couple of times. He was at most festivals I went to or read about in the music papers.
I remember one article where he was interviewed by a reporter and harping on the Jesus thing he was asked if he had ever performed any miracles, his reply was 'yes,I once gave someone a piece of orange !'

Derick Bhupsingh.
---
I was in a London band called 'Quadrille' in the early to mid '70s. We played all over London and had a residency at the Marquee Club
in '73-'74. It didn't matter where we played, Jesus was always there. I always wondered how he knew where we were playing and,
of course, who he was/is. We enjoyed his dancing tremendously and I'd love to know what happened to him. I live in California now.
Michael Ashcroft
---
I often think of "Jesus" the London gig dancer...
I came to London when I was 19 around 79-80 ... I was busking the underground and surfaced one Sunday afternoon at Hyde Park .. I saw "Jesus" standing with a placard ... Can't remember what it said but I was intrigued by him, he was stick thin like me and his hair, though long. Dirty blond and straight, had a monks circle bald patch at the top... he looked weird but gentle.... I was scared but driven to communicate, me and he got talking.
He offered me some nuts /raisins and we sat on the grass by a tree. I played my guitar and sung a little... Totally unconsciously... He was enjoying it and I asked his name:
"Jesus"
"Jesus???!!....what? Why are you called Jee.......?"
" I'm him"
"Who?"
"The very same who walked the shores of Galilee"
"Oh"
I started to feel he was mental and to comfort myself I sung more. I knew Love The One You're With by CSN&Y, bad choice... Haha ... When I stopped singing "Jesus" reached over for a hug... I pushed him away:
He says:
"Oh, I thought since you sung that song you were wanting.....?"
"NAW!!!"
We said Cheerio and I only saw him once more, sometime in the mid eighties, dancing in front of the stage I was singing BV's on .. I am sure it was the Camden Palais.
I hope he's ok wherever he is
Love
eddi reader
Singer
---
Firstly...great site guys...been really loving reading and reminiscing about the festivals I went to...even the ones I can't remember!
I lived in London throughout the 80s & was a regular at the Marquee when it was in Wardour St. Jesus was often seen there dancing or playing maracas or the bongos. One really funny story happened when Motorhead were playing. It was the Eddie Clarke, Philthy Taylor line up and Jesus was playing his bongos that night. For the first few numbers, everytime the band finshed a song, you could still hear the bongos being played for a few seconds.
At the start of the fourth song just as Phil Taylor started counting the song in, Jesus jumped on stage and started hitting the bongos. Phil Taylor stopped and in his indomitable fashion told him to fuck off and if he heard those fucking bongos again he'd deck him! Then when he started counting the song in again, Jesus started on the bongos! If anyone can remember the Marquee it had a tiny stage and Phil Taylor had a BIG drumset in those days, so it was very comical watching a livid Phil Taylor taking ages to storm round his kit to get at Jesus.
Jesus just stood there watching as Philthy approached and landed a very good uppercut to his chin. Jesus was propelled backwards at quite a velocity...and did the crowd catch him?!...nope, the nearest people stepped aside (which was a feat in itself in the packed out Marquee) and Jesus landed flat on his back knocked out cold! Philthy then got back to his kit and counted the song in and off they went. Then believe it or not Jesus reappeared a few minutes later and carried on dancing as if nothing had happened!
Mind you he stopped playing the bongos and didn't get on the stage again!
Monty Oakley
---
At the Bohemian Love in ; hled at the Roundhouse in 1978, there was a strange set from two weird chinese comedians who incurred the wrath of the crowd (why I don't remember). Well-known Ladbroke Grove head Thomas 'Jesus' Jellet was yelling at them to "fuck off" from the front of the audience, dressed in a loin-cloth and brandishing a tambourine.
Mike Scott
Onstage with the Mustard Seeds "our stage was invaded by the said chap in 1992, lovely fella, really vibed the whole thing up."
cheers Bill
---
Went to Olympia, London on 3rd January 1976 to see Be-Bop Deluxe, along with other bands and William "Jesus" Jellett was there. The concert line-up was as follows:- CHARLIE, BE-BOP DELUXE, PRETTY THINGS, RONNIE LANE'S SLIM CHANCE, NAZARETH & BAD COMPANY.
Regards, MICK HORSFIELD.
| | |
| --- | --- |
| Probably our most recent pic, but where and when ? Courtesy Deepinder. | At the Alice in Wonderland Lowestoft mystery gig 1986- spotted by Richard Allen |
Hi,
I saw your page about Jesus Jellett when someone posted about him on facebook. Really, really weird coincidence because I just got Arzachel's 1994 album reissue in the mail today and Dave Stewart talks about him in the liner notes. I don't think this was mentioned on the Jesus page, and I don't even thinks it's written on the internet anywhere, so I thought I'd pass this on, taken right from the liner notes, to add to the info about him. During this part that I'm quoting that he's writing about, Steve Hillage had just left their band, Uriel, for university, leaving Dave Stewart, Mont Campbell, and Clive Brooks to be a three piece band, soon to be named Egg:

"We played a few gigs in London, and then met a man who was to have a profound impact on our lives - folks, his name was Jesus. Not the Jesus, you understand, but a long-haired, moving loving ex-Barnardo's child from Southampton whose real name was Bill Jellett. Having heard us play one night and enjoyed our music, Bill adopted our cause with great enthusiasm, fixing us up a weekly gig at the Roebuck pub (Tottenham Court Road) and getting us on the bill at the middle Earth club, Covent Garden. The Middle Earth audience actually wanted to hear the acidy stuff, and we were invited back to support bands like Love Sculpture and the legendary Captain Beefheart. The club moved to the Roundhouse, Chalk Farm, and became a regular gig for us, with Bill Jellett, now naming himself (God knows why) after the Messiah, ever present, whirling like a dervish in his white kaftan and handing out nuts and berries to the audience. God bless him."
Nicky J
---
Jesus at Reading 1974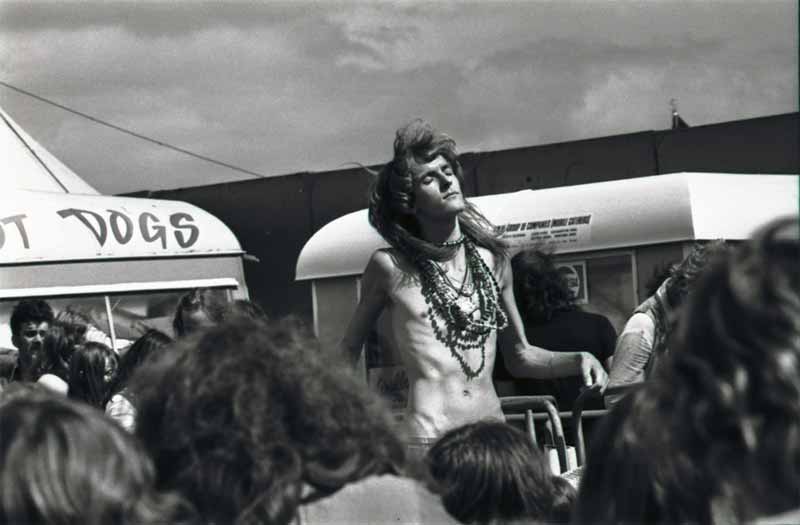 "Jesus" dancing - Reading 1974© Vin Miles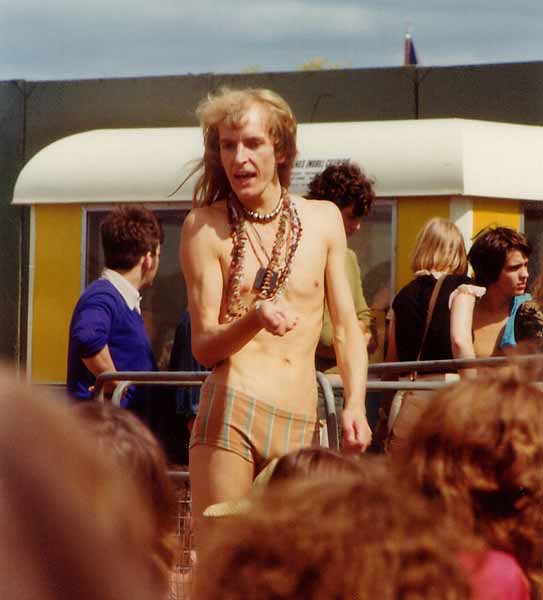 Jesus at Hyde Park speakers corner 1974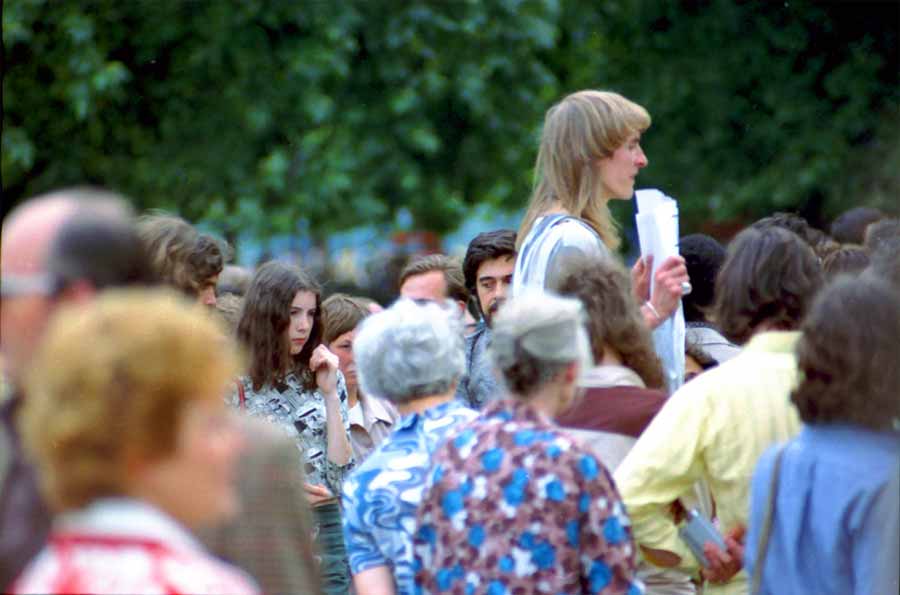 Jesus at Speakers Corner Hyde Park, preaching © Vin Miles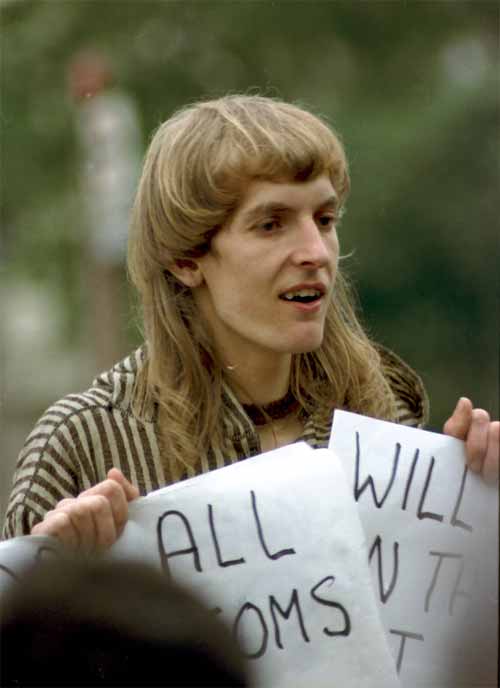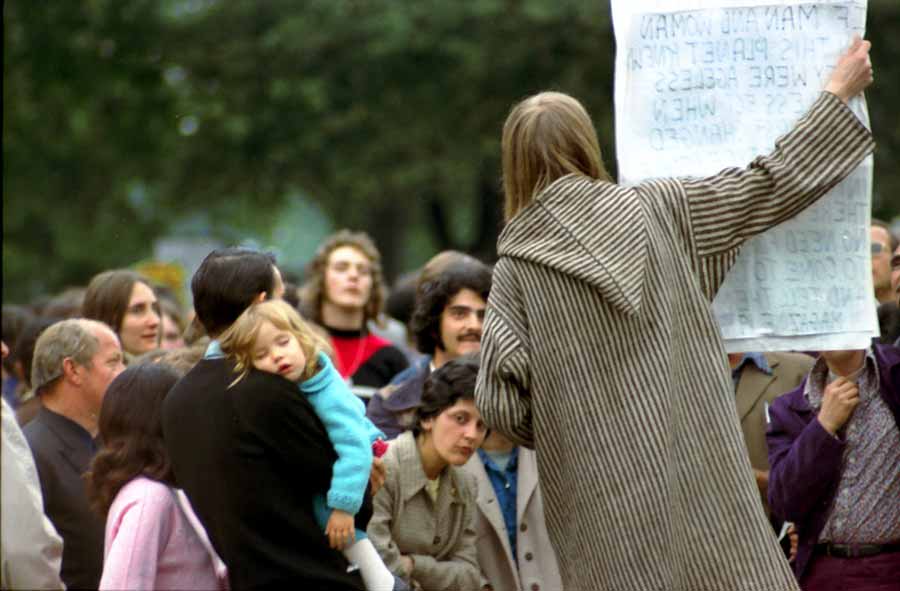 Images gratefully used under creative commons license : left WillemGT . right : Daniel Gulp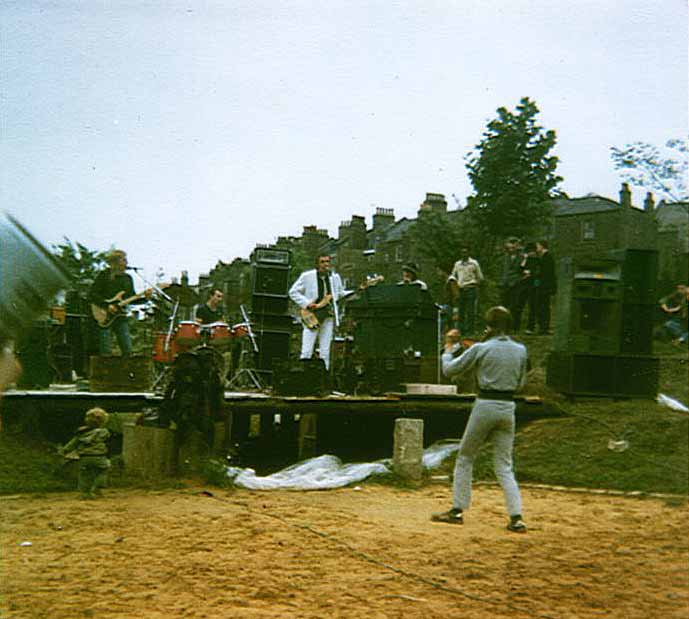 Last known photo of Jesus at a Here and Now show , possibly 1981, note change of clobber © Janet Thompson
---
Reading 74 pages.
---
The early festivals.
You can find out the complete line ups of the first festivals if you follow the links below .
Festivals 1965-1990
Most of these have fairly complete documentation .But new contributions of any sort are always welcome regarding any of the festivals.
---
This site is non profit making , its a site for die-hard fans- and run as a source of information for those interested in Rock music of the past .We are completely against the sale of bootlegged artefacts , especially musical ones .We attempt to obtain permission to use articles and photos wherever possible, but on occasions , due to the age and obscure origin of some items , we have not been able to ascertain the owner of the copyright .It is also possible that occasionally we are sent material from sources that assert that they own the copyright of material, but their claims are spurious - If you see any material on the site that you believe you own the copyright of - please send us an e-mail with proof that you have ownership of the image and we will remove the offending item from the site immediately.
Contact us