The Archive.
Updated June 2021
This page dedicated to the memory of ALAN DICK (18yrs) and LANDON PETER SIGGERS (20yrs) who died at the festival..
---
Iron Maiden

Kiss
David Lee Roth
Megadeth
Guns N 'Roses
Helloween
Bailey Brothers

Neal Kaye


Castle Donington Raceway.

Derbyshire .UK.
August 20th 1988.
---
---
" don't fuckin' kill each other "
Axel Rose addresses the audience during the Guns N' Roses set.....
Recordings and setlists.
A Little Time

Halloween

Dr. Stein

Future World

Eagle Fly Free

Video aud shoot and BBC wFM

Michael Kiske - Vocals
Kai Hansen – Guitar
Michael Weikath – guitar
Markus Grosskopf – Bass
Ingo Schwichtenberg –Drums
Guns N' Roses



1. It's So Easy
2. Mr. Brownstone
3. You're Crazy
5. Paradise City
6. Blues Jam
7. Welcome To The Jungle
8. Patience
9. Sweet Child Of Mine

BBC FM

Looking for better quality cover art
Bottom Line

Ain't Talking About Love

Just Like Paradise

Knucklebones

Hot For Teacher

Hot Dog and A Shake

Skyscraper

Goin' Crazy

Yankee Rose

Panama

Californai Girls

You Really Got Me

Jump

Looking for cover art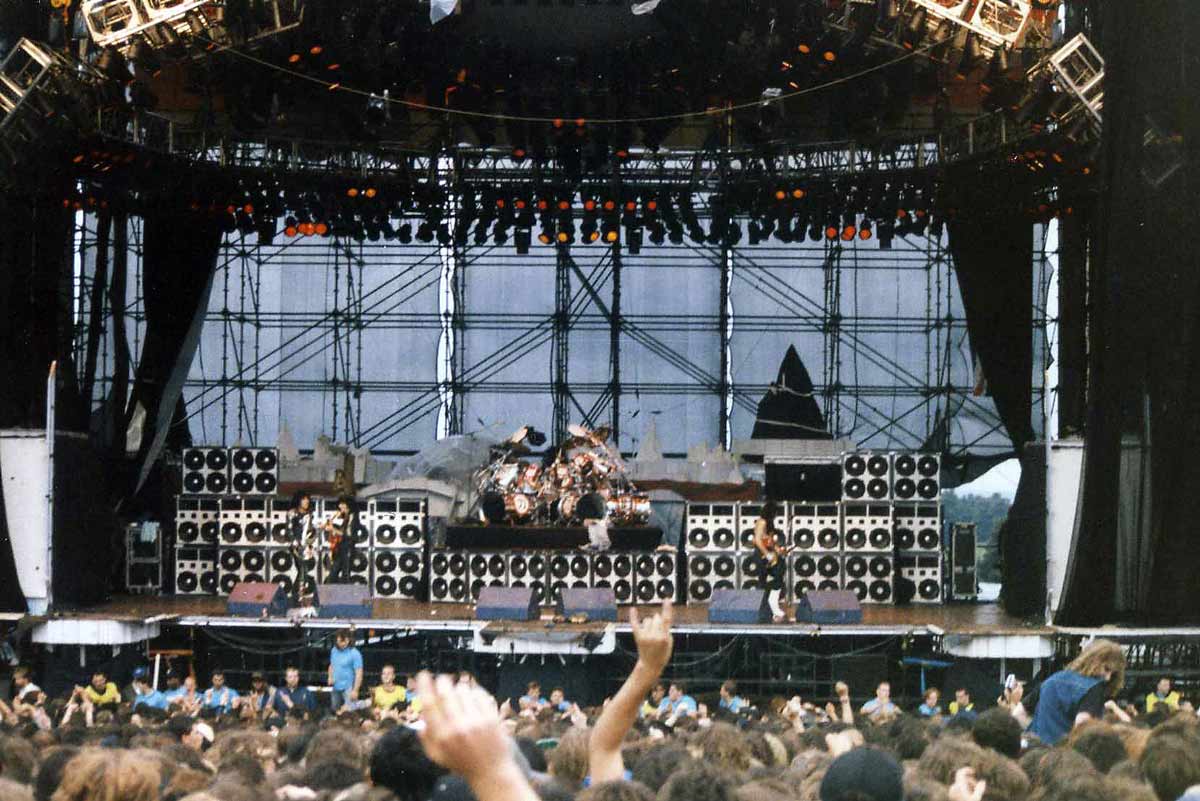 Kiss on stage © Eddie Edwards
Cold Gin

Black Diamond

No no no

Firehouse

Crazy Nights

Calling Dr Love

Tears are falling

I love it loud

Strutter

Shout it out loud.

fm tracks

Full Setlist

Deuce

Love Gun

Fits Like A Glove

Heaven's On Fire

Cold Gin

Black Diamond

No No No

Firehouse

Crazy Crazy Nights

Dr Love

Tears Are Falling

I Love It Loud

Strutter

Shout It Out Loud

Lick It Up

Rock And Roll All Night

Detroit Rock City

A complete audience video of this set exists on Youtube, but is marred by lots of crowd movement and noise.

There seem to be muitiple versions perporting to be Kiss's set circulating, but nearly all have differing set lists, this may be due to confusion between venues, as there were also European Monsters Of Rock shows held in 1988 which featured Kiss ,as well as a 1996 Monsters of Roick setlist mislabeled as 1988.

The FM set is probably from the BBC broadcast.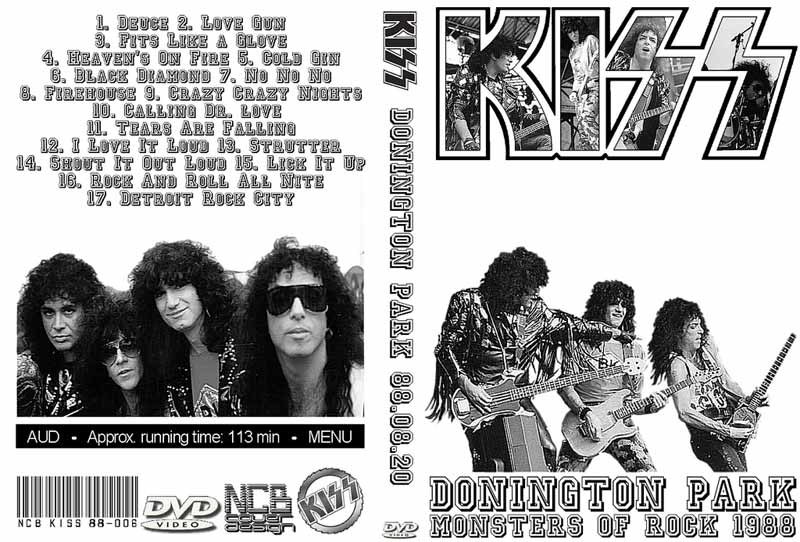 Iron Maiden


Setlist:
1. Moonchild
2. The Evil That Men Do
3. The Prisoner
4. Wrathchild
5. Infinite Dreams
6. The Trooper
7. Can I Play with Madness
8. Heaven Can Wait
9. Wasted Years
10. The Clairvoyant
11. Seventh Son of a Seventh Son
12. The Number of the Beast
13. Hallowed Be Thy Name
14. Iron Maiden
15. Run to the Hills
16. 22 Acacia Avenue
17. 2 Minutes to Midnight
18. Running Free (less)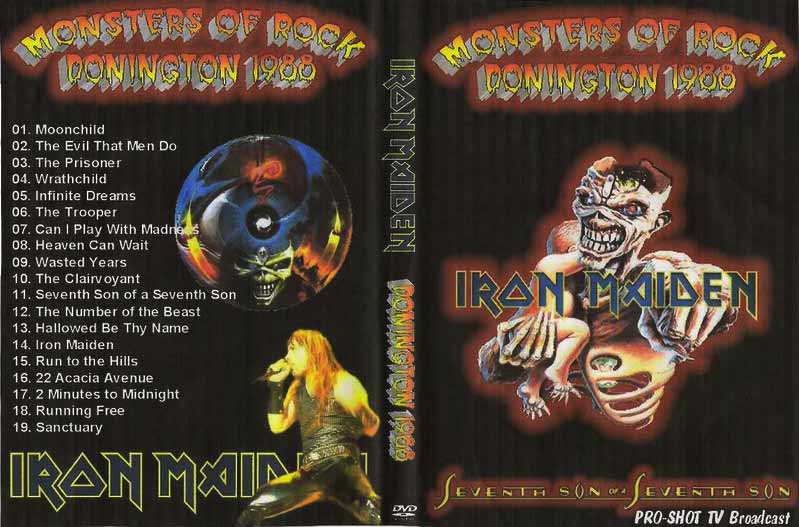 We don't know if this the audience footage taken off the screens (as featured on youtube ) or the real thing , can anyone help ?
---
---
Can we get a witness ?
We need more info on this and the other Donington festivals, most especially more photos and personal recollections so c'mon head bangers, get yer photos out and fire up what's left of the aging brain cells .Send your recollections and scans to us NOW ! !! Contact us
---

Watch this space for more Monsters of Rock pages to be added in the next month or two - we will eventually go up till 1996, meanwhile if you have material from any years up to 1996 , send it along and we will add it as we build the pages.
Free festivals of the 70s and 80s