The Archive.
Created Autumn 2007 .
Updated June 2021 -
view at 1920 x 1024 res for best results
---
Status Quo
Gillan
Saxon
Hawkwind
Uriah Heep
Anvil
Tommy Vance (DJ)

Castle Donington Raceway.

Derbyshire .UK.
August 21st 1982.
---
Headliners Status Quo onstage Donington 1982 © Noddy Guevara
visit his flickr site to see more photos
Waiting for the action -Donington 1982 © Noddy Guevara

The third Monsters of Rock festival featured the highly popular Status Quo, who had achived three top forty chart entries in 1982. Between 50,-60,000 attended, roughly similar to the AC/DC headliner the previous year.

This festival was almost uniformly made up of acts that were heavy . Ex Deep Purple singer Ian Gillan was fresh from several stints at being one of the success stories of Reading in 1980-81, so his inclusion as second on the bill was fairly logical. His legendary status as frontman during one of Purples most memorable eras would give him a lot of kudos amongst most metal crowds.

At this remote date, it might be somewhat surpising to see Saxon as the third billing act, but their fortunes were on the rise .Their second album " Denim and Leather" was charting in 1982 in both Europe and the UK, they were busy boys in August, flying back from the midst of a US tour to play Donington and then back again to resume their US romp in New York .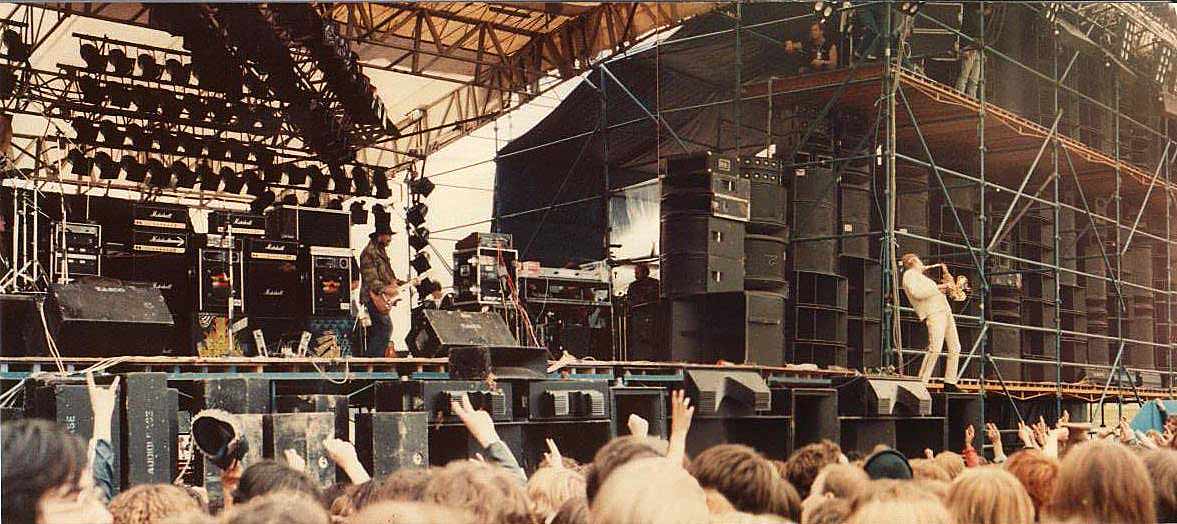 Hawkwind at Donington 82 © Watt Dabney ( visit his Flickr site to see more great pics of bands )
Hawkwind were old hands at large festivals by this date, although Reading ( their usual stomping ground in the 1970s ), was a smaller scale festival and free festivals such as Stonehenge were by far their preferred enviroment. The band did not go down particularly well at Donington , probably they were too spacey for this crowd, as the rest of the bands in the lineup were far more firmly placed within the headbanging genre than the Hawks.

Uriah Heep were yet to really achieve great success as they were busy mutating from a more prog orientated outfit to a heavier format - with a mostly new lineup of musicians mostly recruited from various heavy bands they were beginninng to earn their metal creds with the release of their recent album "Abominog" which had been generally favorably received by sections of the metal fraternity.

Bottom of the bill act, canuck rockers Anvil, were always a band who were either an opener or a support , at least at gigs on this scale..... they were bottled by some of the crowd, a not uncommon phenomenon at Donington..... its not known if frontman Steve Kudlow ( a.k.a LIPS) played the track' Mothra' with a dildo as he was reputed to have done during the recording of the song, , but perhaps on this occasion he used one of the bottles checked at the band to perform the deed instead....

For once the weather was kind and punters did not have to put up with either being soaked to the skin( as in 1981) or sitting in a mudbath ( 1980) . There were still no passouts -probably to avoid ticket fraud and to maximise booze and food sales within the arena , but in our opinion this was a fairly unreasonable restriction for all that . Also camping was discouraged- but still happened nevertheless .

These were restrictions that were simply not reasonable in a large scale festival outdoor event where bad weather could result in clothes being saturated and if emergencies took place that meant one needed to return to ones car , punters would not be readmitted to the arena.

Courtesy Ashley Haynes
---
Hawkwind member Dave Brock was not impressed by the sound at Donington

" I was a bit deafened, though, unfortunately, by the monitors."
Interviewer : Yeah – a little bit too loud for you, were they?
"Yeah, too loud. All I could hear was vocals and synthesizer, you know. It was like being, it was like fighting a lost cause, know what I mean? One side of the stage, you're on one side, just doing your one bit, and you're sort of pounding away there, you know, and you just can't hear what else is going on, but there you go. I'm sure out front it probably sounded all right anyway."
Interviewer : What do you think it was like, though? Do think that it's just the fact that it's hard on a gig of this size to get everything right?
"Yeah, well, mainly. I mean, you see, the other thing is, normally, if you've got really big stacks and crew behind you, we've only got, sort of, just 100 watt stacks. I mean, you could sort of have about three or four hundred watt stacks, and you've got the volume to put out. So they've got the monitor system up to that equivalent, you know? And because we didn't have such big gear, that's probably the reason for it, I think. But still, there you go, such is life in rock'n'roll. It wasn't like this at Stonehenge, you know! We didn't have any problems there like this!"
Extract from an interview from Steve Youles Starfarer Hawkwind site -visit the pages for more info and photos of Hawkwind at Donington
---
Recollections.
Ticket courtesy Noddy Guevara

Went in a convoy of cars setting off from Leeds early in the morning. At service stations you could tell who was going to Donnington by the hair , tour T shirt and denim and leather ! It really was that easy. But I wasn't really a heavy rocker ! I preferred Dylan and 70s rock and more hippy stuff even then ! BUT I did like it live and did enjoy the events.

At Donnington, it smelled of farts and patchouli, the stalls were all rubbish and all food for sale looked dodgy and unappealing. Beer was flat and warm. Everything was overpriced.

Anvil were on first. People threw bottles of piss at them ! Then Uriah Heep , who were ok , then oddly billed, Hawkwind. I went close to the front for them and though the crowd respected Hawkwind and they got no hassle , it was a bit odd at a do where people realy wanted to 'freak out'. Saxon were next and they were at the time' one of the lads'. They went down well, the crowd sang along. Especially remember them doing the song they wrote about Donnington, ' And the bands played on' !
Gillan next , down the front ish for that ! This was before Deep Purples endless reunion and when they played ' Black Knight' the crowd went wild ! Gillan was hairy and lively. Sometime around now the burger vans etc started to get attacked. The older ' bikers' stoned them, attacked them with anything they could. It all got a bit heavy. One escaping ice cream van bombed through the crowd to save the driver getting a kicking. This bit wasn't fun. However it didnt stop the show.
Next were the Quo. They were headliners too. Tell anyone who knows Quo only from the mid 80s onwards that they are any good and they will laugh, but in the 70s early 80s they were brilliant live. ( a few good albums too , honest !) They created an atmosphere like no other and everyone boogied and shook the hair !
Then it was find the car in the endless and now dark carpark! I sure some folk will still be looking to this day !
Noddy Guevara
---
1982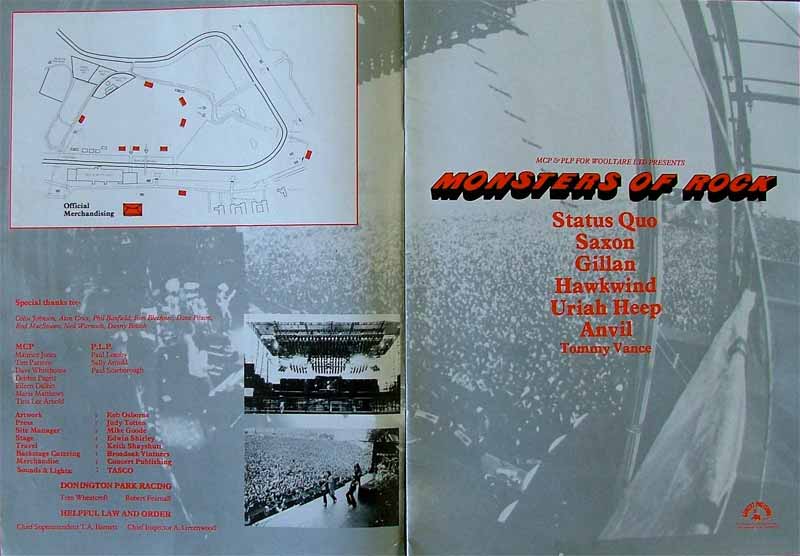 Courtesy Ashley Haynes

'Quo for Donington' read the headline in Sounds. 'Interesting choice' I thought, they would certainly pull in the crowds put they didn't seem like your typical Monsters of Rock act. As the line-up evolved over the following weeks it was clear that this was going to be no ordinary Donington. There was Gillan second on the bill, making it the third year running to feature an ex-Deep Purple member. Saxon, now bigger and better, returning for a second time and Hawkwind, big surprise never expected to see a band like them on the Donington bill. Fellow 'oldies' Uriah Heep and Canadian newcomers Anvil completed the bill.
We piled into cars this year, bit of comfort for a change. Also stayed at the same camp site and drank at the same pub. Didn't hear a soundcheck this time but filled our gallon containers with best bitter for the following day.
The weather was great, perfect in fact and in the arena we settled ourselves down in a good spot when...disaster struck. One of the gallon containers sprung a leak and as everyone was a little hung over from the night before it was down to my brother and me to save the beer, by drinking it. It was only about 11 in the morning and as a consequence the untimely liquid brunch sent me to sleep and I completely missed Anvil. Later reports have since informed me I didn't miss much!
First up (for me), Uriah Heep, who, years ago could've headlined something like this, alas, times have changed. Only Mick Box has been a constant member of the band although drummer Lee Kerslake had returned recently in time to record the new album 'Abominog'. They played rather well, I think, I'd just woken up and wasn't quite 'in the groove' yet. The biggest memory of their set was a rather shaky version of the classic 'July Morning', and the photo of Mick Box in the programme, where he looks a bit like Ken Dodd!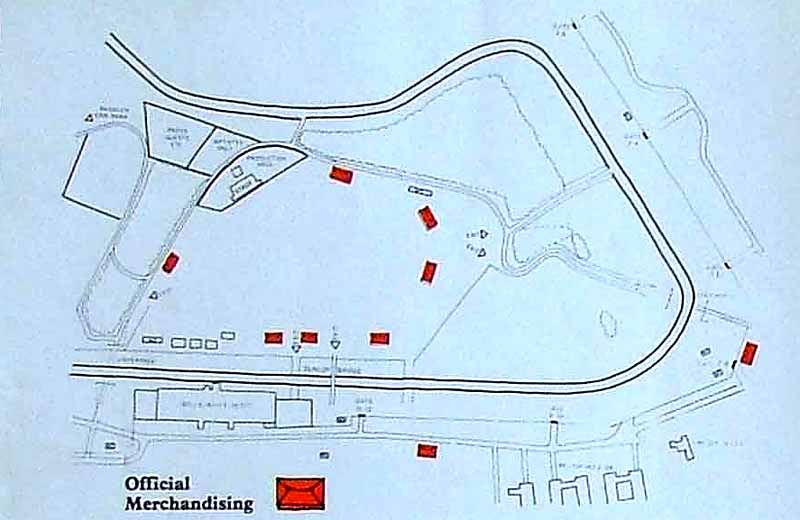 Courtesy Ashley Haynes

And so to Hawkwind, one of my fave bands and rather out of their comfort zone here at Donington. With Robert Calvert no longer in the band they seemed a little distant and not exactly 'let's see you all put your hands together for this one' like the Heep had been. They played a good set including old favourites 'Master of the Universe', 'Brainstorm' and 'Silver Machine' and the unexpected sight of Nik Turner returning to the fold was pretty odd, in a good way. But, they just weren't quite right for the event, saying that, though, in hindsight, they were one of the better acts of the day.
Saxon were same old, same old, hard to believe two years had gone by and they'd crept up the billing a little. I decided to go for a stroll round the sight and was just about to sink my teeth into a 'Pennine Pizza' when they played 'And The Bands Played On', written, apparently, about the first Donington Festival.
Gillan next, and I couldn't wait for Quo to come on, or at least Hawkwind to come back! I'd seen them at Reading the previous year where they'd headlined the Saturday night. They were tedious then, this time they were downright annoying. We couldn't quite decide what they were trying to prove, especially with the cover of Stevie Wonder's 'Living For The City' so we went down the front for a better view. Thermos wanted a piss, and he couldn't be bothered going to the loo, so he decided to relieve himself into a plastic beaker he'd found only to fumble about and drop the lot into some poor person's open bag..! Aah well, that bit of light entertainment made up for Gillan and the unending solos, Janick Jers climbing up the Marshall stack (seemingly getting stuck halfway) and keyboardist Colin Towns hypnotising everyone with a Jethro Tull-style flute solo......hmm.
By dusk the 'Quo Army' were 'in da house' and the mighty Status Quo took to the stage, celebrating 20 years in the business and fresh off the back of entertaining Prince Charles at the NEC. They opened brilliantly with 'Caroline' and from then on the atmosphere was such that you simply had to 'go with the Quo'. The tempo typically remained constant throughout and the floodlit crowd bouncing up and down to a 4/4 beat was a lovely sight on a warm August evening. Gillan, by now, seemed a long time ago while Hawkwind were in a galaxy far far way.....
Ashley Haynes
---
Just the other day, half a lifetime later & half the world away (I now live in Australia), I was waxing lyrical to a friend of mine about my experiences at Donnington all those years (& all those beers!) ago. Amazing I can still remember stuff, really....!
I travelled from Norwich on the back of a mates' Honda on the Friday & like other folks, we completely ignored the "No Camping" instruction on the ticket. Entering the town on that afternoon, I was astonished at the sea of denim & leather spilling-out onto the footpath outside the pubs, egging-on any motorcyclists to make a noisy passage down the main street (Graham turned us around & went back for a second go, 'cos he didn't quite get the decibels on the first run).
About 5.30am, I couldn't sleep any more with the anticipation of my first open-air festival gig (I've long since run out of fingers & toes to count how old I am, but then I was 17). Graham & I got up & headed-off into the misty sunrise towards the main gate, which wasn't due to open until midday. With the number of people already there, the gates were opened at 8.30 & I recall a couple of very friendly coppers pulling-back a barrier for me so I could empty a large can of Watneys Red Barrel (nowadays, I can't believe that I actually drank the stuff!!) into my trusty plastic bottles.
Being pretty close to the front, I remember looking with envy at the people who had the foresight (or was it experience?) to have brought plastic sheeting when the piss-filled bottle & fruit throwing started. The sky was awash with a constant hail of projectiles of all sorts & when there was a brief downpour, mud was then added to the fun/mess.
First on were Anvil & I was completely underwhelmed by their mediocrity. Others obviously agreed, as now the projectiles were mostly aimed at the stage (much to the chagrin of the band, who were trying to play & duck at the same time!). Uriah Heep were a great improvement, getting the crowd warmed-up so that the bottle throwing stopped. My bladder got the better of me half way through Hawkwind's set (a 40-minute round trip, if you don't mind!) & I got back in front of the right speaker stack just before Saxon came on.
I read Dave Brock's comments on the volume of the PA that year, which sparked another memory. Having seen Saxon live before, I anticipated Biff Byford whistling down the microphone. As I saw him go for it, I turned my back on the speaker stack & put my hands over my ears. As I looked back up the hill at the audience, I saw the effect of the assaulting sound-wave pass through the crowd like a gust of wind through a corn field. Yes, it was THAT FUCKING LOUD! There's no set-list on the website, but I can definitely recall "Dallas 1pm", "Wheels of Steel" (the singalong number), "20,000 feet", "747-Strangers in the night" & the first ever live performance of "The Eagle has landed". Those boys were great live!
After Saxon, we moved to the back & found one of the many fires marking the outline of the crowd to warm ourselves by. A beautiful young lady appeared, shivering, dressed only in jeans & a T-shirt, so I gave her my leather jacket to wear (who says chivalry is dead?!?!). We were so far back, there was a delay in the sound reaching us. It didn't matter, as both bands were on fine form & the 'Quo Army in fine voice, too. Virtually the whole front half of the audience was moving as one in time with the thumping 12-bar onslaught. 'Though I thoroughly enjoyed Gillan & Status Quo from this distance, my fondest memory is of having my arms around that lovely stranger all night. I never did get her name...
That August Saturday in 1982 will always hold fond memories for me of youthful fun. The bands, the crowd, the family atmosphere...and the VOLUME!!!!
Martin
---
How I missed Donington 82 or I wanted to be a REAL British Headbanger!
by LUCA (Turin, Italy)
Dear Friends,

The following is the story of my only Brit Rock Festival (no) experience.Just to have a laugh with the other (not exactly in their prime) Rock fans…Time was… August 82.
Mauro, Stefano, and me (all 19) came to Britain with InterRail tickets, Donington being the main goal of our journey.
First, a (sunny-but-not-dry) week in London, where we saw some bands: it'd take a whole page to describe what happened at a UK SUBS gig in Hammersmith Klubfoot (and outside).
Then we headed for Scotland, Inverness…and here things became serious.Not because of the people, very friendly, but because of their…ehr…bird, the "FAMOUS GROOSE" ! Not to mention the beers.I was doing my best to get my degrees as a 'Real British Headbanger'! -experimenting on myself a diet of alcohol, hamburgers, fish&chips, chocolate bars and
(young readers don't do it) benzedrine.
On the Monday morning before Donington, a kind of an Odyssey began, travelling and sleeping (very little time) on trains from Edinburgh to Glasgow, then Manchester, Leeds, York, Sheffield and Nottingham … The craze started with a morning drinking contest, in a train BAR wagon, with a Scot boy from Hebrides Islands (he worked as a fisherman on the Ocean): when in Glasgow, we had literally to carry him out of the train and leave him on a bench ( he drank whisky, we beer :).
And all the boys are after me, I'm running wild, I'm running free - by train.
(We had a small mono-sound tape player always emitting Hard, Metal and Punk Rock vibes!)
Anyway, here comes THAT Saturday afternoon, we arrive at Nottingham station and I am COMPLETELY BROKEN, 38 + Celsius degrees of fever I think, my head a rock, my liver a stone, we all quite stinking…
Not even the sound&vision fantasy of HAWKWIND LIVE! can heal me. Stefano joins the headbangers' crowd and heads for the Monsters of Rock site,Mauro stays with your devoted 'wanna be Metal Hero' who lies agonizing in his sleeping bag, somewhere in the station.
So, we've been on the station' floor for hours, got several other hours to spend before Ste returns and we all go London, and who comes ? Another Italian guy, a mama's boy – a jinxy of a guy, of the Italian-FM-EasyListeningMusic-fan kind (you can't imagine)and we two being the only Italians around, he sticks to us…He's just arrived in England thanks to a schools' exchange: never been away from home, he's scared to death by all the 'denim and leather' people.
"Why I'm here ? I don't speak the language, here's filled with crazy people, do you think they'll attack me? I've never seen even a photo of the family I'm going to stay with, how the food will be ? "Blah blah blah…for an hour!
30 seconds before I'm going to rise like a living dead and kick him away, something happens... A dream on two legs appears, a Robin Hood's Marian lookalike, long haired blue eyed blonde, a fairy. "GIO-VANNI !! It's you? "she says, smiling like the Sun.
" YESSS !! "and he goes away with his host, almost jumping with happiness, saying to us: " MAMMA MIA, RAGAZZI ! NON CI CREDO, CHE PEZZO DI FICA!!" ("Oh mother, boys! I can't believe it, what…") I better stop translating.
Then Stefano came back, saying: "Great! A lot of noise, bikers, beer ! "
He was in URIAH HEEP, GILLAN, QUO and told us they've been very good.
I realized I was the jinxy of the day…
But the young donkey in me reacted, and 48 hours later, we were in a very cheap Paris hotel, having a (friendly) balcony-to-balcony water bombs battle with some English boys, just to win the attention of two lovely Dutch girls…
A car parked down in the street had some changes in the roof, thanks to a giant plastic bag water-bomb missing the target.
The car' owner, when he came back a couple of hours later, gave all of us (well hidden behind closed windows) a lesson in street-French language.
Meanwhile, the Dutch girls had left with a couple of Spanish…
Those were the days! – LUCA" I don't agree ! "- Luca's liver ;)
Luca
---
I don't think that 1982 was one of the best years in the history of Donington.
The main problem for the headliners Status Quo was the sound. Rolled down in front of the speaker stacks either side of the stage were two massive reproductions of (I think) the 'Just Supposin' album cover, whether this caused the sound problems I don't know, but none of the other bands on the bill suffered the same fate. After about an hour of 'Quo we decided to make our way home. This was the first of only two times that I left early.
Because we only live approx 30 minutes from Donington we even managed to get back to the local for a pint.
Therefore the band of the day was probably Gillan, just edging out Saxon. The highlights of Gillan's set were a new song called Bluesy Blue Sea and a 'new' old song called Black Night. Also I remember Janick Gers emblazoned all in white climbing up the speakers during his solo spot.
The best of Saxon's set was the song that they had written about their appearance at the 1980 Donington show….And The Bands Played On.
The best merchandise of the day was the Uriah Heep red 'Abominog' t-shirts.
Paul Hartshorn
---
Hi, fantastic site, well done!
I've been trying to find stuff on Donington Monsters of Rock festival for year 1982 for ages, it was the first festival I had ever been to, I was only 18, OMG all those years ago...

Memories of camping overnight – armed with only a plastic sheet and my Dad's tartan car blanket!
I recall music playing ALL night and nearly having my feet run over by someone on a Triumph Bonny!

The bands were great, the weather was great, the company was great…and I didn't even drink or do anything of a dubious nature back then either…(yet)!

Coming back on the train to Birmingham in the early hours, we had to travel in the mail carriage cos there was no room in the passenger carriages - knackered, grubby and content …someone was playing Princess of The night on a Rasta blaster…

Happy days, and I'll never forget them.
And I had that tour tee shirt you got a pic of, OMG I had forgotten that – like it was yesterday to look at it again!

Thanks again.
Tracey sharman.
---
Recordings and setlists.
Jackhammer
Metal On Metal
Mothra
Heat Sink
School Love
666
Scenery
Bedroom Game


Personnel:

Lips – guitars, vocals
Dave Allison – guitar
Ian Dickson - bass
Robb Reiner – drums

Donington 82 features on this mega compliation of live stuff.

Uriah Heep

Intro - Carmina Burana
Sell Your Soul
Running All Night
Stealin'
Too Scared To Run
The Wizard
July Morning
That's The Way That It Is
Gypsy


Personnel

Easy Livin'
Pete Goalby – vocals
Mick Box – guitar
John Sinclair - bass
Bob Daisley - keyboards
Lee Kerslake – drums
Brainstorm
Angels of Death
Coded Languages
Magnu
Dust of Time
Urban Guerilla
Waiting for Tomorrow
Psychedelic Warlords
Shot Down in the Night
Silver Machine
Master Of the Universe

Personnel

Dave Brock – Guitars. Vocals
Huw Lloyd Langton – guitar
Harvey Bainbridge – bass
Nik Turner - Keyboard
Martin Griffin – drums
---
Saxon

Motorcycle Man
Princess Of The Night
Strong Arm Of The Law
The Eagle Has Landed
Dallas 1pm
747
Wheels Of Steel
And The Bands Played On

55 minute audience tape thnaks to John Moore for info

Personnel:

Biff Byford – vocals
Paul Quinn – guitar
Graham Oliver – guitar
Steve Dawson – bass
Pete Gill - drums



---
Personnel:
Ian Gillan – vocals
Janick Gers – guitars
John McCoy – bass
Colin Towns - keyboards
Mick Underwood – drums

Good quality audience recording
---
Festival Welfare report
Fws reports tell us nothing about the music but give a fascinating insight into just how well rock festival were run, in general, things had improved form 1980, but there were still a few features that could have been improved -such as pass outs and camping , in fact camping was always discouraged and pass outs were not available in 1983 either ....
MONSTERS OF ROCK
Castle Donington .
August 21st 1982
This was the third year the festival had been held here, and the promoters had made improvements on previous years, although we have some recommendations to make.
Our main area of concern was the campsite. Advertising warned of "no camping", but this was ignored by festival goers who traveled early; the majority arriving on Friday evening, with a few camping from mid week. Some effort was made to direct campers onto site and to organise the campsite, including the provision of firewood to minimise damage to nearby woods, hedges and fences. A water point was installed for the main campsite but the only toilets was a set of permanent units, unlit and unrecognisable and unusable in the dark.
The campsite was very lively at night; several traders were serving food, there were many police patrolling and the Samaritans had a befriending base in operation. It is obvious now that people will arrive early and camp for at least the night before and the night of the festival, therefore more provisions should be made. We recommend either the installation of portaloos on the main and overspill campsite or arrangements for campers to have access to the toilet blocks inside the boundary fence of the racetrack. We also recommend a small first aid unit on the main campsite over Friday and Saturday nights, and a large illuminated site plan near the main entrance showing the layout and facilities.
Our second concern was the unfriendly "reception committee" at the entrance to the site, consisting of police and festival security. It was extremely off putting, which didn't set the scene for a peaceful festival. The number of police at the entrance and patrolling the campsites suggested trouble was expected, and the drug squad were openly stopping and searching people as they entered the site .In addition to police searches, many festival goers, especially those arriving in cars and vans, were subjected to searches by the promoters' security staff looking for unauthorised merchandise. It was distressing for festival goers to be put through these unfriendly searches when arriving at the festival

There seemed to be some lack of communication between the security staff and the promoters, as the security staff at the entrance didn't know FWS was coming or where the services on site were to be found. Passes issued to FWS volunteers would not permit access to the arena from the campsite by the most direct entrance on Saturday, necessitating a very long walk and making communications with the campsite difficult. There was also a complaint from a festival goer that he was charged an extra fee for parking by one of the security staff.
There was no pass out system, so once in the arena, people were not able to leave to go to the car park or campsite during the day. FWS at the Information Point received complaints from people who wanted to go back to their car or tent, especially for more clothes when it started to rain. Although the tickets stated "no pass outs.." on the back, this was not mentioned on the advertising and people only found out after purchasing their tickets. We recommend pass outs be issued at future events.
FWS was asked to run the Information Point in the arena, providing information on site facilities, local services, stage running order, and to deal with any urgent stage messages, lost people and lost property. Two people from British Rail and one from the local bus company provided details of transport arrangements. We were provided with a large marquee, site maps and local Yellow Pages for the public telephones, which were also housed in the marquee. The telephones were heavily used all day and more could have been provided.
First aid and medical services were provided by St John Ambulance; a befriending service by the Samaritans; and a message board by Sounds. all of which ran very smoothly and were busy all day. St John Ambulance treated approximately 400 casualties.
Toilets in the arena remained just usable throughout the day. The Information Point had a supply of toilet paper for those who asked for it. Water for drinking was only available from one unmarked tap beside the stage. Non drinking water was supplied by the toilets, and marked as such, although people were drinking it, due to the difficulty of finding the drinking water supply.There was a good selection of food and drink available, although somewhat highly priced. There were no cigarettes on sale, except intermittently by a confectionery trader, and the Information Point received complaints about this.
It was good that bottles and cans were not allowed into the arena, although there was still lots of litter and no provision for rubbish disposal. There should at least have been skips for traders refuse.
There was a very useful site plan displayed in the Info. tent, on which we marked relevant services,, but there were no other comprehensive site plans available for reference by festival goers. The programme, which cost two pounds , contained a site plan showing only official merchandising points, exits, stage and toilets. We recommend at least that the position of the welfare services and water supply should be included on this plan.
Apart from these complaints, the day went well, with estimated attendance between 50,000 and 60,000. Apparently there were some difficulties in leaving the site afterwards congestion in the Car parks and confusion, so many people chose to stay overnight. If police and security have to be present in large numbers, we suggest they could be more usefully employed in directing people and traffic at the end of the festival.
Penny Mellor.
Sept 1982
---
Can we get a witness ?
We need more info on this and the other Donington festivals, most especially more photos and personal recollections so c'mon head bangers, get yer photos out and fire up what's left of the aging brain cells .Send your recollections and scans to us NOW ! !! Contact us
---

Watch this space for more Monsters of Rock pages to be added in the next month or two - we will eventually go up till 1996, meanwhile if you have material from any years up to 1996 , send it along and we will add it as we build the pages.
Free festivals of the 70s and 80s