The Archive.
Big thanks to our sponsor Neil !

For information on today's festivals see eFestivals.co.uk
Updated June 2021-new recollections and photo
view at 1920 X 1024 res for best results
---
Ozzy Osbourne

Scorpions
Def Leppard
Motörhead
Bad News
Warlock
Tommy Vance (DJ)

Castle Donington Raceway.

Derbyshire .UK.
August 16th 1986.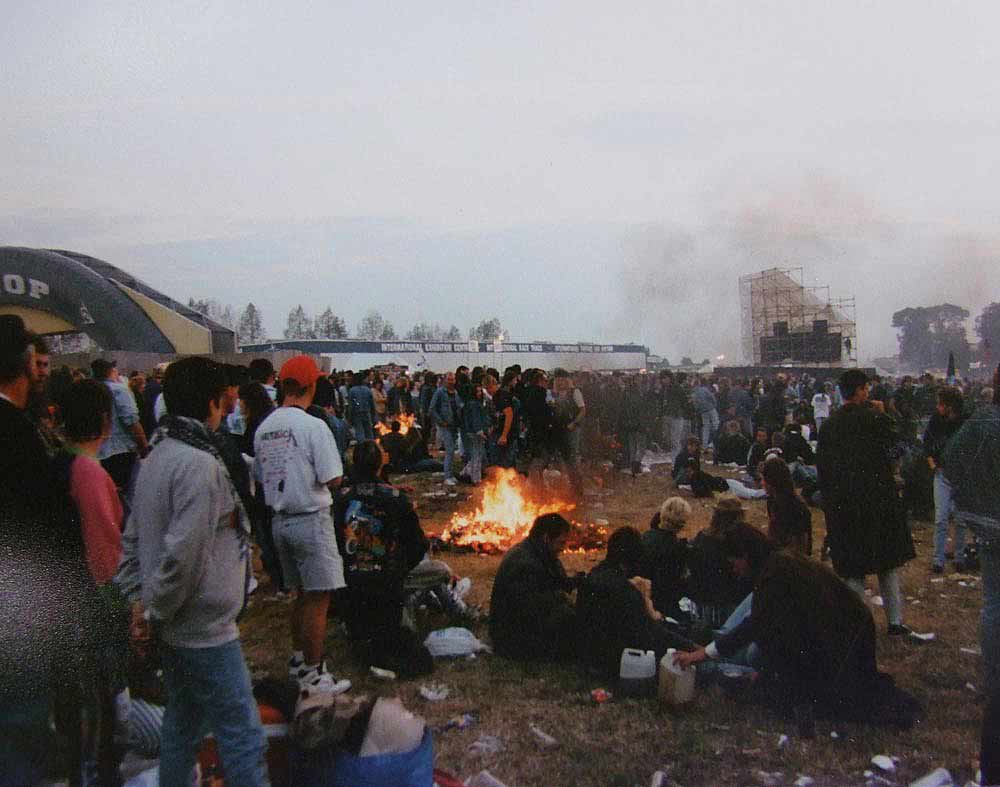 Keeping warm at a muddy Monsters of Rock 1986 © Neil Goosey
Monsters of rock 1986 Photogalleries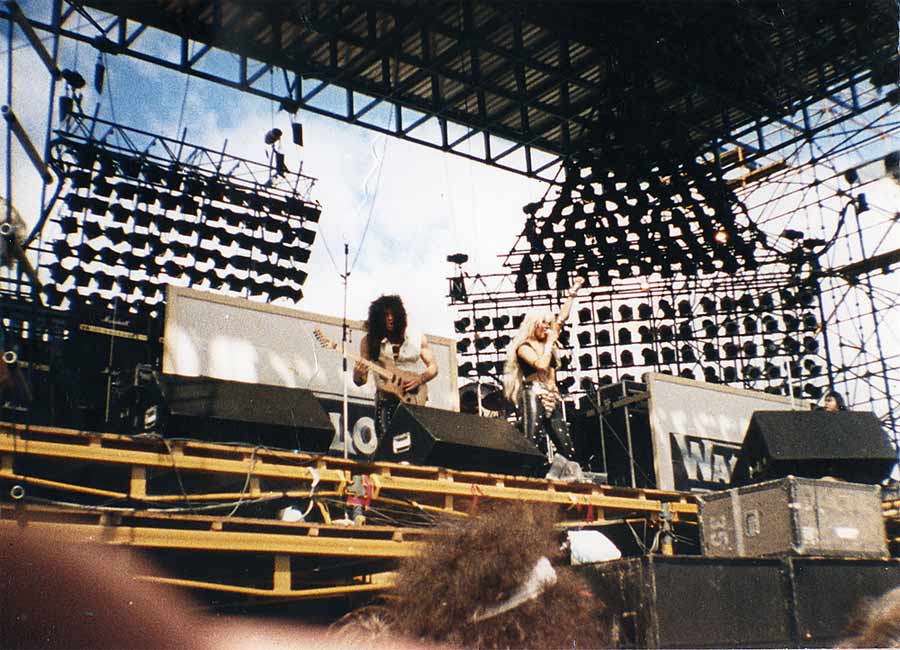 Warlock at Donington 1986 © Rob
---
Ozzy at Donington 1986 photo © Jim Spriggs

Summer 1986 saw erstwhile bat biter Ozzy Osbourne headlining the festival ( Ozzy thought the bat he bit the head off onstage in the early 80s was rubber, once he realised it was real, he was rushed off to hospital where he received remedial anti rabies shots onto his bum for a week ) with able support from festival vets the Scorpions and Motorhead. Other notable events at the 86 show was the return of Def Leppard drummer Rick Allen to live performance after the 1984 car accident that severed his left arm and the silly set by comic spoof Strip band "Bad News " who recieved a right bottling.

Courtesy Ashley Haynes
Courtesy Ashley Haynes

The Bad News set was filmed for the "More Bad News" episode of The Comic Strip Presents, which means that there are a lot of stills online that we can present , both from the Bad News set, but also from backstage , as the members of most of the bands were quizzed about their reaction ot Bd nNews being part of the show. They all rated them as lower than pond scum.

Lemmy of Motorhead threatened to fight the idiot who threw a lighted flare at him during the Motorhead set , he was so furious he stopped the band and had a go at the dork there and then.

Apparently DJ Tommy Vance ( who had hosted the festival since its inceptrion in 1980 ) was dropped from the post after 1986 , as he wrote a critical article in Metal Hammer magazine detailing the fest that his DJ equipment was faulty. This is supposed to have pissed of the organisers, anyway for whatever the reason , he did not appear at the festival after 1986....

Rain made an unwelcome return to the festival, which had been pretty lucky the previous two years or so .
---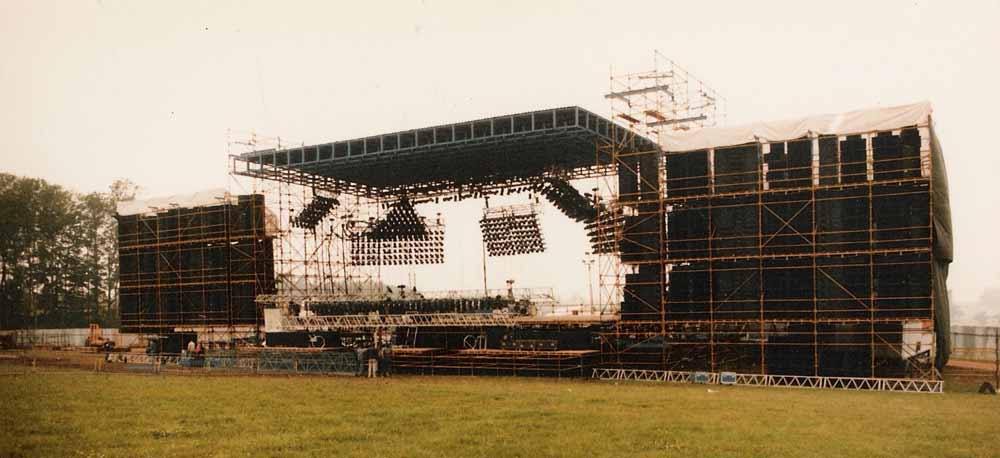 Now thats one big mother of a stage . © Glenn Williams
| | |
| --- | --- |
| | |
---
Recollections

Hi there
came across your website today and boy did it bring back some memories!
My first Donington was 1986 when Ozzy Osbourne headlined. I went there with three mates from school (we were 15 at the time!). I remember 'convincing' my dad to let me go on the grounds that there wouldn't be that many people there and we wouldn't get into any trouble ! Anyway after several weeks of nagging he eventually gave in. Got the tickets and went on an organised trip from Newcastle City Hall. The bus trip was mental (although we were the only people who weren't drunk by the time we to Donington!)

Anyway once we got into the race track area at Donington I thought I'd try my luck at getting us some beers, because although I was only 15 I easily looked 18 with the long hair and the pathetic attempt at stubble etc. Got served first time so that was it, beers all round for the rest of the day!

First on the bill was Warlock, obviously at that age we all loved Dorothy Pesch! Their set was good and like all early bands they did suffer a bit from crappy sound, but they tried hard. Next up was Bad News, a creation of the comedy outfit 'The comic strip'. It was pretty naff, but at one point they had the whole crowd shouting 'F*ck off Bad News' which was quite amusing. This was later featured in the TV spoof 'rockumentary' "More Bad News".

Next on the bill was Motorhead. Of course we couldn't wait because Lemmy was a legend to us. Anyway the set was what you would expect with all the classics. At one point some nutter threw a lighted flare at the stage which just missed Mr Kilminster. He instantly stopped the music and went apeshit. He offered this 'f*ckin dickhead' to come up on stage and throw a punch instead!

Needless to say the guy didn't take up Lemmy's offer and the band cranked it up again.

Courtesy Ashley Haynes
Courtesy Ashley Haynes

1986 was my first ever festival at 16 yrs old and we took the train up from London. Me and my mates were big Warlock fans as Dorothy Pesch was one of the few girls in Heavy Metal at the time.. I remember a few Neanderthals in the crowd shout 'Get yer tits out!' and having my first experience of getting showered in some wankers warm piss thrown in a bottle ... : -(




Bad News were OK, Aidrian Edmondson was the better one out of them all as he could actually play his guitar. Rik Mayall (RiP) just strutted around doing KISS impressions sticking his tongue out.




The Motorhead set was awesome! And I remember if Lemmy hadn't of actually ducked, the flare would have hit him square in the face! When he called the pratt up on stage, he actually pulled his fist back to show what he was going to do to the worm (we were very impressed!)




We all thought Ozzy was past it even back then and he could only have been in his forties! Paranoid was brilliant though.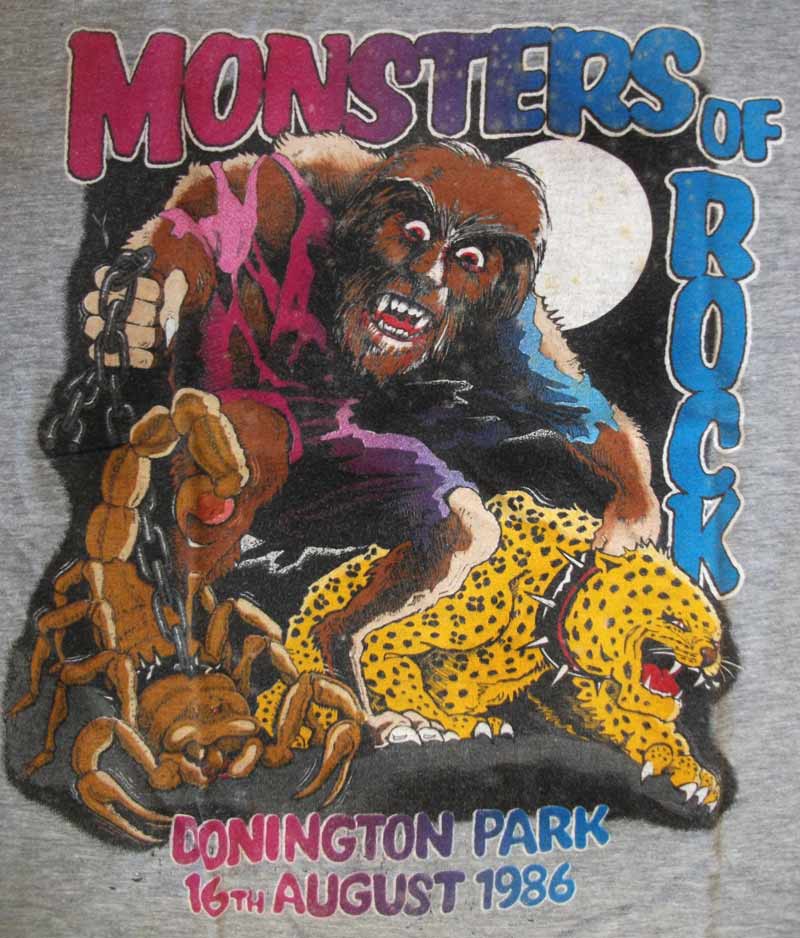 courtesy Moz Morris
Next up was Def Leppard. We were of course looking forward to this as it was Rick Allen's return gig after his car accident. By now it was raining quite hard and there was a lot of mud around. But it didn't stop the feeling of anticipation. Leps came on there was a long and emotional ovation for Rick, made the hairs on the back of my neck prickle! So the set was great and they played some new songs from the forthcoming Hysteria album. Particularly remember 'Animal' as being very special.

Once Leps had finished the rain stopped and you could see the sun heading towards the horizon behind the stage. A buzz of excitement went round the crowd (as well as millions of bottles, cartons, meat pies, lumps of mud and grass whizzing past your ears every other second), because next was Scorpions! This was just off the back of their World Tour in '85 and was definitely Scorpions at the absolute pinnacle of their career. They absolutely nailed it. All the brilliant songs, twin leads and Mathias Jabs fantastic solos. The finale of the set was of course the famous human pyramid. This was one of the best moments of my life so far -honest!
So Scorpions finished and everyone loved them, but now it was time for Ozzy. I remember the DJ Tommy Vance was playing some cracking stuff over the PA between acts and just as it was starting to really get toward late dusk he put on AC/DC/s Back in Black at what must have been virtually full concert volume. Possibly to test the PA for Ozzy coming on? We all started jumping around and headbanging like a load of idiots, class!
Members of the Scorpions and Def Leppard confirm that Bad News are wankers
Once the AC/DC song was finished, the lights went up and Ozzy came down from above the stage on some kind of throne contraption! 'Let's go f*ckin Crazy! he shouted and the crowd responded by going berzerk. I remember just how loud the PA was for Ozzy and within a few songs my ears were shot. Didn't spoil it though in fact it added to the immense sense of the occasion. Ozzy played all the Sabbath and solo stuff and Jake E Lee was brilliant with use of effects and volume in his solos.

So when Ozzy finished it was the job of finding the coach in a sea of thousand of coaches and then the long weary road home. Couldn't really hear what was being said in the bus home but it was still special.

Anyway I went back to Donington in 1987, 1988, and 1991. And although I loved each one of them, the first was the best experience and was a great moment in my life. Of course the hair is gone now and although many of the bands of today are good, I certainly think that the Monsters of Rock festivals of the 80s had an uncanny knack of catching bands at their peak and giving them a fantastic arena to play in. Ahh happy memories....


cheers
Paul Stubbs
Newcastle
England.

Shit quality still from video of Ozzy at Donington 86
---
| | |
| --- | --- |
| | |
Members of Motorhead confirm that Bad News are total shit !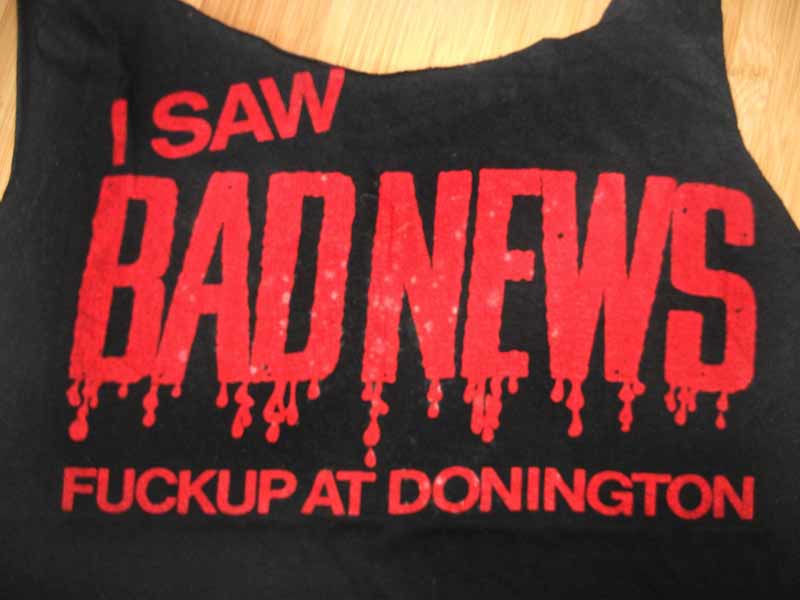 courtesy Moz Morris
| | |
| --- | --- |
| Rik Mayall acts the pratt as the Bad News bassist Colin © Neil Goosey | Various well known musical entities confirm that Bad News cannot play to save their own or their mothers lives ! |
video grab of Ozzy onstage at Donington 86.

Having considered myself a festival veteran (Quo '84 and Knebworth's recreation of the Somme) Igot a couplE of my schoolmates to make the trip to the sacred land of the metal head, Donington! We weren't quite ready for vans etc so we went on an organised coach instead, only on arrival at the departure point I had forgotten my ticket! The driver wouldn't wait half an hour so I legged it home and caught the train instead, I had £40 for the day plus my Tesco bag full of sarnies, the train copped my £20 of it. Being young and foolish I got a single assuming i'd find the coach in the car park!

A train to Derby and a shuttle coach over was easy. The weather wasn't amazing, it was dry so small mercies. I left my sarnies on the train (didn't want to appear to be un-rock and roll) so starved until I got home the day after.
Anyway, the bands!

Warlock-A German band with a tasty female singer, musically they were pretty much what you'd expect from a German metal band, basically no frills metal and well delivered. They went down well and were a good opening act.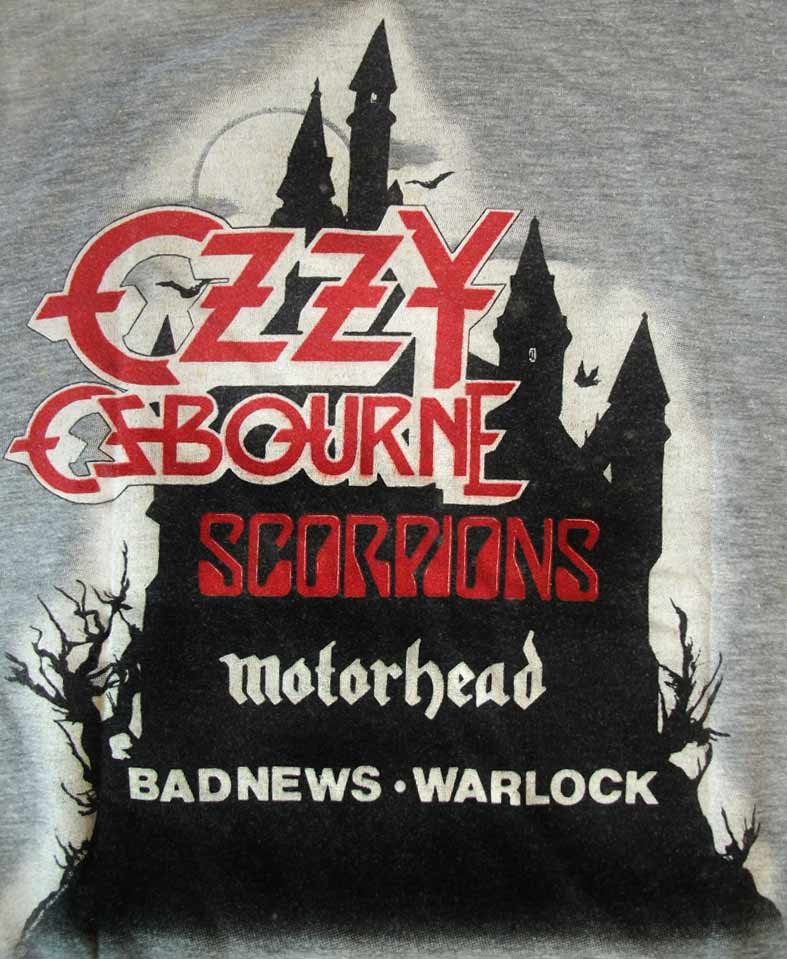 courtesy Moz Morris
Bad News!-A spoof band who'd been in two spoof documentaries by the Comic Strip, featuring Ade Edmonson/Rik Mayall/Nigel Planer of Young Ones fame, and Peter Richardson also of the Comic Strip. Metal fans in my opinion have always been able to laugh at themselves, and The Bad News Tour/More Bad News are right up there with Spinal Tap to many rock fans.

The addition to them on the bill caused some controversy, notably from the rock/metal "snobs" who'd had a sense of humour by-pass. Frankly they were a hoot and they were enjoyed by a large portion of the crowd. They were on a winner when they came on and wouldn't play until the crowd chanted "F##k off Bad News!". Musically they were terrible (which was the point), but I enjoyed them all the same. However the joke wore thin by next year's Reading Festival.

Photo © Glenn Williams

Hi adoring fans , Im a pratt ! Moz Morris
More bad news behind the scenes pix
The announcer and members of Bad News confirm that Bad News are the worst band in the entire universe !
Motorhead-Called a comeback by many, but Motorhead never actually go away! Featuring a new (ish) four piece line up they did what they did best, and were the hit of the day for many fans. Opening with "Iron Fist" they laid their stall out and didn't let up until "Overkill" had drained many a mosher!
Def Leppard-The emotional and much vaunted return of Leppard after Rick Allen's car crash, they'd done a couple of warm up gigs but this was a huge return, the world's media on hand to witness the comeback of a band that had sold millions in the States and were already 3 years behind with their follow up to "Pyromania". Were they any good? I thought they were boring, but the occasion carried them and moment of the day was when the entire crowd gave Rick Allen a huge cheer and reduced the band to tears. I suppose they were extremely ring rusty so i'll leave them off without a slagging.
A large portion of the audience confirm that Bad News are the pits !
Scorpions-A second appearance at Donington, and a year after blowing Deep Purple into the mud at Knebworth. Did they do the business again? Absolutely! They had a reputation for being a formidable live band, and they were/are ideal for festivals like this. Loads of hook filled melodic metal and even a couple of minor hits, a very professional band who know what an audience wants, supern stuff and yet again a festival stealing performance.
Ozzy-Headlining and bloody awful. Well out of shape and frankly off his face. Promoting the missable "Ultimate Sin" lp he did a little over and hour with a single encore of Paranoid and that was it, his minions lapped it up.
I wandered into the darkness and looked with no hope for my missed coach, it took only half an hour! Trust me it wasn't that quick in ensuing years, even when I knew where we're parked.....
Jase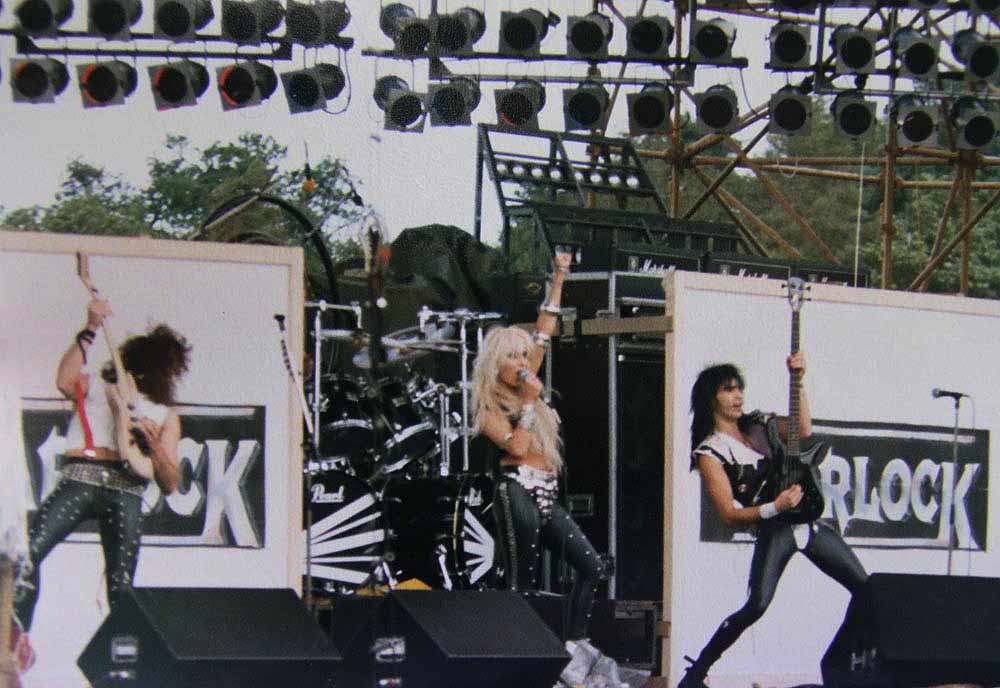 Warlock at Donington 1986© Neil Goosey
---
In comparison to 85 , 1986 was overcast and very cold. This contributed to the fact that our gang was depleted this year, with only half a dozen or so attending.

Ozzy put on a great show, being lowered to the stage on a giant throne. Even though the weather wasn't great, the sound was very good. I think he was introduced on stage by Tommy Vance (but it could have been Jonathon King).

Once again I decided to venture to the front of the stage, this time to watch the Scorpions who very rarely disappoint. I was rewarded by capturing one of Hermann Rarebell's (used) drumsticks at the end of the set. This is still in my possession.

The highlight of Motorhead's set was the fly over by a bomber aircraft. The low point being Lemmy's bad mood and predicting (wrongly) how Motorhead would headline the following years festival.

Def Leppard's set was predictably emotional, as it was the return of Rick Allen following his car crash. But alas they have never been my cup of tea, so beyond the curiosity factor I didn't pay them too much attention.

Why was Bad News (a TV spoof band) put on the bill above Warlock (a bona fide rock group). Fair enough, Warlock weren't the greatest band in the world but they had their moments and of course……they had Doro. Probably the best photo in any of the Donington programmes was the one of Doro in leather trousers with a red crotch.
A day of mixed performances, fortunately Ozzy was on tiptop form.

Paul Hartshorn
---
Scorpions at Donington 1986 , note hard hats on sensible security folk © Rob

As a 15 year old male rock fan, I was not suprisingly excited to see Doro Pesch perform with Warlock at my first ever Donington festival. I was familiar with Bad News after seeing their Comic Strip film, and would still love to see the actual footage of the gig rather than the comedy version in "More Bad News". As I recall, Vim Fuego ( Adrian Edmonson) smashed up his guitar during a solo in the first song and had to "borrow" an axe from another band to continue the gig.

Unlike other authors, I was not particularly a fan of The Scorpions and recall a MASSIVE bottle fight that started between bands and continued most of the way through their set. I was about half way back in the crowd. In a manner that is familiar to those that study ancient history, the sky became black (in this case not with arrows, but with bottles of piss - glass bottles in those days). I obviously did my best to stand close to tall people that were more likely to be hit by incoming missiles, but still remember seeing the casualties carried out shoulder high, covered in their own blood.

John B
---
i was there.i can see me in crowd at end of bad news, im chucking the piss bottle in centre of screen. thought they were ok. christs sake they wern't serious they only did it for a laf. dont people understand that
i was bombed when gaz moore came on.motley crue drummer hit a gong n fell off. doro pesche was crackin. y n t i had seen them at leeds n they were shit hot. i was asleep when gaz moore kicked off. but i soon woke up, murder in the skies full knacker has that effect. i was full on for ozzy n van halens bass player was the best. acdc say no more
Stewart Macdonald
---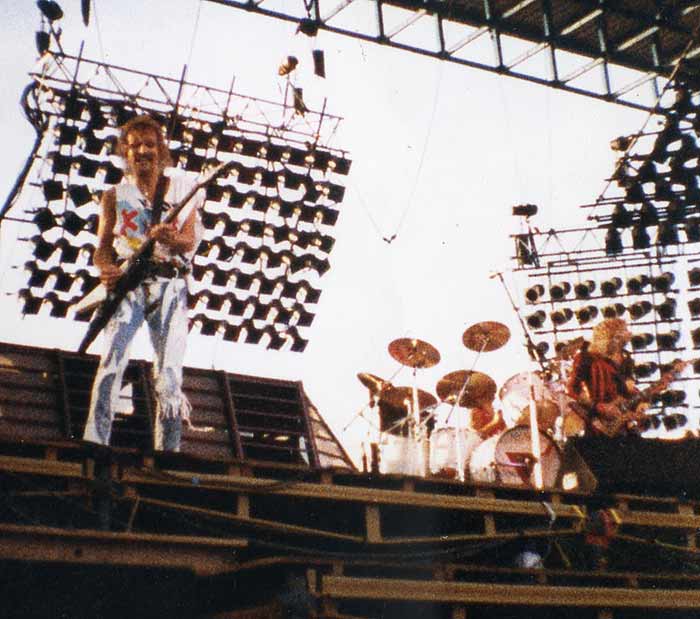 Rudy Schenker at Donington 86 © Rob
Spandex clad Doro P at Donington 86 © Rob

We travelled up by coach from Bridgwater, and our coach arrived at the site very early so we could stroll up to the front of the stage and wait for the bands to start, and it was a LONG wait. Still we had plenty of time to soak up the atmosphere.

Tommy Vance kept everyone happy inbetween bands in his role as rock DJ for the day.

First band were Warlock, pretty solid band, very good lead guitarist, Doro was a very attractive lady in skin tight spandex, and had a fine voice too.

Next up were Bad News, we had all watched the comic strip on TV and so it was pretty good to actualy see them, they did look nervous at first when the equipment didnt work. lots of bottles flying at the stage, filled with both fresh and 'recycled' drinks I would imagine. Still we found them funny. 'Vampire Spunk Merchants From Hell' is a song title thats stuck in my mind ever since.

Motorhead did what you would expect Motorhead to do, they blazed through a brilliant set. It was hard to stay at the front during motorheads set as the crush was immence. I remember Phil Taylor was watching them from the side of the stage, must have been weird for him to watch his old band tearing it up.

Def Leppard up next, I wasnt a big fan but everyone had a lump in their throat when Rick Allen was introduced. It was his first major gig back with them after losing his arm. he got an amazing reception...fully deserved too.
| | |
| --- | --- |
| | Def Leppard © Rob |

Next were the band who we endured the crush to see. Scorpions. An amazing set, though the same set they had been trawling around for a year or too. Klaus sounded incredible. Matthias Jabs played the most amazing lead guitar and Rudolph Schenkers rhythm guitar was as tight as a drum. The days stand out band; as expected.

After the Scorpions we were glad to be pulled over the barrier to get some relief.
As was tradition we ambled around the site, stood under the famous dunlop tyre for a bit, then found a large bonfire to stand near and listen to the headliner.
Ozzy sounded pretty good, Jake E Lee played amazing guitar so it was a shame I couldnt still be at the front to see it all. Still, the fire was nice and warm :-)

Cheers
Rob
---

© Neil Goosey
Hi, I stumbled on this site by accident! I have read the reviews by the other posters and can't agree more with what is already there! My own recollection as a naive rock fan was being planted on the spot in a yellow oilskin freezing to death in the rain! I remember the flying bottles and stuff and Lemmy's rant over the firework! Ozzy's forklifted (?) appearance onstage was a sight to behold! I also remember as light was fading, seeing various tree branches and pieces of bush being harvested for a bonfire somewhere and some bloke mummified in bog roll! Then my mate using the inflated interior bag of a wine box (bottles not allowed?) as a pillow to sleep it off! Then it finished with an awesome firework display before we all trudged our damp and weary way back to the coaches! Oh happy days!!
Sheryl Evans
---
| | |
| --- | --- |
| Nigel Planer tries out the bogs cos Bad News gives him the shits ! | The bad news drummer - pre gig- says hi to his mum.... |
courtesy Moz Morris

no real notable recollections from the day... Ozzy was excellent, great to see Def Leppard again and see the Scorpions for the first time - but you could tell they had been away for a long time and were maybe 'new' to a lot of fans - the part of the 'Zoo' where Klaus Meine' stops the lyric for teh fans to shout 'Zoo' - a few tumble-weeds rolled past!!!

Warlock and Motorhead were ok and whilst I'm a big fan of 'The Comic Strip Presents' and love the Bad News stuff... having them on as an actual act was maybe not the best move??? Those in the know could enjoy them for the spoof they were but they joke may have been lost on alot of people....attached is my cut away Bad News t-shirt pics for your website if you want to use them in addition to the 86 t-shirt pics...
Cheers
Moz

---

I had a blast at this. Warlock and Bad News were funny for about five minuets (although Warlock didn't mean to be). From here on in it gets really good , Motorhead rocked as usual , were fantastic and I've an excellent bootleg of their set , Def Leppard were great , I love the earlier stuff not what came later ( Hysteria etc) , we all roared when Rick Allen was introduced on drums , the place went mad and I've since read that Rick cried at his drums , a great moment I'll never forget.

Scorpions were amazing, I like some of their stuff but I'm not a fanatic but for me they stole the show. To this day I've never heard a better out door sound , the sound guy nailed it and they were just brilliant. I'd love a bootleg of this , I'm told they exist but I've never found one. Ozzy was great as usual too. 86 belonged to the Scorpions for me, they really were just the business that day.

Carl Adams
30 years ago today… I went to my very first rock festival, or to be more precise, heavy metal festival, for it was on 16th August, 1986 that I made my very first trip, no… Pilgrimage, to the hallowed ground of the Monsters Of Rock, Castle Donington. And I don't have to buy her indoors' insistence that it's not a rock festival unless you spend four miserable days under canvass, occasionally braving the mud to see a band you don't like. As the festival held on the site which is now Download, was just one day, one stage and six bands. Having been aware of this festival since AC/DC's 1981 headline, and poring over reviews of subsequent shows in the pages of Kerrang! and Sounds, at last I made the journey to see the best that the HM world could offer.
Festivals back then were like a slightly dangerous, if good natured, medieval battleground, with plenty of debris flying over head. Whole, open, 2 litre bottles of "liquid" would fly over our heads. Ones that had a good spin actually received an ovation. One of our number, pictured in this photo, ate the sandwiches in his packed lunch, presumably made by his mother that morning, then put the Tupperware box on his head in lieu of a helmet. I actually envied his makeshift headgear. I looked behind me, and a few hundred yards in the distance, across a sea of heads, I could make out barrages of debris flying across the overcast sky, between two groups, like arrows from opposing teams of archers. You see, there was only one stage back then, and little to do between sets, as roadies dismantled and reassembled the various bands' back lines for half an hour or more. The day kicked off with the German band Warlock, followed by what might be the possible historically important highlight, a live appearance from Bad News to be filmed for a new Channel 4 Comic Strip episode. They were hilarious, but looked a little scared by the amount of rubbish being thrown at them, even after goading the audience into doing just that.

Unfortunately, the boisterous behaviour continued well into Motörhead's set, with Lemmy threatening to leave the stage if it didn't end. People were throwing fireworks on stage, for god's sake. I'd been a huge fan since seeing them in Top Of The Pops around 1980/81, and I credit them with my lifelong obsession with HM. But sadly, the performance seemed to be below par, even thought I'd never seen them before (in truth, I'd never seen any of these bands before, having been to very few actual gigs), I didn't see another Motörhead show for around 13 or 14 years, when, of course, they were magnificent, and I've subsequently seen as many Motörhead shows as I could.

Def Leppard were a bit of a revelation. I owned a few of their 45s (Wasted, Photograph), but people's short memories make them forget that back in 1980-82 they were one of the most disliked bands in the UK for appearing to sell out to the States (which is kind of true; "Hello America"!). But with the rise in popularity of bands like Motley Crue, and other assorted US hair-metal oddities, such behaviour wasn't frowned upon, and as this was the first major show for the band since Rick Allen's tragic car crash two years earlier, their slot was something of a well deserved celebration.

I made the error of thinking that the best place to watch the Scorpions was right at the front, with 60,000+ punters behind me pushing forwards (remember, there was only one stage, and no alternative entertainment available). I got around seven people deep from the middle-front barrier, by which time I realised my folly, and wish I'd not made the effort to get this close to Klaus Meine and Rudolph Schenker. I prayed that I would not slip into the muddy slick beneath my trainers, as I did all I could just to stay upright. Leaning forwards, threatening to be sick, could do little to part the crush, as it surged in random directions, as one heaving mass, 10 or 15 feet in a few seconds and back again. I've subsequently seen the Scorpions at a much, much closer distance than that, stood by the side of the stage, and when I wanted to move, say to the bar, I just waived a laminate at a security guy, who would let me through. I eventually got out of the crowd, pleased that I hadn't been trampled to death whilst 'Loving You Sunday Morning' was ringing in my ears. I spent the rest of their set wandering around the outskirts of the field, looking at t-shirts I couldn't afford and LP bootlegs I could only dream of one day owning.
I found a more sensible vantage point for headliner Ozzy Osbourne, then touring "The Ultimate Sin" LP, and watched him descend from the rafters to 'Carmina Burana'. I had been playing my electric guitar for a minimum of two hours every day for the last five years, but could only dream of replicating what Jake E Lee could do with his axe (I've subsequently designed his last album too, by the way). Dressed like a Christmas tree, in an outfit that Liberace might think was a little too glitzy, Ozzy encored with 'Paranoid', of course, then the day was done. I was left with a ringing in my ears for three days, mind. Gigs were LOUD back then. And I mean LOUD (look at the PA behind me).
Hugh Gilmore
---
Recordings and setlists.
Vim Fuego (aka Alan Metcalfe) - Lead-vocals, Lead-guitar
Den Dennis - Rhythm guitar
Colin Grigson - Bass guitar
Spider Web - Drums

REAL LINE UP : Adrian Edmonson As Vim
Nigel Planer As Den
Rik Mayall As Colin
Peter Richardson As Spider

Ouch ! Vim gets hit by a container hurled from the crowd .

Donington 1986
Bad news behind the scenes pics
Warlock

(Soundboard/Audience?)
Castle Donington, United Kingdom
August 17, 1980
Earthshaker Rock
02. Shout It Out
03. Vorwärts, All Right
04. All Night
05. Love In The Danger Zone
06. Burning The Witches
07. True As Steel
08. Hellbound
Live at Castle Donington, uk, August, 26th, 1986

Dorothee Pesch - lead vocals
Tommy Bolan - guitar
Niko Arvanitis - guitar
Tommy Henricksen - bass
Micha Eurich - drums



Def Leppard

Stagefright.
Rock Rock (Till You Drop).
Another Hit And Run
Too Late For Love
Love And Affection.
Photograph.
Let It Go
Run Riot.
Rock Of Ages.
Wasted.
Travelin' Band.

61 mins

Visit the official Def Leppard site for more details of Donington 1986
Motorhead

Iron Fist
Stay Clean
Nothing Up My Sleeve
Metropolis
Doctor Rock
Killed By Death
Ace Of Spades
Steal Your Face
Bite The Bullet
Built For Speed
Orgasmatron
No Class.
Motorhead

Taken from the BBC Radio One broadcast - setlist courtesy Mike Harvey

BBC FM
There is a deluxe version of the Rock N Roll CD with bonus Donington 86 Live concert .

During the show a firework was aimed at the stage and Lemmy stops the show and confronts the culprit. I'm not sure what song this occurred on . but Lemmy can be heard swearing at someone later in the set during Built For Speed, probably because of a bottle thrown onstage or similar. The show also had a Bomber flying over during their set.
Mike Harvey

Coming Home
Blackout
Bad Boys Running Wild
Lovin' You Sunday Morning
Make It Real
Big City Nights
Coast To Coast
Still Loving You
Rock You Like A Hurricane
Can't Live Without You
Another Piece of Meat
Dynamite


Encore:

The Zoo
Can't Get Enough

Total time: 71 minutes
Intro

Bark At The Moon

Suicide Solution

(You) Never Know Why (We Rock)

Mr. Crowley

Shot In The Dark

I Don't Know

Killer of Giants

solo Jake E Lee

Thank God For The Bomb

Flying High Again

presentation

Secret Loser

solo Randy Castillo

Iron Man

Crazy Train


Encore:

Paranoid

fireworks

Goodbye To Romance
Total time: 84 minute

BBC FM/aud

83 minute hand held video also exists
---
Monsters of rock 1986 Photogalleries
---
Can we get a witness ?
We need more info on this and the other Donington festivals, most especially more photos and personal recollections so c'mon head bangers, get yer photos out and fire up what's left of the aging brain cells .Send your recollections and scans to us NOW ! !! Contact us
---

Watch this space for more Monsters of Rock pages to be added in the next month or two - we will eventually go up till 1996, meanwhile if you have material from any years up to 1996 , send it along and we will add it as we build the pages.
Free festivals of the 70s and 80s