The Archive.
Created Dec 2007 .
Updated June 2021
View at 1920 x1024 min res for best results
---
Whitesnake
Meat Loaf
ZZ Top
Twisted Sister
Dio
Diamond Head
Tommy Vance (DJ)

Castle Donington Raceway.

Derbyshire .UK.
August 20th 1983.
---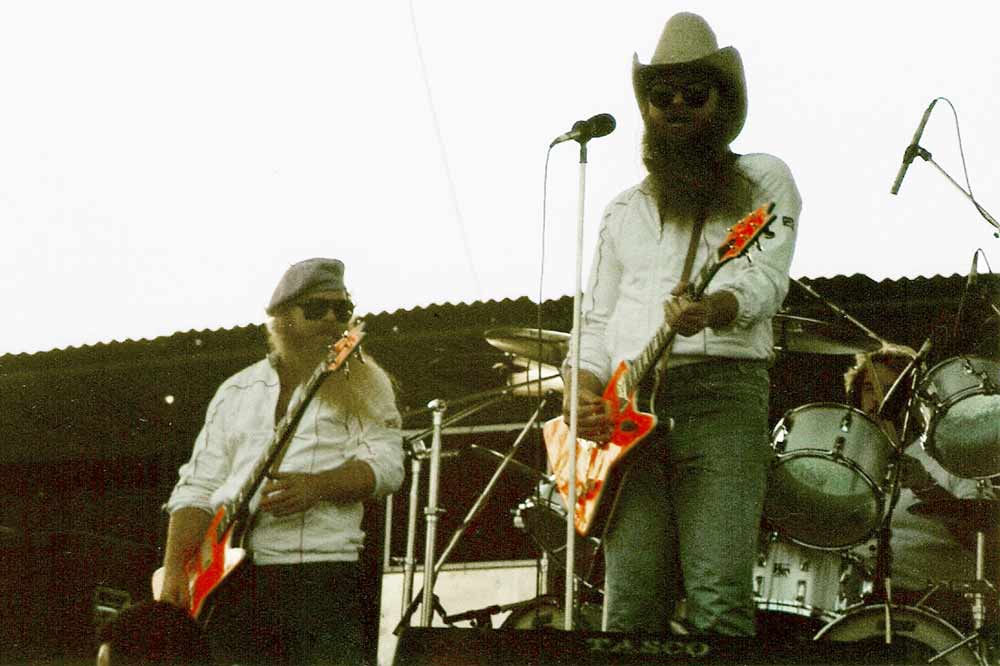 ZZ Top at Donington 1983 © Sharon Parker
The fourth Monsters of Rock festival featured a variable lineup with a solid bedrock of hard rock and heavy blues - represented by Whitesnake and ZZ Top respectively . Otherwise the nights offering was fairly ordinary. The glam metal act Twisted Sister would not have been much to my liking ( they would have a big hit with ' We're Not Gonna Take it " ) but at this time they were not particularly well known or rated by hard core Metal Freaks and for many they were more a novelty act than a serious hard core metal outfit with cred. Meat Loaf could also be very variable in the quality of his performances , either damn good or shambolic, he would end the year in bankruptcy due to record company and management problems .

The more lowly support bands were probably of a higher caliber then the middle order acts on this bill . Ronnie James Dio's ( ex Sabbath and Rainbow vocalist ) modestly self named outfit"Dio" and Diamond Head featured some quality players amongst their lineups , as did headliners Whitesnake, who featured ex Deep Purple keyboardist Jon Lord , skin thumper extraordinaire Cozy Powell and ace bassist Colin Hodgkinson from the semi legendary UK band Back Door . We have to admit that although we are NOT Coverdale fans , this lineup rocked seriously .

ZZ Top could of course always thoroughly entertain any crowd with their catchy blues/pop and were to be Donington headliners by 1985 on the back of their huge hit album Eliminator.

Courtesy Ashley Haynes
The weather was warm and sunny, a lot better than 1981 ....
---
Recollections.
Courtesy Ashley Haynes

1983
By now Donington had settled well in and had become part of the annual festival scene. This year I'd decided spend the Summer cycling round the country taking in one or two festivals en route. I'd been down to Glastonbury and to Cambridge for the folk festival and arrived at Donington on the Thursday evening at the same campsite as the previous two years. This year an official campsite had been set up next to the festival arena despite NO CAMPING IS ALLOWED being emblazoned across the ticket. I think that due to the size of the expected crowd they wanted to keep camping down to a minimum and knowing that people will always try and camp at these sort of events it was best to provide some basic facilities. The campsite had it's own toilets, water and catering ....sorted!


My brother Carl, who came down on his motorbike again, met up with me on the Friday morning and we headed into Castle Donington, the closest town to the festival site, to check out the pubs and get some lunch. The Summer of '83 had, so far, proved itself to be one of the hottest on record (which I had personally experienced during my cycle tour) so it looked like Donington '83 was going to be a scorcher.


And a scorcher it was! The rest of our entourage arrived Friday afternoon and the evening was spent back in the village of Osgathorpe. Only difference this time was we didn't fill our beer containers here. We were saving that for our new discoveries....The Moira Arms and The Turk's Head in Castle Donington.

This year was the first time we'd actually ventured out into Castle Donington itself. The brief Friday lunchtime visit had given us a good taste for things to come and we were looking forward to a good session, we weren't really concerned about getting to the festival in time for the opening act, which this year was NWOBHM stalwarts Diamond Head.


The route to Castle Donington was now lined with merchants selling everything from dodgy 'unofficial' t-shirts to equally dodgy gallons of cider (which we purchased and promptly drank before we reached the pub). The two main pubs hadn't yet decided to cash in on the annual event. The Moira Arms in later years would have a special outdoor bar set up with entertainment. The Turks Head, on the other hand, was still more like a Sunday lunch country pub with a very tempting carvery. Both served exceptional beer.
True to form we had a great session, never really leaving the Turks Head, the carpark of which had been taken over by Donington revellers. They must've made a fortune that day. And yes, we missed Diamond Head..!
Whitesnake were this year's headliners, a logical choice, keeping up the momentum after their 1981 appearance. Meat Loaf was next on the bill followed by ZZ Top, Twisted Sister, Dio and the afore mentioned Diamond Head. We were in in time for Twisted Sister, we could hear Dio warbling away while we were walking from the pub, the lethargy of the hot day had kicked and we didn't care.....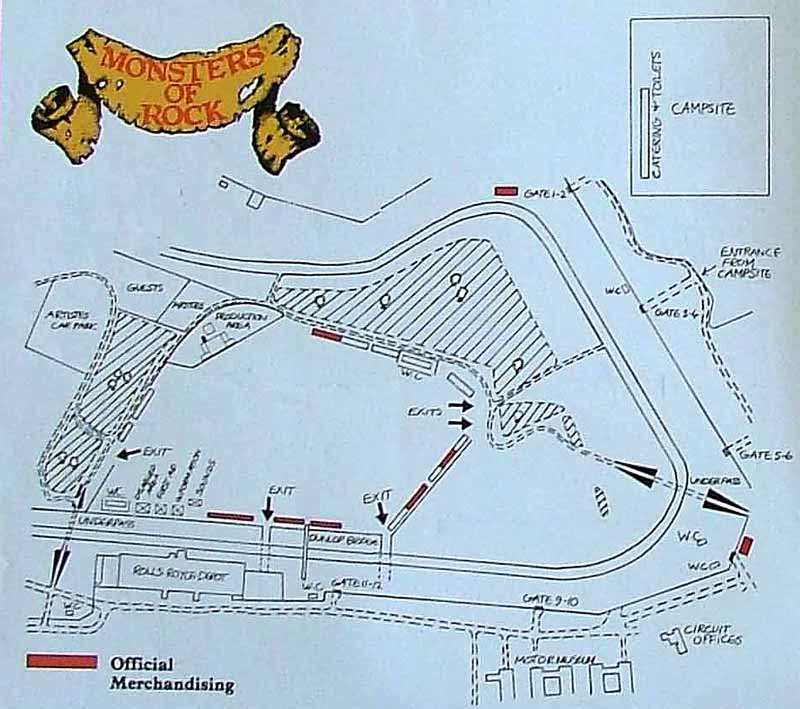 Courtesy Ashley Haynes
Twisted Sister were quite entertaining. Singer Dee Snider kept making references to 'Rock N' Roll' that prompted myself and Carl to launch into a few Elvis songs much to the bemusement of the people around us. This year we hadn't bothered to settle in a single spot, we just wandered about more. Got quite near the front during Twisted Sister (or Twisted 'Fuckin' Sister as they kept calling themselves) and decided to stay there for ZZ Top.
ZZ Top were enjoying a bit of a comeback with their new album 'Eliminator' and in particular the singles 'Gimme All Your Lovin' and 'Sharp Dressed Man' with their memorable videos. I didn't really know too much about them to be honest but what I saw that day really impressed me. They had a seamless flow about them, a kind of laid back Status Quo if you like, and, with those famous beards flapping in the breeze a definite degree of humour. I wasn't going to suddenly go out and buy their entire back catalogue but I was certainly going to investigate some of the earlier stuff.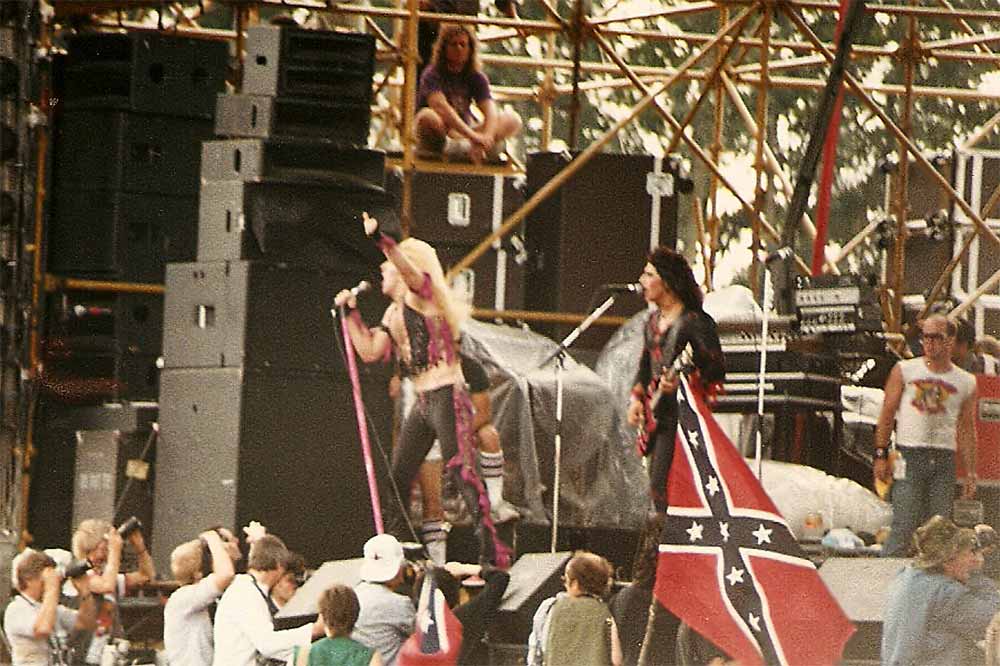 Twisted Sister at Donington 1983 © Sharon Parker
It was while waiting for Meat Loaf that we realised how bad the bottle throwing was getting these days. It had been a feature of the previous Doningtons as well as other festivals, particularly Reading, but it had really become annoying now, the joke was definitely over....and it was certainly a joke that Meat Loaf didn't find particularly funny. He was pelted! Not that he was disliked by the crowd, a lot of his songs went down really well, he just made such a good target!
Mr Loaf was in good voice and still milking the phenomenon that was 'Bat Out Of Hell' now five years old and probably still in the charts somewhere. His backing band were competent but largely anonymous, and getting bombarded by anything that the audience could pick up and throw, which was very visibly pissing them off. One memorable moment was when one of the backing singers was hit by a plastic bottle upsetting her 'sexy stance'. She turned to the direction the projectile came from, shouted some abuse and flicked a finger before returning to the 'sexy stance' and carrying on, what a professional...!!
I was separated from my mates by the time headliners Whitesnake hit the stage and decided it was futile to try and find them deciding instead to settle down near the front, stage left. I'd met a group of people from Yorkshire and hung out with them while taking quite a fancy to one of the females in their party.
Whitesnake did what was expected of them and with a slightly changed line up from their excellent 1981 appearance including drummer Cozy Powell playing at his second Donington. It was a crowd pleasing set (Love Hunter, Mistreated, Fool For Your Loving etc..) with Powell's solo this year including low-flying helicopters as well as Tchaikovsky. I can't quite recall which song Coverdale was referring to but when he announced 'this is the song you should be singing to your woman' (or something along those lines) I decided to make a move on the Yorkshire lass. I turned round to her and was just about to speak when a plastic bottle full off piss hit me on the head.
The journey back to the camp site was interesting. I met a couple of guys on motorbikes who were looking for somewhere to pitch their tents so I ended up getting a lift back to the campsite on the back of a bike, without a helmet! Seem to remember passing my weary mates at some point and I was certainly first back and tucking into the stash of snacks and supper beer.
Donington had really turned up a notch or two in '83, it was the best so far in terms of the music and the social events surrounding it. The following day I packed up and set off South towards Reading. And I never saw the girl from Yorkshire again.....
Ashley Haynes
---
Monsters Of Rock, Donnington 1983
1983 was a special year, ZZ Top released Eliminator and smashed the charts with Gimme All Your Loving and now they were coming to the UK for the first time ever. My cousin, Chris, got me into the band way back in the mid 70's before Deguelo was released. I know I bought their first Greatest Hits album and my mates said 'Who?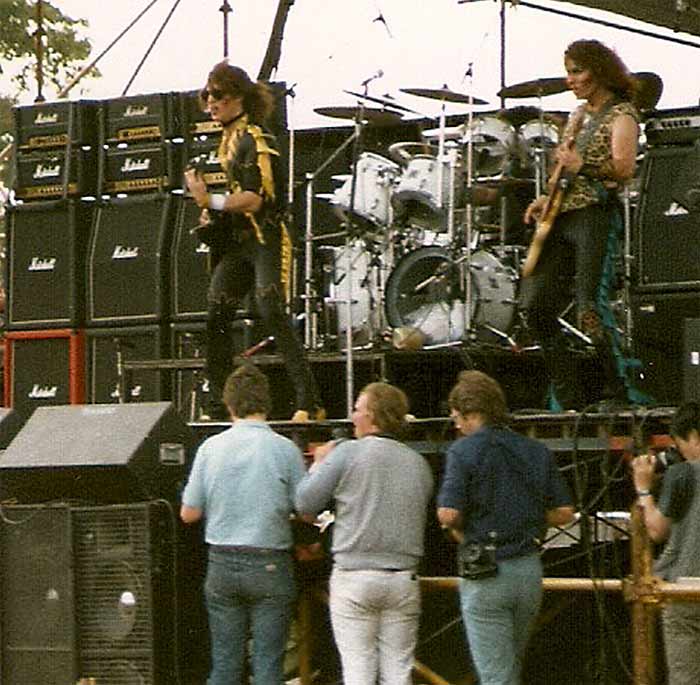 Sisters being Twisted © Sharon Parker

We were really looking forward to ZZ's performance as we had heard much about them. Billy Gibbons in particular, is a musicians musician and the band is highly respected for making a better sound than a good 4 piece with only 3 players.

We hired a small white van to drive from the East End of London to Castle Donnington. There were 3 in the back, Andy, Trev and Steve with a whole heap of cushions and sleeping bags and I don't recall any complaints about my driving but then the cassette player was up loud.

Outside the venue we walked from the car park and found some enterprising businessmen had set up a couple of wobbly pasting tables which were bending under the weight of a huge stash, full size plastic demi john's, of home made Scrumpy Cider at the gate. After investing in all we could carry, we moved through the gate.

The scrumpy was gorgeous. You could sieve the bits through your teeth and chew on them. We had taken too long getting to the gig and we'd missed Diamondhead, a shame because I kinda liked what I'd heard of them, a live recording on Tommy Vance's Friday Night Rock Show.

Dio were half way through their set and I could barely hear them. Ronnie was centre stage in the distance, looking smaller than ever, but surely the sound shouldn't be that quiet. I was told later that Whitesnake controlled the PA, an immense wall of speakers, and the groups got more wattage as you went higher up the bill. Another stack was switched on each time a new group took to the stage. Judging by Dio's pittiful wattage, Diamondhead must have played an Unplugged set?

Dee in the process of Snidering © Sharon Parker

Twisted Sister arrived on stage with the announcement, "This ain't no muthafuckin' Tube tv show!". Dee Snider, looked like a Mae West caricature in neon pink and black. A six foot drag queen, he had the audience in the palm of his hand from the get-go. He had them chanting, with relish, "I'm a sick muthafucka!" and, as tired as it sounds now, it worked a treat at that moment. They put on a great show and sounded really good, The Kids Are Back got everybody involved and I Am, I'm Me was another rapturous moment.

ZZ Top came on stage demurely, dressed in white with Billy Gibbons sporting a rather large stetson and Dusty Hill in a beret. As always, Frank Beard was not bearded nor did he have a big hat but he was wearing shades. All in all though, the group were somewhat understated. They played an absolutely faultless set with no gimmicks and no fuss.

To a certain extent, I was a little disappointed, I guess, because their show bordered on uneventful. The songs were played so well that it could have been the LP played through Donnington's PA, well you know what I mean. I really enjoyed their set, it was a grand opening performance for ZZ in the UK though.

Meatloaf came on to a hail of bottles because they sounded awful! We were on the right hand perimeter of the crowd (facing the stage) at the time, walking around the crowd for some reason. There was a rainbow of bottles across the crowd arcing perfectly on to centre stage. Wish I'd got a photo?

I'm not a big Meatloaf fan but my missus, Sharon, loved the Bat Out Of Hell album so we were showing interest. The overture to Bat Out Of Hell was the opening performance and, to my ears, the guitarist was out of tune and when the vocals started, Mr. Loaf sounded flat too and that was when we decided to make tracks. I had never intended staying for Whitesnake, they were too full of their own importance before the gig and having experienced the venue we decided to vote with our feet.

I went to see ZZ at Wembley in '84 and with a light show and their own stage they were awesome, still faultless but far more entertaining. Then they released the Afterburner album which was, frankly speaking, stark bilge and then they done Viva Las Vegas on Back To The Future and became an embarrassment. What a bloody shame?

Mickey Parker
London
---
From what had been a relatively disappointing year (1982), we now came to a year that I still recall as one of the best days ever…topped off by a magnificent version of 'Mistreated' by Whitesnake………when Coverdale announced that this would 'probably be the last time he would ever play this song' you just knew it was gonna be something special. In fact the overall Whitesnake performance is still my favourite of all the headlining acts over the years. 'Here I go again' was also brilliant, especially Coverdale's singing at the start.
Visually the highlight was Cozy Powell's drum solo, which now incorporated the 633-squadron music as well as the 1812 overture. During the 633-squadron section the festival site was 'dive-bombed' by light aircraft (helicopters I think). There was over £50,000 worth of pyrotechnics used during the Whitesnake set. Magnificent.
But Whitesnake were not the only band on form on the day.
ZZ Top were riding on the back of their Eliminator album and received favourable comments all round. One memory I have of their set was when a naked female started dancing to 'Gimme All Your Lovin' just in front of our base camp. This performance was supported by appreciative jeering from all the males in the vicinity.
Twisted Sister's Dee Snider probably gave the best introduction to a song ever at Donington………"This next song's a bit slow for Twisted Sister……but its f*****g mean". The song in question was 'Destroyer' from their 'Under The Blade' album.
Apart from Whitesnake, my other favourite band of the day were DIO. The band were playing their very first ever live show (apart from a couple of warm-ups). The soon to be classic album 'Holy Diver' had just been released. Their set included a mixture of songs from this album plus various Rainbow and Black Sabbath classics including Stargazer, Heaven and Hell etc.
The biggest disappointment of the day was Diamond Head. I had expected them to perform better than they did.
I remember the weather being good this year.
Paul Hartshorn
---
On paper an outstanding one day line up. In actuality a bit hit and miss. Hits ZZ Top and Dio. More about Meatloaf later. Diamond Head sounded good from the brief bit of them I saw. The Snakes were too indulgent for me.
I had no idea what to expect from Dio or the Toppers, apart from perennial compilation album track tush. They were both excellent. Holy Diver was a brilliant first album and they did it full justice and with a choice selection from his back catalogue Dio were instant premier league. The Toppers were just chilled. Turned up, plugged in and off they went into a land all their own. And we were the better for sharing it. The start of a 25 year love affair with the little old band from Texas.

Meatloaf roared on stage I got a party 4 or 6 whatever size they were on the head and that was that for his set. It was a long way home with a ringing head. So thanks for nothing to the a**e who chucked it. Back from a visit to St Johns in time for headliners Whitesnake, almost wish I'd stayed in the first aid tent. Whitesnake were a great band, terrific songs, hugely talented but they left me cold once they went into widdle widdle extended workout mode. That's probably more a reflection on me than them. Cozy Powell apart. His is the only solo I've ever really been able to cope with. At Donnington he was in his element and went gloriously over the top. Sadly we were to him soon after.

As with Reading in 82, this proved to be my last Monsters of Rock. Though did make it back to Donnington 20 odd years later to see UFO at the Biker Bash. Now there was a band who should have graced Monsters.

Paul Nathan
---

Excellent website! I was stationed at RAF Woodbridge from 1983-85 and attended every concert I could during this time period.

The recollections of the 1983 Monsters of Rock are nearly the same as mine. There was a large group of around 50 of us GI's on the left side of the stage, we all had our Cheap Sunglasses on hand for ZZ Top. Nobody knew what to think about that. I remember that they were the first band to chill out the bottle throwing crowd, ZZ Top kicked ass! We camped out in my Volkswagen Van the night before and had a blast. I had an outstanding stereo with large speakers pulled out on the roof of the van. By local request we played every ZZ Top album ever made that night, it was cool because as you said nobody in England heard of ZZ Top at the time. I remember we had a hell of a party going on around my van till well past midnight.
The one "major detail" that your contributors missed was that Whitesnake had two large towers of speakers in the middle of the crowd with lights on them. At one point Jon Lord goes into the Close Encounter of the Third Kind bit and a helicopter moved overhead which was suspending an identical light array. The sound and lights where going around in circles just like in the Close Encounter's movie. To this day I say that was the coolest stunt ever performed at a Rock Concert. No doubt about it …this was Whitesnake at their peak!

I will add more details of other 83-85 concerts when I have time.

Cheers,

Bill Luebke
Mesa, AZ USA
---
This was the first festival I attended. A mate and I booked a coach from a local firm that was doing trips to festivals and gigs. Unfortunately the coach broke down and we had to get another one sent to us and we ended up missing Diamond Head one of my fave bands on the bill. Dio rocked hard (I have an excellent FM broadcast on CD now) , I wasn't a Twisted Sister fan but we were completely won over by them, they were loud and obnoxious and when you are 17 as we were you love all that. They were just great fun , I have a FM bootleg of this minus swearing sadly , listening to it now it sounds pretty naff but man it was fun at the time.
ZZ Top were awesome and I went and bought all the early albums after seeing them. Got a boot of this too, not the whole set but it still sounds amazing and really takes me back. I hate Meat Loaf but ol fatty went down quite well sadly. Whitesnake were excellent but played too many solo's. It was an excellent day and the first of seven Monsters Of Rock festivals I attended.
Carl Adams
---
Ahhhh, Monsters of rock 1983 What a day. my first festival, a bit of a late starter at 19 looking at some of the stories on here, a good group of us on motorbikes up from southampton camping, fantastic day seeing all these old photos is so nostalgic bottle fights in a good way J metal and mayhem with copius amounts of alcohol and foot long joints haha
happy days drunken human pyramids on the campsite ravaged every bit of woodland nearby for our camp fires and a lasting memory of smelly feet in the tent with five of us fitting into a two man tent .
the whole event was it seems in a different lifetime and miss it something rotten although this fifty one year old now would rather be staying in a hotel overnight nowadays lol great days and would love to shout out to all who have contributed and made this website fantastic job and especially to all my breveren and sisteren who have put their stories on here great job
83/84/86 and 91 were my days at the castle until the thrash metals came along and spoilt it all for me every band I saw there were great ,I cant remember to many details about the days but saw all my faves especially ACDC who still rock my world.
Cheers,
Ketch
---
Recordings and setlists.
Whitesnake's set was filmed for official release as the bands first ever live video, although it features only a portion of their set.. However, its not likely that any other bands were filmed as no releases , official or boot have emerged that we know of . The BBC seem to have broadcast portions of some sets on FM.
Diamond Head

Sean Harris – vocals
Brian Tatler – guitar
Merv Goldsworthy – bass
Josh Phillips-Gorse – keyboards
Robbie France – drums

Am I Evil?
In The Heat Of The Light
Borrowed Time
Don't You Ever Leave Me
Sucking My Love'
Play It Loud'
Intro
Stand Up And Shout
Straight Through The Heart
Children Of The Sea
Rainbow In The Dark
Holy Diver
Drum Solo
Stargazer/Guitar Solo
Heaven And Hell
Man On The Silver Mountain/Run With The Wolf
Evil Eyes
Ronnie James Dio – vocals
Vivian Campbell – guitar
Jimmy Bain – bass
Claude Schnell - keyboards
Vinny Appice – drums
Claude Schnell's first gig at a rock festival and his favourite Donington as he got to play at the same show as John Lord , a seminal influence on his playing .
Meat Loaf

Likely set list

Bat Out Of Hell
I'm Gonna Love Her For Both Of Us
Razors Edge
All Revved Up With No Place To Go
Midnight At The Lost and Found
Two Out Of Three Aint Bad

Twisted Sister quote

" Well, there was that time we were performing at Donnington. I think I dodged an apple or something! That place is known for people just chucking stuff at the bands. They throw stuff at everybody! They threw stuff at Meatloaf, they threw stuff at ZZ Top... anyone who got onstage. There are 40,000 people in the audience and at any given time, 10,000 of them don't like the band. So they bring extra fruit!"

Twisted Sister

probably FM

1. What You Don't Know
2. The Kids Are Back
3. Shoot 'Em Down
4. Destroyer
5. Like A Knife In The Back
6. Ride To Live Live To Ride
7. We're Gonna Make It
8. You Can't Stop Rock N' Roll
9. I Am I'm Me
10. It's Only Rock N' Roll


Dee Snider – vocals
JJ French – guitar
AJ Pero - guitar
Eddie Ojeda – bass
Mark Mendoza – drums
| | |
| --- | --- |
| | |
Whitesnake

Live In Donington
1983

"Monsters Of Rock" Castle Donington Derbyshire England 20th August 1983

CD1
Walking In The Shadow Of The Blues
Rough An' Ready
Ready An' Willing
Guilty Of Love
Here I Go Again
Lovehunter - Micky Moody Solo
Mistreated - Soldier Of Fortune

CD2
Jon Lord Solo
Cozy Powell Solo
Ain't No Love In The Heart Of The City
Fool For Your Loving
Thank You Blues
Don't Break My Heart Again
Wine, Women An' Song

90:52 Min

David Coverdale (Vocals)
Micky Moody (Guitar)
Mel Galley (Guitar)
Colin Hodgkinson (Bass)
Cozy Powell (Drums)
Jon Lord (Keyboards)

(Complete Audience Recording)

Thanks to Martin Waldron for the info

various covers of Whitesnake boots of Donington 1983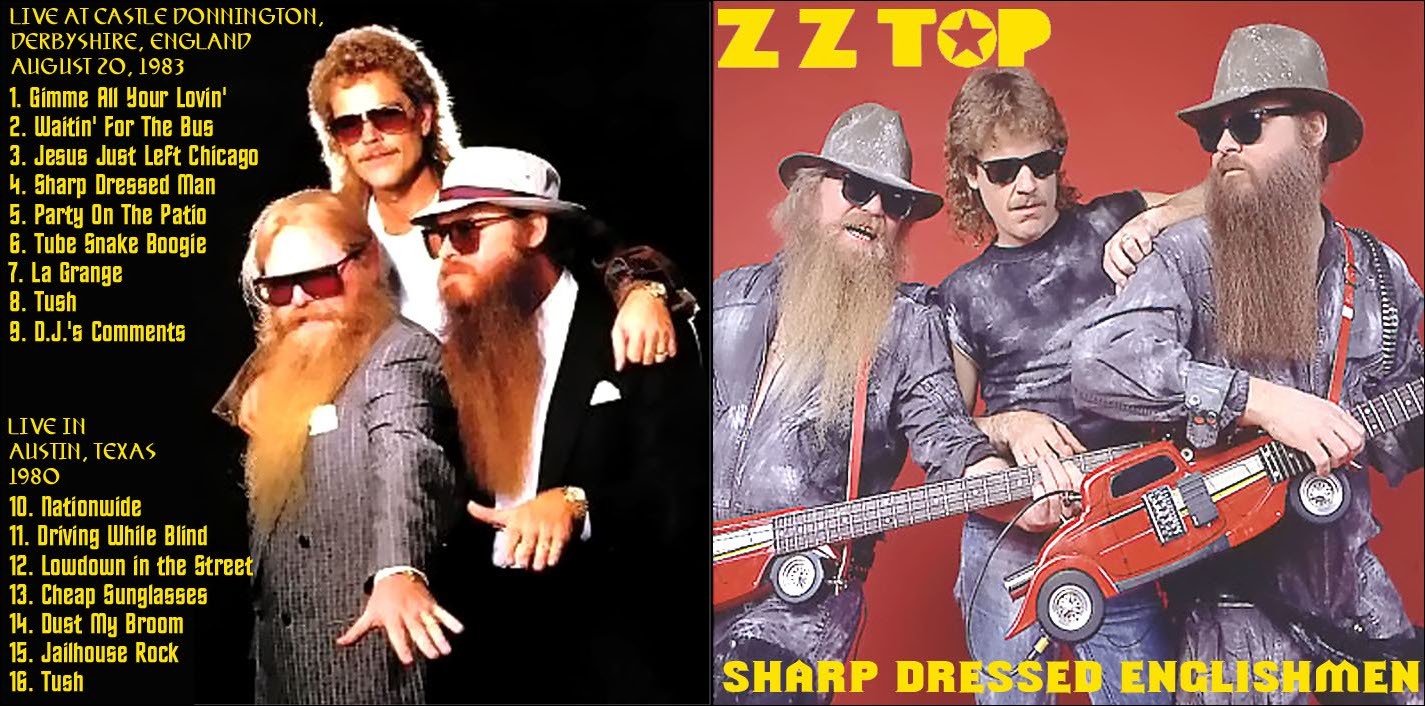 ZZ Top

Aud source

1) Got Me Under Pressure
2) I've Got The Six
3) Gimme All Your Lovin'
4) Waitin' For The Bus
5) Jesus Just Left Chicago
6) I'm Bad, I'm Nationwide
7) Sharp Dressed Man
8) Ten Foot Pole
9) Manic Mechanic
10) Heard It On The X
11) Pearl Necklace
12) Cheap Sunglasses
13) Arrested For Driving While Blind / Hit It Quit It Medley
14) Party On The Patio
15) Tube Steak Boogie
16) La Grange
17) Tush
FM BBC
18) Gimme All Your Lovin'
19) Waitin' For The Bus
20) Jesus Just Left Chicago
21) Sharp Dressed Man
22) Party On The Patio
23) Tube Snake Boogie

Other sources assert that these other tracks were also broadcast on FM

7. La Grange
8. Tush
Young master Coverdale at Donington 1983 -for once not doing annoying phallic things with his mike stand :-)
| | |
| --- | --- |
| Jon Lord | Micky Moody |
| | |
| --- | --- |
| The late Cozy Powell | Whitesnake , more than a solid lineup ! |
Festival Welfare report
Fws reports tell us nothing about the music but give a fascinating insight into just how well rock festival were run, in general, things had improved from 1980, but there were still a few features that could have been improved -such as pass outs and camping , in fact camping was always discouraged, although not according to this report from the Samaritans who must have been on something as the ticket clearly states that no camping is allowed, very, very clearly....
Samaritans Report

Although the Heavy Metal festival at Castle Donington is a one night event, it offers camping facilities the night before and the night after, and so is treated in a similar way to other weekend commercial festivals. This is the fourth year we have been to Donington, and we again have been helped by having built up a good relationship with the organisers. We have also, in that time, become established with the crowd, predominantly young heavy metal fans. It is significant that a lot of our callers are lonely or depressed, either primarily as a result of relationship difficulties or with these as additional worries. This shows that there is a need for our befriending work, even at events where people have come from far and wide to enjoy themselves.

We guess this did not stop anyone from going ahead as usual and camping, but it warn't official m'duck as they say in Leicester....
---
Can we get a witness ?
We need more info on this and the other Donington festivals, most especially more photos and personal recollections so c'mon head bangers, get yer photos out and fire up what's left of the aging brain cells .Send your recollections and scans to us NOW ! !! Contact us
---

Watch this space for more Monsters of Rock pages to be added in the next month or two - we will eventually go up till 1996, meanwhile if you have material from any years up to 1996 , send it along and we will add it as we build the pages.
Free festivals of the 70s and 80s