The Archive.
Updated June 2021
---
Whitesnake
Aerosmith
Poison
Quireboys

Thunder


Castle Donington Raceway.

Derbyshire .UK.
August 18th 1990.
Courtesy Ashley Haynes

So we finally come to the last of the Donington festivals on our site. Its taken a year or more to research and discover enough images and relics from each festival to get this far and we hope you have enjoyed the results. Its been interesting from our perspective, although we like heavy rock, it would not be accurate to say that we are big Metal Fans, but its been good to become well acquainted with this aspect of the UK festival scene and its made us appreciate the genre far more then we did when we first began this journey.

After a year spent in hiatus in order to recover after the two deaths that occurred during Guns N' Roses set in 1988, the festival was back, hopefully more secure and safer overall for the most important element of the show- the audience. Fortunately the weather was excellent this year so the ground would be solid underfoot, there was suoposed to have been a re-designing of the arena so the stage would not be at the bottom of a slope , which had contributed to the problems in 1988, with the front of stage area becoming unduly slippery underfoot. However , site maps indicate the stage was in the same position as in 1988, but this may have been a mistake , or reorientation might have taken place that was not visible on a map.

This lineup was quite strong , Whitesnake were returning to the festival for their third appearance, the second time as headliners. They had first appeared in 1981 supporting AC/DC and had headlined in their own right in 1983.

Aerosmith were making their first appearance at Donington, having played at Reading a year or so before, they were many fans favourite band of the day and were generally a potent live act.

This year the festival also featured two of the best hard rock guitarists around , Joe Perry Of Aerosmith and Steve Vai who played with Whitesnake. Others may disagree , but apart from Blackmore , Angus Young of AC/DC and Billy Gibbons of ZZ Top, the festival hadn't seen classier axemen than this since its inception in 1980.
| | |
| --- | --- |
| | |
Courtesy Ashley Haynes
Support bands Thunder , the Quireboys and Poison all went down pretty well, not surprising really as all three were solid blues rock bands that were designed to appeal to the Aerosmith fans as well as the Whitesnake afficionadoes out there. There were no bands that broke the mould in 1990, all quite predictable . Thunder did very well for an opening act (who were usually bottled) but the crowd went ape over them .

The entire show was recorded by Radio One and big chunks were also filmed as well. However the only complete film of Whitesnake that is around seems to have been filmed from the big screens on the side of the stage- not terribly good quality.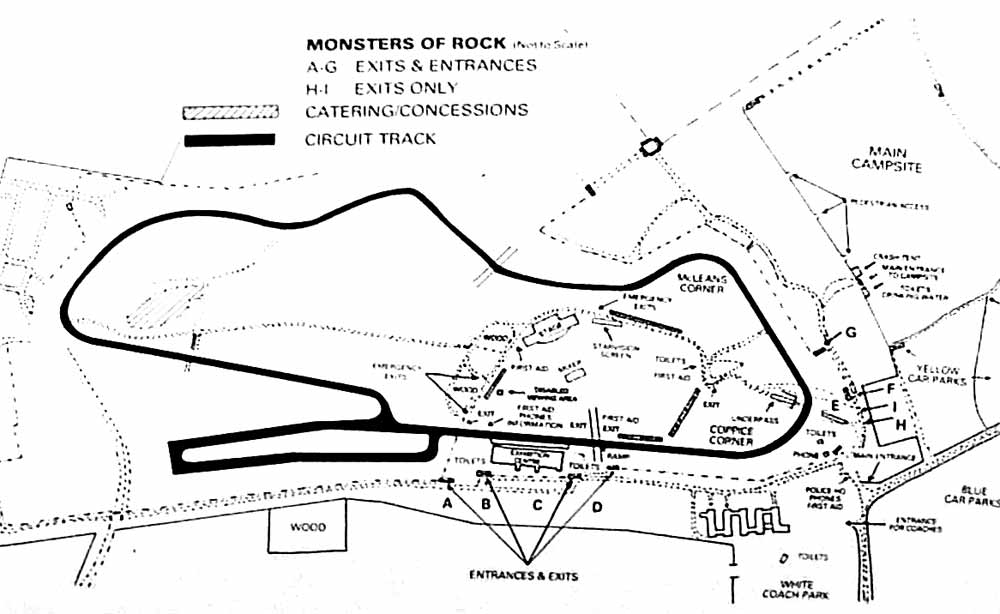 1990 site , Courtesy Ashley Haynes
Thunder
The Quireboys
| | |
| --- | --- |
| The Quireboys, more Rolling than the Stones.... | |
| | |
| | |
| | |
---
Recollections
Only five bands this year and the headline slot saw the return of (the now) MTV friendly Whitesnake. Their traditional blues rock had been sidelined for a more sleeker USA style heavy metal.
Here is a shot of us in 1990 having just arrived in my company's mini bus (they thought I was doing a removal!). © Tony Cruse

Their show was based around the 'Slip of the Tongue' CD and just didn't excite me like the days of old……the only real nod to the past was a perfunctory version of 'Ain't no love'. David Coverdale's voice had also lost some of its magic.
Disappointing to say the least.

Aerosmith hadn't played these shores for a while, so they were eagerly anticipated. They didn't disappoint, even Jimmy Page joined them onstage for the encore. Band of the day…..easily.

Poison could have done better, but at least they played 'Every Rose has its Thorn', which my wife (whose name is Rose) enjoyed.
Not too sure that The Quireboys were right for the show, but they entertained a sizeable portion of the crowd, so who am I to complain.

Thunder were fantastic. From the moment Danny opened his mouth at the start of 'She's So Fine' to the end of 'Dirty Love'. I was near the front and thought they were great…..best opening performance of all the Doningtons.
The whole concert was broadcast live all day on Radio One.
The weather was fine.
Also this was one of the first years where alcohol had affected my recollections of the day.
Paul Hartshorn
---
Went to 1990 Monsters of Rock too.
That's how it should be. Great lineup, Thunder great openers, loved The Quireboys and Poison, Aerosmith were awesome. Even Whitesnake were enjoyable.
Crap Beer, Crap Food, Cool T-Shirts, Great weather (got sunburnt!), Happy friendly music fans and to put the icing on the cake I was with my girlfriend this time, who is still my wife!!! GREAT MEMORIES.
Julian Clark
---
Best Concert I have ever been to! I absolutely came for Aerosmith and fell in love with Thunder! I am from the US and traveled all day on the train and bus to get there. I bullied my way to the front to see Steven Tyler do his back flips and what he had drawn on his stomach with his Sharpie! I still love him to this day! Jimmy Page was a Bonus! It took me most of Quire Boys and Thunder to fight my way to the front!
If anyone has the entire concert on video please post!

What I distictly remember is the Bus and Tube ride back home to Chiswick..the Taxi driver pulled over and started crying as the news repots on his radio talked about Kuwait and the hostages. He cried and cried saying telling me that his sister was one of the hostages.

I love the UK and I love Aerosmith!

Diane
---
This was the first one I ever went to. I was 17 and 5'3 but my boyfriend topped 6'4 and I was a seasoned concert going. I went to see Poison and Thunder and the Quireboys fearing the headliners were too old but fell in love during both Aerosmith and Whitesnake's sets. I was at the front during the early sets and allowed myself to be swept back for Aerosmith but I was at the front by half way thru Whitesnake. I went with a few people and no one seemed disappointed. The weather was great and I thought this was how all large festivals should be. I hated the food fights in between the sets and wore my shaggy perm and tassled scarf with pride. Maybe able to dig out some photos...
Marie Cousens
---
Poison
| | |
| --- | --- |
| | |
| | |
| | |
| Massive security for Poison | |
Aerosmith
Jimmy Page joined in the fun ...
Whitesnake
| | |
| --- | --- |
| \ | |
---
Recordings and setlists.
Thunder setlist

She's So Fine
Backstreet Symphony
Until My Dying Day
Higher Ground
Don't Wait For Me
Fired Up
Dirty Love

FM

01 Ride On Train
02 Misled
03 Man On The Loose
04 Whippin' Boy
05 Roses And Rings
06 Long Time Coming
07 Sweet Mary Ann
08 I Don't Love You Anymore
09 Sex Party
10 Take Me Home Tonight
11 Hey You
12 There She Goes Again
13 7 O'Clock
14 Heartbreaker
15 Hoochie Coochie Man

FM

Spike:Vocals & Harmonica
Guy Bailey:Guitar
Guy Griffin:Guitar
Nigel Mogg:Bass
Chris Johnstone:Piano
Rudy Richman:Drums
Poison

THE SETLIST:(Flesh & Blood Tour)
1. INTRO:+SPEACH
2. LOOK WHAT THE CAT DRAGGED IN (audio sample)
3. LOOK BUT YOU CAN'T TOUCH
4. POOR BOY BLUES
5. UNSKINNY BOP
6. EVERY ROSE HAS IT'S THORN
7. RIDE THE WIND
8. LET IT PLAY
9. FALLEN ANGEL
10. NOTHIN' BUT A GOOD TIME
11. TALK DIRTY TO ME

Date:August 18th 1990

Aerosmith

08/18/90
Castle Donington, Donington, UK

Young Lust
F.I.N.E.
Monkey On My Back
Janie's Got A Gun
Rag Doll
Voodoo Medicine Man
Love In An Elevator
Dude (Looks Like a Lady)
Sweet Emotion
Toys In The Attic
Dream On
Train Kept A Rollin' (w/Jimmy Page)
Walk This Way (w/Jimmy Page)

66 mins - A short but cracking set from Aerosmith- Whitesnake would have had a job to top this !

1 Slip Of The Tongue
2 Slide It In
3 Judgement Day
4 Slow & Easy
5 Kitten's Got Claws
6 Adrian Vandenberg Solo
7 Is This Love?
8 Cheap & Nasty
Disc 2
1 Crying In The Rain
2 Fool For Your Loving
3 Steve Vai Solo
4 Here I Go Again
5 Bad Boys
6 Ain't No Love In The Heart Of The City
7 Still Of The Night

David Coverdale : vocals
Steve Vai:guitar
Adrian Vandenberg:Guitar & Keyboards
Rudy Sarzo:Bass
Tommy Aldridge:Drums
---
Can we get a witness ?
We need more info on this and the other Donington festivals, most especially more photos and personal recollections so c'mon head bangers, get yer photos out and fire up what's left of the aging brain cells .Send your recollections and scans to us NOW ! !! Contact us
---

Watch this space for more Monsters of Rock pages to be added in the next month or two - we will eventually go up till 1996, meanwhile if you have material from any years up to 1996 , send it along and we will add it as we build the pages.
Free festivals of the 70s and 80s