The Archive.
Big thanks to our sponsor Neil !

For information on today's festivals see eFestivals.co.uk
Updated Dec 2013
View at 1280 x1024 min res for best results
---
AC/DC
Van Halen
Ozzy Osbourne
Gary Moore
Y&T
Accept
Mötley Crüe
Tommy Vance (DJ)

Castle Donington Raceway.

Derbyshire .UK.
August 18th 1984.
Photogalleries
---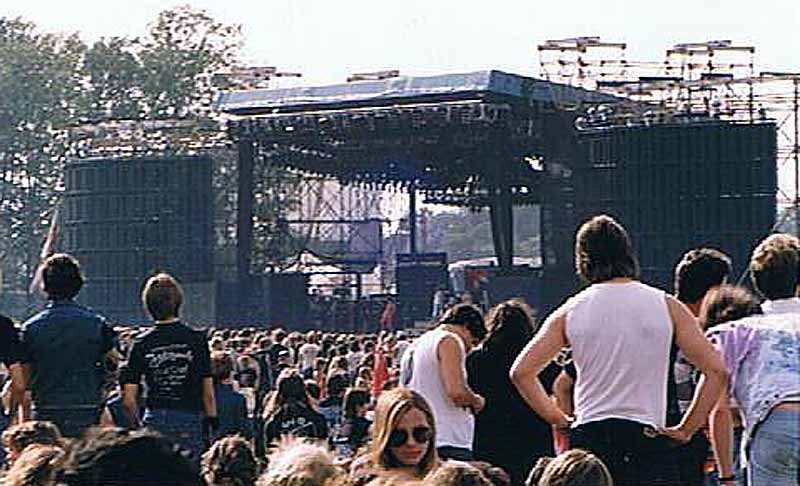 Donington 1984 © Karl
---
The fifth Donington saw the return of Aussie rockers AC/DC with better weather conditions that had accompanied their 1981 debut at the festival. Overall a pretty stong bill , with nary a weak act in the lineup if you were inclined to like your rock hard ,fast and extremely loud.

The weather was good for a change, Ozzy was throwing buckets of water onto the crowd to cool them off . The crowd threw bottles of piss at each other for no good reason other then it was the done thing ..... many other nasty things were thrown , such as cows eyeballs, crisp packets full of mud and shite (as the Scottish road crew member of Twisted Sister described it ) which made the stage area a somewhat noxious zone at times....
| | |
| --- | --- |
| | As we can see on the left, the crowd wasn't just content to lob stuff at the stage, here they are at the end of Van Halen's set pelting merry hell out of each other. We suppose it wasn't quite as bad a spitting on the artistes, as was practiced widely in the punk era, but it was frigging dangerous at times if the bottle was full of liquid - (well where else are you gonna piss in the midst of a crowd of 60,000 , most of whom were hardened drinkers ......) |
Donington 1984 merchandise
---
Recollections.
Ozzy Donington '84 with Bob Daisley © Steve

I984
This was the big one........possibly the best of the Doningtons, well, at least I enjoyed it! The social side of the festival really started to kick in by now and this year we decided to make a weekend of it by 'visiting' a town on the way down on the Friday night. The town chosen was Ashbourne, where we merrily visited most of the town's central pubs and crashed out in a variety of places around the market square. There were seven of us travelling in two cars and we had a rude awakening and a very early start due to being 'in the way' of the Saturday market.\

Breakfast was next on the agenda and we found an amazing cafe 'somewhere' between Ashbourne and Derby where we were served by a very friendly Dame Vera Lynn look-a-like.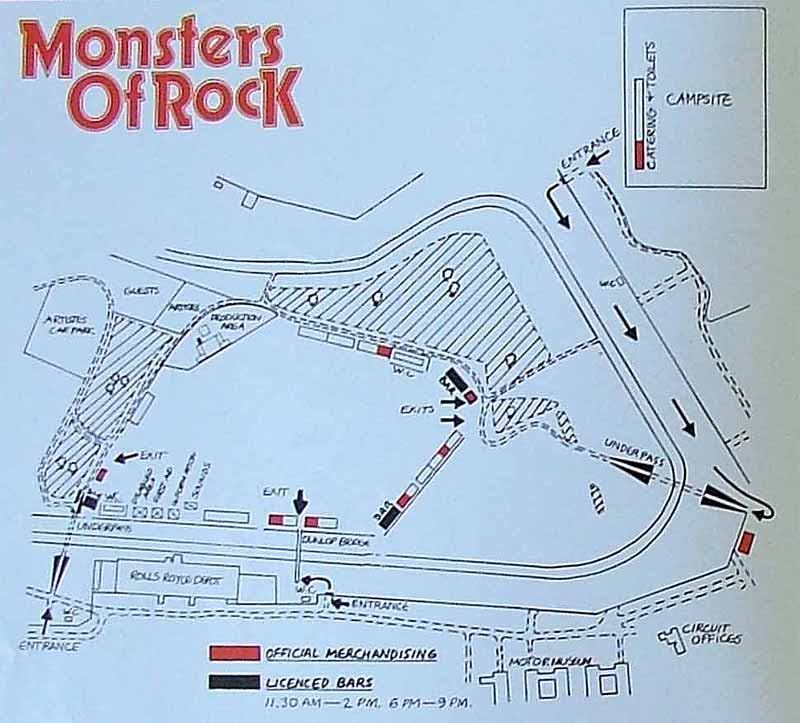 Courtesy Ashley Haynes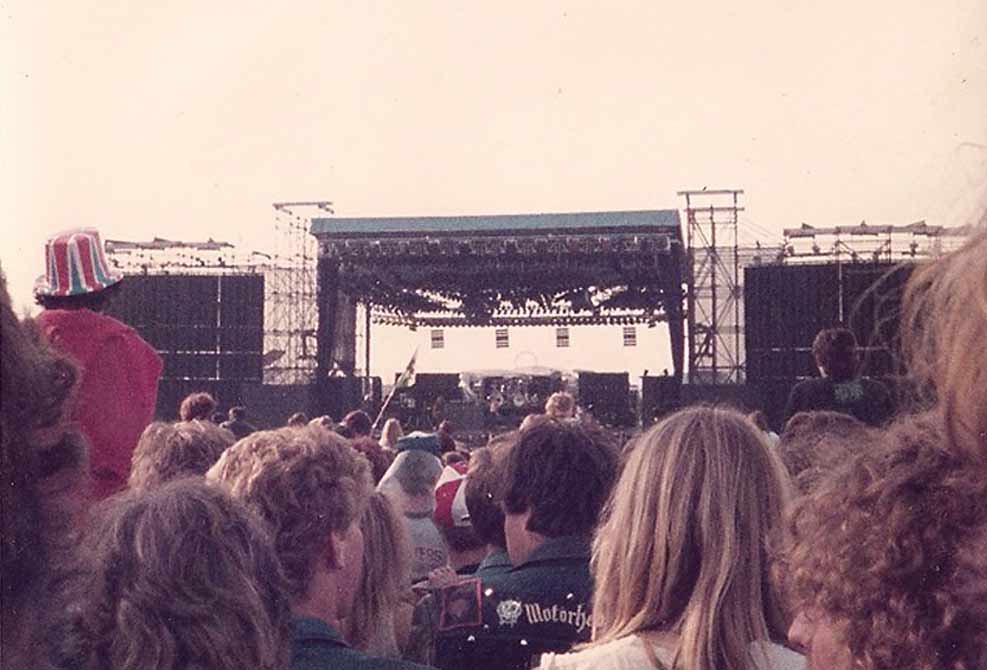 Probably Ozzy © Sam McGookin
This year we were making use of the 'official' campsite, although we never actually got our tents up preferring instead to crash out under the stars. For this was yet another amazing summer with the weather for Donington being even hotter than last year. We parked the cars and headed in town, town being Castle Donington. We spent longer in the pubs than last time, this year favouring the Moira Arms which seemed to have welcomed the 'Monsters of Rockers' a little more than the Turks Head across the road. problem was, this meant we missed quite a few of the bands which this year had gone back up to seven. AC/DC were returning to headline followed by Van Halen, Ozzy Osbourne (last minute addition I heard), Gary Moore, Y&T, Accept and Motley Crue playing their first 'major' UK show. I think we arrived part way through Y&T who I'd seen supporting AC/DC in 1982 and I thought were rather dull back then.
AC/DC at Donington 1984
Big news this year was the arrival of the licensed bar which ran the, then, UK pub times- closing for the most important part of the afternoon when you're the most thirsty. Luckily you could still bring your own as long it was in the required specification of plastic container, ie: big! So you could buy a the bar or bring your own....we did both! We settled down at a good spot and almost immediately struck up a rapport with a crowd from Stoke-on-Trent. That was one of the best things about those ealrier Donington's, you felt like you were basically in a big field with 60,000 mates...!
We sat around chatting while Gary Moore came on with his usual rock n' blues. Just the job for a hot afternoon although hard work just sitting in one spot. Myself and John, one of our party, decided to take a stroll halfway through Gary's set. I happened to say...'Wonder if he'll play 'Parisienne Walkway'...to which John replied 'I reckon, doesn't he always?!!'....and at that nano-second....he did!
The heat was getting a bit much as then afternoon rolled on so we acquired some bottled water to drink and pour on our heads....and other peoples.....the crowd was in high spirits and very boisterous...there were 'mini' bottle fights happening all over the place.
The crowd packed like sardines into the arena , hours of bad food,heat , can throwing and waiting....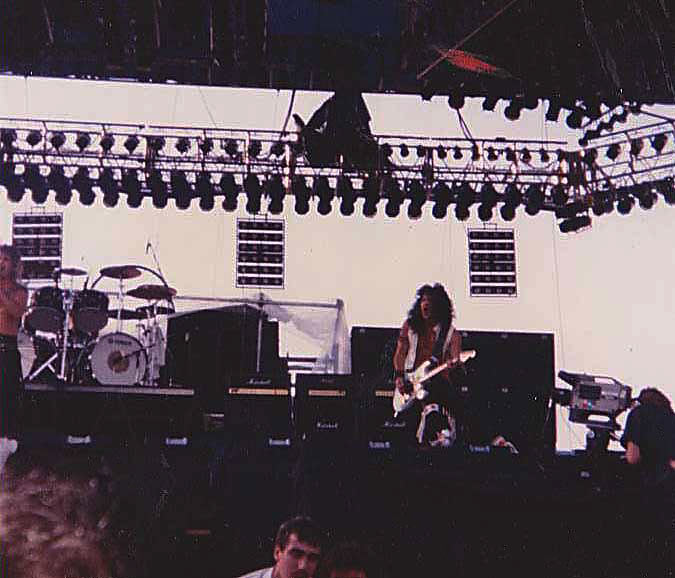 Jake E Lee turns it on for the bat man- note presence of camera- where is the footage ?..... © Steve
Ozzy Osbourne arrived onstage wearing huge bat wings.....which was SO last year...but Ozzy can get away with things like that. He had a great time..."I'm here...I'm here" he kept saying......OK get on with it then!! He did his usual. Best of solo, best of Sabbath. Pity really, I would've liked to have heard some different Sabbath songs, I get a little tired of 'Iron Man' and 'Paranoid' all the time. But saying that, they always go down well, so Ozzy must know best. 'Bark At The Moon', his newest LP title track sounded a bit iffy mind....
Now a lot has been said about Van Halen's appearance at Donington '84. About how they upstaged AC/DC both 'on' and 'off' stage. Well, I'm not too sure about what went on behind the scenes but 'on' stage they didn't come even close. OK, I'm biased, I'm a card carrying AC/DC fan and not a Van Halen fan at all, even though they did impress me when they supported Black Sabbath back in 1978, but really, on the day, Van Halen didn't really live up to the hype preceding the show or the urban legend that followed it. They were good, I guesss, but just not good enough. Maybe all the hype had built up our expectations too much, who knows? One thing I did notice was a lot of Halen fans getting pissed off with Eddie's over-use of the keyboards.
| | |
| --- | --- |
| The artists area backstage . Not too crowded there.... | The pool backstage at Donington 1984- all mod cons for the elite. |
In hindsight, VH were ok, I'm just glad they weren't headlining, the early stuff sounded good and Dave Lee Roth certainly came out with the best one-liner of the day...."If you throw another bottle at me I'm gonna come down there and fuck your girlfriend".
At last the sun was down and we could cool off little. It actually started to get a little TOO cool so a few fires were lit. We were all still in t-shirts and starting to sober up a little. Then the sound of Angus hit the sky and AC/DC were on, 'Guns For Hire' off the latest album 'Flick Of The Switch'. Great opener, and we'd already forgotten all about Van Halen. This was the only show the band were playing in the UK this year and also the UK premiere for the new drummer Simon Wright. He did well, although I felt that something wasn't quite right with his drumming on 'Let There Be Rock'. AC/DC have a 'get out of jail free' card when it comes to festivals, they're always good, even when they're 'average' and this year there was the added attraction of the cannons at the climax of the show. Great stuff, with the fireworks this year going off while the band were still playing...
This had been my most enjoyable Donington so far, and was really never matched, all that remained now was breakfast on the way home with Dame Vera.
Ashley Haynes
---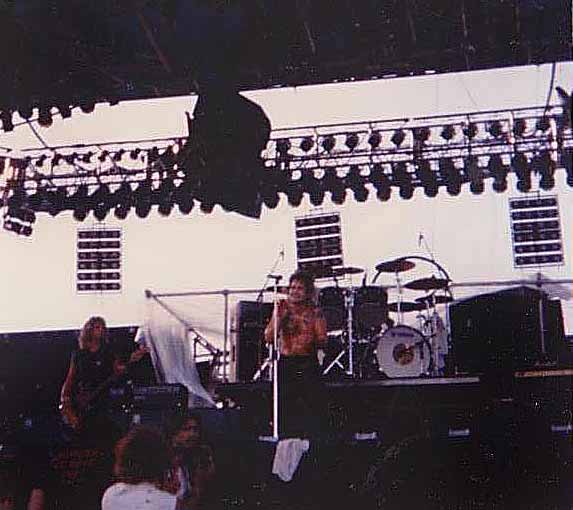 Ozzie yet again ! © Steve
Must have been the best ever. I went to that one and the one in Karlsruhe (Germany) on 1 September which had Dio instead of Y&T. I've just managed to track down an audience recording of the whole of that and am listening to it right now. Takes me back!

Looking back on it now I think the highlight of Donington was Ozzy, particularly in terms of audience response. Van Halen were, as feared, a bit overindulgent with the solos but of course of huge interest as these were to be the final dates with DLR (Karlsruhe was the penultimate one) and I'd never seen them before. AC/DC perhaps came as a bit of an anticlimax.

Karlsruhe a couple of weeks later was a phenomenal line-up, but with a very different audience - including a huge american contingent from the nearby army bases. Memories are a bit fogged by the local beer, but it was great and very consistent with the Donington performances. AC/DC came across a lot better this time, at least that's how it seemed to me.

And was this some kind of high water mark for a lot of these bands? Some of those bands had just released some great albums and probably were never to match that again. Flick of the Switch, 1984, Bark at the Moon, The Last in Line - compare that with Fly on the Wall, 5150, The Ultimate Sin, Sacred Heart. Well, just a thought.....

NB Bob Daisley played bass with Ozzy.

Love the site - the photos are great.

Cheers

Mark
---
I've got a copy of the 1984 radio 1 FM broadcast of Y&T and Accept.
Never seen or heard of 1984 AC-DC 'pro shoot' (would love to see it! or Motley Crue's 30 min DVD.
I was there, sunburnt shoulders great day. Also got the NME review paper of it from 1984 plus the Kerrang pre-festival magazine.
All the best
Daz
---
I was there. I'm a "Yank" from "The Colonies". Was stationed in London at the time (Navy). I remember the trash fires that spotted the landscape. It was an eerie scene as the sun set. One of my friends commented how it looked like a scene from a Cecil B. DeMille movie. The Mongol hoards awaited AC/DC. For some reason I wanted to hear "Atomic Punk". I didn't know why. It wasn't my favorite Van Halen tune, but here's come Eddie opening the performance, guitar held vertical and high, scratching out the intro to "Atomic Punk". I couldn't have been happier at that moment. It was my first time seeing VH and AC/DC live. I was blown away! AC/DC out did Van Halen in my opinion and VH was superb. Wish there was a DVD of the entire event. Anyway, I attached some pictures. Not much, but better than nothing. At least there's one more of the bottles in flight. Rock on!

Karl

Cans in flight © Karl
The promoters

What a scorcher…….the weather was red hot. I even got sunburn.
The days line up wasn't too bad either. Most people would probably look back on the 1984 show as having the best line up of all.
AC/DC performed much better than in 1981 and rolled out the cannons for the Donington crowd for the first time. 'For Those About To Rock' was televised on 'The Old Grey Whistle Test' a few weeks later.

I wasn't a big Van Halen fan prior to the event, but I got carried away with all the hype and decided to give them a closer look. Venturing down to the front for the first time in 5 years. I really enjoyed their set….even Michael Anthony's bass solo (he rolled around the stage with his bass clutched to his chest if my memory serves me well). When I made my way back up to the rest of our troupe they all said that they had been disappointed with Van Halen. Maybe the performance didn't carry too well towards the back of the crowd, but from my vantage point (approx 6 rows from the front) they were very good.

I remember Ozzy performing with his usual 'craziness' and also receiving a Gold Disc during his set.
I recall Gary Moore resurrecting 'Parisienne Walkways' for the day (I think he had previously dropped the song from his usual set list). His set comprised of the usual mixture of rockers and ballads.
I enjoyed Y&T. I still like to give their 'Meanstreak' album a spin every once in a while.
Neither Motley Crue nor Accept ever really did anything for me, although I do remember a big surge to the front when Motley Crue came on stage about half hour earlier than advertised.
The event T-shirt had pictures of gravestones on the back, each one showing the line up from previous Doningtons….a neat idea I thought (I still have mine, in fact I still have all the event T-shirts and programmes)
Paul Hartshorn
---
My first big festival. remember accept were awesome,never seen them before but can remember udo fighting with the guitarist throughout the set. Remember taping accept, y+t,gary moore and ozzy off friday rockshow. The accept gig was just as amazing on radio 1 as it was on the day. Fast as a shark with feedback visible to hear, un-edited unbelievable (if im right this would be when udo was play fighting with the guitarist) took me right back and been a fan ever since.Was i pissed or did jimmy nail sing with gary moore at this gig ?
Chris Lett
---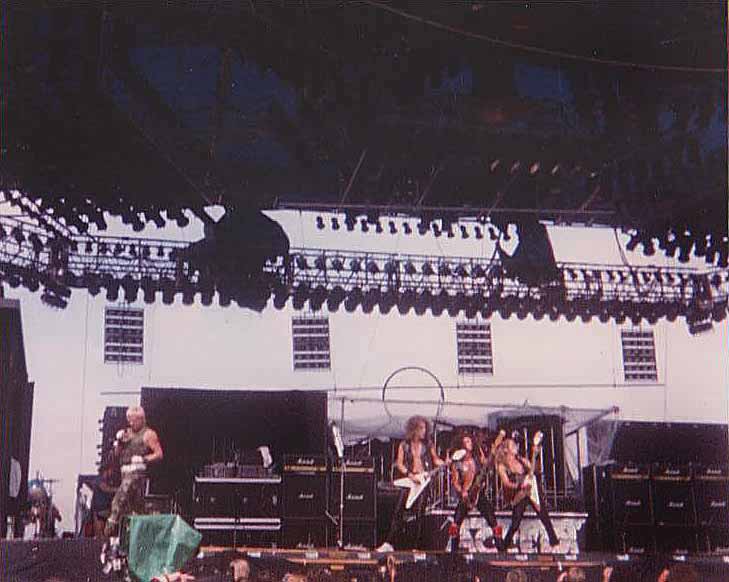 Accept , heavy on the bare chests, leather and the Marshalls © Steve
Hi,

I went to the 1984 Donnington at the tender age of 18. No photos sorry, but I remember it well. I went with my old school friend, Andrew Gane, who I've never seen since that day! We went in his old Ford Escort, his firts car, and after the gig spent a very uncomfortable night trying to sleep in the seats that didn't recline very far. Despite the heat of the day it was a cold night.

Bottles of piss that were thrown were many but we were lucky and never got hit. This was my first big outdoor gig and I was a bit awestruck. AC/DC for me were a disappointment, despite being a big fan, and all the VH/DC hype completely passed me by. Since that time I've become a quite a fan of VH and wish I had been then as the clips I've seen look pretty good but don't remember too much about seeing them myself.

My best memory of it was going to the front to see Ozzy, who in my opionon was the best performance of the whole day. The fun he and the band had and the arseing around he did on stage was very infectious and the crowd loved him, not least for the cooling water he threw around. I remember he hadn't played in the Uk since Randy Rhodes had died and his apperance was much anticipated and I for one was not disappointed.

The heat generated in the crowd at the front was draining and the way the crowd lurched from side to side was terrifying. You were so tightly packed you couldn't put your leg out to steady yourself, you just leant over at an alarming angle, suported by the packed crowd around you. If you fell down the heat and getting trampled by the crowd were not a happy prospect. After Ozzy I went much further back and sat down and recovered, soaked in sweat. That's probably why I don't remember VH, I was just so relieved to be alive and not been trampled to death! Great memories though.

Mark Musgrave
---
Hello,
Stumbled across your site whilst trying to find footage of Donington 1984. I have been to a number of the Monsters of Rock festivals at Donington over the years 86, 88, 90, 91 94, 95, 96 but without doubt because it was my first and the best was 1984. As a massive Ozzy fan this was my first chance to see him live. Also a big fan of ACDC and also a massive bonus was seeing the original line up of Van Halen in their heyday, for me being 16 at the time, it was going to be the best day of my life and so it turned out.

Boiling hot sun shine, set off from Cardiff early on a coach trip run by Spillers a local record shop. Due to one of the coaches breaking down my mate and I thought we were going to miss half the day, but we arrived with the denim and leather clad masses to the sounds of Accept cranking out 'Balls to the Wall' as we queued to get in to the arena. Sadly we realised that we had missed Motley Crue (who were probably the Guns and Roses of the day in terms of their standing and potential impact) which was a bit of a gutter but there you go. By the time we got in Y&T were going for it... after buying t-shirts we found our spot to sit in the sun drink our Shandy Bass(!!!) and enjoy the music.

Having already seen Gary Moore on tour we knew what to expect and he didn't disappoint in his red jump suit (well before the days of Slipknot!!!). Ozzy came onstage to his usual intro music and tore the stage up - no frills no spills just straight up rock and roll. I had waited for years to see Ozzy and Jake, Bark at the moon was a strong album and he played all the classics, I could have gone home then - happy.

Ozzy was a last minute addition and so wasn't included on the official t-shirt (see attached). Up next Van Halen just blew the whole place apart they were incredible, didn't put a foot wrong, the band were full on Dave dancing around rapping with the crowd ("Don't poke your tongue out at me honey unless you intend to use it"). The sun was just starting to go down in a clear sky but VH were on fire.

To finish off ACDC brought the guns, the guitars, the drums and the fireworks - let there be rock indeed. Simply incredible. Tired, sunburnt and grinning from ear to ear we headed back to the bus and somehow managed to sleep on the way home... Simply one of the best days of my life ever. Just unbeatable... The experience of the day was brilliant, it didn't need hundreds of bands like todays festivals, just one stage, one crowd, one set of bands, one after another, simple. The bottle and can fights during the day were amazing - almost blocking out the sun at one point!!! You cringed as a plastic bottle went over showering you with its contents... you could hear the cries and cringing as people realised the contents were warm... i guess the toilets were a long way away....!!!

© Rachel Hare
Hope your site continues to keep the memories alive... really enjoyed looking through it... brought back loads of memories. I have a bootleg tape cassette of the Ozzy performance but I know the whistle test cameras where there and I reckon they filmed alot of the day... I have found some footage here on you tube - might be worth linking into your site???
http://www.youtube.com/user/acdcdonington1984
Cheers
Moz Morris
---
Hey there
I was at Donington 84 with my cousin & a couple of boyfriends! Havin done Reading in 1983 I was keen to soak up as much rock culture as I could in my youth!
Being a massive AC/DC fan this absolutely rocked & coming from Scotland where the majority of gigs were indoors (apart from Kelvingrove Park, Glasgow) once a year..to see them outdoor was phenomenal!
Ah the warm nights, warm beer & the rest...Van Halen were also excellent for ballsiness & Gary Moores Parisian Walkway...well it was perfect for a come down with some soulful, rocky, mellowness...still carrying the memories of real rock festivals...& still rocking!
I also feel privileged to have seen phil lynot in Thin Lizzies farewell at Reading 83...rock on baby...!
Christine Brown
---
Motley Crue being daft as brushes backstage after their successful set at Donington 1984 .
Hi,

Have been getting really nostalgic for my youth lately and after discovering that my boss went to the same Monsters of Rock concerts as I did many years ago I went online and discovered your 'The Archive' site, excellent stuff.

You asked for recollections and so I started to type the following, don't know if you can use any of it as it's a bit vague but I have enjoyed putting it down.

Wasn't it a cheap day out, not like today's prices and what a difference mobile phones make, back then I had no thought of 'capturing the moment' and by the lack of photos available neither did anyone else.

My recollections of the day are memorable in that I only have the vaguest memories of the day itself, it's like somebody else went and then told me about it afterwards. I was 18 in 1984 and Donington was my first ever gig, I went back in 85 with a few mates but can remember little of that day either apart from ZZ Tops car flying in overhead and the guy standing in front of us being knocked to the ground by a flying bottle of piss (I don't think the two events were connected)

In 84 I travelled down from the northwest (Mawdesley) with my sister Leona and her boyfriend Ian who was the wheels man that day (driving a Vauxhall bloody Viva) and my sisters friend Kim who, to my young lustful eyes was a blonde bombshell. She was about 22 or 23 and if I'm honest was well out of my league but I was young, spotty and really really full of testosterone.

My sister had arranged for me to pick Kim up at some ungodly hour outside the train station in Parbold and bring her back to our parents house, probably with the hope of reducing the risk to the Viva's already knackered engine. I'd never met her before so you can imagine my surprise and delight as I sat on my brand new Yamaha RD125LC (worrying that the local copper was going to arrest me for carrying a pillion passenger ill-legally) when this hot blonde rock chick approached me. All thoughts of police arrest evaporated the moment she snuggled up behind me on the bike, how I never crashed on the way home is a complete mystery. It was going to be a good day, oh yes.

© Rachel Hare
© Rachel Hare

As I said my recollections of the day are hazy, at the time I was a big Van Halen fan but remember nothing of their set, in fact I was surprised when I saw their inclusion in the 84 lineup on your site (are you really sure they were there)

For me the highlight of the day was Ozzy, I got down towards the front with Kim and Ozzy was a ball of energy, I remember him screaming at the audience, running back and forth across the stage, he really connected with the crowd at the front and the atmosphere was electric.

The guy standing in front of us offered Kim a 'funny looking' cigarette, I think he had his eye on her which annoyed me no end. Crazy Train was and is my favourite Oz song and listening to it now takes me right back to the 80's rocknights at the Floral Hall in Southport.

Later on we all watched ACDC from the top of the hill and I remember thinking the cannons and lighting were great. Once it had gone dark the temperature dropped quickly and my thin denim jacket did little to keep me warm. I guess that's age for you, if I were planning an all day event now I would pack a change of clothes for every possible weather condition and fret for hours on whether I should wear trainers or work boots!

Once the concert had finished we traipsed back to the car to discover Ian had left the headlights on, remarkably and against all odds it spluttered to life. There seemed to be a queue a mile long waiting to get out of what appeared to be the only exit. After sitting there for half an hour without moving Ian set off across the field, the Viva's shot suspension lurching over every pothole as we overtook stationary traffic speeding dramatically for the exit. Other drivers began pipping angrily as our intentions became clear and I remember thinking that this was a bad idea, but, and I swear this is true, just as we were approaching the exit the car at the front of the queue stalled and we sailed past it and out onto the road.
As we were all knackered rather than drive home that night we decided to pull over in a layby and try and get some sleep, this I thought was my big chance. I look back now on my younger more optimistic self with open mouthed wonder. What I thought I was going to accomplish on the back seat of a freezing cold car with two other occupants (one of which was my sister) after a good 15 hours of travelling, drinking and standing about in a field God alone knows. Needless to say nothing did happen apart from some fitful sleep, Kim awoke with a tight grip on the travel blanket and her honour intact.

I would like to apologise to the unknown cyclist my sister and Kim threw water at on the way home that morning I can still see the look of shock and anger on his face as we drove past him laughing like idiots, for some reason I have always felt guilty about that.

Thanks

Simon

---

Hiya

I recently uploaded a few pics that I found in my photo box onto Facebook and a friend suggested that I send them to you guys for your archives.

So please find attached and I would be delighted if they were added to your site…especially the one of 'Diamond Dave 'looking straight into my camera, I remember when I took it 28 years ago that he looked right at me when I clicked and I remember looking at my sister in astonishment and laughing, it wasn't until I got home and processed the little roll of film from my Kodak Instamatic how awesome the pic was !

Brilliant day and a lot of memories for my first ever festival, I often tell my 'festival war stories 'to my sons who also cut their teeth on Donington / Download Festival with me watching them with pride but sadly they are now in their teens and have turned their back on Donington Park (as I have) for Bloodstock and festivals in Europe but all three of us remain true to Metal!

Enjoyed your archives and it brought it all back again! Awesome!

Rachel

© Rachel Hare
I lost my job over this festival, the guy wouldn't let me have the day off so I went any way (ha haaaa rebel). My mates car broke down three quarters of the way there and we left the car at a garage and got a lift with the garage owners son (for an extortionate price I remember). I elected to leave my sleeping bag in the car , what a total fool , two nights under the stars in a leather jacket freezing my arse off !!!!!. We met other friends there and arranged for them to give us a lift to the car (seven of us squashed in) and then tow us home.
Motley Crue were dumb and great, I saw their first two gigs in the UK ( this was the first) and loved the first couple of albums they did. Accept are an excellent metal band but I just cant stand the guys voice or the daft lyrics and I lay down and nodded off during their set (some feat I tell ya). Y&T were really good but not as good as I thought they would be. Gary Moore went down well and I enjoyed his set although he's not really my thing.
Ozzy was superb he and his band played a blinder and is still one of the best festival set's I've ever seen. I have BBC recoding of around 5 songs and a dodgy audience recording of the whole set , it still rocks and takes me back.
The band I really wanted to see most was Van Halen , the DLR era of the band is indispensable to me, amazing band. They were good but like Y&T not as good as I hoped they would be, I bought a bootleg tape some weeks later and Dave Lee Roth's raps made it worth the money alone. "Don't be throwing no shit up on stage, but that's alright I know who threw that bottle and after the show pal I'm gonna fuck your girl friend man", being one of the best. Halen were great but not as great as some of the bootlegs I've heard from other places.
AC/DC were excellent as usual but my weary mates wanted to head back to the camp site half way though and not wanting to be left on my todd I went with them. It was a great day and a right laugh when you are young you just go with it , losing your job , car breakdowns , no sleeping bag , no food or dough and great heavy rock n roll, happy days , I was 18 and had no wuckin' forries..
Carl Adams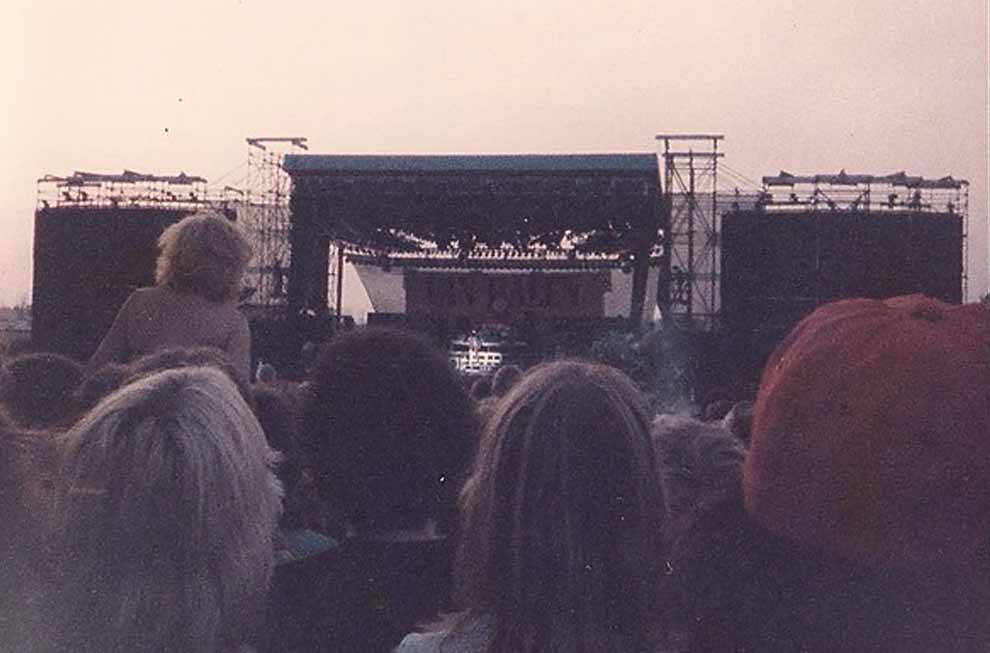 Van Halen at dusk © Sam McGookin
---
It is strange how your memory messes with your head when you try andrecollect events such as Monsters of Rock. I can only remember four of the bands mainly because I either enjoyed their show or was disappointed in them. So Y&T, Accept and Mötley Crüe must not have done either.
I was looking forward to Van Halen since hearing their first album years earlier; great tunes, great musicianship etc. Turned out they were a bunch of knobs. David Lee Roth probably only found he could do the splits when he was kissing his own arse. Who can forget DLR's immortal line after being hit one too many times by another sod of earth; "If you don't stop throwing stuff at us I am going to come down there and fuck your girlfriend."
Ozzy on the other hand had the crowd eating from the palm of his hand. He is the only act I saw at any of the Monsters with a mid afternoon slot to have the whole crowd watching them. Normally it was only the hard core fans who bothered to muscle their way through the crowd to the front who took any notice of them. But he entertained everybody with his persona and a few buckets of water and confetti.
Looking at the photos on this site Gary Moore has much more guitar sense than dress sense. As there were no big screens if you weren't within the first hundred yards of the stage you couldn't really tell who was up there. He played his usual collection of Lizzy hits and a few of his solo numbers, some of which you knew.
AC/DC again, they had a new album which sounded pretty much like the last one, and their show was pretty much the same as last time. They must be doing something right as they are still doing it today
Ray Oates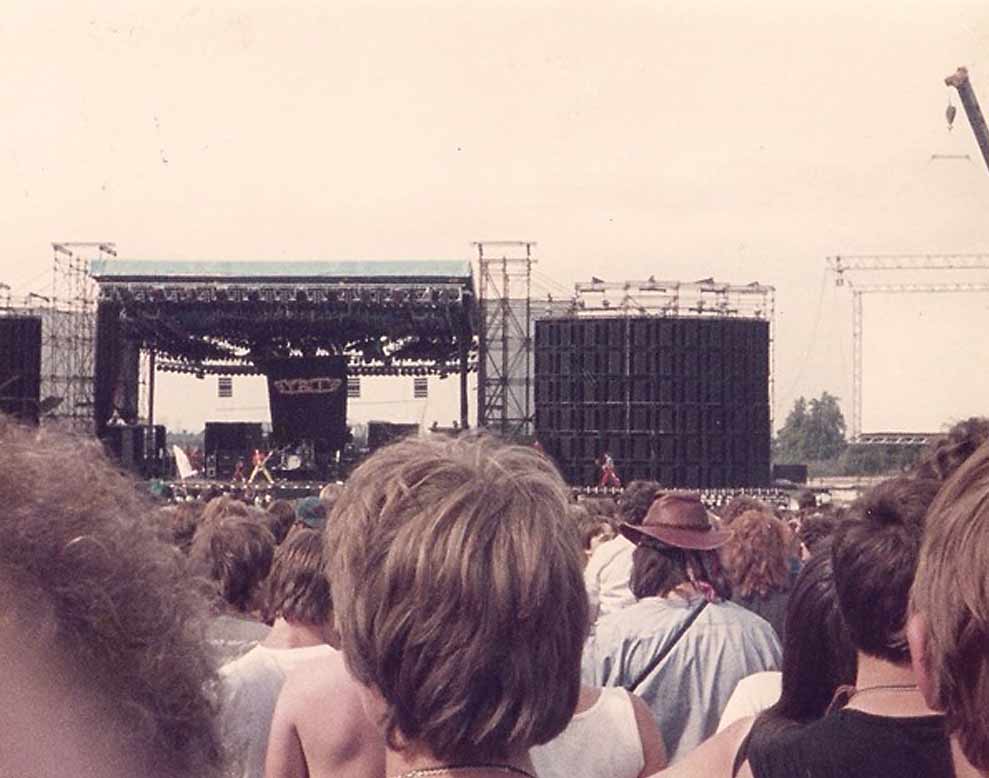 YR&T © Sam McGookin
Oh how I wish I could rewind!!!

I attended Donington on a few occasions in the 80's and remember seeing the likes of Twisted Sister, Bon Jovi, ZZ Top, Marilion & even Hawkwind play this great venue. The standout recollection I have is my then best mate Dean getting up on stage with Ozzy during Paranoid, it was amazing and my then camera was going like a good un to capture his moment of fame. Ozzy hugged him and arm in arm they sang along! I don't recall Jake E Lee being grounded on the wet stage though! I waited outside the back boarded area as my best mate I could see was sat on the steps to the back stage waiting for Oz to come off stage, there were loads of 'groupies' backstage the lucky ones!! (calm down) mostly women who were at the time hot as hot could be in denim & leather.

Van Halen were amazing, and even though DC aren't my fave band their set and stage presence made the day well worth it. Coaches home was a nightmare!! I had managed to get chewing gum on my seat and the driver wanted £10 before he'd let me on the coach back to Leeds!! Wanker!! I was only 14 and skint at the time although it made all my mates laugh… where do the years go?? Rock still lives on.

Would love it if anyone has any recollection of this day. I'm not sure if my then mate has since survived his drug addictions, but if his addiction got the better of him RIP
Tony Horncastle
---
Hi

My husband is the fan who jumped on stage with Ozzy, Donnington Monsters of Rock 18th August 1984.

Regards

Janet Eastwood.
---
---
Recordings and setlists.
Accept

Fast As A Shark
Restless and Wild
Love Child
Turn Me On
Princess Of The Dawn
Wolf's Guitar Solo
Son Of A Bitch
London Leatherboys
Balls To The Wall

Probably FM

Udo Dirkschneider – vocals
Wolf Hoffman – guitar
Jorg Fischer – guitar
Peter Baltes – bass
Stefan Kaufmann – drums

Motley Crue

Motley crue - Donington, uk 1984 30min dvd


Bastard
Knock 'em Dead Kid
Shout At the Devil
Ten Seconds to Love
Piece of Your Action
Red Hot
Looks That Kill


Vince Neil - Vocals
Mick Mars - Guitars
Nicki Sixx – Bass
Tommy Lee - Drums


Motley Crues bassist Nicki Sixx smashed his instrument and then threw it into the crowd at the end of the set. Apparently a crowd member was injured - oh dear ...
Thus even though the band went down well they did not come back for an encore and got boo'd for their pains.
Y& T

BBC FM Radio One


Hungry for Rock
Black Tiger
I Believe in You
Open Fire
Forever
Rescue Me
Mean Streak
Barroom Boogie
Lipstick and Leather
Rescue Me
Rock & Roll's Gonna Save the World
1Masters and Slaves

Dave Meniketti – Vocals, guitar
Joey Alves – guitars
Phill Kennemore – bass
Leonard Haze – drums

Features two live concerts, one from their Black Tiger tour and the other from their 1984 appearance at Donington. The only song that is featured twice is Rescue me.


Ozzy Osbourne

BBC Radio One FM Broadcast

Ozzy Osbourne - vocals
Don Airey - keyboards
Tommy Aldridge - drums
Jake E. Lee - guitar
Bass -Bob Daisley

Thanks to Steve for the setlist and tape cover
Eddie Van Helen entertains the troops

( from Old Grey Whistle Test Donington footage )
Gary Moore


Murder In The Skies
Coldhearted
Victims Of The Future
Rockin' & Rollin'
Parisienne Walkways
Donington Interview

FM

Live at Castle Donington, 8-18-84

Personnel
Gary Moore - guitars & vocals
Neil Carter - keyboards,guitars & vocals
Craig Gruber- bass
Paul Thompson - drums

Van Halen


Unchained
Hot For Teacher > Alex Van Halen Drum Solo
On Fire
Runnin´ With The Devil
Little Guitars
House Of Pain > Michael Anthony Bass Solo
Michael Anthony Bass Solo (Cont.)
I´ll Wait
Everybody Wants Some
Pretty Woman
1984 > Jump
Eddie Van Halen Guitar Solo
Panama
You Really Got Me
Bonus Track:
15 O.G.W.T. Donington 1984 Documentary
AC/DC


Guns For Hire
Shoot To Thrill
Sin City
Back In Black
Bad Boy Boogie
Rock 'N Roll Ain't Noise Pollution
Flick Of The Switch
Hells Bells
The Jack
Have A Drink On Me
Highway To Hell
Dirty Deeds Done Dirt Cheap
Whole Lotta Rosie
Let There Be Rock
T.N.T.
For Those About To Rock

Pro shoot of the set exists - not to be confused with the more famous 1991 release.
Crowd shots 1984
Christ !! Thats me.. in the pictures of the crowd..(with the AC/DC-Spider on the denim jacket ) going through the gate......we came in droves all the way down from Edinburgh and we loved it - I remember it was a scorher that day also it was the best festival and line up ever ,and when rock was at its peak..
John Kennedy, Edinburgh
| | |
| --- | --- |
| | |
| | |
| | |
| | |
| | |
| | |
| | |
| AC/DC | Fireworks display at the end of the show . |
Photogalleries
---
Can we get a witness ?
We need more info on this and the other Donington festivals, most especially more photos and personal recollections so c'mon head bangers, get yer photos out and fire up what's left of the aging brain cells .Send your recollections and scans to us NOW ! !! Contact us
---

Watch this space for more Monsters of Rock pages to be added in the next month or two - we will eventually go up till 1996, meanwhile if you have material from any years up to 1996 , send it along and we will add it as we build the pages.
Free festivals of the 70s and 80s