The Archive.
Updated June 2021
view at 1920 X 1024 res or higher for best results
---
Bon Jovi

Dio
Metallica
Anthrax
Wasp
Cinderella

The Bailey Brothers


Castle Donington Raceway.

Derbyshire .UK.
August 22nd 1987.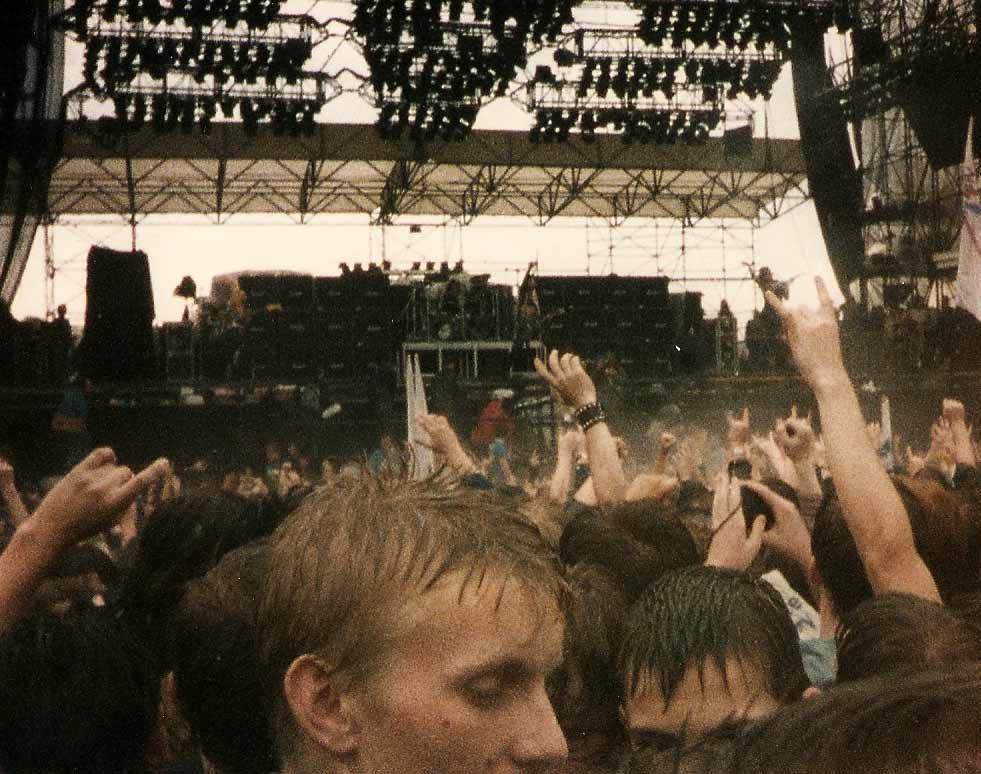 WASP busy damaging 80,000 pairs of what look like wet eardrums -Donington 1987 © Dave Hall
---
The all American lineup . which was possibly the most predictable lineup of the late 80s . The only bands we would have liked to have seen would have been Anthrax ,Metallica and possibly Dio . However, apparently Metallica were less than impressive on the day , suffering from a poor mix and possibly still struggling to recover from the death of bass player Cliff Burton in a tour bus crash in late 86. Guitarist James Hetfield had busted his wrist in March when skateboarding , so it had not been a good period for them psychologically or physically .

Bon Jovi had scored big with the slyly named "Slippery When Wet " a title designed to provoke the knowing sniggers of adolescent boys the world over and to raise the hackles of their parents. The album was a biggie, and Bon Jovi went from support spots for bands like Ratt to headliners of big festivals in the space of a year. This lengthy tour actually caused strain on lead singers Jon Bon Jovis voice and this affected his performance on the nignt.

Vocalist Ronnie Dio had pretty impressive heavy creds , playing with Rainbow and Sabbath . Although not exactly qualifiying as Metal legends, the band Dio were doing well in the UK in 1987 , their album Dream Evil, released in July 87, reached number three in the UK charts and this must have justified their position as number two band on the bill .

Anthrax were definitely the most interesting band of the festival , inasmuch as they broke the mould and dared to be different. Their clothing and music was less predictable than most of the other bands in the lineup . They had a different look and their 1987 album "Among the living " featured many of their best songs , which dared to inject some humour amongst the death and sex subject matter that formed the lyrical mainstay of most of the acts of the day.

Courtesy Ashley Haynes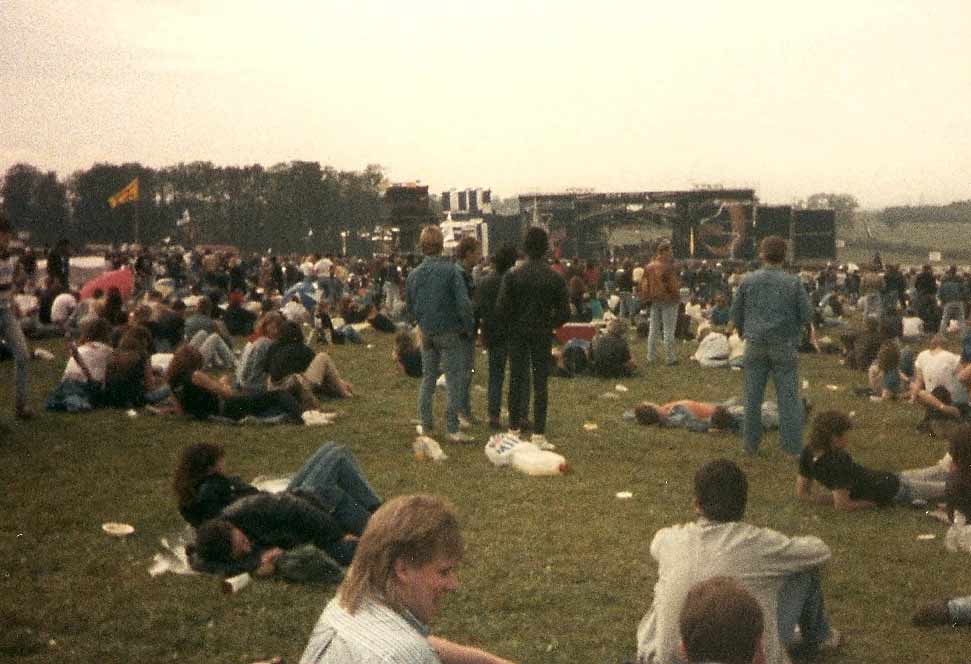 Donington 1987 stage © Dave Hall
W.A.S.P. were quite popular in the 80s , but probably the most interesting thing about them was their name, which some opined stood for " We are sexual perverts " . They did become more adventurous in 1988 when they released the album " Headless Children " which contained songs about nuclear war and drug abuse, but at the time they were strictly a pretty conventional good time metal outfit .They continue to tour to this day although they only have one original member in the lineup.
Cinderella (what sort of name is that for a hard rock band ? ) hailed from Philadelphia and were on some sort of a roll as they were playing some of their biggest ever gigs on the 1987 Bon Jovi tour and on Monsters of Rock circuit at Donington and the continent.
Courtesy Ashley Haynes

Following the verbal gaffes made by Tommy Vance in the fledgling Metal Hammer magazine concerning the quality of his Dj equipment at the 1986 festival, he seems to have been replaced by The Bailey Brothers, who had a popular following on MTV at the time.

Although all the sets were preserved audio wise, recorded either by audience members or BBC FM, there only seems to be very poorly recorded audience video in circulation at the moment, a sample of which can be seen above, where someone, possibly Jon Bon Jovi, is playing guitar .

Can any one help regarding higher quality sources of visual footage ?
---
Dio
| | |
| --- | --- |
| A Dio member portrayed in fine silhouette © Dave Hall | Tickets courtesy Brenda Jones |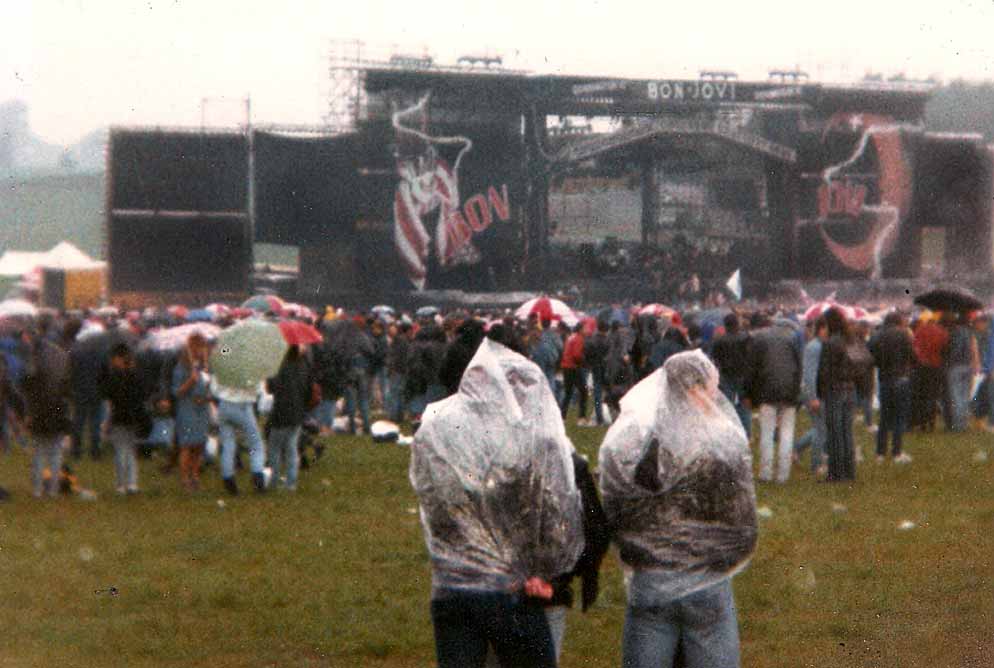 It rained © Ian Webster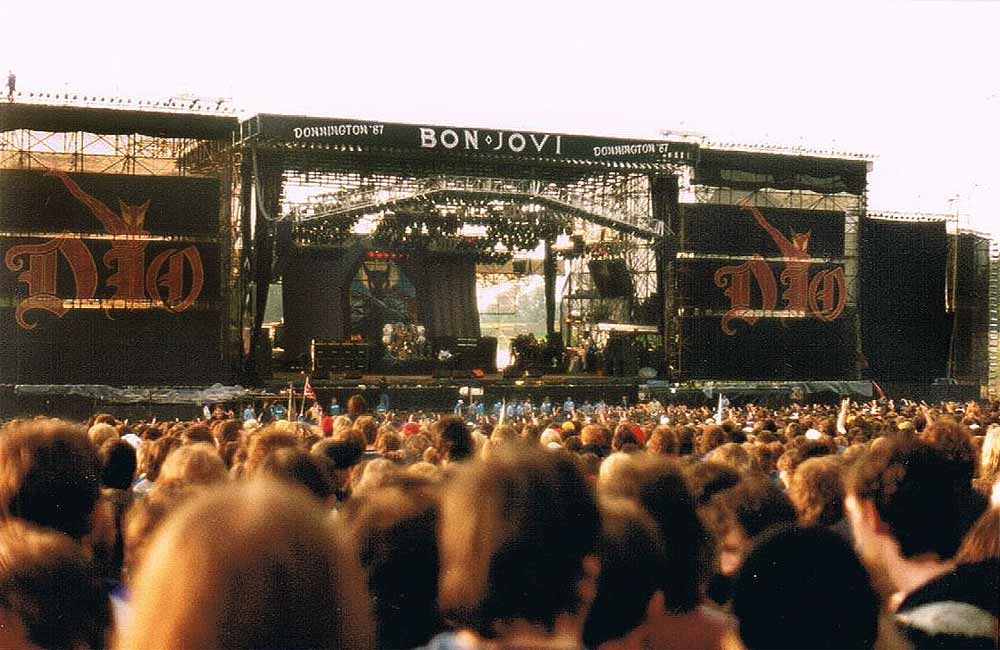 But at other times, it didn't .... © Nath-Marco Zimmerman
---
I was reminded of this gig when my cousin in Canada recently posted on social media that he would love to go to a gig containing these bands and I thought 'hang on a sec, didn't I go to Donington to see them'? Damn right I did!
Firstly, I apologise for the lack of photographic evidence. There is just no way on earth was I taking my camera to this gig. Back then, I was a mere 16 year old, discovering the early sounds of dance/rave music. My sister, on the other hand, was big in to her rock and two years younger than I. She had tickets for this gig and her friend had pulled out at the last minute so I was 'forced' by my parents to accompany her to Donington. The whole idea filled me with dread and I couldn't think of a more terrible way to spend a Saturday listening to shite bands - I make no apologies here.
Anyway, I remember one thing clearly; the incessant rain. Oh, and the mud. So. Much. Mud. And denim. WTAF? I truly thought it would never stop raining and I was so bloody miserable. That was until Bon Jovi came on. By this point it had stopped raining and a cracking set was to be had.
Maybe it's because we were two young kids that we were left alone, I dunno. In hindsight, it wasn't the shitest gig I've been to, that would come from The Chemical Brothers many years later. I still can't listen to metal but I can say I was there and it was just a damn good job I didn't wear my luminous leg warmers!!
Caroline
---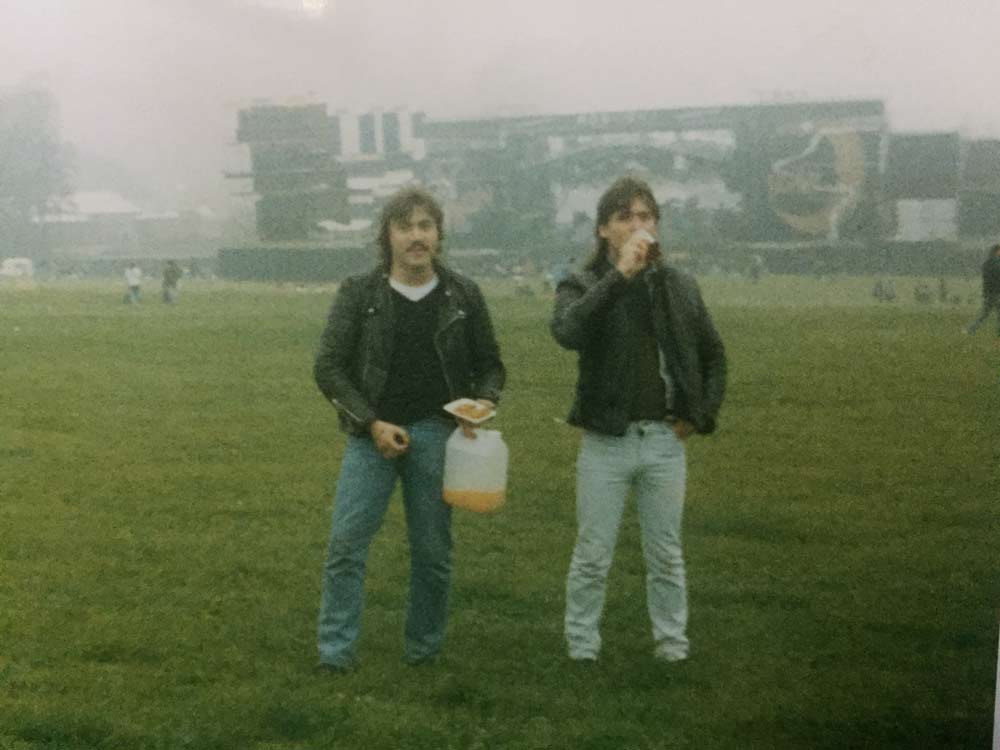 more effin' wet weather © Wayne Massey
---
Anthrax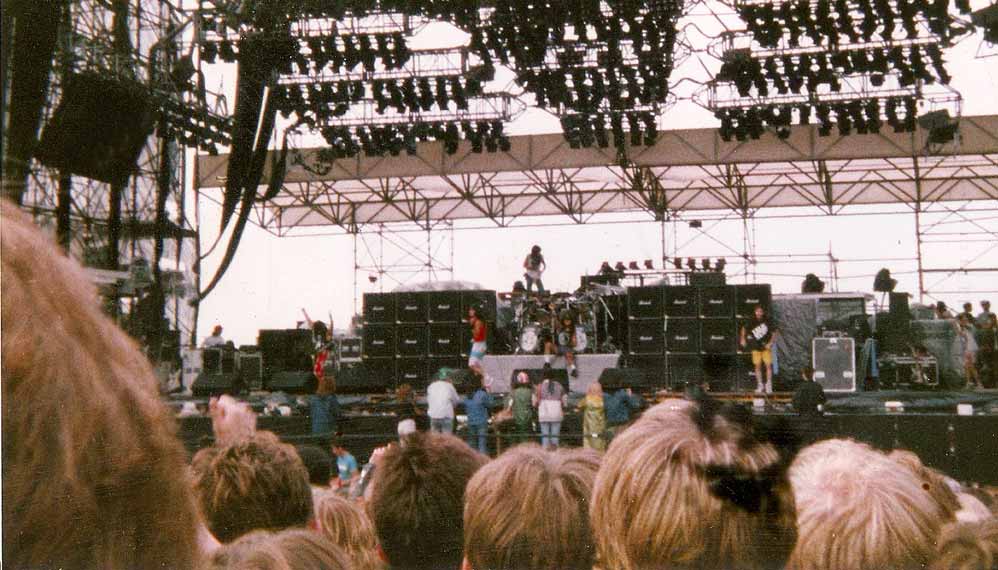 Anthrax © Ian Webster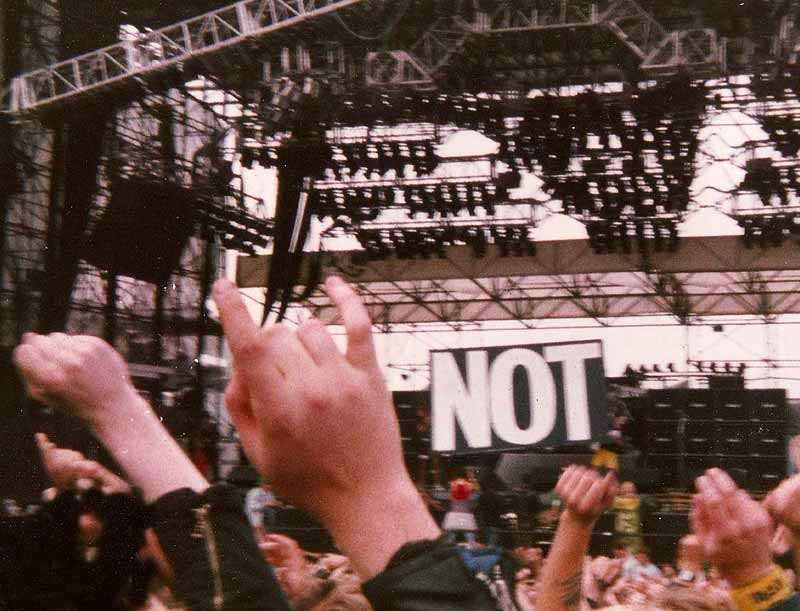 Anthrax again © Ian Webster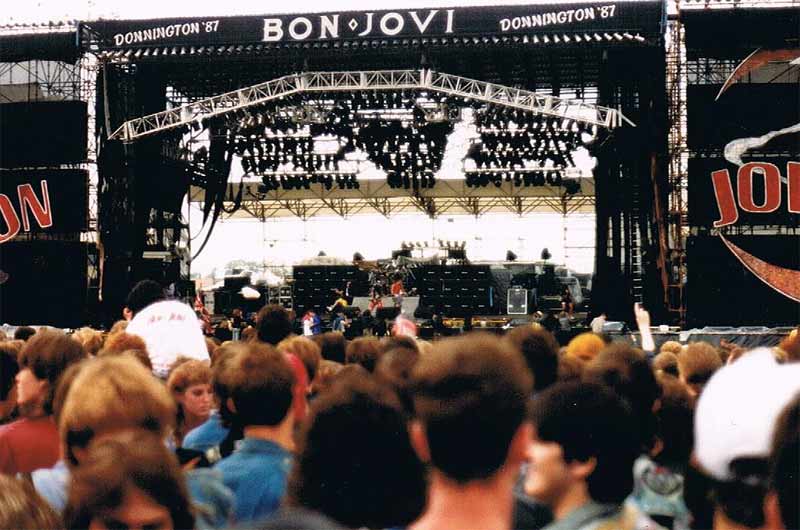 Anthrax being a bit distant © Nath-Marco Zimmerman
---
Metallica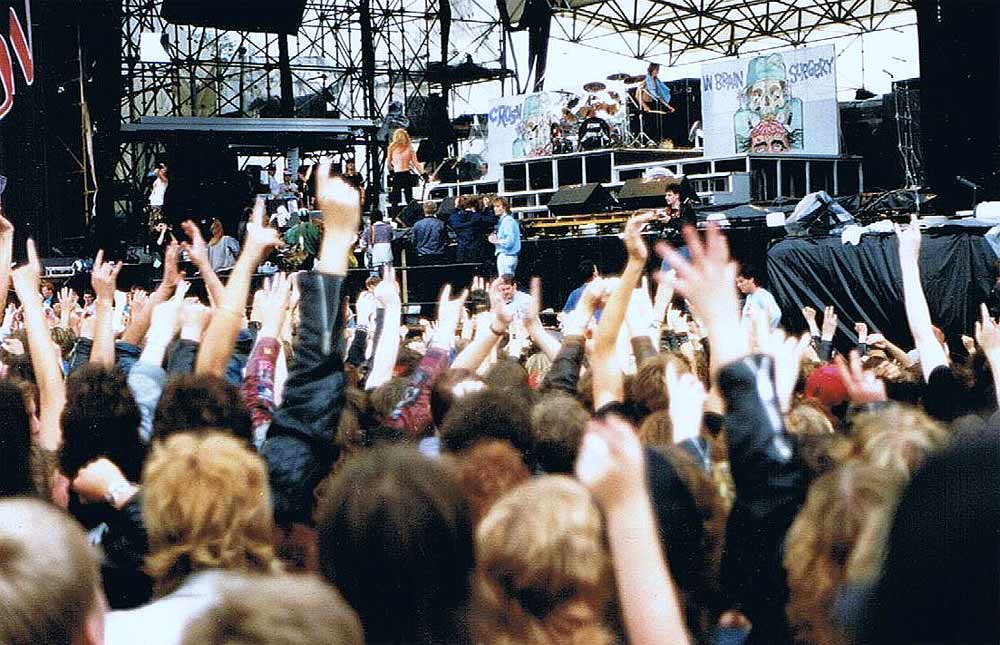 © Nath -Marco Zimmerman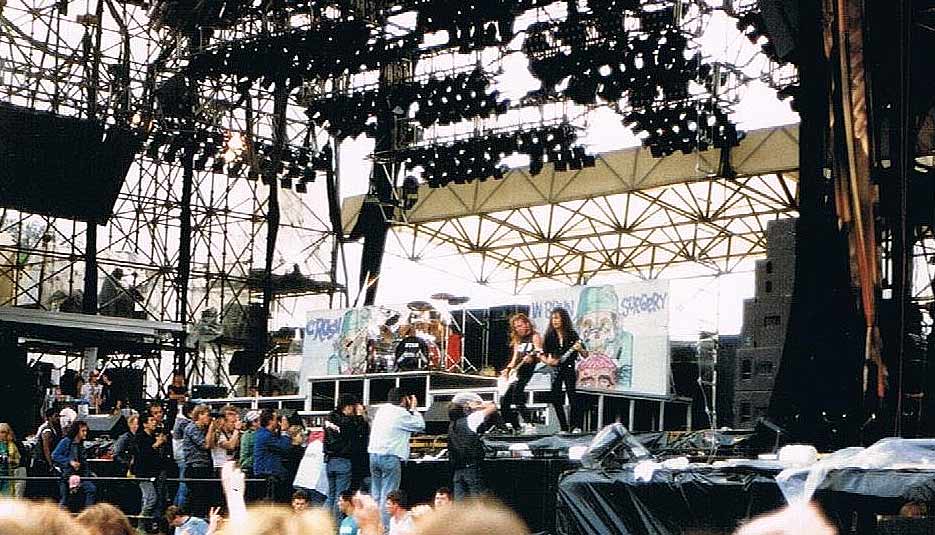 © Nath-Marco Zimmerman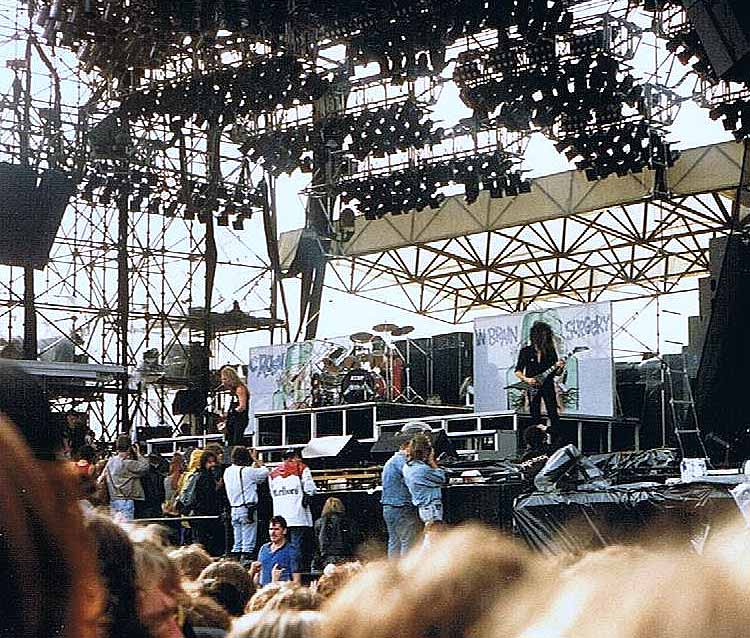 © Nath-Marco Zimmerman
---
Bon Jovi
Left above - crowd watching Bon Jovi Donington 87, (right and below) images from the Slippery When Wet tour 1987.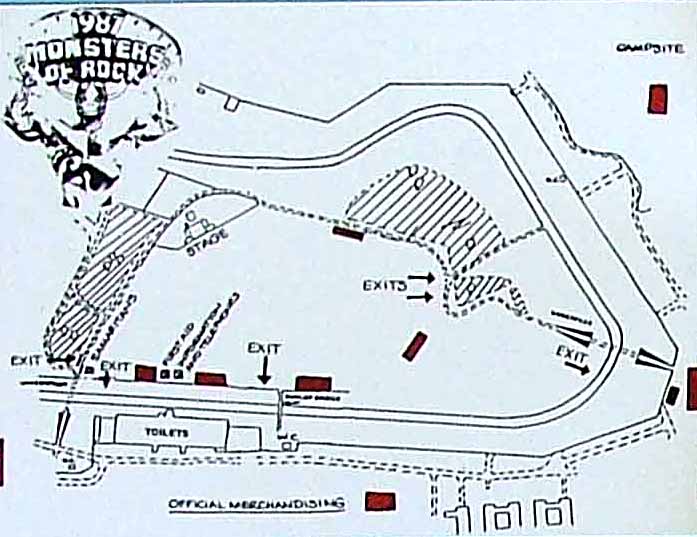 Courtesy Ashley Haynes

Courtesy Ashley Haynes
| | |
| --- | --- |
| Courtesy Ashley Haynes | |
---
Recollections

The next day was the festival. My aunt was supposed to go, but she and my dad had stayed up all night drinking and reminiscing. Her feet had swollen to the size of footballs and she was in no shape to walk. So, my dad, my mom, my Granddad and I got in the car and went to the festival. My cousin had gone with his friends. In no way did he want to be seen with his family. I never saw him at the show, but when we met up later we both gushed about how fun it was.


There were no other 12-year olds there, just a lot of Lemmy and Ozzy clones. They were rough, dirty, and mean. Since they were all stoned or drunk, and had been for hours, they were belligerant, too. I was scared. For the first time in my short life, I knew fear! Aside from the glossy glares and comments, there were objects constantly flying through the air. What I remember seeing thrown: bottles of piss, mudcakes, and potatoes. At some point, I was sitting on my Granddad's shoulders and got smacked in the back with a potato. I had a tender spot on my back for some weeks after that. I have to say, for every one mean metalhead, there would be one muddy beast who would stand up and offer me a bit of protection. Even in this brutal atmosphere, English decency prevailed and I was able to watch the show almost unharmed.

I remember that Jon Bon Jovi had a close beard and looked haggard. Ever the showman, he still put on a helluva performance. In the end, Paul Stanley, Bruce Dickinson, and Dee Snider joined BJ onstage for some jams. They covered CCR's "Travelling Band". I remember thinking that this must make my dad happy, since he is the biggest CCR fan I've ever known. I'm sure my dad didn't even notice- he was probably too preoccupied with (1) keeping his family alive and (2) figuring out the best exit strategy. For me, it was a baptism by fire and a beginning. It not only opened my eyes to that kind of world, but it made me appreciate what a reaffirming experience a live show could be.

Courtesy Ashley Haynes
---
The delights of Donington 1987. Travelled down in the back of a transit van with fellow metalers happily sipping plastic bottles of Bentley's Yorkshire Bitter as we went. Had been a hardened fan of Dio since first seeing them live at Liverpool Empire in 1984. I had my Dio embroidered wrangler jacket on and I was ready to get drunk and wild with thousands of likeminded people.

The moment that sticks in my mind in particular is the Saturday morning before the show, I was walking on my lonesome around the camp ground trying to walk off a hangover, when towards me marched a crowd of a dozen or so loons wearing multicoloured bermuda shorts. They spotted my Dio jacket and circled me and started chanting what I thought was "Mush, mush". I thought they were referring to my Huskey like barnet, turns out they were the first Moshers I'd ever encountered!

That Donington was a turning point for myself and no doubt countless others. Having been brought up on classic heavy metal, I was introduced to the power and rawness of Thrash through Metallica and Anthrax. Seem to remember Anthrax's rendition of the Sex Pistols classic "God Save the Queen" that had the whole crowd singing along "No Future, No Future, No Future For Me".

Bon Jovi as headliners stood no chance with me then, I'd already been converted.

Gwyn.
---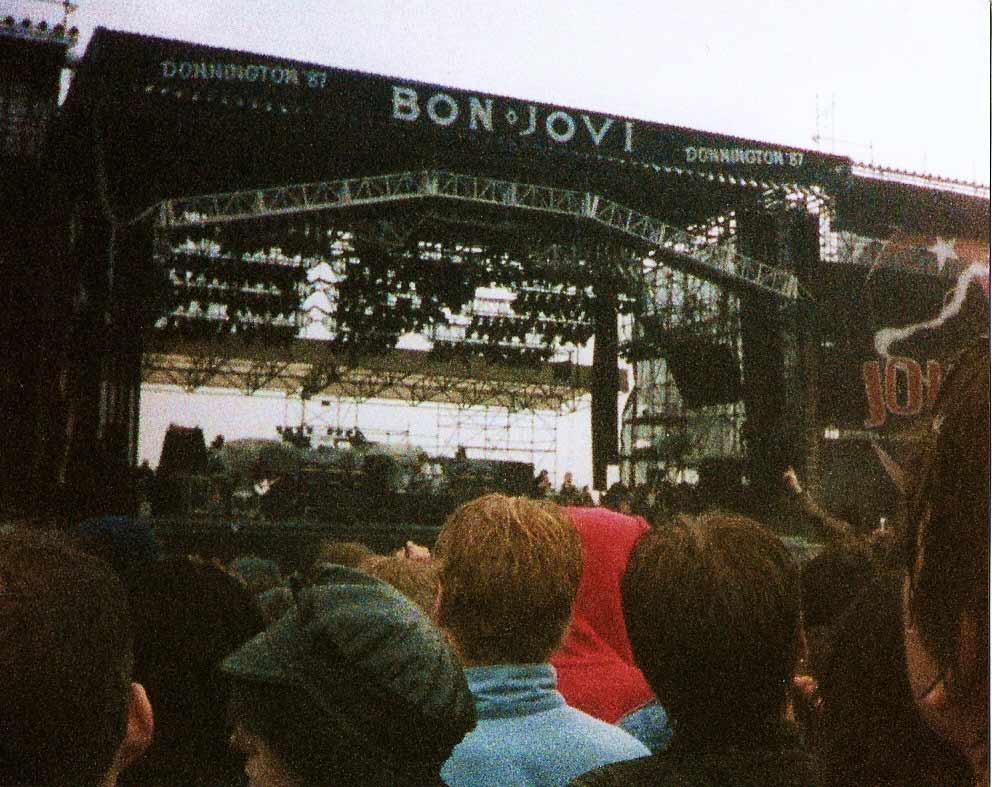 © Dave Hall
The triumphant return of Bon Jovi. Whether they were your cup or tea or not, at the time they put on a fantastic show (including lasers…….was this the first time lasers had been used at Donington?). Our gang had tripled in number from the previous year, bolstered by several females which seemed to be reflected in the overall attendance. Donington had become sexy.
I remember Jon Bon Jovi performing part of the set from the top of the lighting rig.
As part of the encore, the band were joined on stage by Dee Snider (Twisted Sister), Paul Stanley (KISS) and Bruce Dickinson (Iron Maiden). At the end Bruce saluted the crowd with a "see ya next year", which indicated that Iron Maiden were in line to play the following years Donington.
The fireworks display at the end of the show was as impressive as ever.
DIO put on their usual highly professional, faultless performance, but somehow they just didn't seem to fit in 1987.
Metallica and Anthrax passed me by I'm afraid.
WASP were a little more theatrical and Blackie Lawless' voice came over very powerful.
Bon Jovi stablemates Cinderella had an impressive debut album out at the time and their performance justified their addition to the bill. 'Night Songs' and 'Nobody's Fool' being particularly strong songs.
The weather was 'on and off' wet.
Paul Hartshorn
---
Hi,
I'm Antonio from Bologna, Italy and I discovered your excellent reviews of Donington/M.O.R a few days ago; I was lucky enough to see four M.O.R. editions and the 1987 was my first. With three friends of mine I was on holiday in London and the saturday 22th of august we took the train from London St. Pancras/Railstation to Nottingham where a bus got me to the raceway.

Trying to get some of mine foggies memories ( 22 years ago ) about the event, I can remember the astonishment to see thousands and thousands of metal headbangers, a lot stoned and drunk, the fantastic and positive vibe inside the place, strange battles with plastic cans full of beer ( only beer ? I don't think so ! ) flying in the air and the fireworks display at the end of the show.

I really enjoyed all the six bands from Cinderella to Bon Jovi, despite the rain. I Remember Mr. Blackie Lawless & co. shocked the audience, cutting the throat of a tied semi-naked lady during their raw set.
I enclose a pic of the ticket event and a little pic of the crowd.
Best regards.
Antonio
---
| | |
| --- | --- |
| | |
Wasp and friendz © Ian Webster

Donington, England...1987


OUTSTANDING!!!




My wife and I were transferred to RAF

Upper Heyford, UK in 1986.

We are both rockers, so we jumped at

the chance to attend MOR.

We took the back seats out of our Mini Estate & packed sleeping bags, lawn chairs & rain gear.

We loaded a red cooler with plastic jugs of White Russians, water and food.
We arrived and got R cooler inspected for anything glass...NOPE!

The White Russians looked just like chocolate milk...NO PROBLEM!

We found a great place back from the

crowd & set up our chairs.




The music was GREAT!

At first the weather was OK and people started consuming massive quantities

of beer.

They sold beer in liter plastic bottles & when they were empty, people pissed in the bottles....perhaps to maintain their

place in the crowd.
They started throwing the piss bottles & we watched as they flew back & forth.
Some people uncapped them & threw them....waves of Yellow missiles.

We moved our spot back & watched as the bottles continued to fly.

Then the rain came down.

In our rain gear, on our lawn chairs, we were totally comfortable.

A bunch of really drunk, very wet dudes walked by, checked us out & we heard them say "YANKS"

The Porta Potties were in a sea of mud.

We wore our waterproof boots, so not really a problem.

After the concert was over, we folded ourselves into the back of the Mini for

some alcohol fueled sleep.

We are both tall and the Mini was only 5ft long, so we slept kinda curled up...

A good sleep after everyone left.




1 of the concert pictures on the website

has my wife sitting on our red cooler.

We are happy to see/copy it!

A MOST EXCELLENT time ! !!!!




IF THE MUSIC IS TOO LOUD

YOU ARE TOO OLD!




Burt & JoAnna
Hi Guys

My memories of Donington 87 are few and I'm not sure if this is down to it being so long ago now or whether at the age of just 16 (at the time) the excitement and alcohol on the day has blurred things a bit. For starters I have no recollection of it raining, so I must have been having too much fun to notice, though I do remember seeing some seriously mud caked blokes jumping and rolling around and hoping they didn't come anywhere near me.

As Antonio mentions, the WASP set which included a semi clad lady getting her throat cut stays long engrained in the memory, I know it made me feel a bit queasy at the time but musically their set was powerful.

Though just a kid myself, I was slightly annoyed by the amount of 'children' that were there with their parents, I remember seeing lots of young girls who I presumed were there for Bon Jovi's set. I was there primarily to see Metallica and Anthrax and loved both, though Metallica have always been my faves it is true that their set was not great and for me Anthrax definitely stole the show.

The one outstanding and amusing memory for me is Jon Bon Jovi climbing the lighting gantry and a chant of "Jump! Jump!" starting up that (from where I was standing) seemed to drown out JBJ's voice completely. As I looked around me I noticed some of the young girls looking very distraught and tearful with one girl so upset she was having to be comforted by her mum...it made my bloody day I can tell you, I'm still chuckling now!

Am I mistaken or did the days festivities always start with the playing of Queen's 'We Will Rock You'?

Cheers

Nicolette

---

This was my 2nd of 5 Monsters of Rock Festivals. Things that stick in the memory: The spelling of "Donnington" on the banner above the stage… and some girl in tight white jeans and black suede boots slipping in the Donington mud and getting CAKED in the stuff-I', it still makes me laugh now as I'm typing this over 20 years later. I remember JBJ going onto the lighting gantry and his voice getting really squeaky as he cacked himself-guess he isn't too clever with heights!!!

I enjoyed Cinderella and WASP, Anthrax and Metallica kind of passed me by and Dio was OK but, like most people, I was waiting for Bon Jovi. I even forgave them for the longest guitar solo EVER before "Wanted Dead or Alive". Tried to find the coach in one of the fields filled with HUNDREDS of them and found it just before they set off! (Why DID they move the coaches after you got off them in the morning?!)
Simon Heath

---

Five of us squeezed into a battered MkII Ford Escort and headed north. Thrash metal ruled, so we were only really there for WASP, Anthrax and Metallica. We left before Bon Jovi came on stage and slept (uncomfortably) in the car before heading South to go straight to Acid Daze in Finsbury Park headlined by Hawkwind !

Just remembered witnessing bikers going round bits of the race track from the car park... Must have been completely illegal?!?

Richard Hobson

---
---
I987 was my first of 3 Doningtons - I was 18 and feeling ruff as a bagers after sleeping in the car in a multi storey Nottingham , we eventually got there just in time or the start
Cinderella weren't half bad. but the only thing really keeping us going (at that point) in the shite weather was the hope we may bump into the bailey brothers .so we could tell they how f'in useless they were . I used to like we will rock you
as for wasp don't remember much as we were trying to avoid a 6' 4" monster who had cut his knee and for some reason wanted my brother to lick it?
and Metallica not really our bag.- but they were ok
Dio (R.I.P) rocked the joint,
Bon jovi (surprisingly ) did a fine job, a thin lizzy tribute in there somewhere, As my brother, another mate and I stood there trying to avoid the bottles pee flying about. if i remember correctly it wasn't the driest of days, and that's not counting the pee. remember dee snider but not bruce or paul. bnut it all a little fuzzy . a few years ago now
Apart from that, price of burgers and cold tea is what sticks in my mind (or should say throat , i am Scottish)
Darin
P.S, I know i haven't mentioned anthrax
---
Recordings and setlists.
| | |
| --- | --- |
| BBC Radio 1 FM | |
---
Blackie Lawless- Lead Vocals & Guitar
Chris Holmes- Lead Guitar
Johnny Rod-Bass
Steve Riley-Drums
thanks to Mike Harvey for info
---
| | |
| --- | --- |
| FM source | |
---
Metallica

Wrongly labelled audience B&W video reputed to come from Donington circulates in appalling quality, but it is clearly from the European leg of the tour , and its so bad its unwatchable anyway .

AVOID .

We have searched high and low for a cover for this set, if you know of one can you mail us

Good still Images of Metallica at Donington 1987 here
---
---
---
Can we get a witness ?

We need more info on this and the other Donington festivals, most especially more photos and personal recollections so c'mon head bangers, get yer photos out and fire up what's left of the aging brain cells .Send your recollections and scans to us NOW ! !! Contact us

---

Watch this space for more Monsters of Rock pages to be added in the next month or two - we will eventually go up till 1996, meanwhile if you have material from any years up to 1996 , send it along and we will add it as we build the pages.

Free festivals of the 70s and 80s