Updated June 2021 view at 1920 X 1024 for best results
---
| | |
| --- | --- |
| | July 18th 1970. |
---

Pink Floyd, Roy Harper, Kevin Ayers, Edgar Broughton Band,Formerly Fat Harry,Lol Coxhill, Third Ear Band#.
Did not perform #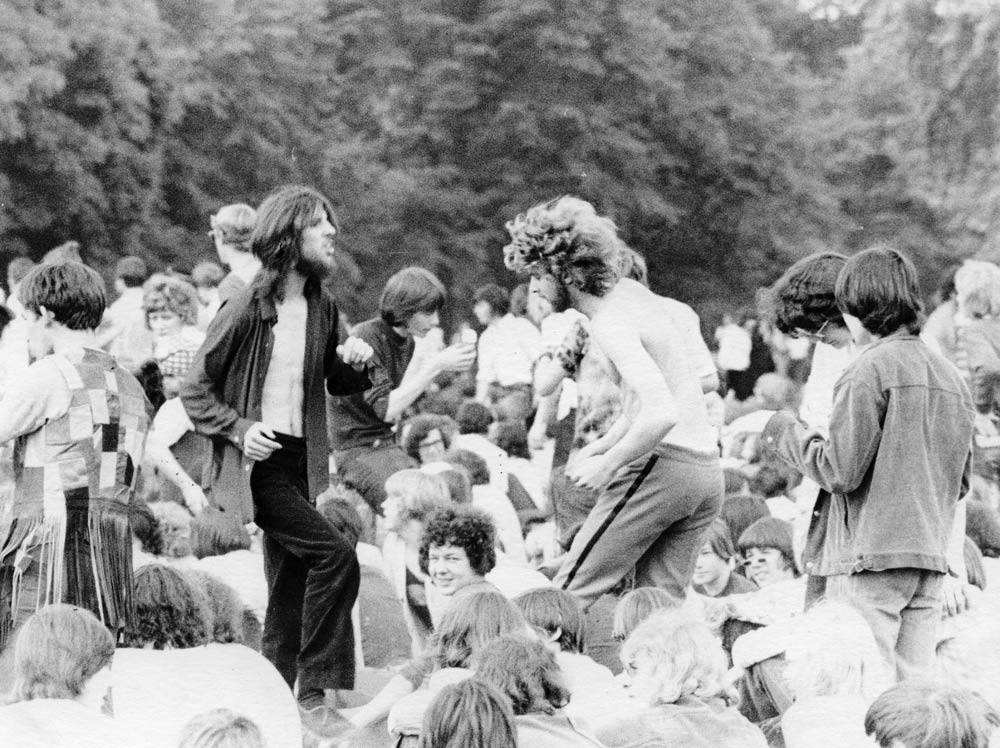 Dancers in the park 18th July -1970 © R Ransom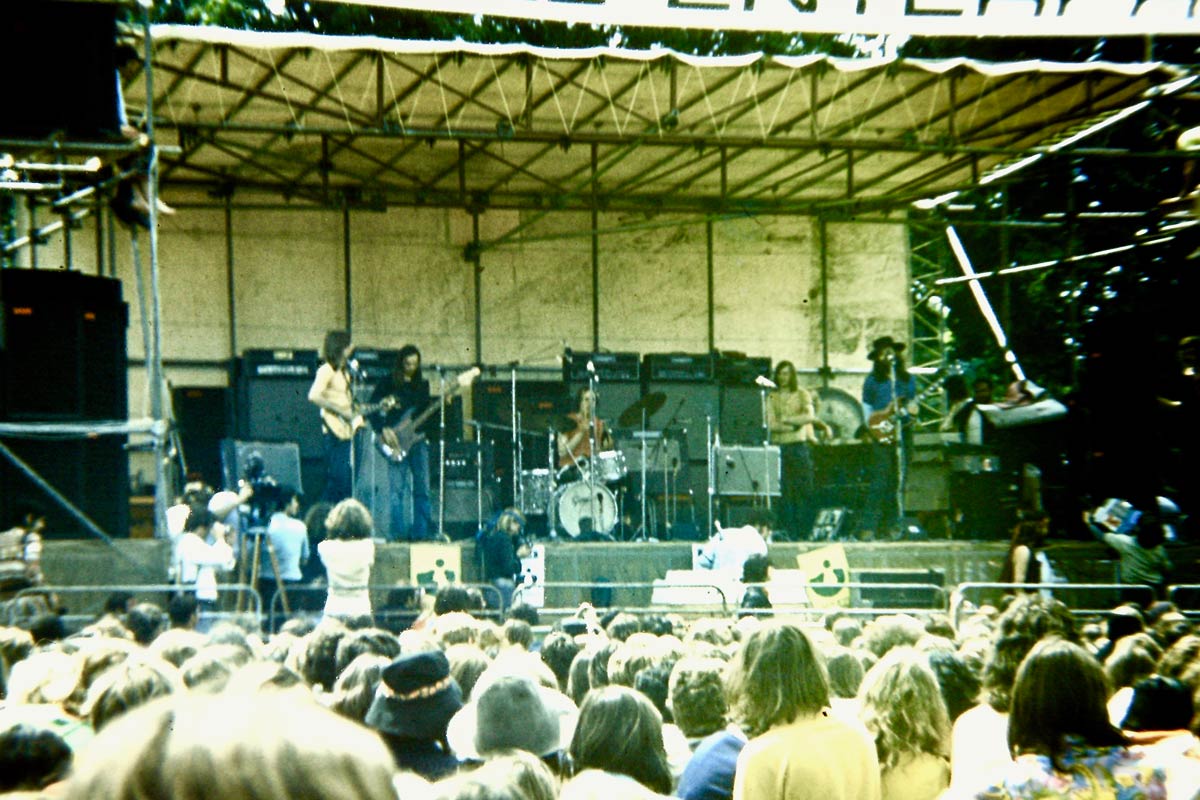 Formerly Fat Harry ? © M Moltrtecht
| | |
| --- | --- |
| The first concert of the third summer season.With Pink Floyd headlining, it drew around 120,000 , a far cry from the first concert held in 1968 .By now the concerts were pulling in very large crowds and much of the ambience and intimacy of the original shows had departed the scene, never to return . Which is not to say that the later shows were not worthy events, they were just different in atmosphere and scale when compared to the early events . According to press reports there was some unpleasantness.Ttwo were injured in a hot dog stand fire, there were eight overdoses, one man was hit by a beer bottle as he was standing watching a band and the Hells Angels (who took it upon themselves to act as the unofficial police force down the front of stage ) were apparently a bit heavy with some of the crowd . | |
| | Photo courtesy John Baxter |
Formerly Fat Harry opened the proceedings with a tongue in cheek attitude, welcoming the audience to ' Hyde Park Mississippi "and they proceded to warm up the audience with a humorous and varied set. Kevin Ayres and The Whole World were joined by drummer /vocalist Robert Wyatt of Soft Machine , after a slow start, they took off on numbers like " I Didn't Do that " and Why Are We Sleeping" and left the stage to warm applause.
A host of Blackhill artists were on this bill . Roy Harper was by this time practically a Hyde Park resident . Harper played an unscheduled set that lasted nearly an hour replacing the Third Ear Band who cancelled . In his opening number " I hate the white man' he alluded to the nastiness that was happening by commenting that the boorish behavior was' typical of the white man ', he finished off with "Kangaroo Blues" , which went down well with the crowd.

The Edgar Broughton Band were often a hoot, with lots of onstage political ranting and this time round was no exception as the lead guitarist gave a spirited rendition of "Out Demons Out ! "Their set also included "Silver Needle" and "Refugee"
| | |
| --- | --- |
| Edgar Broughton © R Ransom | Kevin Ayers © R Ransom |
Disc and Music Echo quoth thus:

Over five hours of varied and contrasting music was topped by a performance by the Pink Floyd, who treated the gathering to a preview of their forthcoming album. They gave an hour of beautifully mature music , soothing and inspiring to listen to. They kept the numbers short- apart from the finale -and carefully restrained. With the sun glinting on Nick Mason's drums and the clouds breaking up overhead, it seemed as if the sounds were dropping from the sky itself.

Photo courtesy John Baxter
After a quiet and lazy bluesy introduction, they went gently into Green Is The Colour and Careful With that Axe Eugene. Even in the latter the volume was down and the mood reflective. Set the Controls was at its most ethereal , the smooth crescendos flying away over the heads of the captivated audience. To end, a brass section and choir were brought on for the final 25 minute finale.

The piece began with an arrangement for the brass and then switched to a lengthy choir pattern , followed by a dash of marvelous Floyd rock -jazz , in came the brass again , pursued by incantations from the choir and swirling special effects in two channel stereo. A reprise took up the original theme, based on a simple chord progression akin to the finale of The Man and group, choir and orchestra projected it together in fine combination .

Photo courtesy John Baxter
Nick Mason: By the second Hyde Park show we had begun real work, consolidating our position. It led on from there to our current global scorched-earth policy. Though I think we were underground until Dark Side Of The Moon put the nail in that coffin.

David Bedford : There was a really nice one in Hyde Park when Pink Floyd premiered 'Atom Heart Mother' with orchestra and choir, and the chap conducting that had just commissioned me to write a piece for his choir, so it was my two worlds sort of mixing up. It was a really hot day and really nice, it was a good piece 'Atom Heart Mother'.
---
Film Footage
Photo courtesy John Baxter

Jim Reilly offered these snippets of information .

I went to many festivals that you feature. The above being one of my favorites. I jumped the stage barrier and stood behind Edger Broughton's amplifiers as he smashed his guitar around. Stayed backstage all day and strolled onstage when Pink Floyd played. Later that year(?), I by chance saw a documentary feature in a cinema that showed some of this on film, including me behind Edgar!

Do you know where I can get a copy of this film?
Jim.

The whole concert was filmed by TVX , 280 mins. This probably is the footage that Jim saw, whether it is still in existence is unknown, perhaps Hoppy has it in his vault.


"I was there with John 'Hoppy' Hopkins of TVX. I worked at The New London Arts Lab in Robert Street and Hoppy said why not come down to Hyde Park and help video the gig. So what's a chap supposed to do? Off we trooped for a lovely day of free music and a lot of spliff. Anyway we were on top of the stage left PA tower for the whole thing. That may be me looking over the top of the cabs in your first photo.

I don't remember much about it other than getting cramp from gripping the camera trigger for some of the longer numbers - and thinking the Floyd a little pretentious, what with the choir and brass section as I was not used to that level of musical sophistication - but little did any of us know then what the rest of the 70s had in store....

As I remember we were using an early Sony reel to reel portable. This is portable in the same way that an office photocopier is portable, but at the time it was a revelation, though I have never seen the footage.

So, Hoppy, if you are out there and have access to all that stuff, it would be great to see it (and you of course)."

RPJ

---
Recollections
Many thanks to John Baxter for permission to use his photos - John wrote

Hi,
Here are four of the photos I took of 'The Floyd' at Hyde Park in 1970. I arrived at the site at about 8.30am and we were able to get right through to the front as you can see. They actually began with The Embryo. As far as I remember the rest of the set comprised: Careful With That Axe Eugene, Set The Controls and then Atom heart Mother. It was a beautiful day - warm and sunny. The four slides I've sent you are: Roger fading himself out at the conclusion of 'Set The Controls', Nick in full flight, a slim Dave Gilmour and Roger in the middle of 'Set the Controls'. He always sang this with his finger in his ear to help him pitch it right. Roger Waters is notoriously tone deaf and used to have his guitar tuned for him by Rick Wright. There are some more showing the choir and brass band used in Atom Heart Mother and I have some from Wembley, November 1974.
Best wishes,
John Baxter
| | |
| --- | --- |
| Edgar Broughton Band onstage Hyde park 7-18-70 taken from 8mm film provided by Jochen Laschinsky © | |
Hyde Park - Pink Floyd, Roy Harper.

I was used to hearing the ambient sounds of Pink Floyd, as I attended many college gigs with friends, so the chance to see them for free at Hyde Park was a very attractive prospect. I recall sitting in the arena on a nice but cool summer day, drifting off to the first airing of Atom Heart Mother. The first 'Chill-out' album?

My only other recollection from the day was a disgusting song about foreskins and such by Roy Harper! I must have been a rather delicate soul, because I remember feeling genuinely shocked at such a rude display ...... and SO LOUD too !!! I am rather more hardened now. (heheheh .... snigger)
I can also remember a Hell's Angel riding his hog right up the middle of the auditorium.... but that may be a false memory, so I don't know why I mentioned it.
Well, that was my first taste of the great outdoor experience, so I kept an eye out from then on for any likely 'happenings'. I even started a diary of bands I witnessed. Oh how I wish I still had it! I logged each band alphabetically, and invented my own rating system. I remember listing Lindisfarne at least six times over that period! Along with all the other festival stalwarts, Edgar Broughton, Rory Gallagher, Heads Hands and Feet, Gnidrilog, the Fairies, The Pretty Things, Mungo Jerry et al.

Trevor Robertson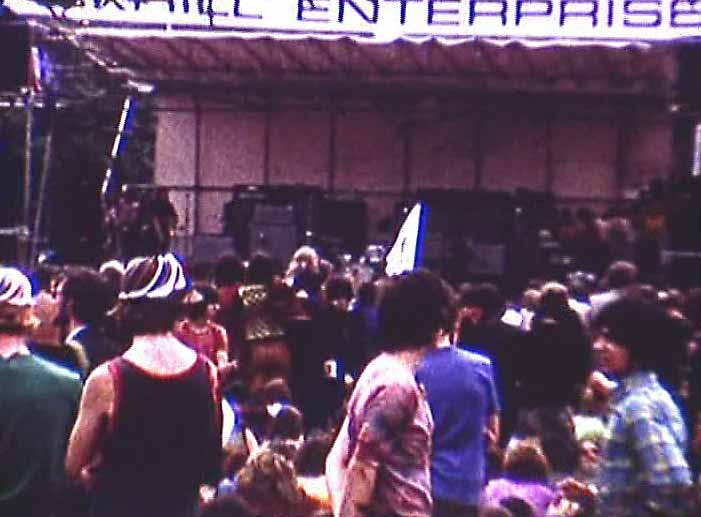 Crowd members await Pink Floyd to perform at Hyde park 7-18-70 -taken from 8mm film provided by Jochen Laschinsky ©
Hi,

I went to the 1970 Floyd Hyde Park Concert and can confirm that it was a really nice, warm and friendly day. Embryo was on the set list but like many that day the exact playing details seem to have been rather fuzzed out at the edges of my memory! I was about 10 feet from the stage on the right and it was all so relaxed that we could lie down on the grass to listen without being stepped on or moaned at - those were the days!

One thing I would add is that the lead singer of the supporting Edgar Broughton Band is NOT called Edgar as a couple of your clips show. The two Broughton brothers were Rob and Steve with Art on bass and later joined by Vic Unitt from the Pretty Things. Edgar was their dads name and he drove them to the gigs whilst their Mum collected the money at the doors. I believe the band did indeed wander off on some political protest that day as they had taken somewhat to playing mobile gigs on lorries. I had the misfortune to be the mascot sitting on the cab roof on the Warwick mobile gig!

It was one of the best Floyd gigs. Low key, well and confidentially played. For what it's worth I preferred Knebworth and The Wall at Earls Court but I still rate Hyde Park as 3rd best overall Floyd gig.

Paul Weighell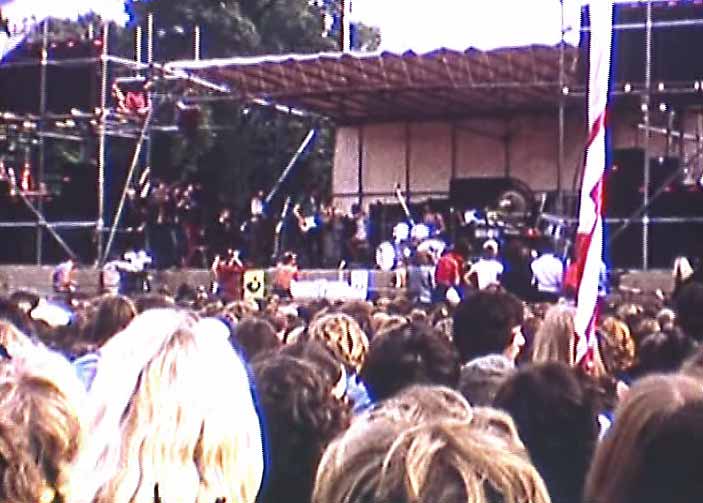 Pink Floyd onstage Hyde park 7-18-70-taken from 8mm film provided by Jochen Laschinsky ©
---
I found your site cos this was my first ever gig and I wanted to check the date - nearly 35 years ago at time of writing. First things first Third Ear Band did not play - I don't remember why but do recall there was a stage announcement with an explanation.
Formerly Fat Harry were OK but not what a first timer raised on radio 1 was used to - I saw them several times after though, they from US I think? I followed the career of Kevin Ayers for many years after this gig and remember Lol Coxhill playing a spirited Hungerford Bridge from his (then) recently released dandelion double album. We were some distance from the stage but I remember Atom Heart Mother washing over the crowd toward us in the sunshine.

Thanks
Barry

---

Lol Coxhill ? © M Moltrtecht

I was at this festival, I was 15 and hitched down from Preston in Lancashire with three mates, my mum thought I was joking when I said I was going to London, Hyde Park. We didn't even know where it was! So, off for a weekend of growing up, lots of spliffs passing round. I also remember the Hells Angel riding his hog down to the front of the stage, he shouted to Roy Harper to play 'hells angels' I am certain Harper told him to Fuck off and he had to turn the bike with extended forks round and putted away into the distance…
I had 2/6 pence old money to my name which I think would be 12.5 pence and think I took back change. We discovered the self-service café on the Serpentine and I think we ate quite a bit before we got to the cash till, nothing like this existed in Lancashire.
We slept in Green Park after building a shelter from deck chairs, the police arrested my mates but told me to sod off, they thought I was a girl, long dark curly black hair, not yet shaving!

Went to hitch home the next day, got to the M1 and there were literally hundreds of freaks queuing down the hard shoulder hitching. We split up and finally I got a lift of an air force truck. I had an air force greatcoat and again I think the driver thought I was a young WAF, I crashed out almost as soon as I got into the truck and the driver woke me up at the junction for Leyland, I walked home… amazing adventure. Listening to Floyd as I type this.

Tony Heaton
---
THE WHOLE WORLD AT HYDE PARK 1970


Kevin Ayers and The Whole World's 'Hyde Park Free Concert 1970' finally sees release Feb 4.

The Band:

Kevin Ayers, David Bedford, Lol Coxhill, Mike Oldfield, and on this occasion, drummer Robert Wyatt.

"This summer 1970 Hyde Park Free Concert recording brings to life a deliriously heavy, heady rock experience in overdrive. How else to handle Kevin's Soft Machine classics Did It Again and Why Are We Sleeping. Restored as fully as possible from a two track copy".
---

---
If you can contribute any info on this concert Contact us
---
Contents


Concert reviews and info -1968-71
(These pages include large photogalleries of the concert, most especially King Crimson and Jack Bruce. )

Concert reviews and info -1974-76( all updated Nov 2018)
June 29th 1974 Kevin Ayers, Nico, Chapman Whitney Streetwalkers, Kevin Coyne,Gong, Gt Moore and the Massed Reggae guitars
August 31st 1974 Roger McGuinn ,Roy Harper and Heavy Friends , Julie Felix, Chilli Willi and the Red Hot Peppers ,Kokomo ,Toots and The Maytals
---