The Archive.
Updated Nov 2018: view at 1920 x 1080 for best results
---
| | |
| --- | --- |
| | September 18th 1976. |
---

Queen ,Steve Hillage, Kiki Dee, Supercharge .
---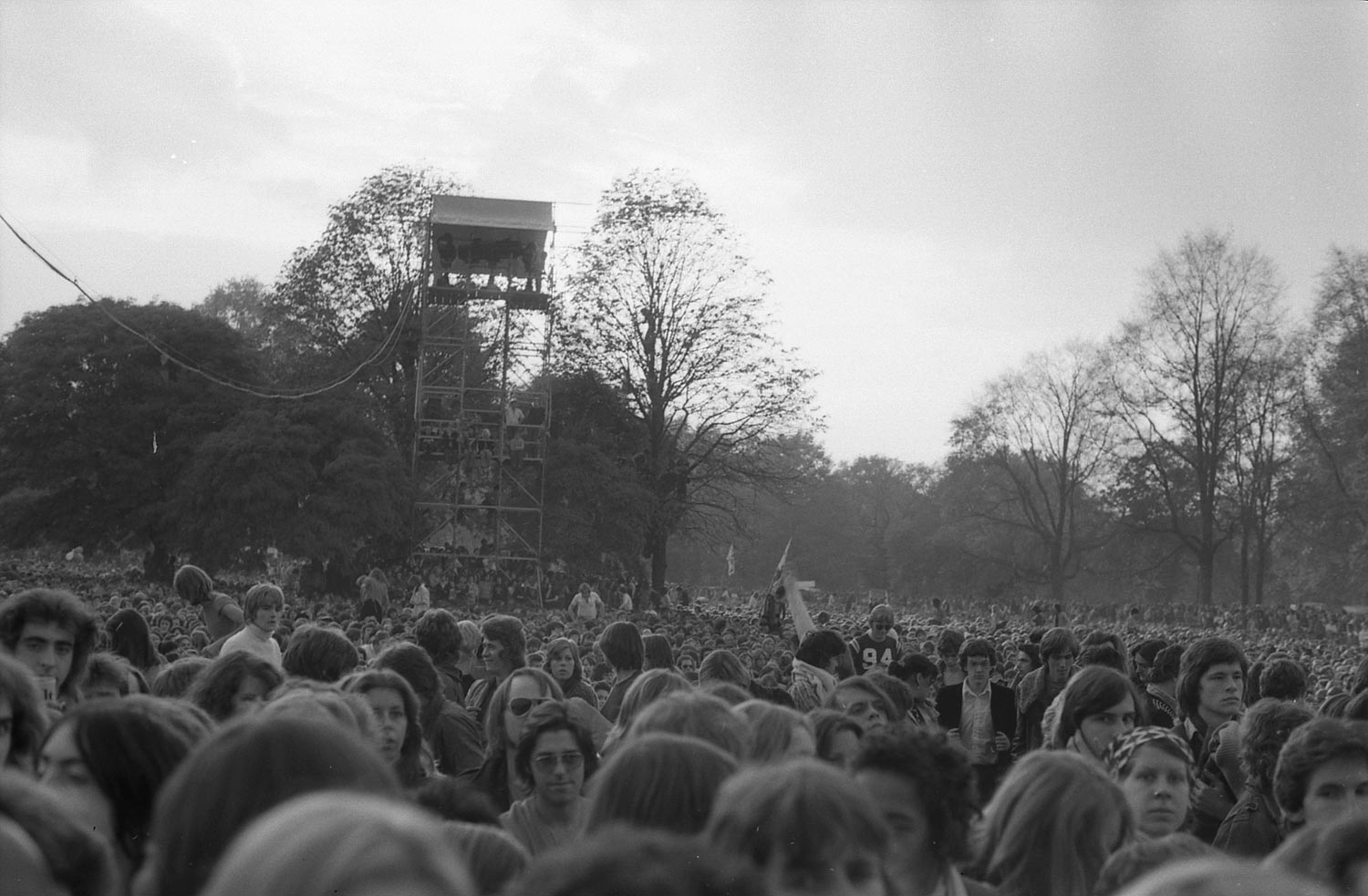 Audience Hyde Park 18th September 1976 Photo © Ian Loveday
---
---
A real biggie, and the last concert held in the park for many years. Supposedly 200,000 turned up, mostly to see Queen, whose stock had been rising rapidly , they were well on the way to becoming superstars.

Apparently Richard Branson of Virgin records was instrumental in organising the show although the headliners were restricted to an 80 min set due to a curfew. Police threatened to bang up Freddie in the cells if the band came back on after the allotted time, thus no encores.

Brian May stated in a radio interview :

"It had a great sunny day for it, and everyone had a good time. There were still altercations on the day, and there was a big thing with the powers that be because they wouldn't let us go on and do the encore, about which we were very upset, having worked up for months and prepared for all that. They got very frightened because there were 150,000 people in Hyde Park in the dark, and they thought they were going to get out of hand. But in fact, there was no possible danger happening at all. Everyone was peaceful and having a good time."

aerial view of the Queen concert.
Jeremy Smith writes

This was a really great day out and well organised.

I don't remember much about the music except Supercharge - they were pretty bland and unfunny
Kiki Dee - she had just had this hit with Elton John and she played it but I don't remember much else.
Steve Hillage - I was really into him at the time and thought he played really well. It would have been most of the hippy stuff from fish rising.

Queen - OK can't remember much - they were not as good as when I first saw then in 72/73 when they were just starting - I'm sure we had a good sing along.

Anyway one bit I do remember well was that there was a fight during Steve Hillage. He stopped playing and made some speech about how people should be peaceful etc and use positive energies or some hippie bullshit. Of course this didn't work so he yelled out - really loudly - STOP FUCKING FIGHTING
Jeremy

Stage at Hyde Park 1976 Queens performance, video exists of this show, but quality is dodgy.
The shy and retiring Freddie M flashing his tits

The hyde park concert was my first real backstage experience, as a teen I'd been to the Windsor Free with my brother and did a bit of roadying with Quicksand, but that was my first 'proper' gig!

One of the most enduring incidences was when we had to take a full size cardboard cut out of Elton John on stage, and I tripped up backstage and broke the botom of it! it was rapidly taped up on the feet and given to Someone on the wing of the stage. The raw energy coming from the crowd was tactile, and not long after that the beer can barrage that caused the scrapping down front started.

There were a few bottles and cans being thrown into toward the stage but they were landing in the centre front of the crowd about 30 odd people back from the front. There were a few people that were getting annoyed with it, and a few scuffles with others being accused of starting the trouble. I missed most of the gig as I was too wrecked to rremember much else but the time I was on the edge of the stage stuck with me as clear as anything...
The thing I'll not forget though was Steve Hillages eyes after he came off stage, they looked as if all hope had gone!

Pete Wilkins
was there, age18. The summer we had to flush toilets with bath water due to the drought. Great gig, but I have one bad memory. Most people were sitting down, but one person, standing, obscured the view. Some idiot threw a beer bottle with perfect aim and it hit the guy in the head. He turned around, looked at 150,000 faces and declaimed in an impeccable upper class accent "Who threw that?" It was so funny it was horrible and so horrible it was funny. Class conflict in a nutshell-bottle?
Anne Boyd

---

With regard to memories of the Hyde Park '76 concert I was Director of the UK Frisbee Assn at the time and Virgin had asked me to distribute Frisbee's with Steve Hillage stickers on. The great thing about this was that I was put up one of the towers, (to be honest I can't remember which of the ones it was) which was great. Raised above the crowd not only was the view and sound superb but this meant that I had complete privacy which was great as this meant there was no paranoia needing to look over my shoulder as I prepared my roll ups. Did Peter Tosh play at that concert? I know Virgin had provided me with "Legalise It" t-shirts as his album of the same name had just been released but can't remember if he was part of that concert.

I loved looking through the site - brought back great (and sometimes not so great) memories of those times. I took my son & daughter to Glastonbury this year - wow the changes from '72! Has anyone mentioned to you the Trowbridge Pump House concerts?

With best wishes,
Jeremy Way

Photo courtesy ©J . Way 1976 , taken from the tower .
I was there. I went with some friends, and wasn't that much into anybody who was playing at the time, but as I recall a cardboard cutout of Elton John joined Kiki Dee onstage for "Don't go Breaking my Heart", and Queen were brilliant.
Michelle
---
Hi there!

My memories of Queen's free hyde Park concert was us,the audience,singing the Elton parts to "Don't go breaking my heart" during Kiki Dee's set.Some of her recent concerts that Summer had Elton as special guest so perhaps lots were expecting him this day (I was) but not this time.

As an aside - the following year,1977 Reading Festival,I was watching Blue,who had recently charted with "Gonna capture your heart" and after a few songs decided to browse the shops as they were doing nothing for me,plus I needed to pee.That year was knee deep in mud everywhere.I heard enormous cheers for this band who I found nothing special,only readsing in the press later Elton John had guested on piano for a couple of songs! So there I have missed Elton - twice!

But I digress...Steve Hillage's set was pure magic,as this was the first time I'd heard any of his music,even if it seemed half full of cover versions,in particular Donovan';s Hurdy gurdy man and The Beatles' It's all too much.

Supercharge were a laugh,and although I had only been to a few concerts prior to this Hyde Park one,I had already seen Supercharge a week or so before at my first (of 30 I have attended) Reading Rock festivals.
Never did get any of their albums - so I never found out whether their anarchic and abrasive rock humour transferred to vinyl.

Queen shone - but I was familiar with them - it was Steve Hillage who I was telling all about it after the event.

Oh and I was sitting behind a huge flag that said "Jimi Hendrix died 18 September 1970" (exactly 6 years ago from that day) which obstructed my view every time the wind flapped it about.Grrrrrrrrrrrrrrr!

Dil Longstaff

---
The performance by Queen was filmed professionally and is in wide circulation as ' unauthorised versions"amongst fans. There are flaws on the master tapes ( both video and audio ) so it is unlikely ever to be released officially . The other performances are not available as far as we can ascertain at the moment , apart from Steve Hillage , which is really poor quality video but good audio . Please don't bother to mail us as to where you can find this show as we don't have a copy, try youtube to watch the shows..
---
---
These pages are a celebration of the Hyde park concerts. The highs , the lows, the good uns and the bad uns . We'll try to provide whatever info there is available on each event , recordings availability, photos, reviews, etc. and hopefully , you will want to add your memories here too.
Contact us
---
Contents


Concert reviews and info -1968-71
(These pages include large photogalleries of the concert, most especially King Crimson and Jack Bruce. )

Concert reviews and info -1974-76
June 29th 1974 Kevin Ayers, Nico, Chapman Whitney Streetwalkers, Kevin Coyne,Gong, Gt Moore and the Massed Reggae guitars
August 31st 1974 Roger McGuinn ,Roy Harper and Heavy Friends , Julie Felix, Chilli Willi and the Red Hot Peppers ,Kokomo ,Toots and The Maytals
---