The Archive.
Updated April 2013 view at 1280 x 1024 for best results
---
| | |
| --- | --- |
| | June 7th 1969 |
---
Blind Faith ,Richie Havens, Donovan, Edgar Broughton Band, Third Ear Band.
---
The first of the second season of free concerts and a mega show with so called "super group " Blind Faith making their debut in front of a highly expectant crowd of some 120.000, who were there expecting Cream like guitar pyrotechnics and lengthy jams.

Instead they got a very pleasant ,low key show from a band who were not really prepared for such a high profile debut, despite featuring such legends as Eric Clapton, Ginger Baker and Steve Winwood as part of the line-up.

Right :Unknown announcer announces unknown act , any suggestions as to identity ?

Photo © Barry Gonen
| | |
| --- | --- |
| Weirdly, this show paralleled the first major concert by Cream at the National Jazz and Blues Festival of 1966, in one major aspect, inasmuch as both bands did not really have enough strong material to present to their respective audiences. However, the difference was that Cream were received wildly because of the strength of their collective jamming , whilst with Blind Faith , Clapton was no longer keen to step into the spotlight , the songs were more subtle and laid back and the material was just not well rehearsed enough for the band to feel really confident in delivering it to such a huge and somewhat removed audience. | |
Fortunately the film of the Blind Faith set has now been released on DVD so you can all buy a copy and decide if it was as good or as bad as it was purported to be .Lots of reviews out there , we watched it recently and thoroughly enjoyed the short set, but we could also see why the band received criticism at the time.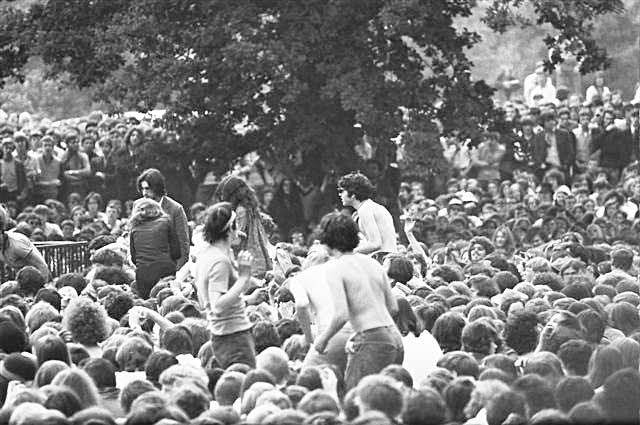 Miniscule Idiot dancer coterie at play
photo © Barry Gonen
| | |
| --- | --- |
| As usual, as at the Stones Concert in 1969, the press were so busy documenting the BIG NAME ACT, the performances of all the other acts seem to have been almost totally ignored .The Third Ear Band were on first , starting the show at 2.30 and no doubt entertained with their catchy drones and hypno songettes, they were something of a Hyde Park institution , although hardly inclined to get everyone up and idiot dancing .The Edgar Broughton Band would have been the only act to have raised any sort of energy from the crowd and this might have been the gig where Edgar led a section of the crowd off into the London streets to exorcise some establishment demons ,but then, yet again, it might not .... | |
Richie Havens then took to the stage and did his usual atmospheric set , thrashing his poor guitar to shreds. Donovan made another of his unexpected appearances, and he performed a short set which could not really be heard very well due to inadequate amplification. He was appreciated by those down the front, but was more or less ignored by the rest of the crowd.
It was a really hot day, but the worst of it would have been past when Blind Faith hit the stage at 5pm. Initially the audience were on their feet for "Its All Right" but when it became evident that the band were not going to follow in the footsteps of Cream , or even those of Traffic, the dancing stopped and the crowd settled down to see what this new band were really about.

As we watched the DVD of the show, it became apparent that this was band who, in the case of its two most famous members, was deliberately stepping aside from their previous incarnation in Cream . Messr's Clapton and Baker were attempting to remake their musical direction and anytime the music strayed into areas where the possibility of lengthy soloing or jamming could occur, the musical anchors were dropped and the band returned to their rehearsed parameters.

Ginger Baker was trying to push the band along, but after a while he realized that things were not going like they had in rehearsal " Eric had been doing amazing stuff, But at Hyde Park I kept on wondering when he was going to start playing "

Rick Grech put it down to inexperience with the material " I was nervous, "he said, " We knew the numbers, but not to the extent of not having to think of them, "

Clapton said " I came off stage shaking like a leaf because I felt that, once again , I'd let people down."

Left: Richie Havens Photo courtesy of Jules © click on the photo for a close up

(To purchase copies of the photo without the watermark , contact Jules )
Overall, it reminded me of a laid back Traffic show , with a slightly more bluesy and jazzy feel to it then Traffic would have imparted . The material was fine, the playing was fine , it was just all a little laid back . However, when opportunities for the band to really let loose occurred , nobody took them , one could see the potential to be great was there, but the opportunity was squandered by the band members , Eric in partiular just did not seem to be abel to let go - his playing was capable, but it didn't soar.

And yet, they ended up with a sound reception . A few in the crowd called for the return of Cream and overall there was not the rapturous response from the audience that musicians of this status were used to ,but then again, it was not a total disaster. The potential was there for the band to have cooked , if they had been given the time to develop before they had to face such a formidable venue and audience and if they had not had certain expectations foistered on them by the press and their audiences.

Within a few months Blind Faith was no more, destroyed by the constant pressures of touring , the presence of riotous audiences in the US who simply were not ready for this quieter, more thoughtful version of two thirds of Cream.

As for the erstwhile Cream members, Ginger Bakers heavy drug habits and Eric Clapton's disillusion with his guitar god status and what he thought of as cliched playing on his part certainly did not help to keep the Blind Faith vision viable.It would be over thirty years before audiences were to have the pleasure of seeing Baker and Clapton play together again at the Cream re-union concerts in 2005.

Photos in this section © Barry Gonen
---
Photogalleries
---
Blind Faiths Set list.
Well All Right , Sea Of Joy, Sleeping In The Ground, Under My Thumb, Can't Find My Way Home , Do What You Like, In The Presence Of The Lord, Means To An End, Had To Cry Today.
---
Recollections I was well impressed by the whole line-up, although I can't remember Donovan being there at all!

Other memories:

Richie Havens – brilliant, in all respects. It's the little things that I remember though. One of his band had lost his beret, and it was announced that if he didn't get it back, he would be in heavy trouble from some heavy people – can't remember exactly how it was phrased though.

Blind Faith – lovely music to fit a lovely day.

Edgar Broughton – bit heavy, not memorable.

Third Ear Band – bit soft, not memorable

And again, another odd memory – about half way through, someone threw a beer can [or similar] down the crowd which hit the head of a lovely lady. Her bloke appeared to be George Best, or a GB look-a-like. He stormed back up, found the culprit and gave him a bit of a seeing-to.

Cheers for putting the site together – obviously people do like going down memory lane.

Dave Brown
---
I was at 3 of the free concerts in 1969.
The Blind Faith one in June was a great experience. I was fairly oblivious to the hype that preceded this debut of the latest 'supergroup', and was therefore not disappointed.
I thought Blind Faith were great, if a little hesitant. Subsequent viewing of the DVD has made me realise that it took a few songs for Stevie's voice to warm up, but I didn't notice at the time. I just remember hearing one of the great voices of our generation singing some new stuff with his new band, and it sounded great.
It was the first time I helped Edgar Broughton sing 'Out Demons, Out!'.
Richie Havens was the ultimate performer for hippie gatherings.
And I remember being amazed by Donovan's charisma. He had us all singing a chorus of 'Huh!.... Hah!....' in a seductive little song about a dark-eyed native girl.
To breath in, at that concert, was to inhale hashish smoke.
Jeremy S
---
Just found your web site 69 hyde park!!

I was there, Blind Faith and Third Ear Band did it for me!!

Donovan was good too!!

It was a hot day oh the memories...............................

I'm still rockin'

Cheers

Dave Cross
---
Hi, I was at the Blind Faith Hyde Park concert with some friends. Like so many, we did not manage to see Cream's farewell concert at the Albert Hall eight months earlier and it had been a very long wait to see Eric Clapton's new musical venture. I can remember the anticipation very well. I also recall so clearly the opening bars of "Well all Right" and the wave of disappointment and disbelief that was felt by the crowd. We were were not going to hear anything like Cream, nor for that matter, would we hear any elevated guitar soloing. I recall that quite a few people left Hyde Park in disgust after the first couple of numbers. The show was a massive non-event for Clapton/Cream fans who had been starved of Cream appearances while the band spent a significant period of time in '68 touring America. It was a double blow because Cream announced they were splitting up and then did a sell-out tour of the US but with only two Albert Hall concerts in the uk. So there we were in Hyde Park watching Clapton playing deliberately pedestrian music. It was fascinating to see him live, but very frustrating to watch. Still depressing to think back on even now.
Jeff
---
I was there after travelling from Burton.

It was a hot afternoon and I was standing near the back.

I could hear all the acts no problem.

I recall :- Clapton saying that this was their first rehearsal and enjoying every minute of the gig. I had seen Cream 2 years before but didn't try comparing them.

The announcer giving the "bad news" that Donovan wanted to play.

Donovan asking what the crowd wanted him to play next, everone shouting for "Rules and Regulations" and him playing "Colours" including the line "yellow is the colour of my true love's teeth".

NME slammed the concert yet all the crowd loved it!

Steve Moss
---
Hello,
My first concert, just 17 and I was there. I couldn't believe I was actually going to see Eric Clapton live and of course Ginger and Stevie. I'd travelled down on the train from York with my mates. We all worked for British Rail so the whole trip was free.
Anyway the weather was good and the atmosphere great. I remember Edgar Broughton played 'Death of an Electrical Citizen' and 'Apache Dropout'. Donovan did a rendition of 'There was an old lady who swallowed a fly'. Richie Havens played 'Here come the sun'.

I'll never forget that day.

John Forde
Perth
---
If you can contribute any info on this concert Contact us
---
Contents


Concert reviews and info -1968-71
(These pages include large photogalleries of the concert, most especially King Crimson and Jack Bruce. )

Concert reviews and info -1974-76( all updated Nov 2018)
June 29th 1974 Kevin Ayers, Nico, Chapman Whitney Streetwalkers, Kevin Coyne,Gong, Gt Moore and the Massed Reggae guitars
August 31st 1974 Roger McGuinn ,Roy Harper and Heavy Friends , Julie Felix, Chilli Willi and the Red Hot Peppers ,Kokomo ,Toots and The Maytals
---