The Archive.
Updated Dec 2012 .
view at 1280 X 1024 for best results
---
| | |
| --- | --- |
| | July 5th 1969. |
---
The Stones in the Park.
Rolling Stones, Family, Battered Ornaments (without Pete Brown), King Crimson, Roy Harper , Third Ear Band, Alexis Korner's New Church, Screw.
---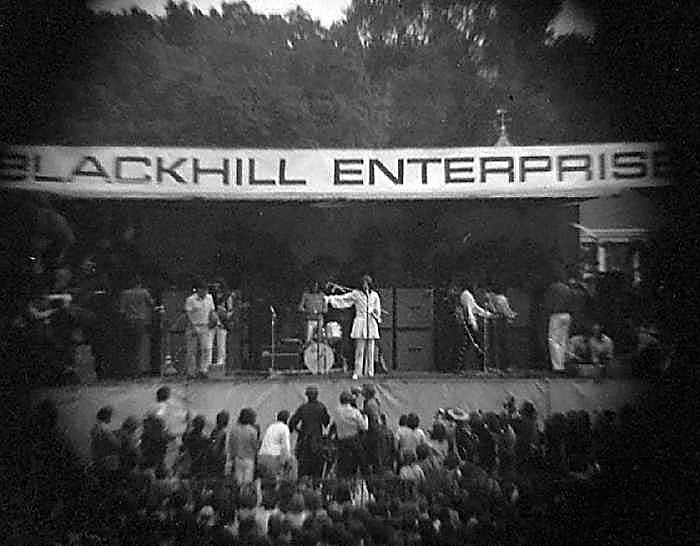 Photo courtesy © Chris Eve
photo © George Wallis

This is the only Hyde Park concert about which it was easy to find TOO MUCH information .Unfortunately , 99% of what is available is related to the Rolling Stones performance, -which was dodgy to say the least - but there is almost nothing about the other bands, who in general out performed the Stones on the day. There was so much hype about this show, and so much emotion, that when the event actually occurred, there was no way that it could have managed to live up to its expectations. Also, true to form , it was NOT a good place to debut a new line-up, like Blind Faith, the Stones were not particularly well prepared , Jagger seemed ill at ease, Keith was inexplicably reduced to a cipher. Whilst Mick Taylor did well to perform so well in front of such a huge audience he had not yet become an integral part of the bands sound .
I was there, along with a couple of hundred thousand others , but I must admit that I got far more enjoyment out of seeing The Who and good old Chuck Berry wow a couple of thousand souls in the Albert Hall later on in the afternoon- but I digress, more of that later......
| | |
| --- | --- |
| | Is it really necessary to recap on the events leading up to this show ? Perhaps , if only for the younger readers benefit.... .Briefly, after many months of problems too numerous to recount here, founder Stone ,Brian Jones , left , or was chucked out of the band for good . Some said he was treated dreadfully by the Stones, thus exacerbating his personal problems, , others maintained that he was clearly past his musical use by date and was a washed up drug addled waste of space. Whatever, he left and very shortly was found dead in his swimming pool -in dubious circumstances that have never been properly explained . The free concert in Hyde Park that The Stones had planned to debut their new wunderkind guitarist Mick Taylor suddenly became a memorial concert in Brian's name as the shocked Stones tried to come to grips with the finality of Master Jones demise........ |
---

The Shark's saga....
Once again I , G W Shark ,accompanied by high school buddies Ian McPherson and Allan Jones , found myself on the way to Hyde Park , but instead of the laid back atmosphere of the Traffic concert of the year before, this time around the air was thick with hype, most of it created by the Stones themselves. Seemingly unable to treat any event , even the death of a fellow band member, in a manner that did not somehow manage to publicize the band's activities and add to their mystique, the Stones had turned their free show into the MAIN EVENT of the British rock summer . It was almost mandatory to be THERE and so THERE we were, although in our case we aimed to kill a multitude of bands with one stone by also attending the Who's Albert Hall show on the same day. Nevertheless, we did expect that this was going to be a major event to remember over the years and in some ways it was , if one measures these things by the mere size of the crowd ,or the fact that the Stones had changed personnel for the first time in years ,or that this concert did , in a minor way, act as a memorial for Brian Jones.

| | |
| --- | --- |
| | Der Stones © John Leszczynski |
However, as I've already said, this was not a musical triumph by any means. By the time we got to the show, there must have already been around 80.000 there and we managed to squeeze ourselves into a niche with a reasonably good view and some shade ,around the line of the first trees. Not exactly ringside seats, but near enough to get some idea of what was going on on-stage and to experience fairly good sound .
There were highlights, of course, Family were as usual , great , possibly the highlight of the day , but slightly muted by the distance. Roger Chapman , their manic lead singer, he with the voice that sounded like a mix of a strangled goat and an elderly parson having a seizure, or gargling some unpleasant liquid , was his usual wonderful over the top self and the crowd response was good. The fledgling King Crimson were a hit, their speedball paced "21st Century Schizoid Man" and Court Of The Crimson King , impressing many in the crowd, including myself. I was particularly taken by Fripp's guitar playing, more so than the material itself , which I always found a bit overbearing in those days, I really came on board the Crimson flagship around the Larks Tongues in Aspic era.
| | |
| --- | --- |
| These were the highlights for me .There were a lot of bands, but the others did not really hit the musical g spot. The Battered Ornaments ,without Pete Browns patent madness ,were just not the same , Alexis Korner -who I admired greatly- was ok , but came nothing near his real potential, even though he had some very good players in his band . Screw have faded away completely due to the fact that they were pretty awful , I liked the Third Ear Band , but they were too ethereal for this show to make any real impact and I can't remember Roy Harper even being on the bill, but then again, I saw him so many times in this era that the gigs just all melt into one mass . He was the sort of performer one needed to see close up to really appreciate his true worth - which was ( and still is ) considerable. | |
A couple of attendees also maintain that Donovan did a very short set , but so far I have yet to see any press reports that confirm this , its possible, but they also may just be confusing two concerts as Donovan also played at the Blind Faith show a few months before.

The Stones themselves were a little lacking in energy and since we've all been able to view the film of the event, we can see that they were not on top form. However, its also fairly easy to see just why they were uncertain of themselves. They were under a lot of criticism about Brian Jones' death , many people saw the booting out of Jones as unfair in the first place and there were rumours that he had killed himself in despair over his ousting by Jagger and Richards. Then this was the debut of Mick Taylor. It must have been pretty daunting for Mick - to go out boldly armed only with a split infinitive and his axe and be expected to impress an audience of 250,000 in less than ideal circumstances. In the circumstances he did very well , in fact he probably played better then Keith did .......

No, it was just one of those times that the Stones did not completely get it together. They are a strange band sometimes , a little like the Grateful Dead, not in content or stage act of course, but inasmuch as they need to work their way into a sufficient state of musicianly groove , which they can use as a base to take off. This never really happened at Hyde Park , possibly because they were under rehearsed, but probably because of the sheer size of the gig. Even master Jagger's ego melted slightly under the gaze of 200,000 and they just did not manage to rise to the heights that they were truly capable of for most of the show, although the injection of Ginger Johnson's African Drummers definitely gave Sympathy For The Devil a bit of a kick .

Left: The two Mick's onstage , photo @ Rob Walls 1969
However, by this time, we were gone , running like the hounds of hell were after us, across the park and through the subway to the Albert Hall .just in time to see The Who and Chuck Berry , both of whom knocked the spots off the Stones performance wise, but that's another story........
---
September 2009 - Second thoughts ?
This review was written about six years or so ago and recently, I received a post from a nice American gentleman who accused me of being "so caught up in your "critics role" that you were unable to see how much the fools in the crowd were enjoying the moment" and that when people went nuts over Sympathy for the Devil "it was too bad that you were too busy composing your clever review to notice." Well, I probably wasn't there when they played Sympathy and I composed the review around 20 years after the event . I also can't see just when the crowd were going bananas in the video or on the audio tape( applause is polite, not rapturous ). The Stones were worried before the gig that the crowd might be a bit over the top , but the only time there was any real fuss was during Sympathy For The Devil.
When Jagger was sitting near the edge of the stage about a dozen young ladies attempted to get on stage . Eventually Mick moved, after a particularly aggressive young lady made a well aimed grab at this wedding tackle ( she missed ) , but several of the girls did manage to swarm onstage , whereupon their squirming bodies were hauled off into the wings by burly minders. Other than that the vast majority of the crowd were far more reserved in their response, getting to their feet on a few occasions, but overall , they were pretty laid back.
Anyway, I digress.

After impolitely telling my critic to go forth and multiply, I did have second thoughts, was the concert that bad ? Had I simply been put off by some of the off key and stumbling guitar passages that are evident on the concert film and ignored the vast bulk of a really great Stones show ? Finally, had the memory of the fantastic Who concert later on in the afternoon colour my overall perception of the Stones show ? So figuring that I ought to check this out , I dropped the DVD in the player and also had a listen to an audio tape of the gig to boot.

The verdict was...... not half bad, there are some good points to this show ! I found myself foot tapping to quite a bit of the tape. Jagger is generally on form and occasionally the twin guitars do mesh and display flashes of what was to come when Mick Taylor and Keith had become comfortable with each other - as they had by the time the band ventured on their infamous winter US tour.

Highlights are 'Love In Vain " - which always seemed to bring out the best in the Stones and "I'm Yours , She's Mine"."Jumpin' Jack Flash" is also pretty good and Mick Taylor delivers some beautiful soulful notes at the end of "Midnight Rambler ".

King Crimson
The problematic bits ...
Well as Jagger says at one point, "we got a lot more to do and we'll get better. " So even he was aware that the band weren't firing on all cylinders all the time .
"Stray Cat Blues" is a bit too rushed for my liking ."Honky Tonk Woman" sounds out of tune at times and is a bit leaden at the start ( could be speed problems on the tape ) "Lovin' Cup" has more than a few goofs and "Sympathy For The Devil ", all 18 minutes of it, is just a bit too long to sustain my interest, although the drummers take the mind off the occasional deficiencies in the guitar section. The song starts off with a barrage of drumming by the Africans and then Taylor comes in nicely with a funky scatty riff, - however , Keith hasn't quite got it nailed and his contribution varies a bit throughout . Still it has its moments . Overall, I was quite impressed, I almost wrote back to the yank and told him he was right , I was up myself !
But then I immediately went and spoilt it all by putting on "Ladies and Gentlemen , the Rolling Stones " . Yes , I know comparisons are odious, but this puts it all into perspective. Hyde Park was a pretty average 1969 Stones show, but the Fort Worth shows from 72 feature the Stones on top form, with Keith and Mick Taylor really shredding and Jagger a total dynamo. This is what we were all expecting from the Stones on the day at the Hyde park show and they ( not surprisingly ) failed to deliver the goods . Perhaps my review is a bit harsh , but the Stones in those days were capable of taking their audience to places that went beyond the norm. Unfortunately this concert doesn't really do that for me , but at least it does its job a hell of a lot better than the band can do so nowadays. I'll take almost any Stones concert with Mick Taylor in it over one with Ron Wood any day , his guitar sound sucks massively compared to that of Taylor .
So my personal verdict on the Stones at Hyde Park is overall, its a B grade , not bad , but if you want to hear what the Stones were REALLY capable of in 69 once Mick Taylor was fully on board - seek out the Oakland 69 show , or better still , find a copy of Gimmee Shelter .......
---
Howard Posner has this to add about the Who Berry show later on in the day
Yes. For what it's worth I agree with you about the Albert Hall gig later that night being far better than the day concert. In those days they hadn't cracked outdoor rock concert acoustics properly.
But the Albert hall gig that night was legendary mostly 'cause of the Who. Chuck Berry got on stage first, the Hells Angels with energy to burn from the day gig went mad,and Chuck lasted about half an hour (admittedly brilliant) before security got him offstage with the bikies wrecking the seats in the stalls and causing general mayhem.
Pete Townsend came on, to much abuse from the pit, and proceeded to play the whole of Tommy + lots more to help keep the lid on things.
Went for about 3 and a half hours. In front of him it was like a warzone,with running fights between security and the bikies. Single best live performance I've ever seen, 'cause it was seriously violent down there.
I was lucky enough to be in a box, observing and grooving with other beautiful young things. (Oh to be a beautiful young thing again).
The others in our box were, I think, Howard Abrahams, Suzy Shearman, Peta Heskell and my brother Jim. Maybe not, time blurs things.

Howard Posner
---
Personnel and set lists.
Screw
Chris Turner (harmonica),

Graham Neill (guitar),

Nick Brotherwood (drums),

Stan Scrivener (bass)

Pete Hossell (vocals)
---
King Crimson .

Robert Fripp ( guitar)
Mike Giles (Drums),
Greg Lake (Vocals/Bass),
IanMcDonald (Reeds/Keys)
and Pete Sinfield (Lyrics/Lights)

Setlist

21st Century Schizoid Man
In The Court Of The Crimson King
Get Thy Bearings
Epitaph
Mantra
Travel Weary Capricorn
Mars

A very decent quality audience recording exists of the entire set. A very poor film clip of part of one song also exists.
---

Alexis Korner's New Church.

Alexis Korner (guitar)


Peter Thorup (guitar, vocals)


Nick South (bass)


Ray Warleigh (sax)


Sappho Korner (percussion, vocals)
I would just like to reply to your request to contribute any info on this concert. My name is Nick South and I played bass with Alexis Korner's New Church at this 'Stones In The Park' concert. Colin Hodgkinson did many gigs with Alexis but on this occasion I was playing bass with Alexis. Alexis and I and the rest of New Church had been playing in a new band with Brian Jones right up to his unexpected death and we went on to play this concert.
It was quite an experience, but the egotism of youth often stops you being aware of how relevant to others the situation you are in is.... I remember being startled on stage when the giant potted palm tree fell over on Peter Thorup who was playing guitar and singing backup. I didn't have a big backstage experience, I was locked into my playing thing before the gig, and then I went out to find friends after - I never really was that involved in the backstage thing.
Colin joined more permanently with Alexis a little later and I went on to play with Robert Palmer in Vinegar Joe and then a lot of other bands... I've added a LP/CD release that shows some shows we did in Germany in June '69 just before the Stones gig in the park. Colin Dick Morrissey, Kenny Gutmann, Ron Aspery and Adrian Tilbrock did the later tracks 7 + 8 in '75.
Cheers,
Nick South
Alexis Korner
"... Meets Jack Daniels"LP
Side 1
1. New Worried Blues
2. Rosie
3. Mary Open The Door
4. Funky
Side 2
5. (Will The Circle Be Unbroken)
Polly, Put The Kettle On
6. Clapping Song
7. Fly United
8. Vicksburg Blues


Track 1-6 recorded Live in Germany on June 30th, 1969 - the first New Church gig at Recklinghausen
Track 7- 8 are from German TV appearance (titled "Musiksack") at WDR TV3 in 1975
Alexis Korner, Peter Thorup, Sappho Korner, Nick South, Ray Warleig, Dick Morrissey,
Kenny Gutmann, Ron Aspery, Adrian Tilbrock and Colin Hodgkinson

Produced and published by Flashback, LP, L-2449 Luxemburg, Flash 01.91.0136-33
---
Battered Ornaments

Butch Potter

Chris Spedding

Pete Bailey

Rob Tait

Nisar Ahmned Kahn
---
Family.

Roger Chapman -Vocals

Jim King-sax

John Whitney-guitar

Johm Wieder - bass

Rob Townsend - drums
---
Third Ear Band

Glenn Sweeney

Paul Minns

Paul Buckmaster

Richard Coff
---
The Rolling Stones
Mick Jagger

Keith Richards

Mick Taylor

Bill Wyman

Charlie Watts -

Ginger Johnsons African Drummers - dancing and percussion.

SET LIST

Eulogy for Brian Jones
I'm Yours, She's Mine
Jumpin Jack Flash
No Expectations
Mercy, Mercy
Stray Cat Blues
I'm Free
Down Home Girl
Love in Vain
Loving Cup
Midnight Rambler
Satisfaction
Honky Tonk Woman
Street Fighting Man
Sympathy for the Devil
Richard Havers was the co-author of Bill Wyman's Rolling With The Stones-book. He just did a nice small coffeetable-book on his own. It concentrates on the Summer of 1969 (Brian leaving, Mick Taylor joining, Hyde Park, Brian's death, Ned Kelly, etc.) with many nice photos (lots of them rare or unseen). 208 pages, hardcover. Available here.
Book by Richard Havers "The Stones In the Park" (Haynes Publishing, UK. ISBN: 978-1-844258-15-4).

this info and more available here
---
Stones in the Park Part 2

If you can contribute any info on this concert Contact us
---
Contents


Concert reviews and info -1968-71
(These pages include large photogalleries of the concert, most especially King Crimson and Jack Bruce. )

Concert reviews and info -1974-76( all updated Nov 2018)
June 29th 1974 Kevin Ayers, Nico, Chapman Whitney Streetwalkers, Kevin Coyne,Gong, Gt Moore and the Massed Reggae guitars
August 31st 1974 Roger McGuinn ,Roy Harper and Heavy Friends , Julie Felix, Chilli Willi and the Red Hot Peppers ,Kokomo ,Toots and The Maytals
---