Kevin Ayers, Nico, Chapman Whitney Streetwalkers, Kevin Coyne,Gong, Gt Moore and the Massed Reggae guitars.
---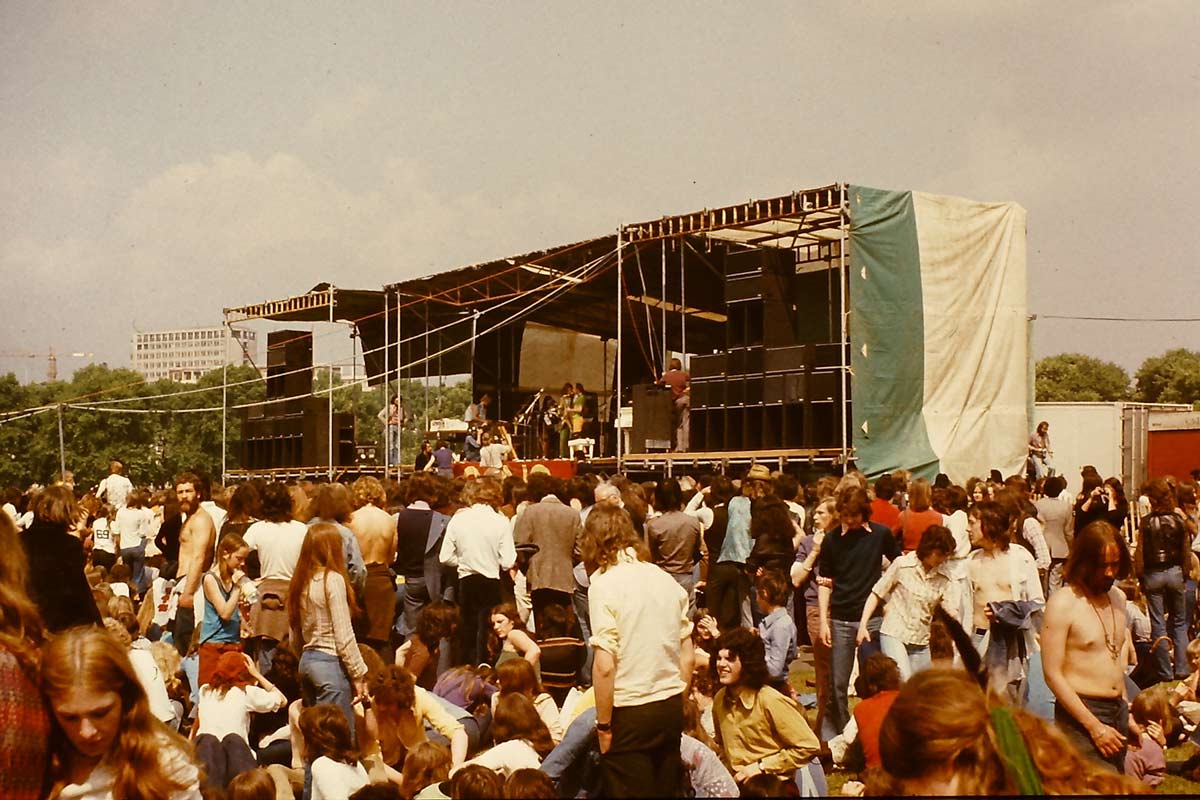 The stage , GT Moore onstage © Ed Sijmons visit Ed's Flickr site to see more excellent rock/jazz pics
This show was headlined by Kevin Ayers of all people, obviously his star was on the rise in 1974.The lineup may have been influenced by the fact that a number of the performers had just recorded a live album under the acronym of ACNE( Ayers, Cale, Eno and Nico ) so thus Nico on the bill .We've recently had a lot of new images from Ian Loveday , which has necessitated making multiple pages . A dull overcast day, that had both highs and lows. Nico unfortunately did not go down well but the other artists seem to have been more successful
---
Kevin Ayers .... R.I.P
| | |
| --- | --- |
| Kevin Ayers Hyde Park 1974 - thanks Tim for creative commons license use on both these images | Ollie Halsall |
From Jeremy Smith

Its all so long ago and I was tripping but the Kevin Ayers concert was a bloody good day out.
Memories are few but what I still have are:
Nico singing "The End". It went on and on
The whole crowd singing along with Kevin Ayers on "Shouting in a Bucket Blues"
Roger Chapman's voice being extremely jarring.
Pissing up against the fence outside the Hyde Park police station in full view of the "pigs"
I think that four of us went and we got split up, anyway, I remember a fairly strange journey home with the whole tube system full of freaks.
Sorry its not more
Jeremy

Kevin Ayers does a bit of light reading whilst waiting to go onstage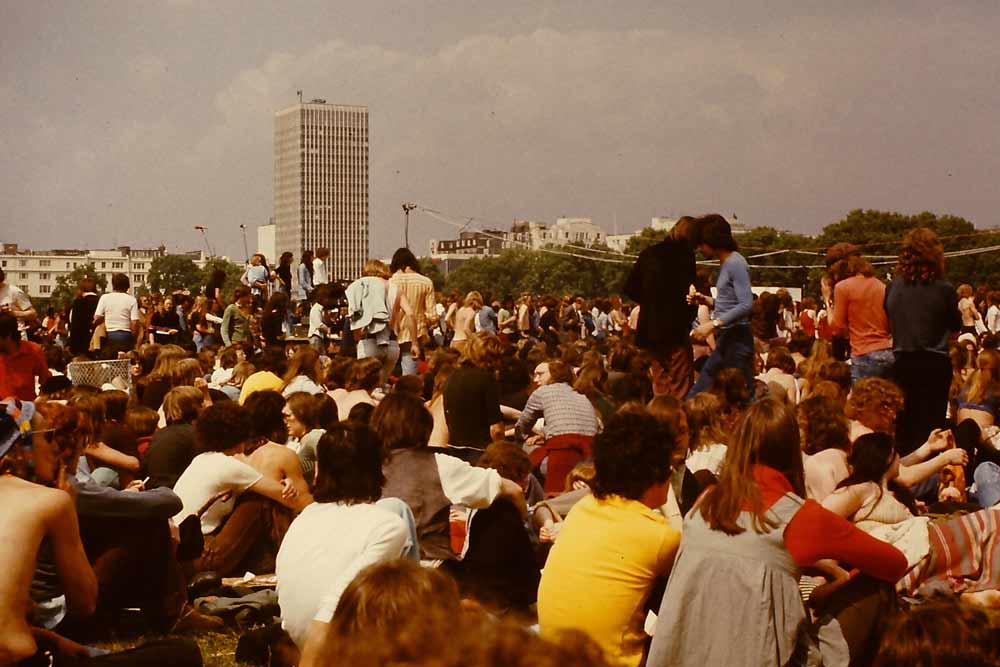 The crowd © Ed Sijmons visit Ed's Flickr site to see more excellent rock/jazz pics
---
Hi,
Yes, I was a young American guy traveling around Europe that spring and summer of '74. Hitching mainly. South in France some people turned me onto Gong. And I was just blown away. I got to London sometime in late June...I forget. And hit the park. I was a little solitary, but I enjoyed the nice July 29th eve. I've always liked Family (Streetwalkers) but can't recall them playing...what a fuck up I am. Nico went on & on with what seemed like heroin...but i couldn't figure it out.
---

Chapman Whitney © Christer Backhage
---

GT Moore© Christer Backhage
I travelled up to this concert from South Wales on my own, just 4 weeks after a few of us had travelled up for the June 1st 1974 ACNE concert.

I arrived early but the stage had been set up and they had some records being played for the then sparse crowd. I saw Jesus down at the front already boogieing away. Jesus was an idiot dancer who attended all the festivals and had been pictured in the MM or NME at various festivals.

It was dull and overcast and then it happened - one of those absolutely magical moments. The DJ played 'Here Comes The Sun' and the clouds were pushed back and we were bathed in glorious sunshine during the song. Magic!

GT Moore & the Reggae guitars kicked off. To a parochial like myself, I always looked around for skinheads when reggae was played - this was back in '74 remember. I'm not too sure Kevin Coyne's 'darker' music was right for an outdoor concert in the sunshine. I was a bit disappointed in Chapman Whitney Streetwalkers - I loved Family and perhaps it was unfair to compare them while they were breaking in a new rhythm section.
Gong, wonderful Gong were fantastic - a lot of praise should go to their 'switch doctors' (sound engineers) as their blend of glissando, sax and space whispers spread across Hyde park. I think this was my favourite Gong line-up. I thought someone had spiked my drink when it looked as if I was seeing the stage through one of those machines that have ping-pong balls in them with bingo numbers on them but the 'balls' spread around and turned out to be the paper plates with the poem on them. Nico didn't go down a storm - again I don't think her music was suited to an outdoor festival on a sunny day.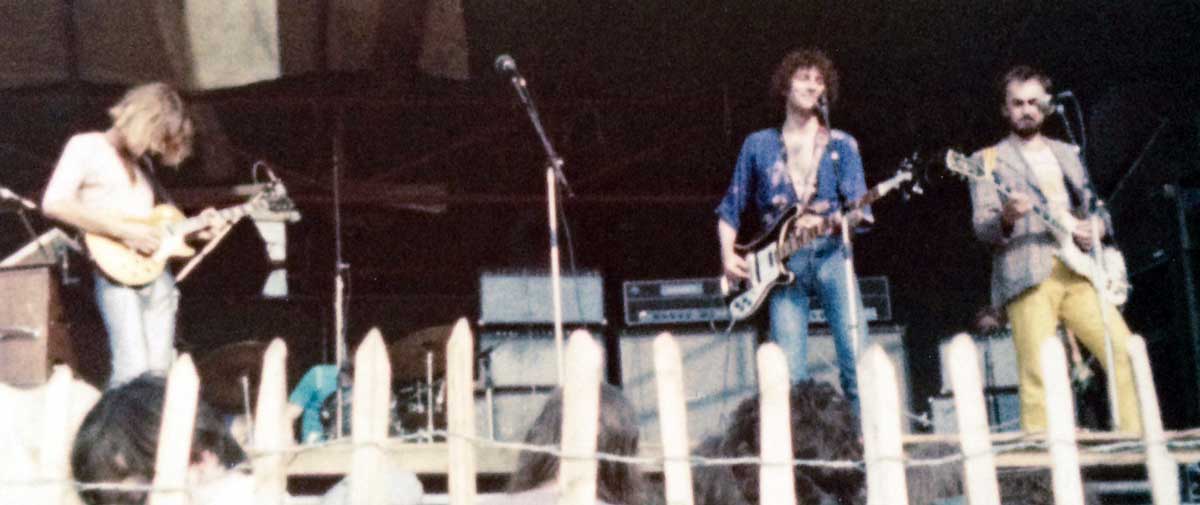 Kevin Ayers © Christer Backhage
Kevin Ayers came on to wrap up the proceedings, as usual with Kevin there was a false start. This time due to him getting electric shocks off the mic - "This mic is fucking shocking!". His band, The Soporifics, were on good form Archie Leggett creating earthquakes of bass riffs and Ollie Halsall was just about the hottest guitarist around at that time. The highlight of their set for me was the old Ayers song from the Softs first album, 'We did it again'. There were a few additional people up on stage jamming during this - Nico on tambourine and Pierre Moerlen on sax. Whatever, it got everyone up on their feet. All in all a pretty wonderful day.

Cheers,
Bill Tasker
---

I remember Nico,Kevin Ayers and streetwalkers.i was thrilled to watch Nico,solo,with wailing harmonium.it didn't seem too long to me. I was aware that streetwalkers were the remains of family- so not entirely unexpected style.

Nico was fabulous ,the nearest to the velvets I had been.there was a long delay while her harmonium was set up and she played a long slow wailing set,but probably only very few numbers as described by others.

I was then distracted by bumping into a friend who had car trouble and needed transport for the week.i said take my gpo van and I will meet up in seven days.i took the underground and bus home.
A week later my father threw me out of the house so I had to find somewhere to live, and stop spending on frivolity, just survival.
I spent the next five birthdays in a croyden squat.
James Peatling
---
If you can contribute any info on this concert Contact us