The Archive.

View at 1280 x1024 min res or higher

For information on today's festivals see eFestivals.co.uk
Last update Jan 2012.
---
The Eighth National Jazz and Blues Festival
---
9-11th August .
Kempton Park Racecourse.
Sunbury.
---
Saturday 10th August : Evening session.
Just a few weeks after attending the Woburn Festival was off again to a major festival, the Eighth National Jazz and Blues Festival , held at the Kempton Park Racecourse at Sunbury. This time I managed to attend two days out of three and I was able to persuade a couple of my school mates to go with me. I'm a bit hazy as to just who came along, but I know for definite that Allan Jones- future editor of the Melody Maker /Uncut and author of various Pearl Jam tomes - was there was there too and who has now confirmed that our companions were the long lost Brian Griffiths and Alun Jones.

This time round it was my turn to be spurned (see my Woburn Festival pages for the story of my jilting Gunter the German) , I'd regaled my mates with my stories of the two hippies I hung out with at Woburn and who should I see as we made our way to the gates but the guy with the cut off Afghan coat who I'd shared a fence with through the Hendrix show. All hail fellow well met , I approached him with profuse greetings ,only to be completely ignored ! I expect he did not want to be seen with such a young , callow sprog such as myself and I guess it served me right after I'd treated Gunter the German the same way. The big sting was of course that I was completely embarrassed in front of my mates, but them's the breaks . As some obscure rock artist called Lennon once said "Instant Karma's gonna get you" and it sure got me on this occasion .
Above. Jerry Lee Lewis does a whole lot of shaking on Friday night at the Nat Jazz fest 1968. The only other band of note that I missed on Friday night was Taste- I could do without Marmalade and the Herd.
---
The Nat Jazz and Blues Fests were pretty civilized , if rather tightly run affairs. There were of all things, rows of canvas bottomed seats , which rather put the damper on any audience gyrations, although we all stood on them when things heated up. The size of the audience was not huge, so you could get a decent view of the bands from almost anywhere .The line up for both days was superb, with very few dud acts. The weather also was good, although it got a bit cold in the night.

We did not attend the Saturday afternoon session , which was devoted to quality British Jazz bands such as Ronnie Scott and Mike Westbrook, generally good stuff, but at the time I wasn't all that into British jazz, preferring Miles and Roland Kirk to the local stuff . We queued up dutifully as good Brits should and scored ourselves good seats near the front in time to see the first band I remember of the afternoon, which was ......(drum Roll ) ......Deep Purple .
I have never been a huge Purple fan , but I've always had a grudging respect for them . They have always been really lucky in having some good instrumentalists in their line up , such as superb drummer Ian Paice and the versatile Jon Lord on keys. Regardless of whether one likes the personality of monsieur Blackmore, he can do good things with his axe on occasions . Singers have come and gone through their ranks , but I can't think of any that have surpassed Ian Gillan . This line up however, was minus Gillan, featuring Rod Evans on vocals, Lord ,Blackmore , with Paice and Nicky Simper on bass.
This was VERY early and nascent Purple, a far cry from the heavy demon of later years, in fact they were more of a pop band than anything else , their set consisting mainly of covers . What did strike us as amusing was their stage clobber, - purple satin shirts with frills for the instrumentalists and black satin for the vocalist - ( apart from Lord who got to wear a psychedelic jacket ) -very chic !. They were playing numbers like Hush, which was the only song that really stands out in my memory- and very possibly Hey Joe, I'm so Glad, River Deep Mountain High and Neil Diamond's Kentucky Woman - all of which were featured in their set lists of the time. Pretty much a covers band . They were yet to find their own voice.

The picture right shows Deep Purple on stage at the Sunbury Festival

(the guy in the foreground between the two blond girls is Ric Lee -the drummer of Ten Years After- identified by Glenn Cornick of Jethro Tull )

© Franz Murer
---
| | |
| --- | --- |
| Cocker at Sunbury © Franz Murer | After a fairly luke warm reception for Purple from the crowd, next to step on-stage was an as yet fairly unknown force- Joe Cocker and the Grease band . This was a revelation. I had no exposure to the Sheffield dynamo -( although within a year I was to meet Nev Mayer, who used to play with Cocker in Sheffield clubs before he became well known) and did not know what to expect. I don't know whether his first single- Marjorine - had come out yet or not, but even if I had heard it, nothing could prepare one for the Cocker live act, which was just so full on dynamic, that you had to have a heart of stone not to be moved by the energy and force of his vocals. |
A year before the Woodstock debut, Joe was just as impressive as he was on the film , belting out many of the songs to be featured on his first album, which came out in 69. Amongst these were Traffic's Feeling Alright - a version to rival the original -he may have played Hitchcock Railway- although this may just be fantasy on my part- - and even an old chestnut like Bye Bye Blackbird was given new life by Cocker.
Just what was Joe's appeal ?- he did not write much of his own material, he was paunchy and had the sex appeal of a newt. Well , he also had one of the best voices this side of the Pecos , a gravelly idiosyncratic growl with an Yorkshire edge that made it uniquely his own .

Then there were his movements. He was , when singing , forced to remain close to the mic, but that didn't stop him from moving almost every other part of his body -apart from his head , which had to stay reasonably still on order for him to sing into the mic - in a sustained idiot dance of wondrous proportions. The hands would flail and flutter in an almost spastic, uncontrolled way, the legs and torso would be moving constantly in an ungainly , yet somehow exhilarating , heaving, rotating manner.
Whenever there was a break in the vocals the Cocker head would join in the dance, long scraggly hair frizzing out in all directions, until the next vocal and then Joe would dive towards the mic and slay us all with the voice again. In those days he was - to put it in his own vernacular- Champion - and to catch him then was to see him on top form , before the booze and the business had taken its toll and he descended into churning out mawkish ballads and M.O.R. crap.
Of course, the Grease Band were also part of the picture and they supported him beautifully , in particular Chris Stainton, his long term musical partner, was sterling on keyboards, but the whole band were a tight little unit and they had their own sound which was integral to Joe's early success.
Anyway, this show was greeted with a huge ovation by the crowd , I think they finished the set with the show stopper- A Little help from my friends, which as usual was full tilt intensity and passion on a grand scale and just built and built until it was unstoppable. Some of Joe's facial expressions could have matched Ian Anderson in weirdness- although he did not stoop to singing balanced on one leg. At the end of the set he looked drained and so were most of the audience.
---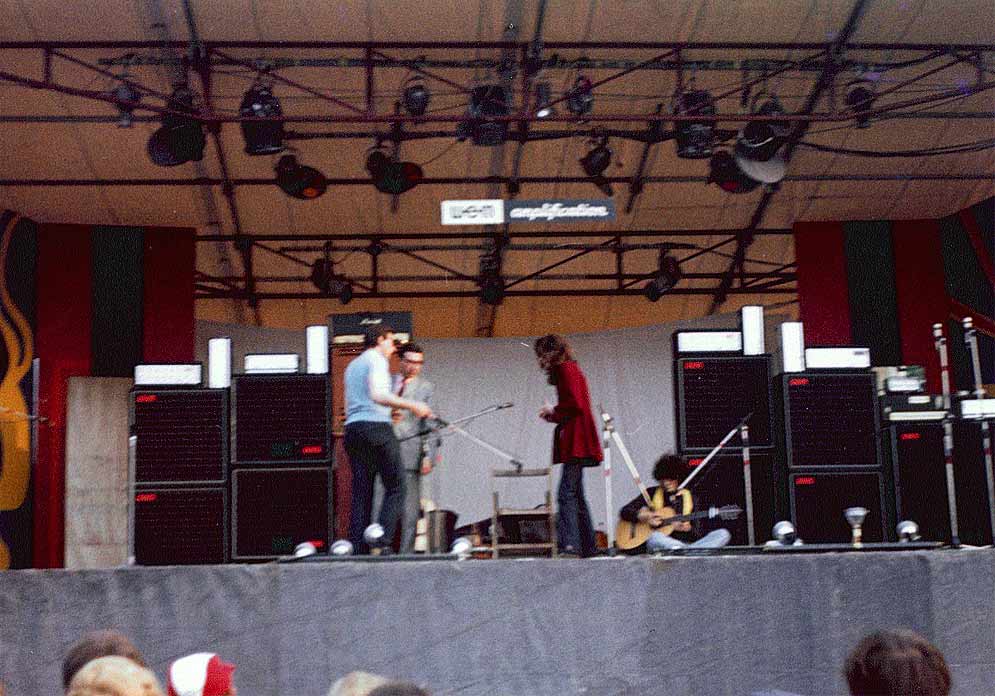 T Rex set up their minimalistic equipment onstage at Sunbury 1968 © Klaus Wachtarz
T Rex set, could this be Charlie Watkins of WEM at the controls ?
According To Mike Godwin , Tyrannosaurus Rex also played on Saturday, but I have only faint recollections of them , I guess because I wasn't a big fan..

According to Mike -

Another act who were at the festival was Tyrannosaurus Rex, who performed an interesting set including as I recollect, 'Travelling Tragition' and possibly 'Juniper Suction'.

At the timeTyrannosaurus Rex were a staple of almost any underground or hippie orientated gathering , I saw them at every festival I went to in 68 and most of the ones in 69 as well .




Right: One half of Tyrannosaurus Rex -Steve "Peregrine "Took at Sunbury 68.
Mike's memory proved to be correct as the program confirms their presence down the bill , after Joe Cocker but before the Nice, also we now have photos of the lads onstage at the festival courtesy of Tony Steen and Klaus Wachtarz.

The Rex of this era tended to play seated, crossed legged and their songs appealed to the more fey and deeply trippy sector of the hippie populace , as such they did not really appeal to me , but they were a unique act who definitely had their own voice and appeal .

After the ruminations of master Bolan and his compadre Steve Took. came an altogether more heavy band, Ten Years After .
Somebody put up some film from Sunbury of T Rex's set , heres a few stills from the film.
---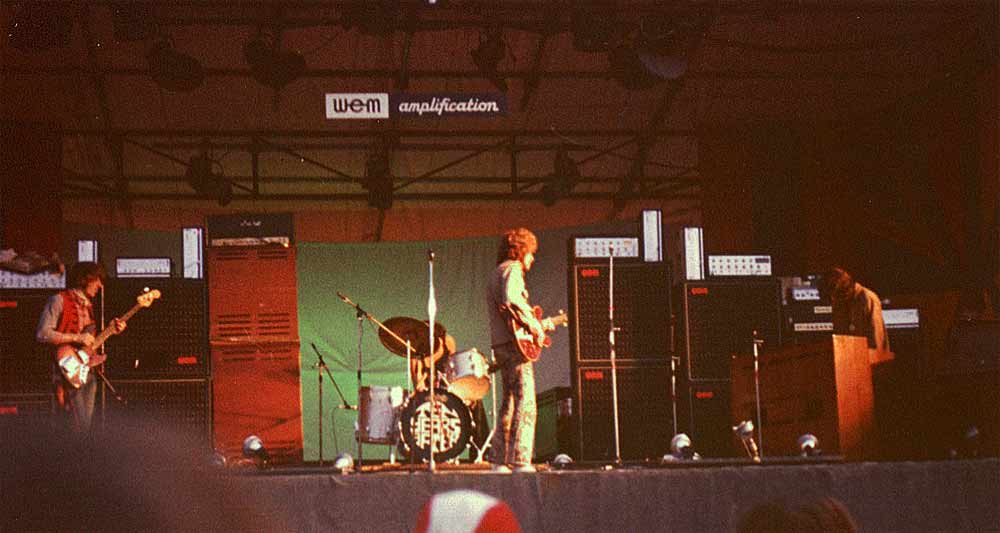 Ten Years After Sunbury 1968 © Klaus Wachtarz
Ten Years After were then relatively unknown, ( their big break came after the release of the Woodstock film , which showcased them at their blazing best ) although they generally went down very well as they played so FAST and theres always people who equate fast with good. I remember one of my friends actually commneting that Alvin Lee was playing scales , very quickly, which didn't impress us much !

The picture above ,courtesy Klaus Wachtarz, shows them playing in the rays of the dying sun . I have little memory of this set , as I tended to see Alvin Lee as a bit of a flash harry as far as his guitar playing went , compared to Beck or Clapton, who knew when NOT to play . But this is only my opinion ,Ten Years After were building their popularity at this time and they no doubt went down well on this occasion as Franz Murer remembers

"I was much impressed by Ten Years After. I think this was the first gig of the group at home after a successful tour in the USA and I remember the audience welcomed them warmly. "
By the looks of it , it was getting dark ( at least onstage ) by the time TYA finished their set . The camera probably saw the low light conditions as being much darker then they were than was my perception from the audience , as its still light late on at that time of year.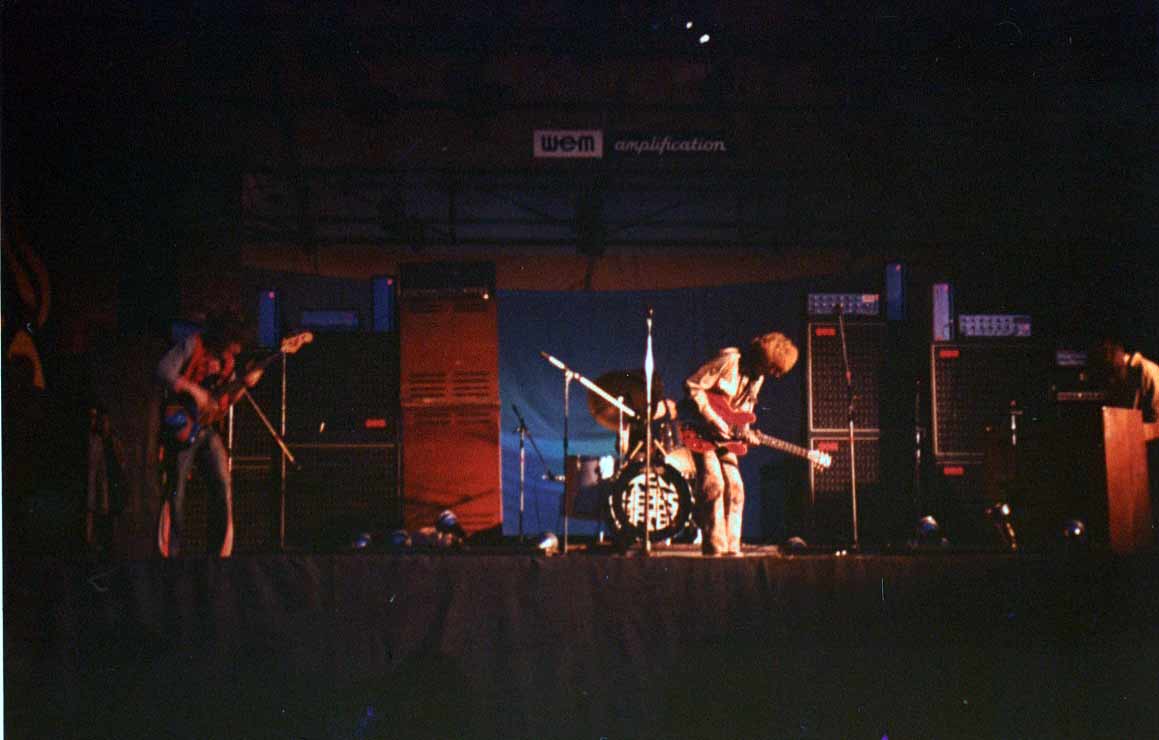 Ten Years After Sunbury 1968 © Klaus Wachtarz
---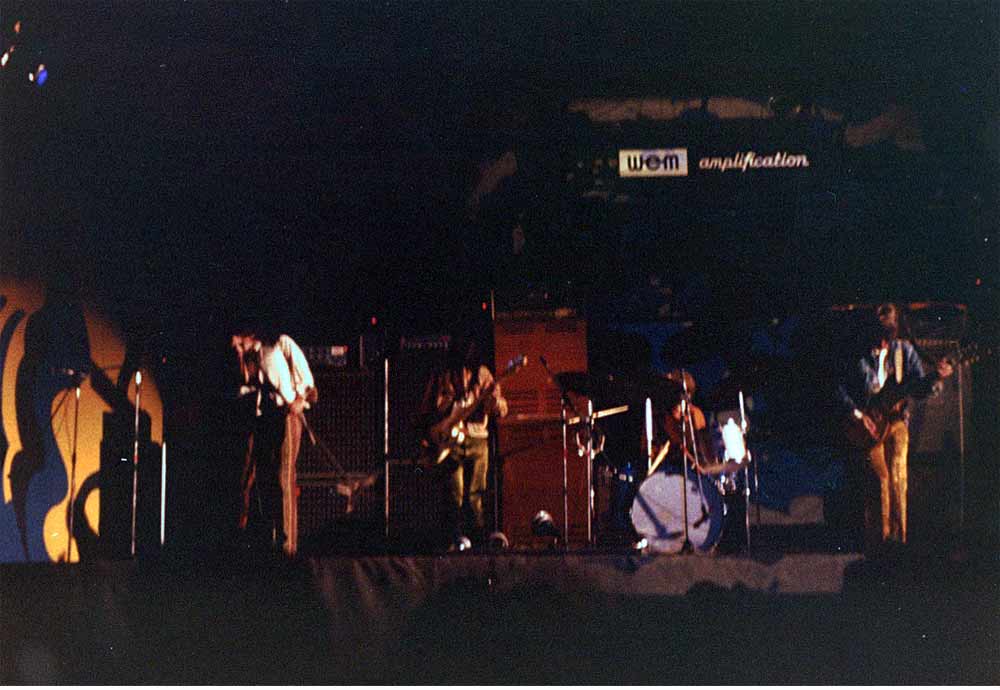 Jeff Beck and Rod the Mod : Sunbury 1968 © Klaus Wachtarz

The Jeff Beck Group were on whilst it was still light, I remember they had a lot of really cool looking liquid projectors above the stage but one could hardly see them due to the light conditions, it was just towards the end of their set that it became dark enough for the patterns to be seen at all- then they looked pretty mind blowing .
A set from Sept of 68 has them delivering
You Shook Me - Let Me Love You -The Sun Is Shining - Instrumental- Shapes Of Things -Jeff's Boogie -Blues Deluxe -I Ain't Superstitious -Bye Bye Baby -Rock My Plimsoul -The Sun Is Shining- Rock My Plimsoul
Anyway- this was a kick ass show, which was to be expected , as Beck was ( and still is ) one of the best British guitarists EVER. A bloody infuriatingly reclusive and unpredictable sod too though, as he rarely tours, puts out an album about once every half decade and then disappears again for another three or four years.
This was one of his more productive periods and was just about one of the best Jeff Beck rock bands he ever assembled. With Rod Stewart on vocals , Ron Wood on bass, the awesome Nicky Hopkins on piano and Micky Waller on drums , this was a band capable of delivering some grunt when needed.
I suppose now that Rod Stewart has become such a middle of the road artist one is inclined to forget that he was pretty damn good in the late 60s and early 70s. Rod had a powerful, distinctive voice and he used it to the max during his time with Beck, which lasted from Feb 67 to July 69. This line-up of the band had been intact since around August 67 , so by this time they were a well integrated unit who laid the metal groundwork for other , more bombastic heavy bands who achieved far greater fame and financial rewards in the coming years.
"Best in mind I have the gigs of Jeff Beck Group and Baker/Seaman/Clapton. Rod Stewart in a white suit sitting on the left side of the stage, his voice duelling with the guitar of Jeff Beck. Simply great! "

Franz Murer
Although my memories of the exact set may be hazy, I can clearly remember how poor Rod the Mod came under fire from a bunch of Geordies who had clustered fairly close down the front and heckled him repeatedly about his sexual orientation- probably due to his stage gyrations and over the top threads, although there were rumours that Rod swung both ways circulating around the UK for years , regardless of how many beautiful women were to be seen hanging around him - in fact the more this happened the more the rumours seemed to proliferate - I remember I had a friend who used to repeat the most anatomically impossible feats that poor Rod was supposed to have committed and he believed every word. Just what inspired all this twaddle , jealousy ? Most probably .......

At first the heckling was just vocal, but after a while as the Geordies became more pissed they started to pelt the hapless vocalist with beer cans - hopefully empty ones , but given the nature of some of those guys I would guess not all were - so eventually Rod was forced to retreat to the safety of the on-stage stacks, where he continued to sing from behind the protective wall of amps. Way out of order by the Geordies I thought, although it was also quite funny and Rod was not hurt ( apart from his pride of course ) .
Beck was of course the Geordies hero and he played up to them , so the set continued without any further damage . Nicky Hopkins was great as usual, hammering the hapless piano into submission, whilst Beck was in fine form entertaining the crowd with some strong solos and jamming. Overall it was easy to see just why Beck had achieved his reputation and in this group he had a unit who could deliver the goods .
But of course , in the Beck universe this good fortune could not be allowed to last , the mercurial Beck sacked first Hopkins, then Waller and Wood - supposedly because they were not heavy enough- and finally Rod himself left to join Woody in the Faces , but it had been a great run whilst it had lasted. Catch their two albums together - Truth and Beckola, which are both strong outings and well worth listening to seriously if you like heavy blues rock.
---
Click here to read part 2 of the first day of the festival.
Click here to read about day two of the festival.
1968 National Jazz and Blues Festival menu.
---
The early festivals.
You can find out the complete line ups of the first festivals if you follow the links below, but otherwise information is fairly limited.

Festivals 65-83
Most of these have fairly complete documentation .
---