Big BIG thanks to our sponsor Neil !

For information on today's festivals see eFestivals.co.uk
Updated Feb 2019, New pictures of the site and audience
Dec 2011 new photos of the Pye Recording crew and Miles Davis's engineer Stan Tonkel and producer Teo Macero
Best viewed at 1920 x 1024 res .
NB: MEDIA- If requesting contact details to use images for publication, please send the url, image file and name of Photographer to us so its easier to give you their contact details. Due to the impermanent nature of the web, people change addys frequently- so we don't have contact with all of our contributors.
The 1970 Isle of Wight Festival. 26th - 30th August 1970.
---
| | |
| --- | --- |
| | Site photographs. Pt 25 |
I'm looking for any pix you might have taken at the festival. Contact us
This new batch of photos courtesy Roy Bowen !
Moody Blues onstage
After Melanie I must of dozed off, as the only other thing I can remember of the Sunday morning was Jethro Tull coming on stage for a sound check, the only band to do so if my memory is correct. During their sound check I went to the front of the stage for a closer look .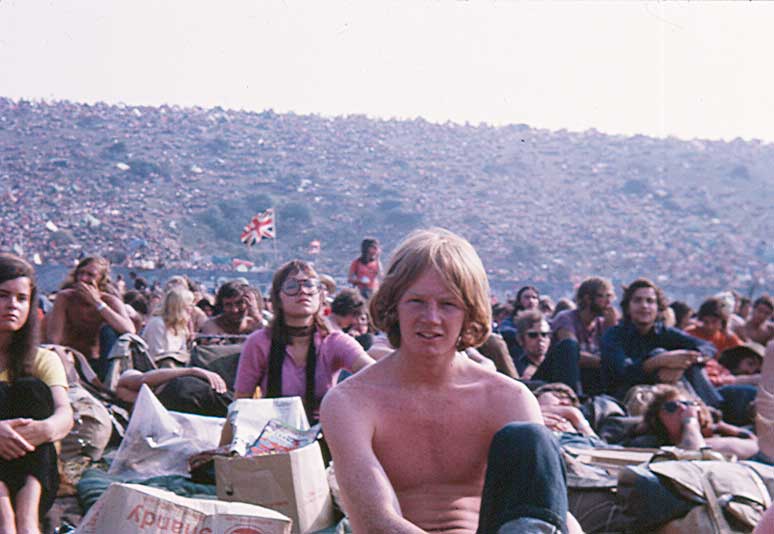 The rest of the day was very hot and the musical highlights for me were Free, Donovan (below )and as the sun went down Jethro Tull. Above is a picture of myself backed by Desolation Row, and as you can see in the picture, some of the beautiful girls at the festival.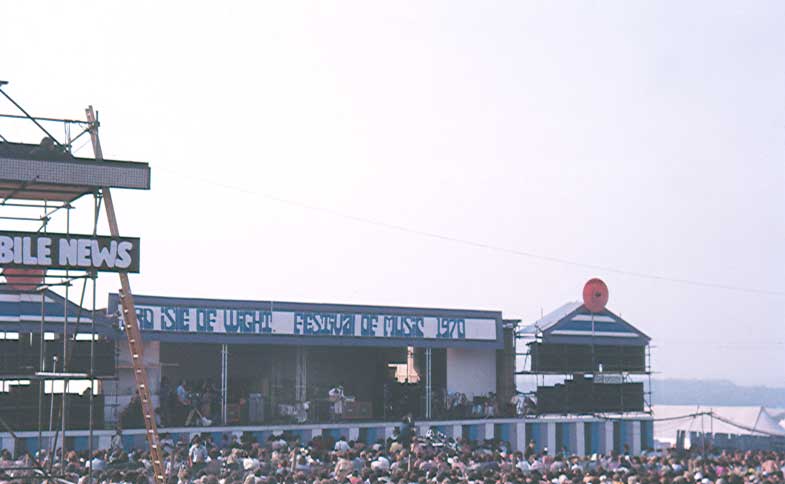 I remember the night becoming quite cold after the heat of the day, and at some time during the night I dozed off to sleep. The upshot of this was that I missed half the Jimi Hendrix Experience performance. Over the years I have mentioned to all my friends, that my claim to fame is that I slept through the last Jimi Hendrix performance, but reading other people memories on this web site, I can see I was not alone. Luckily, my mates Kevin and Brian managed to kick me awake, so that I saw at least the last few numbers and the encore.
I have no recollection of the rest of the festival, collecting our tent from Desolation Row, the walk back to the ferry or the ferry crossing. The only vision that has stayed with me is of walking out of the site and looking at the mountains of rubbish. Peter Townsend was right when he wrote about a "Teenage Wasteland"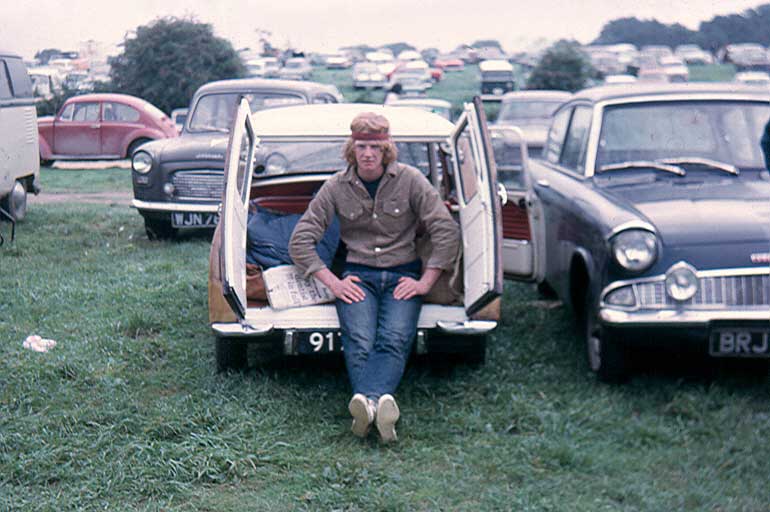 The last picture was taken in the temporary car park at the Lymington ferry port. It shows me looking the worse for wear just before the long drive home. The cars in the picture look very dated and bring it home to me that the festival was now over 36 years ago, but I wouldn't have missed it for the world.
Good times, good music, good memories and most of all, good friends.
Roy Bowen
---
---
Check out this link for more photos of the festival
---
Contents
Isle of Wight 1970 festival menu

updated March 2019


The Underground press- NB: opinions expressed in these articles do not represent our opinions of the organisers or any other people involved in the running of the festival, it is possible that they may be innaccurate in some details or facts.

International Times.

Reports from the "Straight "press

updated March 2019

External links

The White Panthers

---


Other IOW festivals.

If you have any info you can contribute to the site, especially regarding the 1968 and 1969 festivals, such as details of recordings. recollections, programmes, tickets, pix or articles don't just sit there , Contact us

---