Big BIG thanks to our sponsor Neil !

For information on today's festivals see eFestivals.co.uk
Updated Feb 2019, New pictures of the site and audience
Dec 2011 new photos of the Pye Recording crew and Miles Davis's engineer Stan Tonkel and producer Teo Macero
Best viewed at 1920 x 1024 res .
NB: MEDIA- If requesting contact details to use images for publication, please send the url, image file and name of Photographer to us so its easier to give you their contact details. Due to the impermanent nature of the web, people change addys frequently- so we don't have contact with all of our contributors.
The 1970 Isle of Wight Festival. 26th - 30th August 1970.
---
| | |
| --- | --- |
| | Site photographs. Pt 21 |
I'm looking for any pix you might have taken at the festival. Contact us
This new batch of photos © Roy Bowen !
Where to start ? I guess at the beginning.
I travelled down to the festival from South Wales with two of my mates, Kevin Williams and Brian Morgan.
I think we left on the Wednesday afternoon in Kevin`s Mini Traveller, and tried to get a ferry from Lymington to the IOW on the Wednesday night. I guess everyone else had the same idea, as we had to park the car up in a field overnight close to the port and travel the following day as foot passengers on Thursday morning.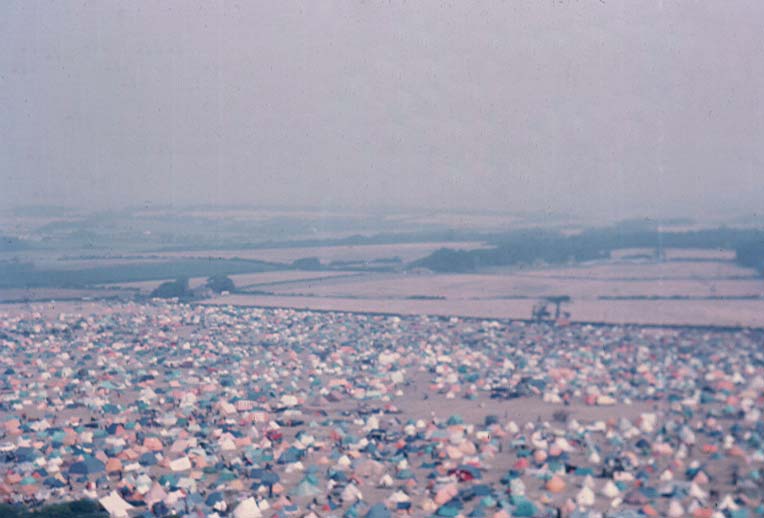 The photo`s show the view of the fesival enclosure and the village of tents just outside the main arena from our camp site on Desolation Hill.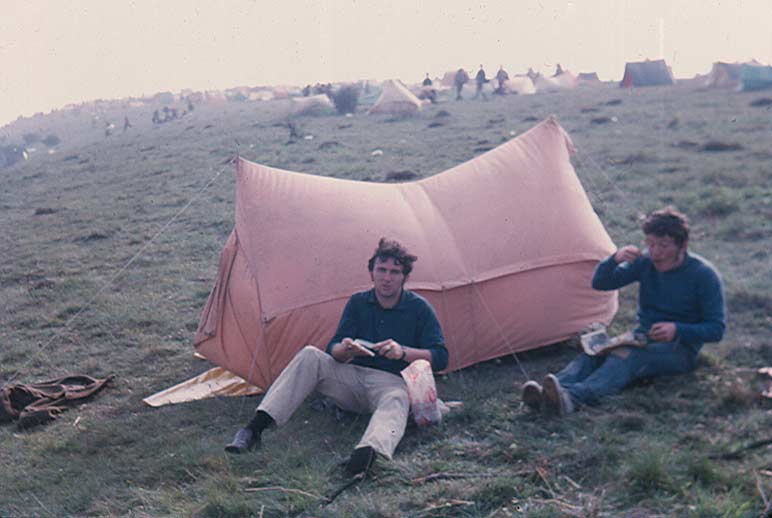 The 2nd picture shows Kevin on the left and Brian on the right enjoying their breakfast on Friday morning, probably the last meal we had until Monday afternoon. We pitched our tent on the hill as the main camp site was very full, and we thought that if we pitched the tent on the hill we could easily find it later, as you can see from the picture there were not many tents around us. How wrong can you be, we hadn`t considered the other 100 - 200.000 people still to arrive. In hindsight it wasn`t a good idea to camp on such a slope as, as you can imagine, we spend most of the night sleeping under the stars having slipped out of the tent in the night.
Having pitched the tent we went to buy tickets, and could not decide wether to get daily tickets or the thre day ticket for 3 pounds, a lot of money in those days. In the end we went for the three day ticket for the Friday, Saturday and Sunday. Having bought the tickets we walked away from the arena back to find our tent, with Supertramp playing on the stage. On the way back Kevin bought a huge melon, and my last memory for Thursday was Kevin chasing the melon down to the bottom of Desolation Hill.
---
---
Check out this link for more photos of the festival
---
Contents
Isle of Wight 1970 festival menu

updated March 2019


The Underground press- NB: opinions expressed in these articles do not represent our opinions of the organisers or any other people involved in the running of the festival, it is possible that they may be innaccurate in some details or facts.

International Times.

Reports from the "Straight "press

updated March 2019

External links

The White Panthers

---


Other IOW festivals.

If you have any info you can contribute to the site, especially regarding the 1968 and 1969 festivals, such as details of recordings. recollections, programmes, tickets, pix or articles don't just sit there , Contact us

---