Big BIG thanks to our sponsor Neil !

For information on today's festivals see eFestivals.co.uk
Updated Feb 2019, New pictures of the site and audience
Dec 2011 new photos of the Pye Recording crew and Miles Davis's engineer Stan Tonkel and producer Teo Macero
Best viewed at 1920 x 1024 res .
NB: MEDIA- If requesting contact details to use images for publication, please send the url, image file and name of Photographer to us so its easier to give you their contact details. Due to the impermanent nature of the web, people change addys frequently- so we don't have contact with all of our contributors.
---
The view from the Dust.

IOW Veterans memories.

Part 1
Photo © Claudio Hosquet, Mauro Radin and Pierlucio Pellissier.

Its been forty one years now since the 1970 festival and memories fade, as everyday we burn out countless brain cells . QUICK , BEFORE ITS TOO LATE , commit your recollections of the IOW to paper NOW and Contact us before they all fade away .

No matter how long or short your message is , we will add it here to preserve the highs and lows of the festival
I notice your personal reporters mentioning that Jeff (or in one case Ted) Dexter was responsible for the between set music at Isle of Wight '70
Partially true, but only partially.
I had gone down to the IOW in my bright yellow van with the idea of laying back and enjoying the music.
It was not to be.
When I arrived at the stage gates (and skillfully blagged my way in) it was pretty obvious that Jeff had decided to help with the frantic business that was taking place backstage; negotiating with the Farr brothers and the various artists about money, that sort of thing. It soon became clear that he could either DJ or BusinessJ - there wasn't time for both. So he and Ian Wright (the stage manager) collared me and asked if I would mind helping out with the DJing from stage right. Only too happy or should that be too hippy.

Consequently I was awake and sort of alert for the next few days spinning records and making various announcements and generally having a good ole time. When Jimi Hendrix came on stage I had been DJing and found myself less than four feet from his Marshall stack. Maybe it was exhaustion, maybe it was the chaos of his equipment failures or maybe it was just the fact that off form or not Hendrix was still Hendrix, but I found myself lying on the stage staring up at this wild afro and thinking it can't get any better than this!!

All in all, IOW was a great experience for me. I got to play some great music, I got to wander around the site bumping in to various friends (including Hwind) on the way. I got to take lots of drugs (who didn't). And I somehow or other got back to London safely when it was all over (though I seem to remember it taking me about 5 hours).

just thought I'd set the record straight

Andy Dunkley
(The Living Jukebox/FM On The Road)

Colour 8mm stills © Claudio Hosquet
---
Memories of Benjamin Horrendous
This was a 5 day event, and I had hitched down alone, arriving about midday on the Wednesday. The first couple of days there were mainly lesser known bands playing, and I spent the nights trying to sleep curled up in my greatcoat against the arena area fence. On the 3rd day, I bumped into a mate of mine, Mark. He had pitched his 1 man tent in a hollow on the hill overlooking the arena. We both slept in the tent from then on. We had a reasonable view of the stage from the hill, and the sound was probably better than inside the arena, so we watched from the hill, and mostly stayed out of the arena, to avoid the litter, drunks, Hells Angels etc. We were both 15 btw.
Acts that I particularly enjoyed were The Doors, Miles Davis, Donovan, Chicago, Family, Melanie, The Who and Jethro Tull. Tiny Tim was the surprise hit of the festival. The increasingly hysterical DJ practically begged us not to give him a hard time, obviously worried that people would boo and heckle. There were a few heckles etc at the start of his set, but he soon won everybody over, and got a tumultuous ovation at the end.
One event that sticks in my mind was this bearded freak, wearing only a pair of dirty underpants, shouting and babbling mostly nonsense to anyone who would listen. A small but growing crowd of amused and bemused onlookers had gathered round him. He claimed to be from the 'Manchester Guardian'. I remember him asking this shades-wearing Canadian hippy where he'd come from and why he was there. The Hippy replied something like, "For the peace and love vibes, man". The freak put his arm round the hippy, mock-extolling his virtues to the rest of us, and with his other hand he removed the guys shades, broke them in half, and stuffed them into the guy's top pocket. You could see the hippy's 'coolness' evaporate, and he became a tearful, frightened human being.
Some bare-chested, heavy looking 'White Panther' guys had joined the onlookers, and the freak shouted, " Hey, White Panthers! Brothers! I'm one of you!"
The heaviest looking guy replied menacingly, "What do you mean, one of us?"
"I'm a White Panther too!"
"How do you figure that?"
"I'm wearing your uniform!"
"What uniform?"
"No shirt!"
"Yeah, but I still got my pants on!"
I later heard that the freak had been ejected from the site, but had made a triumphal return, riding on the roof of a taxi.
Mark left early on Sunday evening, but I stayed on to see Hendrix. I went down into the arena and fell asleep waiting.
When I woke there was this terrible tuneless racket coming from the stage, so I decided to go, thinking I had missed Hendrix.
Only later did I realise that it was Hendrix I had heard when I woke up.
---
Oh yes, this is the Hendrix IOW festival - I was on stage for Jethro Tull and Jimi. At one point everyone was cleared from
the stage because of a fire alarm. Hendrix came off a yard or two away from me. I felt like putting my hand out and asking him to shake it - but I felt that that would be so UNCOOL man, and didn't. A week or so later he was dead and I've regretted not shaking his hand ever since.
I could tell you stories about the IOW that would make your hair curl. Well, perhaps your Rizlas roll. A friend called John (I'd better not reveal his full name, in case he doesn't want me to - I lost touch with him 25 years ago) grew some massive plants (ten foot tall) and we took a load of leaves, nay branches, down with us in a little old standard 7, I think it was. Four of us crammed into this car (and three of us tripped out of our heads) with not just our own camping gear, but stuff for several others too.


Once we arrived, we somehow managed to meet up with around ten more of our mates and formed a semi-circle comprising four or five tents - all covered with a plastic sheet forming a sort of conservatory. We then hung up branches from the plants to dry. We'd leave them all day whilst we'd wander around in a stoned haze, come back in the evening to find that nothing was ever touched. Quite remarkable.

There was the crazy golf at Sandown (??) - again tripped out of our skulls.
Amazing. Oh, if I was only young again, I'd do it all over - no regrets.
---
Tony Reed
who attended the 1969 concert
I stumbled across your site almost by accident; I'd just downloaded "Wild Mountain Thyme" from the 69 concert from Napster, and out of curiosity, I searched Google for some more references.
I was 19 that year, and travelling through Europe, as middle-class North American kids did then in the summer. Airfares were cheap for students, and you could go almost anywhere, including Algeria and other places I wouldn't dream of going now. I met Australians who were taking the "overland route" home; I doubt that that route still exists.
I got to the site on the Isle of Wight about, I don't know, 5 days or so before the concerts, with something like ten pounds in my pocket, and got a job digging toilets and putting up concession tents. All the good jobs, like building the stage, for instance, had been taken by Americans (and, yeah, by guys with carpentry skills). I met a bunch of people working there and we all lived in a small encampment we called Desolation Row. What else were we going to call it?. We even got semi-famous, and had a "journalist" from The People stay overnight who then went back to London and wrote a nasty piece about us. We got our pictures in various local and London newspapers and on the telly smashing up an old piano that the farmer gave us. I don't know why he gave it to us or why we smashed it up. It made some kind of sense at the time.
Later, we got mentioned in Scaduto's bio of Dylan, although he got it wrong: I was the only North American in the group, which included a guy from the Midlands, some middle-class London kids, and a genuine Scottish tramp.

After the concert, that Monday morning, we were all going to stay and make some money helping with the big cleanup. Except that it was so truly desolate with the concert over and everyone just gone away and mountains of garbage all over that we just went home and forgot about it. Later, when I was back at UBC, I got a letter from one guy who was actually promoting a rock show of his own . He must have learned something while he was there, I guess. I have no idea what happened to the tramp.

I don't have the pictures that appeared in the papers any more, or the Moroccan wallet that I kept for years with that "Help Bob Dylan Sink the Isle of Wight" thing pasted into it.
Anyway, sorry to ramble on, thanks for putting up the web site.
Tony Reed.
---
Isle of Wight was a total life changing experience for me. Several pals and I had planned to hitch from Glasgow. In the end I went alone - a naive 17 year old driving 600 miles on a 150cc scooter at 40mph. I arrived Tues. and was there when Ralph McTell opened the festival on Wed.
The start suited me. My main memories are Joni Mitchell in tears. Don't believe the stories about some religious freak on stage that caused it. Indirectly it was me. During her afternoon set we were content to suffer her act. We'd come for loud rock and it had to be damned good to be otherwise acceptable. Workman had climbed the two large scaffolds where I sat just behind the press area. They were placing heavy lights on top in preparation for "Tommy" that night. I suddenly noticed the cantilever arrangement supporting the heavy lights had began to bend towards collapse possibly crushing the people below. I stood up, waved and shouted hoping others would notice my concerns. They didn't. The people beside me thought I was booing Miss Mitchell and quickly joined in. Within a second 600,000 people had also joined in, booing, whistling and crying out for rock music. I apologised to Joni Mitchell 30 years later.
Rikki Farr and Ted Dexter, the MC's, did OK. They had quite a job looking after us all. I still wonder why they kept trying to sell us Kaftans at £4 each ! They would play T. Rex , Ride a White Swan during breaks. We liked it.
We did not realise it was a pop song till later. A fast reel version of Amazing Grace would follow, remember ?

Kris Kristoferson nearly started a riot. Never liked him since.
Rory Gallagher and taste played 5 encores.
Donovan brought on the Kids.
Hendrix was hazy and subdued.
Arrival should never have been there.
The climax had to be the ending. Was it planned ? As Ritchie Havens sang the last song of the event, "Freedom", the entire stage went up in flames. Wow.
John McDonald
---
Keith Webley.
IOW '69
Very little memory. I was 17 and went on my own. I think I went by train. As to when? Who knows At best it would have been Saturday and Sunday, but might just have been the Sunday. So what do I remember? Being aware of Bob Dylan on a stage a very long way away. I think there were small fires around and my one concrete memory was getting slightly stoned via passive smoking. There was just so many people "smoking" that I got a little high, my first time. What a shame, I was at the Dylan IOW and can't remember a damn thing!
IOW '70
Went down on my own on the Wednesday, a few friends planned to go down at the weekend. My father drove me to the A3 and I hitched the rest. The guy who gave me a lift claimed to be the father of Jacqui McShea(?) of Pentangle. I managed to spill some drink on his back seat as the bottle in my rucksack was leaking. Seem to remember catching the ferry across and then getting a bus to the site. It was pretty quiet at the site and there was a really friendly atmosphere in the arena(yep, I had paid for a ticket). Don't remember much about the bands playing. What do I remember?

Being allowed to sleep in a large marquee until the weekend when it was needed for other things and then sleeping under the stars.
Eating some fabulous porridge for breakfast, with salt. Never had that before, I was definitely a 4 spoons of sugar man.
Meeting another guy there alone and we hung around together until Sunday.
Going swimming in my Levis and having my picture taken by a Fleet Street photographer when I came out.
It was probably the Buddy Holly glasses that I wore at the time :-)
Sitting in the arena, blissfully unaware of any "bother". Sharing food, drink & drugs with everyone around us.
The guy who kept telling me that "They've got a cannon, man!" during ELP's set.
Tiny Tim being a huge success, he had thousands of us singing "Tiptoe Through The Tulips".
John Sebastian being about as stoned as one could be while still being able to play a guitar (I have a very poor quality bootleg of his set).
Amazing Grace by The Great Awakening, a sort of anthem for us all.
Bumping into my mate Paul at the toilets; he and the rest were up on the hill, so I joined them.
Watching Hendrix walk on stage and then waking up to Joan Baez, I just totally crashed out.

Space- a rare commodity, this was taken early in the week... it certainly wasn't like this on the weekend !
Keith Webley.
---
BOB
I was there for the entire week having left canada with a one way ticket and $300 dollars five months before. I took the ferry and hitchhiked to the site and met a great british girl on the way. I stayed on the hill for the week with no interest to enter the fenced area. There was lots of great music especially mungo jerry, chicago , free, family, who and leonard cohen ( who I met in london after the concert). Hendrix was delayed so long that i had fallen asleep and woke up to the star spangled banner blasting through the night. I will never forget that. People were very friendly. I stayed a day after the end as the crowds were gigantic trying to leave. Even if it was not perfect i wouldn't have missed it for anything. Thanks for the site ashere in north america all I hear about is woodstock
BOB
---
BILL FORD
I went to the festival solely to see Melanie on the Friday night. At the time she was a very obscure singer-songwriter with, I think, just one LP "Bobo's Party" released, which my mate Alan May had played me.
I arrived with very little money and a ticket for Friday night only and she was n't bloody on but was re-scheduled for Saturday !
Who was ? Well, I remember Voices of East Harlem, Fairfield Parlour and I think an early version of Supertramp. It was a very clear but very cold night and I slept under a blanket - all I had with me - in one of a number of large sideless marquees that had been erected outside the festival enclosure. I awoke at around 6.30 am and have never felt so cold in my life.
I bought a cup of tea and was shivering so much I spilt most of it down myself trying to drink it. Next to me when I awoke was a blonde girl from Mill Hill in London called Jackie Gannon. She had a ticket for Saturday but I did n't. When later I walked with her to the enclosure entrance,however,I saw a guy rub his hand on the still wet ink-stamp pass-out on another guy's hand and enter using that. I adopted the same trick from the hand of a bloke who'd just come out and who looked friendly and Jackie and I were in !
The bands that I remember that day/night were glorious. ELP, second ever gig I think, sounding great before they became too portentious, The Who blasting Tommy into the night, The Doors (The Doors !!) with Morrison leaping in and out of the spotlight plus the oddity of Tiny Tim and of course Melanie who I thought was brilliant.
The compere was Jeff Dexter from Middle Earth in London and he played excellent music, notably a lot of stuff from Joni Mitchell's "Blue" album that I bought soon afterwards plus American Kaleidoscope and Dead tracks and a multi-tracked guitar version of "Amazing Grace" by, I think, the Great Awakening

The festival descended into chaos as the anarchists from France broke the fences and Ricky Farr went loopy on the stage. The BBC film of the event captures the madness well though at the time I wasn't very aware of it.
What I do remember was the sheer scale of it, half a million people and that, amazingly, in all that vast crowd I met by chance my mate Bruce who was camping up on the hill they called "Desolation Row" without a ticket.

I was in a state of personal crisis at the time because of a few traumas in my life. I had been sacked by my band for being too political, had broken up with my long-term girlfriend and been badly treated by a subsequent lady whom I idolised. Jackie, whom I met there was, for some reason, an incredible calming and good influence on me and we stayed friends, with no romantic illusions, for many years before losing touch. If anyone reading this knows where she is I'd love to know !

Bill Ford
---
Michael Corke
Never got to Weeley but lived on the Isle of Wight so yes I was there at the ISLE OF WIGHT FESTIVAL OF MUSIC AND LOVE and we loved all 3 days. I was 17 then and now 49 living in Cape Town South Africa, I ran Radio Free Wight with a few friends Richard Brimson ( Brillo), Kieth Blayney (Keef) Michael Corke (Korky) great fun but where are the festivals and pirates now ?. My son tells me he is cool, so man we must have been Bl..dy hot. Great days hey guys , I now sit in an office and on the odd evening watch the video of the Isle Of Wight Festival, hi to the guy who held the chimney sweep brush up in the middle of the crowd as I would never had found my mates.
Thanks to the web master for the memories, and to all the bands and friends who knew Korky.
Michael
---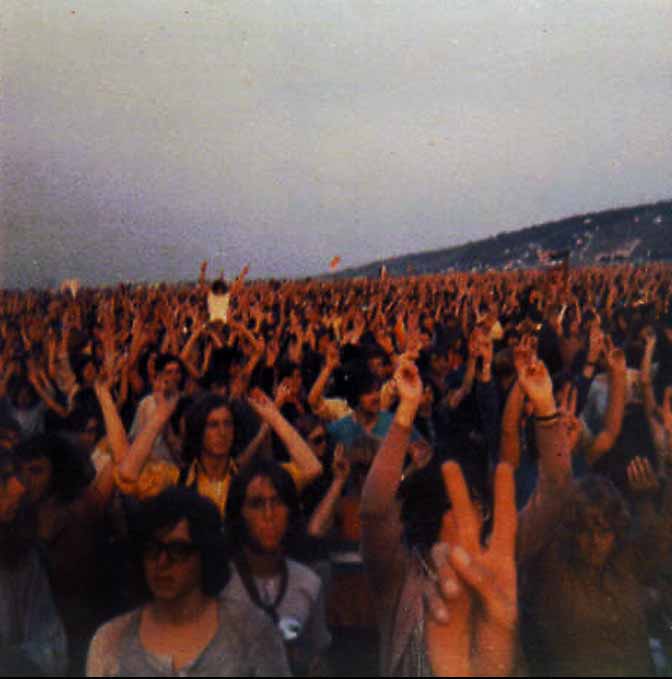 © Richard Dow
Paul Strauser
First - Really great web site you made. Must have just added it as did not see it a few weeks ago.
2nd - Was on the hill & remember nothing but great times and main memory was when Kris Kristofferson was booed relentlessly as he tried to sing a parody song "Blame it on the Stones".
Also, how can you not remember "Amazing Grace" waking you up for another day of music.
Also, arriving the night before the opening day to a very festive, circus like atmosphere from the middle ages.
The "hay bails" that many used to mark off home space.
The slight rain when it was over and the walk through the streets to the ferry.
I'll send any other memories as they occur, added your site as one of my
favorites.
Paul Strauser
Fort Worth, Texas, USA
---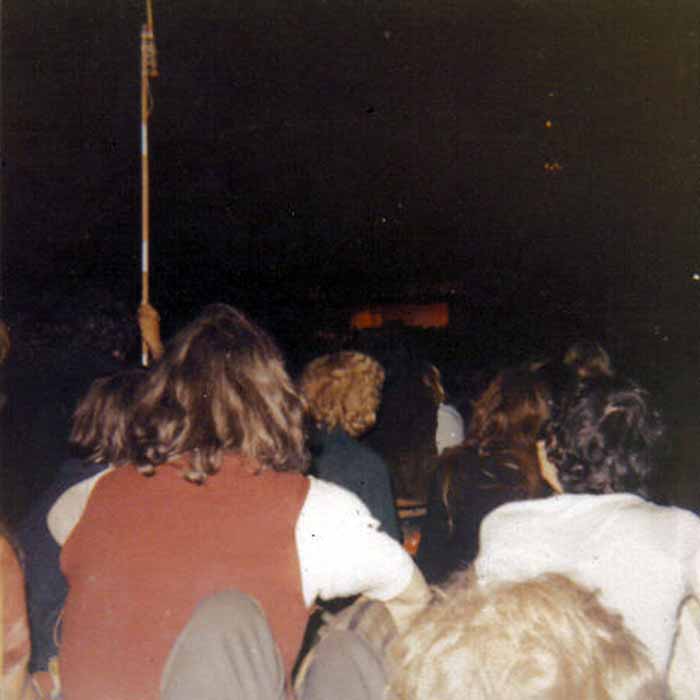 Do I spy a stand for microphones on the left ? Or is it just another flagpole ? © Richard Dow
Simon C
Not sure if you guys are still collecting "memories" of IOW Festivals but here goes...
I was at the 1969 and 1970 Festivals, and at the 1970 giant fest I was one of those with a ticket (good catholic boy!) "forced" to go on the hill because it was a marginally better view than from the back of the auditorium itself...
Anyway it was great on the hill and we watched in bemused (and rather stoned) wonder at the antics of the French Anarchists and the other freaks who were "up against the pigs, maaan"... As Lou Reed once said those were different times!
So we are up on the hill on - I think - the Friday night and some folks had set up precariously-angled tents along some of the scrubby hillside. As the evening wore on we saw a couple enter one tent and do whatever they felt they needed to at that moment... much movement, cheers from surrounding freaks... movement subsides... sleep would appear to have nestled inside that little tent (at a rakish 45 degree angle).
An hour or so later (gold leb-induced temporal dislocation notwithstanding) we notice slight movement at one end of tent... then more... then.... appearance through precariously-sited tent entrance of end of sleeping bag!
Gradually more and more sleeping bag exited the tent which had been pitched (brilliant!) so the opening faced towards the bottom of the hill!!!
Eventually the whole bag exited and gently moved down the hill with he two young lovers together in the single bag (how romantic) blissfully unaware of the nature of their impromptu expedition...
The sleeping bag (with contents) came to rest on one of those little scrub bushes which dotted the otherwise bare hillside and stopped... I do not have any recollection as to when (or, indeed, whether) these guys got it together to go back the five yards or so to their tent, but, hey... we were so exhausted from laughing that I slept for hours!!
Anyway... with this kind of stuff going on who even needed the dope? Happy
Days!
Simon C
---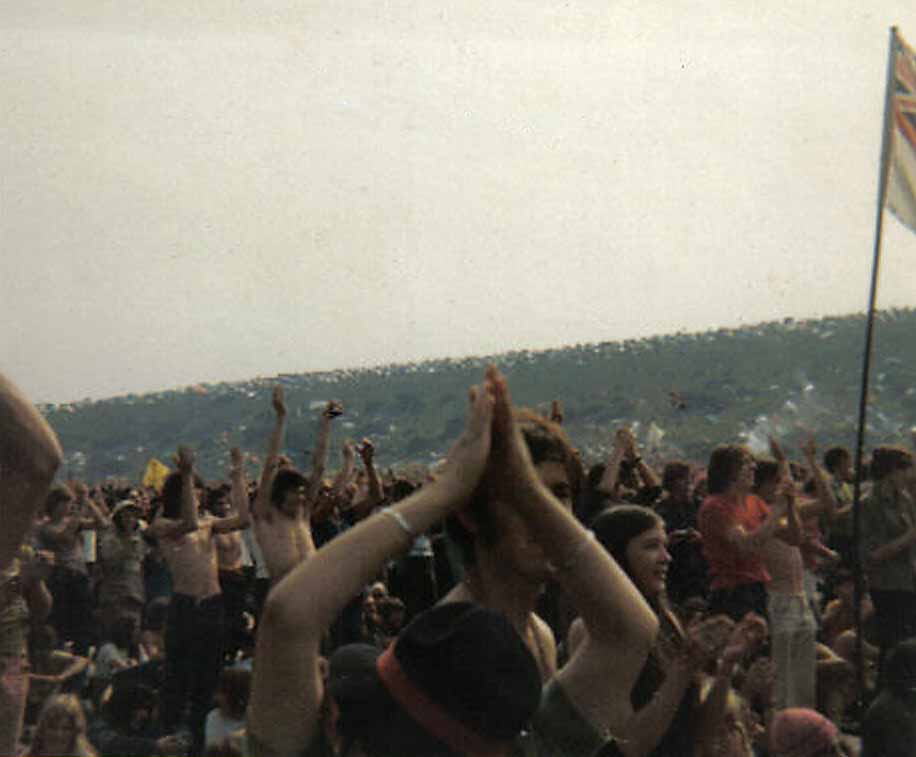 © Richard Dow
abi.gassmann
Plunged into murky memories by a Sat-TV rerun of Murray Lerner's film...
I was 15 at the time and hitched from London... getting a place on the ferry was an adventure in itself. As other people on your site have said, my memories of the festival are better than that. Much. Being somewhat stoned might have something to do with it, but doesn't explain all the discrepancies. Sure there must have been odd hiccups and clashes with police, but I actually had a couple of very sweet encounters with cops over the course of the festival. One helped me find a phone which actually worked to let me call my mother (reverse charges, natch!) and tell her that no, the island wasn't about to sink into the channel... whoever you were, thanxxx, 30 years on!
I remember a lot of memorable performances, then the devastation just weeks later hearing that Jimi was dead (plus the totally bizarrre way I found out: on a school bus back from hockey practice... some of us distracting supervising teachers, while the rest of us were chucking money at the Evening Standard guy on the corner by the traffic lights.) Having seen him at the Isle of Wight just weeks earlier...
"Tear down the fences" had a lot to do with general dissatisfaction with society (remember, this is the height of the non-war in Vietnam. We had lost RFK and Martin Luther King. We were angry - the festival organisers were unfortunate enough to be in the way. Wrong place, wrong time, wrong issue.)
I remember a lot of beautiful moments: Leonard Cohen getting everyone to light a light (and yes, yes, I know this has been done to death ever since, but those lights flickering all over - even on the illicit hill - were quite something, the first time ever, I think); Richie Havens and 'Here comes the Sun' at dawn on whatever morning it was... Hawkwind outside the fence... The mysterious Supertramp graffiti...
Helpful Angels... bad press and Monterey notwithstanding, big bikes and leather jackets do not, de facto, make devils out of guys on big bikes.
The whole thing has been analysed to death by people who weren't there. It was an experience, never to be repeated...
greetings
abi.gassmann
---
Kevin Poole
Hi
I've just been looking at your website for the Isle of Wight Festival 1970. Which I attended when I was 17. You mentioned that the programme was a tabloid newsprint job. But I remember it being a glossy programme, somewhat bigger than A4 letter size. I had it for years too, until it disappeared during one of my many moves. I think I purchased it from a record shop in Old Holborn, London from where I bought my ticket also.
I know it was considered a disaster on an organisational point of view, but I still have very fond memories of my 4 days there. Good weather, good music and a great atmosphere. Hopefully, never to be forgotten!
Regards
Kevin Poole
( we now have a copy of the official program on site )
---
What a treat to stumble upon your web-site. Didn't realise there were so many other 15 year olds at this life changing event. Must have been some rite of passage. People who have mentioned the Friday start forgot that by Friday some of us had already enjoyed 2 full days of great music and had already created not only a friendly, happy community, but our own heroes.
Tony McPhee of the Groundhogs onstage on Thursday

David Bromberg seemed to catch the mood perfectly (and played several times just to make sure!). Personal favourites Black Widow and The Groundhogs were a real treat. The weather was unfashionably kind and by Sunday I was very ill with sunstroke. I was found outside the festival grounds in a ditch, taken to a place of refuge where I slept solidly for 18 hours and woke up mortified to realise I had missed Jimi Hendrix. Of course, it was only later I was to realise the full implication of missing him that night.


There were plenty of musical highlights. John Sebastian, Melanie (who sang as the sun was rising - very fitting), Joni Mitchell, Tiny Tim, ELP, Gracious! Miles Davis, The Doors ... now that was magic. Perhaps I was just too young or exhausted to be properly discerning, but The Doors were great. No-one else could have managed a performance with such minimalism. Jim Morrison hunched over the mic and the stage bathed in red light. Nothing else. No frills. Next to no movement. Just sheer brilliance. They made a convert that night. The Who couldn't keep me awake with all their energy. Their set did not come near to touching me (didn't start well with Pete Townsend(?) announcing they were on the same stage as last year, playing the same instruments and the same songs - who'd want to see The Who with the same instruments as at a previous gig !!!!!), but The Doors ...!
There were lots of things happened at the festival I didn't understand. How come, for example, Kris Kristopherson was received so warmly on the Wednesday or Thursday and by the time he played the main event a huge number of people in the crowd were making so much noise banging cans together? I never understood why Ricki Farr had to come and berate a fantastic audience. I hadn't done anything wrong and nor had anyone near me. What was all that about? And the pulling down of the fences? Setting up a festival site next to a hill? Not really very clever, but maybe hands were tied. No, my memories of the 3rd IoW are abidingly of sun, great music, lovely people, weird goings-on, nightmare toilets, Ride A White Swan being played at every opportunity ... oh, and the sunstroke. Wouldn't have missed it for the world ... and I'd do it all again if opportunity arose.
Derek Paice
---
wow! where do i start. I remember hitchhiking with a friend Derek Dye (who now lives in France somewhere), from Stevenage in Hertfordshire. We had tickets for the entire event and arrived a few days early, We slept in a field in a makeshift tent made from disused fertiliser bags one night, God how sad. another night prior to it all kicking off on the beach where the coloured sand is, we met some other people and it was all really very nice. The weather was great and everything was just great.
I remember putting our tent in the field at the far end opposite the stage and spent the first day and night in the large inflatable tent thing where if i remember we saw the Groundhogs -its all a bit of a blur!!

The first day in the main arena followed a crushing queue to get in we were just swept along in a big mass where I saw several tents just get squashed. We managed to get on the stage side of the footpath that cut thro the main arena so we had a fairly good view, if that was at all possible.

I remember it being extermely hot and wathching Free do an afternoon set and Rory Gallagher and Taste sadly no longer with us doing the business. Obviously the ones that stick in my mind and worth entrance fee alone have got to be Ten Years After doing 'Im Going Home' The Doors , Jimi Hendrix, and The Who playing what seemed to be forever and then blowing up the stage?

What sticks in my mind was how the weather changed that early morning when it all finished, people left and some stayed we stayed and eventually got forceably removed by the police and threatened with arrest for allegedly stealing corugated iron sheets, hey! but thats life.

I have returned to the Isle Of Wight several times and dragged my family in search of Afton Farm - finished up in a pub just around the corner to ask directions (how the memory fades) a couple of locals plus the landlord were the only people in the pub and looking to close at lunchtime, One of the guys thought i had been sent by his wife to wind him up as they had just been talking about the festival and what they had been doing at that time, and they thought it extremely wierd that I should just walk in and explain that I was on some sort of pilgrimage.

They brought me a drink and we chatted and it did feel like it was only just the other day that we had had this great week of music and fun! I stood alone in the middle of Afton Down and found it all quite emotional my family in the car not really understanding what exactly I was on, great memories of a great time , but then you did have to be there did'nt you?

Kind Regards
Pete Dawson -Who would like Derek Dye to get in touch as he wishes to make contact after all these years .
---
Hi to all the veterans of the IOW festival,
I was looking up for some information about my family tree and then I said to myself ( not being much of a web user ) why don't I type in my whole name to see what happens. To my surprise I came across your site and found my best school mate talking about me and our fantastic time together at the festival.
I'm talking about Pete Dawson who I haven't seen for at least 15 years.

You see I have lived in France for over 30 years now and during that time I met Pete only once and only for about 5 minutes as we had bumped into each other in a supermarket in Stevenage. So, I think you can all understand how I felt by seeing his text about the festival and me being on the web.

There are things he says that I don't recall but our night on Alum Bay beach, I do, because Pete forgot to say that we slept on the pebbles and the tide woke us up in the middle of the night!
One thing I often tell people about (especially my pupils as I'm a teacher) is the afternoon that Pete left us to get closer to the stage to see the bands and as there were so many people it took him hours to reach it and then a hell of a time to get back.
People all around us had put up sticks and branches and tied a tee-shirt or towel on them and I couldn't really figure out why. But one day when I went to get myself a bite to eat and turned round and saw the thousands of guys and girls sitting there I just wondered how I was going to make it back to Pete but luckily I recognised one of the home-made flag things and I managed to get back in the end!
There is also one thing that I often tell people about and which I suppose is my best memory, is that I saw Jimmy Hendrix in concert and was one of the last 4 or 500,000 lucky people to see him alive!
It was what I call my Jimmy Hendrix Experience.
Derek Dye.
---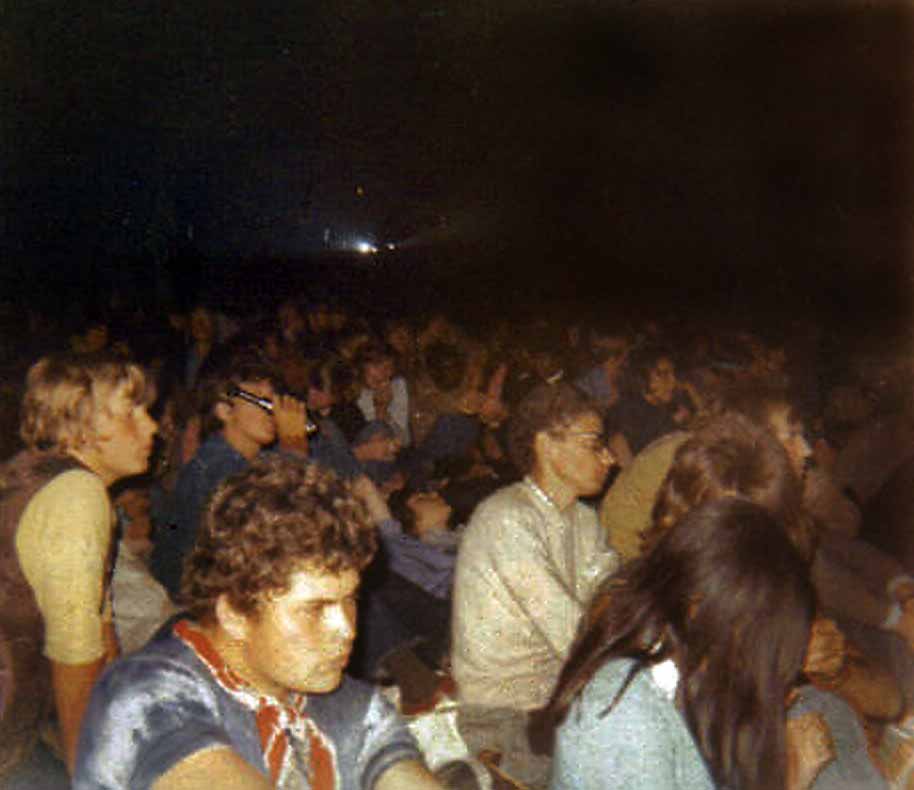 © Richard Dow
can't help but notice you have no reports from girls. I was 17, went to Switzerland to work as a maid for most of the summer, heard about the festival after I began to travel at the end of the summer and knew I needed to be there. I missed the first day - only saw four days. Bought my ticket and sleeping bag in London and headed on over. I actually spent much of my time on the hill even though I had a ticket. I remember Jimi Hendrix coming on very late at night, and I fell asleep. I was/am so bummed I did not stay awake through that last concert, but it was so late.
I remember the Who playing Tommy. I remember Tiny Tim and how fun he was. I remember the trenches in the arena with the bathrooms, such as they were, where everyone lined up to wash and clean themselves. I remember the boys looking over the tops of the girls porta-pottys. I remember the food was atrocious, and we lived on jelly rolls when the real food ran out, way too soon. I still have my blow-up tiger that came with my jelly-roll. I experienced my first LSD trip to the sounds of the Doors. I watched the fence being smashed down in the effort to make it a free concert. And I sat in the 5 mile line to get transportation off from the island. This was one of the best experiences of my life. I am so glad that I was a part of it.
Jan Nelson
---
It is interesting for me to see this, as I was there for the whole time and ended up working backstage. I was 17 at the time, a kid from Seattle. When Jimi was backstage, i said to him: This is a long way from Garfield High, huh?" He looked at me kind of weird and I then said I was from Seattle and went to Garfield. ( His high school also ). I later saw him at the German rock festival a week later, Insel Fehmarn, where I worked as assistant stage manager and also for Fotheringay.

No one seems to remember that this was the last major place where Jimi played. And if you think the Isle of Wight was a mess, you should have been to Fehmarn. We had to get many of the bands equipment out fast because the German bikers went berserk towards the end of the festival, and turned over trailers, etc, and lit fires before the German police came.

Anyway, I am glad to see the line-up, because I saw Lerner's film and he thought Leonard Cohen came after Jimi and I told him, no, it was Joan Baez. I still think it was her, because I remember her coming up to the microphone and saying , "this is a hard act to follow".

Anyway, I remember it well, including the English bikers making a mess out of the men's can, and swimming in the channel on the other side of the hill. I have a lot of black and white photos of the festival, mostly of the performers, and I will send some if I can find them!
Best,
Ford Crull
---
I and four school pals hitchhiked down to IOW from rural Northamptonshire, with tickets, an orange tent and borrowed sleeping bags but no means of cooking. Pitched in the tented village but spent most festival time on The Hill except for when the arena was deserted during early daytime for lesser bands. Spent lots of time queing for local pub or public lavatories, always got a warm seat, and sure as hell was not going to risk bearing my soul to the world over the swamp that the festival 'facilities' had become. Forget beer and weed, the most valued item was toilet paper. Pubs were generally welcoming, but as five rugby playing teenagers just out of Grammar School, three of whom (not me) had recently appeared in court on charges of 'gross stupidity', and others neatly shorn for university clearing interviews we were rather short of hair and subjected to 'skinhead' taunts from some of the pretentious long hairs. Locals were fine, though holiday makers somewhat bemused. Lots of fun too on the beach and swimming in the sea, but had no idea the festival naturists had 'commandeered' the adjacent beach till we read the newspapers on the way home. Highlights included a cracking set from The Doors, which I have on bootleg, and of course, Jimi, and Family, who had not long back appeared at our school Friday night dance under the soubriquet of The Broodley Hoo.
Unidentified band onstage

Sat on The Hill next to a couple of American girls one of them who, exhausted, gradually crumpled across my legs. I suffered the discomfort like a gentleman. Headliners The Who came on and everyone came to their feet, but I sat pinned and cramped, but with an OKish view. Now I'm sure they played The Overture/Underture at the end of the set as per the 'opera', though the site set list suggests otherwise. Anyway as it reached its final crescendo up leaps the girl screaming with joy, then realising she has missed all or the best part of the set she goes ape at her girl friend...apparantly her absolutely favourite band...I said nowt and hobbled away from the scene much to the mirth of my mates.

On the way back the roads were chock a block with hitchers so we jumped a train and had a good sleep on the way home. A few days later Ackers, a couple of years below us at school, arrives back home having hitched with a broken arm caused when an inconsiderate driver drove straight through his outstretched 'thumbing' right hand...whoops and a key back row player too for the school first XV. I still have the well thumbed festival programme but the copy of The Kids issue of Oz that I picked up there and which I subsequently lent to my mate was thrown in the bin by his mother as pornography...aaargh! And to think we all turned our noses up at the first 'Glastonbury' because the headliner, Marc Bolan, was a 'girls band'.

Regards and thanks for the brilliant site that I return to with nostalgia from time to time.

Richard Bryce
---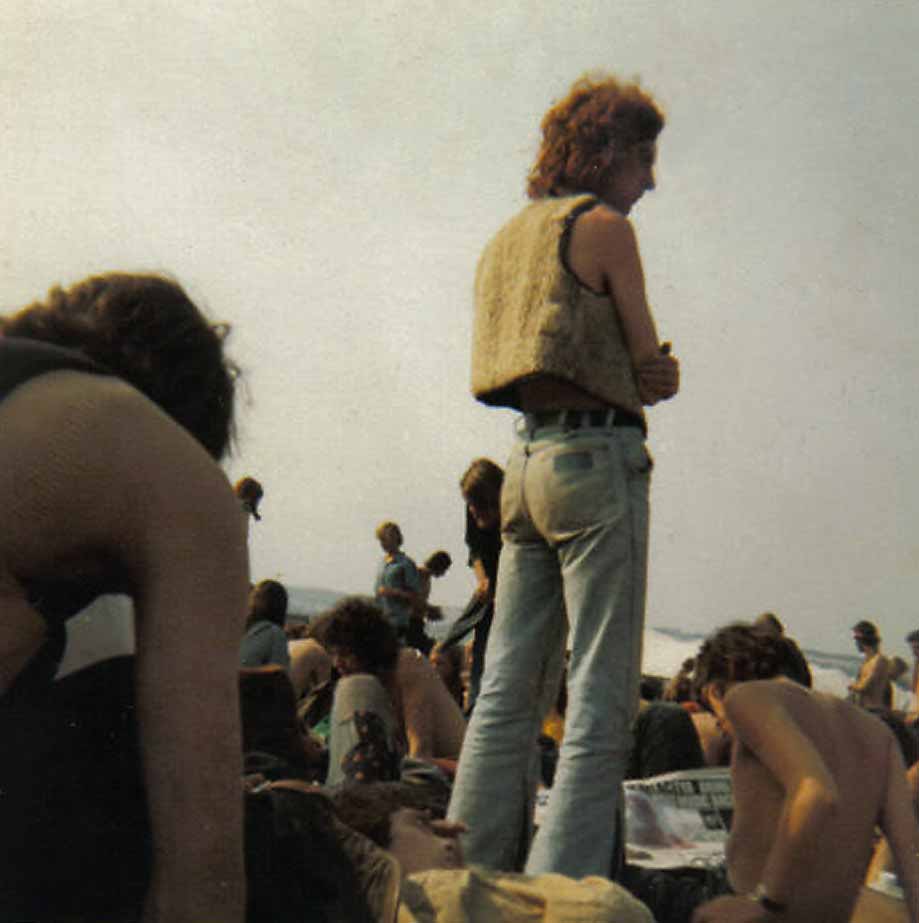 © Richard Dow
Hi

I am originally from Northolt Middlesex, SW London, I backpacked to the Festival via public transport walk/bus/train/ferry/bus/walk with my girlfriend who is now my wife.
It was spectacular and we watched from the hillside because just going in and out of the stadium was a hassle (uncool) and the view and sound were fine from where we were sitting and camping.
We made an effort for Jimi Hendrix and climbed up and watched from the top of a massive pile of coke cans.
Bob @ Mandy Beaver
Perth WA
---
Hi,
Just found your site this morning. Very interesting.
I became interested in the festival through Jimi Hendrix I suppose. I would have been 7 when the festival took place but finding Jimi at the age of 16/17 not to mention the Doors and the Who and many of the other artists that appearded, naturally I learnt of their historic appearences.

I cant tell you much as you can imagine but, I do happen to believe that a guy I used to know who was a builder on the island built some some of toilet blocks and such. His name is Michael Bastable and he was living in St Keverne, Cornwall when I last heard of him. He may have some further info for you site if you can find him.

I believe this is quite probably true as he gave me a copy of both the large and small posters I see on you site. I'd be quite interested in any info you can share with me on these. Are there many in existance? Besides the one on Noel's wall that is.

Good luck and cheers for a great site

Dave Goody
---
I was at the 1970 IOW and was part of Desolation Row. I was 19, from NY, and it was one of the best experiences of my young life. I was there for 9 days, met some fantastic people, heard some great music, and have lifelong memories. My friend Gilbert,a Moroccan/American, and I had just spent the summer hitchhiking around Europe and thought the festival would be a great finish. Unfortunately, the night before we took the ferry, we stayed at a hostel in Portsmouth and someone stole my camera, so I have no pictures. When we arrived, we wandered around, finally settling in what was called " Desolation Row ", probably because there were quite a few Americans and we felt comfortable.
The first night, I met a young woman from Long Island NY as she was starting a fire to make dinner for everybody with whatever anyone would contribute. I don't know her real name, but we knew her as Chicky and she was a wonderful person. If you watch "Message to Love " the movie about the 1970 festival, in one scene you can see a woman with a bandana across her head just watching some people being interviewed, and that would be her. Every night we would gather around a fire and eat, smoke dope, laugh, sing, and as corny as it sounds, listen to readings from the Hobbit . The person who read to us ended up being the one who took the microphone from Joni Mitchell during her set . I really hated him for that, but I was up on the side of the hill, stoned , and probably forgot about it by the time I came down.

He also was the one the organizers came to when they gave out the free tickets to try to stop the Desolation Row crowd from tearing down the walls. I got one of those tickets, never used it and put it away in a book for safekeeping. Unfortunately, I lost the book years later. It would have been a great souvenir. In the movie, they mention the " free " tickets, but they actually were not completely free. We were supposed to come the next day and get buckets of paint and cover the tin fences with " artwork ". When I got there, people were just painting SHIT and FUCK in 5 foot letters and just generally giving the promoters a hard time. We ended up throwing paint all over the place, getting naked and hosing each other down with water.

One night we formed a " Vigilante " party to go after some Scottish guys who supposedly had robbed some backpacks and pulled a knife on someone. We got to their tent, opened it , woke up the one person who was in there, and asked if he was one of the guys involved. He told us to " Fuck Off " and being peace loving hippies ( and not very brave), I think we did just that, telling each other that " I guess he got the message "
We were filmed many nights by a company called Fiery Creations, and I waited years to see myself in their movie, but it never came out. They sold their film to Murray Lerner, I think, and he used some of it in his film. I would love to get some of the footage of our little group, but gave up trying years ago.
There was Chicky, Gene from Princeton on guitar most nights, The Australians with the really old Harley Davidson, the two California girls who made candles in the sand, the girl who had an epileptic fit and fell backwards into my arms as I was going to buy an egg sandwich to cure the munchies, the narcs that were so easy to spot, and watching Hendrix from the hillside.
There is much more from that week that I recall, but I am rambling and if anyone was part of the group, and especially if you remember me or have pictures, let me know. Bernard Boyle. bmbspirit@cs.com

Bernard Boyle

---
Where to start, I guess at the beginning.
I travelled down to the festival from South Wales with two of my mates, Kevin Williams and Brian Morgan.

I think we left on the Wednesday afternoon in Kevin`s Mini Traveller, and tried to get a ferry from Lymington to the IOW on the Wednesday night. I guess everyone else had the same idea, as we had to park the car up in a field overnight close to the port and travel the following day as foot passenger on Thursday morning.
The photos I sent you show the view of the fesival enclosure and the village of tents just outside the main arena from our camp site on Desolation Hill.
The 3rd picture shows Kevin on the left and Brian on the right enjoying their breakfast on Friday morning, probably the last meal we had until Monday afternoon.

Unidentified band onstage

We pitched our tent on the hill as the main camp site was very full, and we thought that if we pitched the tent on the hill we could easily find it later, as you can see from the picture there were not many tents around us. How wrong can you be, we hadn`t considered the other 100 - 200.000 people still to arrive. In hindsight it wasn`t a good idea to camp on such a slope as, as you can imagine, we spend most of the night sleeping under the stars having slipped out of the tent in the night. Having pitched the tent we went to buy tickets, and could not decide whether to get daily tickets or the three day ticket for 3 pounds, a lot of money in those days.

In the end we went for the three day ticket for the Friday, Saturday and Sunday. Having bought the tickets we walked away from the arena back to find our tent, with Supertramp playing on the stage.
On the way back Kevin bought a huge melon, and my last memory for Thursday was Kevin chasing the melon down to the bottom of Desolation Hill.

On Friday morning we made our way to the festival main entrance and were amazed by the security measures. If I remember correctly there was a double fence, which it was rumoured that the security dog`s patrolled between during the night. I also remember the toilets,not a pleasant sight, and my stomach must have decided there and then to go on stop for the duration of the festival.
Within a few minutes of arriving in the festival site we bumped into a crowd of our friends, who had arrived at the festival a few day`s earlier.
We didn't stay with them for long, as we wanted to see how close we could get to the stage and we didn't manage to get too close to the front on the Friday. With regards to the music on the Friday, my main memories were of Taste and Family who were some of my favourite bands at the time.
At the end of the Friday concert we made our way back to our little tent on the hill.
On the Saturday we managed to get a little closer to the stage, and the photograph of the balloon was taken directly after the fantastic performance of Tiny Tim, who really woke the audience up.
During my visit to the front of the stage, I remember passing a guy dressed in a Top Hat, long overcoat (think Slash from and Roses) carrying a tray like the ones used in the cinema to sell ice cream, a very unusual sight for a 17 year old boy from the valleys. I can only assume he was selling drugs but I think he would have made more money selling ice cream as it was such a hot day.
The main musical highlights for me on the Saturday were the Doors, and one of my favourite groups the Who, who played for hours on Saturday night.
And who will ever forget seeing the sun raising on the Sunday morning listening to Melanie.
---
Recollections Part 2.
---
MIchael MacNamara's account of the festival complete with exclusive photographs.
---
Contents
Isle of Wight 1970 festival menu
updated March 2019

The Underground press- NB: opinions expressed in these articles do not represent our opinions of the organisers or any other people involved in the running of the festival, it is possible that they may be innaccurate in some details or facts.
International Times.
Reports from the "Straight "press
updated March 2019
External links
The White Panthers
---
Other IOW festivals.
If you have any info you can contribute to the site, especially regarding the 1968 and 1969 festivals, such as details of recordings. recollections, programmes, tickets, pix or articles don't just sit there , Contact us
---