The Archive: A History of UK Rock Festivals.
Last update February 2014-many new photos of the Who and of the site
Best viewed at1280 x 1024 resolution -lower resolution may give badly formatted results.
Jon Blake, award-winning author and son of the electrical contractor for the 1969 festival, has written a novel about the event. On May 24 2011 (Dylan's 70th),his novel about the festival, 69ers, will be published

Extracts from this, and rare archive material, can be found at his site www.dylan69.com.

Big thanks to our sponsor Neil !

For information on today's festivals see eFestivals.co.uk
---

August 30th and 31st 1969.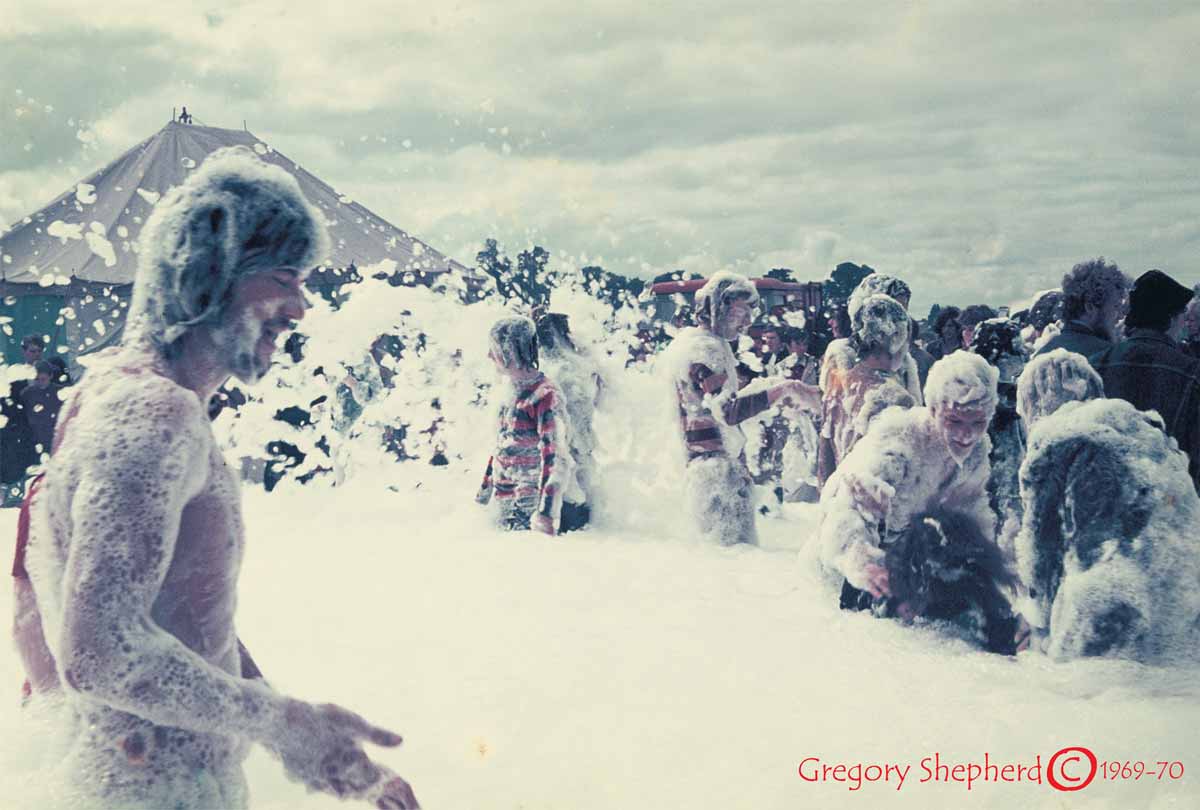 Fun in the Foam , Isle of Wight Festival 1969 © Greg Shepherd
Part of the 1969 crowd down front of stage . Note picket fence , but no sign of a shrubbery .....

photo courtesy Sue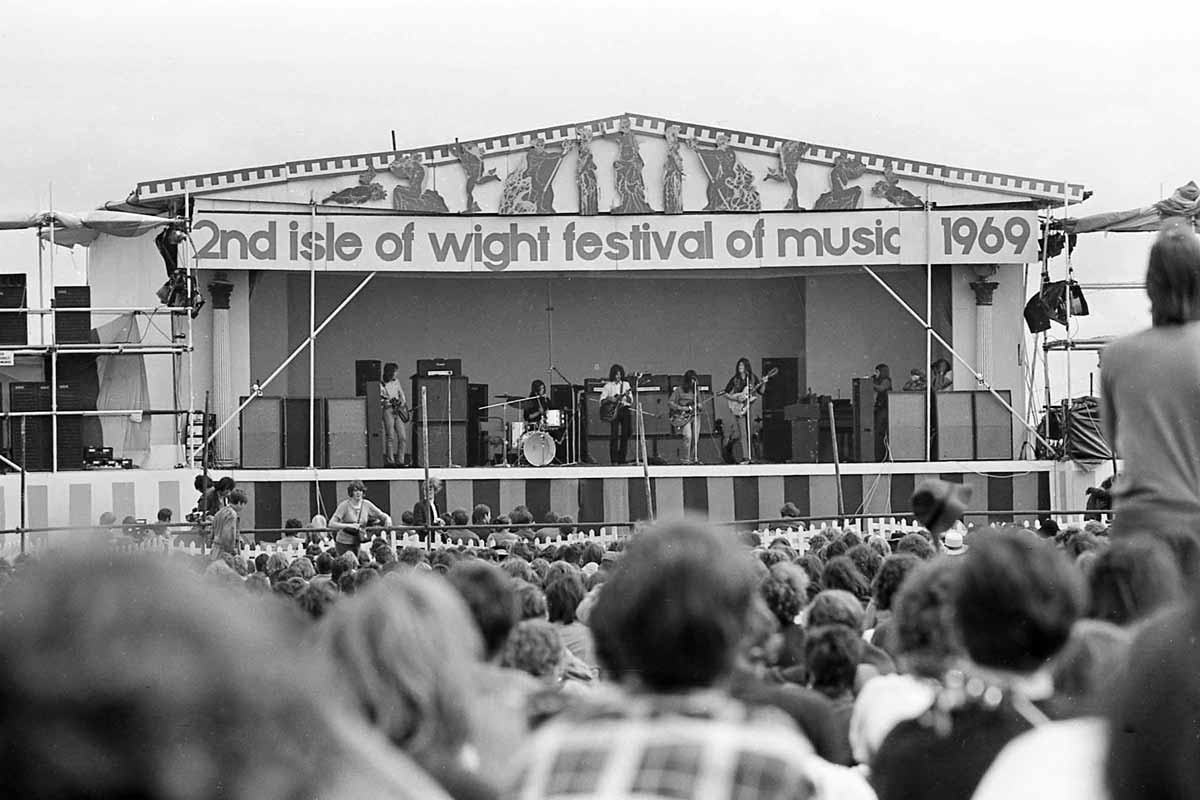 Gypsy © Mac Colton
The 1969 Isle of Wight Festival was a far more ambitious affair than than the previous years bash , which only had the Airplane as the overseas headliner and not a lot of other big names to back them up. The 69 line-up was far more heavyweight . With the BIG Z as the drawcard , none other than Bob Dylan himself , and bands like The Who and The Band taking support roles , this festival was guaranteed to draw many more punters than the earlier festival.

These pages contain parts of the program , articles , photos and information regarding recordings , performances and set lists where they are available. We are always looking for more first hand accounts as well as new archive material, particularly photographs taken by audience members. If you have any info you can contribute to the site, such as details of recordings. recollections, programmes, tickets, pix or articles please Contact us

Copyright is ALWAYS retained by you and we seek no commercial gain . NB : this is an advert free site which generates NO revenue and as such we do cannot pay you to use your material.

Photo courtesy repfoto © 1969 click to see more IOW 69 pix at their site. You can also view more here onsite in the program pages .
---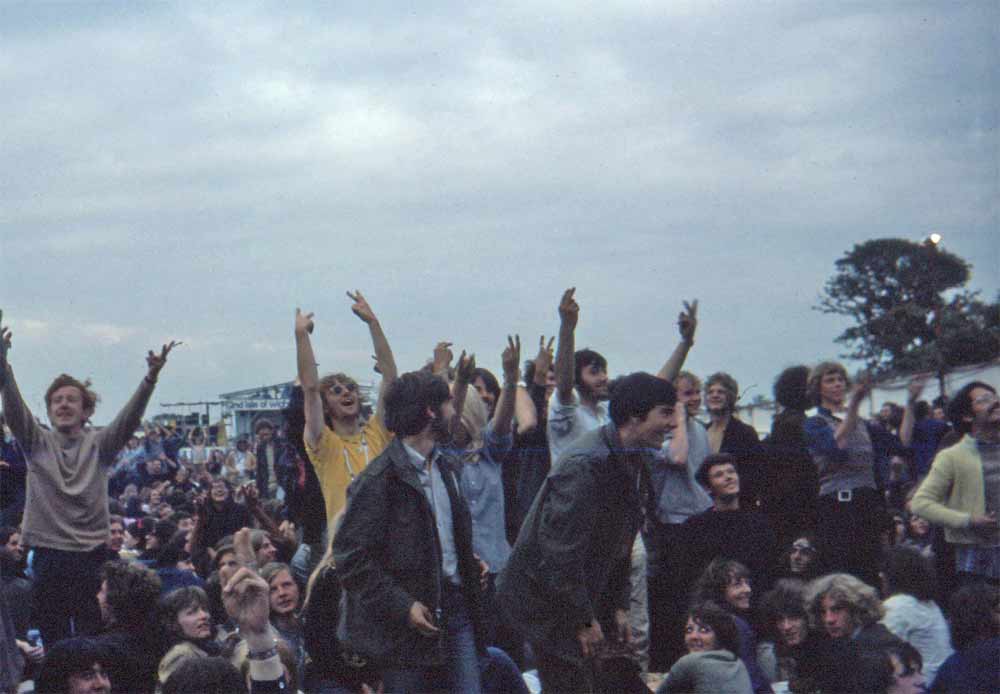 The audience give the v sign to a hovering police chopper which was making a lot of noise. © Tim Brighton
1969 Line-up ( in Alphabetical order)
The Band
Blodwyn Pig
Blonde On Blonde
Bonzo Dog Dooh Dah Band
Edgar Broughton Band
Joe Cocker
Aynsley Dunbar
Bob Dylan
Eclection
Family
Gary Farr
Fat Mattress
Julie Felix
Free
Gypsy
Richie Havens
Indo Jazz Fusions
Liverpool Scene
Mighty Baby
The Moody Blues
The Nice
Tom Paxton
Pentangle
The Pretty Things
Third Ear Band
The Who.

we now have exclusive photos of most of the performers onstage - go to the Photogallery to check them out

Cover of the 1969 Isle of Wight programme
This was a BIG festival, estimates of up to 150,000 attendees, compared to 10,000 the previous year. Also, it appears that this was also a smooth running operation. Despite the Island status ,which normally means restricted access, the tourist connections to the IOW ensured that transport was able to cater for fairly large numbers of people .The island is close to the mainland and there were numerous large ferries as well as excellent train connections from Southampton and Portsmouth , major rail hubs close to the Island itself .

Fortunately for the promoters, there was none of the dissent that occured in 1970 between the promoters and the forces of the anarchists and underground activists who demanded free access to the site . This may however, have given the promoters a false sense of how much profit was to be made out of such an event .Instead of keeping the festival within a reasonable size , in terms of audience numbers , the following year they booked even BIGGER and even MORE acts than in 1969.

As a result the 1970 festival was so ambitious that its logistics became unmanageable and the promoters were allegedly ruined financially . However, all that was down the track , after this show , the Foulk brothers had reason to believe that they were onto a winner .

Right: queueing up © David Kohn
| | |
| --- | --- |
| | |
Passouts courtesy Richard McMillan
---
Thanks go to all those who have supplied information that has enabled the creation of the 1969 IOW festival pages - but most especially to Greg Shepherd,Keith Webley , David Kohn, Tim Brighton , and Derek Halsall for their invaluable contribution of archive materials.
---
You can view many great photos of the acts at IOW 69 here at Robert Ellis's photo site
if you have any info you can contribute to the site, such as details of recordings. recollections, programmes, tickets, pix or articles please Contact us
Contents
1969 Festival
Other IOW festivals
If you have any info you can contribute to the site, such as details of recordings. recollections, programmes, tickets, pix or articles don't just sit there , Contact us
---