Big BIG thanks to our sponsor Neil !

For information on today's festivals see eFestivals.co.uk
Updated Feb 2019, New pictures of the site and audience
Dec 2011 new photos of the Pye Recording crew and Miles Davis's engineer Stan Tonkel and producer Teo Macero
Best viewed at 1920 x 1024 res .
NB: MEDIA- If requesting contact details to use images for publication, please send the url, image file and name of Photographer to us so its easier to give you their contact details. Due to the impermanent nature of the web, people change addys frequently- so we don't have contact with all of our contributors.
The 1970 Isle of Wight Festival. 26th - 30th August 1970.
---
| | |
| --- | --- |
| | Site photographs. Pt 24 |
I'm looking for any pix you might have taken at the festival. Contact us
This new batch of photos courtesy Roy Bowen !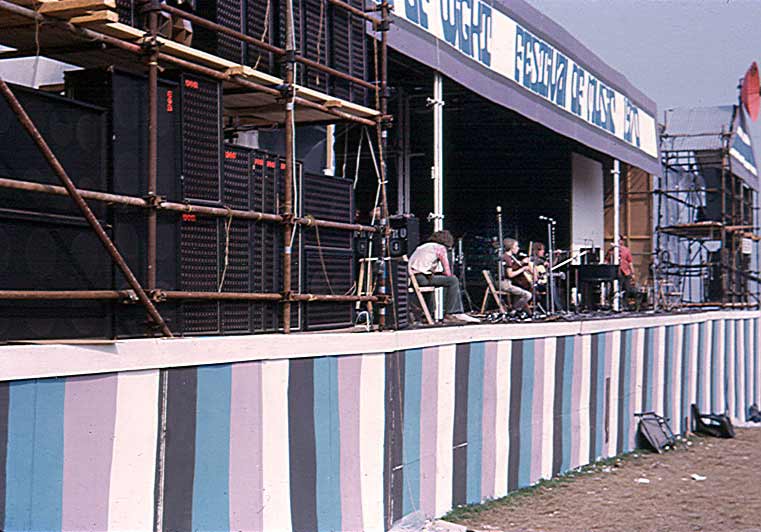 During the day I decided to go to front of the press enclosure to see if I could take any photographs, In the picture you can see Pentangle playing their set, but with regard to the picture below I can't remember who this is, (any ideas?)

During my visit to the front of the stage, I remember passing a guy dressed in a Top Hat, long overcoat (think Slash from and Roses) carrying a tray like the ones used in the cinema to sell ice cream, a very unusual sight for a 17 year old boy from the valleys. I can only assume he was selling drugs but I think he would have made more money selling ice cream as it was such a hot day.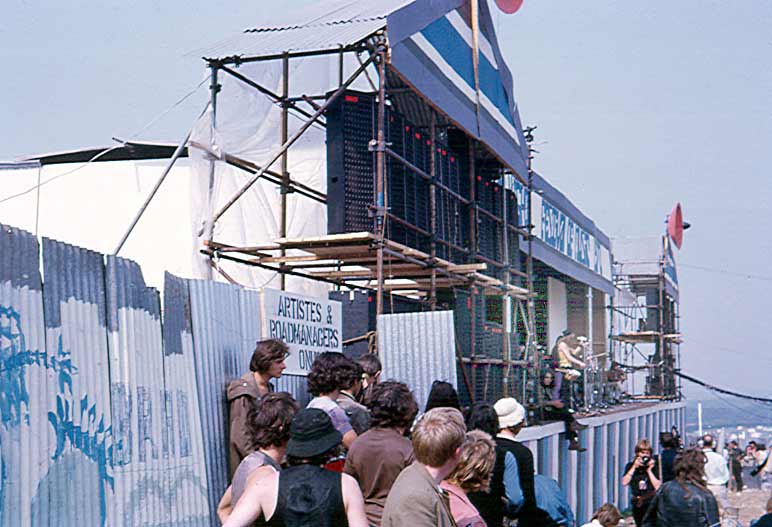 During Jethro Tull's sound check I went to the front of the stage for a closer look and maybe the photograph above is of them .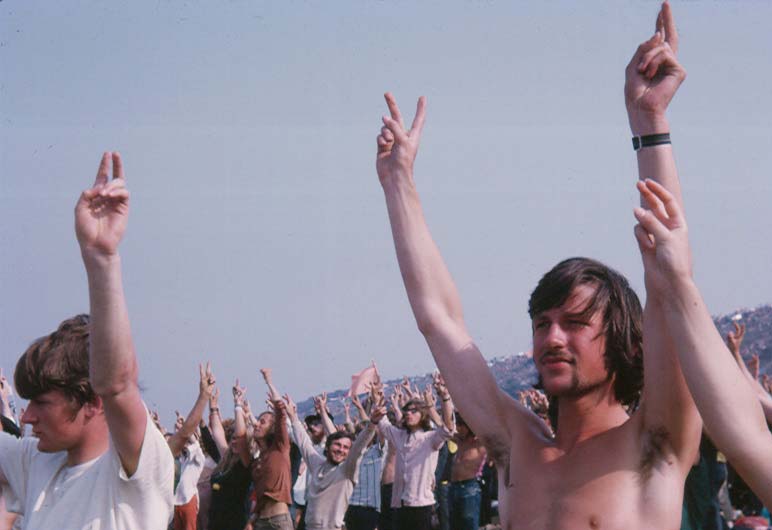 This photograph shows a crowd scene during a playing of Amazing Grace, when the whole of the crowd would rise to its feet and raise both hands in the Peace sign. Even now, I still feel the hairs on the back of my neck rise when I hear this song.
The main musical highlights for me on the Saturday were the Doors, and one of my favourite groups the Who, who played for hours on Saturday night. And who will ever forget seeing the sun raising on the Sunday morning listening to Melanie.
---
---
Check out this link for more photos of the festival
---
Contents
Isle of Wight 1970 festival menu

updated March 2019


The Underground press- NB: opinions expressed in these articles do not represent our opinions of the organisers or any other people involved in the running of the festival, it is possible that they may be innaccurate in some details or facts.

International Times.

Reports from the "Straight "press

updated March 2019

External links

The White Panthers

---


Other IOW festivals.

If you have any info you can contribute to the site, especially regarding the 1968 and 1969 festivals, such as details of recordings. recollections, programmes, tickets, pix or articles don't just sit there , Contact us

---