The Archive.
---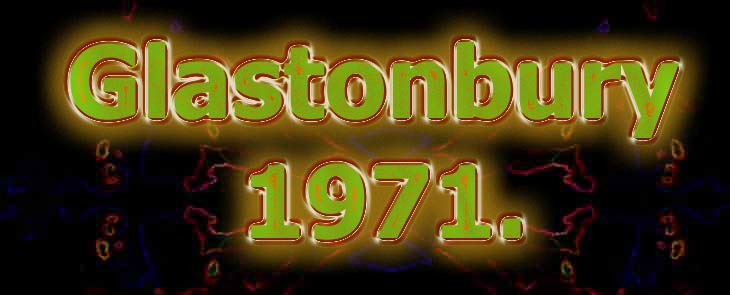 ---
The View From The Mud- recollections of Glastonbury 1971
---
Mike Weaver
Glastonbury June 1971

There was a bunch of us living/hanging out at Exeter's head shop/crash pad – The Emporium. A small report of a gathering near Glastonbury appeared in Frendz, confirming rumours that had reached us. No mention of who was playing, or where exactly it was, just that it was around the Solstice. On the Saturday evening I set off, barefoot, dossbag under arm, walking out of Exeter in the right direction but at completely the wrong time! By the time I was half was out of town the pubs were closing. Striding determinedly out towards the A38 I met three ungentlemen. I was lucky, getting away after one punch in the face, my woollen Moroccan skull cap abandoned ("Go on - pick it up")
I stumbled off and made it out to the road where I and my thumb were ignored by all until on some high hedged bit of country road a big van stopped and let me in. This turned out to be the Musclebus, usually transport for a Bristol band Magic Muscle. The two occupants at the time (drummer and sound engineer I think – can't remember names) took me back to Bristol with them and I stayed the night in the band's house on Cotham Rise, and went down to the festival with them on the Sunday morning. Finding a very muddy but definitely happening event I hitched straight back to Exeter and spread the word, then hitched back arriving there at about midnight on Sunday.
Walking over the brow from the farmhouse and seeing the pyramid radiating blue light was a thrilling sight and I lay there in my dossbag on the hillside and drifted in and out of sleep all night each time waking to that glow and the songs and music.
Next morning I met up with the rest of the Emporium crew and we set up camp down near the stage.
Just before the festival a couple of Australian travellers, Libbie and John, had turned up at the Emporium and came to Glastonbury with us. There was a monastery near by and many of its inhabitants wandering around the site. At some point Libbie grabbed the ankle of one passing by and told him that John and her would like to get married in Pilton Church, and asked if he could help arrange it. And so it went. A couple of days later before a congregation of off duty police and band members, other assorted locals and festival goers they were wed. Libbie was given away by one of the monks, Bill the best man almost lost the ring and the local bishop performed the ceremony.
---
I was one the fortunate ones!
How different it all was then. I went with a group of friends in a car, stopped on the main road outsied Pilton by the local Bobby, who told us to park up on the verge, no tow-away scheme then! We then had to walk all the way to the farm. Yes, yes the music was good, the feeling was good, but don't let memories dim things. There were people, and lots of them, who would come and ask for money to go the shop to get food, you can come and help yourself when it's been cooked! Remember that at festivals? Who were those people, and where were they cooking it? At night in front of the stage, when it was dark, very dark, in fact moonless if memory serves me right, so it really was pich black, you would here the Hare Krishnas chanting, and then a voice from somewhere would should 'Hey Harry ... over here', so dutifully they would start chanting in the vague direction of the calling voice, and then well you guessed it, from another direction 'Hey Harry ... over here' and so it went on for hours.
The film was on the TV the other night, and yes I did record it, though have'nt seen it yet. How things have changed. This year my car has an on-site car park sticker, which is stuck with something resembling superglue, and takes up about a quarter of the screen! It took over four hours to get off the site, in 1971 it was 4 hours between bands, on a good day. The 7000 or so who went in 1971, have now been replaced by 7000 or so security, stewards, first aid, clearer uppers and so on. In 1971 it was easy to take a wrong turn, no lights, no security, except the Bobby at the main road, now you need 5 different sorts of identity to get within 5 miles, and if you do get within 5 miles, you seem to end up at the festival, whether you want to or not. Now there are people on the main road with signs saying 'Ticket Wanted', people will pay way over the odds, this year my son found 2 unused tickets on-site, each with a face value of £96 I think. I'm glad I went in 1971, but not sorry I still go, oh and if people complain about the toilets now, just think back to 7000 people in 1971, what did they do? I don't remember seeing any toilets at all, but there was a lot of hedge available!!
Gareth
---
Hi,
I went to Glastonbury 1971 with my friend Bryn. I had been to the Isle of Wight 1969 and 1970, as well as most of the other big festivals. It was an incredible atmosphere, probably the best I had experienced from all the festivals I attended. It was like a family get together, peace, love and happiness. We arrived before the event started, the promoters were offering free food, free dope was available and the vibes were amazing. The groups which played were also into it, as I believe, they played for free, and thanks to them they generated an unforgettable experience. For me it was the ideal festival, everybody was so stoned, and we lived as brothers for five days without any hassle from "the boys in blue". The music was exceptional and the setting was perfect. I feel honoured that I had the opportunity to experience such a wonderful event, and the people I met there have such a special place in my heart that I will never forget them. A special thanks to the promoters, because they created the Hippies dream. When we left the festival, we went on to the Reading festival, what a nightmare, what a difference. When we arrived in Reading the "boys in blue" were everywhere. I was busted for acid, spent the night in a cell and the following day I appeared in court where I was charged for possession, what a bummer. A terrible shame that the Thames Valley Police destroyed the Hippies dream.

Many congratulations for your brilliant web page, and thanks for bringing back so many very happy memories.

All the best
Mitch, Mexico City (ex- E-Port, England)
---
Hiya

I have just visited your site as I was having a discussion with a young(er) colleague who is off to Glastonbury 2007 and who has hired a van because he is taking so much stuff!! I was telling him that I hitched to Glastonbury in '71 with a friend and all we took was a sleeping bag each – fortunately the weather was sunny, dry and warm (that is my recollection). We left Glastonbury on the Sunday after a really wonderful time and hitched to Reading hoping to prolong what had been a great weekend – mistake, it had started to rain, the site was muddy and claustrophobic after the wide open spaces of Somerset, and there seemed to be a lot of 'heavy' people there. Although this could have been a reaction to the herbal cigarettes. Needless to say we didn't stay long.

My clearest recollection is of Family (I was a big fan) and Melanie (did she play as the dawn was coming up??).

Thanks for the site it brought back some great memories of Glastonbury and other festivals, The Oval, Weeley and Crystal Palace to name some.

Louise
---
I have spent the last 43 years thinking I was at the first Glasto - didn't know that I missed the 1970 gig in the previous September - however got there in 71 with a tent after hitching from London and found another world - free everything including mescaline, food, accommodation, and the chance to addle myself on top of the pyramid scaffolding - think I am on the opening credits of Glastonbury fayre movie smoking a suspicious cigarette - happily my late mum and dad missed that sequence when viewing the movie on tv - however they were concerned as to whether i had stripped naked and rolled in mud - as far as i recall i didn't - everything was formative to my post adolescent mind - tell me were there two possibly aristocratic boys in a big car (possibly sponsors) or was it a dream - seemingly i remember they were doubtful as to whether the stage could be built by stoners - the rest is history! -BUT there was free veggy food, hippies in ditches, drums all night, Bowie at sunrise after a trip up the tor - my memories are fractured by age and chemical abuse but there is one thing I know - Glasto2 was a gas including a night stop at Avebury where I pitched my tent to imbibe the ley lines before hitching back to London - does this make any sense? sass ;<}
Steve Halliday
---
Greetings,
Deepinder, Mighty Baby fan here after a long hiatus.
Bowie performed 'Bombers' during that solo performance in 1971. I know this as Geronimo had a Show Reel on their website several years ago in which a snippet of Bowie can be heard. I had not heard the lyric before and it emeraged that the song which was not released on Hunky Dory was performed at gigs in 1971, the BBC concert which gets an airing occasionally has this song in the set,
If you need futher clarification I'm sure Chris Bent at Geronimo website will confirm all details.
Kind regards
Deepinder Cheema
---
Hi my name is Margy, my boyfriend at the time now my best friend Paul and I were at the 1971 festival it was amazing. There was very little in the way of accommodation, by accident we slept in a Hari Krishna tent one night,, a big no no for women apparently but they were sooo lovely and gave us breakfast the next day, news from the farm came down that we could build shelters as long as we only used dead wood, Paul and I made a great "tent" which, we found out much later was awarded BEST home made tent of the festival in an architecture mag, wish to god I had kept that picture, what beautiful memories.
Margy Robins and Paul Higgins
---
Hi,

Unfortunately I don't remember much....I was living in Harrow at the time, I finished school at lunchtime and just had time to zoom home to change into green velvet loons, black V neck jumper, and picked up by friends in a little mini van and off we went.
No soooner had we arrived, than we were separated, I also was separated from my shoes. I don't really remember being with any people in particular, everyone offered and shared joints, acid, food, whatever... was shared amongst everyone. I remember sleeping under a make shift plastic roof between some bushes/trees, not really sure...but whether
this was night time...
What I do remember was the fantastic feeling, the elation, the electricity....I remember Melanie singing, I think she wrote something
specially for the festival, and I think she was singing as the sun came up or went down...we were all holding hands, and the energy that flowed between us all was so indescribable. Infact, I left on 22nd June ..I was so convinced that this amazing peaceful spiritual happening must have occured all over the world... I wanted to get back to my friends in Harrow and be there to share it all......
Unfortunately.... Once out of Glastonbury, it only took a few hours to realise that it was in my head only... but It was an experience, an elated feeling that can never really be forgotten...the time and era when we really did live together for a few days as neighbours, giving, sharing, and innocently loving each other in an ideal world.....
Pity it couldn't last.....
I went to several other concerts, Bickershaw, Weely, Windsor, but none would ever re-create the magic of Glastonbury 1971.
Thanks for the web site, brought back many happy memories.
Mish
---
1971
I have just done an astrological chart for those magical days of the First Glastonbury Festival, it was a new moon with Venus and Mercury conjunct the Sun and Moon – a time for communicating Beauty, Peace and Love….. Also the Sun was in the sign of the Moon, Cancer. The True Node was conjunct Mars in Aquarius so Mars was empowering our Aquarian aspirations. Aquarius was in the sixth house ruled by Virgo and on the Solstice the constellation of the Goddess was rising on the horizon. So on the 21st the day before the Summer Solstice I made my way to Pilton from Exeter. My head was filled with a song from Hair – This is the Dawning of the Age of Aquarius
I had no tent, the grass was dry, I slept in the open feeling a safe community around me with voices calling Goodnight and many voices answering, Goodnight Goodnight ! I awoke to Melanie's unmemorable songs. It was hearing Quintessence that was so wonderful, they really were the essence of Aquarius.
On the 22nd June there was a spiritual event – speakers from different paths spoke from the pyramid – a Bahai and then a Sufi whom I can recall well because he spoke poetically from the heart about The Beloved. Then the 12 year old Indian guru Maharj Ji spoke but I don't recall a word. It was the Sufi who had the message for me which was important for my whole life. As the Sun rose high we joined hands for Sufi dance. We all had our eyes closed but I had a question for this Sufi leader and thought it to him , when I opened my eyes he was looking straight at me and nodded. That reply has stayed with me. I left barefoot having lost my shoes. That was the beautiful story.
Then there was the ugly story – what was what was happening off our Buddha-field as if evil was there, Dark drawn to our Light. On the way I had hitched a lift with a man who propositioned me and when I refused pushed me out of the van. On the way back to Exeter the lift I hitched was a stolen car and I ended up in a police station.
Because of that Festival I later moved to Glastonbury and it became an annual feature of life there, but none I went to had anything like the sweetness and light of that free festival. The Dark had really zeroed in on Paradise making it hellish. The spiritual sharing was consigned to the fringes and pop music ruined it for me. That was not the original ethos. Annabella Churchill was my neighbour and definitely hippy aristocracy who regarded me as a lower life-form. Another let down Michael Eavis became an enemy because I protested about the cruelty of the dairy industry and the cows being left among the rock music noise.
I can detatch from all that now I have moved. Those sunny days at Worthy Farm 1971 remain an oasis of beauty in my memory. That Solstice gave me my spiritual path of Sufism.
Rose Moloney
Ps can anyone identify that Sufi ? I think he was titled PIR and from France which may mean he was Haznat Khan's son.
---
Pink Fairies played Do It and an inspired Uncle Harry's Last Freak Out at Glastonbury 71;they are available on a CD containing BBC concert stuff.("Mandies and Mescaline at the Beeb" ).Quality poor but performance good.
Gong have relased their set from Glastonbury
Track Listings
1. Intro... (0:22)
2. It's Only The World Said The Girl (3:48)
3. Dexter (Electricity Cut...) (0:45)
4. Fun Gods (3:58)
- Ha Ha
- Name Game
- Toe Cake
- Awe Mantram
- Dingobox
5. John Peel's Judgement (0:04)
6. Divine Mother (8:41)
7. Radio Gnome (Explosion) (0:45)
8. Bambolay / Ya Sunne (3:56)
9. Applause / Dexter (0:17)
Total Time: 22:36
Line-up/Musicians
- Daevid Allen / guitar, Glissando guitar & vocals
- Gilli Smyth / spacewhisper & vocals
- Didier Malherbe / saxophones
- Christian Tritsch / bass
- Laurie Allen / drums
- Peter Pussydog / laughter
Releases information
© 1972 Daevid Allen © & p 2002 GAS Records

---
---
---
Glastonbury Fayre pages .
---
Glastonbury Festival
---
Any info to add ?-well don't just sit there , Contact us
Free rock festivals of the 70s and 80s