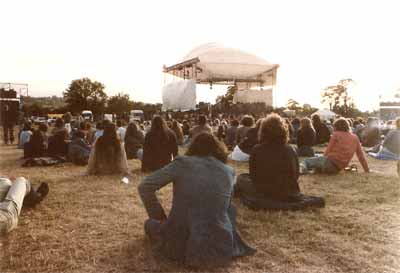 Stage at Glastonbury 1979. Photo © Steve Bayfield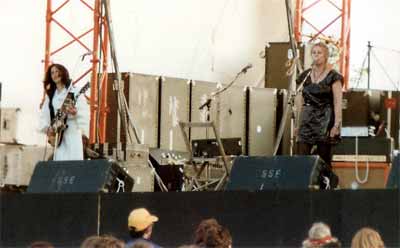 Mother Gong .Photo © Steve Bayfield
A resumption of a commercial festival , the first since 1970 , with an established roster of artists , was a step not to be taken lightly. Costs were considerably higher than any free gathering and permits had to be arranged , councils negotiated with and various local Tory MP's placated ( if this is ever possible to achieve regarding rock festivals ) .
The festival was very well organised and unlike many of the day, received a glowing report from the Festival Welfare Service
As 1979 was the Year of the child, it seemed appropriate that the purpose of instigating a fee paying festival was to raise funds for charity.The profits were to be donated to the UN Year of the Child and to help found the Children's World charity.
Tim Blake made a largely unheralded appearance and technically headlined the festival, appearing after Peter Gabriel . Tim wrote :
"Ah , thats Life...

Glastonbury 79... I was announced, came complete with Laser show, was paid !

Then came a meeting with Michael and all and Gail Colson...

Michael " Tim, we'd really like You to play last, and finish the festival off with Your lasers and all "