The Archive.
Updated - Nov 2013 :new photogalleries .
Finally , a DVD of the Glastonbury film ( first shown in theatres in 1973, directed by N Roeg) has been released after much faffing about .
Big thanks to our sponsor Neil !

For information on today's festivals see eFestivals.co.uk
---
Glastonbury Faire.

22nd-26th June 1971.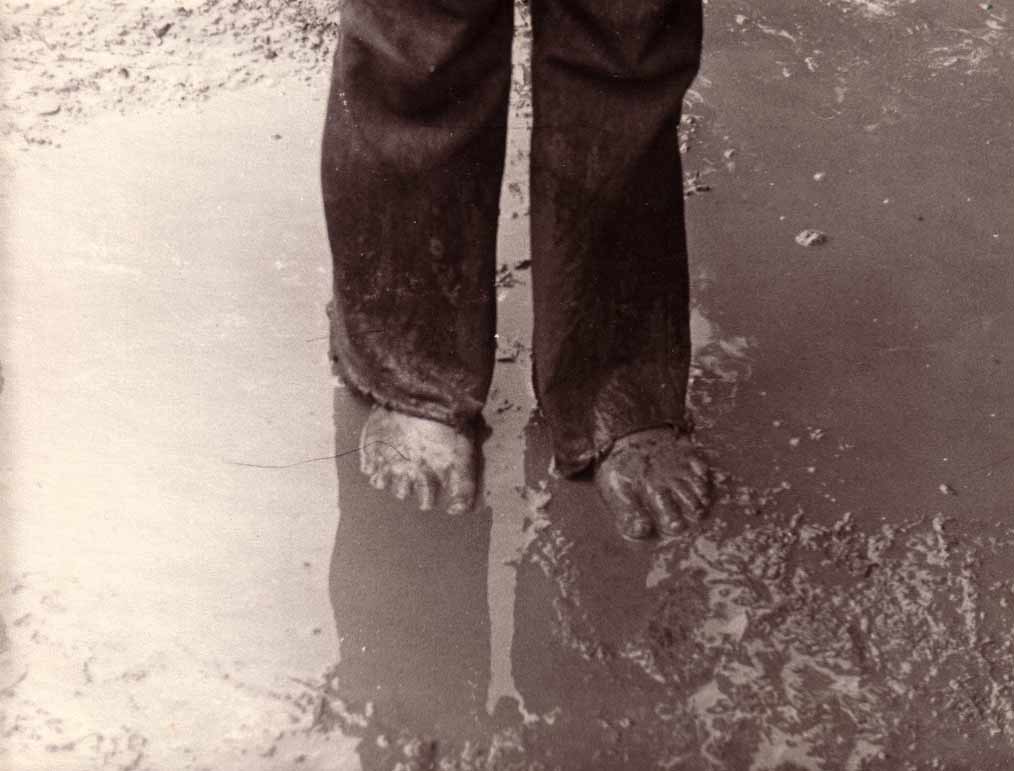 It wasn't all fine weather in 1971....© Sue Bowler.
One of the most legendary and mystical festivals held in the UK, the second Glastonbury Festival was held to coincide with the summer solstice - mainly because of the deeply held beliefs of the organizers - who instead of being hard faced promoters -were pretty much immersed in the pudding of mysticism. In this sense they were far more in tune with their potential audience than those who were only into promoting festivals to make money. Those who attended this bash attest that this was something out of the ordinary, the festival transcended the usual obstacles to having a great time.

The weather was, for a British 'summer' - very good , there were no major hassles from locals, the police or health inspectors. It shows how, given the right circumstances , a music festival could really break through the conventional barriers that regulate behaviour and which prevent us from really being ourselves .This was one of the rare UK festivals where the British reserve was truly dissolved and almost everyone let their hair down, the barriers between audience and performers melted, at times they became one and the film attests to the truth of this happening.Its the only film of a British rock festival which is truly uplifting .Possibly one reason for this was that the event was only attended by about 7,000, and was more or less free , being subsidised by a coterie of well heeled heads .

I really wish I had been there in 1971, in terms of hitting the heights of ecstasy,regardless of the renown of the musical line-up, this was probably THE ONE.

View of the festival site and stage. © Mervyn Penrose

Visit his site to see many more photos of the 1971 Glastonbury Fayre
---
As the Observer of 6-20-71 stated.

The choice of Glastonbury , rich in myth and legend , is deliberate. Glastonbury Abbey is supposed to have been built as a spiritual successor to Stonehenge and in accord with the same hidden elements of geometry and numerology. The organizer of this strange amalgam of modern pop culture and ancient magic is Andrew Kerr- 37 year old ex director of Randolph Churchill's research team which worked on the biography of Sir Winston.
Kerr has the intensity of a man with a deep spiritual obsession . He claims he is trying to recreate a prehistoric science , whose huge energies are not recognized by modern society . His ideas are based on the writings of antiquarian John Michell , who in a book called The View Over Atlantis - recently elucidated the spiritual engineering which , he says , was known over the ancient world.
All bodies in the universe , according to Michell, give off natural energy. The combinations of these energies , existing when a man is born , makes up one quarter of his character. At the summer solstice, energies from the planets, the sun and the constellation are at their height. The earth gives of energies through certain values in its surface, called blind springs . The Great Pyramid in Egypt , Stonehenge itself and the great pre -reformation Gothic churches were designed to accumulate this terrestrial current , to conduct the solar spark and to fuse the two.
For the festival , Kerr has had his own pyramid of steel girders built over a blind spring . 75 ft across at the base and 48 ft high , exactly a tenth the size of the Great Pyramid. The climactic moment apparently , occurs early on Monday Morning .

"Imagine ," says Kerr, " we're going to concentrate the celestial fire and pump it into the planet to stimulate growth. "

Yes it will be nice to be there on the day.

Will this energy be visible ? Will it be possible to feel it ? -
" we shall have to wait and see ",says Kerr, " I am sure we shall all experience something very wonderful. "
Glastonbury 71 featured the likes of


Melanie,
Quintessence,
The Edgar Broughton Band,
Pink Fairies,
Terry Reid - with David Lyndley and Linda Lewis
Gong
David Bowie,
Hawkwind,
Arthur Brown,
Brinsley Schwarz,
Fairport Convention,
Family
Traffic

Not a bad line up at all, but only 7.000 were reputed to have turned up, not a huge turnout compared to the mega-festivals like Bath, but certainly a hell of a lot more than attended the previous years bash at Pilton , which was by all events something of an organisational fiasco. The 1971 festival spawned a Triple album featuring most of the bands, ( and also featured a track from the Grateful Dead, who should have been there as it was just the sort of bash they would have liked ) in addition to a long out of print film, ( now released on DVD at last ) which sometimes gets an airing on the TV. Catch it if you can, it seems like the participants had a ball.
---
Newsletter Transcript (kindly supplied by Mick Weaver )


Well, we did it - we turned the clouds into sunlight, and we know that's good. The Fair is a beautiful event, now lets make the place beautiful. Volunteers are badly needed for rubbish disposal in many different locations. Will you pickup the vibes for a tidy Fair? Collect three minutes worth of trash and we have an awesome 30,000 minutes worth of work done.

Last night (Tuesday 23rd) a car toured the camping areas at fairly regular intervals. It's the Hassle Thrasher. If you run into a hassle with anything at night, stop the car and tell the driver.
Your woes are thus transmitted to the Hassle Thrashing Machine in the Farm and "sorted out".
Night trippers to Glastonberry wading through the green corn are costing our neighbour hundreds of pounds and hundreds of broken plants. Be gentle. Give the Man something nicer than weeds for a Harvest.

Talking of harvests, there is enough food to go round, but water can be 'stretched' by using it carefully. Actually, we haven't had a bad scene with either food or water. Can you share yours with your neighbour today in Togetherness? Break bread with a 'strange soul - it isn't a stranger at all.
Cars are useful, but maybe there are too many underfoot?

A beautiful person handed in a British passport and a purse. This makes three passports now waiting collection at the local Fuzz Wagon. Two of these are American. If you know you have lost yours you can get it back from the Farm if you call today or tomorrow.

Hey ! Who saw a UFO on Solstice night? A researcher wants to hear from you if you did. Drop a line (or sentence or two) in to the Farm lower office today. Win a trip to Venus (the Secretary
I guess). Whizz...

Snap...Crackle.... POP! Young tree dies. WHY? Ten thousand sighs turned on a hot day yesterday. Some cases of sunburn came up. It's a young year and a younger decade. 'Wear a hat made of happy thoughts and look after yourselves in the shade.

A dreaded Plastic Spoon Eating Monster is loose among us! FEAR FLOOD FIRE STORM . BUT PLEASE give Sid back his plates and his cutlery so he can go on feeding you and me? (Please?)

HEAD-LYNE of THE DAY: When Questioned about his reactions to the Glastonbury Fair, The Gentleman from the Time replied: "Marvelous"

Local villagers have expressed displeasure at the volumes of noise at night. We could help by not clapping quite so loudly, and not breathing quite so often. but if you do walk through the village, read the signs ; legend recounts that screaming stunts your growth you know (you didn't? Well, nobody is Perfect!)
People are asking when the Fair ends. It ends like a circle ends. Take it with you, the sounds, the smiles, the lights and the scene. It isn't just an experience is it? It's a...a... (you name it, it was probably IT)
T.V. Interviewer to individual: "How many Organisers are there?" Answer: "Twelve thousand and one."


End of Bulletin.
The Beginning of The World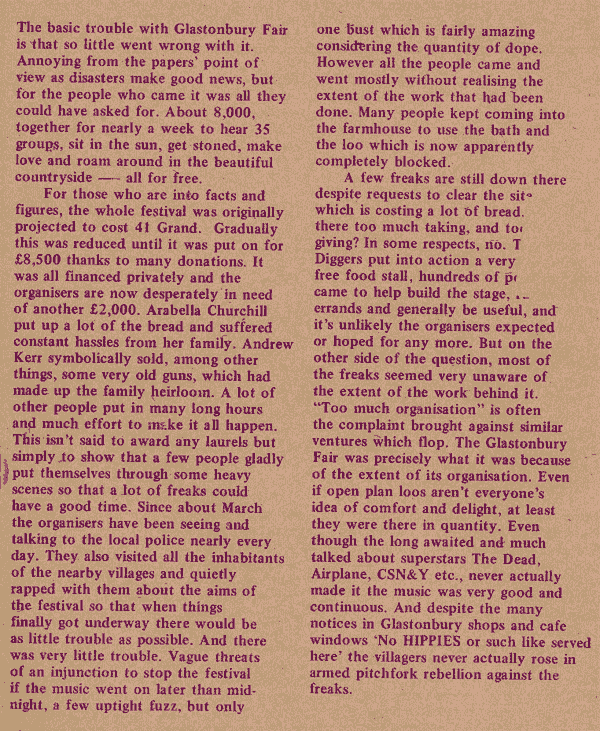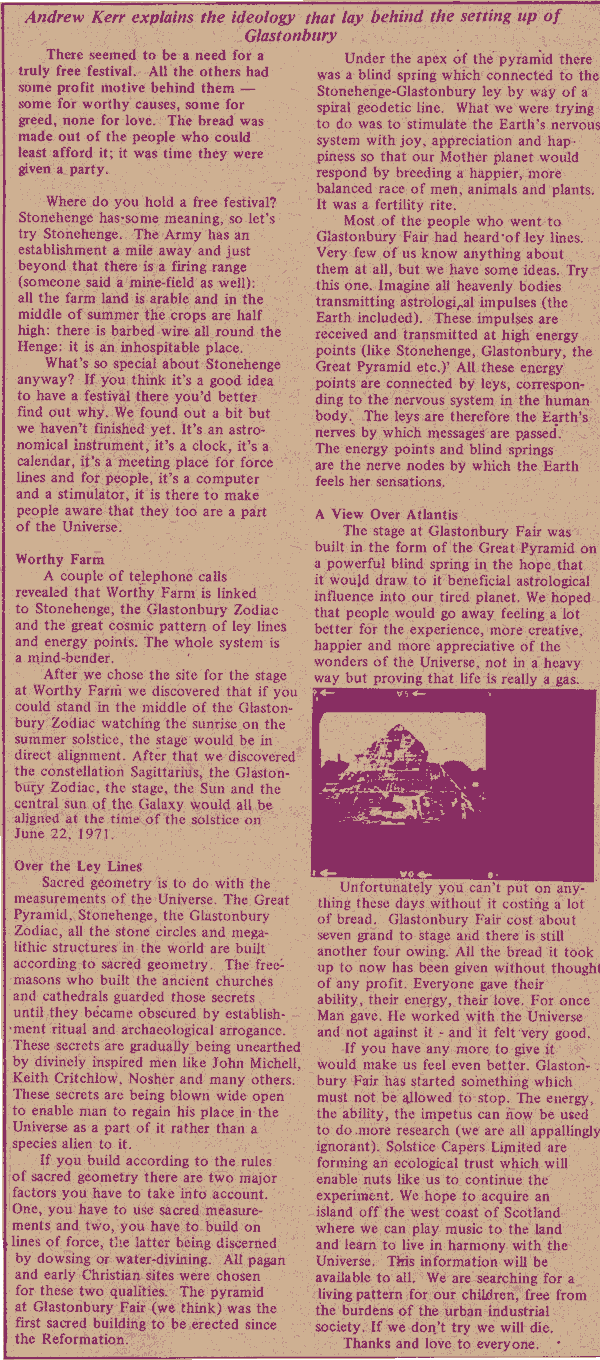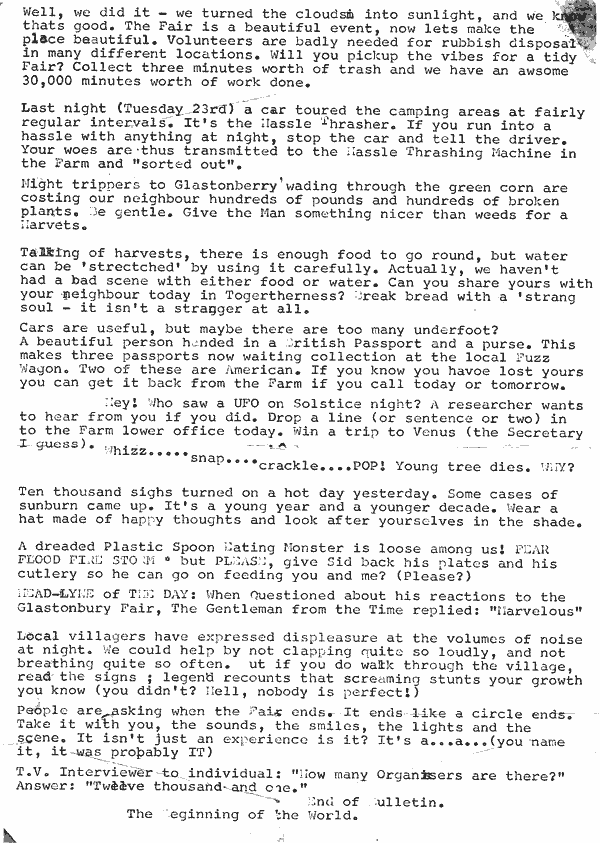 Hi "The Shark",
I've been in contact with Roger Hutchinson by email regarding "ufo on solstice night " inquiry of mine on your great site. He suggested I contact you with a detailed description of said event, so here is what I experienced at the time just to put the account on record and see if any body else had a similar or related experience. I was returning to my tent on the hillside on solstice night when I became aware through a tingling sensation in the back of my neck and consequently looking skywards, of a glowing disk shaped craft hanging in the night sky. It seemed like it had suddenly appeared there,as if through a dimensional door. The top dome of this craft was a beautiful glowing purple which looked a bit like an old gas lamp, but brighter. There was a noticeable rim to the structure showing a series of yellowish lights. The outer lights were revolving in one direction, anti-clockwise I think, and there was a revolving motion of some kind going on inside in the opposite direction as if to help the hovering motion in some way. It reminded me of a spinning top revolving slowly. As I watched it seemed to gather speed quickly in it's revolutions and suddenly sped off into the night sky at incredible speed in a straight line to the distant horizon, a good few miles away in the direction of Glastonbury Tor in just over one second, luckily my eyes were able to track it's phenomenal disappearance.

I don't know how long I was actually watching this object, it was a moment when time seemed to stand still and be of no importance, there was a dreamlike quality but also a very awake "here and now" feeling. I have never felt so alive and on the edge of experience to that extent in my life. The whole event was completely noiseless. I seemed to gain some subtle instinctive awareness through this experience, namely that these beings have been visiting this planet for thousands of years and that they use natural energy lines in the Earth to assist in some way and the forces of nature and the simple concept of living in harmony with them should be respected, which would seem obvious to a lot of people visiting this site.
Lastly I was with two other people at the time, one who saw a silvery white disk and the other who was in no fit state to see his own hand in front of his face, this in itself is an interesting aspect of human experience and what we relate to as single concious beings or in a collective situation. I am a singer/songwriter now, my work is published, I'm going to put some material out in 2004 of songs around the theme of this experience. Not ashamed to dream.

Keith Mouland.

---

Now that it is 2011 and 40 years since the ACTUAL FIRST EVENT at Worthy Farm with "Glastonbury" in its title, it is important to have that written as a matter of HISTORICAL RECORD and to correct misleading information.

Glastonbury 'happened' for the first time in 1971 and not in 1970, which was the "Worthy Farm Pop Festival".
Despite the publicity put out to celebrate 2010 as somehow the start of Glastonbury and Michael Eavis as its "founder" the origin and inspiration for the '71 event most probably does dwell in its astronomical, astrological, geomantic, and anthropological influences.

Glastonbury '71 occurred exactly in a place at a time and space with personalities able to combine and manifest as can often be "magical" - which requires a co-ordinate amount of co-operation as much as allowing for co-incidence.
Bill Harkin reveals on "Glastonbury Festival Pyramid Stages, Revelations" how confluence is able to make an occasion that is considered significant.
As a designer Bill draws together exact lines of influence that impart effect, and at Glastonbury 71 there was more than a "cobbled together" structure which Mick Farren and others wrongly describe as covered in plastic.
Here is how Glastonbury 71 became what is now an abiding influence worldwide, and how with care others can be inspired to apply the same vision:

thanks Bill!
love
nic Mcgerr
---
For some weird reason I did not attend the 1971 Glastonbury Festival so I cannot add any personal anecdotes regarding this particular show.Why did I not go ? Probably because being a student at the time I was so damn broke that I could not afford it, also perhaps because the 1970 Festival was deemed to be such a fiasco that many people thought that half the bands would not turn up.This was NOT uncommon in those days. Whatever, I obviously did the wrong thing , as the 71 Festival seems to have been something of a magical event. Below there are a selection of stills sent to me by various people , along with some new pieces of information and photos of the stage . There are also some recent photos of 71 Glastonbury festival artists like Arthur Brown and Daevid Allen , sent to me by Jeza . Hope you like them .
---
Glastonbury Photo Galleries
Paul Misso, who took many photos of the 71 festival has this to say
The main Pyramid night shot is now available -selling them at the original 36inch by 24inch size. It looks awesome as you can imagine. This pic was used as the triple album fold-out cover and graces many an afficionado's wall.
Buy it here
Best stuff
Paul

Paul also has a superb slideshow of dozens of photographs from Glastonbury .
The stage was designed by Bill Harkin who is now a specialist designer of customised stages for theatre, business and the music industry , you can read his comments on the Pyramid stage as well as experiencing his current work by clciking on the link.