Ozric Tentacles at Torpedo Town 86 on the Bramdean Common stage .All Ozrics photos on this page © Baz
The Early Years .
Rather like Greenham Common , Torpedo Town sprung into existence on the back of a Peace Encampment, in this case the peace camp was in protest at the construction of the Stingray anti submarine torpedo factory at Waterlooville - hence the unusual "Torpedo Town " moniker the festival acquired . According to one report the camp was established in 1982, but 1985 is the first documented festival held at Waterlooville, when The Poison Girls, Kanall Synikatet (Norway ),ACT , Roy Harper , David Eggleton, Red Flag, The Red, Wedding Present, General Belgrano, Anti -Sect, D.I.R.T, Dog On Dogma, Alibi, Fools Of Nature , The Starlings, The Probes ,Hawkwind and Ozric Tentacles were scheduled to play the event from the 9-11th of August .Camping was due to start on the 6th of August. One report says 7,000 people attended the 85 bash.
It appears that there was the main stage at Brambles Farm and then a lower smaller stage on the common , free festivals often had a number of stages . The photos of Roy Harper at the 86 festival show a different set up completely . In 1985 Harper actually donated the PA that was used, arriving and seeing totally inadequate sound reinforcement, he went back to London, loaded up his own rig and returned to perform his set.
1985.
My main reason for this mail is to give you my thoughts on the "Torpedo Town" Festival held at Brambles Farm, Waterlooville in 1985. I was there!
In fact, I was one of the early arrivals, having come up from Sidmouth Folk Festival to meet up with Alan Rundle having seen a flyer for the event ( Possibly at Elephant Fayre?). I remember the original plan was to use the land right next to the existing Marconi factory, but the local council had got wind of it and put a trench round the whole site. So it was decided to use the (disused) farmland next to the original site - Brambles Farm. A few of us descended on the farm via a hole in the hedge next to the main road and quickly set up camp - a few tents and a camp fire was all that was needed. I remember the police coming round and a few words from the "squatters handbook" were all that was needed to see them off. I cant remember what day this was, quite a few days before the festival, though, and it quickly grew as more people were able to come and lend support. At one point, the council came and tried to lower a skip (full of grit or sand?) on the farm side of the main gates to the field we were in, but a couple of us sat underneath it ( me included!), so they left it outside the gate, (blocking the public footpath). I went along to see the Citizens Advice Bureau ( in bare feet and stinking of smoke!) to ask about removing obstacles from footpaths and they advised me I was in my rights to do so! So, with the Police looking on, we donned shovels and emptied the skip into the ditch next to it! "we aren't stealing anything from the skip", I told the police," just moving it." When it was empty we managed to roll the skip over and out of the way.
The council made no other attempts to block the gate, but their attempts had backfired on them, because it alerted the local press to what was going on. This in turn led to the local radio and TV stations taking an interest, and I remember giving a tradio interview in which I asked for supplies of water and wood to be brought to us. The next day someone turned up with an inflateable dinghy full of water! I also remember it had beed an incredibly wet summer, the land was saturated, and any vehicles trying to get onto the site often got bogged down. When the "Convoy" arrived it was mayhem, Busses and trucks getting stuck allover the place. We had a whip round to get a local firm to come on site with JCB's and pull the vehicles out of the mud, but they ended up getting stuck as well! Eventually they got most (not all) vehicles moved, and the resulting huge ditches that were left became the (unofficial) latrines!!! When it came to the organisation of the festival itself, that too was mayhem. The PA hire company refused to do the gig having seen the publicity surrounding it, so we had to have another whip round to hire one from a local hire centre. I think it was the cheapest rig they had and was probably only 1 gig! (more on this later).
I must admit I dont remember too much about the event itself, (who does!), but I do know that the Ozrics turned up (friday or saturday?), and played an unofficial set from the back of their transit, which seemed to go on all night! The next day I spoke to Ed and asked him if they could do a stage set that afternoon, as everyone had been saying how good they were. I remember him saying they had never played on a "proper" stage before, and they didnt "do" numbers, they just jammed... Fine I said, it doesn't matter, just get up there and do your stuff!! I actually was doing the mixing for them when they played, (as i did for most of the bands that played).
When Roy Harper turned up, he took one look at the rig we were using and nearly fainted...and promptly got back in his car and left. I thought he had decided he couldn't do it, but someone said he had gone to get his own equipment! Sure enough, a couple of hours later, he returned with his own PA and his own technician, and I had the pleasure of being his technicians "assistance" for the gig. He went down a storm, and I certainly dont remember any bad feelings towards him. The pictures you have posted are NOT the 1985 gig, so I can only assume they must be 1986. But I can confirm that Roy Harper was definately at the 1985 festival.

Best wishes and keep up the excellent work!!!
Pete the Bus
(Peter Woodland)
---
Wickham Festival 1985
I remember this as my last festival in a nylon nightmare as I got hold of a truck that Autumn. Luckily the weather was good so there was no tent mudbath experience. It was a pretty idyllic festival with loads of great music - several stages - there always seemed to be a decent band on somewhere with a decent PA on a real stage - pretty together for the times.
I remember seeing Ozric Tentacles play for several hours through the night with a crazy west indian flautist up front, who kept shouting "unity! unity!" and stuff like that while they did their usual endless jamming. Webcore played an amazing set - I think the first time I'd seen them. Very gothic, amazing bass playing, synth and sax. They played on a pretty featureless stage with virtually no backdrop while the warmth was draining out into the clear sky and the chill of the night was creeping in, making the field misty - no need for dry ice. I recorded a lot of music at Wickham and the tapes were superb quality - God knows where they are now but I listened to them a lot so my musical memories are pretty clear. I caught gigs from the Treatment (songs like Blotted You Out, I've got the Microphone, they even played a strange psychedelic piece about taking a crap...), a hard core band called Phoney American Accents and the best of the lot, the Oroonies.
I didn't know who this band was, with their two drummers, crazy guitarist wailing about "Freda and her best friend Nina", the lead singer reciting the Hymn to Pan over grunge guitar and growling synth from Ritchie (of Ozrics fame) and echoing flute & pumping bass thrown in. There were so many bands doing that space-jam music at the time, but the Oroonies added that element of bachanalian mysticism and lots of the unexpected.
I chanced on Roy Harper playing in a crowded tent - he appears on those tapes of mine so definitely it WAS 1985. I heard him do a great rendition of "Me and My Woman", singing his own backing vocals through an echo mic. He was spellbinding - don't remember any other songs so perhaps I only caught the last song or two. There was some banter from the audience but I don't remember it getting ugly - they just wanted to know if he would keep supporting the free gigs - was this connected with his record contract? I don't know any of the background.
In the daytime, Military Surplus always seemed to be playing on a stage somewhere - they had the singer / ranter who later fronted RDF but their stuff was more tuneful and less of a hard edge. Lyrics typical of the time with songs like "Police State".
On the main drag there were countless dealers hawking the usual substances and the festival seemed a throwback to a pre-beanfield era, though the site had been moved on earlier and we had all had to scavenge lifts off travellers or fellow weekenders to get there, having arrived at the pre-publicised site at Waterlooville to find everything shifted up the road to Wickham.
I don't remember there being the huge and unfortunate divide between site people and those of us who had come out of towns just for the festival - the following year at Bramdean that was all too evident, but that's another (much more interesting) story for another day :)
Garga
---
We are suffering from a paucity of information about the early years of this festival. By the 90s it had mutated into a Rave with Spiral Tribe and other sound systems attending . Wango Rileys was reputed to have been the resident stage and Jah Free was amongst those who helped perform at the festival, but we do not know in which years he performed.
Roy Harper at Torpedo Town 1985-86.
Bit of a mystery here , everyone has Roy as playing at this festival in 1985 , but the newsletter we have been given that list him as playing is dated 1986 ! Did Roy play here two years running or are all the memories wrong ?
Harper played in 1986, and had a huge row with people in the crowd, 'cause he had just signed to EMI. There is an audio recording of this set. The Ozric pics are also from 86, that's the Bramdean Common site.
Kev Ellis
| | |
| --- | --- |
| All Roy Harper 1986, photos © Steve Tomalin | Roy pokes hisself in the eye ! |
According to Kev Elllis from the rather spiffing dub-electronika band Bubbledubble , Roy had a bit of a verbal dust up with sections of the crowd as he had just signed a recording deal with EMI , who we seem to remember had some connections with the munitions industry. This fired up Roy no end and he delivered a very fiery set which apparently was recorded on tape ( can anyone provide a copy for review ? ).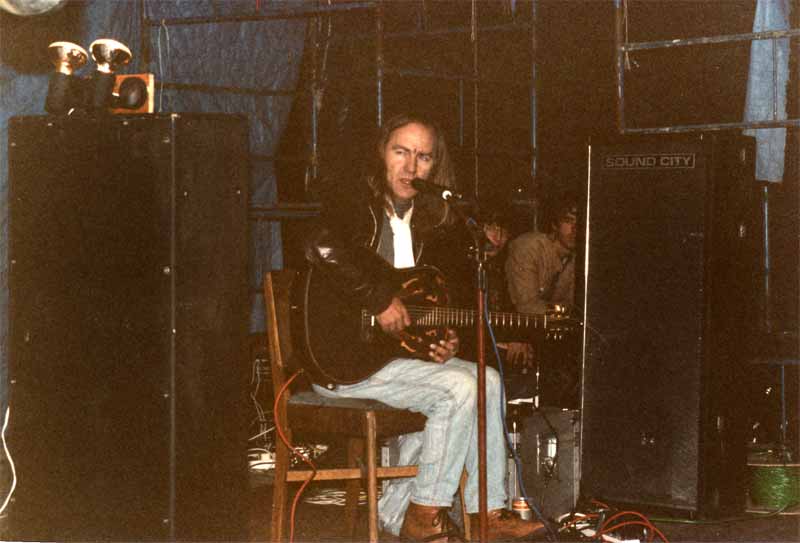 Roy Harper onstage 1986 at Torpedo Town Free Festival - Brambles Farm stage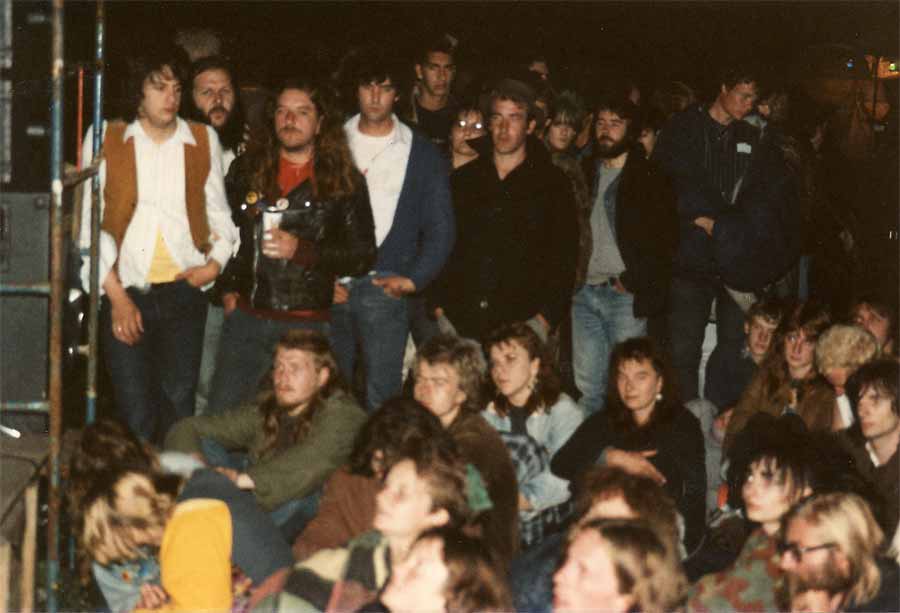 Roy's pissed off audience © Steve Tomalin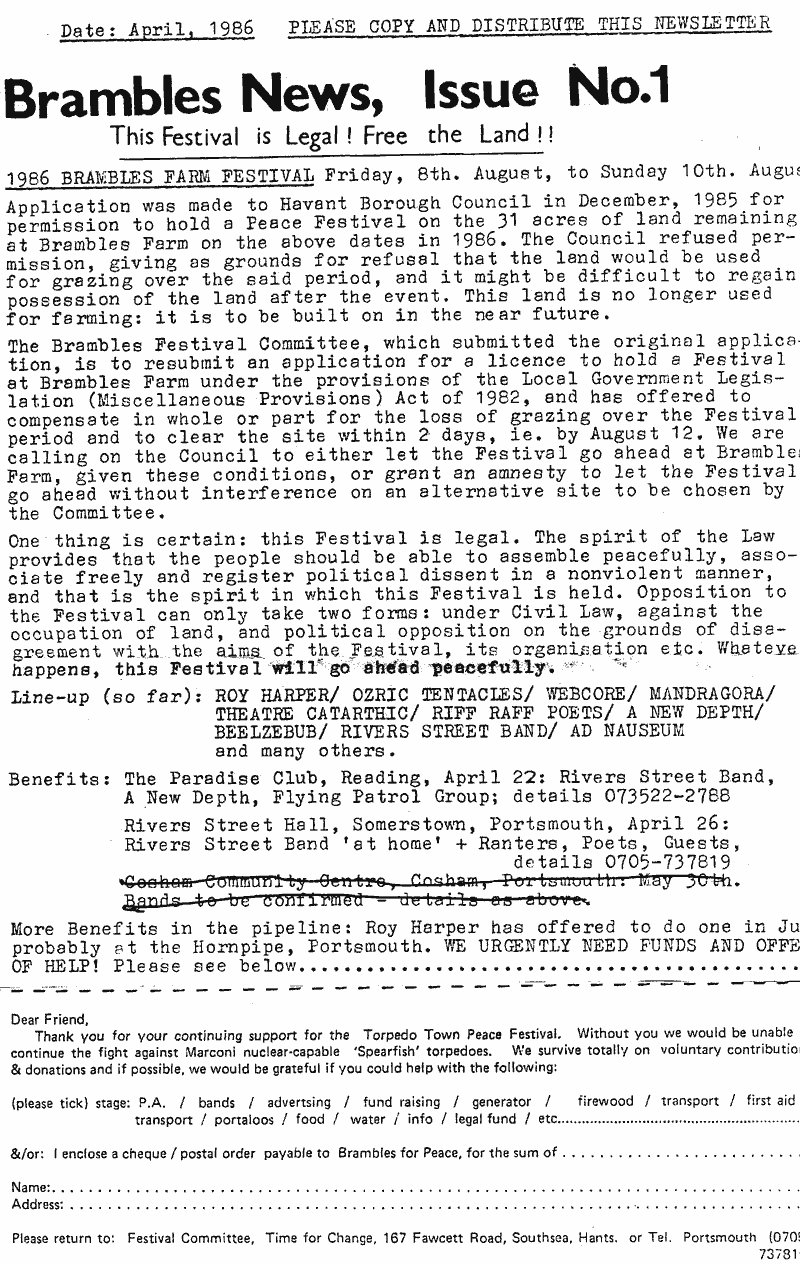 Newsletter and press cutting courtesy Steve Tomalin
Information on the 85s event is thin on the ground , we know Ozrics attended as there is an 80 minute tape recorded on 10th August as evidence.
When I was 17, I played in a band called ACT. We gigged around the south coast and could draw a crowd of a few hundred people, sometimes more in Southampton, Winchester and Portsmouth.
During the summer of 1985 we were invited to play a festival called 'Torpedo Town' on the outskirts of Portsmouth. So called 'Torpedo Town' because at the edge of the festival site there was a Marconi factory which made guidance systems for cruise missiles.
The headline band were Hawkwind on Saturday night. Onstage at midnight. Rock n' roll!. We played on Saturday evening (around 8pm) and again on Sunday afternoon. There were maybe 7 or 8,000 people there. We rocked. Large.Most of the crowd were travellers ( or 'crusties', or 'new age travellers' or cyber-hippies). They had dropped out of society and travelled the UK and Europe in beaten-up vans and minibuses and the like.
---
My very first introduction to Roy was at a peace festival, in the '80s - nicknamed the "Torpedo Town" festival, it was held at Brambles Farm, near Waterlooville, Hants, in protest against a weapons factory being built on the site. One of the organisers, Alan Rundle (though back then we were acutely aware of avoiding hierarchy - no one person was ever identified as a main organiser) arranged for Roy to play - this was the era of Ozric Tentacles and the Poison Girls, if memory serves me right - and of course, for many of us young 'uns, we had no idea who Roy was. "Who's Roy Harper?", we'd ask. "Just wait and see" was all Alan would say.
The rest, as they say, is history.
As a footnote, I recall Roy turning up and taking a look at the PA, he immediately turned his car around and left the festival. He drove all the way home, which was in Clapham, London, I think, and returned with his own PA, which he lent for the duration.
---
I went to the Torpedo Town festival in '86. It was the first festival I ever went to. I had just left school and was working in a meat pie factory that summer. I didn't know anything about festivals really except that they were the place to see Hawkwind.
I hitched down to Waterlooville with a couple of mates and hung around until we met some likely looking people. The previous year's site, Brambles Farm, was a no-go so we ended up camped up with a load of other people somewhere above Waterlooville.
Next day we got a ride in a bus and we all set off in convoy of vehicles. I'm not sure if we knew where we were going but eventually we got to a big field. As we had been in the back of a bus I had no idea where we were but we were told it was called Wickham Common.
The vibe was great. I saw Ozrics, the Oroonies, Military Surplus (who later became RDF, I think) Purple Worm and loads of different bands playing different types of music. It was sunny and there were lots of people there including plenty of locals.
Roy Harper played and he got some grief off a punk who was shouting "only stupid bastards sign to EMI" which was a slogan at the time. (EMI had a subsidiary company that manufactured weapons parts). Anyway it didn't stop him playing and the crowd wasn't particularly on the punk's side as I remember. I bought an Urban Guerilla fanzine and a Green Anarchist magazine and took acid for the first time so obviously when I got home I ditched my job at the pie factory!
Lucky Dave
---
Its stated that Hawkwind appeared in 1987 , perfoming at least twice on the 8th August. there were no festivals held in 1988-89.
---
1987-1992
Thought I'd drop you this line about my memories of 3 Torpedo Town festivals:
I went to 3 Torpedo Town festivals which according to your archive, must have been either 1989 or 1990, 1991 and 1992.
I remember the first Torpedo Town festival that I went to as having a particularly friendly vibe to it. I went down with a group of friends and we had a great time. Even the local police were very friendly, directing lost festival-goers (ourselves included) to the festival site. Either before or after that festival, I got to know a really nice bloke called Kevin who was involved with organising the festival and the next year, he invited us to go down there with a PA, lights and loads of flouro décor and we ran a soundsystem all weekend as Club Dog.
Spiral Tribe set up a massive soundsystem elsewhere on the site which I remember, pissed off some of the more 'old school' non-ravey travellers, particularly as the Spiral Tribe rig ran 24/7 for all 3 days at full pelt!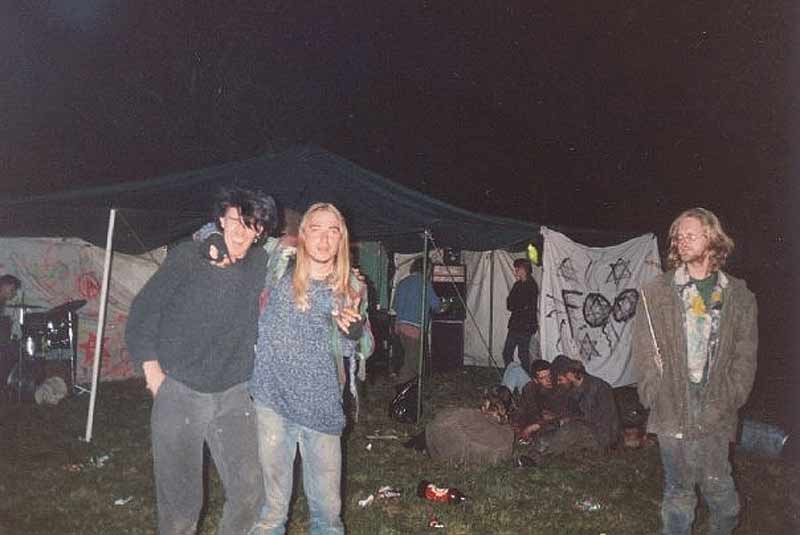 Looning front of stage Torpedo Town 1987© Steve Bubble.
The 'rave' element was made more noticeable by the addition of a large contingent of straighter 'ravers' (the outdoor rave scene and the free festival scene were still pretty much mutually exclusive at that point) who arrived on the Saturday night in droves in their cars, wearing clean trendy clothes, but then departed on the Sunday morning/afternoon leaving loads of rubbish in their wake (empty food and drink containers).
Despite the slight antagonism between the festival old guard of spacerock-loving hippy travellers and the younger dance music enthusiasts, I remember the weekend as being a lot of fun, again, with a really nice vibe.
The 1992 festival was a whole different story. By then, the 'brew crew' contingent had become a large and increasingly visible aspect of free festivals and I remember encountering lots of seriously drunk and out of it, very abusive and quite menacing people all through the weekend of the festival. Soon after I arrived, having asked after Kevin, I was told that he'd got into an argument with some crusty travellers earlier that day, someone had set a dog on him and that he'd had to go off to hospital. I don't know if this was true , but I don't remember seeing him on site that year. That news sort of set the tone for the weekend and what with the various punch ups and arguments that I saw over the three days, my outstanding memory of the festival was of it feeling like a dangerous place to be.
It was such a shame as the first 2 Torpedo Towns that I went to, particularly the first, still rank amongst my most favourite of free
festivals.
Michael Dog
MO Blues Band play on a very low stage at Bramdean common 1987© Kev Ellis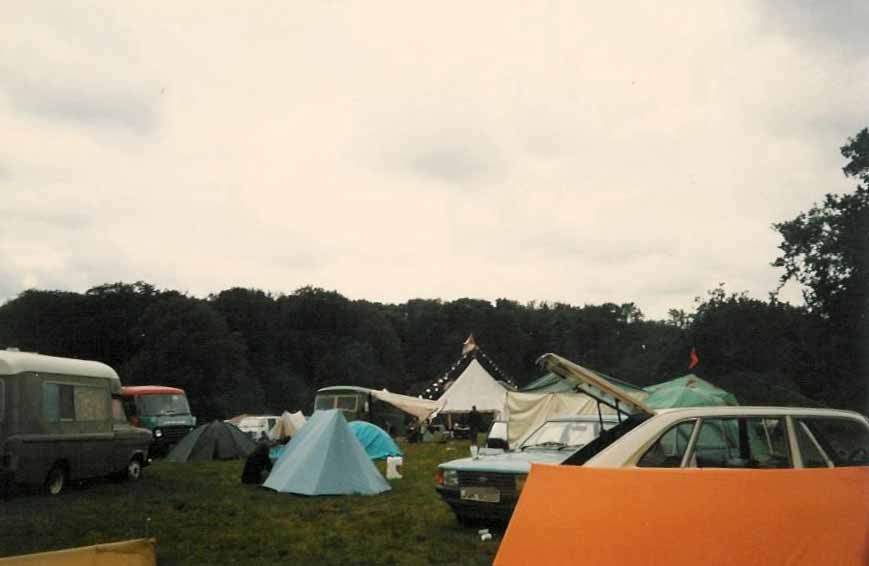 Bramdean 1987© Kev Ellis
---
Torpedo Town was another festy of the time – our friends band were booked to play, so we pootled on down. Police were good as gold, but refused to give us a lift down to the site in return for beer ( surprisingly). There was a lot of buggering around band wise, as there was a rumour going round that certain people wanted a rave instead and if any bands tried to play, they'd get their stuff trashed. In the end nothing seemed to get sorted, so band went home and we kipped in the van.

Hope this helps
Cheers
Flounder
---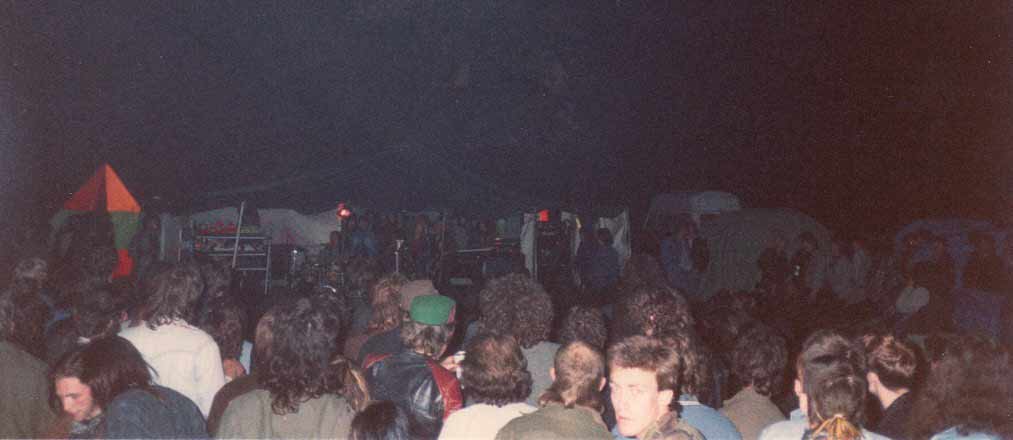 Hawkwind play Torpedo Town Free Festival at Bramdean common 1987© Steve Bubble
Steve Bubble was involved in organising the festival in its later years , here are his memories of the festival from 1987-1991
Having moved to Portsmouth in 1987, I met some people, in Cholderton Woods funnily enough, who ran the Solent Free Information Network, or F.I.N., part of a network of "F.I.N." publications, who published festival lists and news etc at festivals in the local Portsmouth area. A couple of the people involved organised the Torpedo Town Free Festival which was traditionally held on or near the site of the Marconi arms factory in Waterlooville a few miles outside of Portsmouth, and grew out of a protest against this company.
I had been to the Torpedo Town Free Festival in 1986, my first free festival in fact, and was blown away by the nature of the event. People living in the most amazingly decorated old vehicles and busses, a feeling of togetherness, an appreciation of music and art and an anything goes attitude. I saw an amazing mixture of music, from punk bands to folk bands weird bands, unlistenable bands, it was all there… an impromptu town of around 4000 people, mostly off their heads on acid I think.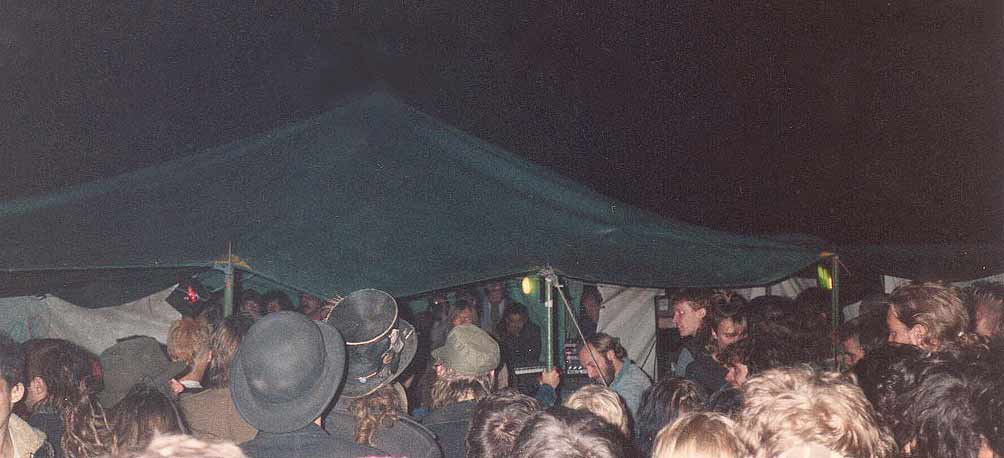 Hawkwind are there somewhere ! Honest !
Torpedo Town Free Festival at Bramdean common 1987 © Steve Bubble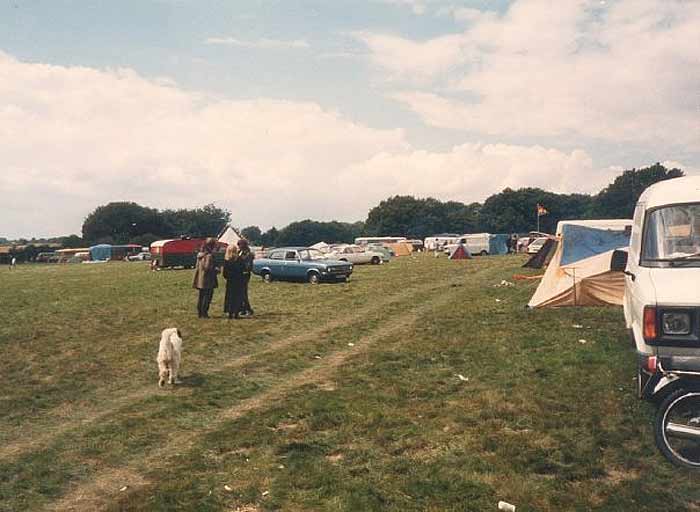 1987 site © Steve Bubble.
I loved it and wanted more, and got more, starting to go to more festivals, I was hooked! The following summer saw Torpedo Town on the road, police were out to prevent another happening, rumours saw Butser Hill blocked off, whist a phone number announced Bramdean Common was the actual site. We raced off for a 40 minute drive to find vehicles struggling to find the site tucked behing a village on the A272. An ancient common where gypsies used to gather, indeed there is a little tin church at the edge of the woods, built in 1883 for the gypsies who used the common. This could have been a fantastic festival, if not for the violence that marred the event.

Like anyplace where a large group of people gather, you always get your idiots, in the late 80's it was the "brew crew", a bunch of alcohol soaked thugs who stole peoples drinks, property and made a proper nuisance of themselves via intimidation – this was probably the worst time that the festivals experienced. I remember seeing "Rubbish" Martin ( Martin was the guy you were guaranteed to see at the end of just about any free festival – clearing up people's rubbish that the minority had left behind) getting beaten senseless by a gang led by a girl with a cricket bat at Bramdean Common in 88, he'd exposed a bender full of gear stolen from other festival goers and paid the price…

1987 was going to be the last Torpedo Town – the organisers were so disillusioned by the theft and violence and the air of intimidation that prevailed at some of the festivals at this time, they called it a day and this was understandable.

I'd met Kev, one of the organisers, by this time, and the following summer had seen my trying to persuade him to carry on and not be defeated by a minority, but he was having none of it. Again, the following year, 1989 and he was not convinced… maybe, he said.. but it wasn't going to happen, and didn't. I told him that I was going to advertise it for 1990, so he'd have to sort something out then.

Courtesy Steve Bubble.
3rd – 6th August 1990 – Bramshot Common.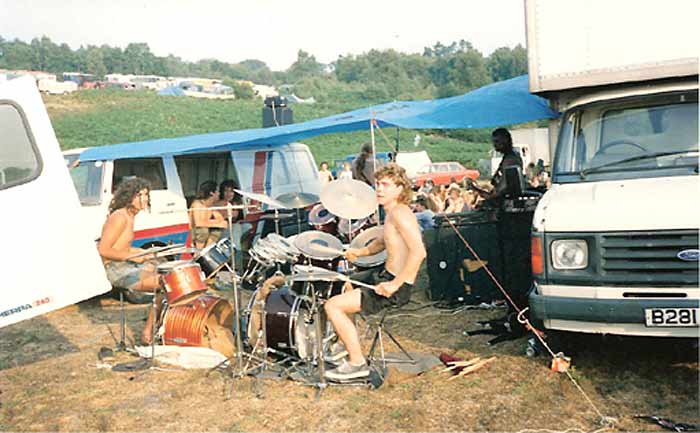 Paradox play in the great outdoors - Torpedo Town 1990 © Mandy Price
I designed a poster and sent it off to Festival Eye, where it duly appeared, listed as a "mystery festival", despite having happened for years. I don't think Kev was that impressed, he didn't say as much, but he did nothing to make me think he was going to be organising anything, so I started phoning people up, starting with Bob Dog at Club Dog (a London haven for festival goers in the colder season). Bob, rather helpfully gave me a list of bands most likely to want to appear at a free festival and helped by spreading the word too, but it was all a bit last minute. People and travellers were gathering near Petersfield and I'd sent out maps to many people via the "Friends of Torpedo Town address" that had been traditionally used for correspondence, for a site which, rather stupidly, I hadn't realised was an S.S.S.I (Site of Special Scientific Interest) due to the rare flowers and fauna found there.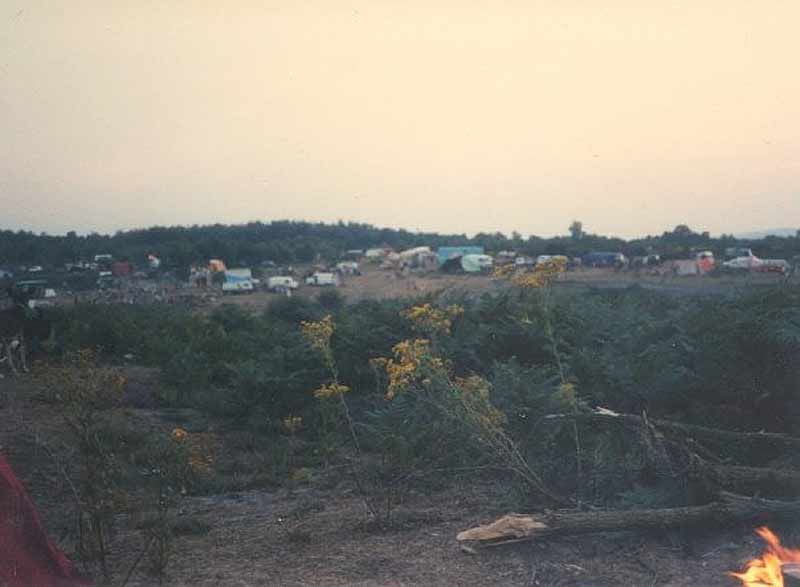 The site 1990 © Steve Bubble .
I was working right up until the start of the festIval, listening to local radio who were keeping listeners up to date on the numerous encampments of festival goers springing up as the weekend drew nearer. On the Friday morning, a number of vehicles attempted to gain access to the initial, badly chosen site and it was getting pretty intense, I was getting calls saying we desparately needed somewhere else to go! A traveller mate Nick was checking out alternative sites nearby and eventually found a large Common that hadn't previously been looked at, right on the Hants, Sussex & Surrey border. Ideal, as the police couldn't quite seem decide who's area it was in, each force just wanting us out of their own particular county. Another friend who was with a massive breakdown truck, who just happened to have one of the early mobile phones was up near the A3 with a convoy of traveller vehicles, I gave hime the name of the new site – and people headed up there, by this point I'd hopped in the truck and bombed up the A3 myself.


There were vehicles everywhere all somehow heading to the same point at about 2pm – people where at the site entrance and having to dig to make it wide enough to get the coaches in – the main site entrance was on the actual dual carriage way. Police, meanwhile had coned of one of the lanes to allow vehicles to queue and enter. The site was massive, about 650 acres I seem to recall, a huge dustbowl of a site and it was one of the hottest weekends of the year, and a great little festival was had. There were a couple of sound systems there, the first I'd ever seen at a festival, booming house with some nice lights flickering around the valley, mesmerising onlookers as the darkness closed in – it was a new sound to many!


There was a bit of agro between travellers and the young free party goers, especially when it emerged that some young entrepreneurs where charging an entrance fee to unsuspecting arrivals in cars, the was a rumour that a couple of coaches arrived for a rave that they'd paid 25 quid for, whether this was really true I never found out.
| | |
| --- | --- |
| There was a massive amount of fine wine and port on site, liberated from one of the large houses wine store at the bottom of one of the large gardens. People kept coming – probably 8-1000 at any one time, as the tv and radio stations stated clearly where the site was. Sarah Greene apparently owned one of the nearby houses and stories of people using her swimming pool circulated.A few bands played, notably the Dicemen, a punky ska band, who were excellent! The festival actually lasted a fortnight, police insisted we had another week, as they didn't want the whole site crossing the county for the Cissbury Ring Festival the following weekend – the second weekend's party was entitled, Tornado Town, and the site filled up once more for a second celebration, splendid!! | Paradox at Torpedo Town 1990 © Mandy Price |
Torpedo Town 1990 © Steve Bubble
---
Torpedo Town Free Festival 1991

9-12 August 1991 Liphook, Hampshire

Crowd estimates ranging from 10,000 - to 25,000 attend the festival on MOD land .

More details at the Spiral Tribe archives link above .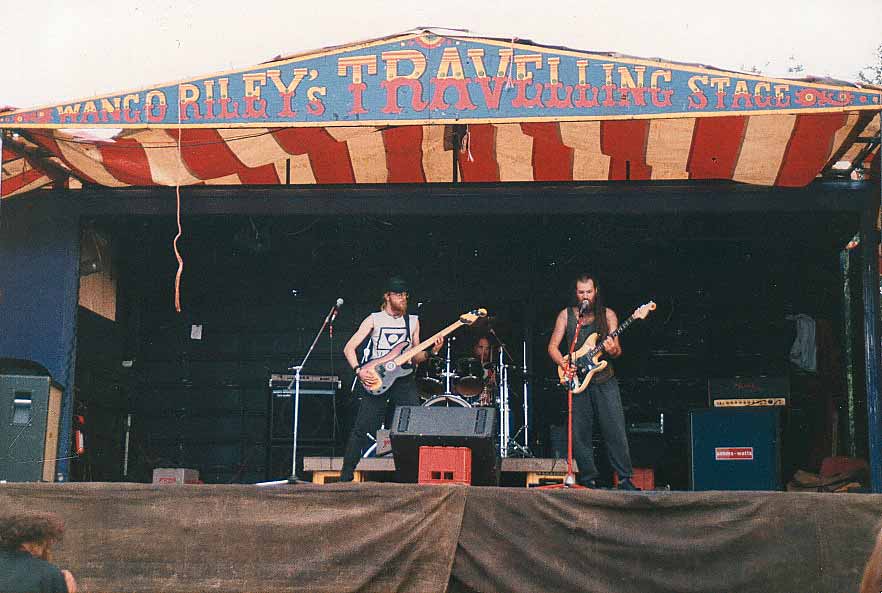 Free festies stalwarts Mark, Colin & Kev Nukli on the Wangos Stage : Torpedo Town 1991 © Drue Zell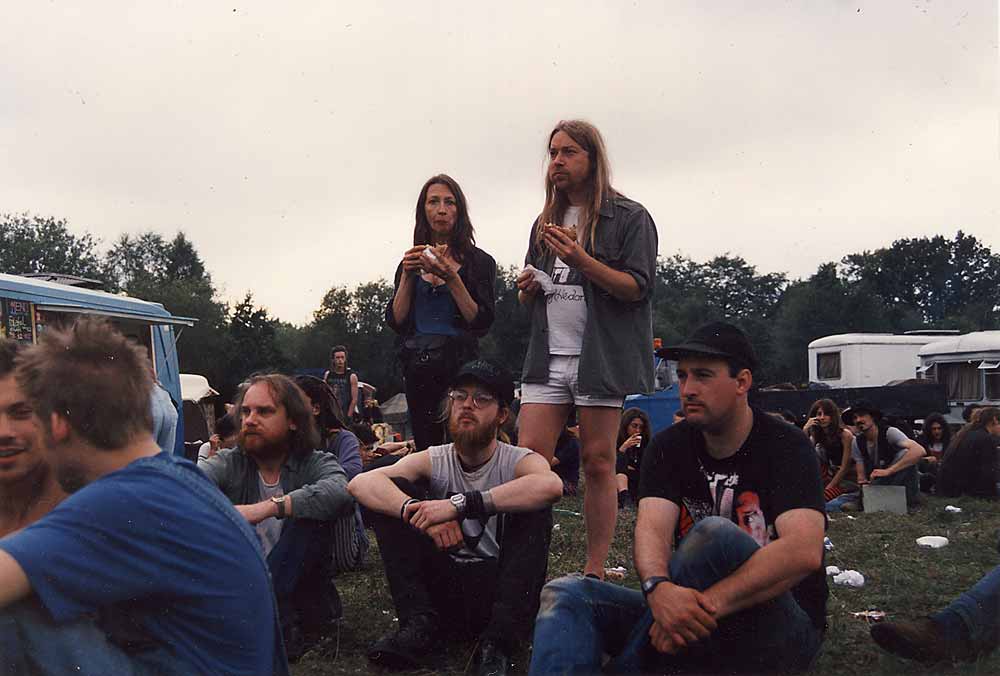 1991 : Jean & Tony standing, Colin & Mark Nukli and John seated © Drue Zell
It was a good year for festivals, the numbers were picking up a crosspollination was occurring between the travelling and rave posse's.The buzz was amazing, and I started work on the next year's event before the year was out, already thinking that this was a great site, but unlikely to be accessible the following year. I was right, the site was blocked almost as soon as the last vehicles had moved off, but there were plenty more open spaces that we'd already looked at. Spring saw many visits out to various commons, and as we visited the previous year's site – we crossed the road to look at some M.O.D. land, a reasonable space we thought!

Bands were contacted, another list from Bob Dog, they themselves were hoping to bring a small stage and p.a. with them, Wango Riley's Travelling Stage were keen to come, having recently been acquired by Elm and Ash, bands were phoning up, stalls, a circus, soundsystems, it was feeling like it was going to be a good one! A small low log barrier was the only thing blocking the site, so I bounced on one of the logs which snapped like a dry twig, and I hastily put it back together and it looked good as new, it was easy to pull aside on the day of the festy.

This time I'd persuaded Oxfin to run a phone line, a single number, to tell people where it was going to be, a few people knew in advance, but I'd stressed on the posters that the site would only be announced at mid-day on the Friday, it was at 1pm when we actually arrived at the site to find large festival vehicles heading up and down the A3 once more. We ducked in and removed the already broken pole as vehicles began to stream in, the police duly arrived, a couple of high ranking officers who seemed slightly impressed that by the time they'd found out where it was, dozens of coaches and trucks were already onsite – "so you're the advance Party then", the more senior one asked, " yep, the rest will be here shortly", I replied with a grin that stretched from ear to ear! I stayed on the gate by the main road for hours, watching people and friends arriving, a never ending procession it seemed. When I walked round the corner back into the site a festival had begun, Wango's were there, and Spiral Tribe had turned up picking a wonderful circular clearing behind and to the side of the main stage and the club dog stage, there were smaller party rigs all around the site, and still the vehicles kept coming. I recently found a newsletter from the spiral Tribe on their archive site written by Charly Hall, one of the many dj's onsite!

right: Mark Nukli Torpedo Town 1991 © Drue Zell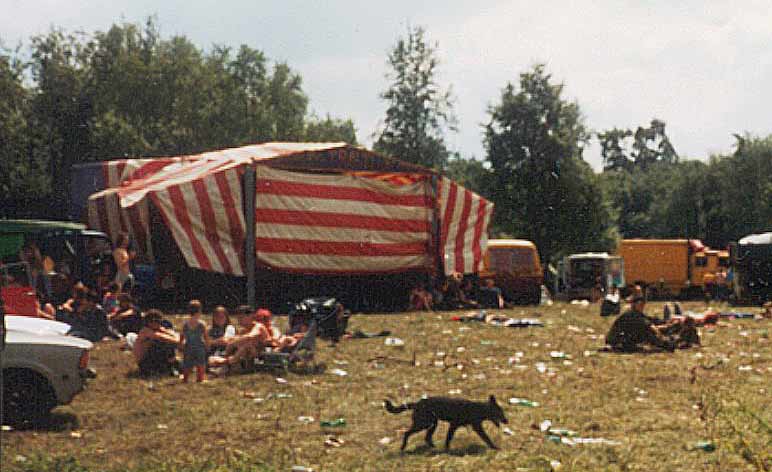 Wango Rileys stage at Torpedo Town 1991 © Steve Bubble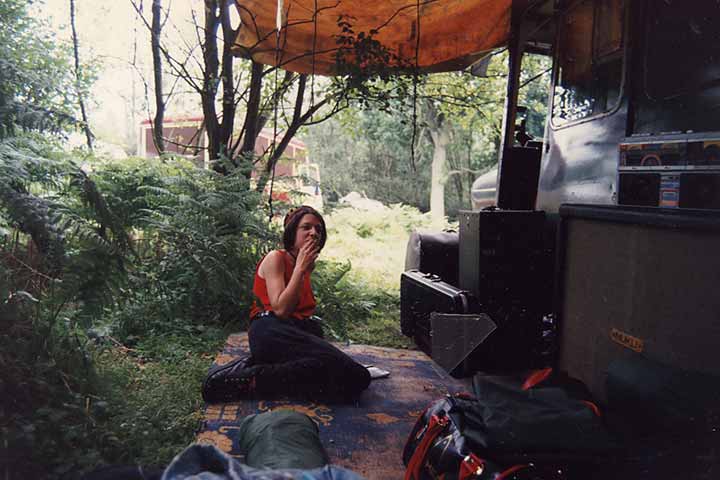 Knackered after taking all those photos , Drue has a fag beside Kev's truck.© Mark Huxley
Posters for the 1991 festival courtesy Steve Bubble, image left © Angus . Right © Steve Bubble and Chocks

Courtesy Steve Bubble, drawing © Pete Loveday

A fantastic festival was had, no trouble, bar a coach catching fire by a candle – no injuries though, and all round good press in the media, there was footage of parents dropping kids off for the day on the local tv news!
Sadly, Dinah McNichol went missing on her way home from the festival, found recently having been mudered by her lift, that was the only downer on the weekend…. I thought at the time that it didn't look good for her, very sad!

The 1992-Otterbourne Hampshire festival has its own page, travel there now ......